Stay in style & on budget at The Yard Concept Hostel in Helsinki, Finland – take a look around this chic showcase of Finnish design & find out what makes it a 5 star hostel!
What's a 5 Star Hostel?
5 Star Hostel ratings are given out by the team behind Hostelgeeks, who review some of the most outstanding hostels around the world. From rooftop swimming pools to in-house cafes, the standard of hostels just keeps going up & up – what's not to love about traveling to Europe alone?!
So what does it take to be a 5 Star Hostel? Here's the checklist:
Sustainable-conscious travel at its best
Stunning interior desingn
Unique concept
Social ambiance & feel good
Top-rated staff
The Yard Concept Hostel in Helsinki ticks all the boxes & more. If you're still  feeling a little unsure, check out these awesome hostel travel tips and keep reading to find out why The Yard is the the 1st & only 5 Star Hostel in Finland!
Location of The Yard Concept Hostel
The Yard Concept Hostel is the most central hostel in Helsinki.
It's located in a historic 1902 building, right next to the Forum shopping complex. Across the street, you'll find the iconic Stockman department store & Aleksanterinkatu pedestrianized shopping street.
If you're more of a foodie or party animal, fear not as The Yard Concept Hostel is also surrounded by cafes, restaurants & bars.
I indulged in a little bit of everything. So whether you're interested in shopping, nightlife, eating out or sightseeing in Helsinki, you'll find it all on your doorstep at The Yard Concept Hostel!
If you're travelling on a budget, check out this awesome post on how to save money in Finland.
Living Room at The Yard Concept Hostel
The huge living room is the hub of The Yard Concept Hostel & it's where you can see Finnish design at its finest.
From the locally crafted furniture to the rainbow LED ceiling, everything is chic & sophisticated, bold & cutting edge.
But Finnish design isn't just about pretty things to look at – it's a way of living. At The Yard Concept Hostel, you get to experience all the style in a homely environment, with travellers from around the world.
A long orange sofa lies against the wall in the middle of the room, under the bright lights of a very cool "the yard" sign.
Bean bags, floor stools & coffee tables of different shapes, sizes & colours sit on a large black & white striped rug.
There's a massive flat-screen TV with a Playstation console, as well as lots of magazines & coffee table books.
In one of the corners of the living room, you'll find 2 large armchairs surrounded by plants & a funky table setting.
There are 2 rustic, wooden bench-style tables for eating at, which are also perfect for catching up on work or surfing the web.
Finnish design is all about reinvention. The style of The Yard Concept Hostel is a modern take on the retro look & it pulls it off with flying colours – after all, good style is timeless.
Rooms at The Yard Concept Hostel
The Yard Concept Hostel offers a mix of dorm & private rooms – just like any 5 star hostel should!
I stayed in a 6-bed female dorm & it was simply wonderful.
The Finnish style bunk beds were stylish & practical, with deep under-bed drawers that could fit your whole backpack or suitcase. I had good roomies but this explains why the room was always so neat!
The mattress was firm, with quality bedding. I really liked how every bed had its own reading light & the huge mirror on one of the walls.
There was also a large sofa in the room, which felt like such a luxury. It was nice to be able to relax in the comfort of the room, without being in bed. It's also a fantastic option for some work or down time, especially if you need a bit of quiet away from the main living room.
A large window let in plenty of natural sunlight into the room, with scattered pot plants bringing in some nature indoors too.
Stylish, spacious & functional, my dorm at The Yard Concept Hostel was definitely one of the best I've stayed in.
For a little more privacy, The Yard Concept Hostel also offers private twin & quadruples rooms.
The twin rooms have 2 twin beds that can be separated or put together.
Quadruple rooms have either twin beds + a bunkbed or 2 bunkbeds.
The private rooms are an economical option if you're travelling with a partner, friends or family.
Bathrooms at The Yard Concept Hostel
The Yard Concept Hostel offers shared bathroom facilities, with 4 separate toilets & showers each (one of the bathrooms has 3 shower blocks, the other is a stand alone).
They are kept spotlessly clean & all the fixtures are all stainless steel.
Most importantly, there are shower hooks! It's these little things that many hostels overlook that makes The Yard Concept Hostel a cut above the rest.
Kitchen at The Yard Concept Hostel
Cook with style in the kitchen at The Yard Concept Hostel!
From a microwave & oven to pots & pans, it's well-equipped with everything you need to make a great meal. As you'd expect, the crockery & cutlery is very stylish, especially the cute Marimekko mugs.
There are also 2 large fridges & a coffee maker.
You don't even need to do the dishes, just pop them in the dishwasher!
A complimentary light breakfast is provided every morning between 7:30-10:00am. They're pretty flexible with the time so don't stress if you sleep-in – I saw the staff go out of their way to make sure all guests were offered breakfast, even close to noon… that's pretty awesome.
Breakfast includes:
Toast
Jam/Butter
Cereal
Muesli
Coffee
Tea
Orange Juice
The coffee came from a micro roastery, all the rage now in trendy Helsinki. The Yard Concept Hostel hopes to start producing its own coffee soon too so look out!
Other Features at The Yard Concept Hostel
WiFi – fast, reliable connection throughout the hostel
Security – 2 door codes to get in the building after hours + swipe cards for rooms
Maps – brochures with all the info on what to see & do in Helsinki
Board Games – Cards Against Humanity, say no more!
Things to See & Do in Helsinki
Churches – Rock Church, Helsinki Cathedral, Uspenski Cathedral, Chapel of Silence
Museums – Museum of Contemporary Art Kiasma, Ateneum Art Museum, National History Museum, Helsinki Art Museum (HAM)
Market Halls – Old Market Hall, Hakaniemi,
Parks – Esplanadi Park, Sibelius Park & Monument
Islands – Suomenlinna, Seurasaari
Squares – Senate Square, Market Square
Escape Room – Labyrinth Games Room Escape
Know Before You Go
Address: Kalevankatu 3, Helsinki (between Bar U. Kaleva and Kosmos restaurant, 3rd floor)
Prices: Dorms from €36.00, Private rooms from €79.00
Contact Information:
Read The Yard Concept Hostel's Tripadvisor reviews here
Did you enjoy reading The Yard Concept Hostel: Helsinki's 1st 5 Star Hostel?
Pin it and help others find it too!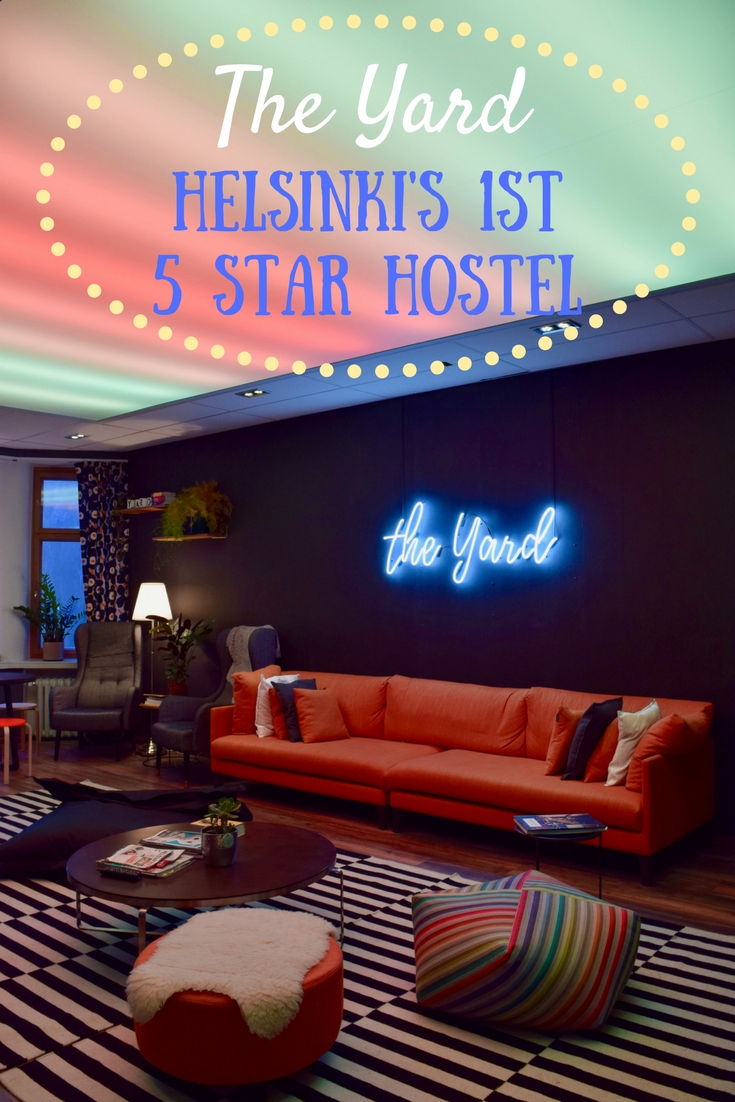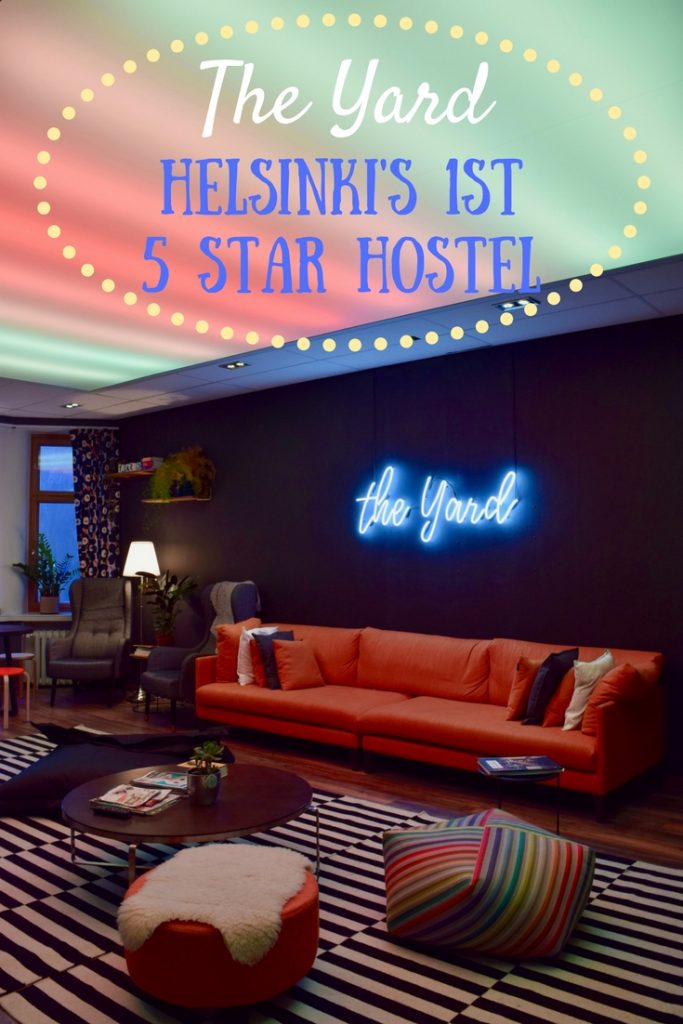 *** The Final Word: The Yard Concept Hostel is hands-down the best hostel I've ever stayed in! ***
What makes a 5 Star Hostel to you? Let us know in the comments!
* We received a complimentary stay at The Yard Concept Hostel, thank you to Matilda for hosting us. Creating partnerships is one of the ways we make this blog sustainable & we only recommend fantastic value accommodation we believe our readers would enjoy. As always, all opinions & photos are our own!
Visited in March 2017