Labyrinth Games Room Escape offers 2 exciting escape room challenges – find out what lies behind closed doors as we unlock the mystery behind Helsinki's most intriguing adventure game!
We here at DIY Travel HQ had never experienced the escape room phenomenon before. I had an extended stay in Helsinki, Finland where I was travelling with my parents, so it gave us all the opportunity to try it for the 1st time.
After reading awesome reviews on Tripadvisor, we made a booking with Labyrinth Games Room Escape.
They also had a great location in the trendy hipster district of Kallio – it's within walking distance of downtown Helsinki though we decided to save our energy for the games & took the tram instead!
What's an Escape Room?
You may have heard a lot about escape rooms & there are likely to be a few in your city, but what are they exactly?
An escape room is an intellectual adventure game where players are locked in a room & have to search for clues to solve puzzles & complete missions within a set time limit.
Each escape room has a theme, such as a murder mystery or bank robbery, with a matching storyline.
Escape rooms actually originated from the "Escape the Room" video games, where players have to click on objects (like locked doors) & interact with them. They were first brought to life in Japan in 2006 & since then, escape rooms have been popping up all around the world.
Let's unlock the mystery behind Labyrinth Games Room Escape in Helsinki!
Getting Started at Labyrinth Games Room Escape
We were greeted at Labyrinth Games Room Escape by our game master extraordinaire, Katarina!
Katarina speaks 4 languages – Finnish, English, Swedish & Russian – so there's a good chance she'll be able to speak with you in your native tongue.
As we had never played before, Katarina explained to us the concept of the escape room (see above!) before giving us the background behind our first room, "The Internship".
We were given torches to enter the darkened room, as well as a walkie-talkie to communicate with our game master on the outside. We could call anytime to ask for additional clues & Katarina would also be watching us on closed-circuit TV & offering hints if we appeared to be stuck or taking too long.
I don't want to give too much away as escape rooms are all about the mystery, but here's a little teaser of what you can expect to find behind the locked doors…
"The Internship" at Labyrinth Games Room Escape
Armed with our walkie-talkies & torches, we entered our 1st escape room – a mental hospital! We had to find out what happened to a missing patient named Anna, in only 60 minutes.
Shining my torch around the room, I could quickly see that her disappearance was no accident…
We frantically started searching around for our first clue, with no idea what to look out for.
As we would quickly realise throughout the game, you'll know when you find a clue… there's no need to force anything, break stuff or even stand on your tippy toes… in the meantime, just keep moving, keeping your eyes & ears peeled.
We didn't end up making it out of "The Internship" in time, the 60 minutes just raced past.
We got pretty close though, so for our 1st time in an escape room I was pretty happy with that!
"The Great Mind" at Labyrinth Games Room Escape
Having tested the waters in "The Internship," we were determined to do better & beat the clock in our 2nd room.
Leaving our walkie-talkies & torches behind, we entered "The Great Mind" with just a notepad & pen. We could communicate with our game master Katarina through an intercom in the room.
Entering "The Great Mind", this escape room kind of took my breath away! It was beautifully designed in an old-world style to resemble a professor's office, straight out of Agatha Christie.
In this setting, a professor by the name of Dr. Schultz has been kidnapped. Our mission was to retrieve his important research documents before his captors returned.
The puzzles here matched the enigmatic theme of the room perfectly, with tricky riddles & crafty mechanisms.
It was all a little too mysterious for us and after 60 minutes, we failed to make it out of another escape room! Oops 🙂
Top Tips to Success at Labyrinth Games Room Escape
Just because we failed to escape both rooms at Labyrinth Games Room Escape doesn't mean you have to!
It just takes a bit of time to get into the concept, so here are my top tips for any 1st time players:
Search everywhere – both rooms were simply designed, it's amazing that clues were still able to be so cleverly hidden
Think outside the box but don't think too hard – some clues are a bit cryptic but most just require logical thinking
Don't get too stuck on 1 train of thought – the clock is ticking…
Ask for extra clues when you need it – it's more fun to get as far through the game as you can, rather than trying to do it without help or in record time
Which Room to Choose at Labyrinth Games Room Escape?
The 2 escape rooms at Labyrinth Games are completely different in theme – not just in design but also in their challenges.
"The Internship" is a darkened room needing torches to see, with a minimalist design. The tasks involve locks, codes, magnets & mirrors.
"The Great Mind" is a bright, opulent room with a lot of attention to detail. Cords, buttons, secret compartments, morse code, telephone & radio are all a part of the fun.
Both rooms also create an authentic atmosphere that immerses you into the game, with clever use of hiding spots, lighting & motion-censored movement.
I would recommend doing both rooms if you can but if I had to only choose one, "The Great Mind" was the standout for me.
Booking with Labyrinth Games Room Escape
The easiest way to make a booking with Labyrinth Games Room Escape is to head over to their website.
Here, you'll find a full calendar of all the available dates & times. Labyrinth Games Room Escape is open everyday from 10:00am to 10:00pm.
So just make your selection & you'll have an instant reservation – you can pay online or with cash when you arrive.
This is one of the best-kept secrets of Helsinki so whether you're a traveler or a local, a rookie or a pro, you're guaranteed to have some mind-bending fun at Labyrinth Games Room Escape!
Know Before You Go
Address: Viides linja 2, 00530 Helsinki
Price: €100 per room, 2-4 people
Duration: 60 minutes
Contact Information:
Read Labyrinth Games Escape Room's Tripadvisor reviews here
Did you enjoy reading Labyrinth Games Room Escape: Unlock the Mystery in Helsinki?
Pin it and help others find it too!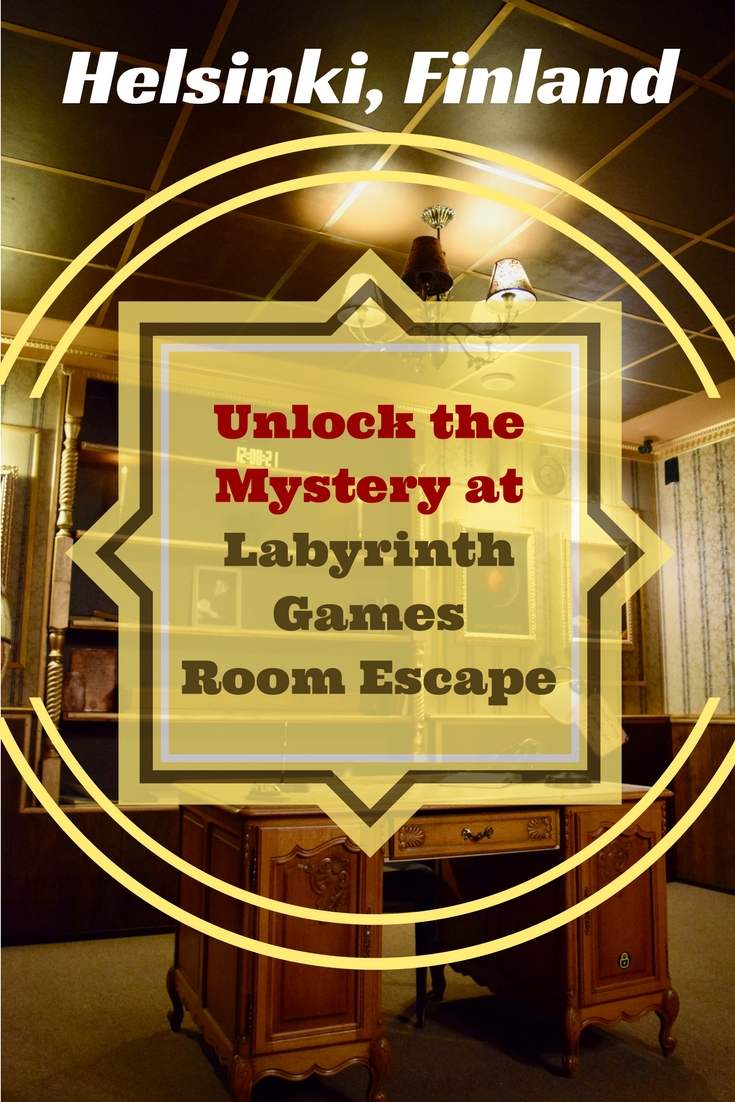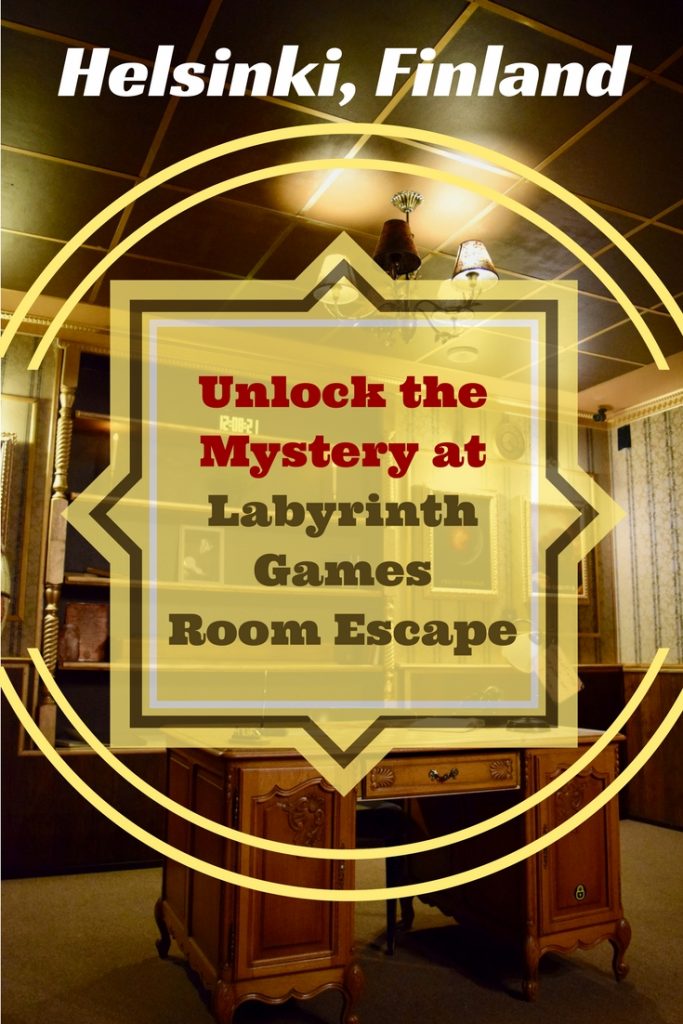 [put_wpgm id=239]
*** The Final Word: Put your thinking caps on & head over to Labyrinth Games Room Escape for the best fun & games in Helsinki! *** 
Have you ever been in an escape room? Let us know where & how you went in the comments! 
* We received a complimentary visit to Labyrinth Games Room Escape, thank you to Dmitri & Katarina for hosting us. We only recommend fun, value for money activities & experiences that we believe our readers would enjoy. As always, all opinions & photos are our own.
Visited in March 2017