Rene Café is the best value restaurant in Panama City. For only $25 you get a 10 course degustation in the trendy Casco Viejo district. Find out what dishes are on the menu!
Rene Café Location
Rene Café is located in Casco Viejo, Panama City on the corner of Independence Plaza & across from the Metropolitan Cathedral.
You couldn't ask for a better location for a restaurant in the capital!
The old town is currently being gentrified with historic properties constantly being renovated & converted into hotels & restaurants.
Despite or in spite of this, Panama City is still undoubtedly one of the best places to visit in Panama.
The majority of the attractions in Panama City are within walking distance in & around Casco Viejo.
There is also an excellent skyline view of the business district from the Paseo de Las Bovedas.
Rene Café
For us here at DIY Travel HQ Rene Café checks off all the requirements for an excellent dining experience.
The restaurant is conveniently located, has innovative & scrumptious dishes, is great value with the quantity & variety of courses, & has a very intimate setting.
What's not to love?
Although they only serve a set menu, Rene Café does have the ability to cater to many dietary restrictions.
During the day, there is outdoor seating to enjoy the warm weather.
At night time, the dining experience is focused inside.
The lights are dimmed, elegant wooden tables reflect the light between the place settings, & the open kitchen starts to heat up as guests start to arrive.
Let's take a look at what the chefs cooked up for our visit!
Dinner at Rene Café
Although you can visit during lunch ($10), we wanted to enjoy the additional 5 appetizers served during dinner ($25).
We started our meal at Rene Café with fluffy bread accompanied by a whipped butter flavored with herbs.
It was a great combination, especially when paired with our glasses of wine from Chile
. We ordered Cabernet Sauvignon and Chardonnay so we would be ready to compliment whatever flavors came out over the course of the degustation.
Our next dish was a shared pumpkin salad with a healthy vinegar dressing.
The main ingredients were lettuce, tomato, pumpkin, & cucumber.
The pumpkin's sweetness balanced the acidity of the vinegar for a pleasant taste that left you wanting more.
Things really started to heat up when our spring rolls arrived with a sweet tomato puree accented with bell peppers.
The contrasting flavor for this course was ginger, which was found inside the spring rolls along with other vegetables.
Another hot course arrived next, featuring patacones with tender pulled beef inside.
The official name of the dish is patacones with ropa vieja, which is a traditional Panamanian staple but with a twist.
Normally, the pulled beef is accompanied by rice and flat patacones.
Café Rene made their own version that is best compared to a meat pie with a plantain crust.
The next course must have been music to Sheena's ears.
How could she refuse a shrimp skewer smothered with herbs & layered with tomatoes, onions, & bell peppers?
That must take her back to Australia where they always want to put 'another shrimp on the barbie'!
The last appetizer we received at Rene Café was a chicken & peach-palm tamale smothered in a rich sauce.
Say goodbye to the banana wrapped tamales with chicken bones in Guatemala, & hello to the gourmet version.
The pulled chicken wrapped inside a soft shell was juicy and pleasantly different than traditional corn flour.
The main courses were threefold, & heavily protein based. T
he friendly staff at Rene Café served us filleted fish, chicken breast, & fried rice.
You could really see the fusion of Panamanian & International cuisine come together.
The fish fillet was lightly breaded with sour orange to squeeze at your discretion.
Meanwhile, the chicken breast was very moist with a creamy sauce.
The Asian inspired Thai rice was surprisingly better than many Chinese restaurants we have eaten at.
After a breather, we received the rich tres leches dessert.
The cake, sprinkled with cinnamon, was a great send off to a fantastic 10 course degustation at Rene Café.
One thing for sure is that you will not leave hungry, & probably won't eat this well again for the rest of your time in Panama unless you visit Big Daddy's Grill in Boquete!
Rene Café Service
If you are visiting from the United States, or another country with high customer service expectations, then you will not be disappointed
. Rene Café is a small business that delivers on a high level.
They are able to achieve this as the owner, Rene, manages the front of house while his wife is in charge of the kitchen.
Our waiter was very friendly & prompt with refilling our water glasses.
With over 10 years of experience, Rene Café has mastered timing for the 10 course degustation as we never felt rushed & the food was always hot when it was placed in front of us. Our entire dining experience took just under 2 hours from start to finish.
It was actually refreshing not having to choose what to eat at a restaurant, & still receiving so many delicious flavors.
Cheers to Rene Cafe for a relaxing & memorable dining experience!
Know Before You Go
Location: Rene Café is located adjacent to the Metropolitan Cathedral in Casco Viejo, Panama City
Food Style: Panamanian & International Fusion
Price: $10 for 5 course lunch; $25 for 10 course dinner – tax additional
Dishes: The set meals exist each day & vary season to season
Reservations & Hours: Required to secure a table, but you may always try walk-in. Lunch is served 10 am – 3 pm; Dinner is served 6 pm – 10 pm
Contact Information:
Read Rene Cafe's Tripadvisor reviews here
Did you enjoy reading Rene Cafe: $25 Degustation in Panama City?
Pin it and help others find it too!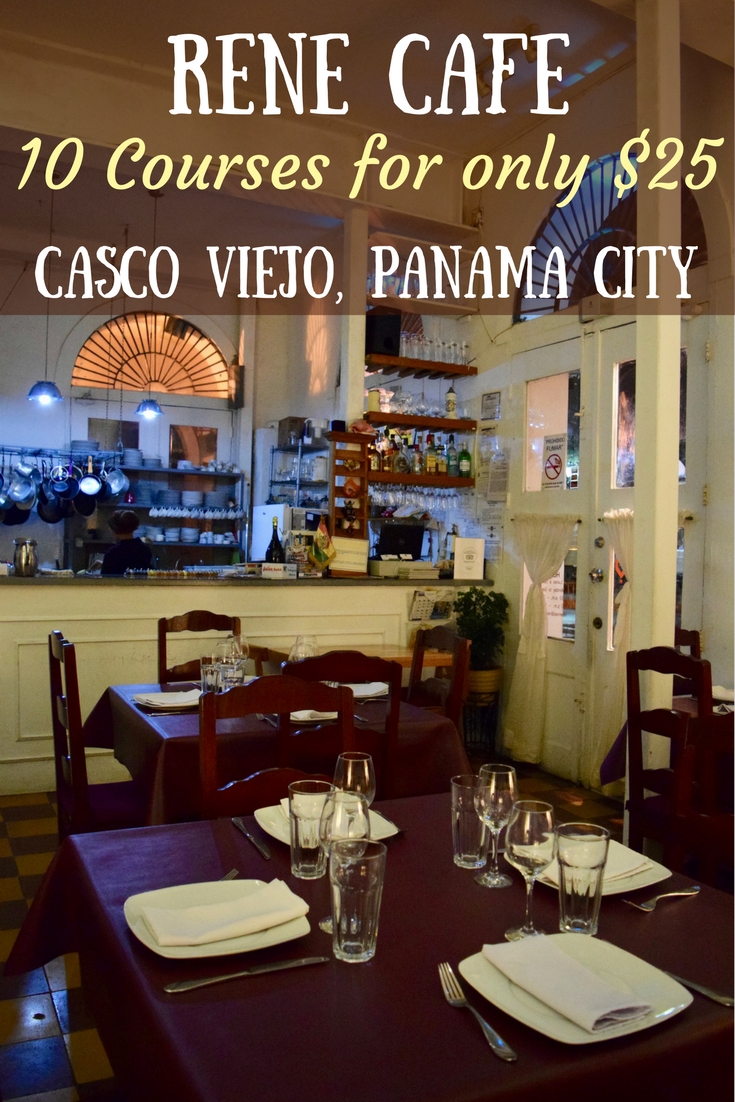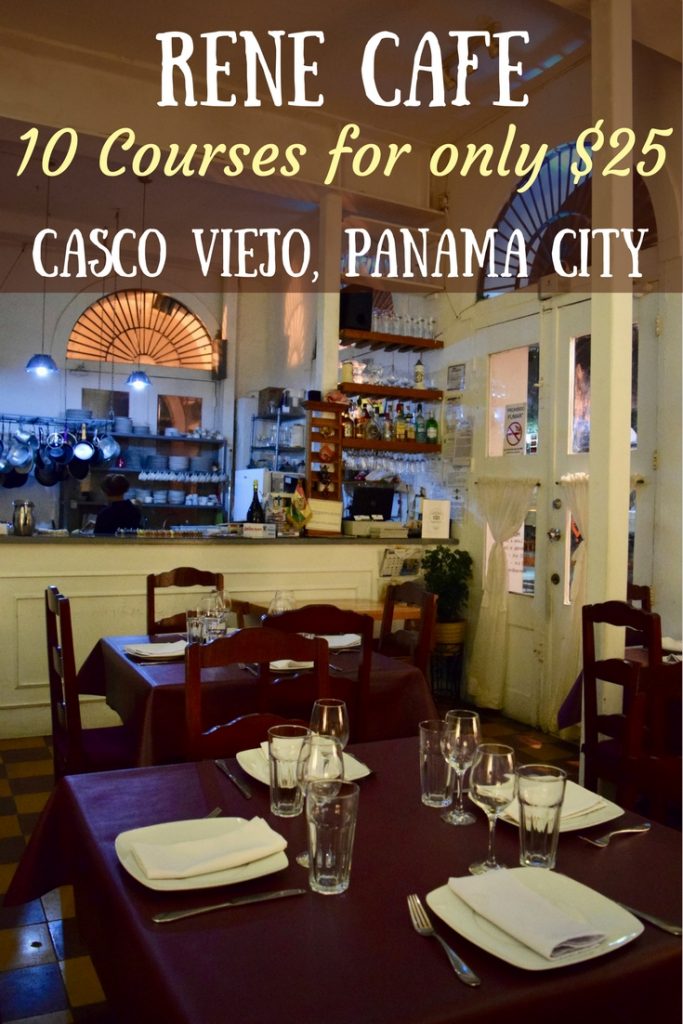 ***The Final Word – Rene Café is a steal at $25 for a 10 course degustation in Panama City. Don't miss this opportunity to try truly inspirational food.***
Do you prefer to choose your dishes, or just be surprised when they arrive?
* We received a complimentary meal at Rene Cafe, thank you to Rene, Lourdes, & Maria for hosting us. We only recommend fun, value for money experiences that we believe our readers would enjoy. As always, all opinions & photos are our own.
Visited in February 2017