The Xunantunich Mayan Ruins is the one of the most important sites in Belize, but is it worth visiting? We cover its history and visitor info so you can decide for yourself.
It is possible to visit the Xunantunich ruins on a tour, but it is also easy to travel there independently. Although a tour guide could save you time educating yourself in the Xunantunich museum, we preferred the freedom to explore the Belie Mayan ruins on our own.
Find more inspiration during your visit in one of the Belize guide books below!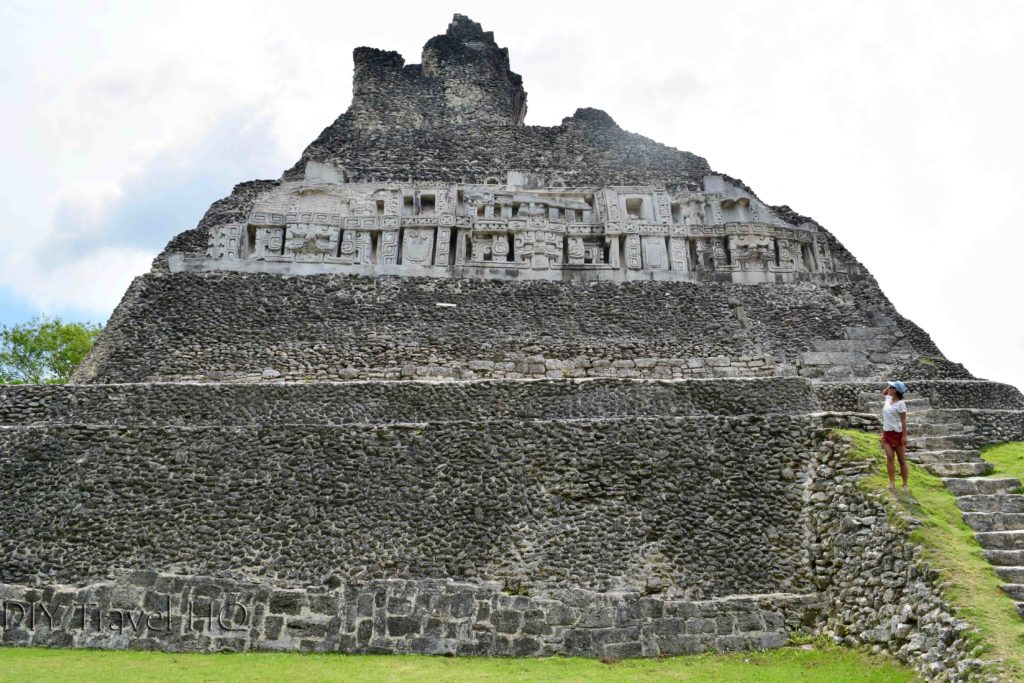 History of Xunantunich
The Mayan ruins of Xunantunich, Belize are one of the top things to do in San Ignacio, but let us give you a brief history of this important archaeological site before we get into the visitor info.
In the Mayan language, the Xunantunich meaning is "Stone Maiden". Since 1892, numerous people have claimed to have seen the Xunantunich ghost amid the ruins, with glowing red eyes and dressed completely in white.
The first explorations of the site began roughly the same time as the first ghost sightings by the British district commissioner of Cayo (San Ignacio), Thomas Gann.
Ongoing excavations have revealed that Xunantunich, Belize probably played an important role in the political power struggle of the Classical period.
It seems likely that Xunantunich joined an alliance with Caracol and Mexico's Calakmul to bring down Tikal in Guatemala.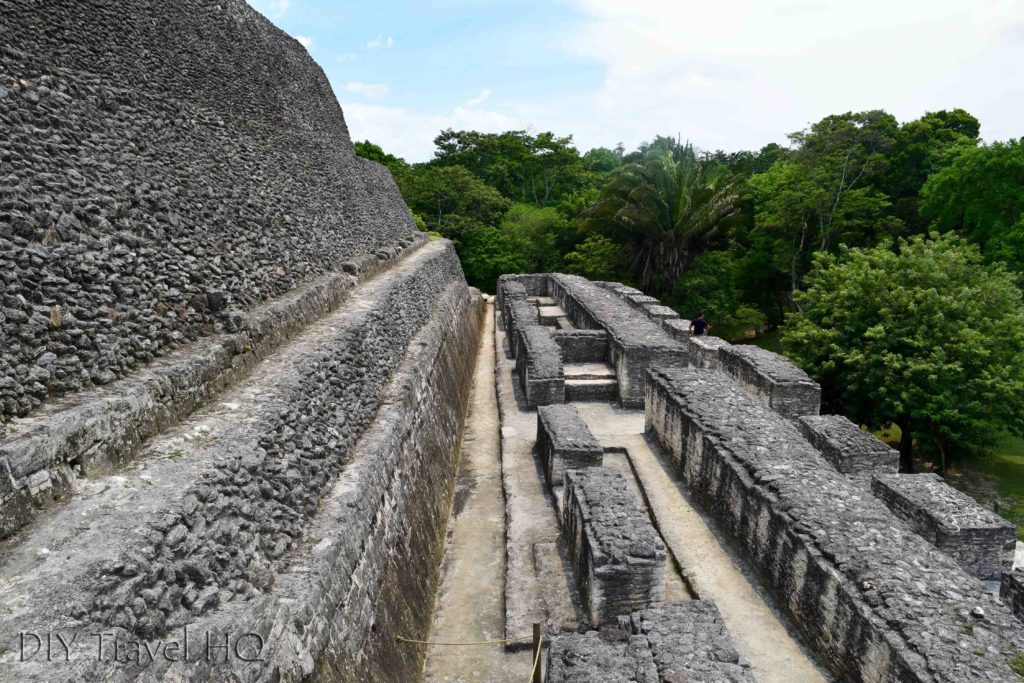 Xunantunich Visitor Center
Learn more about the history of Xunantunich in Belize at the visitor center, which should be the first stop on your visit.
There are first-rate archaeological finds at this small museum, such as jewelry, pottery, and details of the El Castillo friezes.
All the signs and explanations are in English, which is a treat if you're non-Spanish speakers coming from Mexico like us.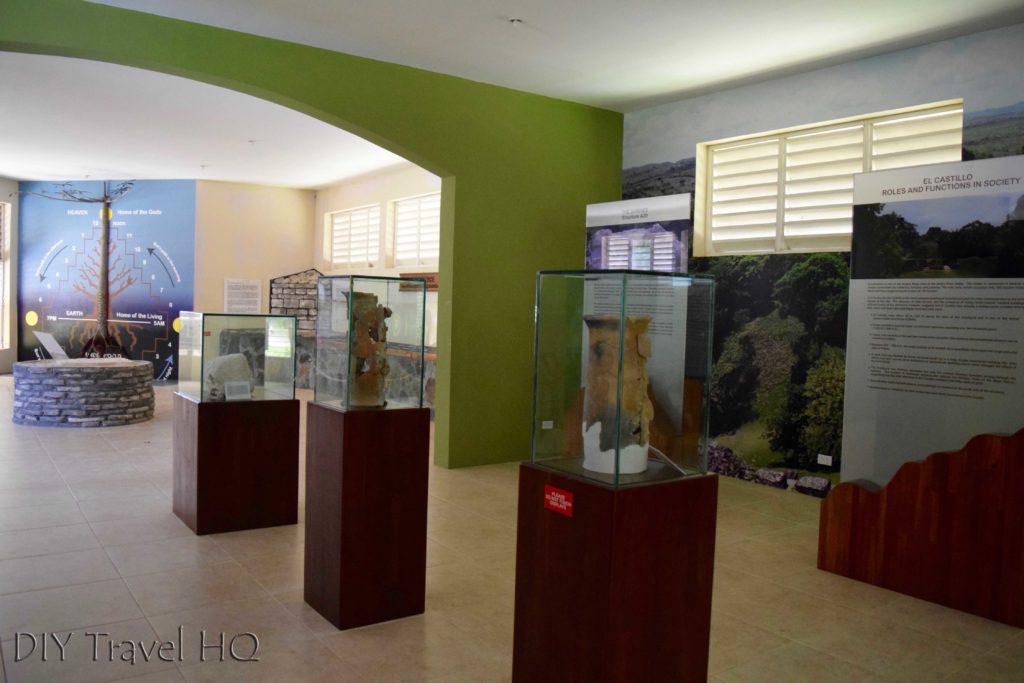 Xunantunich Mayan Ruins
Xunantunich stands on a flattened hilltop, overlooking the Mopan River in Belize. There are 5 plazas on site, which were once part of this Maya civic ceremonial center.
However, they are completely overshadowed by the towering El Castillo, or The Castle. This pyramid is what makes Xunantunich one of the top destinations in Belize.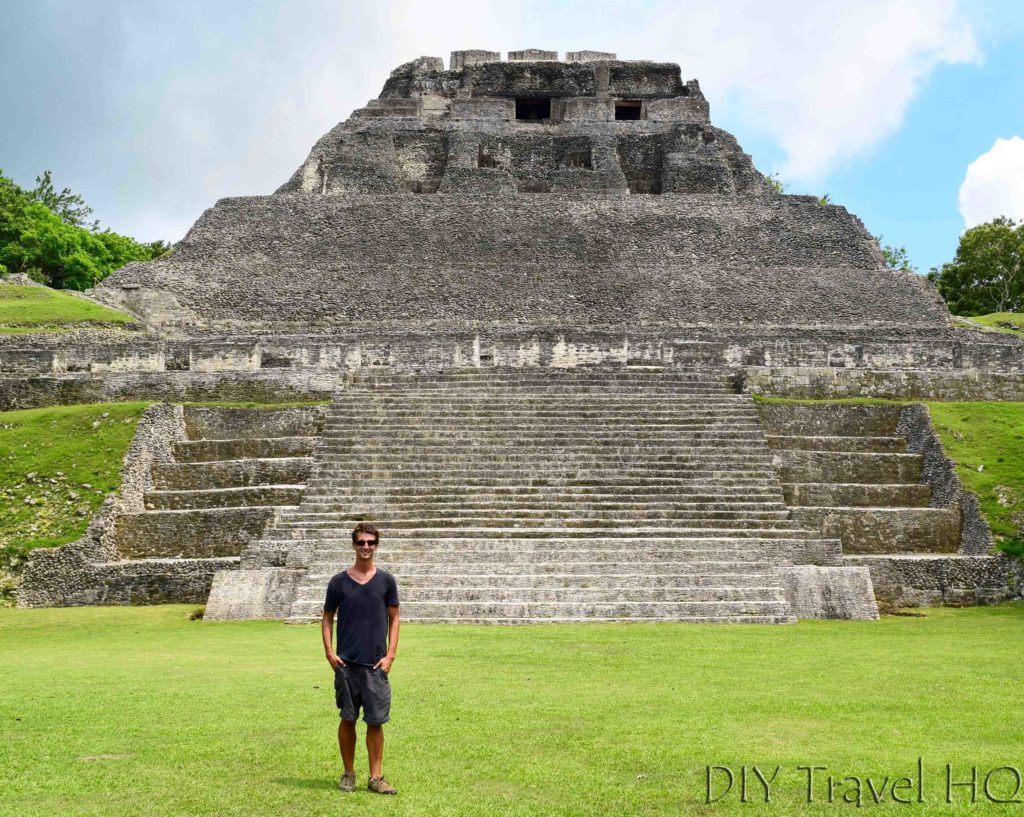 Standing at 40 meters high, El Castillo is the 2nd tallest structure in Belize, after the main temple at Caracol.
You can climb to the top of El Castillo, and take in the breathtaking 360 degree views of the Cayo countryside.
You can also easily see the Guatemalan border, just 1 km away where there are many awesome places to visit in Guatemala.
The upper levels of El Castillo are covered in elaborate plaster friezes with depictions of various gods.
Some of the friezes have eroded over time while others lie protected under replica friezes.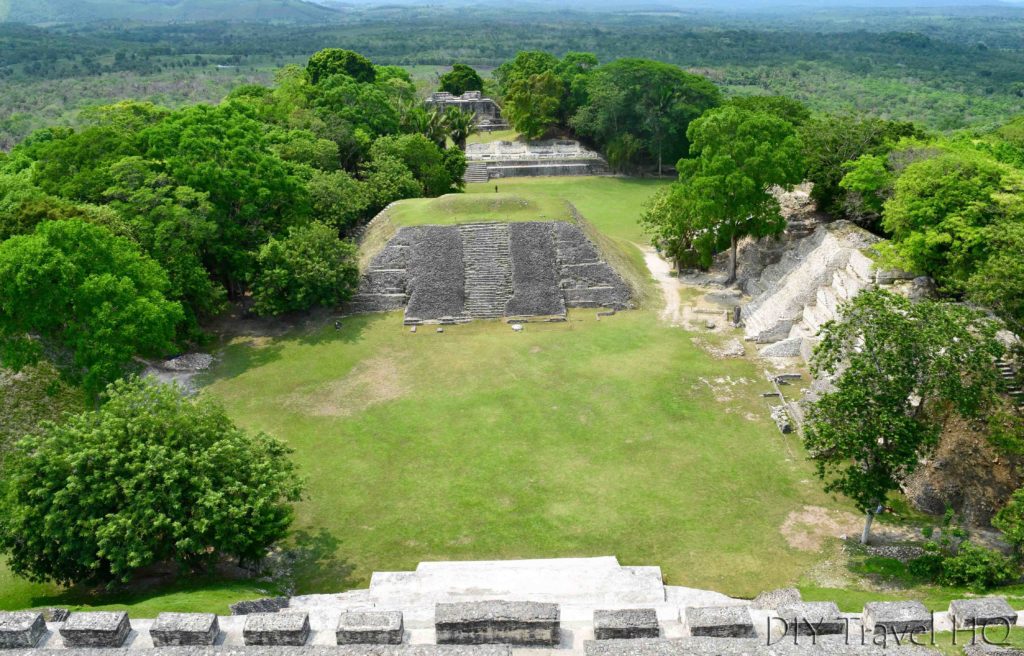 Xunantunich isn't the only Mayan archaeological site in San Ignacio. You can also visit Cahal Pech, which is a 20 minute walk from the center of San Ignacio.
However, it's apparently not as impressive and someone wrongly told us that the entrance fee was double the price of Xunantunich.
The entrance fee to Cahal Pech is actually BZ$10 / $5, which is the same. Thank you to the readers who let us know!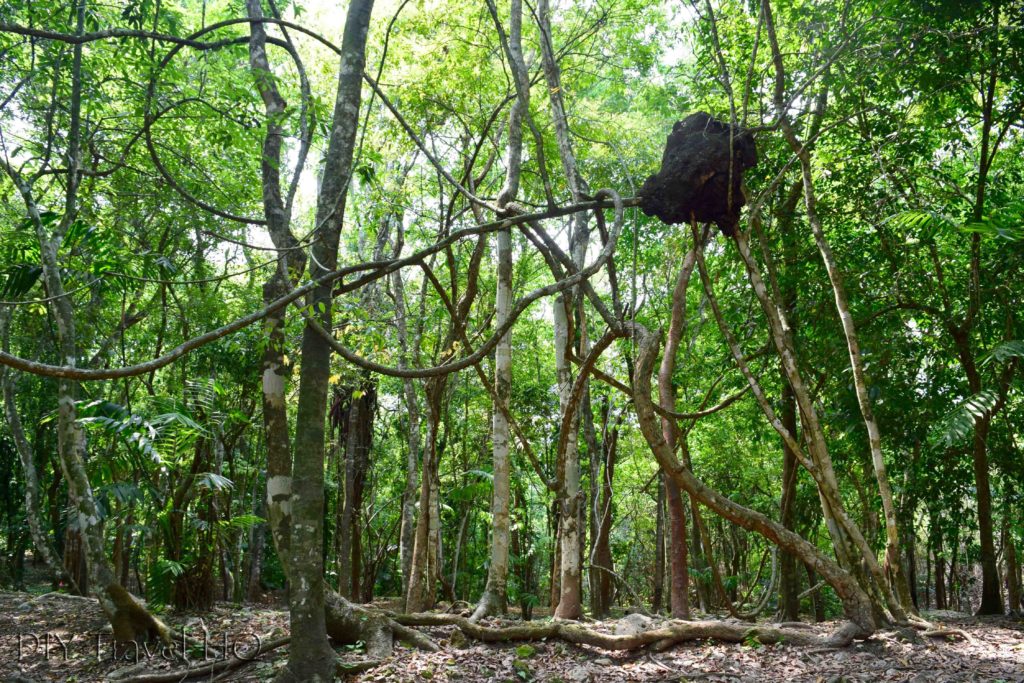 How to get to Xunantunich
You can travel from San Ignacio to Xunantunich by taking any local bus heading west to Benque Viejo del Carmen. These run approximately every hour, on the half hour.
The bus ride cost BZ$2.00 / US$1.00.
Get off at the village of San Jose Succotz and take the hand-operated cable-winched river ferry across to the other side, which is free. From here, the ruins are a 2 km walk uphill.
The return bus back to San Ignacio leaves San Jose Succotz approximately every hour, on the hour.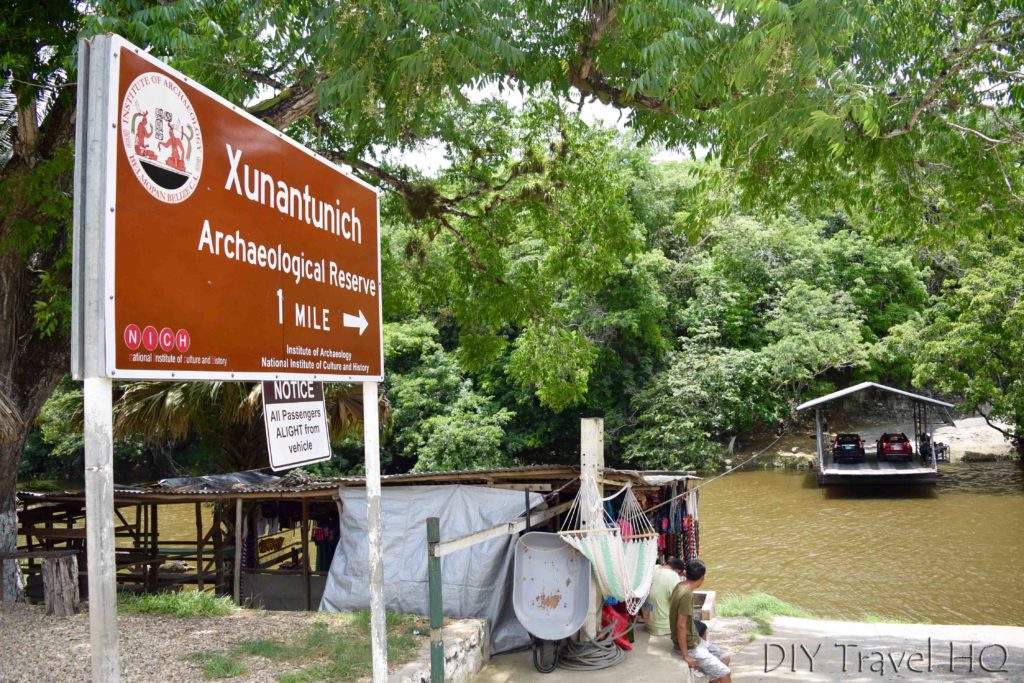 San Ignacio, Belize
Base yourself in the town of San Ignacio to explore Xunantunich Mayan Ruins and more of the region. There are a wide range of day trips, accommodation levels, and restaurants to choose from.
Things to do in San Ignacio
San Ignacio attractions include the Cahal Pech ruins and the Iguana Conservation Project at the San Ignacio Resort Hotel.
Adventure seekers will also find many opportunities to go kayaking, swimming, hiking, caving, and horseback riding. The downside is it's hard to get around without your own car and tours are pretty expensive.
One excursion we did splash out on was the ATM (Actun Tunichil Muknal) cave tour. We read about it in our guidebook, and National Geographic also voted it the #1 Sacred Cave in the World.
There are several travel agencies on the main street in San Ignacio. We booked it with Maya Walks for BZ$180 / US$90 and it was well worth it for such a unique and adventurous experience.
We recommend having travel insurance if you're planning to visit Belize. It's a pretty safe country, but there are many adventurous activities you can do and should be covered for.
We've been using World Nomads in our travels through 80+ countries over the past 12 years. It's the best value provider we've found in terms of price and coverage, and we haven't had any issues when we've had to make (fortunately) minor claims.
For more details check out our World Nomads review here.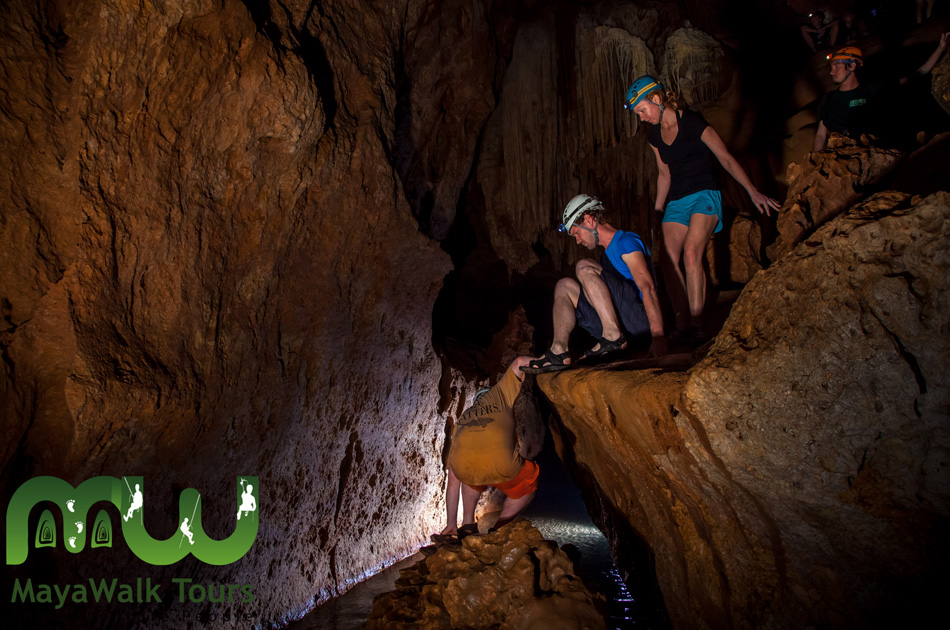 San Ignacio Accommodation
As one of the main travel hubs in Belize, there's no shortage of accommodation in San Ignacio.
There are around 54 properties ranging from simple guest houses starting at $15 to high end resorts costing $400 a night.
The 4 hostels in San Ignacio are Bella's Backpackers, D's Hostel, The Old House Hostel. and Chaltunha Hostel. Dorm beds go for around $12.
We stayed at Hi-Et Guest House which isn't listed on any of the booking platforms. A room with shared bathroom is BZ$30 / US$15, which we negotiated for BZ$25 a night for 3 nights.
Check hostel prices in San Ignacio now
San Ignacio Budget Travel Guide
San Ignacio is the ultimate day trip mecca. Find out what tours are available as well as information on attractions, food, accommodation, and transport.
Read more
Know Before You Go
Xunantunich Entrance Fee: BZ$10 / US$5
Xunantunich Opening Hours: 8:00 am to 4:00 pm, daily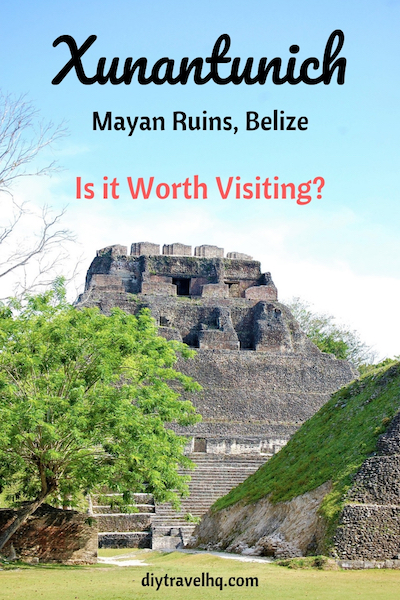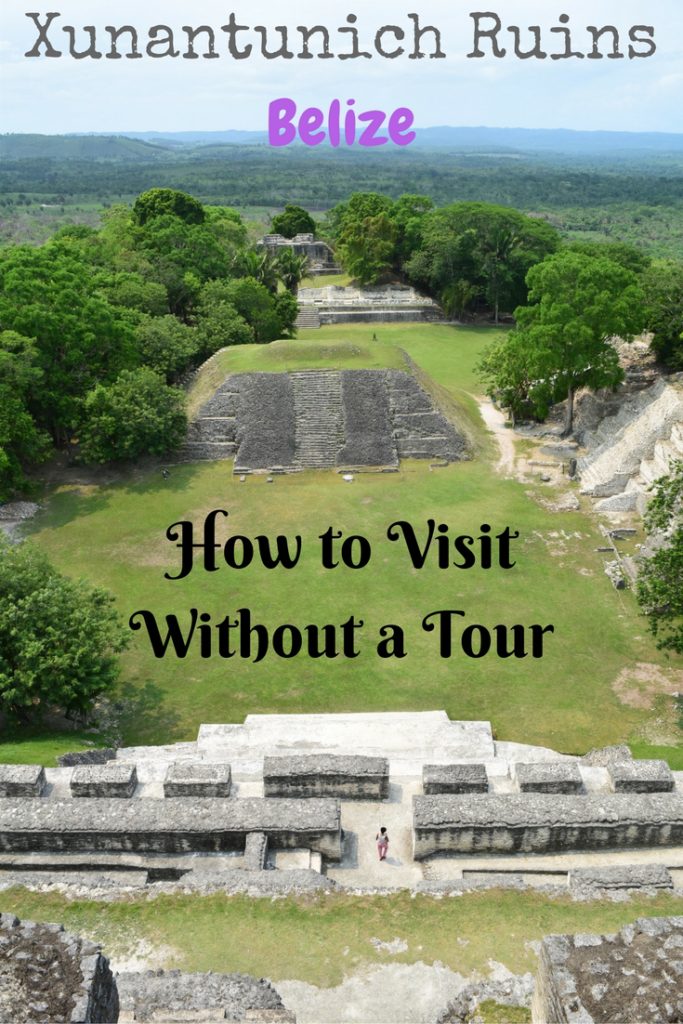 *** The Final Word – Xunantunich is one of the most accessible and impressive Mayan ruins in Belize. If you're in San Ignacio, don't miss it! *** 
What's your favorite place in Belize?
Disclaimer: This post contains affiliate links which means that we receive a small commission if you click on a link and purchase something that we've recommended, at no extra cost to you.

Visited in July 2016
Updated in February 2019