Bali is the perfect getaway with something for everyone. Find out the best things to do in Nusa Lembongan, and see why it's the best island in Indonesia.
Things to do in Nusa Lembongan
Nusa Lembongan, Bali is the first of three islands that can be explored half-way between Bali and Lombok. As you sail farther east, Nusa Ceningan and Nusa Penida become increasingly less touristy and more authentic.
Although you can technically see everything in Nusa Lembongan in 48 hours, plan on spending at least three days covering all the attractions with some downtime thrown in.
While the Gili Islands are more popular we preferred the Nusa Islands. Check out our comparisons here to find out why.
The chance to spot the elusive Mola Mola (Ocean Sunfish) while diving in Nusa Lembongan also makes it a standout island, even when compared to similar Indonesian and Southeast Asian destinations.
Pick up a guidebook for more travel inspiration or keep reading as we explore the top 15 things to do in Nusa Lembongan.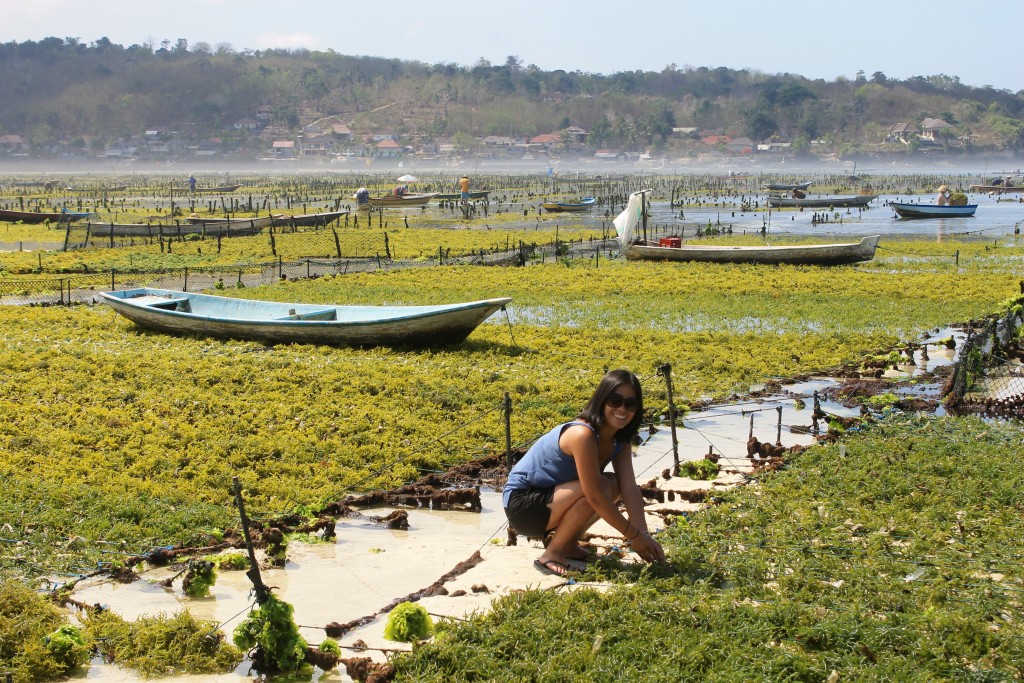 1. Panorama Point
If you're not sure what to do in Nusa Lembongan when you first arrive, then head up to Panorama Point. Most fast boats and public boats from Bali dock at Jungut Batu Harbor with most people staying in the village. From the harbor, it's a 15 minute uphill walk to the awesome Panorama Point.
Look out to the sweeping views of Jungut Batu beach and the surrounding rural landscape. It's a stunning view and it gives you a great lay of the land. Try to spot your accommodation! On a clear day you can even see across to Bali and Mount Agung in the distance.
While you're there, stop in for a drink at Panorama Bar and Restaurant. The prices are similar to the rest of the island, but the food is pretty average so eat elsewhere. It's a great spot to catch sunset with a bintang or cocktail in hand though.
You can make Panorama Point your 1st stop on Nusa Lembongan island or save it for another day. It's on the road to Mushroom Bay and Dream Beach so you could also combine it with those visits.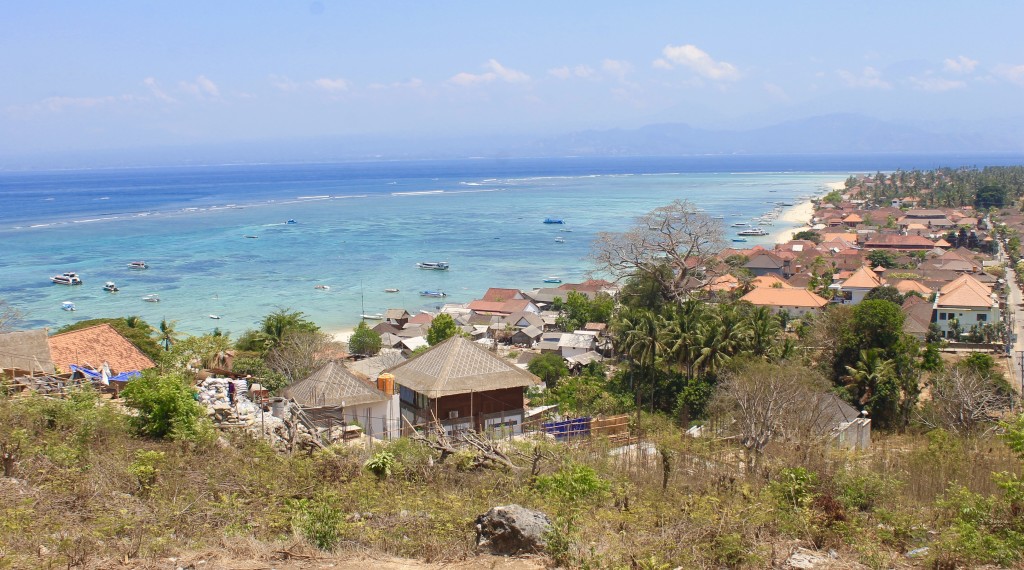 2. Nusa Lembongan Cemetery
We came across a small cemetery on the side of the road during our walk from Panorama Point to Mushroom Bay. There's a hospital next to it which isn't really a hopeful sign for anyone that has to be treated there…
That being said, we recommend purchasing travel insurance before any trip to Indonesia. We've been using World Nomads through 80+ countries over the past 12 years and have been really happy with their coverage and services.
For more details check out our World Nomads review here.
Funerals on Nusa Lembongan can cost a small fortune. The deceased are buried in temporary graves until their family has saved enough money to pay for the expenses, which can take several months.
Once the funds have been raised, an auspicious day is chosen for the ceremony. It starts with morning prayers at the Pura Segara Desa Pekraman temple, which can be attended by hundreds of family and friends. Then there's a procession in the main street as the body is taken to the cemetery to be buried or cremated.
The cemetery is unusual because many of the headstones have umbrellas over them. This is to protect the dead from the hot sun. Away from the beaches and bar, the cemetery is an interesting insight into local life on Nusa Lembongan island.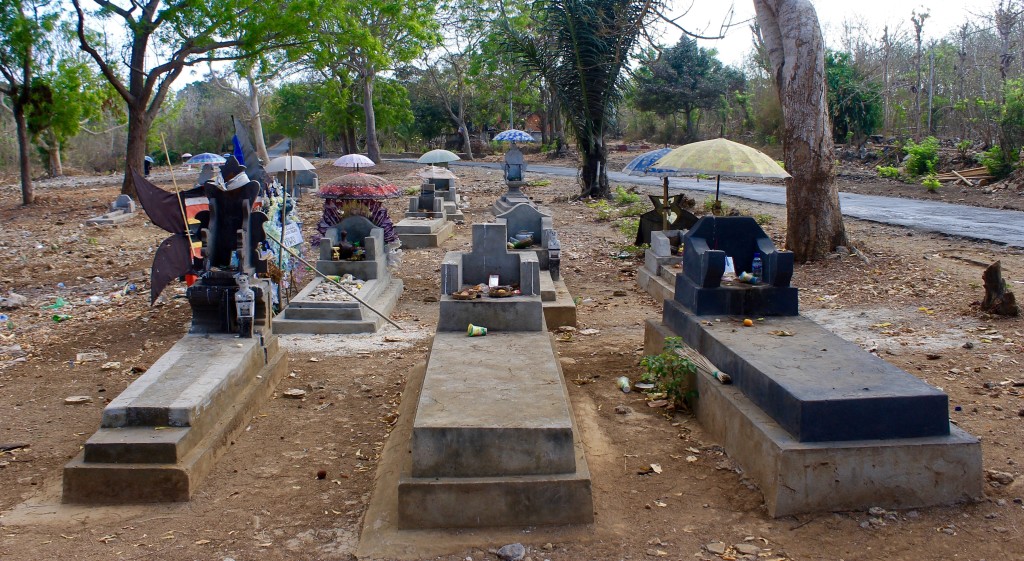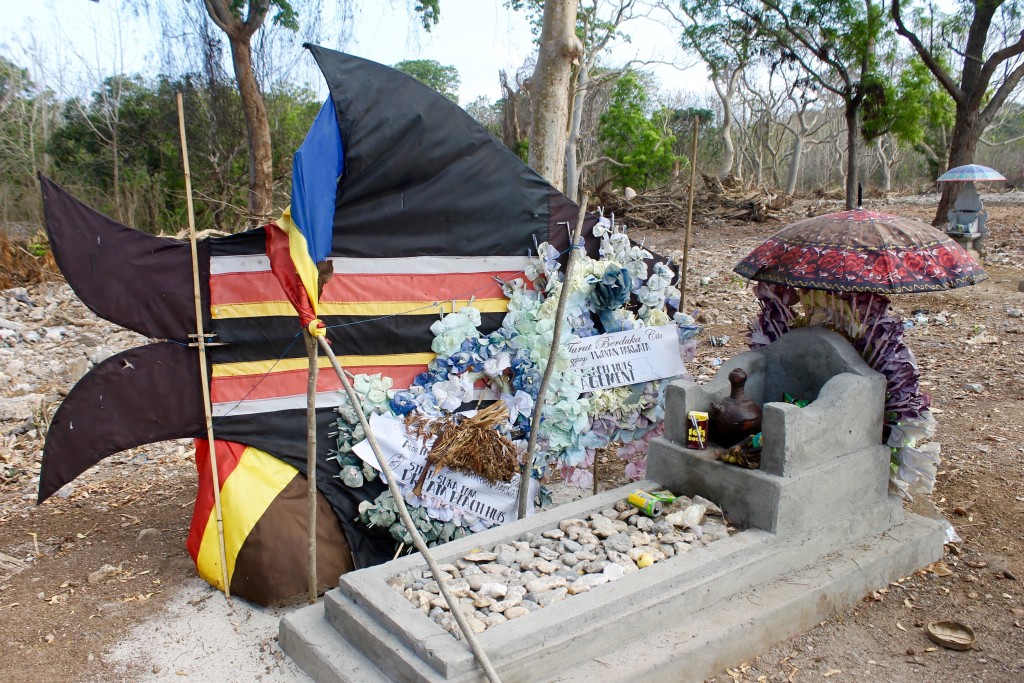 3. Pura Segara Desa Pekraman
You'll come across a massive banyan tree surrounded by temples and shrines on the way to Mushroom Bay Beach. The banyan tree is sacred and it protects the Pura Segara Desa Pekraman temple.
It's the spiritual heart of Nusa Lembongan and locals from all over the island come to worship here during the full moon, or other important days in the Balinese calendar.
If you're lucky it may be open while during your visit. You can wander around the grounds, but remember that it's a Hindu temple so make sure you're covered up and not just walking around in your beach gear.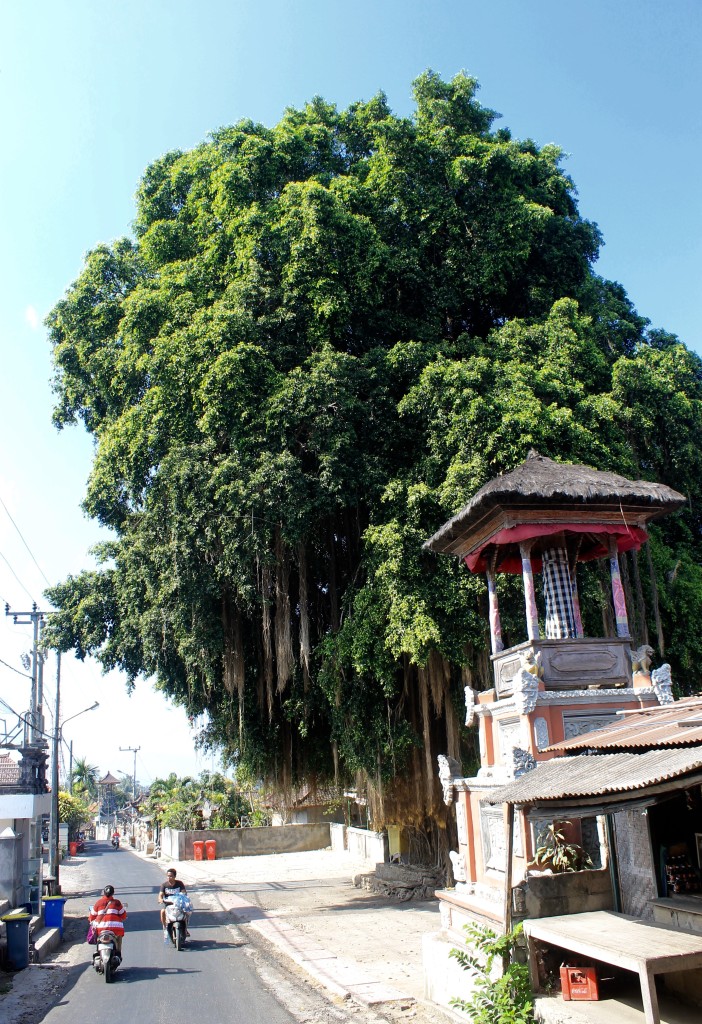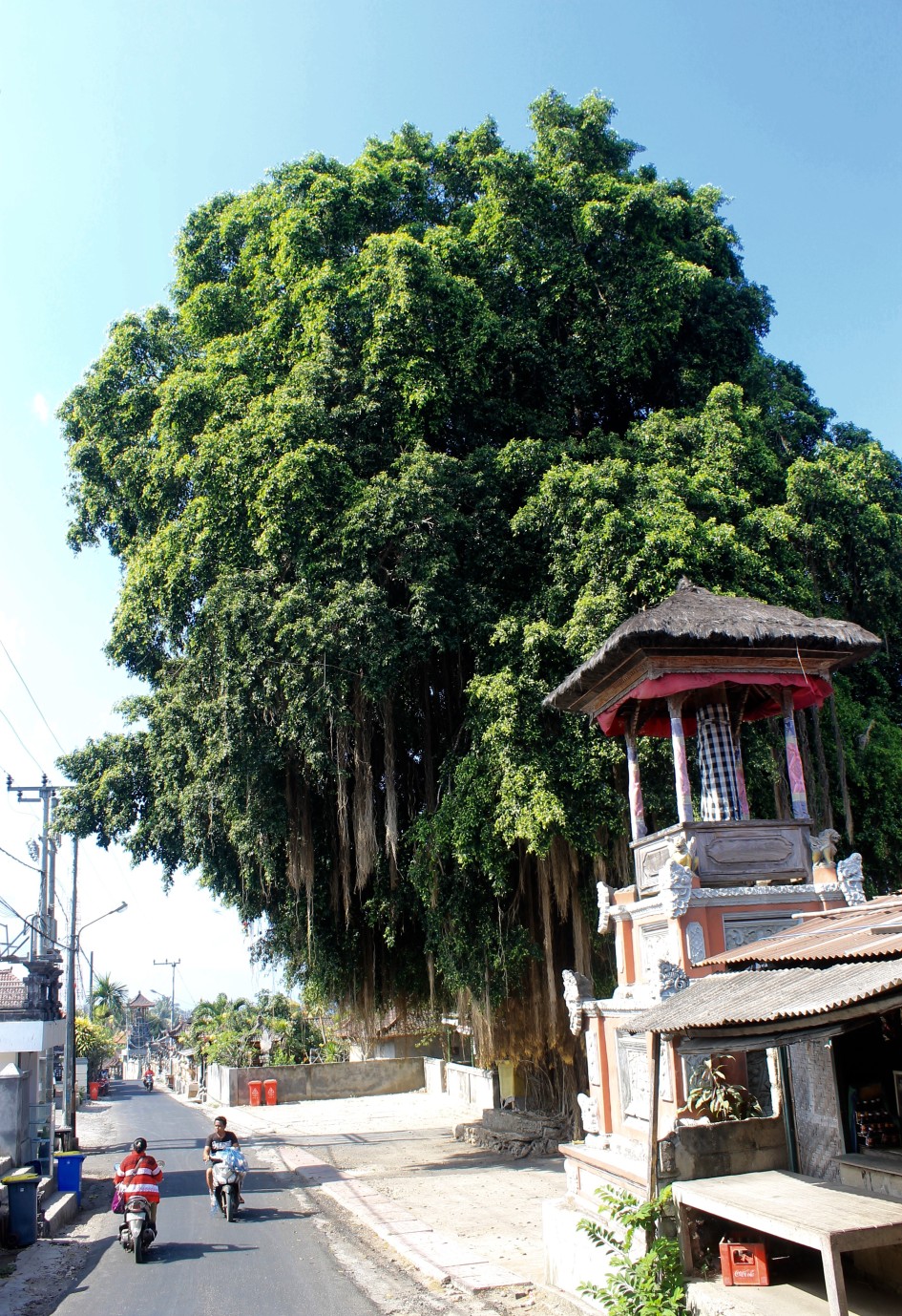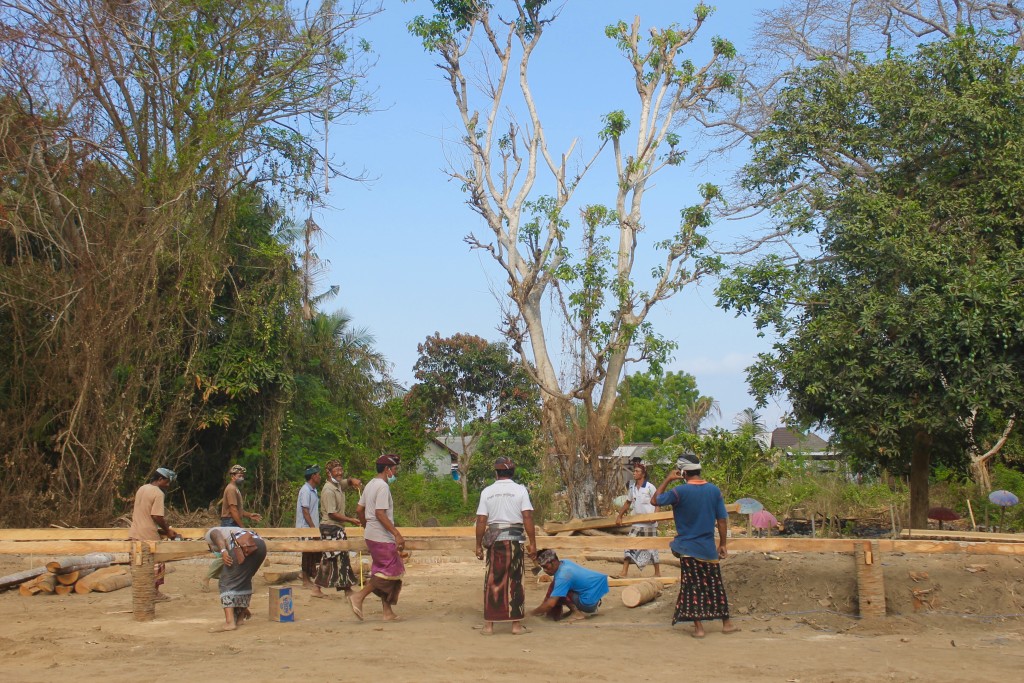 4. Mushroom Bay Beach
Mushroom Bay, Nusa Lembongan is one of the most popular beaches, but it's difficult and dangerous to actually swim here. The beach is crowded with boats taking tourists on day trips, or ferrying passengers back and forth from Bali.
Mushroom Bay is great for people watching though. The best thing to do is sit at one of the many beachfront restaurants and watch the action around you. You'll see passengers coming and going, and goods of all kinds being loaded and unloaded including animals. It's an insight to local island life for sure.
Mushroom Bay is busy throughout the day, but most of the boats stop running at around 4 pm. This is a great time to have a Happy Hour drink and an early dinner, while enjoying the views without the crowds and noise. The sunset here is beautiful and well worth the wait.
5. Secret Mushroom Beach
Secret Mushroom Beach is the kind of beach you can only find if a local takes you. Unlike other beaches on Nusa Lembongan island, this one doesn't appear on the map. However, it's just around the corner from the ever popular Mushroom Beach that is known as the best place to go swimming on the island.
Being so close, Secret Mushroom Beach has the same qualities of perfectly soft sand, very little coral, and minimal currents that are a problem at other beaches on the island. This makes it the ideal place to go for a dip, and one of the top things to do in Nusa Lembongan.
Unlike the main Mushroom Beach, this beach also offers exclusivity, peace, and quiet. It's the perfect place to lay down a towel, read a book, or soak in the sun without interruption. Due to the lack of restaurants on the beach, it's best if you pack a lunch for a lovely picnic. The great thing about this beach is that while it feels like a secluded island, you're actually only five minutes away from hotels, restaurants, and shops.
Recommended by Michelle Della Giovanna, Full Time Explorer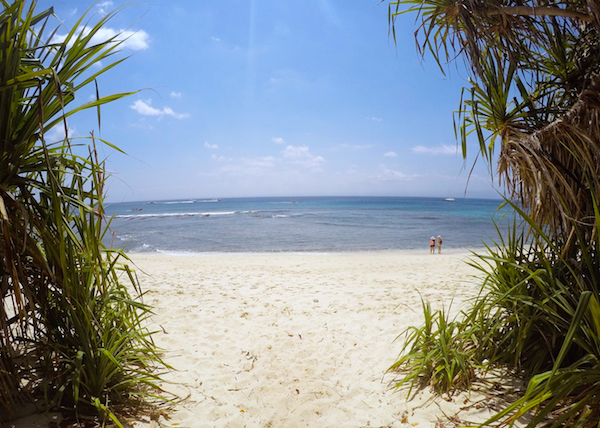 6. Devil's Tears
Don't be scared away by the name of this bay; Devil's Tears is truly a spot to add to your list of things to do in Nusa Lembongan. It is located on the southwest tip of the island, and a short 10–15 minute drive on scooter from the main part of town to reach this epic bay.
You'll arrive to a rocky cove with inlets where water crashes and shoots up into the air, much like a whale's blowhole. Depending on what time of day you arrive, this spot can be quite busy with tourists on day trips from Bali, or in the evening hours you can have it mostly to yourself with incredible sunset views.
And the time of day also determines how much activity you'll see from the water. At high tide, the waves crash against the rocks in this cove sending mist into the air, while at low tide it tends to be more calm.
Be sure to wander past the main cove to the tide pools that many visitors miss. They fill up with water from the crashing waves and create a perfectly mirrored reflection. Don't forget to wear sturdy shoes, because walking on the uneven rocks is a rolled ankle waiting to happen!
And when you're finished watching waves crash, head to nearby Dream Beach. With white sand and turquoise waters, this idyllic beach really does look like something out of a dream.
Recommended by Katie Diederichs, Two Wandering Soles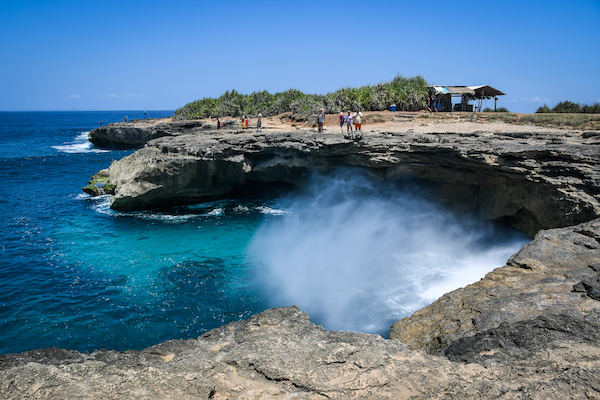 7. Dream Beach
There are a handful of stunning white sand beaches on Nusa Lembongan, but the most beautiful and popular beach on the island is Dream Beach. It is located adjacent to the famous Devil's Tear, and Dream Beach is a must see attraction while visiting idyllic Nusa Lembongan island.
Dream beach is not a long stretch of shoreline, but rather an inlet formed by cliffs on both sides. The beach can get crowded with day trippers, but you will notice that most visitors are there for a few minutes to snap quick photos at the entrance. Only a fraction are there enjoying a beach day splashing around in the clear, turquoise waters and working on a bronze tan.
The entrance to Dream Beach is free, but there are no public facilities such as a shower or a toilet. Consider spending IDR 50,000 ($3.50) to access the Dream Beach Huts' infinity pool and lounge chairs, as well as the pool bar for drinks and food.
Dream Beach is located on the west end of the island, which makes it one of the best sunset beaches in Bali! Don't forget to check out the views from the cliff top surrounding the Dream Beach for a magnificent view of the waves crashing into the drop-offs during the golden hour!
Recommended by Mo, Travelust 101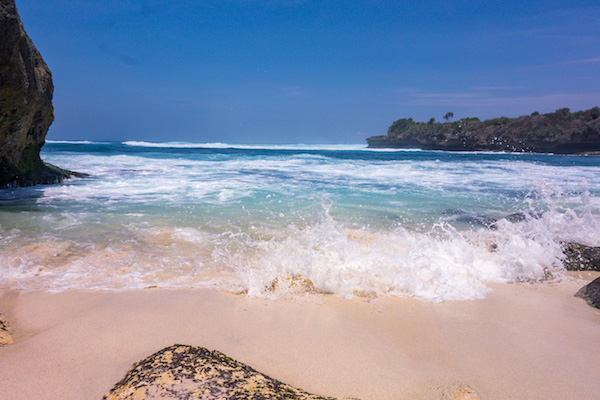 8. Mangrove Forest
Much of the northeast of the island is covered in a mangrove forest, which are an important part of the ecosystem on Nusa Lembongan.
They can be explored by foot, kayak, or a boat tour. From Jungut Batu harbor, it's 3.5 km / 45 minute walk to Mangrove Point. You can also rent a bicycle, motorbike, or car to get there. There's free parking.
Kayak rental is around 100,000 IDR / $7.10 an hour.
A boat tour is 100,000 IDR for 1 person or 150,000 IDR for 2 people.
These prices are about the lowest you'll pay. Don't be surprised to be quoted double this amount. You'll have to negotiate to get to the prices you're comfortable with paying.
The boat tour only goes for approximately 20-30 minutes. It's not very exciting but the natural environment is beautiful and peaceful. You might spot a few birds, but there's not much else to see.
If you haven't been in a mangrove forest before this is a great opportunity to get out there. Otherwise, feel free to skip it without having FOMO. There are a lot better things to do in Nusa Lembongan.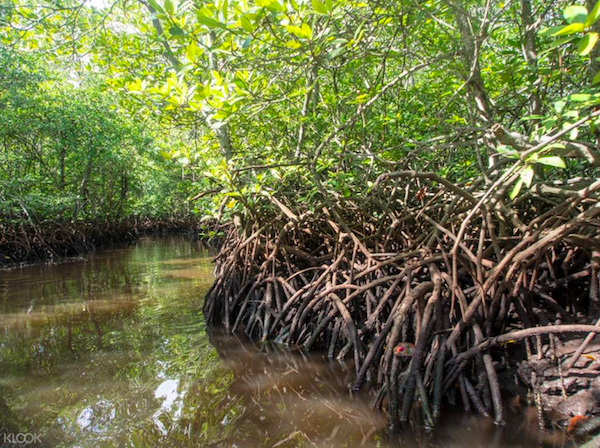 9. Snorkeling
Besides exploring above the water, you can also snorkel at Mangrove Point. While there may not be much to see from land, snorkeling in the mangroves will open your eyes to a whole new world. There's a vast coral garden below with lots of colorful fish of all shapes and sizes.
If you have your own mask and/or fins you don't need a tour to snorkel in the mangroves. From Mangrove Point just jump straight in from the beach. It's best to go in the morning at high tide.
While Nusa Lembongan is known for its crystal clear warm waters and colorful marine life, Mangrove Point is the only real snorkeling site on the island. The other sites that are popular are actually closer to Nusa Penida. They include:
Manta Bay
Crystal Bay
Gamat Bay
GT Point
Wall Point
We're all about traveling independently, but to experience the best of snorkeling in Nusa lembongan it's best to book a tour.
Manta Bay is known as a diving site, but there are also tours that will take you there to snorkel with manta rays. The captain will spot them from the boat and then give you the signal to jump into the water and swim with them. It's an amazing experience that you should totally go for!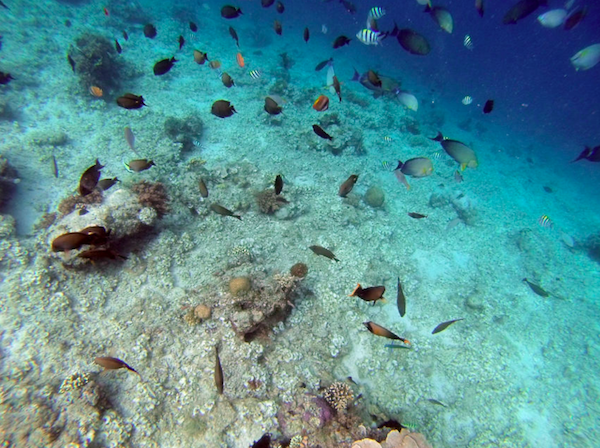 10. Seaweed Farms
We didn't expect to see the huge expanse of working seaweed farms on Nusa Lembongan. It was the most unexpected highlight of our trip and we really recommend everyone to see this side of island life. Check out more of our photos here.
You'll find the seaweed farms in Laguna Bay on the southern coast. It's not listed on Google Maps, but Laguna Reef Huts is and it's in the same area.
Seaweed farming is an important industry on Nusa Lembongan. After it has been cultivated, the seaweed is exported to Japan and China for processing as food additives or in cosmetics.
You can observe the whole process of seaweed farming on Nusa Lembongan. It's possible to walk among the seaweed plots at low tide and see local farmers picking them by hand. They're collected in baskets that women place on their heads and carry up to land. Then the seaweed is sorted and dried in the sun.
We thought the seaweed farms were so unique because we hadn't see anything like them before. We visited in 2015 when the farms were thriving and spread across the south coast. However, it seems like those days are over. Increased tourism development and climate change appear to have had a really bad impact on the industry.
Check with locals on the current situation, and if there's anything left of the seaweed farms before going out of your way to visit.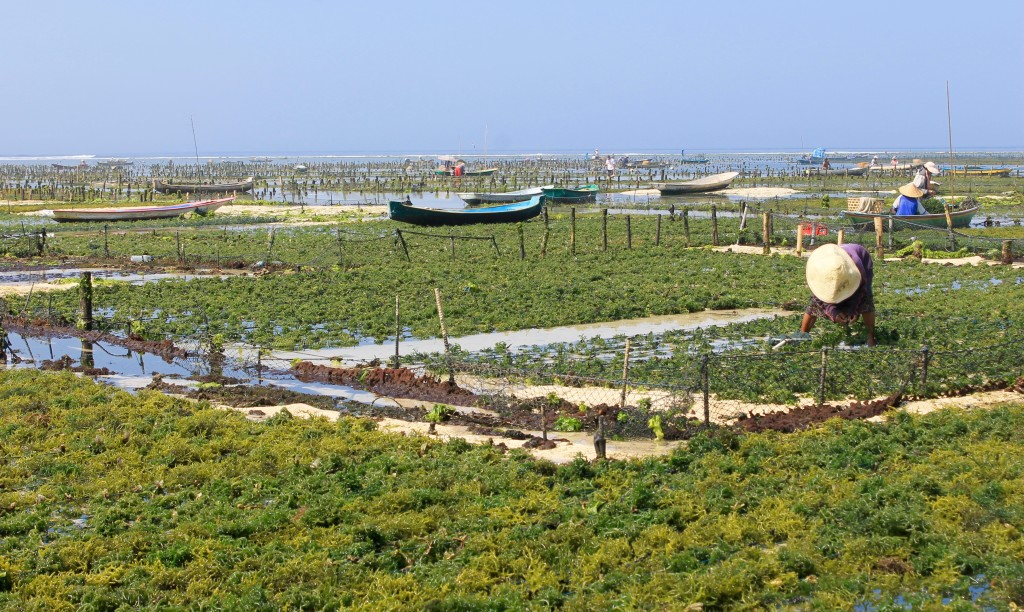 11. Gala-Gala Underground House
The Gala-Gala Underground House is one of those quirky attractions that you'd find on Atlas Obscura.
It's not a must see, but it's just a few minutes walk from the seaweed farms (or Laguna Reed Huts) on the way to the Yellow Bridge connecting Nusa Lembongan to Nusa Ceningan.
The Gala-Gala Underground House was built by a puppet shadow performer named Made Byasa. He was inspired by the Hindu epic 'Mahabharata', where the heroes hid in a forest cave for 12 years.  Mr. Byasa started chiseling the rock in 1961, and finally completed the subterranean home in 1971.
He has since passed away, but the house is open to visitors and run by his son. The entrance fee varies depending on what he feels he can get away with. Some people have paid as little as 10,000 IDR / $0.71 while others have been charged as much as 100,000 IDR / $7.10. 25,000 IDR / $1.75 seems like a fair price.
It's amazing how the house has been built, but you can also see it all in a few minutes.
Take the steep stairs underground and start exploring the labyrinth of tunnels. There's apparently a well, two kitchens, a sitting room, two bedrooms, and more but it's hard to tell which room is which. The rooms are narrow and dark in parts so it's not for anyone claustrophobic or faint of heart.
The Gala-Gala Underground House is very unique and if you can negotiate a fair price it's certainly worth seeking out.
12. Suspension Bridge
Just past the seaweed farms is the suspension bridge linking Nusa Lembongan to Nusa Ceningan. Unfortunately, the bridge collapsed in October 2016, killing 9 people. A new one has been constructed in its place and there haven't been any incidents so far.
It is just a bridge, but it's also one of the most famous sights on Nusa Lembongan to take a photo of. Don't go out of your way to visit, but it's worth a quick stop if you have time to spare or are making the rounds on the island.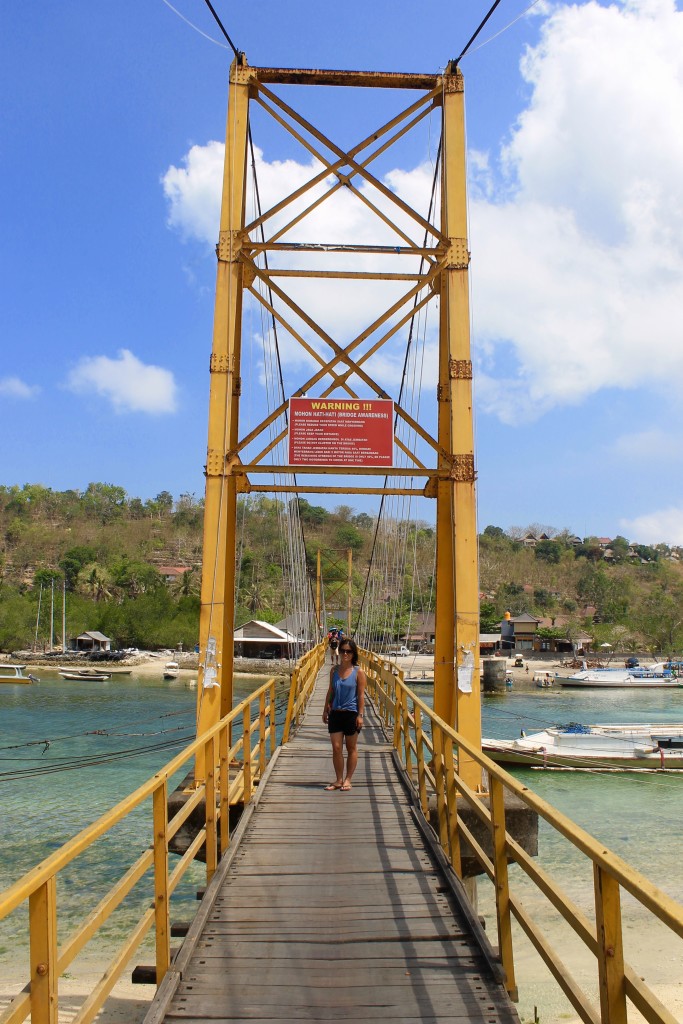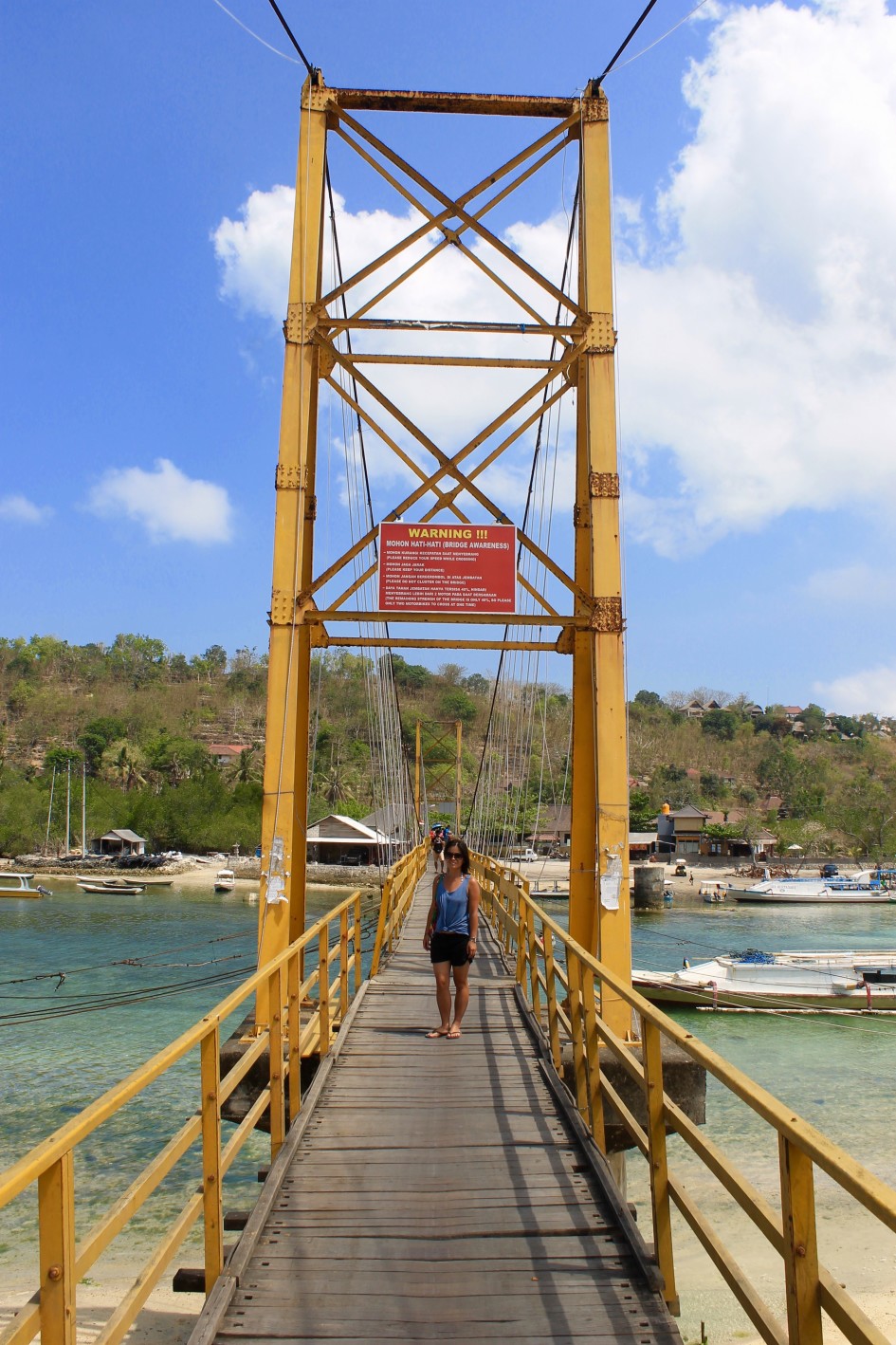 Take a leisurely stroll across the bridge and enjoy the views. From the middle of the bridge you can see up and down the strait. We enjoyed watching the boats on the water and a young couple taking a photoshoot.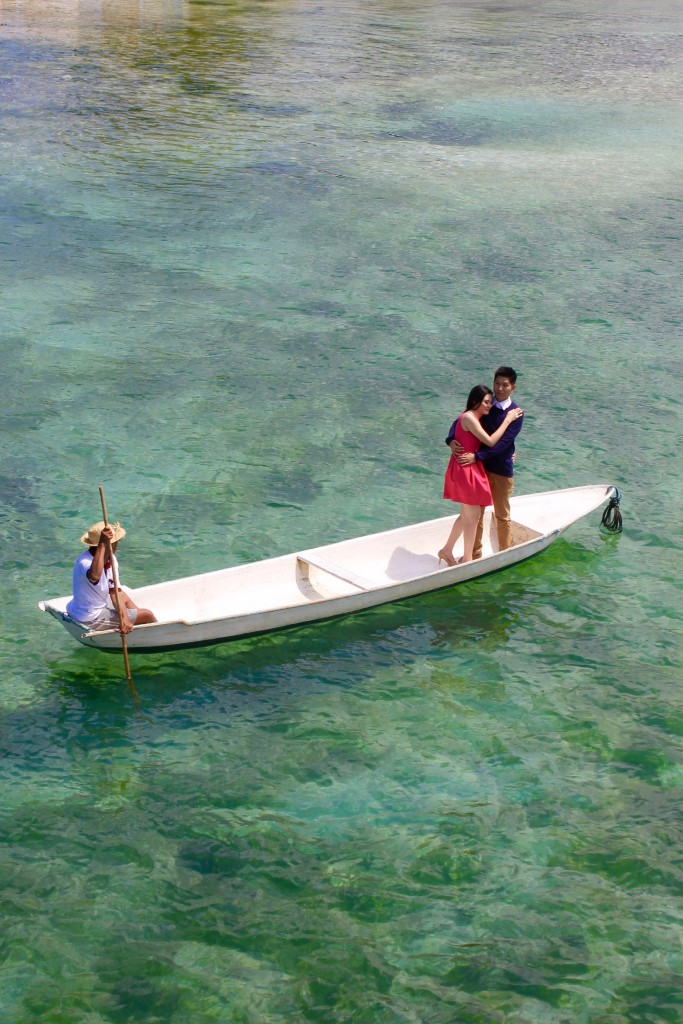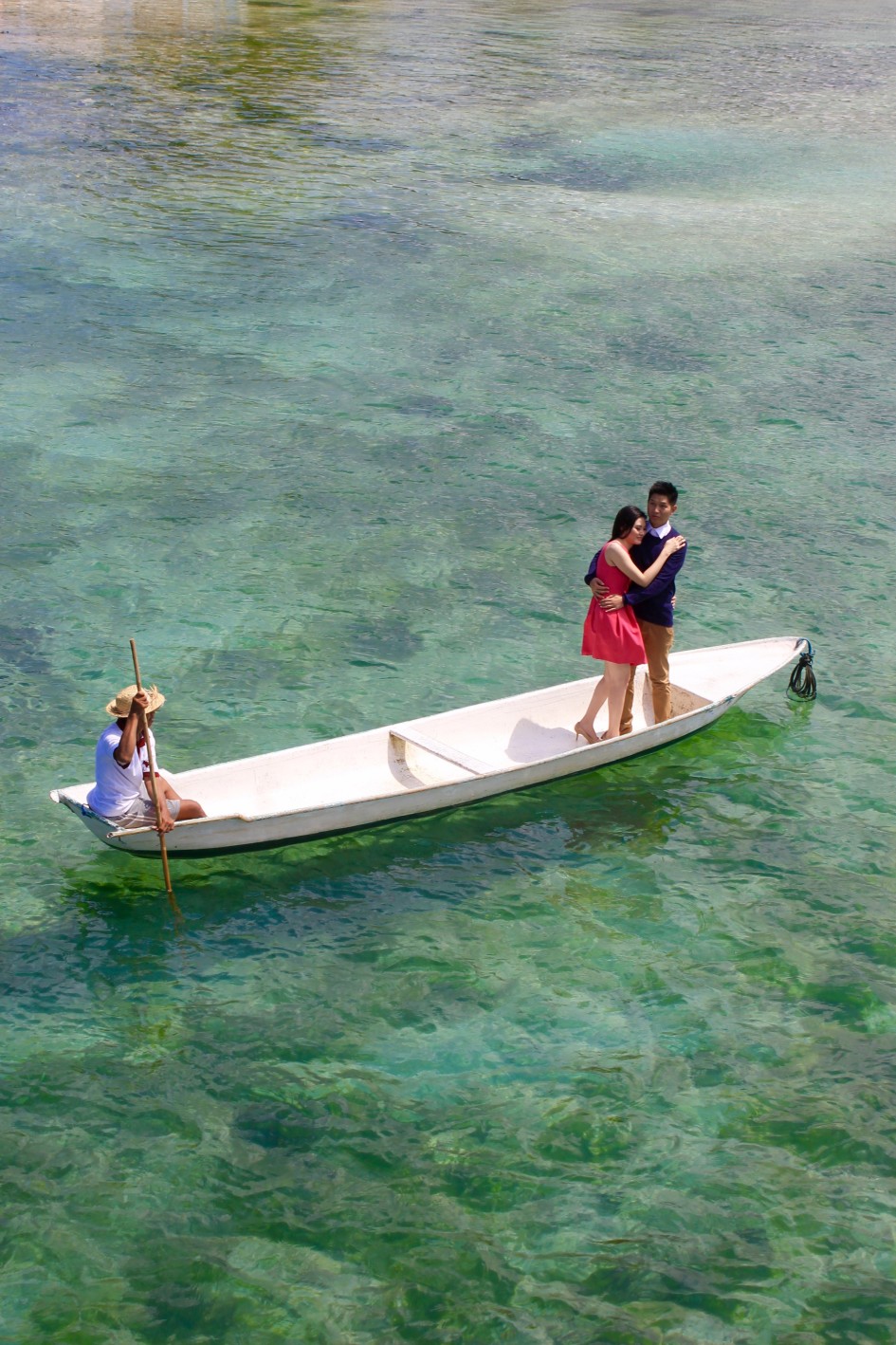 The bridge is quite narrow, and there's a lot of foot and motorbike traffic. Two scooters can barely pass each other at the same time without even factoring in all the tourists to navigate around.
We simply set foot on Nusa Ceningan and walked back across the bridge. If you have time and wheels, then venture over with a motorbike and explore the scenic back roads on Nusa Ceningan.
13. Nusa Ceningan
We've mentioned the Yellow Bridge above so you already know how to get from Nusa Lembongan to Nusa Ceningan. You can also catch a fast or slow boat there if you prefer.
Nusa Ceningan is the smallest of the three chain islands located between Nusa Lembongan and Nusa Penida. There aren't many attractions, but if you have time to spare it's nice to see another side of the islands.
The best places to visit on Nusa Ceningan are:
Pura Bakung – Pray at a Hindu temple
Blue Lagoon – Stare down into a cove of stunningly blue water or jump off a cliff
Secret Beach – Sunbathe on the sand or relax by the resort pool
Mahana Point – Cliff jump or surf
Ceningan Island Resort – Zip line or chill by the pool
Nusa Ceningan is an easy Nusa Lembongan day trip, especially if you've already covered many of the main attractions.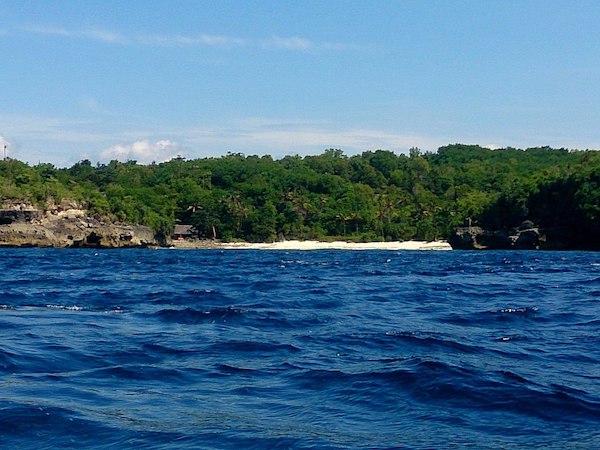 14. Nusa Penida
Travelers looking for a remote island experience need not search further than Nusa Penida. Despite relatively easy access from Nusa Lembongan, the largest island in the chain is worlds apart.
Upon my first visit to the islands in 2012, English was not common among locals, hotels were few and far between, and hiring a motorbike in Nusa Penida was a challenge. These days the word is out about its wonderful beaches, cliffs, temples, and waterfalls.
The main places to visit in Nusa Penida are:
Pasih Uwug / Broken Beach – Take a photo of a natural arch in the sea
Pura Goa Giri Putri – Enter an amazing cave temple
Kelingking 'T-Rex' – Look down at the Insta-famous T-Rex cliffs
Rumah Pohon – Stay at the Tree House and take a photo from the best Thousand Island viewpoint
Tembeling Forest – Follow waterfall trails to a natural pool
Pura Penataran – Pray at a Hindu temple
Bukit Teletubbies – Hike in the hills
Peguyangan Waterfall – Walk down blue stairs along a cliff to a sacred water temple
Public ferries from Nusa Lembongan to Nusa Penida depart near the suspension bridge at around 6 am and return the next morning at 6 am. Tickets cost approximately 50,000 IDR / $3.75. Check with your hotel to see if you can leave your large luggage, and travel with just a day pack.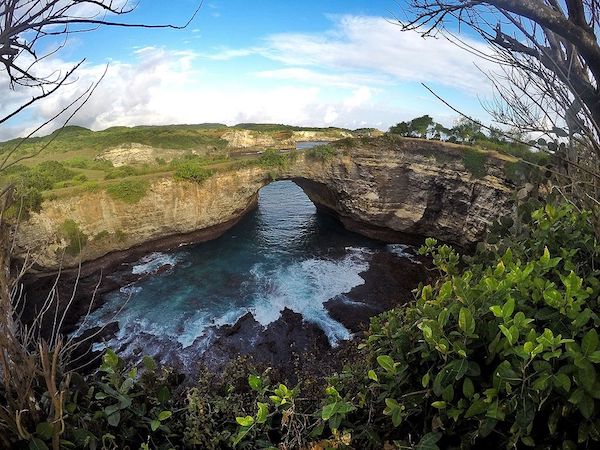 15. Nusa Lembongan Diving
Diving is definitely one of the best things to do in Nusa Lembongan, which is why we saved it for last.
Scuba diving around Nusa Lembongan and Nusa Penida is excellent. Visibility is often good in the summer months, but the currents can be challenging. The density of dive shops found on the island is a giveaway.
What Can You See?
Nusa Lembongan diving is world-class & where some of the largest underwater creatures can be spotted.
Although whale sharks aren't very common, giant mantas are! Manta Rays are gentle giants, and lack a stinger that other rays have. Their diet primarily consists of zooplankton so there is little danger from them. They are amazing to watch "fly" underwater as they flap their giant wings.
There's also a chance of seeing the odd-shaped mola-mola (oceanic sunfish)—the heaviest bony fish discovered so far. The weight of a fully grown mola-mola can reach over 2,000 pounds! Even larger have been caught. They typically dwell deep in the oceans, but occasionally get caught in an up current and take the opportunity to sunbath before returning to the abyss.
Mola-molas have small pectoral fins with large dorsal and anal fins. Their flat bodies and surprised expressions give them a humorous appearance.
The best time to see mola-mola is during the dry-season months, especially between July and October.
Manta Rays are common at Manta Point, while Mola Molas are frequent at Crystal Bay. It's rare but they can also be spotted at dive sites along the north coast of Nusa Penida.
Dive Companies
Nusa Lembongan diving companies worth checking out are as follows:
Lembongan Dive Adventures – This dive company is run by locals, offers fair prices (850,000 IDR / $60.30 Two Dives), but spots fill up fast. Make sure to request a native divemaster!
Dive Concepts – This dive shop is French owned and has the cheapest rates on the island (400,000 IDR / $28.35 dive), but charge a gas surcharge for trips to Manta Point (150,000 IDR / $11.00). Customer service could be improved though.
Big Fish Diving – After comparing dive shops all day, this is the company that got our business (1,000,000 IDR / $70.95 Two Dives). We would have preferred to dive with Lembongan Dive Adventures, but they were fully booked already. The shop is foreign owned and has good quality staff. Divemasters were also foreign, and my personal preference is to have locals that know every crevice show you around. Safety is top notch with them, but be prepared to assemble and carry your own equipment.
Dive Sites
Most Nusa Lembongan diving companies will pair Crystal Bay and Manta Point together. Times will vary depending on the tides as they can be strong at Crystal Bay. Even if you do not spot either wonder of the sea, the dive sites are still beautiful to explore with Crystal Bay taking top honors.
The other trip during the day dive companies make is to the north coast of Nusa Penida. This usually includes some combination of SD, Pura Ped, Sental, and Toyapakeh. The first three sites are comparable, have good visibility, and offer a chance to see the Ocean Sunfish as well.
If you didn't already learn to dive on Gili Air like I did, Nusa Lembongan is the better spot to obtain a PADI or SISI Open Water certification.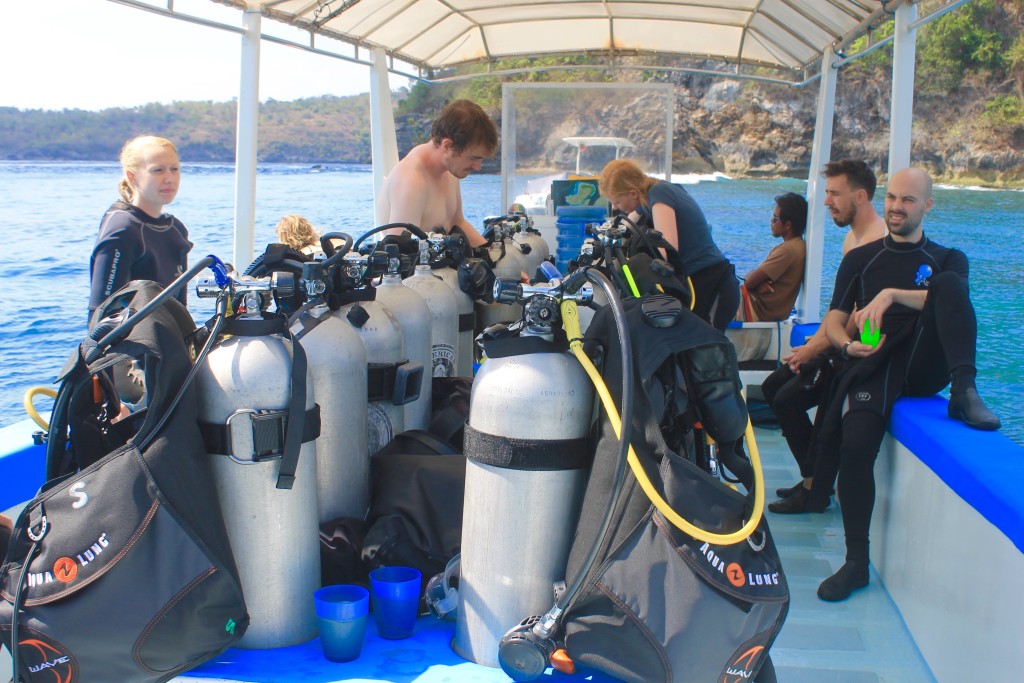 Diving on Nusa Penida
Nusa Lembongan is very close to Nusa Penida, the largest of the three Nusa islands. Right off the northern coast of Nusa Penida there are many great dive sites, where it's possible to dive close to a sloping reef and see a not only colourful corals but also tuna, turtles and even (if you're very lucky) mola mola, the giant sun fish.
Diving at northern Nusa Penida is not for beginners, as pretty much all sites are for drift diving, and currents can be quite strong – albeit not as strong as the famous Manta Point located further south. It's a relatively quiet place, with only two boats when we visited, and the reef and corals were in really good shape.
You can easily plan Nusa Penida dives from Nusa Lembongan, or even snorkeling if you're not certified. Don't miss the opportunity to explore underwater life!
Recommended by Margherita Ragg, A Crowded Planet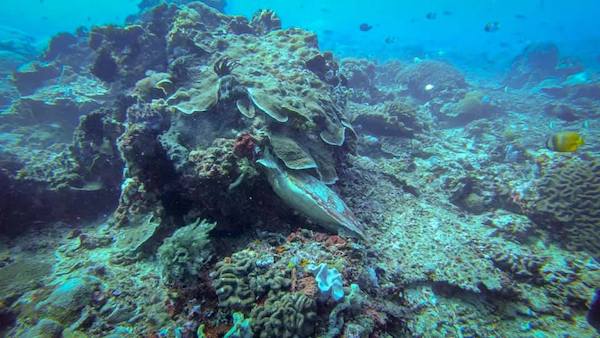 How to Get to Nusa Lembongan
Getting to Nusa Lembongan is straightforward from Bali.
Perama makes it easy and affordable for couples or solo travelers to hop on a bus from Kuta (35,000 IDR / $2.50) or Ubud (50,000 IDR / $3.55), and then catch a connecting Nusa Lembongan ferry.
Groups of three or more can often negotiate their own transportation with private cars for a more convenient time, or reduced price.
Both the public (100,000 IDR / $7.10) and Perama (140,000 IDR / $9.95) slow boats depart Sanur at 10:30 AM, and have only a marginal comfort difference. Therefore, it is wise to in your transportation to Sanur and all the way to Nusa Lembongan, Bali.
DIY enthusiasts can purchase tickets for the public boat at the corner ticket window by Ananda Beach Hotel.
* Tip: Don't forget to take out enough money from the ATM adjacent to Ananda Beach Hotel prior to departure. There is only one ATM on Nusa Lembongan, and it is prone to not working.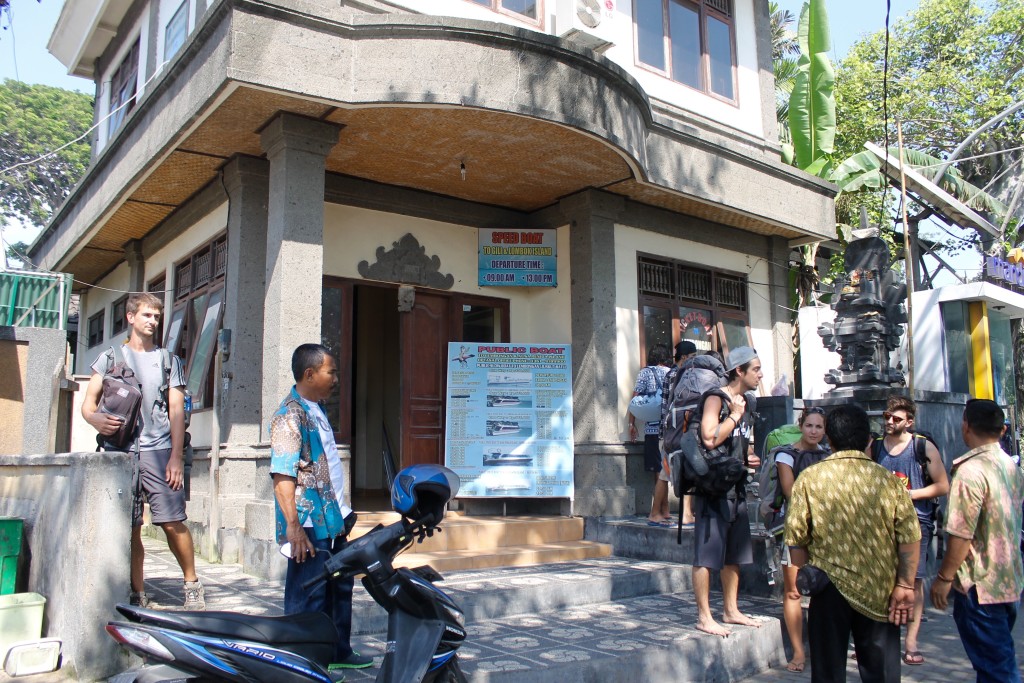 The Nusa Lembongan ferry time averages 90 minutes, which gives you plenty of time to mingle with the locals on the high seas.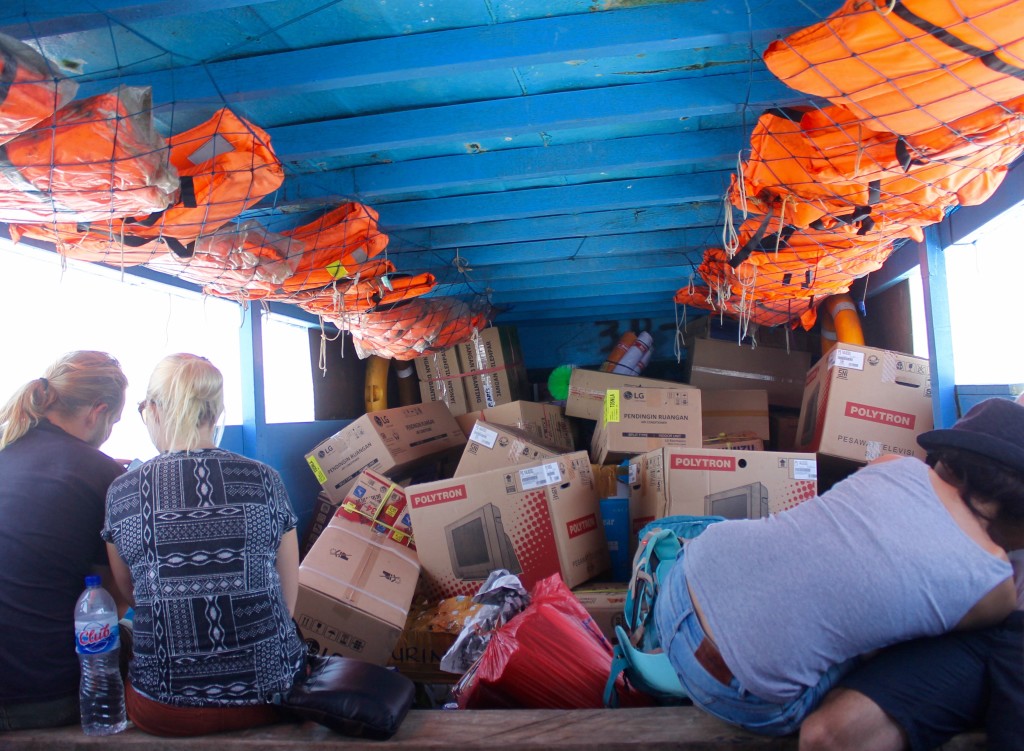 Return Nusa Lembongan ferry trips to Sanur depart at 8 AM, and tickets (100,000 IDR / $7.10) can be purchased underneath a concrete pavilion. From Sanur it is possible to arrange onward transportation to the remainder of Bali.
Public transportation takes the better part of two days, but costs less than a third – find out more on our post on how to get to the Gili Islands. It also allows you to explore new places, and save a nights accommodation costs.
* This section was correct as of October 2015. We don't expect prices to have changed much since then.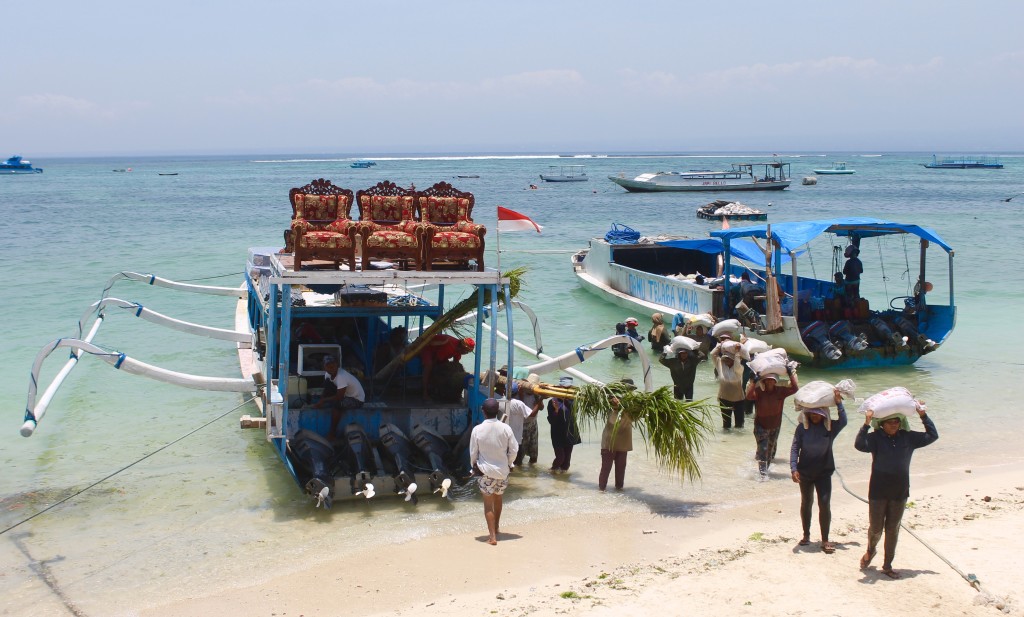 Budget Accommodation
If you haven't booked your accommodation online, you can shop around a bit when you get to the island. head two main streets in and turn left on Jalan Jungutbatu. This street is where you will find cheaper accommodation and the majority of restaurants.
Hotel prices start at 140,000 IDR / $9.95 on the island though you can probably find better deals online. In 2015 we stayed at Wahyu Homestay 2 for 175,000 IDR / $12.45. The spacious fan ensuite excluded breakfast, but included Wi-Fi and a pool. Juice could also be purchased for 10,000 IDR / $7.10.
Those looking for a vacation from backpacking can find low-end beachfront resorts further down Jungutbatu on the left.
Check accommodation prices in Nusa Lembongan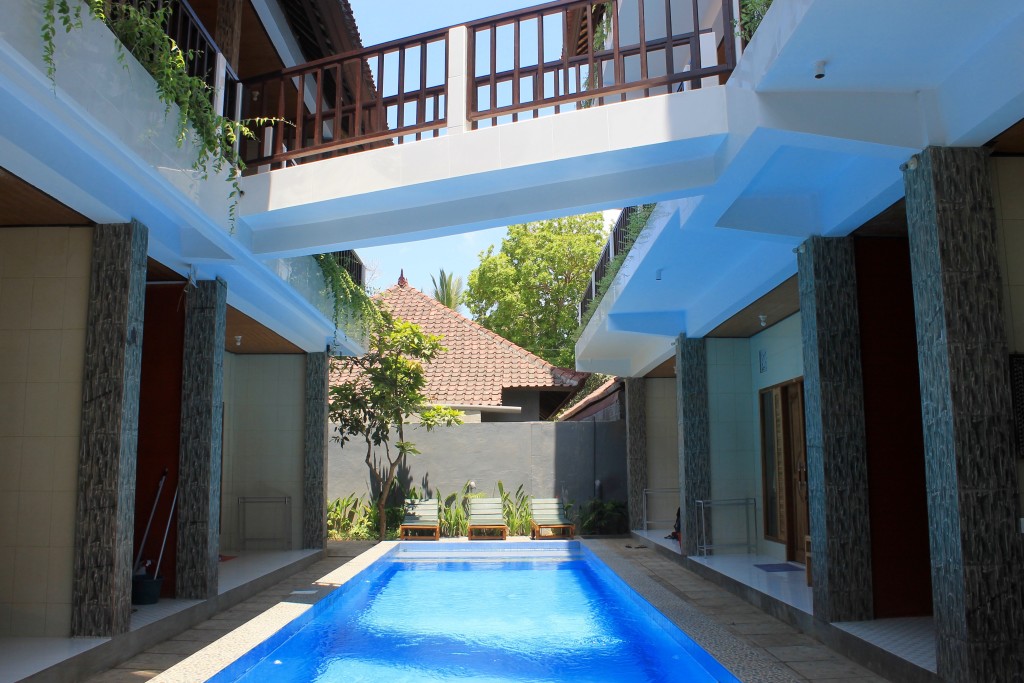 Nusa Lembongan Restaurants
Notable restaurants on the island include Warung Nitya, Lemongrass Bar and Restaurant, and Jungat Batu Theater Restaurant.
Warung Nitya was our go-to place for value as it had a great combination of ambiance, price, and taste.
Lemongrass is more expensive, but had a pleasant lounge vibe to casually have dinner or a few drinks.
Jungat Batu is a unique concept for Bali where the restaurant pairs dinner with a movie in an enclosed compound. The movie selection while we were there was poor so we cannot comment on the food or screen.
Tigerlillys has become one of the most popular restaurants on Nusa Lembongan, and for good reason. Entering this little oasis feels as though you've stumbled into a jungle retreat on a private island. The décor has a modern bohemian vibe making it feel like you're in a friend's home. The restaurant puts an emphasis on not using any plastic, so there are no bottles or straws on the premise adding to the eco-friendly feel.
But the ambience isn't what keeps people coming back. The food at Tigerlillys is some of the best you'll find on Nusa Lembongan. Their decadent hot chocolate tastes like an entire chocolate bar was melted in a pot and poured into a cup. They also offer a delightful chia seed pudding which is served with whatever fruit is in season.
All of their meals focus around local ingredients and they use organic ingredients whenever they can. Ordering a meal at Tigerlillys feels a bit like an event as the dishes are plated like a five-star restaurant minus the hefty price tag.
Tigerlillys is recommended by Michelle Della, Giovanna, Full Time Explorer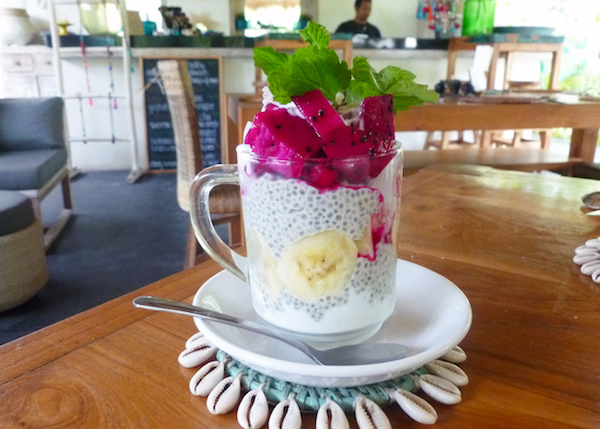 Where to Next?
It's possible to continue on to the Gili Islands from Nusa Lembongan directly via Super Scoot for 600,000 IDR / $45.00. Find out more in our next post…
Things to do in Gili Air
Not sure what to do in paradise? Our guide has the best things to do in Gili Air, Lombok and info on boats, food and much more. Dive in and start planning your trip!
Read more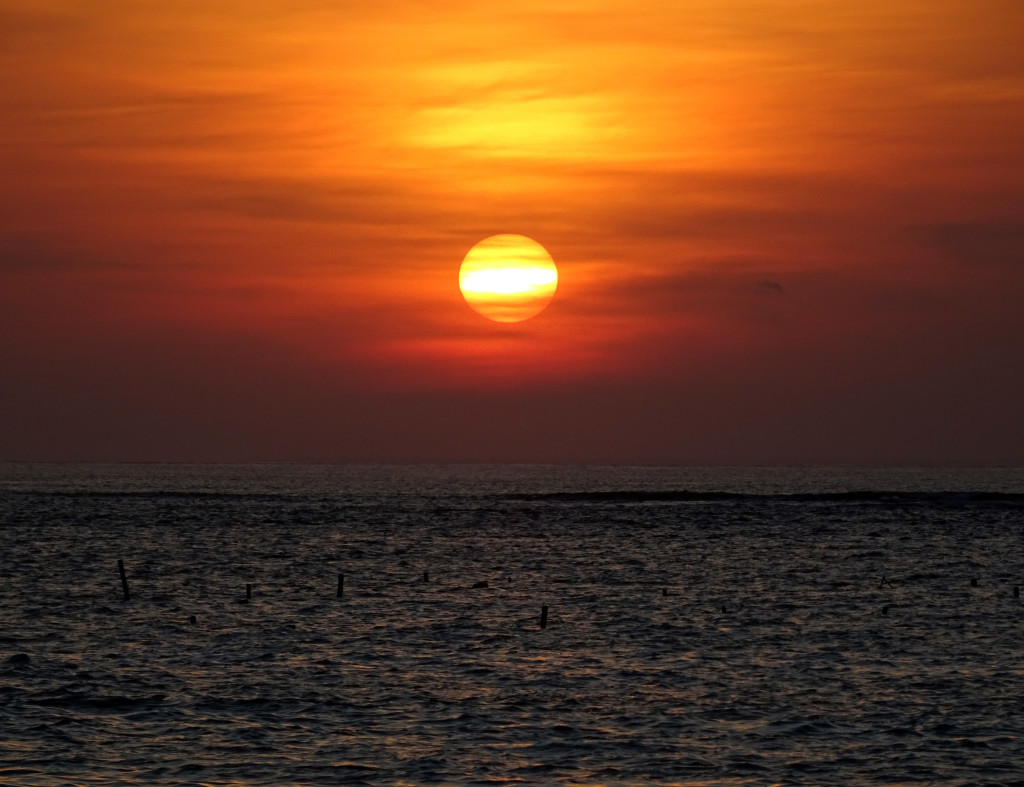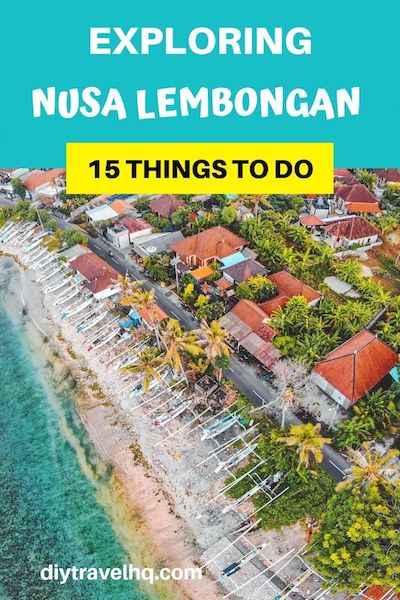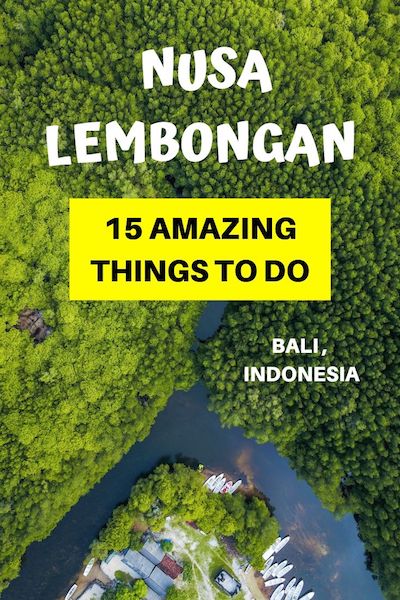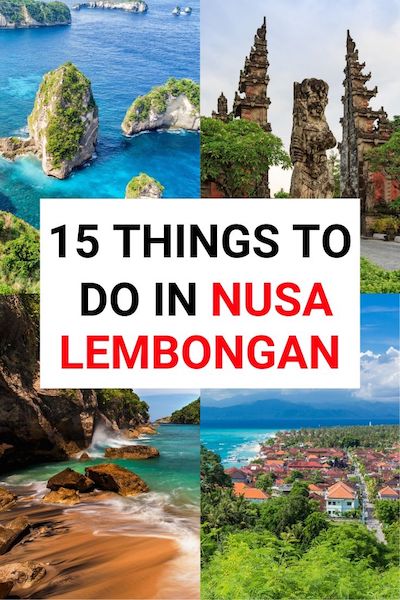 *** The Final Word: With world-class diving & a number of cool things to do, Nusa Lembongan is the best island in Indonesia. *** 
Do you agree? Or what's your favorite Indonesian island?
Disclaimer: This post contains affiliate links which means that we receive a small commission if you click on a link and purchase something that we've recommended, at no extra cost to you.

Visited in October 2015
Updated in April 2020