White water rafting on Rio Cangrejal with La Moskitia Ecoaventuras was one of our highlights while traveling through Central America. Make sure you don't miss this opportunity when in La Ceiba, Honduras!
Why we Chose La Moskitia Ecoaventuras
La Moskitia Ecoaventuras is the original white water rafting company in La Ceiba, and has over 24 years of experience.
Jorge (the owner) is still hands-on, and very prompt with responding to our DIY Travel HQ e-mails
A tour includes return transportation from La Ceiba, equipment, bilingual guides, and a light meal at the end.
Plus, how many places in the world can you go white water rafting for $45 per person? It's one of the best-value tourist attractions in Honduras.
* Don't forget to purchase travel insurance before any trip to Honduras. We've been using World Nomads for over 10 years – it's the best-value provider we've found & we've also never had any issues on the few occasions we've had to make a claim.
What to Expect Before Rafting with La Moskitia Ecoaventuras
My last white water experiences have been in a canoe so we were both very excited to get on the water in a raft.
(We would also go white water rafting in Costa Rica later in our travels around Central America).
Remember to come prepared to get wet, which was not something I was used to in a canoe.
A change of clothes, and sneakers are the only other things you need to worry about bringing.
You will be securing your foot in a rope so bare feet or sandals are not recommended.
Our first impression of Jorge was one of professionalism.
He said he would be at our hotel at 8 am, and arrived at precisely that time.
This wasn't the Central American time we have grown accustomed to.
It took about 30 minutes to get to the Jungle Lodge from La Ceiba, which is where you typically start your white water rafting trip.
After descending the extended driveway, we got prepared for white water rafting.
This included finding the correct life vest, helmet, & paddle before securing our personal belongings.
At this time, we also got a briefing for the remainder of the day and signed the waiver release.
White Water Rafting Instructions & Practice on Rio Cangrejal
As I mentioned earlier, most tour groups depart from Jungle Lodge.
However, we were going white water rafting after Hurricane Otto rained for the better part of a week in Central America.
This meant that the first section was too hazardous for our group of beginners.
Luckily, Jorge's solution was to do the same section twice that met our experience level.
Once the guides skillfully carried the rafts down to our entry point, we received our tutorial in either English or Spanish.
The group leader, Jorge in our case, demonstrated how to paddle for true beginners, the different rowing commands, how to brace for impact, and emergency procedures should you fall out.
What we loved was the simplicity of everything.
As long as you can follow commands, anyone can go white water rafting. Each raft's guide tells you exactly what to do & when.
The only thing you have to worry about is following them, and working in unison with the other rafters.
We were then able to practice the techniques in a calm section of Rio Cangrejal.
The main ones were rowing forward, backwards, and getting down to brace for impact.
Assuming you mastered those, your guide would then work on turning which involved both sides rowing in opposite directions.
The general goal you want to take away is to be moving faster than the current so you don't get stuck in a 'hole'.
White Water Rafting on Rio Cangrejal with La Moskitia Ecoaventuras
The stretch of river that we covered was a lot of fun, and flowing very fast from the recent rainfall.
You quickly get to test your skills & see how well you work as a team since the first set of rapids were less than 50 meters from our entry point.
The three other rafts had groups of four with a guide, while we had to rely on just ourselves aside from the guide!
Hitting the first waves quickly got your attention as the water splashed into the boat & drenched anyone in front.
It felt like a theme park ride, but in an uncontrolled environment.
You are in control of your own destiny on Rio Cangrejal as you ride the bends & avoid the boulders.
You can forget about everything else in the world as you make your way through each set of rapids.
In between the rapids you can take a break and enjoy the stunning scenery found in Parque Nacional Pico Bonito.
They don't call it pretty for no reason.
Just look at the stunning waterfall that pours down into Rio Cangrejal!
The other fun activity is having a go at the other rafts & trying to soak them with the use of your paddle.
If you are sneaky, you can also use the handle on your oar to pull someone into the river from behind.
Thankfully, the water is a pleasant temperature so you can actually enjoy these moments.
The best rapid for us was right at the end. It was the longest we experienced, and also the fiercest.
You would get through one giant wave, and then face the next one immediately.
Each dip would require you to paddle harder & faster to keep the forward momentum.
On our second run we actually got pinned against a giant boulder, and had to use all our might to escape the current that was pushing us into it.
Thankfully, everyone finished both runs safely (albeit some in the raft & others out that couldn't wait for a swim) & we headed back to the Jungle Lodge for a light meal.
Return to River Lodge
How do you fit 19 soaking wet people inside a modified SUV? You don't!
Anyone that wants a seat can get one inside, but you also have the option to try road rafting in the trailer.
This might be just as much fun as you bounce around with the countless potholes along this remote stretch of road.
Once back at the River Lodge, you can change before enjoying juice, fruits, & a light meal.
Keep an eye out for resident toucans as well. We spotted a pair in the surrounding trees.
When everyone was finished recharging their batteries, we headed back to La Ceiba.
Know Before You Go
Hours: 8 am – 1 pm or 1:30 pm – 5:30 pm
Price: $45/person with a minimum of 2 & discounts with additional members
What's Included: La Ceiba return transportation, all equipment, bilingual guide, & a light meal (Bonus: Bring your GoPro with attachment adapter & they probably have a spare helmet mount to use)
Contact Information:
Did you enjoy reading White Water Rafting in Honduras with La Moskitia Ecoaventuras?
Pin it and help others find it too!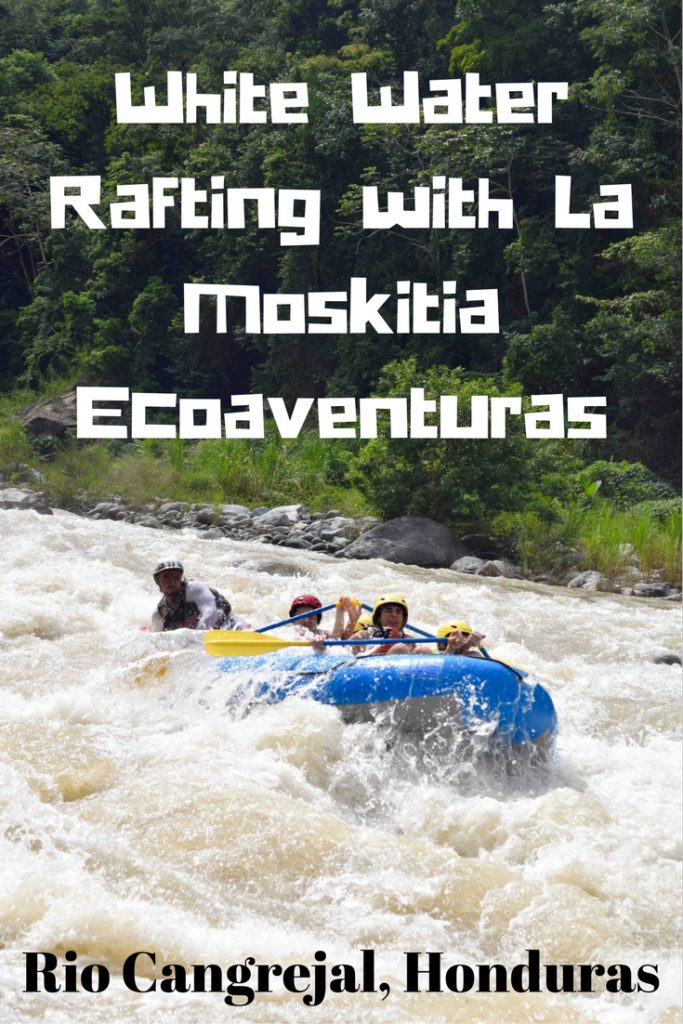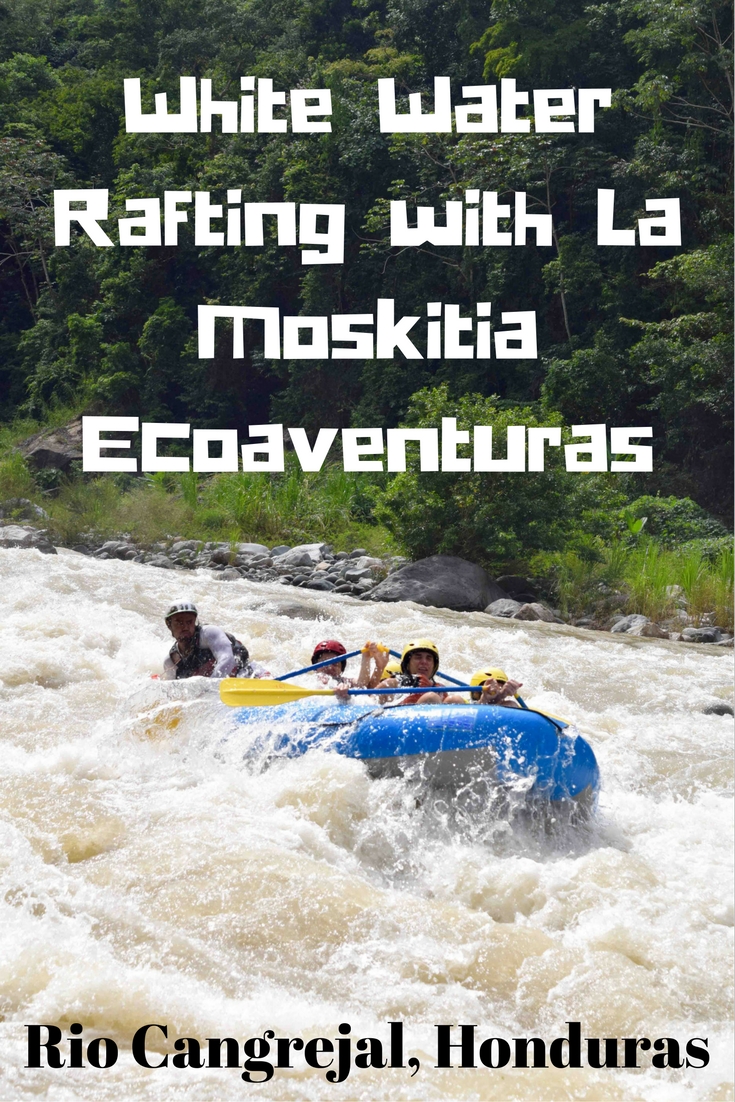 ***The Final Word – If you are in this part of the world, you need to go white water rafting with La Moskitia Ecoaventuras!***
Where have you tried white water rafting before?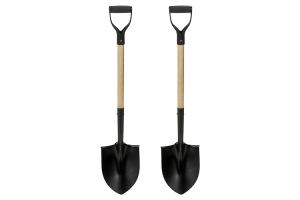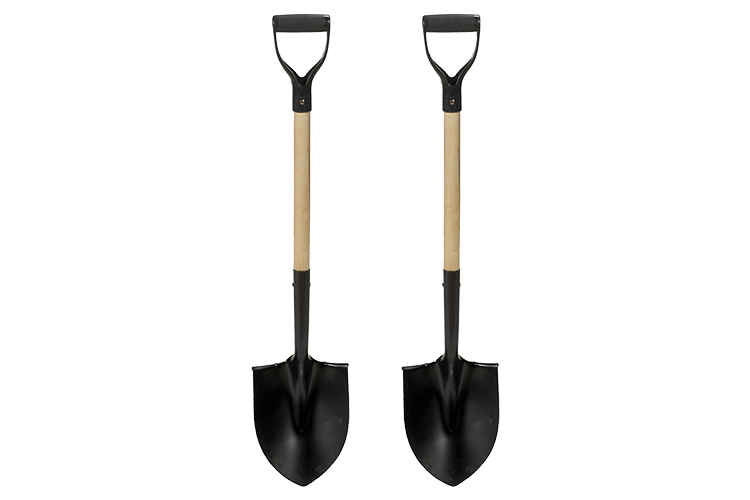 Not recommended DIY travel; take a tour instead
* Thank you to Jorge & La Moskitia Ecoaventuras for hosting us. No payment was received for this review, but our white water rafting tour was complimentary. As always, all opinions remain our own.