The popular Palmira Hostel in Tegucigalpa just got even better – check out its new property at the former Embassy of Ecuador, complete with a fabulous rooftop terrace & the best views of the capital of Honduras!
Most travellers pass through Tegucigalpa on the way into our out of Honduras.
Despite its reputation, there's little danger during daylight – the downtown area has some attractive colonial architecture & interesting museums to spend a day or 2 exploring.
We recommend Tegus on our 1 month Honduras itinerary.
What's more, some of Honduras' best hiking trails can be found on its doorstep, with the beautiful Parque Nacional La Tigra just 22km away from the capital.
The new Palmira Hostel makes an extended stay in Tegucigalpa even more inviting – see why many travellers like us here at DIY Travel HQ end up staying longer than they had planned!
Location of Palmira Hostel
The new Palmira hostel is still located in Colonia Palmira, the safest neighbourhood in Tegucigalpa.
This is the embassy district of the capital, with the United Nations building & American Embassy less than 2 blocks away – in fact, Palmira Hostel was actually the former Embassy of Ecuador.
So if you've ever wanted to spend a night at an embassy, this is your chance 🙂
You'll also find supermarkets, restaurants & banks within walking distance of Palmira Hostel, along with pubs, bars & live music.
Dorm at Palmira Hostel
Palmira Hostel offers one large 16-bed dorm for budget travellers. It's a long, large room with plenty of space, fans & locker storage (bring your own lock).
Each bed also comes with 2 pillows each!
One advantage of a large dorm is that you have a great chance of getting a sought-after bottom bunk, especially if it's not fully booked.
The dorm actually feels more like two 8-bed dorms, as there's additional space in between & separate light switches.
There are also 2 full bathrooms, each with their own toilet & shower.
Both the dorm & bathrooms were always very clean during our stay.
We were really surprised to find our sheets changed everyday too – not something you ever expect from a hostel!
Kitchen at Palmira Hostel
Palmira Hostel offers a huge full kitchen for use.
From an oven & microwave to a fridge & toaster, there's really everything here you need to cook.
All the crockery & cutlery looked brand new too.
You can enjoy your home-cooked meals in the patio area next to the kitchen.
There are 2 large picnic tables, under the shade of umbrellas.
There's also a free barbeque for use as well as free purified drinking water.
Rooftop Terrace at Palmira Hostel
The rooftop terrace at Palmira Hostel has the WOW factor!
There are beautiful outdoor lounges & chairs to relax in, around wooden coffee tables with charming bonsai plants!
It can get pretty hot up here, so put up the large sun umbrellas if you need some shade.
Other seating areas include a table & chairs, a hammock & a cute wooden swing set – you can find more hammocks on the lower level.
You can even watch tv & I loved the outdoor outlets so I could blog in the sun!
There are free hand weights to use at any time of the day, if you can't wait for the free yoga & workout sessions every evening!
Personally, we preferred watching the sun go down with a few beers 🙂
The rooftop terrace is a great social area to meet other travellers but it's also large enough that you can have your own privacy if you prefer.
It's surrounded by many trees around the property, facing a fantastic view of Tegucigalpa.
You can even see the 32m tall Cristo del Picacho (statue of Christ) on the pine-studded slopes of the Parque Nacional El Picacho.
Other Features of Palmira Hotel
High-speed wifi
Free bicycle rental
Free barbeque to use
Free walking city tours (Tues-Sat, 2:00pm)
24 hour reception
Airport pickup upon request
Laundry at $5 a load (stay 5 nights, receive 1 free load!)
Book exchange & board games
City information & up to date bus schedules
Things to See & Do in Tegucigalpa
With these attractions, Tegucigalpa (Tegus for short) is more than a stopover city
Museo para la Identidad Nacional – learn about the history & identity of Honduras
Galeria Nacional de Arte – check out the work of the finest artists' in Honduras
Parque Nacional La Tigra – spot wildlife & hike through cloud forests
Basilica de Suyapa – visit the most important church in Honduras
Valle de Angeles – shop for handicrafts in this charming colonial town
Palmira Hostel Wrap-Up
We were really surprised by the all-round value for money at Palmira Hostel.
It's location in the embassy district of Colonia Palmira is the safest in the city & we appreciated the added security of the 24 hour reception.
The dorm & bathrooms were clean at all times – private double, triple & quadruple rooms with ensuite bathrooms are also available.
The rooftop terrace is super-stylish, especially at night with the fairy lights on.
All of the furniture & equipment throughout Palmira Hostel is brand new & of top quality. We loved cooking in the well-stocked kitchen, it's always nice having clean cutlery & pans in a hostel and not having to search high & low for this piece or that!
The owner Hernan is Tegucigalpa born & bred so he's a wealth of information on anything you want to know about the capital.
With added bonuses like board games & a barbecue, free bike rental & walking tour, there's plenty of things to keep you happily entertained both inside & outside – if you're planning to visit Tegucigalpa, there's really no better place to stay than Palmira Hostel!
Know Before You Go
Address: Colonia Palmira Ave. Republica del Peru 4ta. Calle No. 7 (former Embassy of Ecuador), Tegucigalpa
Price: Dorm $10.00, Double room $30.00, Quadruple room $50.00, Hammock $5.00
Contact information:
Did you enjoy reading Welcome to the New Palmira Hostel in Tegucigalpa?
Pin it and help others find it too!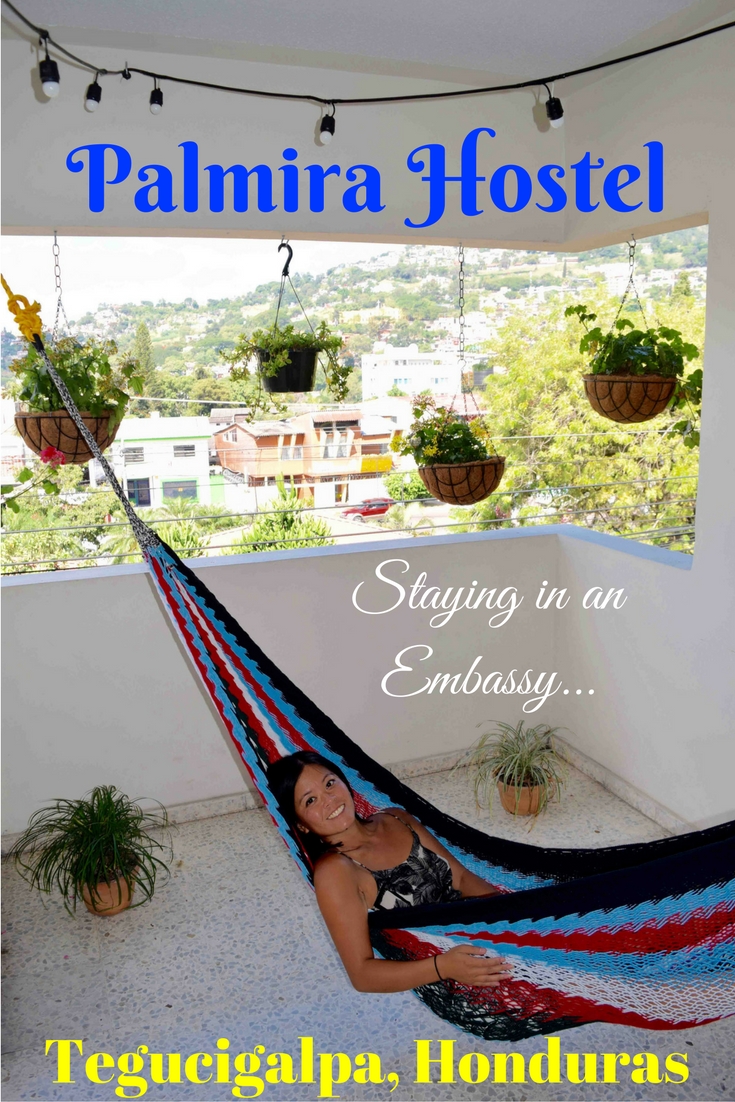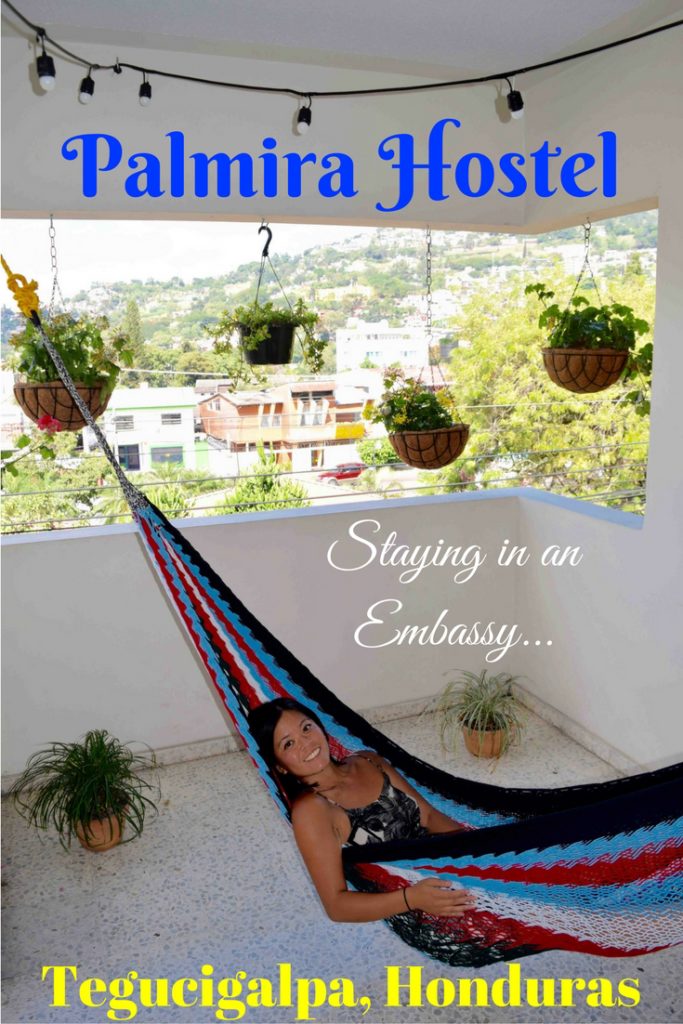 *** The Final Word – Check out the new Palmira Hostel for the best-value accommodation in Tegucigalpa! **
What do you look for in a hostel?
[put_wpgm id=197]
* Thank you to Hernan & Palmira Hostel for hosting us!
Visited in December 2016