The White Sands Missile Range Museum has the largest collection of missiles and military installations in the US – find out what to expect and the security requirements needed to visit.
Visiting White Sands Missile Range
The White Sands Missile Range Museum is independently run by the White Sands Missile Range Historical Foundation despite being located on an U.S. Army base. With the exception of still classified missiles, the museum exhaustively covers over 60 offensive and defensive weapons.
Most of these are displayed outside in the White Sands Missile Range Museum Missile Park. This section is open from dawn to dusk 7 days a week. The two indoor museum buildings have restricted opening times from 8 am to 4 pm Monday to Friday, and 10 am to 3 pm Saturday. All three sections are free.
By far, the highlight is wandering through the winding path in the Missile Park. Each missile has a short description that informs guests about their history and use. It is amazing how there could be so many variations of missiles, each serving their own respective task.
Another highlight was seeing the inner workings of a V-2 on display inside of the two White Sands Missile Range Museum buildings. The V-2 was a German product developed during World War II, and the birth of modern rockets. Many of the United States rocket designs were based on the acquired technology.
The main museum building covers the technology associated with the missile systems, but leaves a lot of room for improvement. The White Sands Missile Range Historical Foundation's strength is definitely amassing missiles, which we are very thankful for.
The Bombs Dropped on Hiroshima & Nagasaki
This is an excerpt from the sign in front of the Fat Man bomb:
"After the first plutonium bomb was tested at Trinity Site, the next available weapon was the completed Little Boy. Dropped on Hiroshima Japan on the morning of August 6, 1945 Little Boy was the first nuclear weapon used in warfare. Fat Man was the second and last nuclear weapon used in warfare. It was dropped on Nagasaki Japan on August 9, 1945. While Little Boy was a uranium gun-type device, Fat Man was a more complicated and powerful implosion weapon using plutonium similar to the device tested at Trinity.
This is an original model of the Fat Man bomb on loan from the National Atomic Museum in Albuquerque NM." 
Security Requirements 
We found out about the White Sands Missile Range Museum in our guidebook but we didn't realize how much security was involved in visiting.
But assuming you have a clean background, gaining access isn't complicated. The most important item is to make sure you have a photo ID, which is typically a license for Americans, and a passport for foreigners.
Simply pull into the car park on the right side, and walk into the registration center. After providing the required information, wait for the background check to be completed for the official entrance pass to be granted. The wait time varies based on the number of visitors.
Although you can show proof of car registration and insurance to drive to the museum, most people should just leave their car outside of the base and walk in. This saves the hassle of having the car inspected, and the White Sands Missile Range Museum is just on the other side.
When walking through the pedestrian pathway, security personnel will verify your paperwork and remind you of restrictions for photographs. It is okay to take pictures of the missiles and museum, but the entrance and base are strictly forbidden.
African Oryx
One surprise on display in the registration center was an Oryx trophy head mounted on the wall. I thought it was a one-off, but I was informed there are herds of them numbering in the thousands on the White Sands Missile Range.
Native to Africa, they were brought to New Mexico by the Department of Game and Fish for big game hunting. They did better than expected, and hunting permits have increased to keep their numbers in-check. One of the big concerns is when they escape from fenced areas and create accidents on the highways.
Accommodation
There isn't much around White Sands Missile Range Museum, or White Sands National Monument, for food or accommodation. Your best bet is to base yourself in Las Cruces, which is 26 miles or a 30 minute drive away.
We chose to stay in one of the dozen hotels near Old Mesilla Village (in Las Cruces). The best value was Super 8 just off Route 10. The price was the best available, and the room offered all the amenities we were looking for. Similar to past experiences, prices were better online than in person.
Airbnb lists over 150 homes in Las Cruces but there are no hostels in the town. 
White Sands Missile Range Nearby Attractions
During our epic 9 day road trip around New Mexico, in one day we were able to fit in visiting:
White Sands Missile Range Museum
During the longer summer days, we would've been able to hike Dog Canyon too (in Oliver Lee Memorial State Park)!
Things to do in White Sands National Monument
From sledding to hiking there are many things to do in White Sands National Monument. Find out everything you need to know about visiting one of the most unique places in New Mexico
Read more
Although the US is a relatively safe country to travel in, medical costs are high so we always recommend purchasing travel insurance before any trip.
We've found World Nomads to be the best provider in terms of price and coverage. Fortunately we also haven't had any issues on the few occasions we've had to make a claim.
For more details, check out our World Nomads review here. 
Know Before You Go
Hours: 8 am to 4 pm Monday to Friday; 10 am to 3 pm Saturday
Duration: 1-2 hours
Price: Free
Website: White Sands Missile Range Museum
Phone Number: (575) 678-2250
Did you enjoy reading about White Sands Missile Range Museum?
Pin it & help others find it too!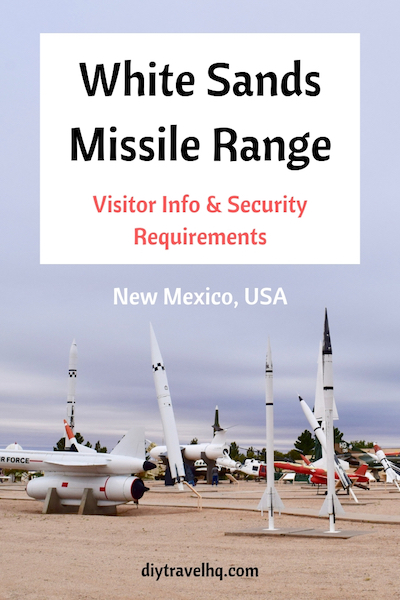 Disclaimer: This post contains affiliate links, which means that we make a small commission if you click on a link and purchase something that we've recommended, at no extra cost to you.
Visited in October 2018