City of Rocks State Park, New Mexico camping is a fantastic way to see more, for less $ – find out about the facilities, how to make a booking, and things to do.
When we were researching our New Mexico road trip, we were looking for an affordable place to stay near City of Rocks State Park. Unfortunately, there are no good options nearby.
That is when we decided to camp at City of Rocks State Park, which was an affordable night of accommodation and allowed us to save the park entrance fee too!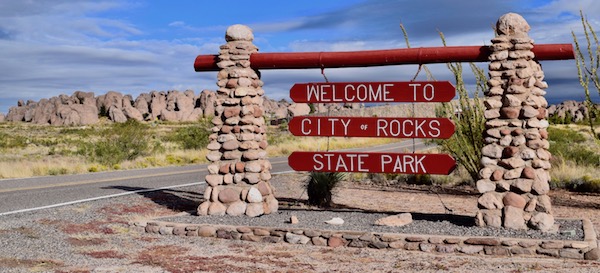 Below we let you know all the key details regarding City of Rocks State Park camping, and things to do while there. Here are the main sections for easy reference.
City of Rocks State Park Camping
Camping at City of Rocks State Park, NM cost us $14, $10 for the campsite and $4 for the online transaction fee. The day visitors' entrance fee is $5 per vehicle so you are only paying $5-9 more for accommodation!
City of Rocks campsite reservations can be made at Reserve America. They have two RV sites with electric hook-up ($18 with transaction fee) and six traditional campsites to choose from.
Despite the New Mexico State Parks website stating the gates are closed 9 pm to 7 am, they were thankfully open when we arrived late at night.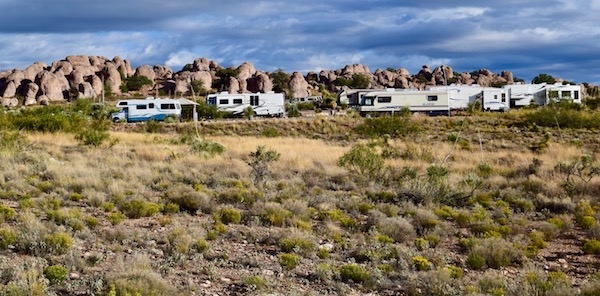 It is also possible to secure one of the other roughly 50 campsites that are distributed on a first come, first served basis. These tend to fill up fast in the peak season, and most were used on a Sunday night in October when we visited.
What makes City of Rocks State Park camping special is each campsite is strategically nestled into a grouping of rocks to minimize the impact from other guests. Each site has a parking spot, level ground for a tent, grill, and bench.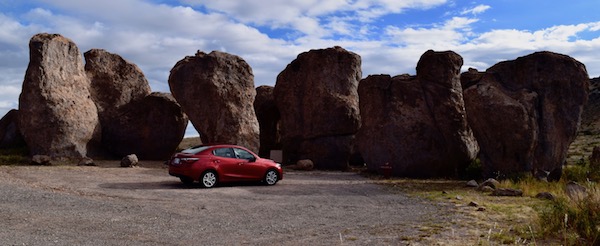 One of the biggest surprises for us was just how cold it gets at night.
We slept in our rental car since we were packing light for our week long road trip, and did not have sleeping bags. At an elevation of 5,259 feet, this wasn't the smartest move. I had to heat the car up several times during the night.
The adjacent campsite bathrooms are pit toilets, but the City of Rocks State Park Visitor Center has flushing toilets along with hot showers. There are also drinking fountains that you can fill-up water bottles. Sadly, we did not discover this modern bathroom until we were getting ready to leave.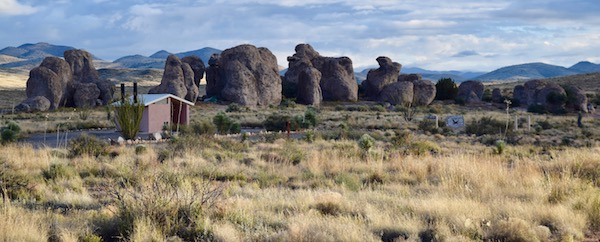 With a path running down the center of the rocks and countless other alleyways, City of Rocks State Park is a great place for families to explore, or older kids to play on a weekend camping trip.
Views of the magnificent night sky are also worth a camping visiting. Anyone interested in astrophotography has endless possibilities of combining the rocks with the stars in creative and breathtaking images.
On our road trip around New Mexico we also camped at El Morro National Monument which had similar facilities, but was free. You may also be interested in reading about camping at Chaco Culture National Park…
Camping at Chaco Canyon
Chaco Canyon camping is a great option when visiting Chaco Culture National Historic Park and the nearby attractions in northwest New Mexico – find out everything you need to know about the Gallo Campgrounds
Read more
Although the US is a relatively safe country for travel, medical costs are high so if you're an international visitor we recommend purchasing travel insurance before any trip. We've been using World Nomads through 80+ countries over the past 12 years and have been really happy with their coverage and services.
For more details check out our Word Nomads review here.
Get a quote for travel insurance now
Things to Do in City of Rocks State Park
You really can't go wrong when exploring in and around the weathered volcanic rocks. There is a path cutting through the center of the rock outcrops that stretches from the City of Rocks State Park Visitor Center to Pegasus North Campground.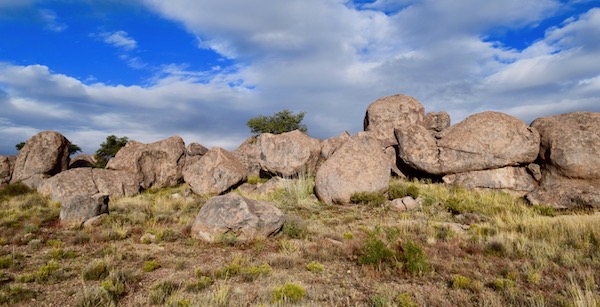 We originally started taking the main path from our campsite at the end of the park through the grassland, but then formed our own route once we got inside the heart of the rocks. There were many intriguing places that caught our attention that led us astray.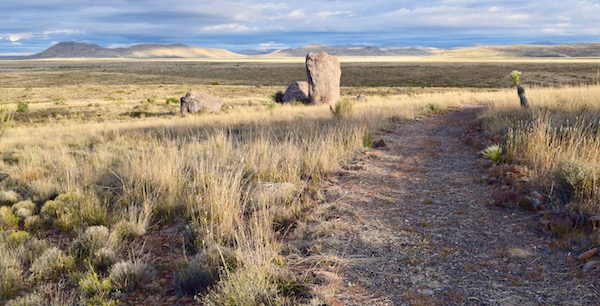 To return, you can forge your own path through the center again, or take the road for a different perspective.
Alternatively, there is a loop trail in the plains, but the park rangers said you do not get a good perspective of the rocks since it is a lower elevation.
What we did get to spot during our exploration was a lone elk in the distance. It was our first time spotting one on this New Mexico road trip.
Before we left, we also visited the lookout located south of the visitor center. From here, you can take in panoramic views of the entire park.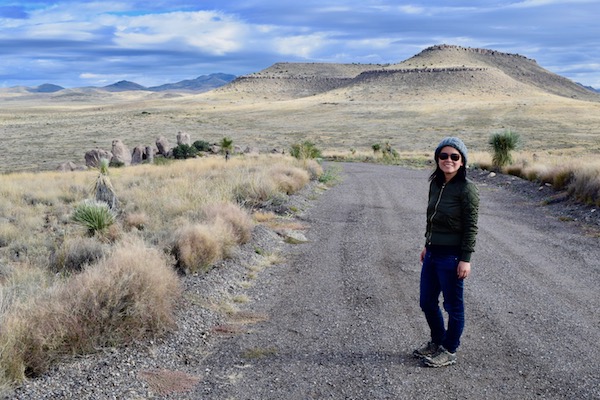 The main downside was that the powered campsites, full of RVs, glisten in the sun, but it was still a fantastic last view of City of Rocks State Park before we drove off to our next destination, the Gila Cliff Dwellings National Monument.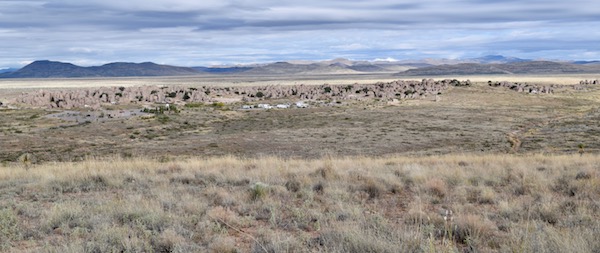 Planning a New Mexico Road Trip
On our 2nd day of a 9 day New Mexico road trip, Sheena and I finished sightseeing in Albuquerque, visited the Very Large Array, and arrived at the City of Rocks campground after 9 pm.
We were then able to explore the City of Rocks in the morning before visiting the Gila Cliff Dwellings National Monument. Although we got to see the highlights, it would have been nice to stay longer to explore a bit more.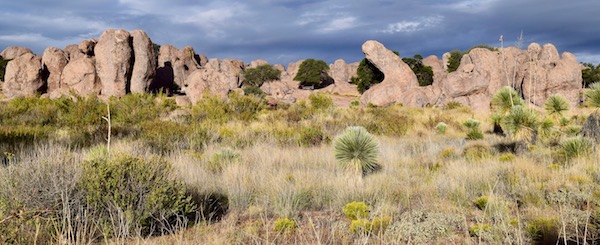 Find more inspiration in one of the New Mexico guide books below!
Know Before You Go
Hours: 7 am to 9 pm
Fees: $5 per car; $10 and up for campsites
Duration: 3 hours
Camping: Standard campsites $10 in person and $14 online; Powered RV sites $14 in person and $18 online
Nearest Large City: Deming at 30 minutes by car; Las Cruces at 90 minutes by car; Silver City at 40 minutes by car
Website: New Mexico State Park
Phone Number: (575) 536-2800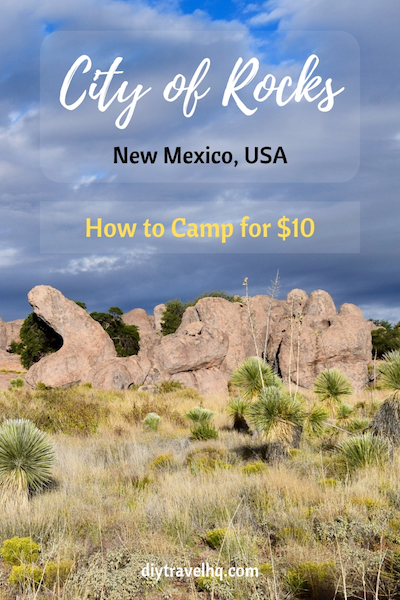 Disclaimer: This post contains affiliate links which means that we receive a small commission if you click on a link & purchase something that we've recommended, at no extra cost to you.

Visited in October 2018
Updated July 2019