The Aztec Ruins National Monument allows you to take a step back in time, and walk through a Great Kiva as it would have looked in its heyday. Find out if it's worth the journey…
Aztec Ruins National Monument Visitor Center
Although there are many Native American ruins in New Mexico, what makes Aztec Ruins National Monument special is the reconstructed Great Kiva. Forget the digital recreations and step inside an actual Great Kiva.
Don't worry, you can still catch a digital rendering during the 15 minute introductory video at the Aztec Ruins National Monument Visitor Center too! Located inside of the visitor center is also a small museum that portrays the same information as the movie.
While inside, ask the park rangers for a self-guided booklet that details all the important items to pay attention to on the ½ mile walk through the ancestral Pueblo great house.
Aztec Ruins National Monument Self-Guided Tour
Although you can take guided tours to visit Aztec Ruins National Monument, the booklet from the visitor center covers the same information. Plus, you can ease drop for free if you happen to arrive the same time as a tour. You should start the path in a clockwise direction saving the Great Kiva for the end, unlike us and the official path.
If you start early when it opens, you will probably be greeted by rabbits hiding in the shadows thinking you can't see them. Walking in the clockwise direction, you'll first come across a lookout that gives you a grand perspective of everything that you will see up close later.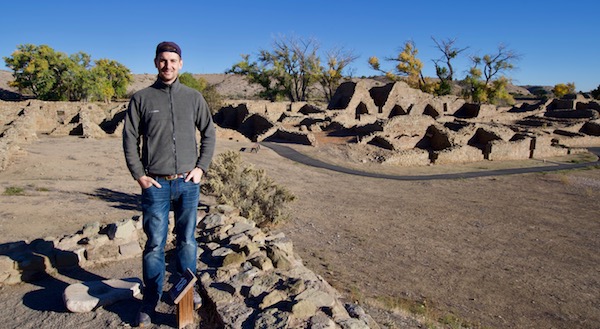 Take note of the darker stone accent courses along the perimeter wall.
As you circle back towards the inner ancestral Pueblo great house you are taken through a corridor with tiny doors linking each room to each other. One of the highlights is seeing the ceiling timbers that support the roof.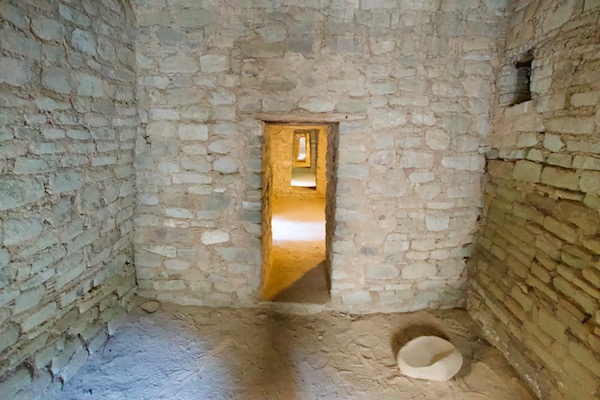 Once you find yourself at the end of the corridor, it is time to emerge back into the daylight of the central plaza. Scattered on all sides are residences and kivas with the most impressive and reconstructed Great Kiva to end your self-guided tour of Aztec Ruins National Monument.
Before you get there, take a moment to observe the "T" style doorways. You can also see what kivas look like if left to the natural elements over time.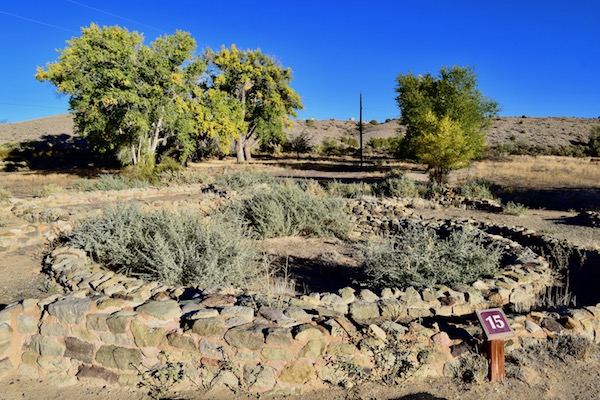 The last stop at the Aztec Ruins National Monument is the 40' in diameter Great Kiva that has been rebuilt to take you back in time some 900 years. This was the hub of social, economic, and political discussion. Stepping inside you can still hear the rumblings, or maybe that was just the tour group behind us.
Places to Visit in Northwest New Mexico
There are plenty of excellent outdoor and cultural attractions in northwest New Mexico – pick up a guide book and start planning! You can pick and choose, make a weekend out of it, or spend 9 days like we did taking in all the best that New Mexico has to offer.
Click on any of the links below to explore the region further with DIY Travel HQ.
Find more inspiration in one of the New Mexico guide books below!
Although the US is a relatively safe country for travel, medical costs are high so if you're an international visitor we recommend purchasing travel insurance before any trip. We've been using World Nomads through 80+ countries over the past 12 years and have been really happy with their coverage and services.
For more details check out our Word Nomads review here.
Get a quote for travel insurance now
Know Before You Go
Hours: Summer – 8 am to 6 pm; Spring and Fall – 8 am to 5 pm; Winter – 9 am to 4 pm
Entrance Fee: Free
Duration: 1 hour
Nearest Large City: Aztec at less than 5 minutes by car; Farmington at 30 minutes by car
Phone Number: (505) 334-6174 x0
Website: National Park Service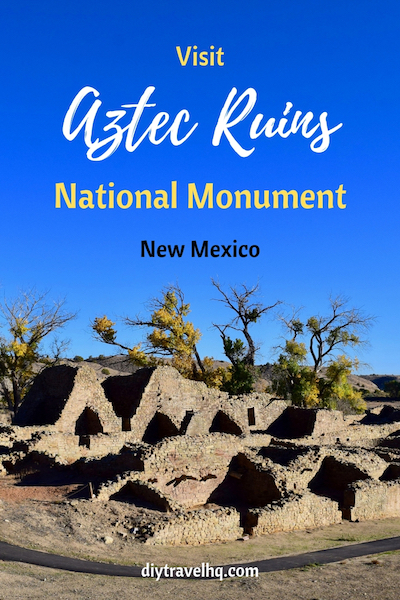 Disclaimer: This post contains affiliate links which means that we receive a small commission if you click on a link and purchase something that we've recommended, at no extra cost to you.

Visited in October 2018
Updated July 2019