Bisti Badlands, New Mexico is a wilderness landscape with many unique rock formations. Find out the main attractions and how to find them using our Bisti Badlands hiking map.
Sheena and I learned about the Bisti Badlands while researching our 9 day trip around New Mexico using our Lonely Planet Southwest USA guide book.

It sounded interesting, but we didn't know where or what to see in the remote Bisti Badlands expanse, which is also known as the De-Na-Zin Wilderness.
Thankfully, our research on TripAdvisor led us to a Bisti Badlands map that the Farmington Visitor Center provides. This showed us all the top attractions at Bisti Wilderness, including the GPS coordinates. Cell phone service is hit or miss, so plugging the coordinates into Maps.me was insanely beneficial.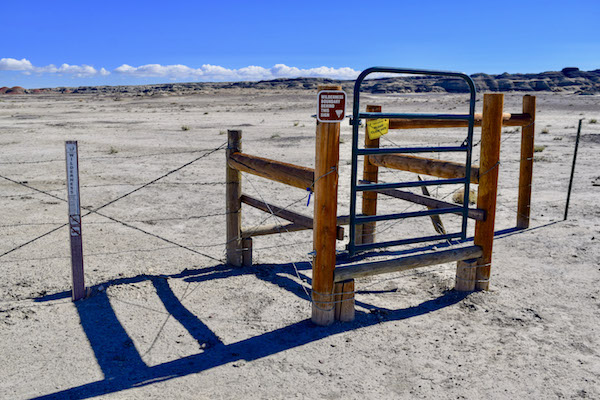 The points of interest roughly mirror the path on Maps.me. Your starting point is Bisti Badlands Parking South. Read on for more information regarding each unique geological formation found within De Na Zin Wilderness.
Find more inspiration in one of the New Mexico guide books below! 
Bisti Badlands Hiking Map
For the most part, Maps.me does a great job outlining the general path. When at the Bisti Wilderness area, you typically follow the cliff face on the right hand side, and then return the same direction on the other side.
Knowing where the next attraction is can help save some time and keep you on the right path as you are hiking Bisti Badlands. Check out the key attractions below and their GPS coordinates.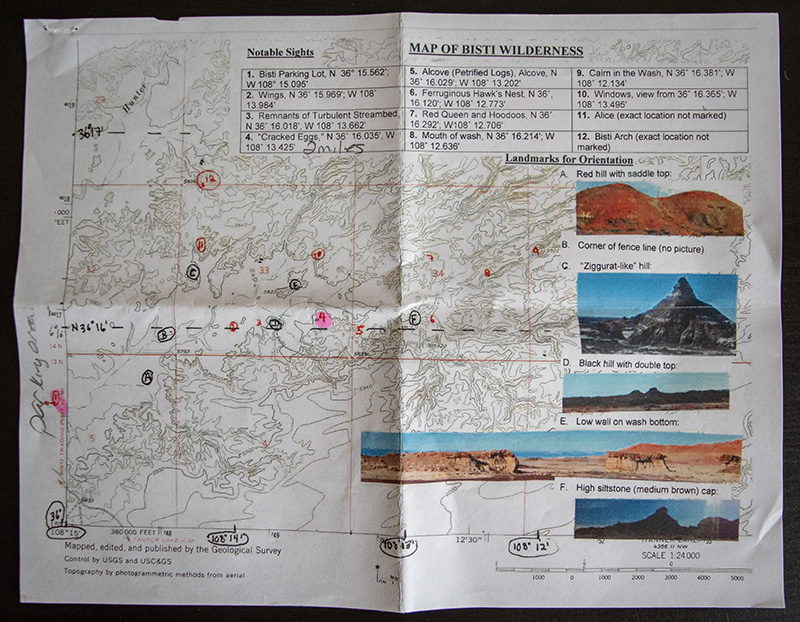 Bisti Badlands Parking South – N 36° 15.562'; W 108° 15.095'
#1. Wings – N 36° 15.969'; W 108° 13.984
#2. Remnants of Turbulent Streambed – 36° 16.018' W 108° 13.662'
#3. Cracked Eggs – N 36° 16.035'; W 108° 13.425'
#4. Petrified Logs (Alcove) – N 36° 16.029'; W 108° 13.202'
#5. Hawk's Nest – N 36° 16.120'; W 108° 12.773'
#6. Mouth of Wash – N 36° 16.214'; W 108° 12.636'
#7. Red Queen and Hoodoos – N 36° 16.292'; W 108° 12.706'
#8. Windows – 36° 16.381'; W 108° 13.495'
Although New Mexico and the US are relatively safe places to travel in, medical costs are high so we always recommend purchasing travel insurance before any trip. Keep in mind that you're pretty much out on your own at places like the Bisti Badlands too.
For more details, check out our World Nomads review here.
Get a quote for travel insurance now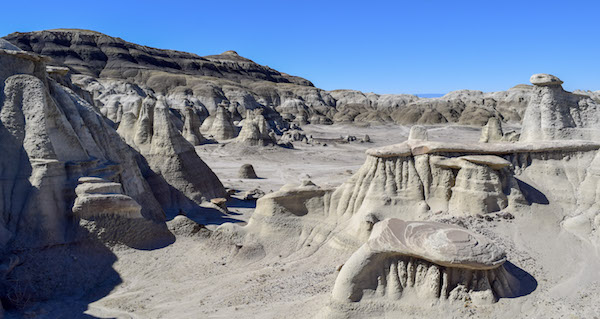 How to Get to Bisti Badlands, NM
Bisti, New Mexico is located roughly 40 miles south of Farmington. Take Highway 371 until you reach the gravel Road 7297, which will take you to Bisti Badlands Parking South.
Alternatively, you can camp at Chaco Canyon and visit the De Na Zin Wilderness area on your weekend trip of northwestern New Mexico. We wouldn't recommend camping at Bisti Badlands.
Of course you need a car to get to Bisti Badlands, NM and to travel around New Mexico in general. It gives you more flexibility than taking a tour and you can get off-the-beaten-track.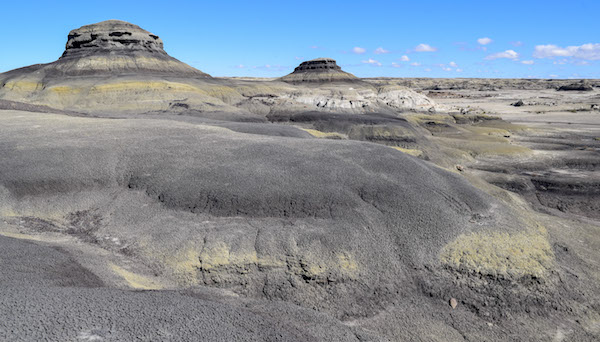 If you flew into Albuquerque like us, then your best option is Budget. One of the key benefits was that they were one of the few companies open until 1 am, which worked with our late flight from New York City.
We were surprised to find that Sheena was able to rent a car much cheaper as an Australian than I was as an American. If you're an international visitor, keep that in mind during your online research, you could save big $$$…
The attractions listed below that are marked with an * are listed as Top Notable Sights on the Bisti Badlands map we got from the Farmington Visitor Center. If you have limited time, you might want to prioritize these over others.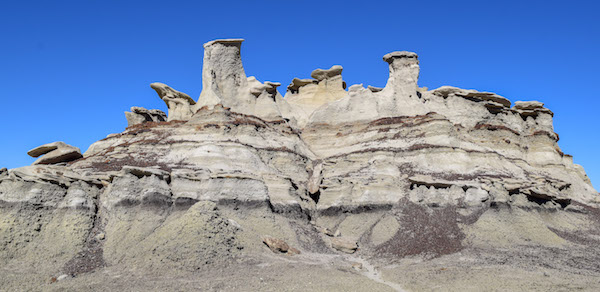 Bisti Wilderness Attractions
#1. Wings *
The area known as Wings is a vast expanse of table top rock formations resembling wings.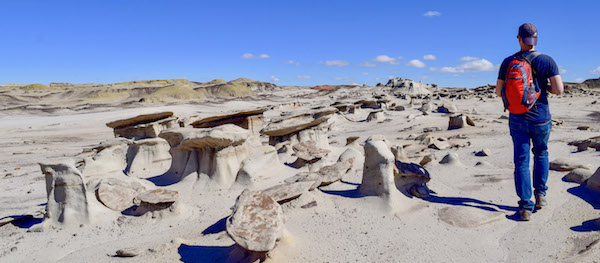 A central pillar supports a flat rock thousands of times in this acre plus portion of the Bisti Wilderness. These are hoodoos in the making.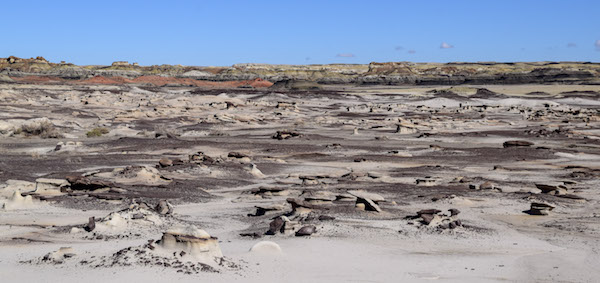 #2. Remnants of Turbulent Streambed
A quick storm during the spring and fall can easily bring enough rain to create dangerous, turbulent streambeds.
As all the water collects and washes down the cliff faces, it congregates in one location. This area is the remnants of such occurrences, and is still evolving today.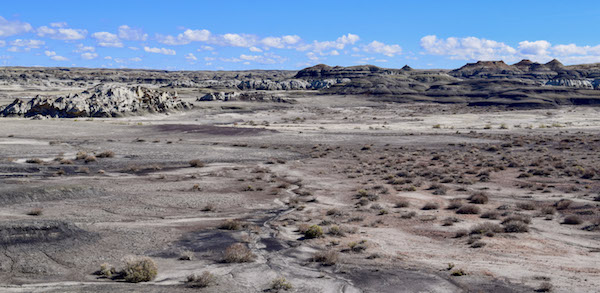 #3. Cracked Eggs *
The notable sight Cracked Eggs covers the footprint of a house, but was my personal favorite.
It was great to see these layered rock formations in the shape of tens of eggs. It reminded me of the Moeriki Boulders in New Zealand that similarly shouldn't exist.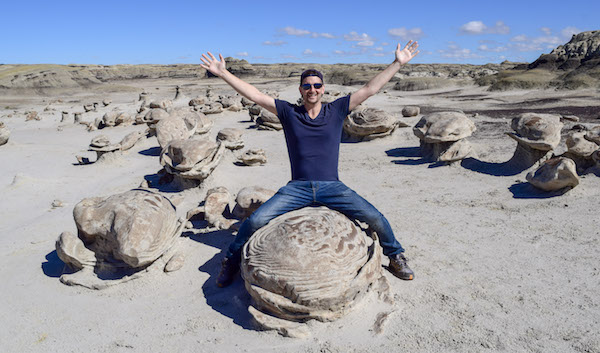 #4. Petrified Logs *
Another flashback to my year traveling in New Zealand was the Petrified Logs that were similar to the Petrified Forest in Curio Bay.
The big difference is that Badlands, NM is an arid portion of the world, while the Petrified Forest formed a shoreline.
Both places were great to visit, and one of my favorite highlights of traveling is being able to see similar things but still appreciate their grandeur respectively.
Unlike Wings and Cracked Eggs, the Petrified Logs do not jump out at you. You have to search for them with a couple being on the main path, but more located through the canyon divide.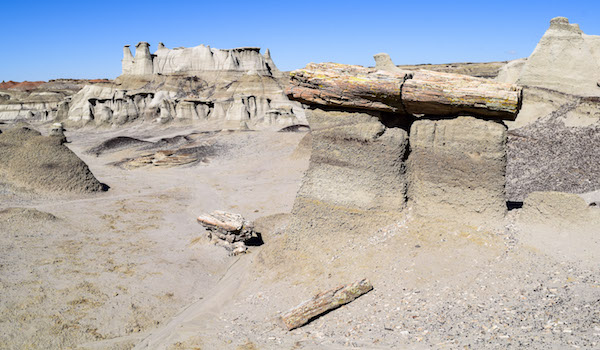 #5. Hawk's Nest
In order to see the Hawk's Nest you need to use your imagination, unless we totally missed it.
There were a series of stone formations that surrounded you that gave the impression of being a nestling.
#6. Mouth of Wash
Similar to Remnants of Turbulent Streambed, this area was carved out by water over the centuries and was less than interesting with so many better options in the Bisti Wilderness.
For this reason, we decided not to venture to the farther Cairn in the Wash (N 36° 16.381'; W 108° 12.134').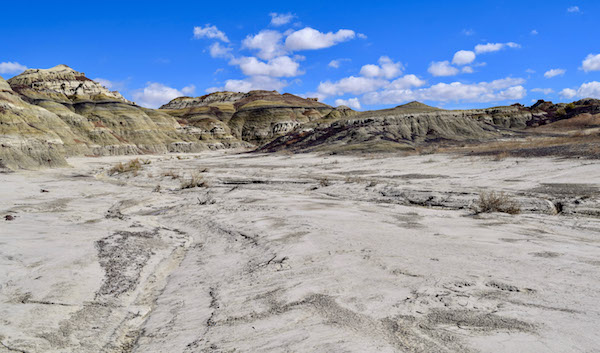 #7. Red Queen and Hoodoos *
Even though we didn't know what hoodoos were at the time, this was one of the best places to take sweeping panoramic pictures.
For those that don't know, hoodoos are hard rocks on top of softer, weathered rock towering over badlands.
Although there are countless hoodoos spread around the Bisti Wilderness, this location was full of brilliant colors as far as the eye can see after climbing a short hill.
#8. Windows
Heading back there are a couple new attractions to see in Bisti Wilderness, New Mexico. The only one we found was Windows in the cliff face.
We still had a full day ahead of us so we cheated and used our super zoom to check it out as we streamlined our path back to the parking lot.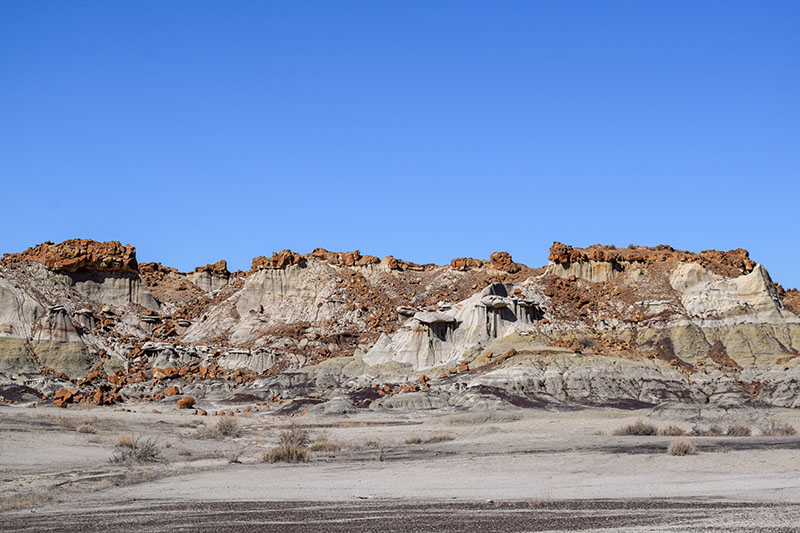 Northwest New Mexico Weekend Getaway
While in northwestern New Mexico, check out our related posts for an adventurous weekend:
Find more inspiration in one of the New Mexico guide books below!
Know Before You Go
Hours: Dawn to Dusk
Fees: Free
Duration: 3 hours
Nearest Large City: Farmington at 1 hour by car
Other Considerations: Bring water, sunscreen, and make sure you have enough gas
Website: Bisti Badlands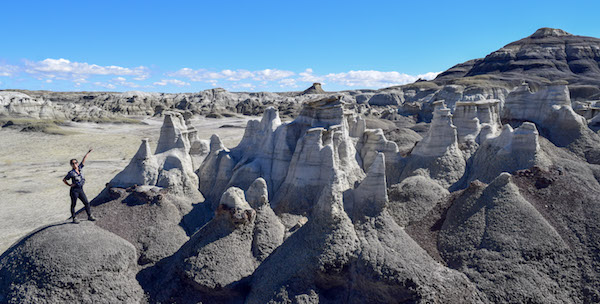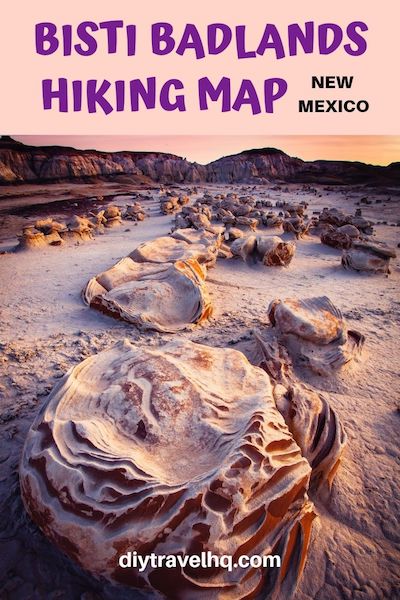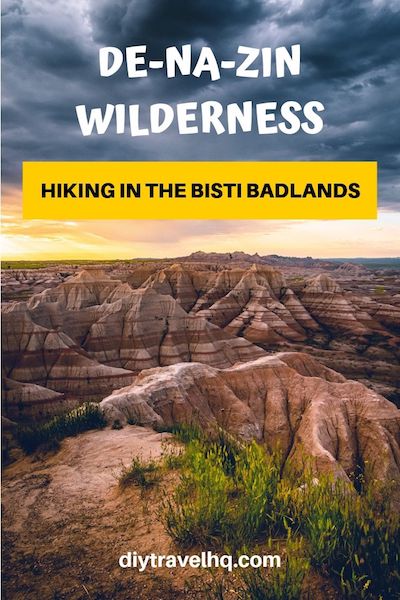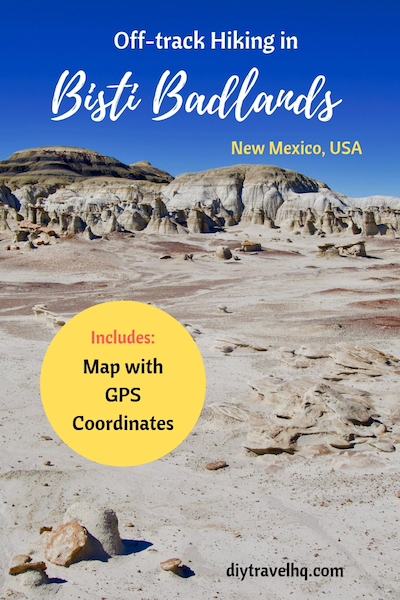 Disclaimer: This post contains affiliate links which means that we receive a small commission if you click on a link and purchase something that we've recommended, at no extra cost to you.

Visited in October 2018
Updated July 2019