The Very Large Array is the world's most famous collection of radio telescopes. Find out why it's one of the most unique places to visit in New Mexico.

Very Large Array (VLA) in Media
You might not have realized it at the time, but the Very Large Array, New Mexico has been featured in movies, documentaries, commercials, music videos, and on album covers.
Here are some of the places you may have seen the VLA. How many do you recognize?
Carl Sagan's documentary Cosmos: A Personal Voyage (1980)
2010: The Year we Make Contact (1984) while discussing upcoming missions to Jupiter
Dire Straits' album cover On the Night (1993) and Encores (1993) and in their music video
Contact (1997) with Jodie Foster where an alien signal is first detected
Bon Jovi's music video Everyday (2002)
Terminator Salvation (2009) as the Skynet facility
Dodge Trucks commercial (2010)
Science Behind the VLA
The VLA sits on an old lake bed in New Mexico with 27 antennas set-up in a Y pattern that stretches up to 13 miles in each direction. Together, and with upgraded electronics in 2011, they combine their data and virtually turn into one massive telescope using a supercomputer.
The electronics were upgraded from the 1970's original version since the National Radio Astronomy Observatory (NRAO) did not have the funding to build a completely new array. The existing infrastructure and dishes were able to be reutilized.
Each dish is 94' tall with an 82' diameter. They are moved every four months to one of four different configurations. This allows combining the data from different depths which increases the detail level. Configuration A is the largest, while configuration D is the most concentrated. Configurations B and C fall in between.
Each VLA antenna sits on one of 72 antenna stations that is connected to the main rail track. Parallel rail tracks transport the antennas to different configurations, with side tracks shifting them to their final location.
Antenna transporters move the 230 ton antennas at a whopping 5 mph when wind conditions are under 20 mph. When at the side tracks, hydraulic jacks are used to rotate the wheels 90 degrees before bolting the antenna into its new location.
Unlike traditional telescopes that record visible light, the Very Large Array telescopes can record information 24 hours a day, seven days a week. Radio waves are the longest out of the full spectrum. Roughly every 6 hours, the antennas reposition their view before moving on to another portion of the sky.
Not only is the VLA famous for being in movies and media sources, but it is arguably the most accomplished radio telescope on Earth. Scientific contributions include new discoveries on black holes, quasars, and hydrogen gas.
Visiting the Very Large Array, New Mexico
Although Socorro is the nearest town, the biggest city is Albuquerque. A 2 hour drive (127 miles) is required to reach the remote VLA telescope.
The location was purposely chosen to limit outside interference from radio stations and cell phone towers. The weak astronomical radio waves must be discernable from man-made interference. Even a single cell phone not in range of service carries a stronger signal in the operating range than anything from space.
For this reason, the Very Large Array Radio Telescope facility requests that all devices be put in airplane mode and turned off. They may be turned on briefly to take pictures while still in airplane mode.
Very Large Array Visitor Center
The VLA Visitor Center ($6) is open from 8:30 am until sunset. Inside you will find a video showing how the 27 antennas are moved, and a film narrated by Jodie Foster along with a map for the self-guided tour.
Alternatively, you can visit the VLA the first and third Saturday of each month for guided tours at 11 am, 1 pm, and 3 pm. The first Saturday in April and October are free to guests. This also includes the free Guided Night Sky Telescope Viewing at the Etscorn Obervatory that occurs each first Saturday.
The self-guided tour takes you past a sundial, whisper dishes, and ultimately concludes at the base of a VLA antenna where you can see just how massive each dish is. Although there are 27 antennas always in operation, there is a spare for emergencies and allows for periodic maintenance so you may see that in the shed behind you.
When we were visiting, we saw people head straight to the guided path and avoid entering the Visitor Center. I guess they just watched the video online and saved $6 per person.
Planning Your Trip
The Very Large Array was one of the first stops on our New Mexico road trip. We planned our trip using the excellent Lonely Planet guide to Southwest USA.
Although the US is a relatively safe country to travel in, medical costs are high so we always recommend purchasing travel insurance before any trip. We've been using World Nomads in our travels through 80+ countries over the past 12 years. It's the best-value provider we've found in terms of price and coverage and we haven't had any issues when we've had to make (fortunately) minor claims.
We rented a car from Albuquerque airport. You can check rates here.
The nearest accommodation to the VLA are:
Eagle Guest Ranch
Concho Hills Guest Ranch
Rancho Magdalena
Western Motel and RV Park
You can find many more options in Soccoro which is around 1 hour from the VLA.
After our visit we actually drove for 3.5 hours to the City of Rocks State Park and camped there for the night…
Camping at City of Rocks
Camping at the City of Rocks State Park in New Mexico is a fantastic way to see more, for less – find out about the facilities, how to make a booking and more
Read more
Know Before You Go
Hours: 8:30 am to sunset; closed Thanksgiving, Christmas Eve, Christmas, and New Year's Day
Fees: $6 per person; Guided tours 1st and 3rd Saturday of the month, 1st Saturday in April and October is free
Duration: 1 hour
Nearest Large City: Albuquerque at 2 hours by car; Socorro at 1 hour by car
Website: Very Large Array (VLA)
Phone Number: (575) 835-7410
Did you enjoy reading our post on the Very Large Array?
Pin and help others find it too!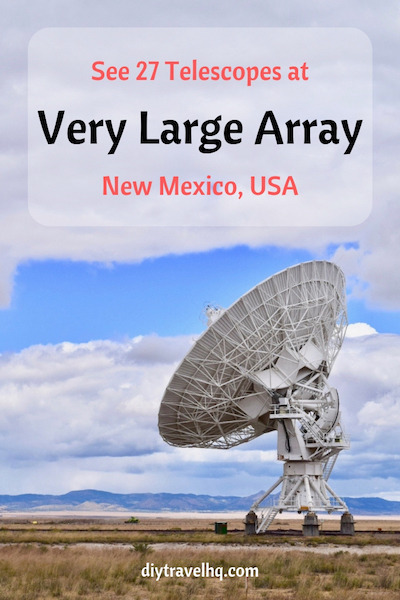 Disclaimer: This post contains affiliate links which means that we receive a small commission if you click on a link & purchase something that we've recommended, at no extra cost to you.
Visited in October 2018