From sledding to hiking there are many things to do in White Sands National Monument. Find out everything you need to know about visiting one of the most unique places in New Mexico.
White Sands National Monument is a highlight of any New Mexico road trip! We had a great time hiking the trails and getting lost in the white sand dunes. The best White Sands sledding is found in the center of the national park where the largest sand dunes reside.
There are so many things to do in White Sands National Monument, but we only learned about many of them after we left. For that reason, we have put together a complete guide featuring the following:
Without further ado, let's get started!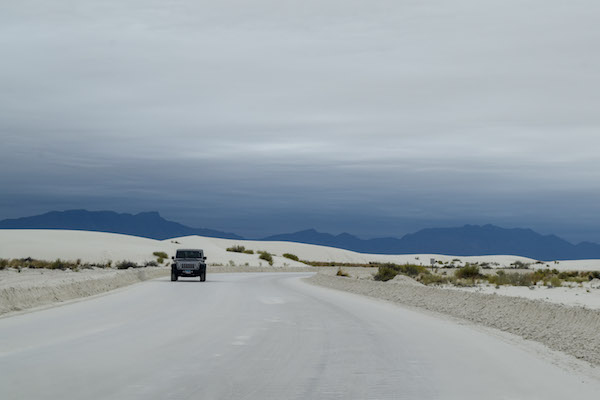 Things to do in White Sands, NM
#1. White Sands Sledding
For kids at heart, and those with actual kids, sledding at White Sands is probably on the top of your bucket list. I might as well yank the Band-Aid off quick; it isn't as much fun as you imagine. Let's explore how you can still make the best of it.
Part of the problem with White Sands sledding is sand is not slick like snow, and you will be fighting the friction all the way down the sand dunes. The recommended way for White Sands sledding is to wax the underside of a plastic saucer to keep the friction to a minimum.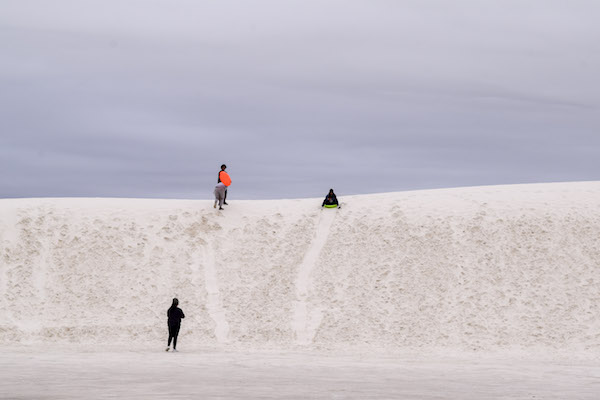 White Sands Gift Shop Sled Prices
Here are all the prices at the White Sands Visitor Center gift shop to purchase sleds. Keep in mind these need to be returned before the gift shop closes if you want them to repurchase items.
New Sled – $18 w/$5 repurchase
Used Sled – $10 w/$3 repurchase (These sell out very quickly!)
Wax – $2 w/$0.50 repurchase
The gift shop is definitely opportunistic, and set their pricing to reflect demand. I've seen the same plastic sleds sell for $5 at Walmart before. Surprisingly, Walmart doesn't sell sleds year round. They only have them for the summer sand sledding season. Try calling around to stores if this coincides with your visit.
White Sands Sledding Tips
The steepest sand dunes are at the end of Dunes Drive. Besides lubing your plastic sled up with as much wax as possible, you actually want to go down a worn path. Although you can forge your own, keep in mind you will have to climb the sand dune several times until you flatten the sand out.
The best sitting technique we found was to lean back with your legs up. It doesn't hurt to have someone push you to get started either. Whatever you do, make sure you aren't cutting across the road at the bottom.
Although you can't count on borrowing a sled, we tried our luck and took several runs using other park visitors' sled. This obviously only works if you don't want to use it extensively.
Watch our video below, or for a more thrilling dry sledding experience check out our post on Volcano Boarding in Nicaragua.
#2. White Sands Map and Hiking Trails
For most visitors, there are four stops along Dunes Drive that warrant getting out of the car.
These include: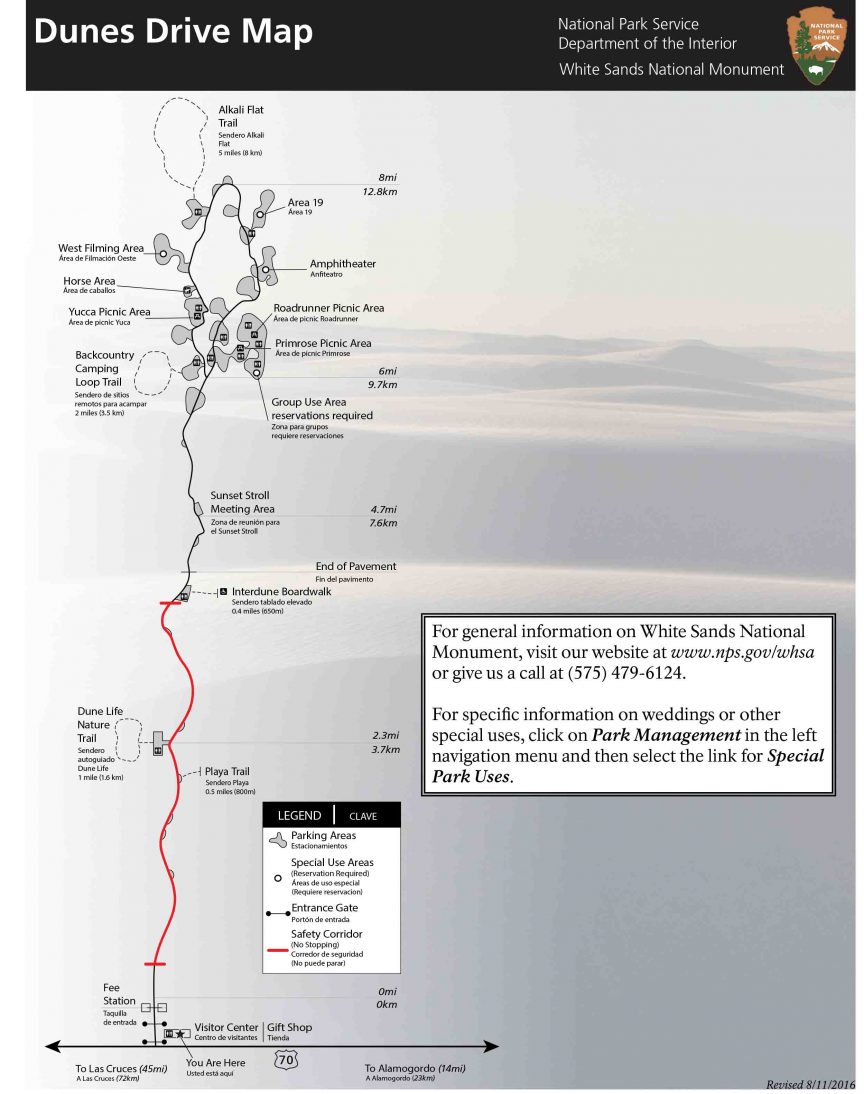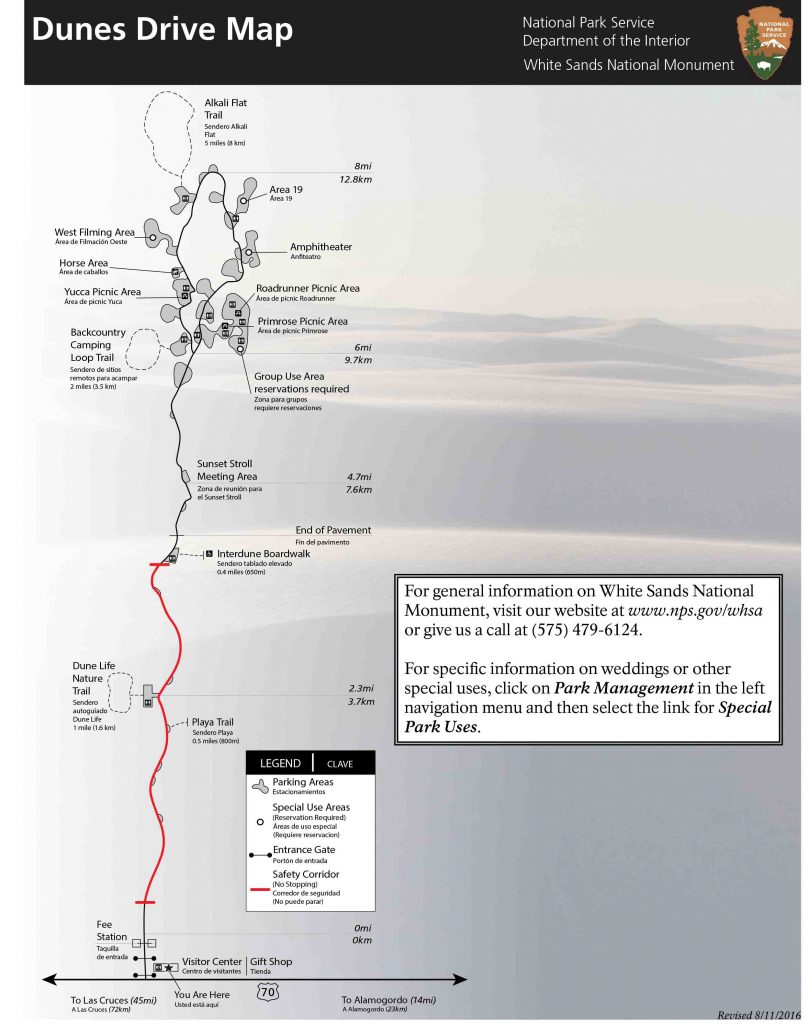 Playa Trail
The first stop on your right is Playa Trail, which leads a short distance to a dry lake most of the year. Our visit in October came after the wet season so there was still water present.
It was neat seeing dry sheets of gypsum on the perimeter being broken down and adding to the dunes.
This is exactly where I would want to hang out around dusk or around the Full Moon Hike.
We only saw several birds in the pond, but the more interesting animals probably visit at night for a drink.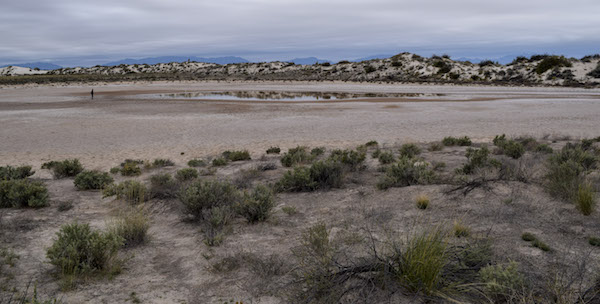 Dune Life Nature Trail
A short distance up on the left is the one mile Dune Life Nature Trail that also serves as the Full Moon Hike location.
Animals and plants are able to survive on the outskirts of the white sand dunes. Spotting wildlife is one of the best things to do in White Sands, New Mexico and this is the best place to do so.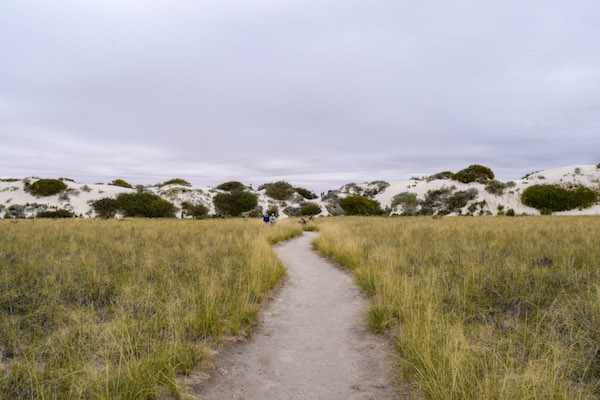 Interdune Boardwalk
The Interdune Boardwalk travels in the middle of sand dunes on a boardwalk, and is a great place for handicapped guests.
We didn't spot any animals, but there is a lot of vegetation and informational signs along the way.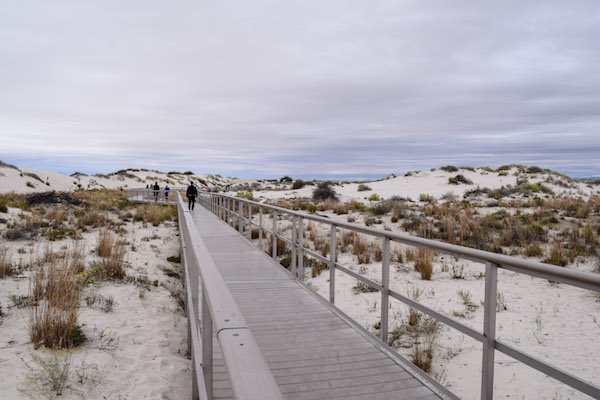 Alkali Flat Trail
The Alkali Flat Trail is the reason you came to White Sands National Park, and offers the highest sand dunes with the least amount of vegetation. As a general rule, the white sand dunes get larger the further in you venture.
If you wanted to 'get lost', look no further.
Try to follow the orange trail makers on the 5 mile loop so you don't get lost for real as the endless sand dunes can be disorientating.
The most difficult part is finding your own pristine space where there are no human foot prints to ruin your photographs.
The other highlight is sledding down the steep white sand dunes near Alkali Flat Trail.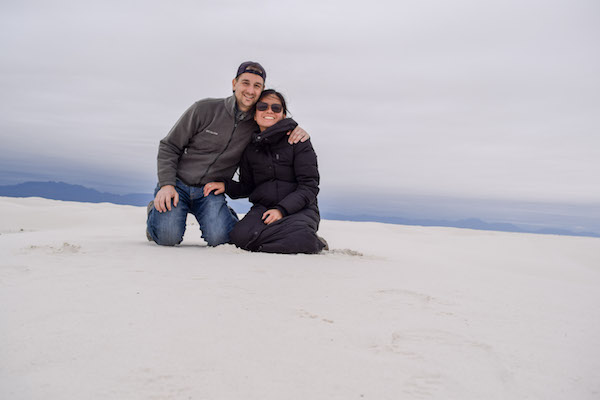 #3. White Sands Sunset Stroll
Each evening, weather permitting, a park ranger leads an easy walk through the sand dunes as they cover topics such as geology, plants, wildlife, and any other questions you have about White Sands monument.
The Sunset Stroll is included with your entrance fee, and is a wonderful way to cap off your day. The hike is timed to coincide with sunset and offer excellent and photogenic views as the sun retreats behind the mountains.
To join the Sunset Stroll, head to the Sunset Stroll Meeting Area roughly one hour before sunset. The one hour hike covers a mile and traverses a few, small sand dunes. See below for the approximate timeframe for your visit.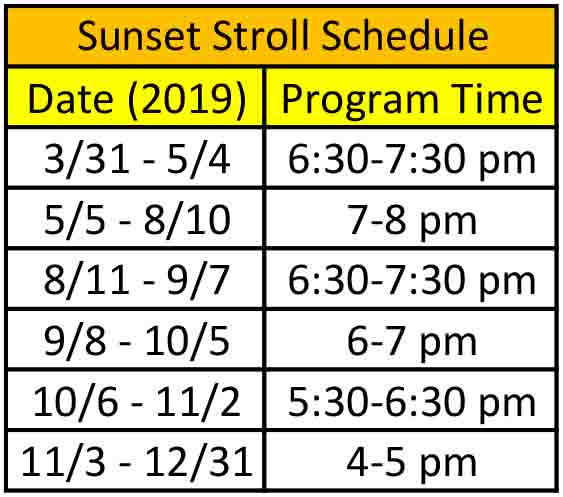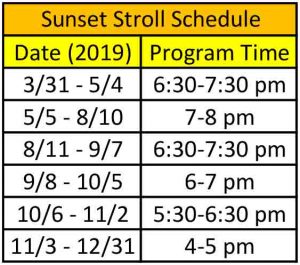 #4. White Sands Full Moon Activities
If you happen to be visiting White Sands at the time of a full moon from May through October, there are special programs the night before and night of that you may enjoy staying for.
These include a Full Moon Hike and Full Moon Night cultural performance.
Full Moon Night
The festivities for Full Moon Night are included with your entrance fees. Cultural performances include a combination of live music, ranger programs, and other presenters. Head to the Amphitheater an hour before the scheduled start time below.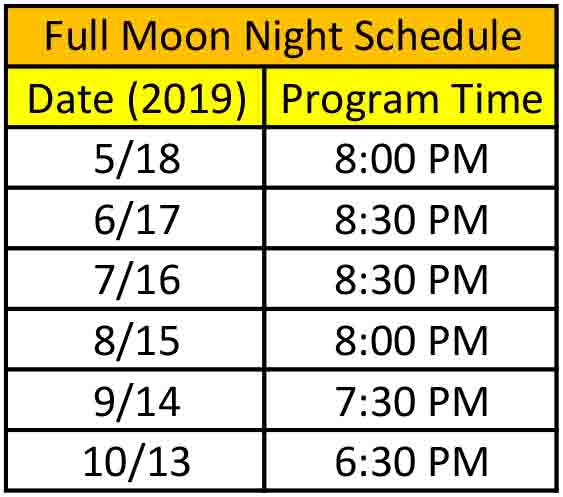 Full Moon Hike
The Full Moon Hike takes place the night before a full moon, and is led by a park ranger. This is your chance to explore the dunes at night when the local wildlife are most active.
The combination of the full moon and reflection off the white sand means you don't need a flashlight. In fact, they restrict the use of artificial light so everyone can maintain their night vision.
In addition to entrance fees, there is an additional $8 per person fee. Make your reservation up to a month in advance on Recreation.gov or by calling (1-877-444-6777). There is a maximum of 40 participants, and guests are strongly encouraged to carpool due to limited parking at the trailhead.
The Full Moon Hike takes place on the Dune Life Nature Trail. Make sure you arrive with plenty of time. Check-in starts 30 minutes before the schedule departure time. The hike itself covers roughly a mile in an hours time. Don't forget to wear closed-toe shoes. See below for the 2019 Full Moon Hike Schedule.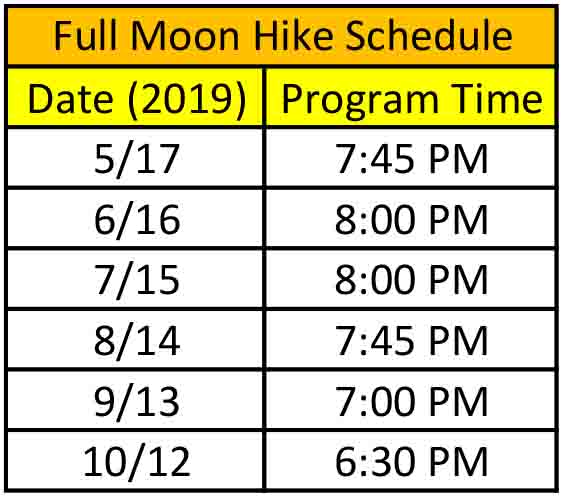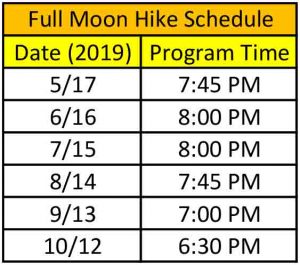 White Sands Animals and Plants
In order to survive in the desert, animals and plants need specialized skills that have been perfected over time. White Sands might seem void of life during the day, but all that changes at night.
White Sands Animals
There is a wide diversity of animals that call White Sands home. Most tend to stay to the outskirts of the dune fields where there is vegetation for shade, protection, and water nearby. Some species have even evolved to become lighter in color to match the surrounding white sand.
Here is a quick rundown of intriguing animals you may see, but probably not, at White Sands:
Birds – Burrowing Owl and Greater Roadrunner (beep beep)
Invertebrates – Apache Jumping Spider, Tarantula, Western Black Widow Spider, and Sand Scorpion
Mammals – Bobcat, Coyote, Kit Fox, American Badger, Pocket Gopher, and Porcupine
Reptiles – Prairie Rattlesnake, Western Diamondback Rattlesnake, and Desert Box Turtle
White Sands Plants
Plants are a crucial component not only to life at White Sands, but to the dunes themselves. They help stabilize the perimeter of the sand dunes so they don't blow away. These include grasses, shrubs, and even trees.
Plant Survival Strategy
Just like animals, plants need to be well adapted to survive in White Sands. The harsh conditions include a dry nutrient-poor environment, temperatures that range from freezing to over 100° F, and shifting sands.
In order to overcome these obstacles they have to use a combination of growing fast and tall to combat shifting dunes, and have a strong root system that is able to locate and hold onto moisture. You can see exposed roots and hardened sand at the Dune Life Nature Trail where shrubs are growing, but the surrounding sand has been blown away.
The water level is typically no more than 3' beneath the surface so interdune areas are a great place to thrive even if it ruins pictures along the Alkali Flat Trail.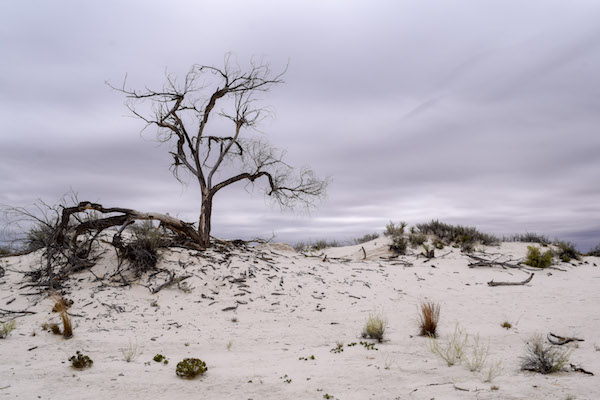 White Sands Visitor Center
The Visitor Center is a great place to start your visit with an interpretive museum, and introductory film A Land in Motion.
The 17 minute film starts every half hour, and includes information on how the largest gypsum dune field formed. Make sure you refill any water bottles as there is no tap inside White Sands National Monument, NM.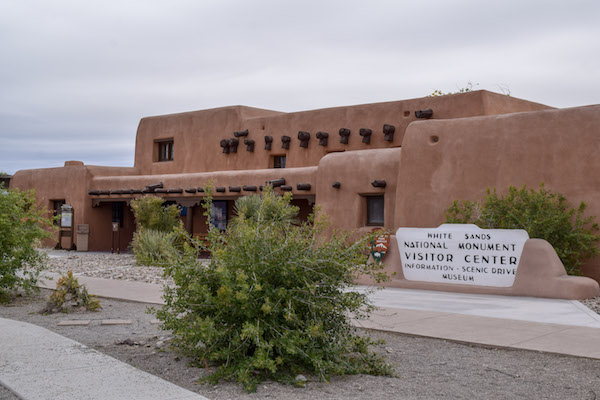 White Sands National Monument Hours & Entrance Fees
White Sands National Monument, New Mexico is open to visitors every day except Christmas.
See below for their hours of operation that vary throughout the year. Periodic closings also exist when missiles are being tested at the White Sands Missile Range.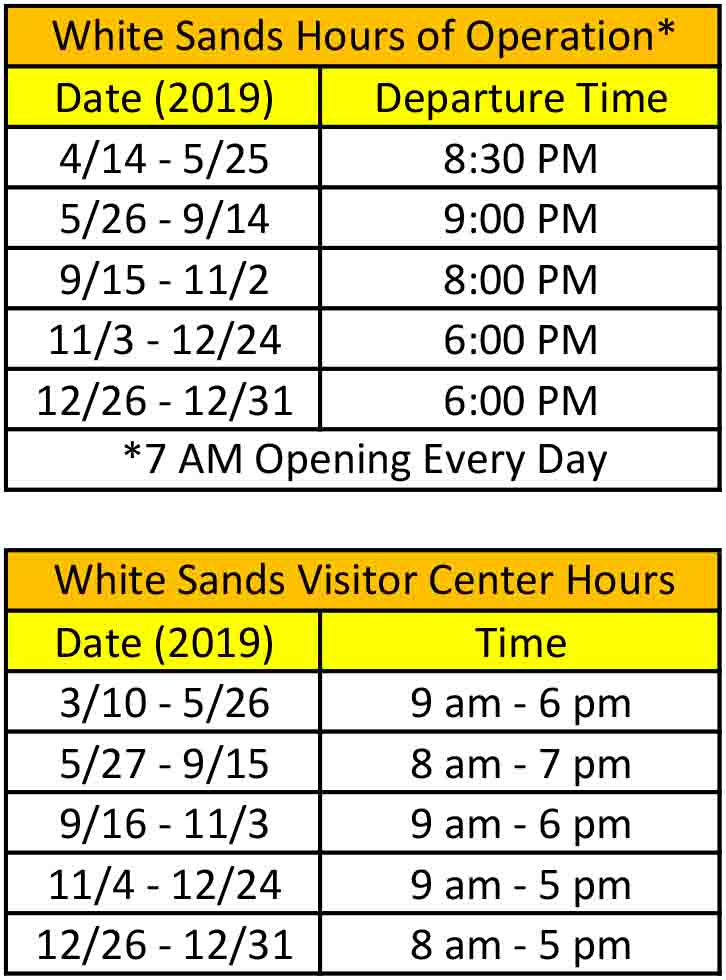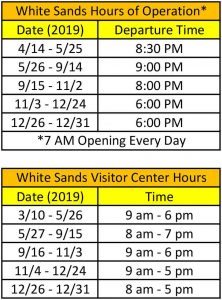 White Sands National Monument entrance fees are the lesser of $20 per vehicle, or $10 per person. However, we strongly suggest buying the America the Beautiful National Park annual pass for $80.
It not only covers admission to per vehicle attractions, but up to 4 people at per person sites. The investment can easily pay for itself with just a couple National Park visits.
How White Sands was Formed
White Sands' gypsum dunes are an anomaly in geological terms. The sand dunes are comprised of 98% pure gypsum sand despite gypsum being water soluble. So how did a mineral that dissolves in water like sugar create such a large dune field?
Thankfully, the right conditions over millions of years have allowed the gypsum dune fields to form. It all started when this region of the planet was under water with layers of gypsum being deposited on the sea floor.
Over time, the tectonic plates began to collide and push the gypsum filled land up. This was followed by a period of separation that formed the Tularosa Basin that now houses White Sands.
Rain and snowmelt from the surrounding mountains washed dissolved gypsum down into Tularosa Basin where it collected in lakes that ultimately dried up due to natural climate change.
What makes gypsum different than sugar in our analogy above, is that it is an evaporate mineral like salt. That means it will recrystallize when the water is removed. We saw these crystals form on the outskirts of the Playa Trail pond.
The crystals are naturally broken down by wind that pushes newly formed gypsum white sand together to form the sand dunes we enjoy today. This process still occurs on a grand scale when Lake Lucero gets filled and evaporates.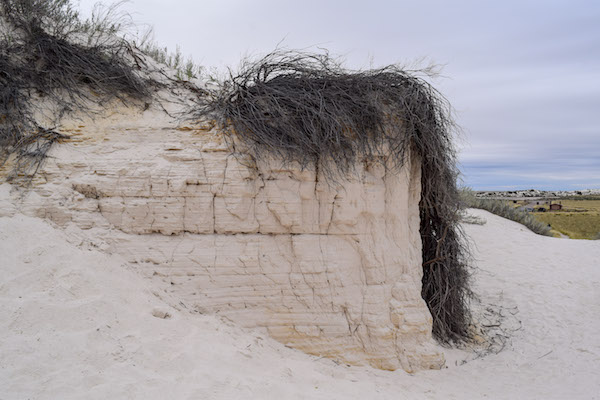 White Sands in Movies
It isn't hard to see why Hollywood would love shooting movies at White Sands. Combine the world's largest gypsum sand dunes with relative ease for set production, and you have a winning combination. To date, there have been 79 films shot at White Sands.
Here are the most popular ones you may know:
The Mule (2018) – Clint Eastwood drives past White Sands on one of his drug runs.
Year One (2009) – Multiple scenes as Jack Black and Michael Cera encounter historical biblical events.
Transformers (2007) – The Scorponok Desert Battle where the Decepticons attack.
Jarhead (2005) – Middle East desert scenes where a soldier deals with being a trained killer with no one to shoot at.
Independence Day (1996) – Will Smith knocks out an alien and drags it across the dessert when he "could have been at a BBQ."
Young Guns II (1990) – Multiple scenes as Billy the Kid and gang cause trouble in New Mexico.
White Sands National Monument Camping
Have you ever wondered what it would be like to camp in the desert surrounded by sand dunes as far as the eye can see? Only one word can describe it – primitive. At White Sands, the only camping allowed is primitive backcountry camping. There is no RV or car camping allowed.
If you are properly prepared, then this may be an experience you may never forget. The main draw is taking in the brilliant night sky with stars shining brighter than you could ever see in your hometown. For better or worse, there is little human infrastructure nearby.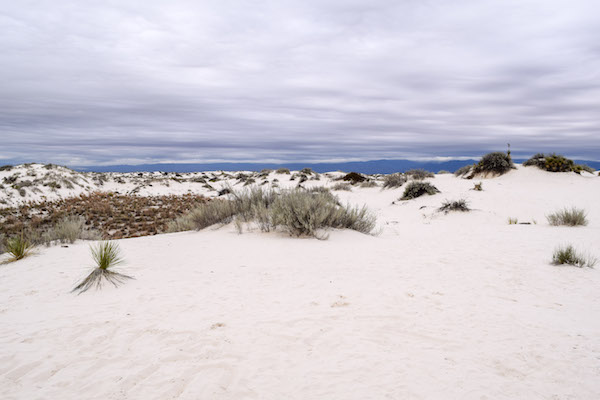 Here are some of the basics you will need to have for an enjoyable overnight stay within White Sands:
Tent – Need protection from windblown sand.
Sleeping Bag – The temperature can drop by 30° F or more overnight.
Sleeping Pad (Optional) – The sand may be soft enough for some campers.
Headlamp – For those night time toilet runs.
Minimum 2L of Water per person and prepared food
Toilet Plan – Try to plan serious business for the drop toilets at the head of the trail, pack a portable toilet with human waste disposal bags, or bring the tried and tested trowel. Don't forget toilet paper!
Proper Camping Hygiene Etiquette
With the nearest toilet over a mile away, you have to go back to the basics if you didn't bring your own:
Choose a location that is at least 100' away from the trail and your DIY White Sands campground.
Kick a fresh layer of sand on urine.
Solid bodily waste needs to be buried a minimum of 6" deep.
Toilet paper should be bagged and disposed of at the trailhead.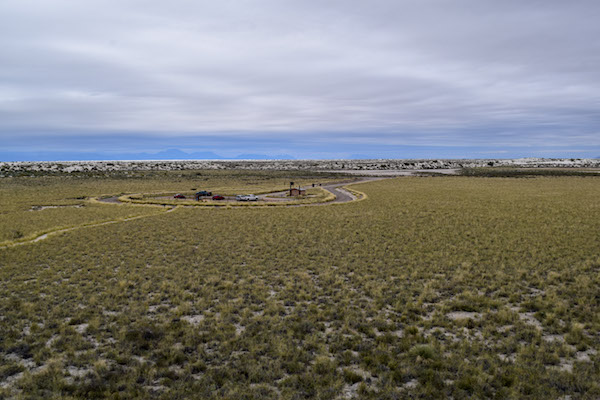 Camping Permits
Camping permits are issued the day of at the Visitor Center on a first come, first served basis. There are 10 campsites with a maximum 6 people per campsite. Check-out is 1 pm, but I'm sure most people will be back in civilization long before then.
In addition to park entrance fees, there is a $3 per person camping fee that is paid at the fee station. Your permit will contain your campsite number.
At the Backcountry Camping Loop Trail, follow the orange markers with a spade symbol for roughly a mile until you reach your designated spot identified by a tent symbol adjacent to a site number. A map is also on the back of your permit for reference.
Camping Near White Sands
If primitive backcountry camping isn't for you, there are a couple campgrounds nearby. For the self-sufficient, Holloman Lake is free and extremely close. The downside is there are no amenities.
For relative glamping, try Oliver Lee Memorial State Park located at the base of beautiful Dog Canyon. $10 a night gets you modern restrooms with hot showers.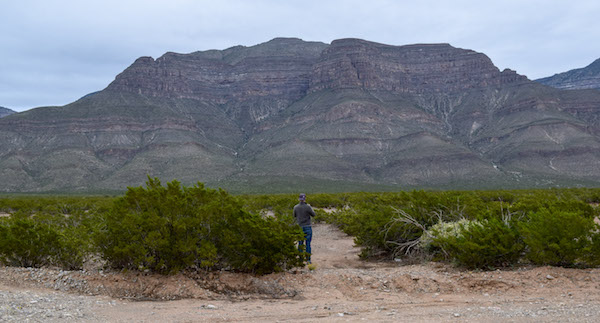 White Sands National Monument Hotels
The two best places to book a hotel or Airbnb nearby with plenty of restaurants are Alamogordo and Las Cruces depending on your next destination. We choose to stay in Ruidosa to be close to our first attraction the next day.
Regardless where you choose to stay, rooms start as low as $35 and you can upgrade to better options for not much more. The market is very competitive. Check out what is on offer…
Best Time to Visit White Sands National Monument
On average, the temperature changes 35° F between the daily high and low. That is a big swing so you need to come prepared, especially if you are camping at White Sands National Monument. There are four key definable attributes for the weather.
November to March typically has freezing nights, but mild days.
March through May often have high winds, which can lead to white-out conditions.
May through September have scorching heat with highs in the 90's and 100's.
July through September is the rainy season with frequent thunderstorms.
Given the above weather information, the best time to visit White Sands is in October, which coincides with the Albuquerque Balloon Fiesta. If visiting during the summer, visit early to avoid the worst heat and frequent afternoon thunderstorms.
Where to Eat Near White Sands
White Sands is largely an empty missile range that happens to have large white sand dunes located within. For that reason, your only real options besides the small convenience store in the visitor center are Alamogordo and Las Cruces.
This is one of the places on a New Mexico road trip where you need to plan ahead, and bring a packed lunch or a lot of snacks to tide you over.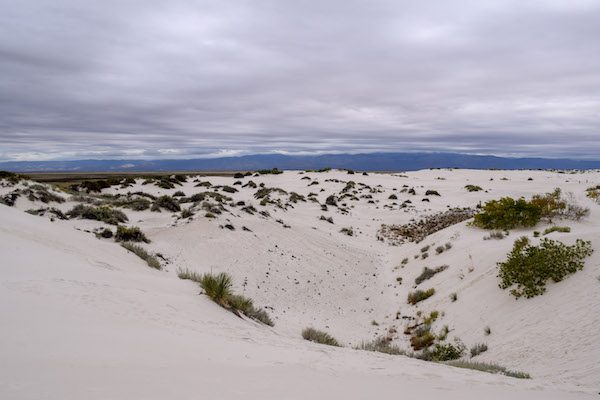 Travel Insurance in the U.S.
Although the U.S. is a relatively safe country for travel, medical costs are high so if you're an international visitor we recommend purchasing travel insurance before any trip. We've been using World Nomads through 80+ countries over the past 12 years and have been really happy with their coverage and services.
For more details check out our Word Nomads review here.
Get a quote for travel insurance now
Plan Your New Mexico Road Trip
There are plenty of excellent outdoor and cultural attractions in New Mexico – pick up a guide book and start planning! You can pick and choose, make a weekend out of it, or spend 9 days like we did taking in all the best that New Mexico has to offer.
The day we visited White Sands National Monument, we also visited:
Dog Canyon Trail in Oliver Lee Memorial State Park (but we didn't end up having enough time to hike)
The following day we:
Find more inspiration in one of the New Mexico guide books below!
New Mexico Car Rental
In order to get around New Mexico, you need to have a car. If you flew into Albuquerque like us, then your cheapest option is Budget Car Rental. One of the key benefits was that they were one of the few companies open until 1 am, which worked with our late flight from New York City.
We were surprised to find that Sheena was able to rent a car much cheaper as an Australian than I was as an American. If you're an international visitor, keep that in mind during your online research. You could save big $$$…
Know Before You Go
Hours: Varies, but gates open at 7 am
Fees: $20 per car, or $10 for a single person
Duration: 2-4 hours
Camping: 10 camp sites reserved on a first come, first served basis; $3 per person
Nearest Large City: Alamogordo at 20 minutes by car; Las Cruces at an hour by car
Website: White Sands National Monument
Phone Number: (575) 479-6124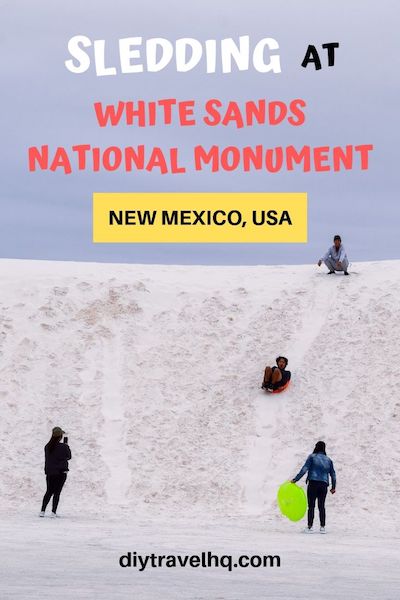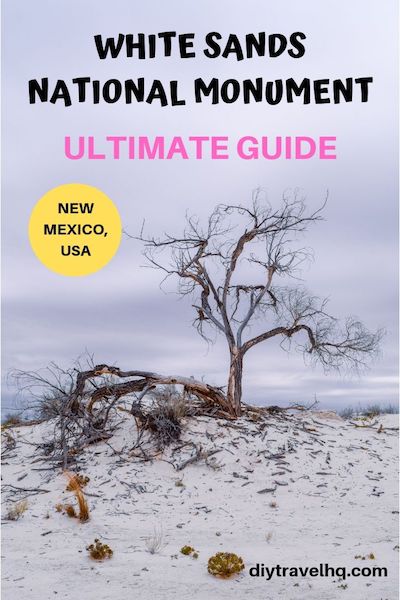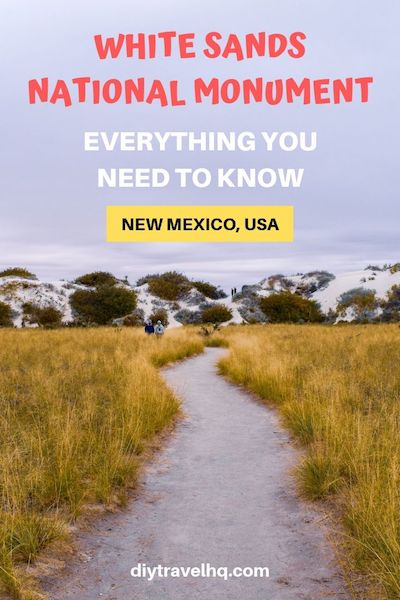 Disclaimer: This post contains affiliate links which means that we receive a small commission if you click on a link and purchase something that we've recommended, at no extra cost to you.

Visited in October 2018
Updated July 2019