Rent a motorbike & explore some of the best Ubud temples & rice terraces – find out where to go on the ultimate Ubud day trip on 2 wheels in Indonesia!
Ubud Day Trip & Temples
The best Ubud temples & rices terraces lie outside the city center, best explored at your own pace.
A bicycle is a wonderful way to explore but a motorbike can take you further & faster, especially if you plan on visiting Gunung Kawi.
We here at DIY Travel HQ rented a motorbike from our guesthouse for 40,000 IDR / $3.00 + 10,000 IDR / $0.75 insurance (US$100.00 excess).
* Don't forget to purchase your own travel insurance before any trip to Indonesia. We've been using World Nomads for over 10 years. It's the best-value provider we've found but there are other important things to consider. Check out our post and find out which of our claims were successful or denied.
And check out this comprehensive guide on where to stay in Bali for more accommodation options in Bali.
There are 4 temples & 1 (rice) terrace that can be visited on this Ubud day trip – the main attractions in the Ubud countryside.
Our best Ubud day trip itinerary follows a logical route, though we recommend starting (not finishing) with the Tegalalang rice terraces while the sun is bright & the crowds are still at bay.
Things to know about Ubud Temples
A sarong is required to enter the temples – sarong rental is included in the entrance fees
If your legs are already covered, you'll be given a sash rather than a sarong to wear
Souvenir shops surround all sites & the sellers are particularly persistent. Remember, a sarong is included in all entrance fees, you do not need to buy one, despite what the vendors may say
Official or unofficial parking fees are charged at most sites; free parking is easily available outside the main complexes
We recommend Lonely Planet's Bali & Lombok Travel Guide
to help you plan your trip.
#1. Goa Gajah (Elephant Cave)
The centerpiece of Goa Gajah is the intricate relief carved in stone on the entrance of the cave – ferocious creatures stand guard around an imposing demon's mouth. According to legend, this figure was once thought to be an elephant (huh?!), giving the temple its nickname of "Elephant Cave".
This is definitely one of the best Ubud temples.
Built in the 9th century as an ancient monastery, monks used to meditate inside the cave. These days, the interior appears small & completely disenchanting, especially after going through such a superior opening. It is undecorated, dusty & dimly lit.
Locals light candles & pray at the foot of several altars dedicated to various deities, one being Ganesha, the elephant-God.
A large, carved pool at the start of the complex features tall, carved statues, built to ward off evil spirits:
The entire temple grounds are fairly large, with paths leading to other shrines & ponds.
Steps lead down to a hidden oasis of hanging vines, fern trees, moss-covered moss & even a waterfall.
Goa Gajah Entrance Fee: 15,000 IDR / $1.10
Goa Gajah Sarong Rental: included in entrance fee
Goa Gajah Parking: unofficial fee charged at exit – park outside or refuse to pay
#2. Gunung Kawi (Poet Mountain)
A scenic path & stairway along fields of rice terraces & swaying palms lead down to a vast temple complex, believed to be the burial grounds of King Anak Wungsu of the Udayana dynasty & his many wives. An inscription on a shrine reads "Haji Lamahing Jalu" – the King made a temple here and it's one of the best Ubud temples.
In the Balinese Valley of the Kings, the extensive grounds are dominated by 10 rock-cut candi (shrines) carved into 7m high sheltered niches of sheer cliff face.
Constructed in the 11th century, 5 of these huge funerary monuments are on the west bank. A smaller complex, it's believed to have been built for the King's wives.
A trickling stream from the Pakerisan river separates the temples.
Ancient tombs set amongst towering trees, tropical foliage bathed in sunlight, enclosed by surrounding rice fields – the setting is spectacular.
While crossing over, pause on the bridge to admire the harmony of human toil & nature's spoils:
On the east bank, the monuments are ever more monumental.
Here lie the King, his sons &/or favorite concubines:
Walking across the main platform leads to more rice terraces:
Overshadowed by the tombs, physically & figuratively, the main temple complex is an afterthought for most visitors.
Shoes are not allowed to be worn, the ground can be burning hot in the midday sun.
It's worth a visit for the bigger picture but there's not much of interest particularly to see.
Gunung Kawi Entrance Fee: 15,000 IDR / $1.10
Gunung Kawi Sarong Rental: included in entrance fee – the road to the temple entrance is lined with clothes stalls & aggressive vendors. The women will insist that you need a sarong to enter; don't listen to them, buy if you like but it's not necessary
Gunung Kawi Parking: fees charged at various spots on the temple road, Jalan Bayu Brata. Possible free, official parking at the entrance of the temple. Park on the main road (Jalan Dr. Ir. Soekarno) to avoid uncertainty & hassles.
#3. Tirta Empul (Holy Spring)
Dating back to the 10th century, Tirta Empul was founded around hot springs that have been bubbling for centuries. One of Bali's holiest temples, (literally meaning Holy Spring), it takes its name from the ground water, that is also the source of the Pakerisan river.
The focal point of the complex is Jaba Tengah, the central yard. Here, 2 stunning rock-craved pools contain 30 showers, where locals come to the springs to bathe & purify themselves physically & spiritually.
From left to right, the bathing worshippers stop to pray & wash at each fountain. It's yet another example of the dedication of the Balinese to their traditions & culture.
Visitors are also welcome to join the bathing ritual & wash away evil spirits – bring extra clothes (not swimwear) or rent another sarong for 10,000 IDR / $0.75.
According to legend, the bad spirits washed out of your body may still remain in your clothes, so a different sarong must be worn to continue wandering around the temple.
Unlike many other temples, away from the main attraction, the rest of the grounds are also worth exploring.
Again, the setting & juxtaposition of ancient structures in a wilderness environment is awe-inspiring – don't miss one of the best Ubud temples.
Tirta Empul Entrance ee: 15,000 IDR
Tirta Empul Sarong Rental: included in entrance fee; sarong for bathing 10,000 IDR
Tirta Empul Parking: fee charged. Park along the river, towards the main road
#4. Pura Kehen
On this Ubud day trip, Pure Kehen is off the beaten track. In the foothills of Bangli village, north of Ubud, Pure Kehen is also one of the finest temples in the whole of Bali.
The complex is comprised of 3 main terraces, reached by 3 sets of stairs, rising up to a total of 11 tiers. A work of exquisite stone craft, the entrance facade is as impressive as it is commanding, making it one of the best Ubud temples.
A towering banyan tree is at the heart of the first section. An altar is at the foot of its roots & a shrine-tree house is halfway up its branches:
More so than in other temples, here, a subtle Chinese influence is mixed with the traditional Balinese-Hindu aesthetic & style of architecture.
There is a Chinese temple on the grounds & Chinese-patterned porcelain plates on the middle terrace.
The upper courtyard is the most extensive & contains the main pagoda, layered with thick thatch roofs.
A characteristic of Balinese temples, it also features on the smaller, surrounding stone & wood carved structures:
In a large complex of superior craftsmanship, the central gates are a standout.
The beauty & skill in its highly decorated executive will remain forever timeless:
While Pura Kehen is indeed one of the best Ubud temples, it's a 40 minute ride from Tampaksiring.
If you're short on time, it may not be worthwhile to squeeze this into an Ubud day trip, especially as there are so many interesting temples closer to town.
Pura Kehen Entrance Fee: a ticket seller at a booth opposite the temple asked for 30,000 IDR / $2.25. We refused to pay more than 15,000 IDR / $1.10 & he agreed
Pura Kehen Sarong Rental: included in entrance fee
Parking: free parking
Tegalalang Rice Terraces
The Tegalalang rice terraces aren't one of the best Ubud temples but it's an iconic attraction that should be included in any Ubud day trip.
Set amongst the hills of Bali's cooler highlands, Ubud is surrounded by gently rolling rice fields. The most popular & picturesque place to view this iconic landscape is at Tegalalang.
Here, the land becomes more undulating, creating a panorama of lush green countryside, just 20 minutes from the urban center.
You can walk along the rim of the fields taking photos or go down into the paddies & explore further. Watch the farmers at work & take the time to chat – many of them speak English, as a by-product of Ubud's high volume tourism.
Learn about the traditional harvesting practices & how terraces facilitate a greater distribution of water.
This was our last stop of the day & we arrived around twilight, where there weren't as many tourists.
No entrance fee was charged & there were less checkpoints asking for donations as most farmers had finished for the day. With all the trees, there isn't a sunset to view either.
Visiting in the morning or afternoon showcases the rice terraces at their most photogenic, in the full light of the sun under a bright blue sky.
You'll be guaranteed to share this Ubud day trip experience with busloads of tour groups, just don't allow that to taint your views – or get in the way our your photographs.
Tegalalang Entrance Fee: free, donations asked for my local farmers at regular checkpoints as you walk through the fields. They are known to be pushy, be assertive with what, and how often, you are willing to pay
Tegalalang Sarong Rental: not applicable
Tegalalang Parking: free parking along the roadside
There are many other things to see & do in downtown Ubud, without needing to rent a motorbike. For more information, see our posts:
Did you enjoy reading Ubud Day Trip on Motorbike: Best Ubud Temples?
Pin it and help others find it too!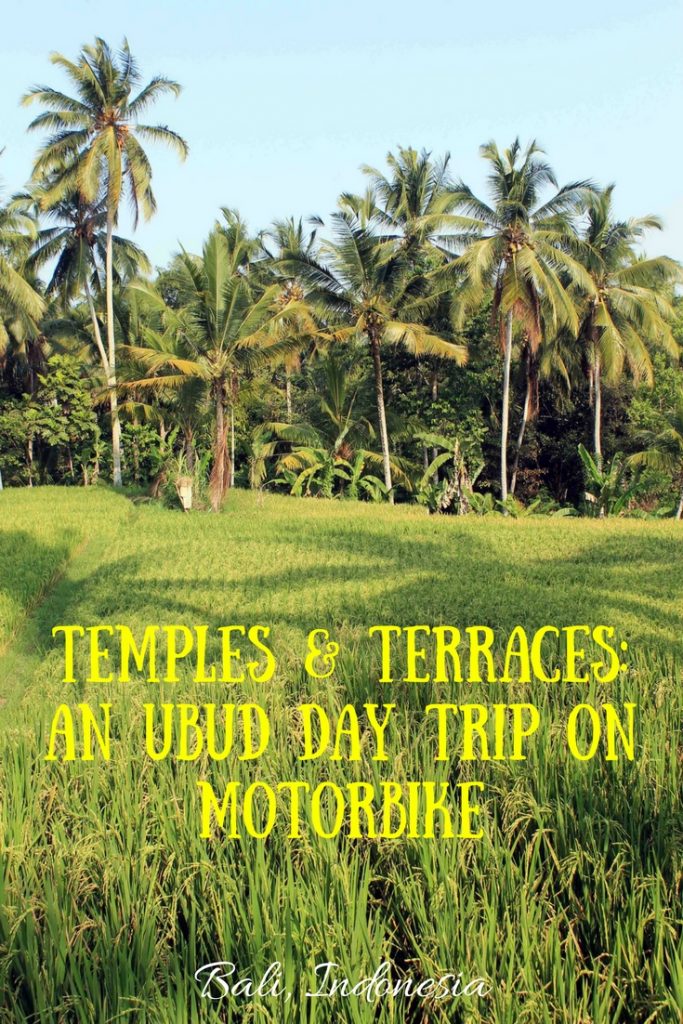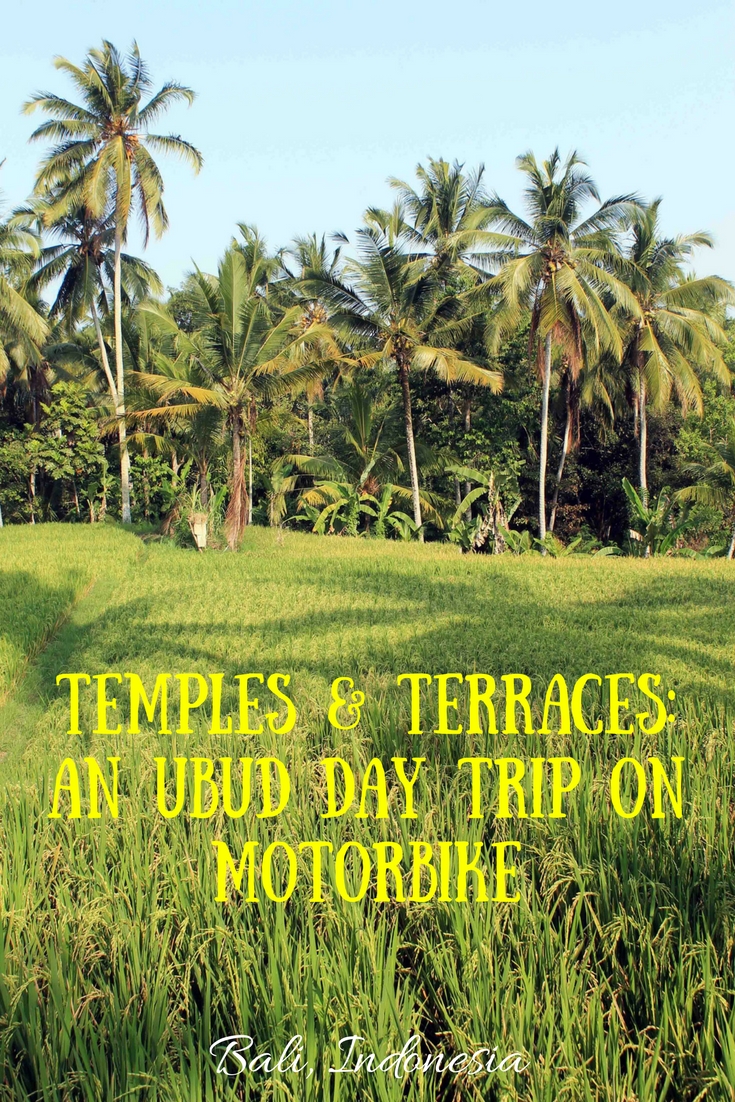 [put_wpgm id=20]
*** The Final Word: Don't take a tour, follow our Ubud day trip itinerary & explore Ubud's countryside at your own pace *** 
Did you go to any other Ubud temples or rice terraces?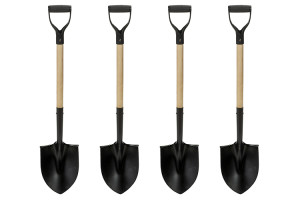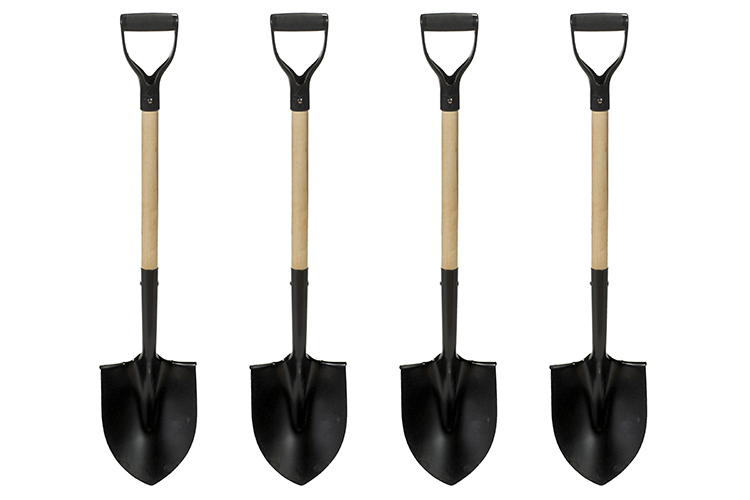 Easy DIY travel outside city centres using public transport
Disclaimer: This post contains affiliate links which means that we receive a small commission if you click on a link & purchase something that we've recommended – at no extra cost to you. This helps us to keep our site running so we can continue to provide free content. Thank you for your support!
Visited in October 2015