Drive 8 miles from Albany in Upstate New York and you'll reach the small town of Troy. Check out the most unique things to do in Troy, NY and find out why it's known as the official "Home of Uncle Sam."
I apologize for the click-bait, but sadly there really are just two unique things to do in Troy, NY for tourists. I'm always open to suggestions from locals, but many of the other Troy attractions I've looked into are just that – to be enjoyed by locals.
Things to Do in Troy, NY
Now that we have clarified things, let's find out what to do in Troy, NY! Here are the two Troy attractions worth visiting, and both need a backstory to fully appreciate so don't stop reading just yet.
#1. Uncle Sam Wilson's Gravesite
By far the most interesting thing to do in Troy, NY is to visit Uncle Sam Wilson's gravesite in Oakwood Cemetery. Most Americans are familiar with the caricature of patriotic Uncle Sam from World War I and II advertisements. What you may not know is that the original Uncle Sam was based on a real man, and unknowingly created by residents of Troy during the War of 1812.
Legend has it that Sam Wilson moved to Troy, NY from Massachusetts after the American Revolution came to an end, and became a meatpacker. He was able to secure a contract with the United States government to supply meat during the War of 1812.
Each barrel was stamped US so the soldiers from Troy started associating the shipments with the genial Uncle Sam Wilson. Throughout the War of 1812, more soldiers joined in until US was interchangeable with United States and Uncle Sam.
Visiting the grave of Uncle Sam Wilson in Oakwood Cemetery is very easy. The main entrance gate off Oakwood Avenue at the southern end of the cemetery is open from 8 am to 7 pm daily. There is also a historical marker near the gate.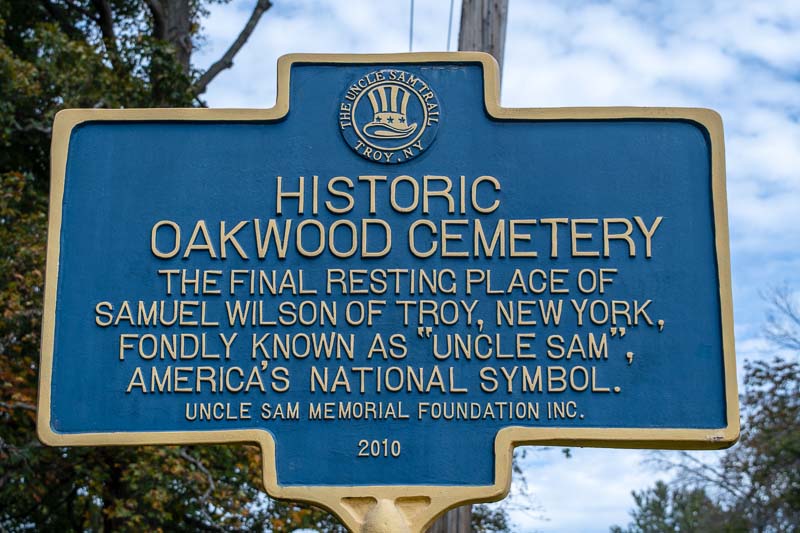 Once inside, follow the signs to the gravesite or map it in Google under the term "Uncle" Sam Wilson Gravesite Oakwood Cemetery. If possible, try to time your visit with Sam Wilson's birthday on 9/13, which is officially known as Uncle Same Day!
Location: Oakwood Cemetery
Hours: 8 am – 7 pm
Price: Free
If you're interested in brushing up on your knowledge of American history you may want to check out this eye-opening book, The Killing of Uncle Sam.
Although the U.S. is a relatively safe country for travel, medical costs are high so if you're an international visitor we also recommend purchasing travel insurance before any trip. We've been using World Nomads through 80+ countries over the past 12 years and have been really happy with their coverage and services.
For more details check out our World Nomads review here.
#2. Troy Coal Gasholder
The coal gas storage tank is a distant second among the top things to do in Troy, NY. The gasholder building is now privately owned and just a shell. However, the brick building used to contain a storage tank inside that housed the gas that lit streetlamps.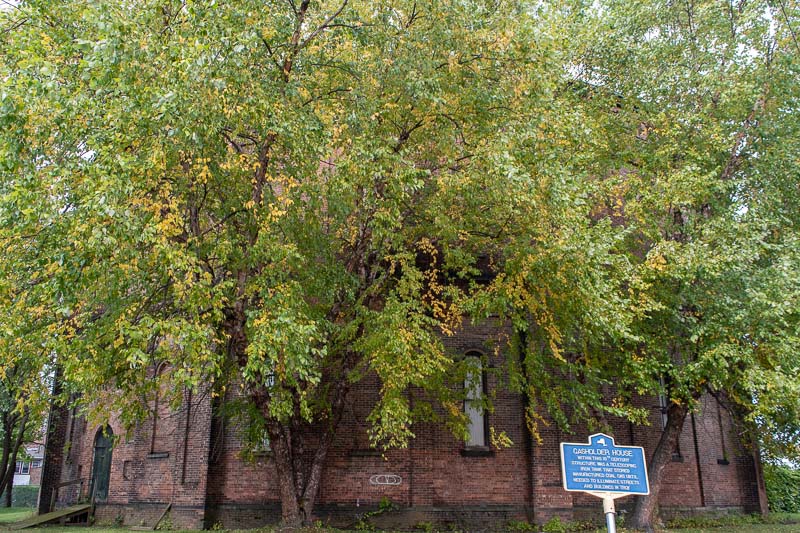 Coal gas has since been replaced by natural gas and electricity, which is why you may not know it even existed. It is formed by heating coal in the absence of air to form the gas, and was stored in large tanks around the country until needed.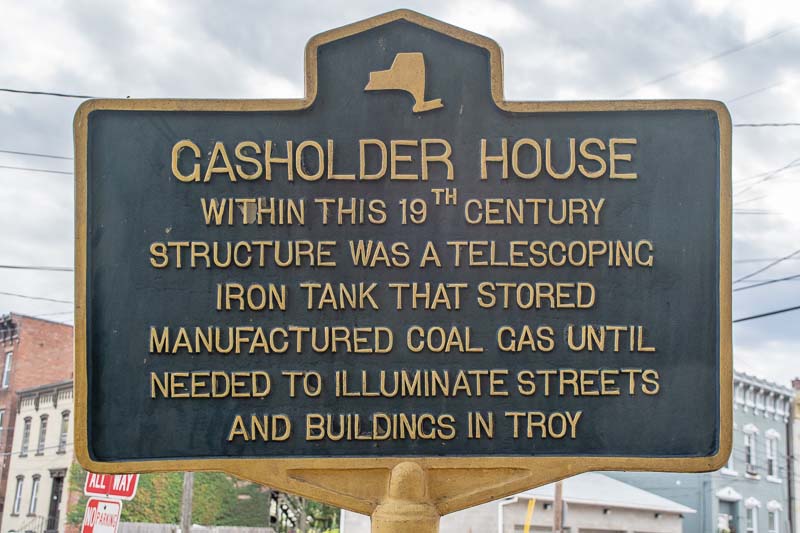 The structure is listed as a historical building since not many coal gasholders remain. This is not something you want to go out of your way to visit, but worth seeing if in Troy to pay your respects to Uncle Sam Wilson.
Location: 1115 5th Avenue (Corner of Jefferson Street and 5th Avenue)
Hours: Dawn to Dusk
Price: Free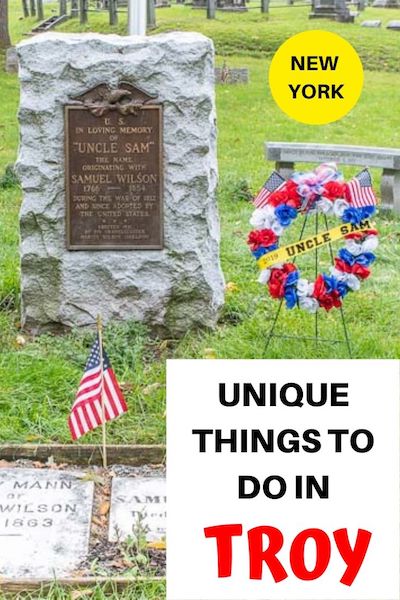 Disclaimer: This post contains affiliate links which means that we receive a small commission if you click on a link & purchase something that we've recommended, at no extra cost to you.
Visited in October 2019