Los Alamos, New Mexico is home to the Manhattan Project, but has many more things to do outdoors. Join us to find out how to plan your day!
Things to Do in Los Alamos, New Mexico
There are four things to do in Los Alamos, and 75% focus on the Manhattan Project. This isn't a huge surprise since that life changing event has put Los Alamos, New Mexico on the map. For those unfamiliar with the official name, the Manhattan Project was the research that led to the first nuclear weapon and ultimately won the war with Japan in World War II.
#1. Bradbury Science Center
If you are only visiting one Manhattan Project museum in Los Alamos, make it the Bradbury Science Center.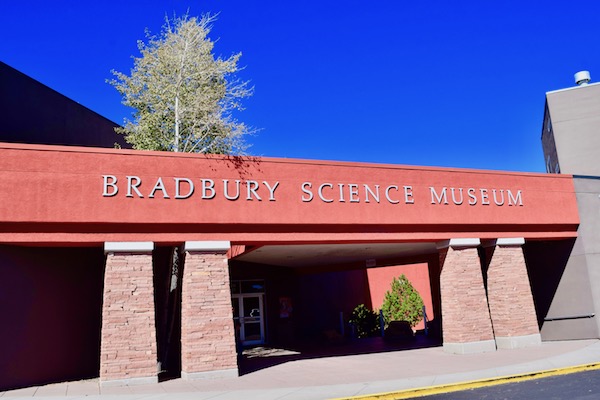 The majority of the museum pertains to the Manhattan Project as the curators take you through Los Alamos' secretive past, to the creation of the original nuclear weapon, and how nuclear weapons are maintained and used as a deterrent today. Make sure you get a chance to watch the informative film that provides a deeper understanding.
There is also an exhibit that provides background information on some of the most life altering research currently taking place. Topics during our visit included bio-fuels and nano-technology among others.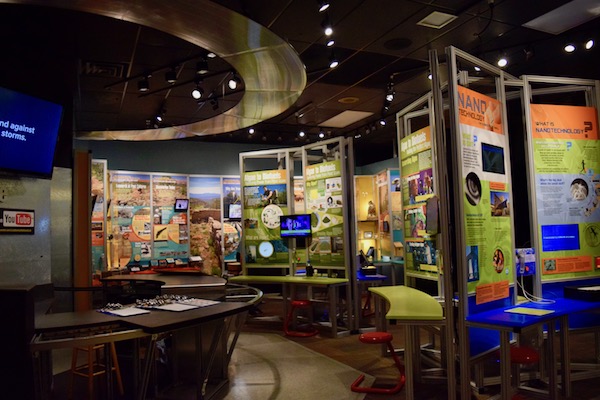 Entrance Fee: Free
Duration: 1 Hour
Opening Hours: 10 am – 5 pm Tuesday to Saturday; 1 pm – 5 pm Sunday and Monday
#2. Los Alamos Nature Center
Los Alamos Nature Center is great to visit if you have kids, or want to learn about the natural environment that comprises the Pajarito Plateau. Start by reading about the geology and then apply it to the 3D topography map.
Another highlight is observing animals either inside the nature center, or outside from the wildlife observation room. The most frequent guests are birds and chipmunks.
Alternatively, you can visit the planetarium for presentations. They show what is visible in the night sky each month, and a wide range of other films as well.
Entrance Fee: Free, $6 Planetarium Events
Duration: 1 Hour
Opening Hours: 10 am – 4 pm Monday, Wednesday, Friday, and Saturday; 10 am – 8 pm Tuesday; 1 pm – 4 pm Sunday
#3. Los Alamos History Museum
For obvious reasons the Manhattan Project is a large component of this museum, but the Los Alamos Historical Society also documents other periods of time. These include the original Puebloan inhabitants, the homestead era, the Los Alamos Ranch School, and the aftermath of the Manhattan Project during the Cold War.
Entrance Fee: $5
Duration: 1 Hour
Opening Hours: 9 am – 5 pm Monday to Friday; 10 am – 4 pm Weekends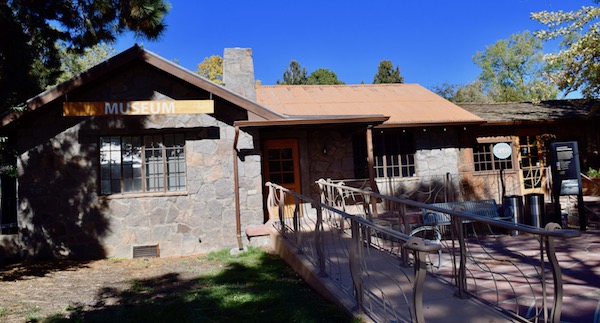 #4. Manhattan Project National Historical Park
This national historic park focuses on the Manhattan Project, and how it helped end World War II. Compared to other national parks this is on the small side, but they are working on improving the experience since a lot of the remaining buildings are still off-limits. There are informative displays, but the highlight is watching the film.
Entrance Fee: Free
Duration: 1 Hour
Opening Hours: 10 am – 3 pm daily from December to February; 9 am – 4 pm from March to November
Things to Do Near Los Alamos, New Mexico
As interesting as the museums covering Los Alamos and the Manhattan Project are, there is little that you can't learn online or through watching documentaries. For us, the highlights were the things to do near Los Alamos, New Mexico.
The two main activities are stepping back in time to explore cliff dwellings, and also enjoy scenic overlooks with breathtaking landscapes nearby.
#5. Anderson Scenic Overlook
We loved the scenery when we were driving into Los Alamos, New Mexico. The break between the Jemez Mountains was breathtaking, especially at sunrise and sunset when the rocks glow a fiery red.
We were a few minutes too late to capture sunrise by the time we found a pullover. Don't make the same mistake and mark Anderson Scenic Overlook on your map in advance.
Entrance Fee: Free
Duration: 15 Minutes
Opening Hours: Dawn to Dusk

#6. Tsankawi
Tsankawi is located at the "Y" where the road splits to either Los Alamos or Bandelier, and worth visiting as part of the national monument to gain a better understanding of the local Puebloan culture.
Unlike Bandelier, this loop trail takes you to a mesa top where you can see ruins and still find pottery remnants while taking in amazing views. Climb the ladders and walk in the indigenous footsteps as you follow the worn trenches circling the plateau.
Keep an eye out for cavate in the wall faces, and petroglyphs.
Entrance Fee: $25 per vehicle and included with Bandelier National Monument
Duration: 1-2 Hours
Opening Hours: Dawn to Dusk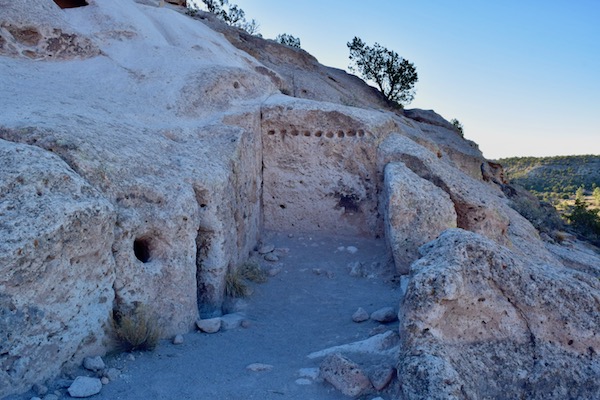 #7. White Rock Overlook
Tucked away at the far end of a residential park is White Rock Overlook. Don't overlook this view of the Rio Grande in the Mortandad Canyon below. The viewing platform is mere feet away from parking so you have no reason not to enjoy the spectacular New Mexican scenery.
Entrance Fee: Free
Duration: 15 Minutes
Opening Hours: Dawn to Dusk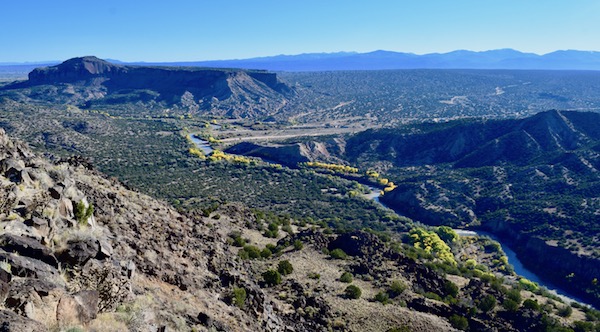 #8. Bandelier National Monument
Any trip to Los Alamos must include Bandelier National Monument. This is the #1 thing to do in Los Alamos. There are a lot of activities you can do, but the most popular is the Main Loop Trail that takes you along and through excellent cliff dwellings.
On the hike you can climb several wooden ladders into cavate cliff dwellings, and walk through the remains of a kiva and adjacent rooms. Don't forget to also make time for Tsankawi.
Entrance Fee: $25 per vehicle and includes Tsankawi
Duration: 2-3 Hours
Opening Hours: Trails are open dawn to dusk. Visitor Center is open 9 am – 5 pm.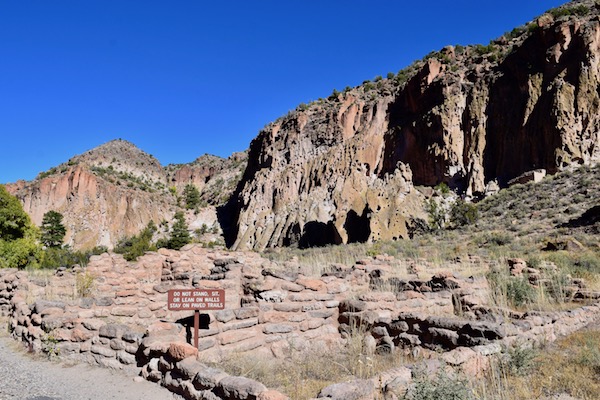 #9. Frijoles Canyon
While driving down to the Bandelier Visitor Center, stop at the Frijoles Canyon lookout. You can hike in this area, but the most efficient use of your time is to quickly admire the canyon before walking through it as you explore the cave dwellings.
Entrance Fee: $25 per vehicle and included with Bandelier National Monument
Duration: 15 Minutes
Opening Hours: Dawn to Dusk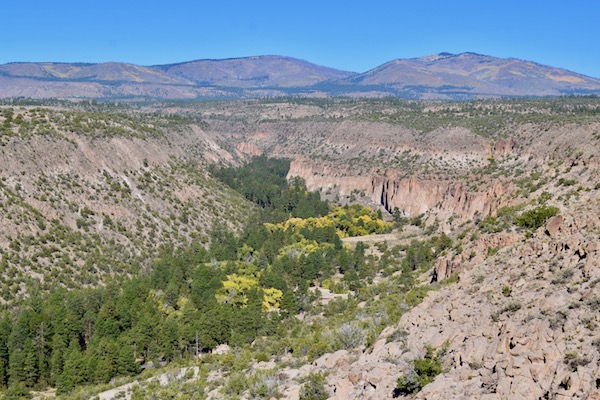 #10. Puye Cliff Dwellings
If you still have time left at the end of your day, you can try to sneak in a tour at Puye Cliff Dwellings. Even from the parking lot you can see a whole wall of cliff dwellings, which is very impressive. Tours stop 2 hours earlier than opening hours listed below.
Entrance Fee: $20 – $35 for guided tours
Duration: 1-3 Hours
Opening Hours: 8 am to 4 pm October to March; 8 am to 6 pm April to September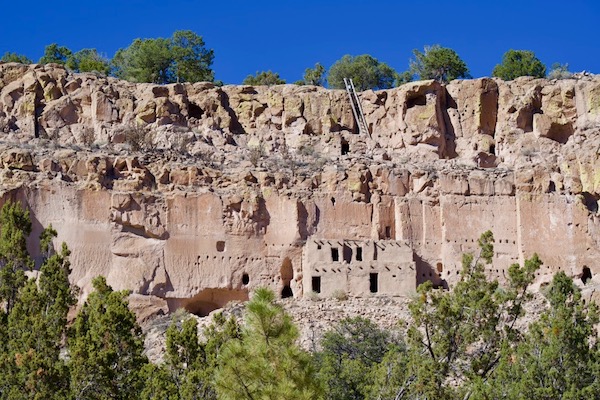 Santa Fe Hotels and Espanola Hotels
There is very little reason to stay in a Los Alamos hotel, and Santa Fe is the hub for exploring this region of New Mexico. Besides all the museums and shops downtown, there are excellent restaurants whether you stayed in the city or went on a Santa Fe day trip. Prices start at $50, and are very competitive considering the cities popularity.
Alternatively, you can stay in Espanola if your main focus are the day trips since you will be closer to them. Prices are marginally cheaper. We chose to stay at Rodeway Inn at Espanola since we got a special multi-night rate.
Los Alamos Restaurants
Depending on your itinerary, here are the best restaurants you will find in and around Los Alamos.
Los Alamos – If you happen to be in Los Alamos for lunch, try Blue Window Bistro. The Duck BLT or Roasted Lamb Sandwich will hit the spot if you are looking for premium sandwiches.
White Rock – Pigs and Figs is a great place to stop for lunch. They serve tasty salads, soups, quiches, sandwiches, and wraps.
Travel Insurance in the U.S.
Although the U.S. is a relatively safe country for travel, medical costs are high so if you're an international visitor we recommend purchasing travel insurance before any trip. We've been using World Nomads through 80+ countries over the past 12 years and have been really happy with their coverage and services.
For more details check out our Word Nomads review here.
Plan Your New Mexico Road Trip
There are plenty of excellent outdoor and cultural attractions in New Mexico – pick up a guide book and start planning! You can pick and choose, make a weekend out of it, or spend 9 days like we did taking in all the best that New Mexico has to offer.
We also visited the following places the same day as Los Alamos, but you need to start early and take advantage of activities open from dawn to dusk:
Bandelier National Monument including Tsankawi
White Rock Overlook
Puye Cliff Dwellings
Find more inspiration in one of the New Mexico guide books below!
We strongly suggest buying the America the Beautiful National Park annual pass for $80. It not only covers admission to per vehicle attractions, but up to 4 people at per person sites. The investment can easily pay for itself with just a couple National Park visits. Other notable national parks in New Mexico that are worth visiting are listed below.
Click on any of the links above to explore the region further with DIY Travel HQ.
New Mexico Car Rental
In order to get around New Mexico, you need to have a car. If you flew into Albuquerque like us, then your cheapest option is Budget Car Rental. One of the key benefits was that they were one of the few companies open until 1 am, which worked with our late flight from New York City.
We were surprised to find that Sheena was able to rent a car much cheaper as an Australian than I was as an American. If you're an international visitor, keep that in mind during your online research. You could save big $$$…
Know Before You Go
Nearest Large City: Santa Fe at 40-60 minutes by car
Restaurants: Blue Window Bistro in Los Alamos; Pigs and Figs in White Rock
Hotel: Rodeway Inn at Espanola ($46); Motel 6 Santa Fe Central ($50)
Next New Mexico Destinations: Santa Fe, Taos, El Santuario De Chimayo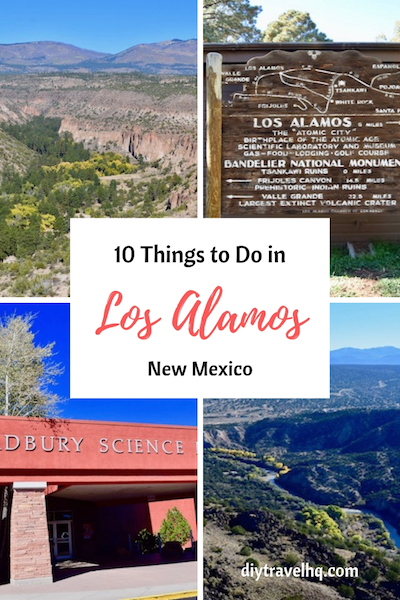 Disclaimer: This post contains affiliate links which means that we receive a small commission if you click on a link and purchase something that we've recommended, at no extra cost to you.

Visited October 2018
Updated August 2019