Check out our list of 15 things to do in Taos, New Mexico and discover everything from churches & museums to scenic drives & a UNESCO World Heritage Site.
Have you already been before, and are looking for new places to visit in Taos? Take a look at our list below to see if there are any interesting attractions you haven't been to yet.
Everyone else can start seeing how much Taos has to offer and why it's one of our favorite places in New Mexico. Taos really should be on every USA bucket list! We've organized the attractions by location with groups consisting of downtown, road to Taos, and north of Taos.

Downtown Taos
Road to Taos
North of Taos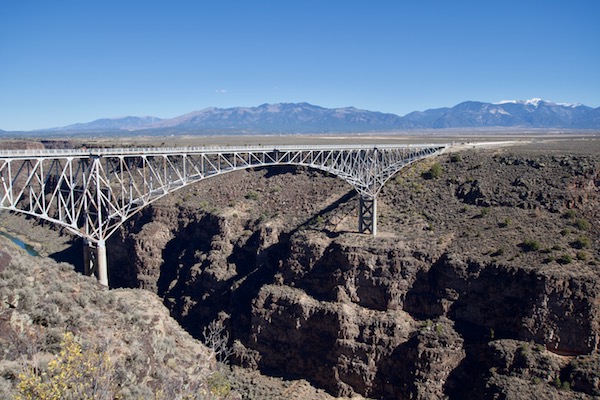 Things to Do in Taos
#1 Taos Plaza
Not sure what to do in Taos? There isn't very much that is special about Taos Plaza other than it is the center of the old town. There are shops and restaurants that surround it, but the best part about the plaza is that it's easy to get to other Taos attractions. Use the plaza as a starting or meeting point.
Entrance Fee: Free
Duration: 15 Minutes – 30 Minutes
Hours of Operation: 24 Hours
#2 Taos Art Museum
You would think paintings would be the main reason to visit Taos Art Museum, but it is the house itself that is the true gem. Nicolai Fechin does an excellent job carving wood for both furniture and architectural members of the house. He also has a mix of his own paintings on display as well as local Taos artists.
Entrance Fee: $10
Duration: 1 Hour
Hours of Operation: 10 am – 5 pm Tuesday to Sunday
#3 Harwood Museum of Art
The Harwood Museum of Art is a small art museum in downtown Taos. Most exhibits focus on more modern Southwest art, and can probably be skipped unless you are a fan of Agnes Martin. Otherwise, your time and money is better spent elsewhere.
Entrance Fee: $10
Duration: 30 Minutes
Hours of Operation: 10 am – 5 pm Tuesday to Friday, 12 pm – 5 pm Weekends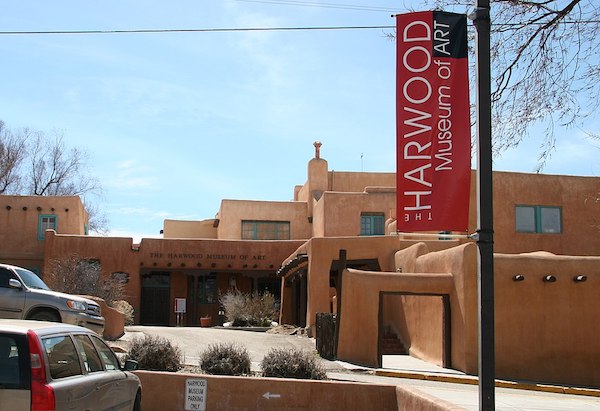 Things to Do Around Taos
One of the more hotly debated topics in northern New Mexico is whether the High Road to Taos from Santa Fe is better than the Low Road. We say why argue and enjoy both. If you are trying to fit everything into a day, take the High Road to Taos and the Low Road to Santa Fe.
High Road to Taos
The High Road to Taos is about historic churches and the change in landscapes from desert to fertile mountains. There are many excellent places to stop along the way for breathtaking views.
The three most important churches from Santa Fe to Taos are El Sanctuario de Chimayo, San Jose de Gracia in Las Trampas, and San Francisco de Assisi Mission Church. The significance of two of the churches are covered elsewhere in this article. San Jose de Gracia is noteworthy since it is the oldest adobe church in the US and appealing to the eye.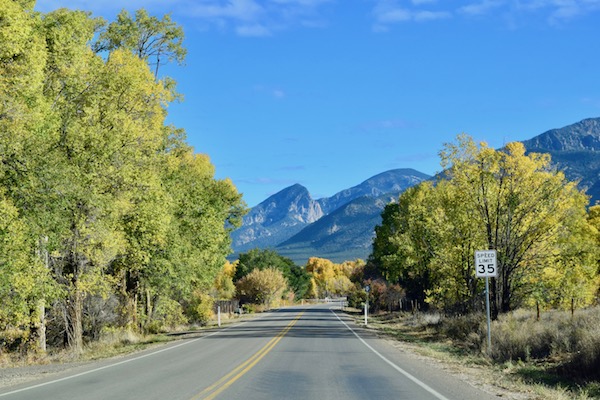 Low Road to Taos
The Low Road to Taos is a very scenic drive along the Rio Grande. It just so happens to be the fastest, most efficient way to get there too. That is unless you want to stop for wine tastings along the way. Try the Black Mesa Winery where you can sample 6 wines for $8.
Entrance Fee: Black Mesa Winery – $8; Churches – Free
Duration: 1-3 Hours
Hours of Operation: Black Mesa Winery – 11 am – 6 pm Monday to Saturday, 12 pm – 5 pm Sunday
#5 El Sanctuario de Chimayo
El Sanctuario de Chimayo is one of the top things to do around Taos, New Mexico. It's also one of the largest pilgrimage sites in the United States attracting over 300,000 pilgrims each year. Most come for the healing power associated with the Chimayo Holy Dirt.
Legend has it that a cross was discovered buried in the dirt, which was taken to a local church by a priest. The crucifix was then found back at the original site the next day. This process repeated several times until it was decided to build the Christ of Esquipulas Chapel there in the early 19th century.
The Pocito, a small dirt hole where the crucifix was found, now resides in the Christ of Esquipulas Chapel. People come from all over the Southwest and further to take the dirt home with them in all means of containers. If you come empty handed, the gift shop sells glass jars you may purchase.
The dirt is mixed with water and the mud applied to your ailment location. Claims have been made that this process has relieved pain in joints and all the way to curing cancer. For those wondering if this is a bottomless pit, the dirt is replaced daily from the surrounding mountains.
With so many visitors during the Holy Week, the grounds have multiple places to congregate and feels like an amusement park. The Children's Chapel along with a museum, gardens full of statues and artwork, and outdoor prayer spaces were all built since the original founding.
Entrance Fee: Free
Duration: 1 Hour
Hours of Operation: 9 am – 5 pm October to April, and until 6 pm from May to September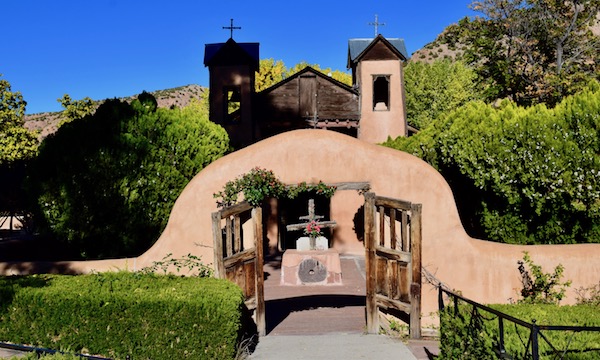 #6 San Francisco de Assisi Mission Church
San Francisco de Assisi Mission Church is a must do on the high road to Taos from Santa Fe. Besides being a spectacular adobe church, it was made famous thanks to artist Georgia O'Keeffe and photographer Ansel Adams.
Local residents take such pride in the San Francisco de Assisi that they re-plaster the adobe façade each year to keep it looking brand new. This helps keep the buzz surrounding the church alive.
"The Mystery Painting" inside the church is another item creating buzz that some may not be aware of. The actual painting's name is "The Shadow of the Cross" by Henri Ault. It has gained popularity since it glows in the dark. You can witness this phenomenon in person for $3 when the church is open.
Entrance Fee: Free, $3 to witness "The Mystery Painting"
Duration: 30 Minutes
Hours of Operation: 10 am – 4 pm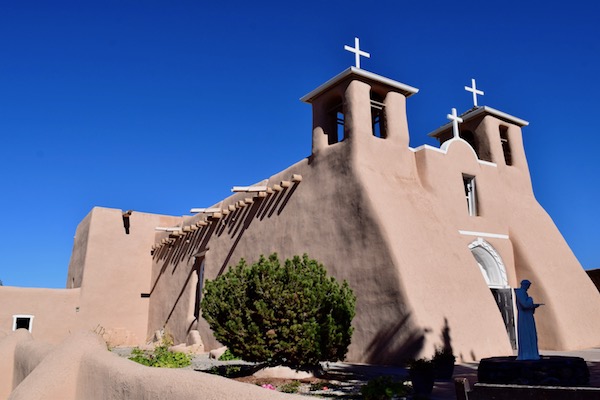 #7 La Hacienda de los Martinez
Step back in time, and find out what it was like to live as a wealthy trader in the Southwest during the Spanish Colonial Period. All 21 rooms in the adobe hacienda depict different aspects of society at the time. This is best for those intrigued by history.
Entrance Fee: $8
Duration: 1 Hour
Hours of Operation: 11 am – 4 pm Monday, Tuesday, Friday, and Saturday; 12 pm – 4 pm Sunday
#8 Enchanted Circle Drive
If you have at least half a day to spare, take the 80+ mile loop around Wheeler Peak. The best time is in the fall when the leaves begin to change colors.
The Enchanted Circle Drive naturally takes you to some of the destinations you were already planning to visit, and combines them with several more while enjoying outstanding scenery along the way. Some of the landscapes include mountains with and without trees, valleys, plateaus, rivers, and lakes.
The main attractions are Taos Pueblo, Rio Grande Gorge Bridge, Wild Rivers Recreation Area, numerous ski slopes, Bobcat Pass, Eagle Nest Lake, and Vietnam Veterans Memorial.
Entrance Fee: Varies by Attraction
Duration: 4 Hours or More
Hours of Operation: Varies by Attraction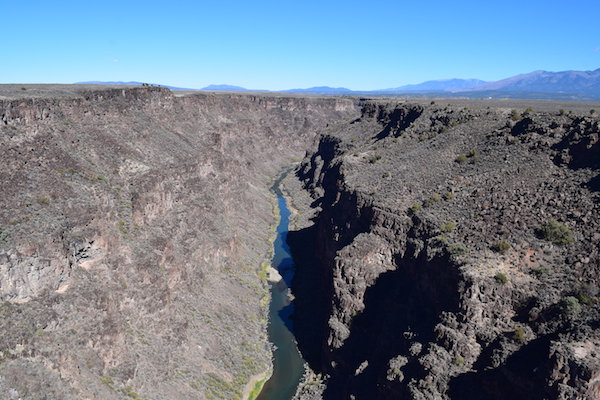 #9 Taos Pueblo
Taos Pueblo was #1 on the list of what to do in Taos, New Mexico and our main reason for visiting. The pueblo is listed as a National Historic Landmark, and World Heritage Site by UNESCO!
The biggest contributing factor to being added to both lists is having a continuous inhabitation of the adobe pueblo for over 1,000 years. The two principal attractions are the impressive North House and St. Jerome Catholic Chapel. We also like visiting the local cemetery and South House.
It is nice to walk around the small pueblo, but a guided tour that departs every 20-30 minutes from St. Jerome is essential. Sadly, Taos Pueblo has decided it is better not to hire guides, and require visitors to support the volunteer guides via donation.
During the tour you find out information about the residents, architecture, and many more items as you explore the public areas. There are roughly 150 permanent residents with many more living in modern houses, and using their Taos Pueblo residences for ceremonial purposes.
Many no longer live in the Pueblo of Taos as running water and electricity are not allowed inside residences, but that doesn't weaken the sense of community. During our visit it was nice to see community members helping a resident build an addition to their house. They were using sun-dried adobe bricks, which is a mixture of earth, water, and straw.
We visited on a Sunday, and the shops got a slow start due to many attending Catholic masses. It is worth coming a little later in order to get to see the insides of several homes as you shop for souvenirs.
Entrance Fee: $16, Guided Tours are By Donation
Duration: 1-2 Hours
Hours of Operation: 8 am – 4:30 pm Monday to Saturday, 8:30 am – 4:30 pm Sunday; Guided Tours Start at 9 am
#10 Millicent Rogers Museum
If you only have time for one museum on your list of the best things to do in Taos, NM make it the Millicent Rogers Museum. Millicent Rogers did an excellent job curating and showcasing Native American and Southwest Culture under one roof.
There really is something for everyone and most pieces have great descriptions. Exhibits include pottery, weaving, art, and jewelry.
Entrance Fee: $10
Duration: 1-2 Hours
Hours of Operation: 10 am – 5 pm; Closed Mondays from November to March
#11 Rio Grande Gorge Bridge
The 1,280' Rio Grande Gorge Bridge is a wonderful example of a three-span steel arch bridge. It's one of the most popular things to do near Taos. It looks like a standard road as you drive across, but you can see the magnificent steel supporting it from the side. The beauty is magnified by the 650' deep Rio Grande Gorge and river below.
You might recognize it from the following movies.
White Sands (1992)
Natural Born Killers (1994)
Wild Hogs (2007)
Terminator Salvation (2009)
Paul (2011)
We parked on the east side of the bridge and walked across, but the best views are found at the rest area on the southwest side. There are even a handful of pavilions for a lunch break. It is worth walking across for a different perspective and to get good views of the Rio Grande.
Entrance Fee: Free
Duration: 15 Minutes – 1 Hour
Hours of Operation: Dawn to Dusk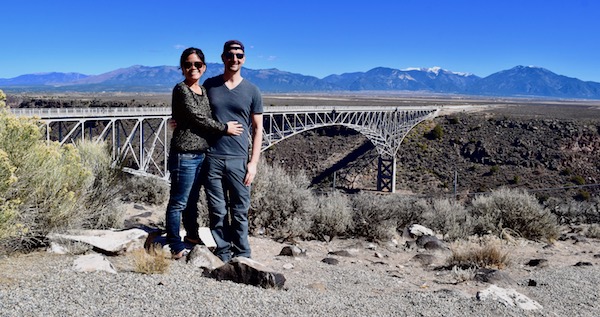 #12 Earthship Biotecture
The Earthship Biotecture is just a little further down US Hwy 64 from the Rio Grande Gorge Bridge, which makes stopping at this eco-friendly destination convenient. Clustered together on the plains are several dozen off-grid, sustainable homes.
The houses themselves are built using upcycled materials such as tires and bottles along with local earth and concrete to form the walls. Inside, the temperature remains consistent throughout the year thanks to thermal mass and ventilation.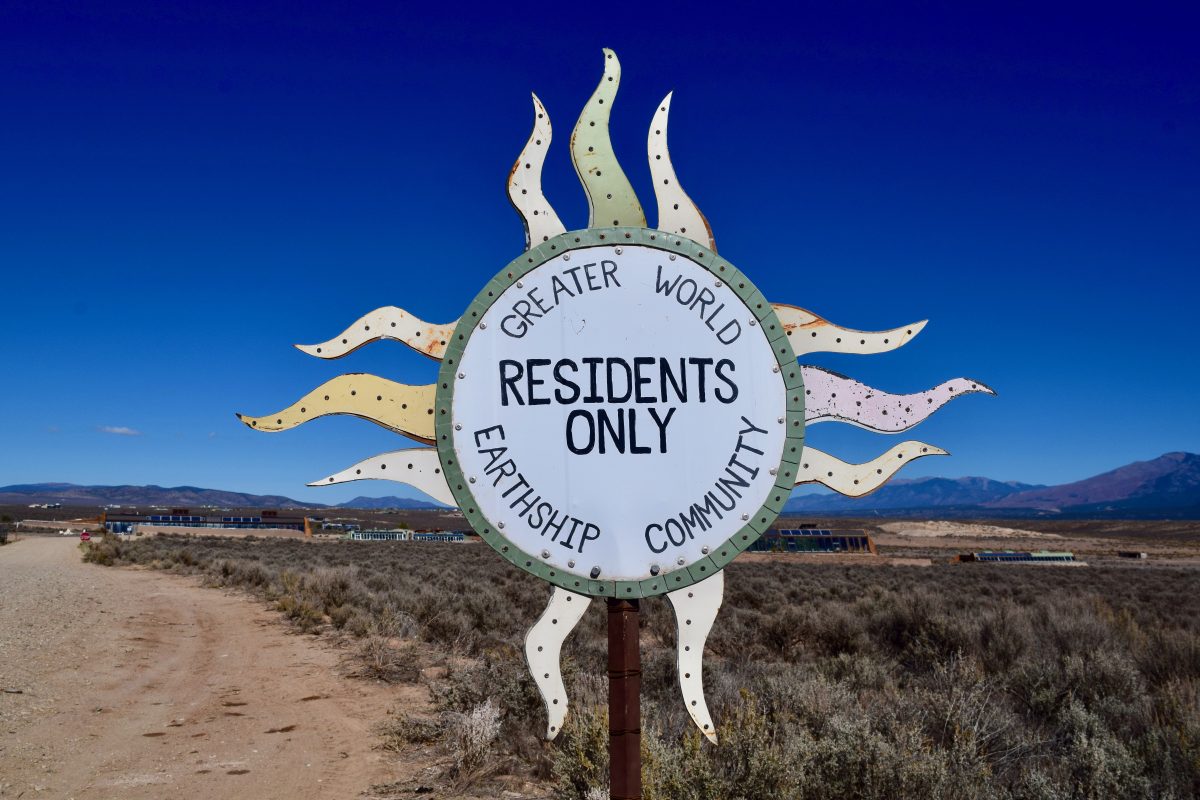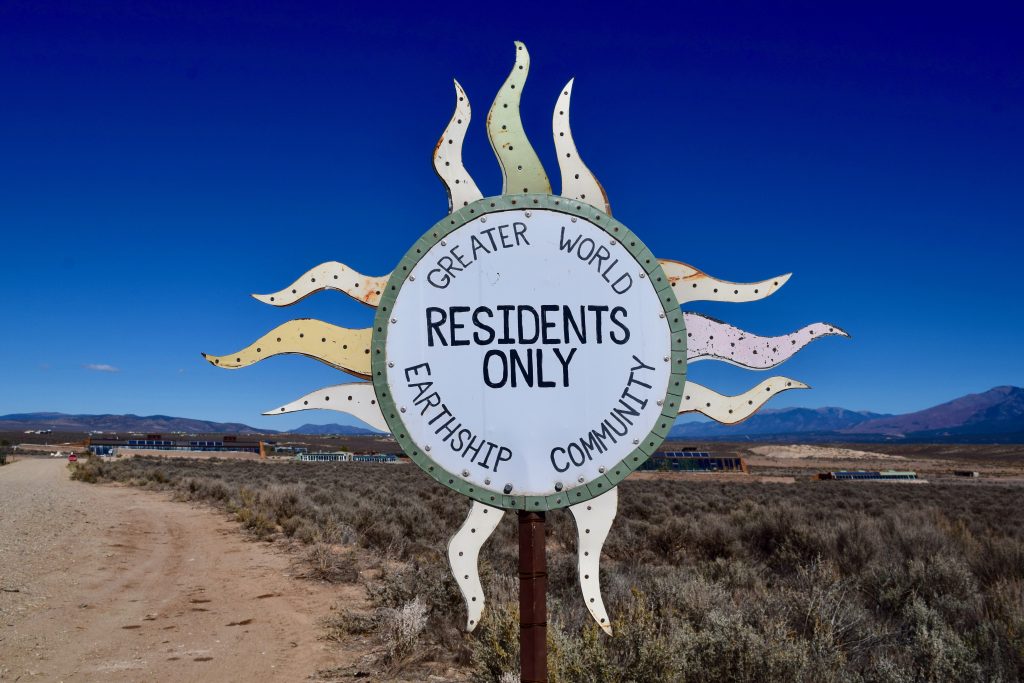 The remaining utilities are supplied by rainwater that is collected from the roof and used four times, while the solar panels harness renewable energy from the sun.
If you are interested in learning more about this lifestyle, you can visit the Earthship Visitor Center for $8. Although a typical house design was used, the space is set up as an educational gallery complete with a 10 minute film. If you want to see inside several houses, you have to schedule an $18 guided tour two weeks in advance.
Having read reviews, we decided to learn about the Earthships in Taos, New Mexico online and wander around the houses surrounding the parking lot. It was neat seeing everyone's personal touch on design, but we don't regret our choice of not paying for the Earthship Visitor Center.
Entrance Fee: Earthship Visitor Center – $8; Guided Tour of the Earthship Visitor Center and Greater World Community – $18
Duration: 30 Minutes – 2 Hours
Hours of Operation: Memorial Day to Labor Day – 9 am – 5 pm; Labor Day to Memorial Day – 10 am – 4 pm
#13 Williams Lake
Williams Lake is an easy two mile (four mile return) hike northeast of Taos in the Taos Ski Valley. The lake tends to be on the shallow side most of the year, but the alpine setting is nice. The lake is surrounded by alpine trees and barren mountains.
Entrance Fee: Free
Duration: 2-3 Hours
Hours of Operation: Dawn to Dusk
#14 Black Rock Hot Springs
If you want to dip your feet in the Rio Grande, try the Black Rock Hot Springs pools north of the Rio Grande Gorge Bridge. The catch is that it is best accessed from other highways near Taos.
Instead of following US Hwy 64 west, continue on Route 522 until you turn left on B-007. Park at the first switchback after you cross the Rio Grande on John Dunn Bridge. Follow the painted sign to the trailhead and enjoy your soak.
Entrance Fee: Free
Duration: 1 Hour
Hours of Operation: Dawn to Dusk
#15 Rio Grande del Norte National Monument
The Rio Grande del Norte National Monument is filled with opportunities to enjoy nature, but may be more suited to locals. The two main areas are the Orilla Verde Recreation Area and the Wild Rivers Recreation Area. Activities include hiking, fishing, mountain biking, camping, and whitewater rafting.
The rugged plains average an elevation of 7,000' with the Rio Grande Gorge cutting up to an 800' ravine. Rio Grande del Norte National Monument was created to protect the environment surrounding the Rio Grande and to help wildlife move between the Sangre de Cristo Mountains and San Juan Mountains.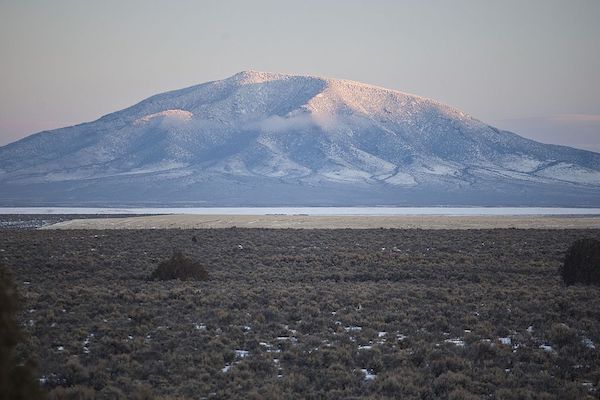 Orilla Verde Recreation Area
We happened to drive along the Rio Grande in the Orilla Verde Recreation Area on our return from Earthship Biotecture and were amazed by the beauty of the yellow fall foliage that lined the river.
There are multiple trails to hike, and seven campgrounds for an overnight stay. We would have loved to spend more time in the most southern portion of the Rio Grande del Norte National Monument on a longer vacation.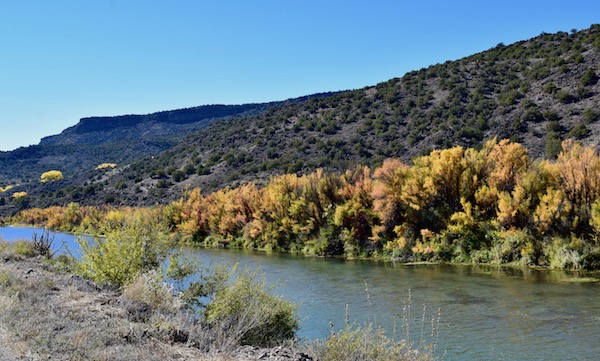 Wild Rivers Recreation Area
Wild Rivers Recreation Area is the more popular section within Rio Grande del Norte National Monument, and for good reason. The La Junta Overlook is an easy to access lookout over the merging Red River and Rio Grande.
Another popular activity is hiking a loop trail combining combinations of the Big Arsenic Springs Trail, River Trail, Little Arsenic Springs Trail, and the Rinconada Trail. This takes you from the canyon rim down to the water, and back up again. You can also stay at one of five campgrounds to extend your visit.
Entrance Fee: $3 per Vehicle for Day Use; $7 or $10 for Overnight Camping (1 or 2 Cars); $15 for RV Including Water and Electric Hook-ups
Duration: 1 Hour
Hours of Operation: 6 am – 10 pm for Day Use
Taos Restaurants
There are a handful of top notch Taos restaurants to pick from. Here are our top picks for an enjoyable meal.
La Cueva Café
Breakfast is served…and lunch! Make sure you visit La Cueva Café if you are in the market for an affordable Mexican meal. They also have green chili to make New Mexican variations.
Treehouse Bar & Lounge
Don't miss Happy Hour (2:30 pm – 6 pm) at the bar above Lambert's of Taos. For $6 you can get a margarita, or choose from a handful of tasty small dishes. Seats fill up fast, but this is how you get the night started.
Aji Restaurant
If you are traveling around the region on a road trip, then you know most towns only have Mexican and New Mexican cuisine. Aji Restaurant mixes it up with Peruvian dishes. There's nothing on the menu that I wouldn't try.
Taos Hotels
Hotels in Taos start at $59. Alternatively, you can take advantage of the excellent natural scenery and camp at Rio Grande del Norte National Monument for $7 a night.
However, most people visit Taos as a daytrip from Santa Fe. Besides all the museums and shops downtown, there are excellent restaurants. Prices start at $50, and are very competitive considering the cities popularity.
Alternatively, you can stay in Espanola if your main focus are the surrounding day trips since you will be closer to them. Prices are marginally cheaper. We chose to stay at Rodeway Inn at Espanola since we got a special multi-night rate.
Check hotel prices in Taos
Travel Insurance in the U.S.
Although the U.S. is a relatively safe country for travel, medical costs are high so if you're an international visitor we recommend purchasing travel insurance before any trip. We've been using World Nomads through 80+ countries over the past 12 years and have been really happy with their coverage and services.
For more details check out our Word Nomads review here.
Plan Your New Mexico Road Trip
There are plenty of excellent outdoor and cultural attractions in New Mexico – pick up a guidebook and start planning! You can pick and choose, make a weekend out of it, or spend 9 days like we did taking in all the best that New Mexico has to offer. Here are some of the destinations nearby.
Find more inspiration in one of the New Mexico guide books below!
Know Before You Go
Nearest Large City: Santa Fe at 90 minutes by car
Restaurants: La Cueva Café, Treehouse Bar & Lounge, Aji Restaurant
Hotel: Super 8 by Wyndam Taos ($59); Rodeway Inn at Espanola ($46); Motel 6 Santa Fe Central ($50)
Next New Mexico Destinations: Santa Fe, Bandelier National Monument, Los Alamos, Puye Cliff Dwellings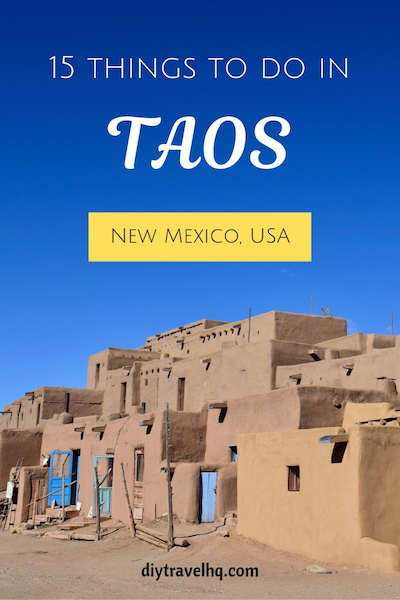 Disclaimer: This post contains affiliate links which means that we receive a small commission if you click on a link & purchase something that we've recommended, at no extra cost to you.

Visited in October 2018
Updated August 2019