Discover all the top notch things to do in Seneca Falls, NY. Learn about the fight for women's suffrage, explore the New York canal locks, embrace It's a Wonderful Life connections, enjoy wine on the first US wine trail, and relish in nature.
Things to Do in Seneca Falls, NY
If you are wondering what to do in Seneca Falls, NY, then look no further. We have 17 of the top things to do in Seneca Falls, New York that will satisfy everyone in your group.
You can choose between wine and food tasting, give in to It's a Wonderful Life nostalgia, learn about the influential women behind women's rights, spot bald eagles, or see the Cayuga-Seneca Canal locks in action!
Find more inspiration in one of the New York guide books below!
1. Women's Rights National Historic Park
The most historically significant event to transpire in Seneca Falls was the first Women's Rights Convention held in July 1848. Plan on visiting the Women's Rights National Historic Park as you check off things to do in Seneca Falls, NY.
The first floor is comprised of bronze statues. How many can you recognize and name? Upstairs is where the main section of the museum is located. Take some time reading and learning about the fight for equal rights.
Just outside in the courtyard is a waterfall with the Declaration of Sentiments carved into the stone. Don't miss stopping by the partially reconstructed Wesleyan Chapel next door where the Declaration of Sentiments and the first Women's Rights Convention took place.
2. Montezuma National Wildlife Refuge
Birders will love Montezuma National Wildlife Refuge with the quantity and variety of birds present in the marsh. The two most impressive birds are the bald eagle and osprey. You can see the nests on the power lines as you make your way into the reserve.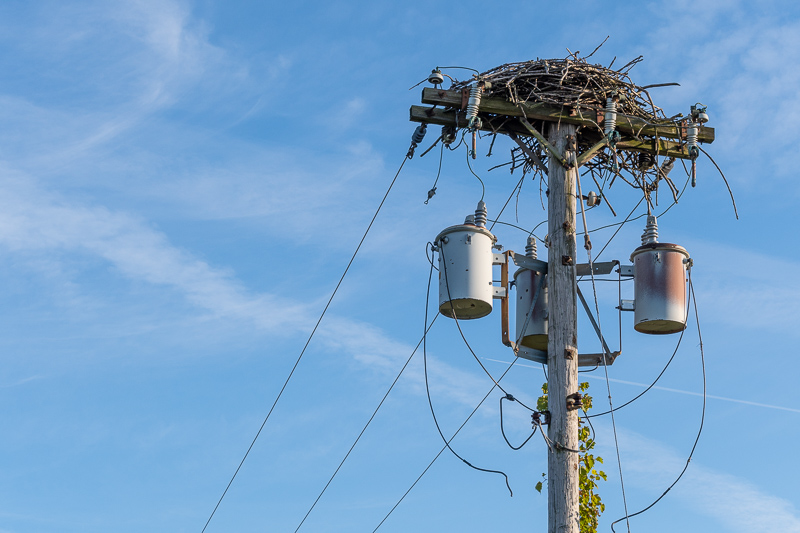 The visitor center has a chart identifying where birds were seen, and when. Stop by for their oberservation deck that feature a few binoculars. You can also take a drive down a gravel road to a more remote area. We didn't find it, but keep your eyes out for the bald eagle statue!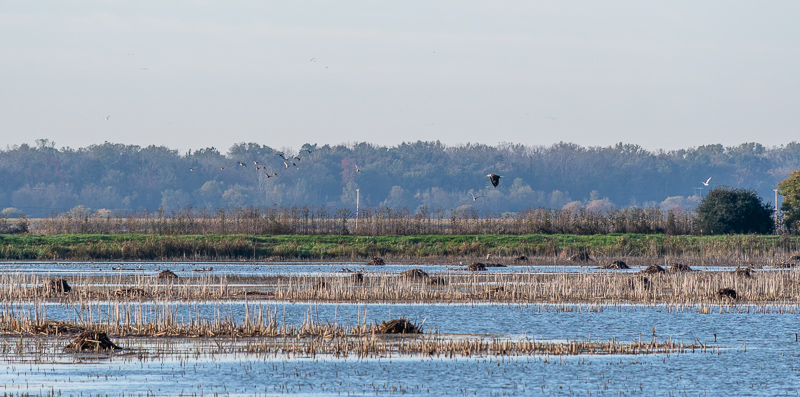 3. It's a Wonderful Life Museum
It's a Wonderful Life Museum should be at the top of your things to do in Seneca Falls, NY when you visit. Stop here before a visit to the It's a Wonderful Life Bridge to take a stroll down memory lane, and see tons of memorabilia from the classic holiday film.
Besides props, there are autographed items, signs, and plenty of places to take a selfie. Stop by today to see how many movie connections you can make from their collection of keepsakes.
Admission: Free
4. Cayuga Lake Wine Trail
Who would have thought that the Cayuga Lake Wine Trail was the first and still longest running wine trail in the United States? Of course you will find plenty of wineries to choose from, but you can also add in cideries, distilleries, and a brewery to mix things up.
With so many options, do your research in advance and plan your day so you get to visit all the top spots. Several are known for their great views so take that into consideration as well.
5. Muranda Cheese Company
Enjoying the Cayuga Lake Wine Trail wouldn't be complete without complimentary cheese. For that craving, stop by the Muranda Cheese Company where you can sample some of their artisan cheeses.
Hours: 10 am – 5 pm daily
Montezuma Winery and Hidden Marsh Distillery is one of the top places to visit on the Cayuga Lake Wine Trail. Besides having a wide range of wines to choose from, you also get the added benefit of a distillery as well!
You can either focus on just the liquor, or try a wine or spirit tasting kit for $12 that adds some snacks and a souvenir. At $1 a mini-shot, you might want to make sure you aren't the designated driver.
7. It's a Wonderful Life Bridge
It is widely believed that Seneca Falls inspired the town of Bedford Falls in Frank Capra's 1946 holiday classic film It's a Wonderful Life. He had visited during the development of the screenplay. Some of the similarities include the Bridge Street bridge, which is similar to the theatrical version along with other places, names, and location.
While checking out all the things to do in Seneca Falls, NY take a stroll across the bridge and observe the descriptive plaque noting the similarities of the bridge and in memory of Antonio Varacalli who jumped off the bridge to save another person in 1917.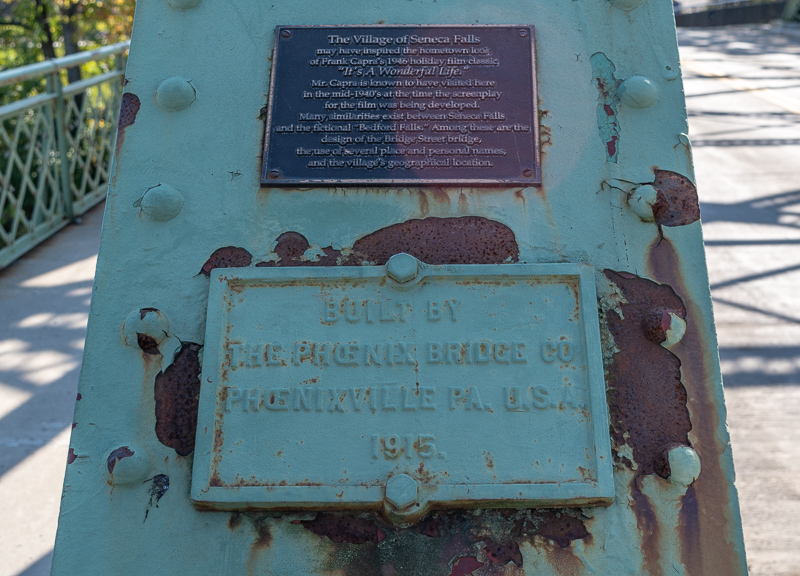 You might also notice multiple sets of bells hung on the It's a Wonderful Life Bridge. You can purchase these at the It's a Wonderful Life Museum in memory of a loved one. Don't forget, "Every time a bell rings an angel gets his wings."
8. Cayuga-Seneca Canal
Definitely make visiting the Cayuga-Seneca Canal one of your things to do in Seneca Falls, NY during a visit. It is fascinating to see the well maintained 48' long double lock in action as boats change 49' in elevation.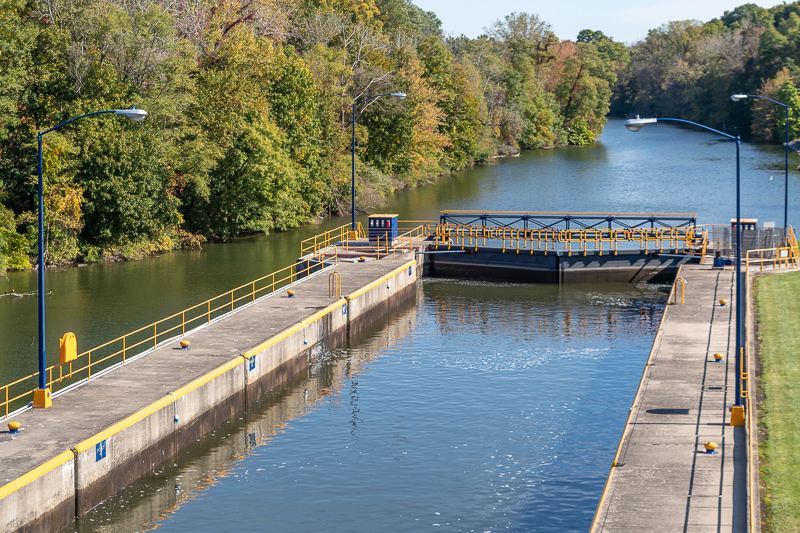 9. National Women's Hall of Fame
The National Women's Hall of Fame is an alphabetical list of accomplished women that have made significant impacts in their respective fields. Every inductee has a picture and biography so come prepared to read and learn a lot. You can also browse the museum and find out information about women that peek your interest if you are short on time.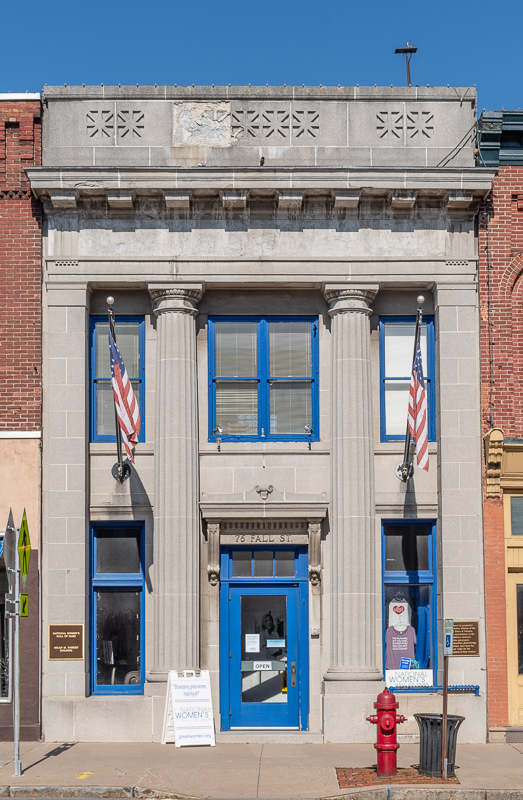 10. Seneca Museum of Waterways and Industry
The Seneca Museum of Waterways and Industry depict how the town of Seneca Falls was transformed by the Cayuga-Seneca Canal. The town used to be filled with many industries and satellite companies with the most recognizable being Sylvania.
The museum also covers why you can no longer find the falls as noted in the town's name. They were flooded with the addition of nearby locks. Stop by and explore all the levels of this museum before heading out back to take a closer look at the canal and head to the It's a Wonderful Life Bridge.
Admission: Free
Hours: 10 am – 4 pm Wednesday through Saturday; 12 pm – 4 pm Sunday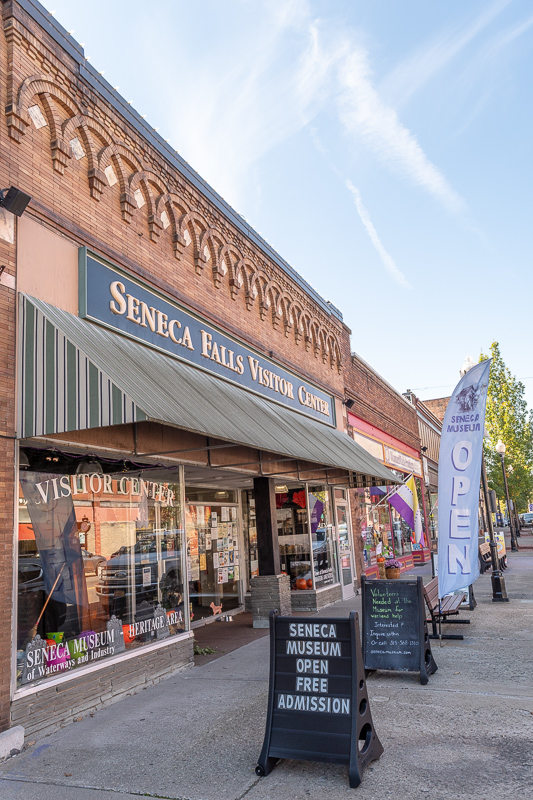 11. Elizabeth Cady Stanton Home
Tucked away from town near the Cayuga-Seneca Canal is the Elizabeth Cady Stanton Home. She is famous for being a leading figure in the early women's rights movement, and for her efforts in writing the Declaration of Sentiments for the Seneca Falls Convention.
Although the house is small, the enthusiastic park rangers make the tour entertaining and educational. Try to arrange your visit when tours are being offered to learn more about Elizabeth Cady Stanton.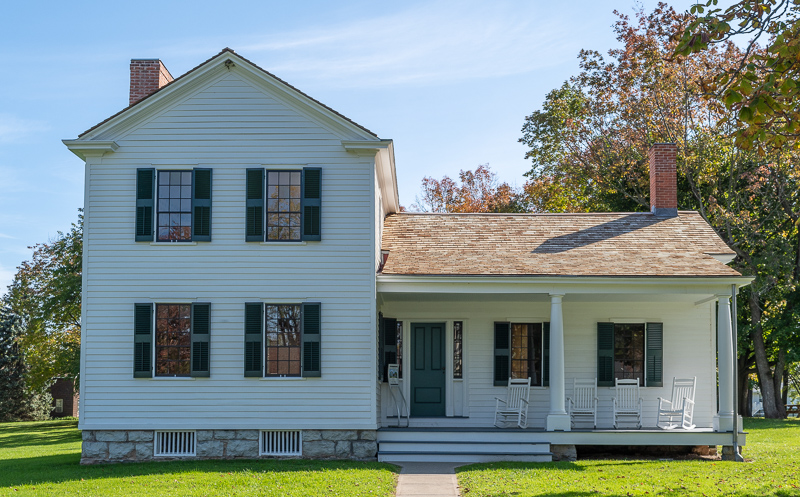 12. Seneca Meadows Wetlands Preserve
The Seneca Meadows Wetlands Preserve was reclaimed to offset the nearby landfill. There are several miles of trails with deer, birds, and other wildlife to be found. Until the birds start frequenting the wetlands, the flora seems to be the highlight as it has been restored to its native state.
13. Fleur De Lis Brew Works
There is a great selection of craft beer made from locally grown ingredients at Fleur De Lis Brew Works. Those that don't drink beer can also enjoy cider or root beer. Food is only available by food truck or delivery so the venue is both dog and family friendly inside and out.
Groups will love playing typical bar games and oversized childhood favorites. Grab a flight to find your favorite and bring it home in a growler.
14. Dewey's 3rd Ward Tavern
Dewey's 3rd Ward Tavern has more than just alcohol. They also have great nightly specials that won't break the bank to snack on. The best deal is $1 Taco Thursday, but you can find other bar food favorites as well.
15. Red's Place
If you are looking for a wide selection of beer on tap, then head to Red's Place. They have 30 drafts on tap besides their bottle and can selection. The food is also reasonably priced.
16. Meadeville Farm Pumpkin Patch
The Meadeville Farm Pumpkin Patch is one of the top things to do in Seneca Falls, NY with kids come October. You can pick and paint your own pumpkin, enjoy a face painting, hayride, sheet maze, petting zoo, and so much more. The best part is prices are reasonable, and you are supporting a local business.
Although the U.S. is a relatively safe country for travel, medical costs are high so if you're an international visitor we recommend purchasing travel insurance before any trip. We've been using World Nomads through 80+ countries over the past 12 years and have been really happy with their coverage and services.
17. Cayuga Lake State Park
Cayuga Lake State Park is best known for being a campground. It may be loud due to traffic, but consider using it as a base to explore the Finger Lakes region. You can also get out on the water from one of the docks, whether it is in a boat or kayak.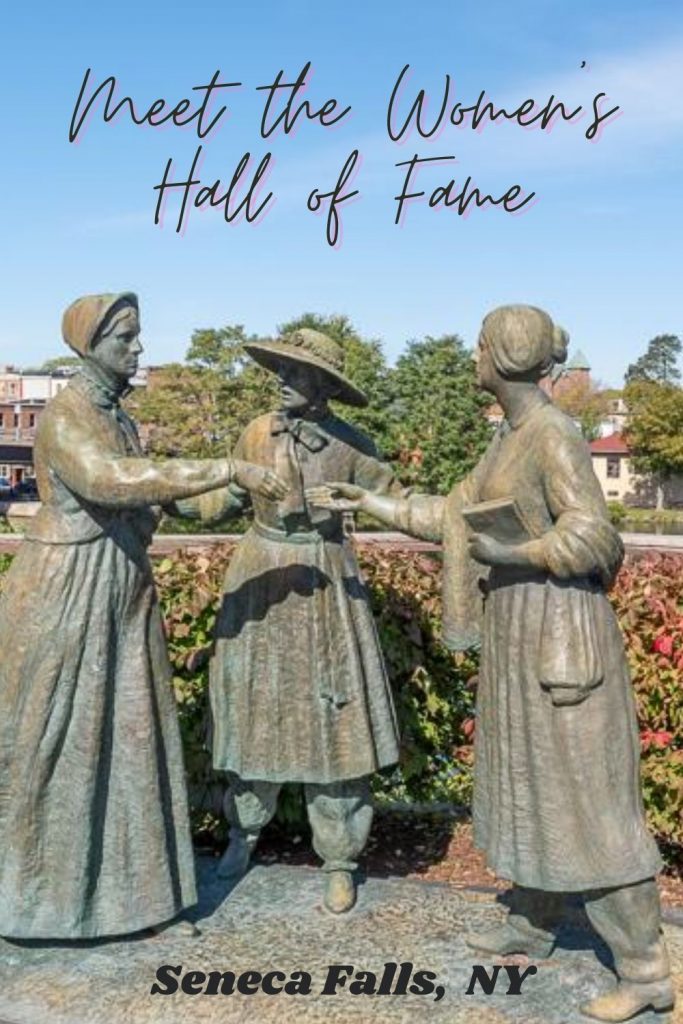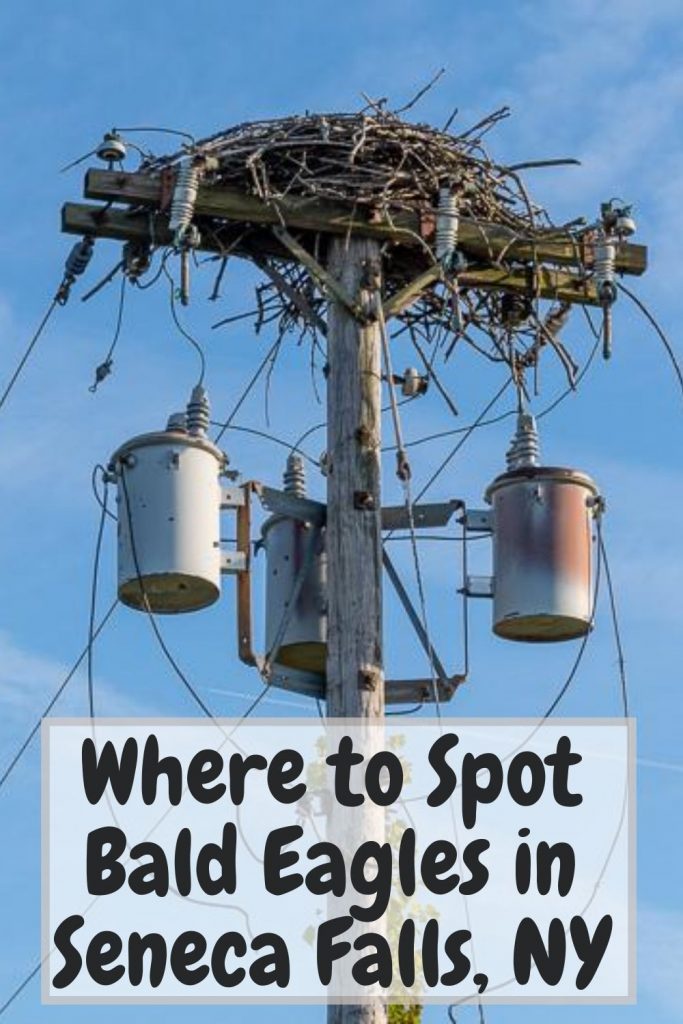 Updated July 2020
Disclaimer: This post contains affiliate links which means that we receive a small commission if you click on a link and purchase something that we've recommended, at no extra cost to you.