Discover all 21 things to do in Cooperstown, NY sure to delight baseball enthusiasts, art and nature lovers, and those looking for their new favorite craft beer at Ommegang.
Things to Do in Cooperstown, NY
For a town known primarily for baseball, there are countless things to do in Cooperstown, NY that highlight local art, surrounding nature, and several breweries. Plan your visit to discover what to do in Cooperstown, NY today!
Find more inspiration in one of the New York guide books below!
1. National Baseball Hall of Fame and Museum
The National Baseball Hall of Fame and Museum is what puts Cooperstown, NY on the map. Plan on spending at least three hours exploring all three floors. The first floor has plaques for all hall of fame inductees.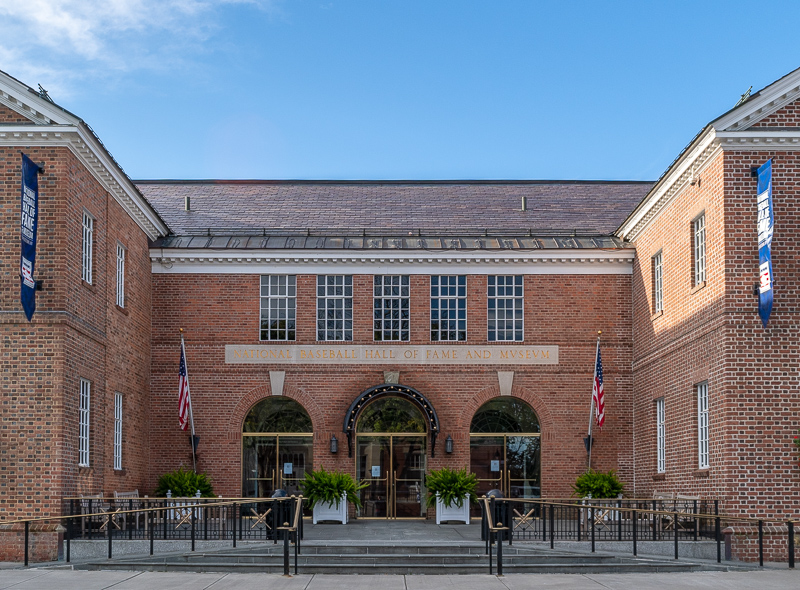 The second floor showcases displays about baseball history and hall of fame players, while the third floor takes it up a notch with trivia and memorabilia. Plan on starting on the upper floors, and saving the first floor plaques for the end.
Admission: $25
Hours: 9 am – 5 pm daily
2. The Farmer's Museum
Take a step back in time when you visit The Farmer's Museum as you wander around the 1845 Historic District featuring craftsmen working their trades. The living history museum features a blacksmith, printing shop, general store, doctor's office, and farm animals.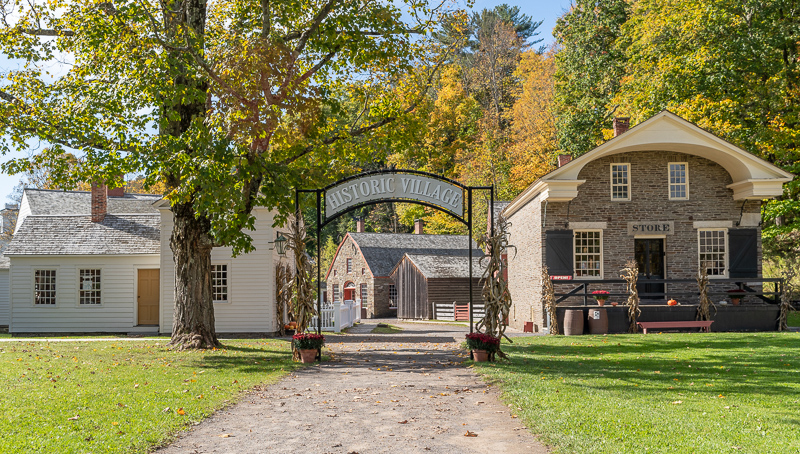 At the front of the main barn, you can spot the Cardiff Giant considered "America's greatest hoax". The petrified man measuring 10' 4-1/2" and weighing 2,990 pounds was discovered by contractors hired to dig a well in Cardiff, NY. What they didn't know is that the property owner previously had a gypsum carving buried at that location for a get rich quick scheme.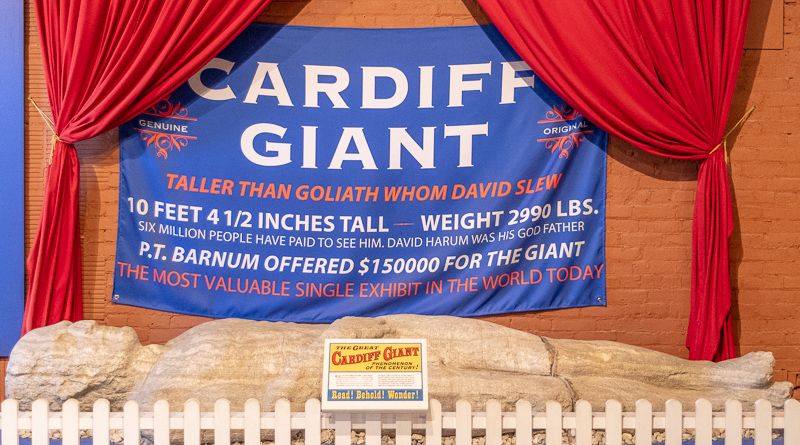 The main barn also has a Hops on Tap exhibit where you can learn about the beer flavoring process and local NY breweries. If that doesn't suit your taste buds, try taking a ride on the Empire State Carousel just outside.
Admission: $5 weekdays; $7.50 weekends; free for NARM members
Hours: 10 am – 5 pm daily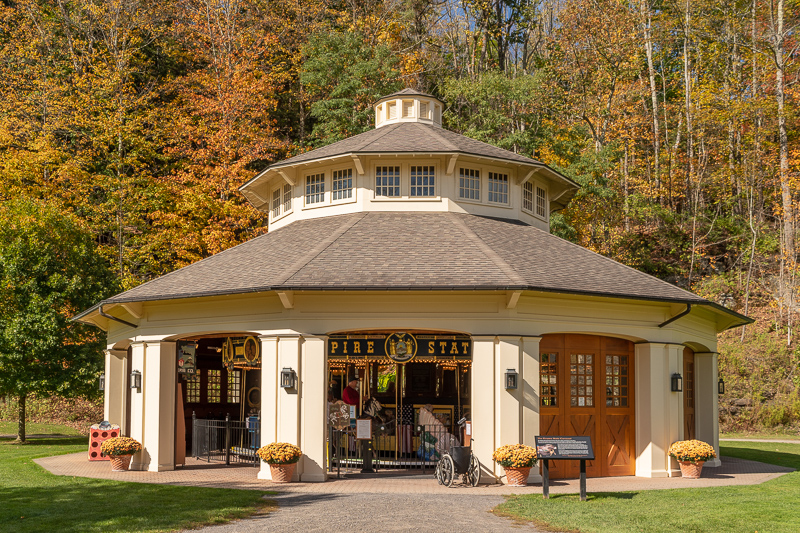 3. Fenimore Art Museum
We were surprised by how many things to do in Cooperstown, NY that existed besides baseball attractions. Fenimore Art Museum was a great three level mansion to explore filled with both permanent and temporary exhibits.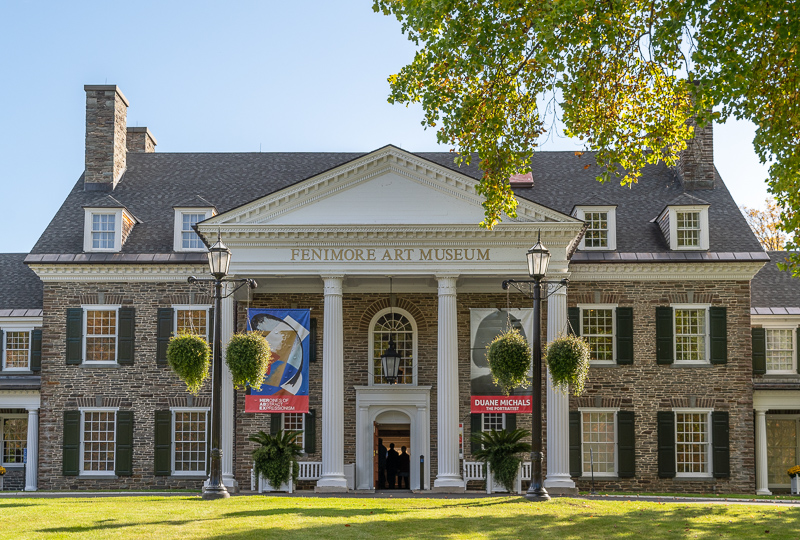 You could find American Fine and Folk Art, but our personal highlight was the Thaw Collection of American Indian Art. They also had a temporary exhibit on the Hamilton vs Burr duel among others during our visit. When finished appreciating the art, take a stroll down the road to The Farmer's Museum.
Admission: $12; free for NARM members
Hours: 10 am – 5 pm daily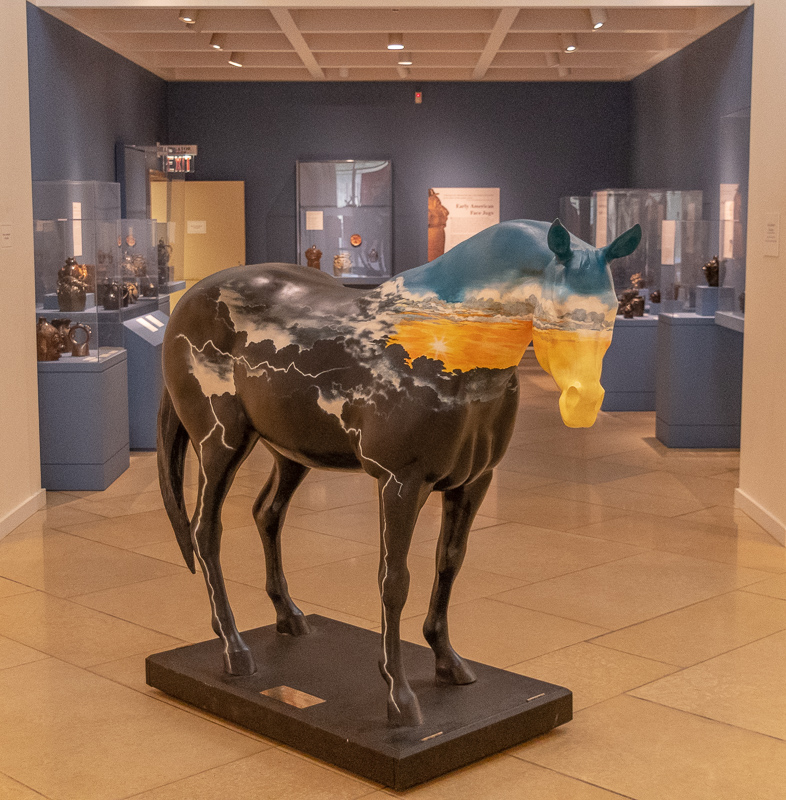 4. Brewery Ommegang
Ommegang is the premiere brewery to visit and one of the top things to do in Cooperstown, NY. Tours of the brewhouse, cellar, and packing house cost $5, and guided tastings of 6 craft beers on tap is an additional $10.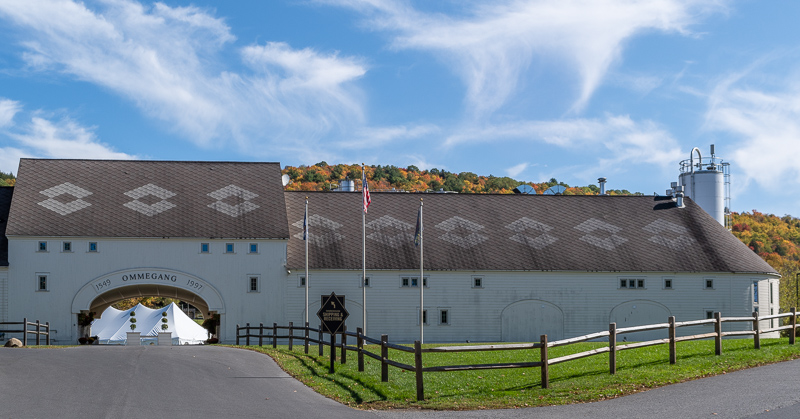 Brewery Ommegang is extremely popular so expect long waits on weekends. Red Shed Brewery down the street is a good back-up if you don't want to wait.
Tours: $5
Guided Tasting: $10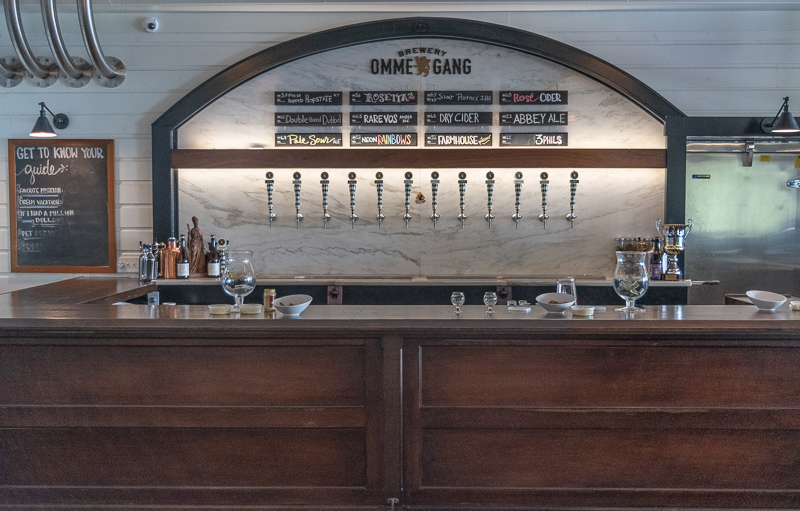 5. Doubleday Field
Doubleday Field is recognized as the birthplace of baseball. The renovated stadium still features wooden bleachers, and the chance to watch local teams compete. While in town, this is one of the top things to do in Cooperstown, NY.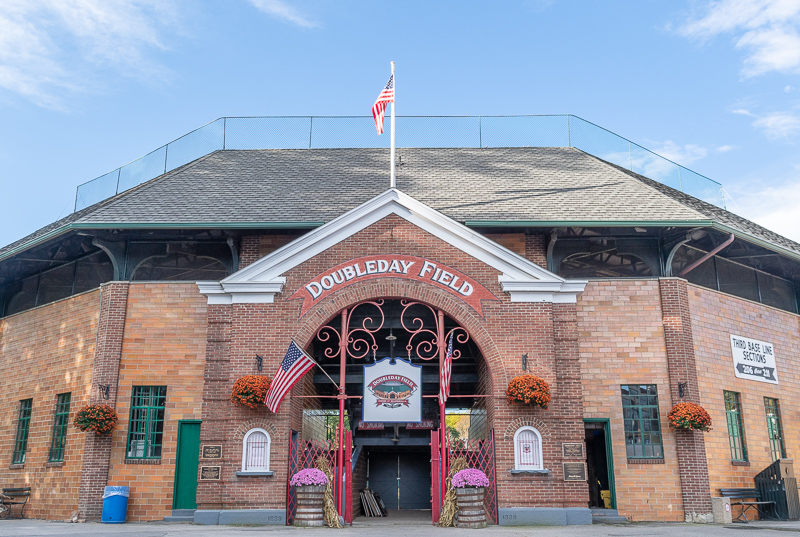 6. Glimmerglass State Park
Glimmerglass State Park is a great Cooperstown, NY activity for families. You can take a tour of the Hyde Hall mansion, see the oldest covered bridge in the US, go kayaking on Otsego Lake, spend the night camping, or play at the lake beach with a sandy bottom.
Entrance Fee: $7 per vehicle
7. Hyde Hall
Hyde Hall is located within the Glimmerglass State Park, and offers hour long tours of the 50-room English manor. Nearby is the Hyde Hall Covered Bridge, which is the oldest existing covered bridge in the United States.
Tour Price: $15
Tour Hours: 10 am – 3 pm on the hour daily from Memorial Day to Halloween
8. Cooperstown Art Association
The Cooperstown Art Association is located across the street from the National Baseball Hall of Fame and Museum, and worth stopping by to see what is on display. There is also a small store with a variety of art forms available for purchase.
Check their website for special events such as Fine Arts on the Lawn, Pumpkin Glow, and Adorn-a-Door Christmas wreath displays. Beginners looking to dabble in creating their own artwork can join a workshop in different mediums throughout the year. They also have classes for kids as well!
Admission: Free
Hours: 11 am – 4 pm Tuesday to Saturday
9. Heroes of Baseball Wax Museum
Most people either love or hate wax museums so you will always find mixed reviews. The one consensus is that the Heroes of Baseball Wax Museum is overpriced for the quantity and quality of the replicas on display.
Their saving grace is that they do mix up baseball legends such as Babe Ruth, Ty Cobb, and Mickey Mantle with cinematic scenes from Field of Dreams, A League of Their Own, and even Seinfeld with George Constanza!
Admission: $11.95
Hours: 9 am – 5 pm daily with extended hours until 9 pm during the summer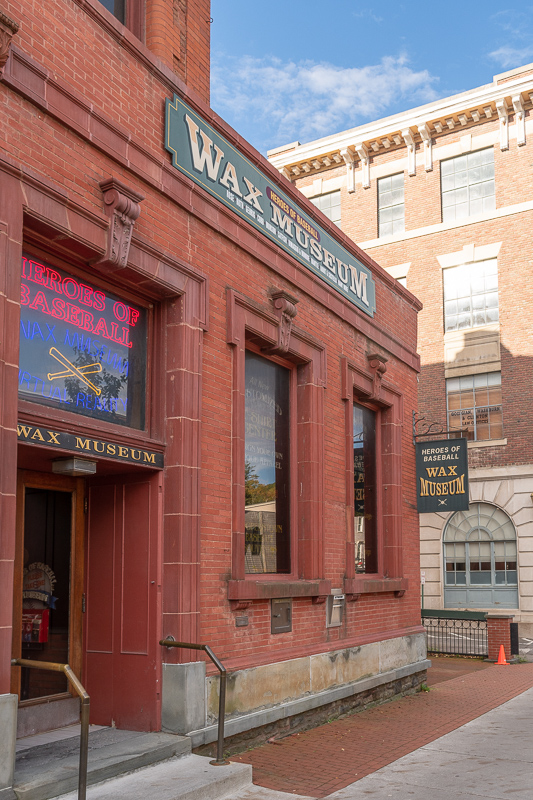 10. Glimmerglass Opera
If you are visiting Cooperstown, NY, then see what performances are scheduled at the Glimmerglass Opera. Performances are held in the evening, which gives you enough time to explore the beautiful grounds beforehand. The venue isn't air conditioned so dress appropriately since it may be warm.
Although the U.S. is a relatively safe country for travel, medical costs are high so if you're an international visitor we recommend purchasing travel insurance before any trip. We've been using World Nomads through 80+ countries over the past 12 years and have been really happy with their coverage and services.
11. Red Shed Brewery Cooperstown
Red Shed Brewery plays second fiddle to Brewery Ommegang located down the road, but comes in handy if Ommegang tours are fully booked when you arrive. You can sample over 20 craft beers on tap while playing games or sitting around the outside fire pit in a relaxed environment.
Tasters: $2.50 each
12. The Smithy
The Smithy has three floors of regional artwork and a sculpture garden housed in the oldest building in Cooperstown, NY. The Smithy Clay Studio also has everything for potters from beginner workshops to studio space and kiln rentals.
Admission: Free
13. Cooperstown Distillery
If you prefer spirits over beer, then head to Cooperstown Distillery on a Saturday for a tour and tasting that comes with a souvenir shot glass. On offer are different varieties of whiskey, vodka, gin, and rum. As one might expect in Cooperstown, there are excellent baseball decanters and baseball themed spirit names.
Tour Price: $10.80
Tour Hours: 1 pm and 3 pm Saturdays
14. Clark Sports Center
The Clark Sports Center is a mecca for physical activity, and one of the best the best things to do in Cooperstown, NY for locals. You can work out in the gym, play basketball, racquetball, bowl, rock climb, go for a swim, and more inside. There truly is something for everyone if you want to be active.
Guest Day Pass: $15
Hours: 5:30 am – 9:30 pm weekdays; 8 am – 5 pm weekends
15. Barnyard Swing Mini Golf
Visit Barnyard Swing Mini Golf for one of the top things to do in Cooperstown, NY with kids. The whole family can enjoy an 18-hole western themed mini-golf course, laser tag, or choose your own fun in the game room.
Prices: Mini-golf – $8; Laser Tag – $5 for 20 minutes
Hours: 12 pm – 8 pm Thursday to Sunday
16. Otsego Lake
Otsego Lake is beautiful from the shore, or out on the water. Plan on visiting Glimmerglass State Park, Lake Front Park, Council Rock, or Brookwood Point for the best access. Don't miss Kingfisher Tower on the eastern shore too!
17. Brookwood Point and Kingfisher Tower
Located on the western shore of Otsego Lake is Brookwood Point. The small cottage and gardens are pleasant to wander, but the highlight is seeing Kingfisher Tower on the opposite shore.
Kingfisher Tower was built in 1876 to beautify the lake and was featured in a 1911 movie. The 60' tall tower is located at Point Judith on private land.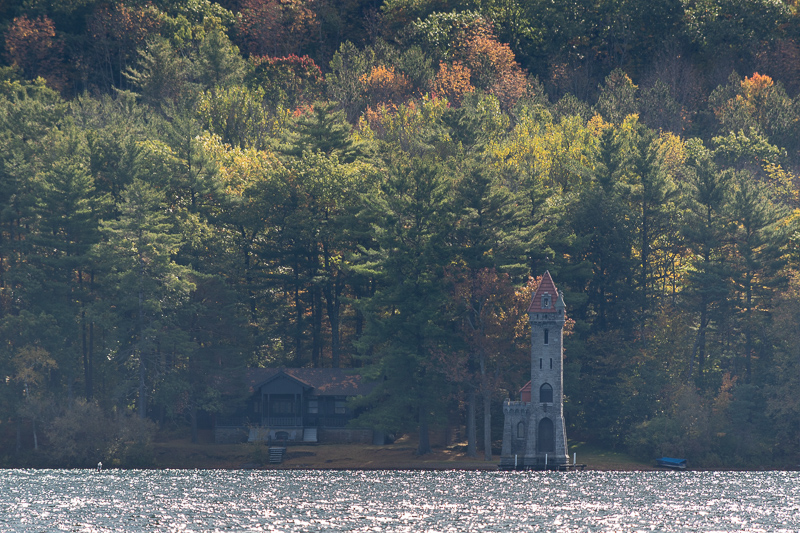 18. Lake Front Park
If you are spending the weekend in Cooperstown, try to add a short visit to Lake Front Park for stunning views of Otsego Lake and to glimpse the Indian Hunter statue.
19. Council Rock Park
Council Rock Park is another great place to enjoy looking out over Otsego Lake and the start of the Susquehanna River. The park gets its name from being a meeting place for Native American tribes in the past.
20. Indian Burial Mound
One of the more obscure things to do in Cooperstown, NY is visiting the Indian Burial Mound. Native Americans excavated in the surrounding field were reburied at this mound in 1874. A tablet inscribed with a poem from Reverend W.W. Lord was placed here in 1899.
White man, Greeting! We, near whose bones you stand were Iroquois. The wide land which now is yours was ours. Friendly hands have given back to us enough for a tomb.
21. Artists off Main
If you love to see what locals produce when you travel to new destinations, then you need to stop by Artists off Main. This is the artists' version of local Brewery Ommegang. The gallery features paintings, jewelry, carvings, ceramics, and more with everything created in Cooperstown, NY.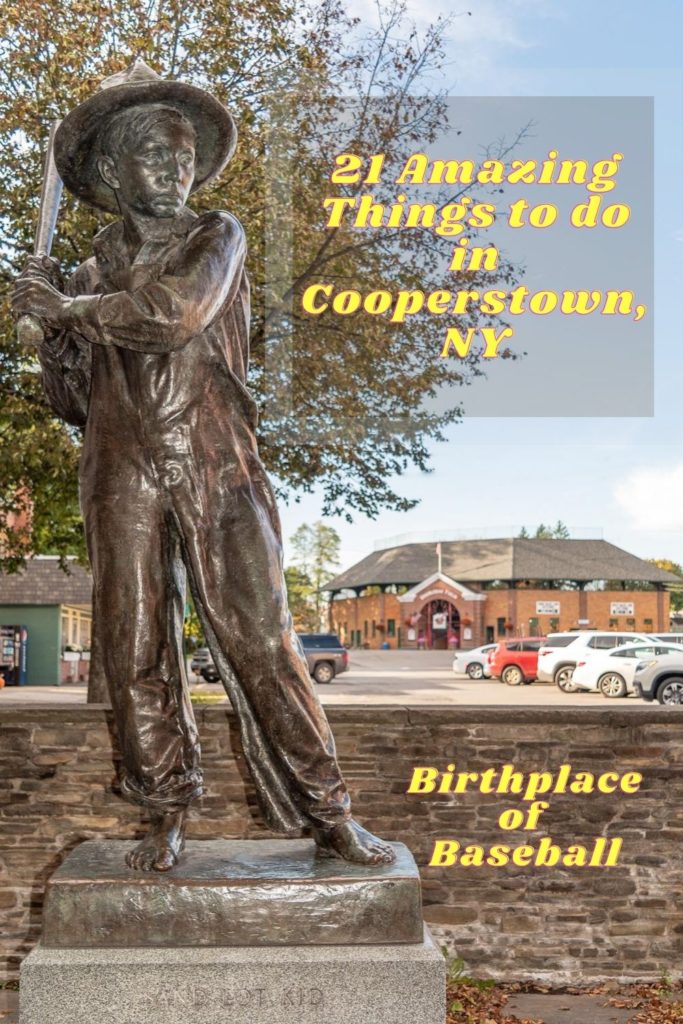 Updated August 2020
Disclaimer: This post contains affiliate links which means that we receive a small commission if you click on a link and purchase something that we've recommended, at no extra cost to you.