History is alive in Delaware, but that doesn't mean there aren't fun things to do in Dover, DE. Find out how to make everyone happy during your visit!
Things to Do in Dover, Delaware
If you are wondering what to do in Dover, Delaware then check out our comprehensive list of things to do in Dover, DE below. There are historical sites, museums, Nascar racing, music festivals, park, beaches, wildlife, and so much more? What are you waiting for?
Find more inspiration in one of the Delaware guide books below!
1. First State Heritage Park
First State Heritage Park is an urban park with multiple Dover attractions intermingled among the downtown landscape. You can join a walking tour, or explore on your own. See attractions 2 through 10 below for historical and cultural sites included in the First State Heritage Park.
Hours: Varies – See each attraction; First Saturday of each month has greater access and activities
Price: Most sites are free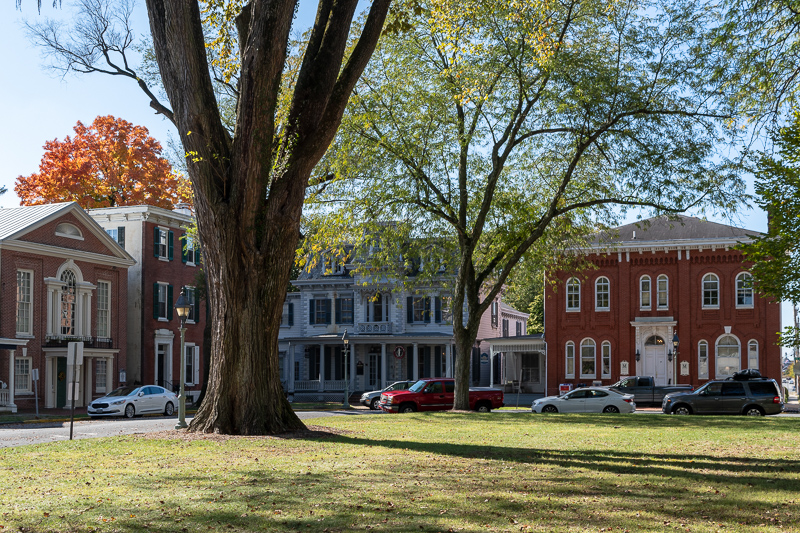 2. Delaware State Visitor Center
Besides gathering information about Dover at the Delaware State Visitor Center, take a few minutes to explore several galleries located within the building. Although the entrance is located around back, the front of the building is a great spot for photographs with the USS Delaware bell.
3. Delaware Public Archives
The Delaware Public Archives are located in the same building as the Delaware State Visitor Center. Their archives date back to the early 1800's. Not only can you find out about Delaware's history, but genealogy and deed research as well.
4. Old State House
If you are collecting State Capitol buildings, Delaware is definitely more functional than grand compared to their peers, with construction finishing in 1791. What the others don't have is a brick façade and the history of being the first state to ratify the Constitution nearby.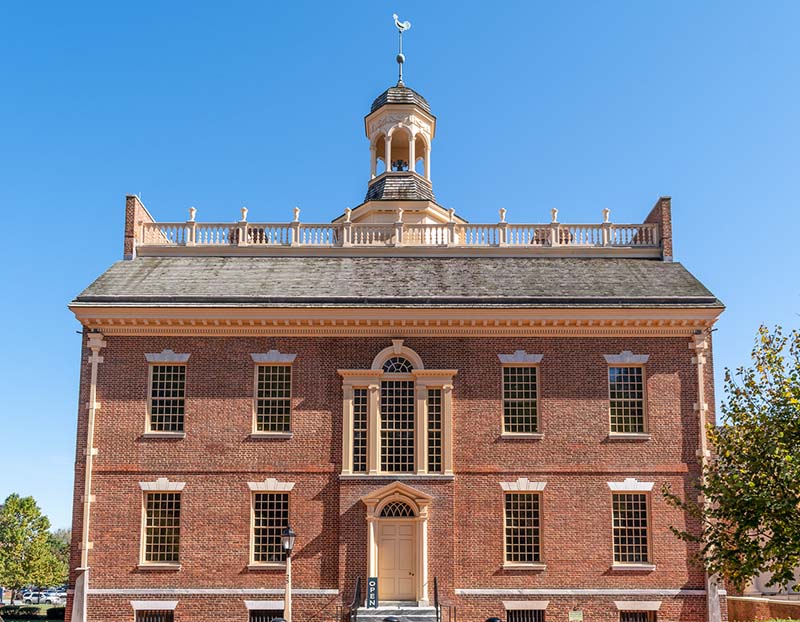 Complimentary tours of the Old State House are mandatory, but you can linger afterwards for a more thorough look or to take photos. The entrance to the Old State House leads you to the court room that was shared by Kent County and the State of Delaware. The upstairs legislative chambers were also shared. I suppose this practicality has helped keep the sales tax non-existent in Delaware.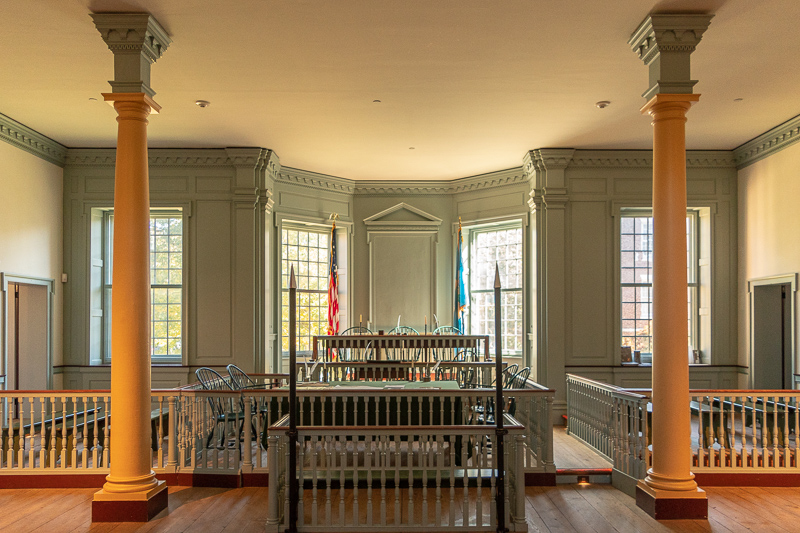 Hours: 9 am – 4:30 pm Monday through Saturday; 1:30 pm – 4:30 pm Sunday
Price: Free
5. Legislative Hall
The Legislative Hall took over as the Delaware Capitol building from the Old State House in 1933. It maintained a brick façade with a wooden steeple in the middle.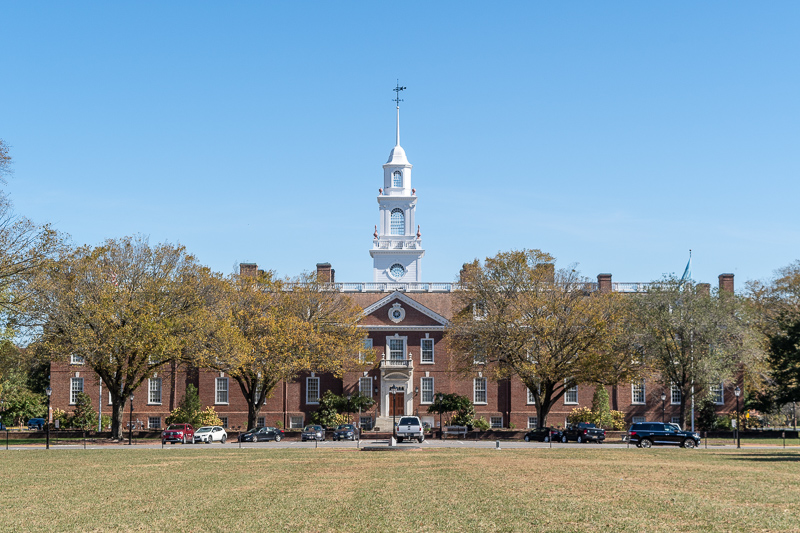 The interior is still small and simple compared to nearby capitols. Both legislative houses reside inside, and you can find your favorite Governor's portrait down the corridors. Our tour unfortunately only allowed us entrance to one of the chambers, which was a disappointment.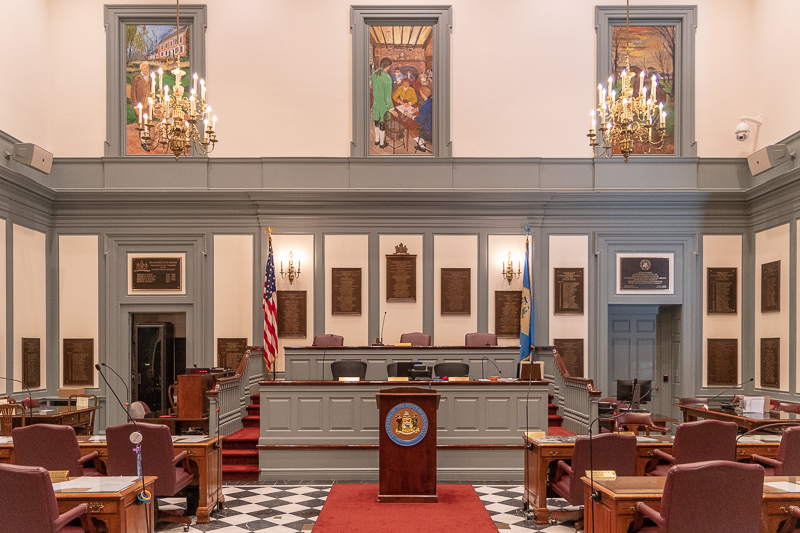 Hours: 8 am – 4:30 pm Monday through Friday
Guided Tours: 10 am – 1 pm Monday through Friday; 9 am – 4:30 pm First Saturday of the month
Price: Free
6. John Bell House
The John Bell House is the oldest wooden structure located on The Green. After its renovation, it now serves as an interpretive center for the First State Heritage Park, and starting point for walking tours.
Hours: 9 am – 4:30 pm Monday through Saturday; 1:30 pm – 4:30 pm
Sunday Walking Tour Times: 10 am – 3 pm on the hour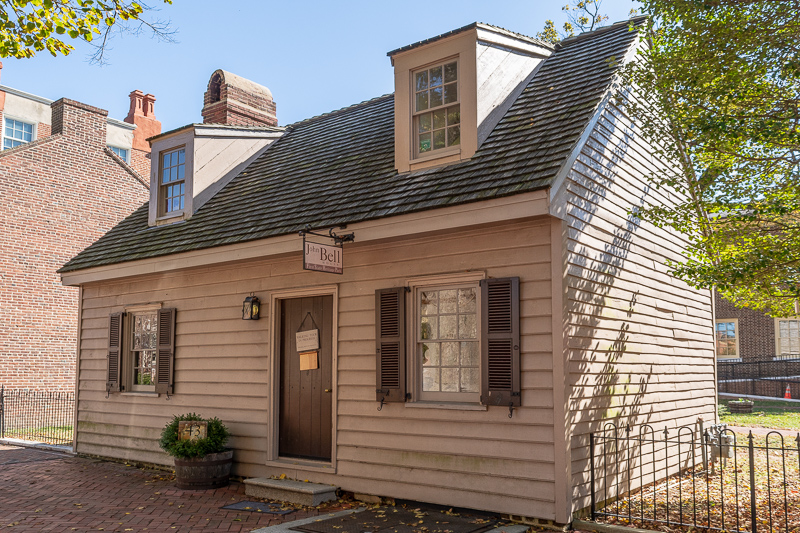 7. Golden Fleece Tavern
The Golden Fleece Tavern was the meeting place for the Delaware Senate during the transition of power from New Castle in 1777 until the chamber was constructed in 1791.
The most important meeting occurred on 12/3/1787 when the Upper Chamber met to discuss the Federal Constitution. Four days later the document was unanimously ratified making Delaware the first state. Only marginally less important were the meetings to approve the Bill of Rights in January 1790.
The building was demolished in 1830, leaving only informative plaques to mark the historical significance that occurred there.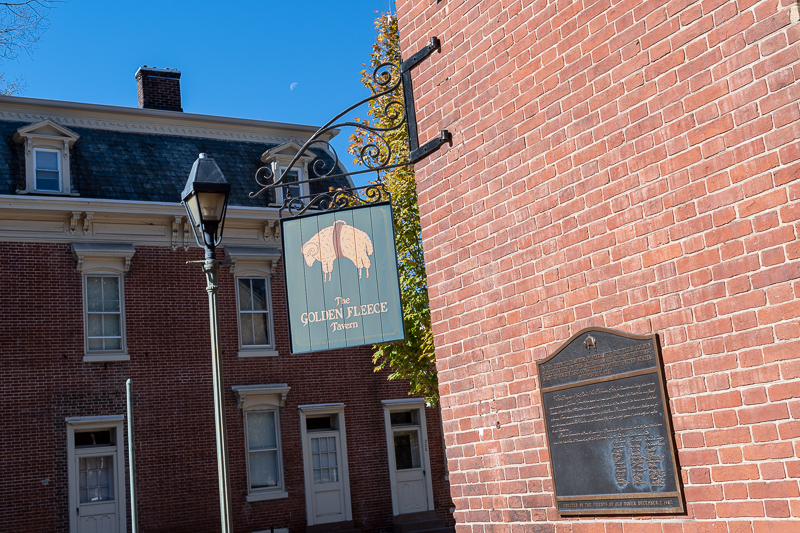 8. Biggs Museum of American Art
The Biggs Museum of American Art is located downtown and the best art museum in Dover, Delaware. There are three floors full of exhibits ranging from their permanent collection of Colonial American fine and decorative art to more modern rotating exhibits.
During our visit, the entrants into a local contest featuring the human body were displayed. There were so many participants that only a selection were put on display, including the winner.
Hours: 9 am – 4:30 pm Tuesday through Saturday; 1:30 pm – 4:30 pm Sunday
Price: $10; Free first Saturday of each month and for NARM members
9. Johnson Victrola Museum
The Johnson Victrola Museum is named after Delaware native, Eldridge Reeves Johnson. He was the founder of the Victor Talking Machine Company and a pioneer in the sound recording industry.
During your visit you will not only get to see a collection of Victrolas, but view other early talking machines and record players from the 1890's through 1929. The docent will also play an early recording during your hour long complimentary tour.
Nipper, the RCA mascot dog, is also prominently featured since RCA acquired the Victor Talking Machine Company in 1901. He is famous for recognizing his owner's voice from a recording. We have also seen large versions of Nipper in Albany, NY and Baltimore, MD.
Hours: 9 am – 4:30 pm Wednesday to Saturday
Price: Free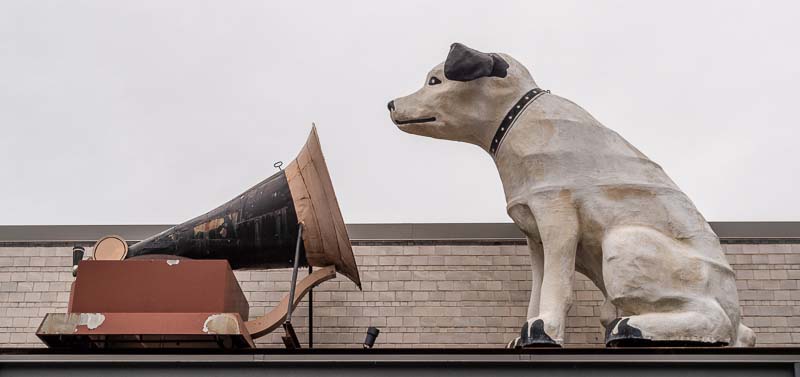 10. Delaware Governor's Mansion – Woodburn and Hall House
Woodburn started functioning as the home of Delaware's Governor in 1965. The house itself was built in 1798, and the Victorian-era Hall House next door is the Governor's guest house. Try to time your visit for the first Saturday of the month for a complimentary tour, or arrange one in advance the remainder of the month.
Tours: 10 am – 1 pm first Saturday of the month; available by appointment other times
Price: Free
11. John Dickinson Plantation
John Dickinson Plantation is located a short drive from the Air Mobility Command Museum. The plantation was the previous home of a wealthy Quaker tobacco planter before being converted into a living museum.
During the introductory short film, you learn that John Dickinson is most famous for helping make Delaware the first state. Although he signed the Constitution, he refused to sign the Declaration of Independence previously.
The complimentary tour takes you through the rebuilt house for a better understanding of what life was like in the 1800's for a wealthy individual. The docent is dressed in period clothes, and helps explain the phrase sleep tight and don't let the bed bugs bite. You are then free to explore the grounds and exterior buildings independently.
Hours: 10 am – 4:30 pm Tuesday through Saturday; 1:30 pm – 4:30 pm Sunday from April through September
Price: Free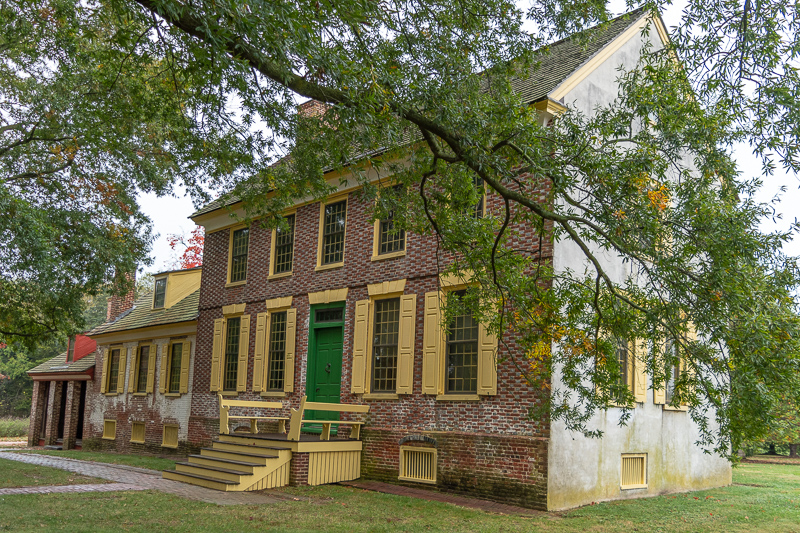 12. Air Mobility Command Museum
The Air Mobility Command Museum is located on the Dover Air Force Base, and is definitely one of the top free things to do in Dover, Delaware. The museum is staffed by retired air force volunteers so you get a wonderful mix of technical and personal knowledge on a tour. It is also possible to wander independently by reading the displays.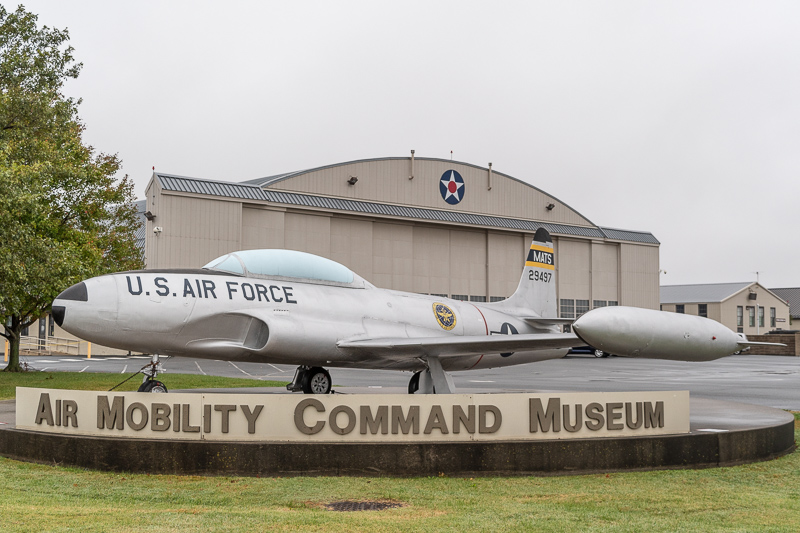 The best time to visit is the third Saturday of the month from April through October, when the exterior planes are open to guests. We didn't attend Open Cockpit Day, but we did get to see inside the C-5 that is the largest Air Force plane. It would have been nice to explore Air Force Two as well.
The other attractions outside are the original control tower that you may enter, and a hangar showcasing several engine variations. Inside, the highlight is trying to land a plane using the flight simulator.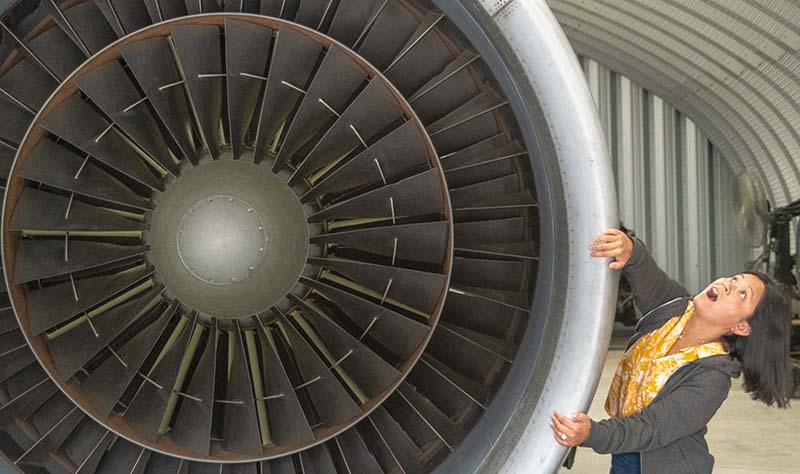 The main museum hangar also showcases a wide variety of airplanes throughout the Air Force's history on the ground level, and hanging from the ceiling. Don't miss the in-air refueling nozzle that is best seen from the balcony.
Hours: 9 am – 4 pm Tuesday through Sunday
Price: Free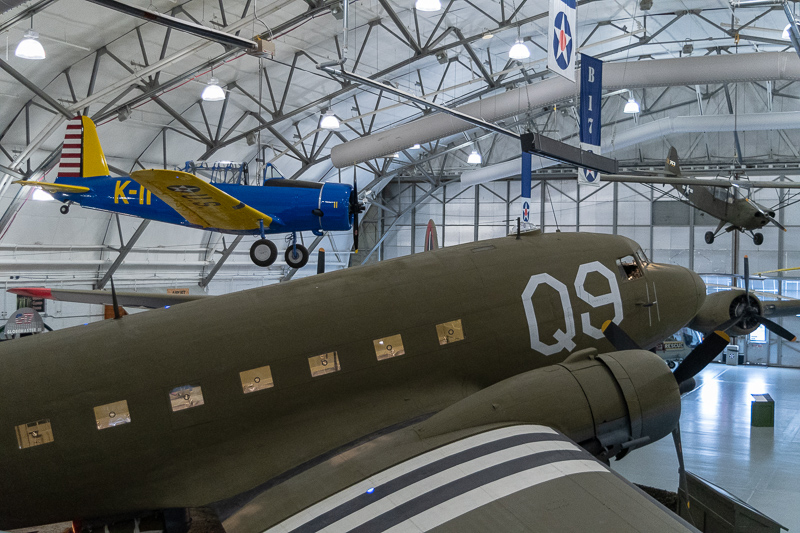 13. Dover International Speedway
The Dover International Speedway features at least two Nascar races each year, and the popular Firefly Music Festival. The one mile oval lap takes place on a concrete surface with 24° banking on turns and 9° on the straights. Seating capacity is 95,500, with a maximum capacity of 135,000 guests.
Unfortunately, it is not possible to view the track unless attending a race or participating in the Drive the Track experience. Driving options range from tag along rides for maximum speed to getting behind the wheel yourself.
Although the U.S. is a relatively safe country for travel, medical costs are high so if you're an international visitor we recommend purchasing travel insurance before any trip. We've been using World Nomads through 80+ countries over the past 12 years and have been really happy with their coverage and services.
Even if you aren't attending an event, consider stopping by to visit the Miles the Monster statue. The speedway's mascot also appears on the trophy, tickets, and other memorabilia. His creation is a derivative of the track's nickname, The Monster Mile.
Top Tip: Get a seat up high to be able to see all the track action.
Race Prices: $50+
Drive the Track Prices: $99+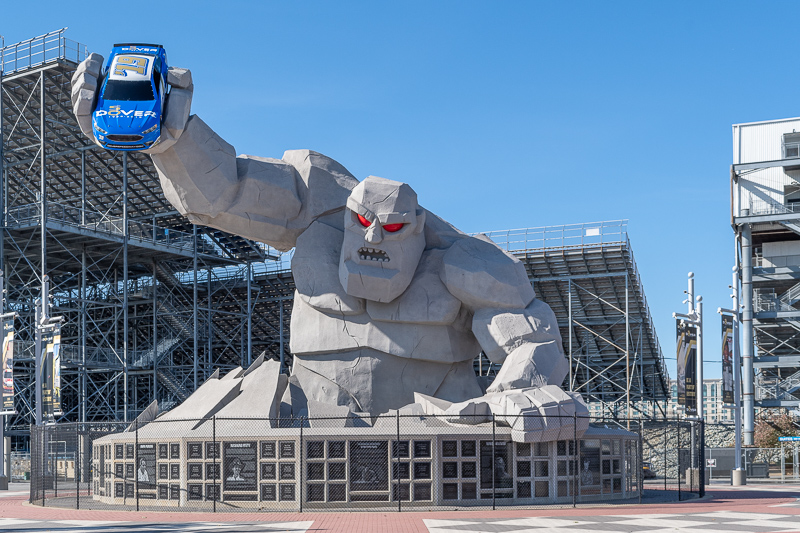 14. Firefly Music Festival
The hottest music festival in Delaware is Firefly, which spans four days each June. Over 100 bands from various music genres perform across seven stages. You can come for a day, or camp for the entire four day experience at Dover International Speedway.
15. Dover Downs Casino
You can try your luck gambling at the Dover Downs Casino. They have slot machines and tables in a smoke free environment. From November through April you can also witness live harness racing, or make wagers year round on simulcast races.
16. Pickering Beach
The reason to visit Pickering Beach is to see thousands of mating horseshoe crabs on the beach during the months of May and June. The beach itself isn't a destination as parking and facilities are limited. The beach also tends to be full of dead horseshoe crabs for some odd reason.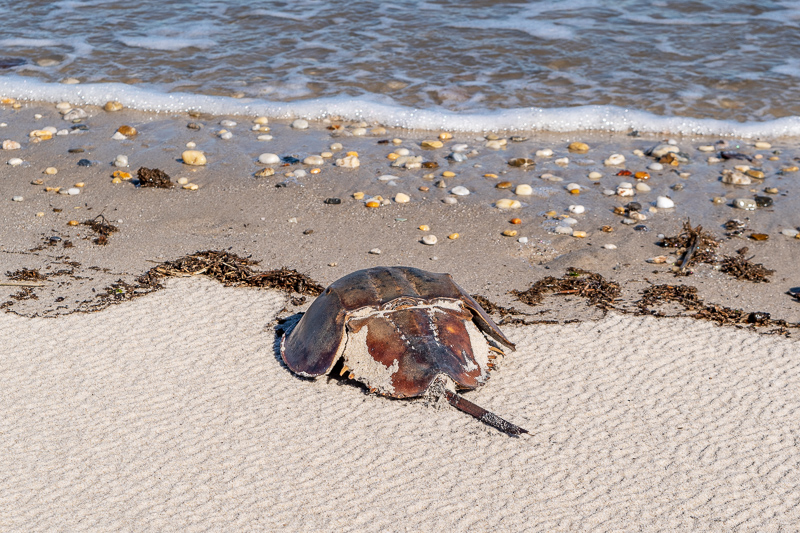 17. Delaware Agriculture Museum and Village
Those that never grew up on a farm can stop by the Delaware Agriculture Museum and Village to get an idea what it used to be like in the 19th century. The independent museum features a recreated village, Loockerman Landing, with a collection of period buildings. These include the following:
Farmstead
Schoolhouse
Church
Grist mill
Train station
General store
Barber Shop
Blacksmith
The main building also has a collection of tractors and a 1940's crop duster plane, besides a 1700's log cabin, 1930's kitchen on display, and many more artifacts.
Hours: 10 am – 3 pm Tuesday through Saturday
Price: $7
18. Fordham Brewing Co
There is a wide variety of beer on tap at Fordham Brewing Co, but you can also take tours for a better understanding of the company and how your favorite brew is made. Tours include the brewing process, company history, tasting, and a Fordham and Dominion souvenir glass. Take a look at the Dominion Pinup Series artwork while grabbing a six-pack for the road.
Tours: 4 pm and 6 pm Tuesday through Friday; 1 pm, 3 pm, and 6 pm Saturday; 1 pm and 3 pm Sunday
Tour Price: $10
19. Bombay Hook National Wildlife Refuge
Bombay Hook National Wildlife Refuge is the premier birding location in Delaware. The best time to visit is near sunrise or sunset, but you are sure to see plenty of birds any time of day. Many people complain about mosquitoes, but I had no issue during my visit in October.
Besides birds, this is also a popular place to spot foxes. I started stalking a fox walking along the gravel road before he took a rest. The foxes are habituated to humans, but that doesn't mean you should feed or touch them since that is when they start to cause trouble.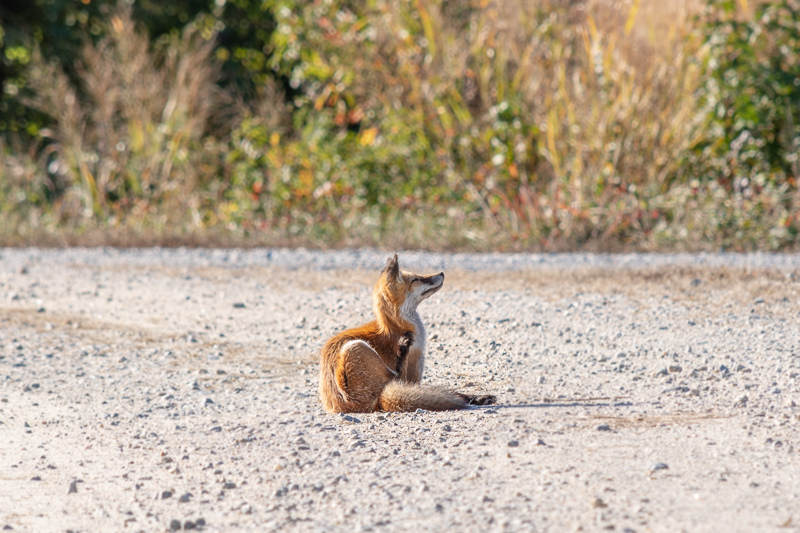 There are a few short trails with boardwalks, but the main activity at Bombay Hook National Wildlife Refuge is the 12 mile loop drive. There are multiple places to pull-off, but people tend to just park on the road depending on the level of traffic. The highlight is at the start of the longer loop where a pond is located on the left side of the road.
Hours: Sunrise to sunset daily
Price: $4/vehicle or free with the National Park Pass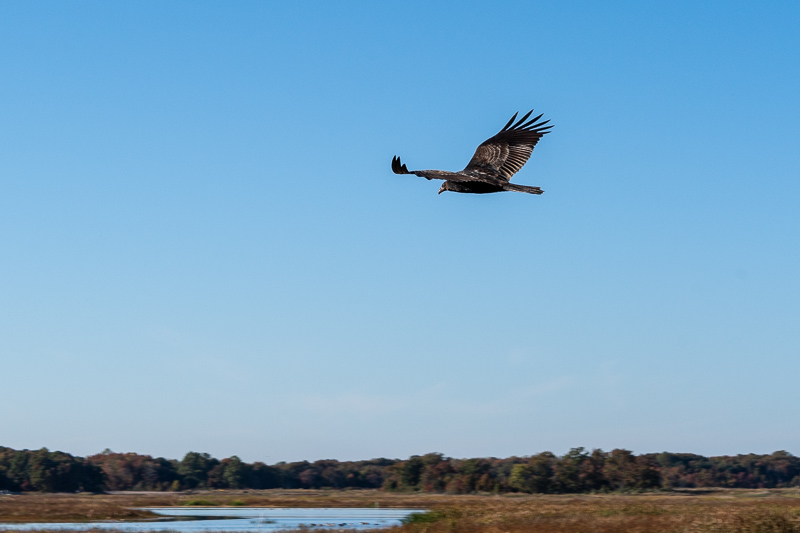 20. Delaware State Police Museum
Visiting the Delaware State Police Museum is one of the top family friendly things to do in Dover, Delaware. Both children and adults will love sitting in a cop car and turning on the lights and sirens.
Guests can also try to solve a crime based on clues provided. Those less inclined to interactive displays can read about the Delaware State Police history, gander at memorabilia, and the gun collection.
Hours: 9 am – 3 pm Monday through Friday; 11 am – 2 pm first Saturday of the month
Price: Free
21. Spence's Bazaar
Lancaster and Amish Country, Ohio aren't the only places the Amish reside. You can find them selling food and other goods at Spence's Bazaar in Dover. Amish food, especially pretzels, is the highlight of the market so come hungry. Try to time your visit with an auction for lively fun.
Hours: 7 am – 5 pm Tuesday and Friday; 7 am – 3 pm Saturday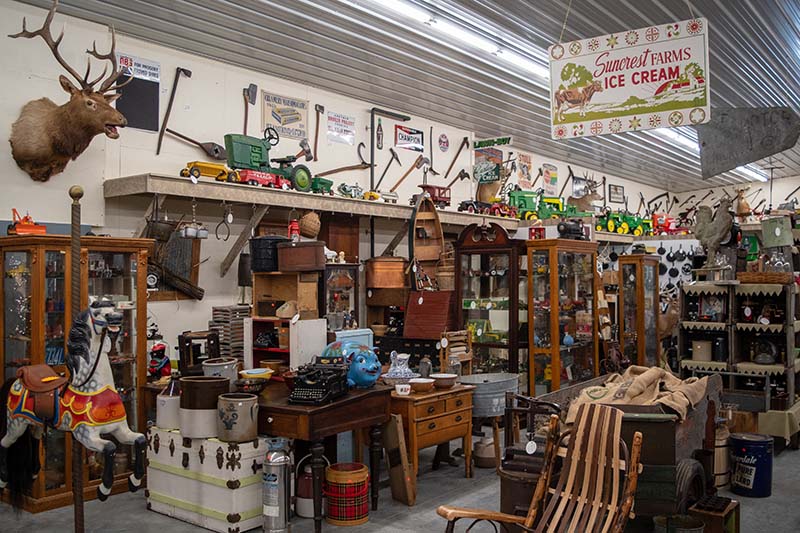 22. Christ Episcopal Church
Although you can stop by the Christ Episcopal Church when it is open, the highlights are the weathered graves from the early 1800's outside. There is no one in particular to visit, but it is worth a quick stop while exploring things to do in Dover, Delaware.
23. Silver Lake Park
Silver Lake Park is conveniently located near downtown Dover, Delaware and is a pleasant escape. Take a stroll through the park and enjoy the excellent combination of shade and water. Other activities include playing on the playground, fishing in Silver Lake, and picnicking under the pavilions.
24. Dover Skating Center
One of the best things to do in Dover, Delaware with kids is roller skating at Dover Skating Center. The four session themes include Learn to Skate, Teen Night, Family Night, and Open Skate.
Days: Tuesday, Friday, Saturday, Sunday
Skating Price: $7.50 and less/person
Skate Rental: $4/day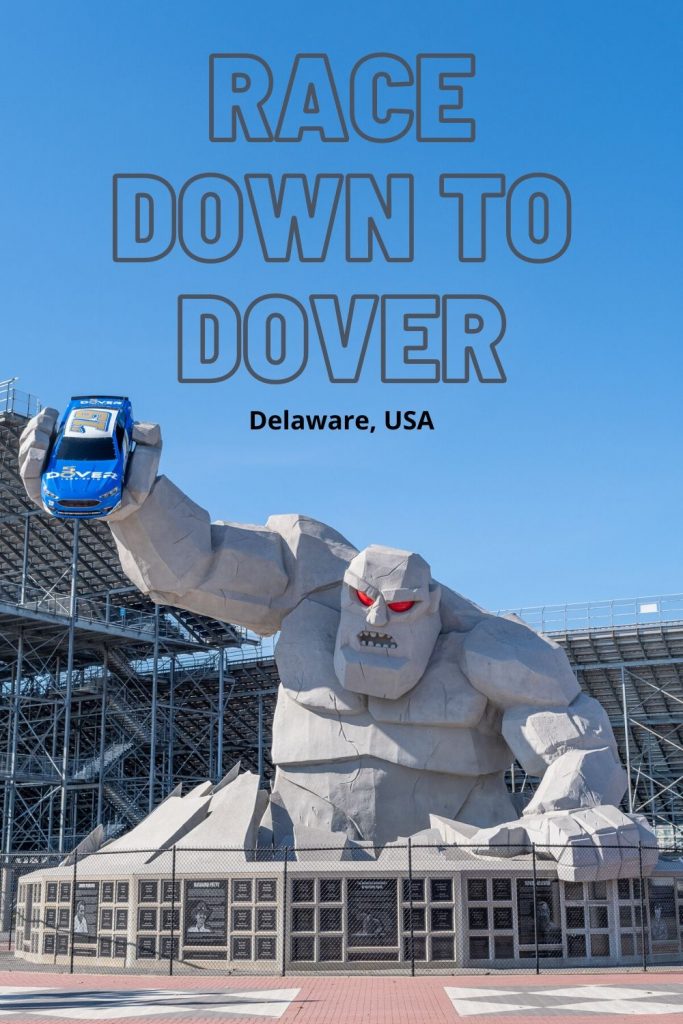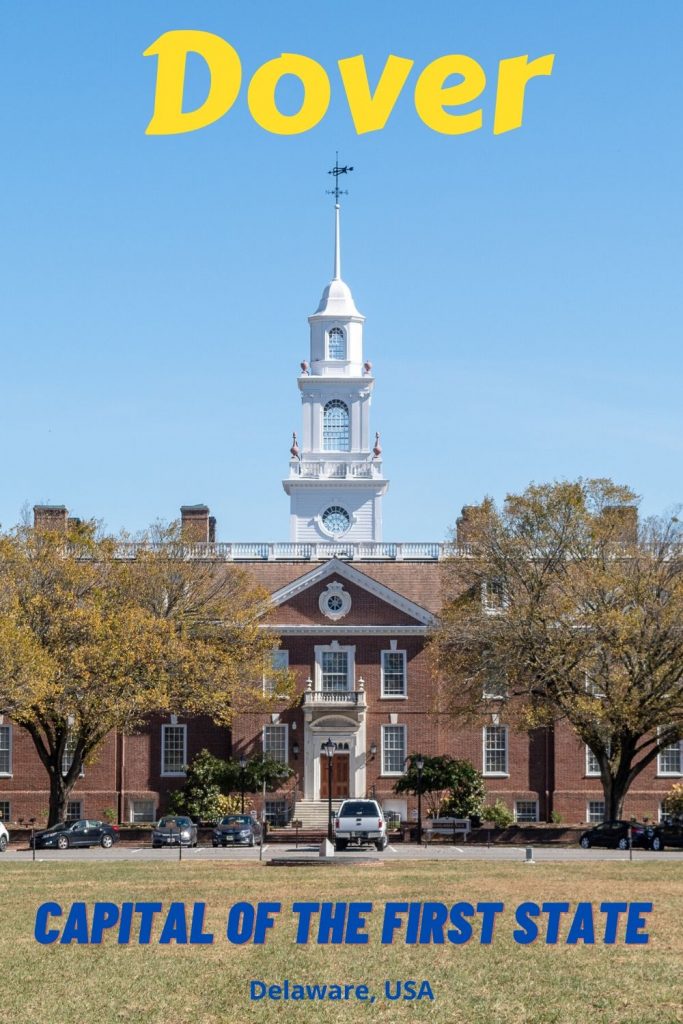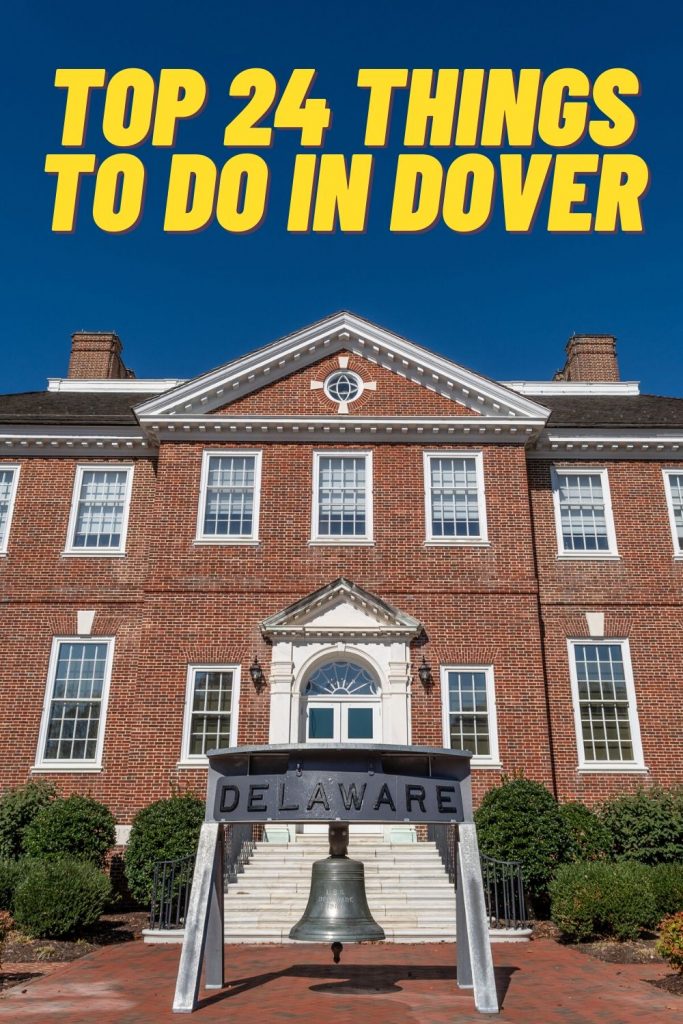 Disclaimer: This post contains affiliate links which means that we receive a small commission if you click on a link and purchase something that we've recommended, at no extra cost to you.

Updated May 2020