Carlsbad Caverns National Park, New Mexico is one of the natural wonders of the world. From entrance fees & tours to bat flights & attractions find out everything you need to know to plan your visit. 
Carlsbad Caverns Entrance Fees & Opening Hours
Carlsbad Caverns National Park entrance fees are $15 per person.
However, we strongly suggest buying the America the Beautiful annual pass for $80. It not only covers admission to per vehicle attractions, but up to 4 people at per person sites. The investment can easily pay for itself with just a couple National Park visits.
The park is open to visitors every day except Thanksgiving, Christmas, and New Year's Day. See below for Carlsbad Caverns hours of operation that vary throughout the year.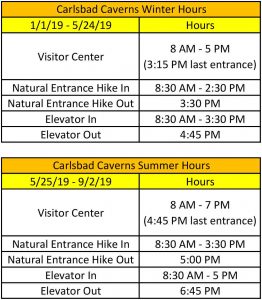 Carlsbad Caverns Visitor Center
The Visitor Center is your starting point. Not only do you pay your entrance fees, but you can book any last minute Carlsbad Caverns tours that are available.
Nearby, you can also learn about the park in a 16 minute film Hidden World every half-hour.
The exhibits outside the theater provide reinforcement of the material if you are waiting for the next showing. Both teach you about the formation of the cavern and local wildlife like the mountain goats we saw on the drive in.
Bathrooms
There are three strategically placed bathrooms in the park.
The largest, despite many of the sinks and toilets not being operational at the time of our visit, was outside the visitor center. The other two are by the food court near the Big Room's elevator, and just behind the amphitheater.
Carlsbad Caverns Weather
Although the weather varies outside the caves, Carlsbad Caverns temperature and climate remain stable throughout the year. You can expect to find a temperature of 68°F with 100% humidity during the summer. Deeper sections and nearby caves will maintain this year-round.
The Big Room is an exception in the winter time due to the large Natural Entrance. This allows dry, cool air to reach the inside of the cave. The result is an average of 56°F with humidity as low as 87.5%.
Things to Do in Carlsbad Caverns National Park
Carlsbad Caverns has a wide range of activities. Not only can you enjoy two self-guided trails, but can also partake in six additional ranger-guided tours.
The other popular activity outside of enjoying cave formations is the Bat Flight Program where thousands of bats fly out of the Natural Entrance in the evening. Lesser known activities that are also on offer are the Night Sky Programs and Dawn of the Bats.
#1. Carlsbad Caverns Self-Guided Trails
There are two trails that visitors can enjoy on their own. These include the impressive and most popular Big Room Trail, and the Natural Entrance Trail.
This allows you to travel at your own pace, stop to admire cave formations, and take as many pictures as you want. Sheena probably had a digital roll of over 1,000 shots from our visit!
Park rangers may be found at key points to answer any questions, or in case of an emergency.
Big Room Trail
The Big Room Trail is the most popular since it is accessed by an elevator for a quick and easy way to start exploring. It also doesn't hurt that it is the largest single cave chamber in North America.
The entire trail covers 1 ¼ miles, and takes at least an hour to explore. Keep in mind that they close access to the trail roughly an hour before the last elevator. If you are short on time, you can take the smaller loop that is half the distance and time.
Here are some of the interesting cave formations you may spot along the way:
Caveman
Chandelier
Chinese Theater
Crystal Spring Dome
Doll's Theater
Hall of Giants
Longfellow's Bathtub
Rock of Ages
Temple of the Sun
Totem Pole
Giant and Twin Domes
Natural Entrance Trail
If you want to get a little more exercise you can hike the 1 ¼ mile Natural Entrance Trail that allows you to see more of the caverns on a 750 foot descent to the Big Room Trail. This takes approximately an hour depending if you are descending or ascending, and how the original spelunkers gained access to the caves.
Although you can hike out, the more popular option is to hike in and take the elevator out. Keep in mind that there are extra time restrictions in both directions for the Natural Entrance Trail.
We almost missed seeing the entire Big Room since we were slow coming down the Natural Entrance. You can find the times at the beginning of this post under Carlsbad Caverns hours.
Here are some of the interesting cave formations you may spot along the way:
Natural Entrance to Carlsbad Cave (aka Whale's Mouth)
Devil's Spring
Iceberg Rock
Devil's Den
Twilight Zone
Witch's Fingers
#2. Carlsbad Caverns Tours
If the Big Room and Natural Entrance Trails leave you wanting more, there are 6 more ranger-guided tours on offer. Each one varies in price, location, and duration.
They have limited availability and run infrequently during the week so you will have to time your visit accordingly for a particular cave. Make your reservations by calling 877-444-6777 or visiting www.recreation.gov.
Take a look at the current schedule for 2019 before we cover what to expect on each cave tour.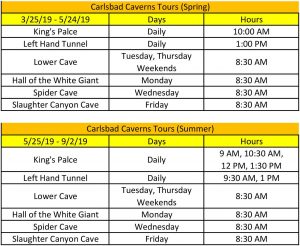 Carlsbad Caverns Tour Requirements
There are several requirements for joining a ranger-guided tour that increase with the intensity of the experience. Here are some items to keep in mind.
Hiking shoes are required. The National Park Service will provide supplies to clean shoes before and after visiting the cave to prevent the spread of the fungus responsible for White-nose Syndrome.
There is a minimum age for each tour option.
Participants need to feel comfortable with dark, tight, and sometimes high places.
For the Spider Cave and Slaughter Canyon Cave tours, participants need to have a fresh set of clothes on to prevent cross-cave contamination.
King's Palace Tour – $8 (Maximum 40 People)
The King's Palace tour is a nice add-on to the general admission, and allows greater exploration of the main cave. You can expect to see impressive cave formations during the 90 minute ranger-guided tour, with an elevation change of 80' during the mile hike.
The three bonuses of being on a ranger-guided tour are that they can point out the cave formations, explain the geology behind them, and also turn off the lights for a sense of what the caves are naturally like.
Meet at the underground rest area to begin your tour.
Left Hand Tunnel Tour – $7 (Maximum 10 People)
Take the 2 hour Left Hand Tunnel tour if you want to finally get off the concrete path and onto the natural cave floor. A paved path is not the only thing you will be saying goodbye to on this hike. Artificial light does not exist on this portion of the cave either.
Meet at the Visitor Center Theater to grab your candle-lit lantern, and start exploring!
Lower Cave Tour – $20 (Maximum 12 People)
Some say getting to your destination is half the fun, and they would be right for the 3 hour Lower Cave tour. You gain entrance to the Lower Cave by descending over 50' of ladders.
You are then rewarded with awe inspiring cave formations everywhere you look. Some of the more famous ones are Colonel Boles Formation, The Rookery that has countless cave pearls, and the Texas Toothpick. It is also possible to see evidence from early explorers, including National Geographic in 1924.
Meet at the Visitor Center Theater to grab your helmet, headlamp, and gloves while waiting for the safety orientation.
Hall of the White Giant Tour – $20 (Maximum 8 People)
The more adventurous might want to time their visit with a day offering the 4 hour Hall of the White Giant tour. Here you are bound to get dirty as you squeeze through tight openings, scamper up slippery surfaces, and go spelunking.
Some of the names you will hear on the tour and be engrained in your memory are Matlock's Pinch and White Giant.
Meet at the Visitor Center Theater to grab your helmet, headlamp, and gloves while waiting for the safety orientation.
Spider Cave Tour – $20 (Maximum 8 People)
Did somebody call for a field trip? Spelunkers on the 4 hour Spider Cave tour will need to drive to the trailhead, and then hike ½ a mile in Garden Grove Canyon before entering the cave.
Once inside, you will once again have a chance to get dirty as you crawl around inside the cave. Keep an eye out for the Mace Room, Medusa Room, and Cactus Spring.
Meet at the Visitor Center Theater to grab your helmet, headlamp, knee and elbow pads, and gloves while waiting for the safety orientation.
Slaughter Canyon Cave Tour – $15 (Maximum 16 People)
The 5 and a half hour Slaughter Canyon Cave tour is another ranger-guided field trip within Carlsbad Caverns. Unlike Spider Cave though, there won't be any crawling through tight openings.
Instead, you can more leisurely explore an undeveloped cave. The highlights include a crystal covered column nicknamed the Christmas Tree, the world renowned 89' high Monarch, and the Chinese Wall whose rimstone dam is only 6" high.
Meet at the Visitor Center to grab your helmet, headlamp, and gloves while waiting for the safety orientation. You will then take your own vehicle to the trailhead before climbing ½ mile to the cave entrance.
#3. Carlsbad Caverns Bats
Although there is a wide range of animals and plants in the park, the most popular are the bats. Each night from April through October thousands of bats swarm out of the cave around sunset to search for food and return before sunrise.
The Bat Flight Program is a free ranger led talk at the amphitheater near the Natural Entrance from Memorial Day weekend until October. They answer any questions you have prior to the bats flying out of the cave, at which point silence pursues.
Times vary throughout the year due to sunset, but you can find out when the Carlsbad Caverns Bat Flight Program begins during your visit at the visitor center. They will also advertise the probability of seeing bats later that day.
Typically, the bats will not depart the caves if it is raining outside. They will choose to wait up to 3 days before being forced to fly in rain and wind.
Keep in mind that the bats also migrate south during the winter so the shoulder months of April and October do not guarantee that large numbers of bats are still present. The best time to witness Carlsbad Caverns bat flight are the months of August and September when newborn bats join the ranks.
Seating at the amphitheater is first-come first-served, and the ranger will give an extended Q&A session if the bats do not fly. Most people wanted to know about White-nose syndrome, but we also learned a lot of other interesting facts.
Here is a sample of what you will learn.
You can spot the difference between local species based on their tails and other characteristics.
The guano was mined in the past for fertilizer.
Bats can fly several hundred miles each night.
Their feet are naturally in a closed position, and they have to exert energy to open them. That is how they can hang from the ceiling so easily.
All electronics must also be turned off so as not to disturb the bats in flight. Think of this a blessing where you can just enjoy the moment, and only take memories with you instead of recording them.
White-Nose Syndrome
White-nose syndrome has started to affect bats this century. It is a fungus that grows on the wings, ears, and most importantly – the muzzle. The disease is identified by visible white patches.
Although scientists do not know the full extent of the disease, they believe bats are dying due to disrupted hibernation that leads to starvation and hydration. One of the rangers informed us that experts are looking into bats that are naturally resistant to find a long-term solution for this critical issue.
Guests do not go inside caves where bats reside, but are required to clean their shoes before and after visiting to prevent the spread of the fungus responsible for White-nose Syndrome. The same concept applies for the required new set of clothes when visiting the other caves in Carlsbad Caverns.
#4. Night Sky Activities
There are three free activities you may decide to stay for after the Bat Flight Program. These include the Star Walks, Moon Hikes, and Star Parties. Come prepared with hiking shoes, a headlamp with red light, and long pants.
Star Walk and Moon Hike
The Star Walk and Moon Hike are limited to 25 people on a first-come first-served basis. Register at the Visitor Center information kiosk, and meet at the park sign outside at the designated time.
Star Walk
You walk ½ mile before laying down on a towel/blanket and observing the stars.
Star Walks in 2019 take place on:
May – 31
June – 2, 28, 30
July – 26, 28
August – 30, 31
September – 1, 27
Moon Hike
The hike covers 1 ½ miles underneath a full moon, and gives you a chance to see some nocturnal wildlife.
Moon Hikes in 2019 take place on:
June – 14, 15
July – 12, 13
August – 9, 10,
September – 13, 14
October – 12
Star Parties
Star Parties take place in the Visitor Center's east parking lot picnic area.
During the program you will get to gaze through a telescope to find objects in the night sky.
#5. Dawn of the Bats
If you are a morning person, you can watch the bats return to the Natural Entrance at 5 am on 7/20.
Similar to the evening program, electronics have to be turned off.
How Was Carlsbad Caverns Formed?
Most caves are formed when rainwater dissolves limestone over thousands and millions of years. The rainwater is naturally a weak carbonic acid that penetrates cracks in the surface, and forms streams underneath the ground leaving tunnels and caves in the process.
Carlsbad Caverns was formed by sulfuric acid. This was a result of hydrogen-sulfide rich water due to local oil deposits combining with rainwater that naturally contained oxygen as part of its compound.
The sulfuric acid constituted the water table, which dissolved the limestone. As the tectonics plate pushed the Guadalupe Mountains up, the water table dropped relatively, leaving behind caves when the water drained further down.
Although the end results are similar, the remnants and by-products are different. Sulfuric acid formed caves leave a heavy concentration of gypsum as evidence.
Cave Formations
Carlsbad Cavern cave formations are the result of rain and snowmelt penetrating the limestone until they make their way to a cave below. When the water evaporates, it leaves tiny traces of minerals that it contained. This mostly comes in the form of calcite.
Where the mineral is deposited depends on how fast the flow of water is. Slow drips will create cave formations on the ceiling, while faster drips will find their way to the cave floor. Here are the most common cave formations in Carlsbad Caverns even though none are currently actively growing due to the dry desert climate.
Cave Ceiling Formations
Curtain/Shawl/Bacon Rind – This is a wavy or folded sheet hanging from the ceiling or wall of a cave. The slope is around 45° so the water runs along the pitch leaving calcite in the process. Many are translucent and resonant, and Bacon has colored bands.
Soda Straw – Straws are thin and long structures supported from the cave ceiling. Water runs inside until they drip, depositing calcite along the way. Straws can become traditional stalactites if the hole becomes blocked.
Stalactite (hold "tite" to the ceiling) – These cones are formed by dripping water on a near horizontal cave ceiling. Rainwater runs down the stalactite until it reaches a point where the weight exceeds the friction required to remain. Along the way, calcite is deposited.
Cave Floor Formations
Flowstone – These are the equivalent of ground curtains where water runs along the pitched floor leaving behind calcite deposits.
Lily Pads and Shelves – When calcite precipitates in a pool, thin layers float on the surface. They either continue to grow laterally until they connect to a wall to form a shelf, or down to the floor forming a lily pad.
Rim Stone Dams – These are pools formed by very thin calcite rims.
Stalagmites (mites live on the ground) – Similar to stalactites, but these form in reverse from the ground up.
Totem Poles and Columns – Totem poles are very large stalagmites, and ultimately form columns when they combine with stalactites.
Carlsbad Caverns Hotels
Compared to the rest of New Mexico, Carlsbad Caverns hotels do not come cheap due to the local oil industry. Your best budget option is Econo Lodge Carlsbad, which starts at $111. This includes free Wi-Fi, a pool, and complimentary breakfast.
If hotels near Carlsbad Caverns do not fit your budget, you can visit as a day trip from Roswell, NM where hotels start at $19 with complimentary breakfast at Simple Rewards Inn. That was our original plan, but then decided to drive all night to El Morro National Monument in order to see everything we wanted during our 9 day epic New Mexico road trip.
Check hotel prices at Carlsbad Caverns
Camping Near Carlsbad Caverns
While there's no camping at the park itself, there are a lot of campgrounds near Carlsbad Caverns, including RV parks and government run campgrounds. Prices tend to start at $30 for RV sites, but anyone vehicle camping may stay in the Carlsbad Walmart parking lot for free.
For those that want a more natural environment, try either Guadalupe Mountains National Park at $15, or Brantley Lake State Park at $14.
Restaurants in Carlsbad, NM
Similar to hotels, there are few cheap restaurants in Carlsbad, NM. In a pinch you can grab some quick bites at the caves, but this is one location where packing a lunch may be your best option.
Blue House Bakery & Café – This is your best bet for breakfast if your hotel doesn't offer any. Prices are affordable, and customers like their tasty traditional menu selection.
Carniceria San Juan De Los Lagos – For dinner in Carlsbad, your best bet is this authentic Mexican restaurant that also serves as a meat market. If you aren't sure what to get, try the combo platter for $18.
Carlsbad Cavern – There are snack stalls at the elevator near the Big Room. There is also a small cafeteria in the visitor center where you can grab sandwiches and some hot food.
Travel Insurance in the U.S.
Although the U.S. is a relatively safe country for travel, medical costs are high so if you're an international visitor we recommend purchasing travel insurance before any trip. We've been using World Nomads through 80+ countries over the past 12 years and have been really happy with their coverage and services.
For more details check out our Word Nomads review here.
Get a quote for travel insurance
Plan Your New Mexico Road Trip
There are plenty of excellent outdoor and cultural attractions in New Mexico – pick up a guidebook and start planning! You can pick and choose, make a weekend out of it, or spend 9 days like we did taking in all the best that New Mexico has to offer.
We also visited the following places the same day as Carlsbad Caverns:
Guide to White Sands National Monument
From sledding to hiking there are many things to do in White Sands National Monument. Find out everything you need to know about visiting one of the most unique places in New Mexico
Read more
Things To Do Near Carlsbad Caverns
Besides all the great activities in the park, there are two other things to do nearby. Top of this list is Guadalupe Mountains National Park, which has awesome hiking and viewpoints besides being a convenient Carlsbad Caverns camping location.
The other thing to do near Carlsbad is Sitting Bull Falls. This is an hour drive north from the park, but seeing a waterfall in the middle of the desert is a highlight for many. We will be visiting both during our next visit to the region.
New Mexico Car Rental
In order to get around New Mexico, you need to have a car. If you flew into Albuquerque like us, there are several companies open until 1 am, which worked with our late flight from New York City.
We were surprised to find that Sheena was able to rent a car much cheaper as an Australian than I was as an American. If you're an international visitor, keep that in mind during your online research. You could save big $$$…
And that's it! We hope this post has provided you with everything you need to know about Carlsbad Cavern, on the one page!
Know Before You Go
Hours: Varies, but the visitor center opens at 8 am
Fees: $15 per person
Duration: 4 Hours or more
Nearest Large City: Carlsbad at 30 minutes by car
Hotel: Econo Lodge Carlsbard (starting at $111), Simple Rewards Inn in Roswell (starting at $19)
Camping: Guadalupe Mountains National Park ($15), Brantley Lake State Park ($14), Carlsbad Walmart (free)
Nearby Attractions: Guadalupe Mountains National Park, Sitting Bull Falls
Next New Mexico Destinations: Roswell, Lincoln Heritage Site, Smokey Bear Historical Park
Website: Carlsbad Caverns National Park
Phone Number: (575) 785-2232
Did you enjoy reading our post on Carlsbad Caverns?
Pin it and help others find it too!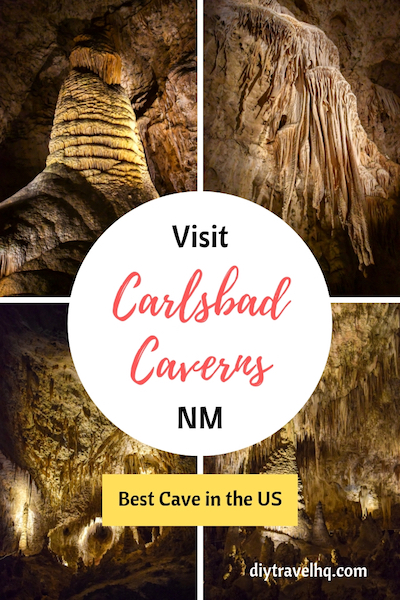 Disclaimer: This post contains affiliate links which means that we receive a small commission if you click on a link & purchase something that we've recommended, at no extra cost to you.
Visited in October 2018
Updated in April 2019