To surf or not to surf, that's the question… either way, you'll love the chilled atmosphere at Hostal Los Almendros – find out why it's easily the best spot on the Pacific Coast.

Hostal Los Almendros is the perfect base for exploring the Western Pacific coast, one of the top destinations in EL Salvador.
It's located right on El Sunzal beach, 50m away from some of the best point breaks in the world.
From the moment you check-in with Roberto, Gustavo or one of the other friendly staff on arrival, you know you'll be in good hands 🙂
Let us here at DIY Travel HQ show you around!
Rooms at Hostal Los Almendros
There are 8 private rooms available at Hostal Los Almendros.
Each one can sleep up to 3 people, with one double bed & one single bed.
The rooms are spacious and include a side table and portable clothes hanger & basket unit.
There's a lamp that emits a cozy yellow glow as well as a large, powerful fan.
Some rooms have air-conditioning.
We recommend Booking.com as a trustworthy source of accommodation in El Salvador. Make a booking with our link for 10% off your stay.
The décor is simple with crisp white sheets, blue patterned curtains & one or two paintings on the walls.
The rustic, clay tiles complete the casual surf-chic character of the room.
If you're a surfer, try to get one of the oceanfront rooms – that way, if you're planning on going out for a early morning dawn session, you can check out the surf from your window to see if it's worth heading out for.
Common Areas at Hostal Los Almendros
There are sweeping views of the El Sunzal point break from the 2nd floor of Hostal Los Almendros.
Look out to the ocean from the balcony or from one of the comfy sofas.
Life is easy & breezy up here, with a hammock, chairs, table, benches & even a day bed.
It's the perfect spot to chat, relax, read, surf the net or nap – this slow pace of life is addictive & somehow, time passes fast….
We loved hanging out here – the sight & sound of the ocean literally at your doorstep is our kind of bliss.
Restaurant & Kitchen at Hostal Los Almendros
If you want to spend all day surfing or chilling, you can leave your cooking to the experts.
Hostal Los Almendros offers a menu for breakfast, lunch & dinner and the owner Roberto has a reputation as a mean cook.
Only the freshest ingredient are used, some from their own backyard.
Meals include:
Breakfast: $3.00 – $5.00
Thai food: $10.00
Pasta: $10.00
Taco (Wednesday only): $8.00
Personal Pizza: $3.00
We recommend trying the Thai food, which include Phad Thai noodles & curries.
And it's always Happy Hour, beers are just $1.25.
If you prefer to cook for yourself, you're welcome to use the kitchen & fridge too.
There are a couple of separate stove tops as well as all the utensils & crockery you might need.
Head to La Libertad to pick up fresh groceries from the market (there's also a Despensa Supermarket) & fresh seafood at the awesome fish market.
Pool & Sunset at Hostel Los Almendros
The pool at Hostal Los Almendros is EVERYTHING!
There's got to be no better spot on the Pacific coast in El Salvador, but it's also got everything you need.
Apart from the beautiful pool, there are sun loungers under beach umbrellas on the wooden deck, as well as a hammock hanging across palm trees over the water!
There's also a picnic table & a shower for rinsing off before jumping in.
The pool itself is amazing.
The water temperature is perfect, it was always so warm.
The best time of the day is pool time at sunset.
We stayed at Hostal Los Almendros for 3 nights & it was stunning & different each night, some of the best sunsets we've seen anywhere.
Other features of Hostal Los Almendros
Apart from the rooms, kitchen, restaurant, swimming pool, oceanfront views, hammocks & common areas, here are more features you'll find at Hostal Los Almendros:
Pet friendly – bring your pets to keep the resident dogs company!
Strong wifi in all areas, including the pool
Surfboard rentals
Surf lessons
Organised surf & cultural tours
Surfing at El Sunzal
Hostal Los Almendros is located in front of El Sunzal point break, one of the best surf spots in El Salvador, a country which is often ranked in the top 10 surfing destinations in the world.
There are seemingly waves every day at El Sunzal, with cutback shoulders & fun walls.
The world-class waves are consistent but under the right conditions, the swells can be downright epic.
Hostal Los Almendros offers surfboard rentals for $10.00 a day.
They can also arrange surfing lessons to suit your level.
El Sunzal Beach
If you're not surfers like us, there's also a small beach at El Sunzal, a 5 minute walk from Hostal Los Almendros.
This is a great spot, as much of the coast is lined with rocks & pebbles.
Here, you can easily swim out into the warm Pacific ocean & lay out on the black sand beach.
The rocky sea bed is home to lobsters, oysters & other crustaceans, so it's a great spot for birdwatching – you'll see local fishermen around day & night.
Shallow scuba-diving & snorkeling may be possible too so you may want to pack your own Cressi snorkel set
.
Location of Hostal Los Almendros
Hostal Los Almendros is located at El Sunzal – it's a tiny, quiet village but you can find a couple of comedors on the main road.
For a more livelier scene, El Tunco is just a short walk away – here, you'll find many tourist-friendly cafes, bars & restaurants, though the nightlife is also popular with locals on the weekend.
To read about Adventurous Kate's visit, click here.
While you're on the coast, check out the bustling port town of La Libertad.
Soak in the atmosphere of the fantastic fish market on the pier, have a drink or meal at one of the waterfront restaurants & check out the world-famous Punta Roca surf break.
Beach lovers can choose from the black volcanic sands of Playa El Sunzal, Playa El Zonte & Playa San Diego.
Buses run regularly up & down the coast from El Sunzal, with most rides costing 25 cents.
Hostal Los Almendros is the perfect place for a beach getaway or surf retreat – it's relaxed & low-key but still close to all the action.
We couldn't have asked for a better base from which to explore the Western Pacific coast of El Salvador.
Know Before You Go
Address: Km. 44 1/2, Carretera Litoral, Playa El Sunzal, La Libertad, El Salvador
Price: Single $25.00, Double $35.00, Triple $45.00. Air-con room is $50.00
Contact information: 
Did you enjoy reading Surfs Up at Hostal Los Almendros in El Sunzal?
Pin it and help others find it too!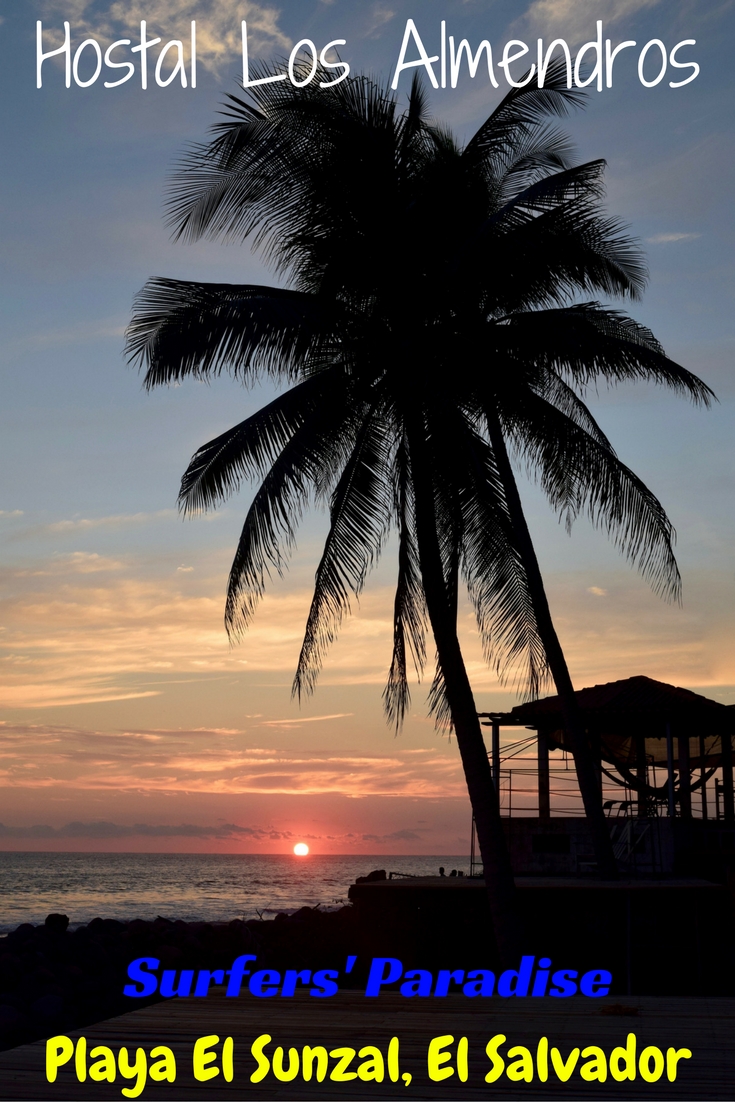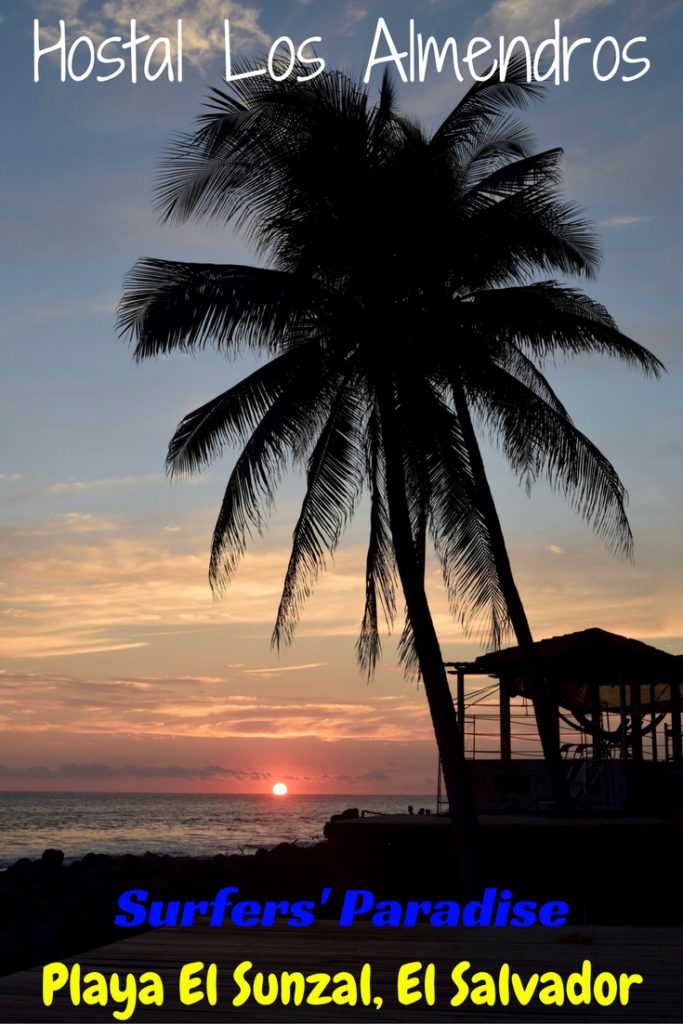 *** The Final Word – For the amazing pool, sunsets, chilled vibes, cheap beers & location, Hostal Los Almendros is the #1 spot on the Pacific Coast in El Salvador! *** 
What do you look for in a beach getaway?
[put_wpgm id=188]
* Thank you to Hostal Los Almendros for hosting us!
* This post contains affiliate links, which means that we receive a small commission if you click on a link & purchase something that we have recommended – at no extra cost to you. This helps us to keep our site running so we can continue to provide free content. Thank you for your support!
Visited in October 2016