Parque Nacional Los Volcanes is best visited as a day trip – find out all about the 3 volcanoes along with where to stay, eat, & how to get around in Santa Ana, El Salvador.
Santa Ana, El Salvador History
Before we take a look at Parque Nacional Los Volcanes, let us here at DIY Travel HQ explain briefly the history of Santa Ana, El Salvador.
Santa Ana is the 2nd largest city in El Salvador, but it feels like a large town instead.
There are still numerous streets in the city proper that have gravel roads, and street lighting is often little more than an over-sized household lamp.
The main attraction in Santa Ana is the lush central plaza that was built on the wealth of coffee exports.
Much of Santa Ana can be attributed to the rise and fall of the coffee industry.
At the start of the 20th century, there was a lot of investment pouring into coffee farms surrounding the volcanoes.
The rich soil and higher elevations made coffee production ideal.
The profits from coffee exports in turn funded the exquisite Catedral de Santa Ana, and Teatro de Santa Ana.
If you're interested in learning more, check out our De La Gente coffee tour in Antigua, Guatemala.
However, two world events changed the fortunes of Santa Ana for the worse.
Exports dramatically decreased during the Great Depression and World War II since foreign countries no longer could afford to import coffee from El Salvador.
This led many local entrepreneurs to divert their investments to San Salvador, to which this trend continues today.
There are still coffee farmers working the slopes of Volcan Santa Ana, but it is still a struggle to turn a profit.
The biggest issue has been a recent surge in crop diseases, which has yet to be resolved.
Things to See in Santa Ana, El Salvador
While are talking about Santa Ana, let's take a look at the attractions in the city – after all, its one of the most popular places to visit in El Salvador.
We promise to get to Parque Nacional Los Volcanes soon!
Santa Ana can literally be seen in 5 minutes as all the key attractions surround Parque Libertad.
These include the Catedral de Santa Ana, Teatro de Santa Ana, and City Hall.
Consider visiting these sights after finishing a day trip.
Parque Libertad is at the heart of Santa Ana, and is the central plaza for the city.
The two key attractions border the park, along with City Hall and street food vendors.
You can relax inside the leafy park on a bench or under the gazebo.
There was an animal shelter fundraiser during our visit.
#2. Catedral de Santa Ana
Located on the northeastern side of Parque Libertad is the neo-Gothic Catedral de Santa Ana.
The white, ornate façade will immediately catch your attention.
Inside, high naves supported by towering columns create a grand impression.
Visit during daytime, excluding the 12-2 pm lunch break to visit the interior.
The other key attraction on Parque Libertad is Teatro de Santa Ana, built with a Renaissance influence.
Despite being repurposed several times followed by abandonment, it has been restored and serves as a traditional theater once again.
Take a peek inside during a weekday to see the grand interior.
The theater consists of three levels of private boxes looping around the ground seating.
There is elaborate woodwork throughout, and fine motifs on the central dome.
The western side of Parque Libertad is bordered by the full-block City Hall.
You can't miss the yellow brick and stone exterior with El Salvador's flag flying in the wind.
Starting almost directly west of Parque Libertad are market choked streets that lead to Mercado Central.
Venture here if you need to pick up some personal everyday items or go clothes shopping.
Parque Nacional Los Volcanes
Santa Ana is blessed with several notable natural attractions nearby (try saying that last part 10 times fast).
These include Lago de Coatepeque and Parque Nacional Los Volcanes which includes:
 Volcan Santa Ana
Volcan Izalco
Cerro Verde
Our main reason for traveling to Santa Ana was to visit Parque Nacional Los Volcanes.
We wanted to see Volcan Izalco, and climb Volcan Santa Ana, which we half completed.
The short version of the national park is that Volcan Izalco is a relatively young with a gravel cone.
Volcan Santa Ana is less impressive from a distance, but has a concentric ringed crater lake.
Meanwhile, Cerro Verde consists of the flattened remains of a volcano, but offers outstanding views of both volcanoes and Lago de Coatepeque.
Lago de Coatepeque
Lago de Coatepeque is a sight to behold from either the Cerro Verde trail or Volcan Santa Ana in Parque Nacional Los Volcanes.
Although the water is clean enough to swim in, getting access to the waterfront can be a problem.
For this reason, we decided to forgo an actual visit, and just enjoy the views from Parque Nacional Los Volcanes.
Where to Stay in Santa Ana, El Salvador
We decided to stay in Casa Frolaz, which was a combination hostel and restaurant.
What made our stay special were the friendly owners that made us feel at home.
They are a wealth of information not only for Santa Ana, but also San Salvador and around El Salvador.
They give you a handy map upon your arrival so you instantly know where all the essentials are.
You have access to a kitchen, garden seating, and terrace from the dorms ($8).
Transportation is also very convenient once you know the local and regional bus routes.
What to Eat in Santa Ana
There are two areas to find budget food in Santa Ana.
The easiest location when exploring Parque Libertad are the fast food stalls ($1.50-2) on the east side of the park.
If you are staying at Casa Frolaz, then there are plenty of pupuserias (3 for $1, or $0.50 for special fillings) nearby, and comedors ($2-2.50) across from Instituto Nacional de Santa Ana.
How to Get To & From Around Santa Ana
Santa Ana is well served for regional transportation.
Here are the useful buses that depart from the Terminal de Buses de Occidente:
You can also catch the following buses from the La Vencedora Terminal:
Parque Nacional Los Volcanes, Bus #248 @ 7:40 am to catch 11 am police escort, $0.90
Sonsonate, Bus #216, $0.70
Getting Around Santa Ana
The best way to get around Santa Ana is on foot, but bus #51 runs from Parque Libertad to the Terminal de Buses de Occidente, and Instituto Nacional de Santa Ana near Casa Frolaz.
Did you enjoy reading Parque Nacional Los Volcanes & Things to do in Santa Ana?
Pin it and help others find it too!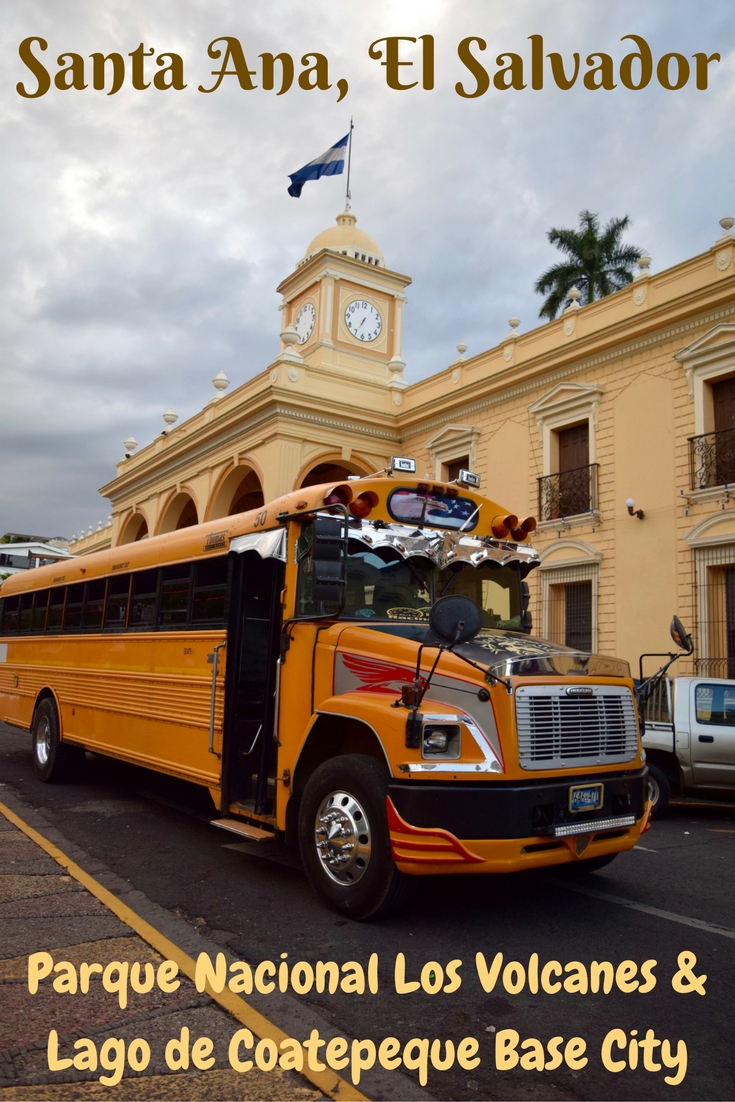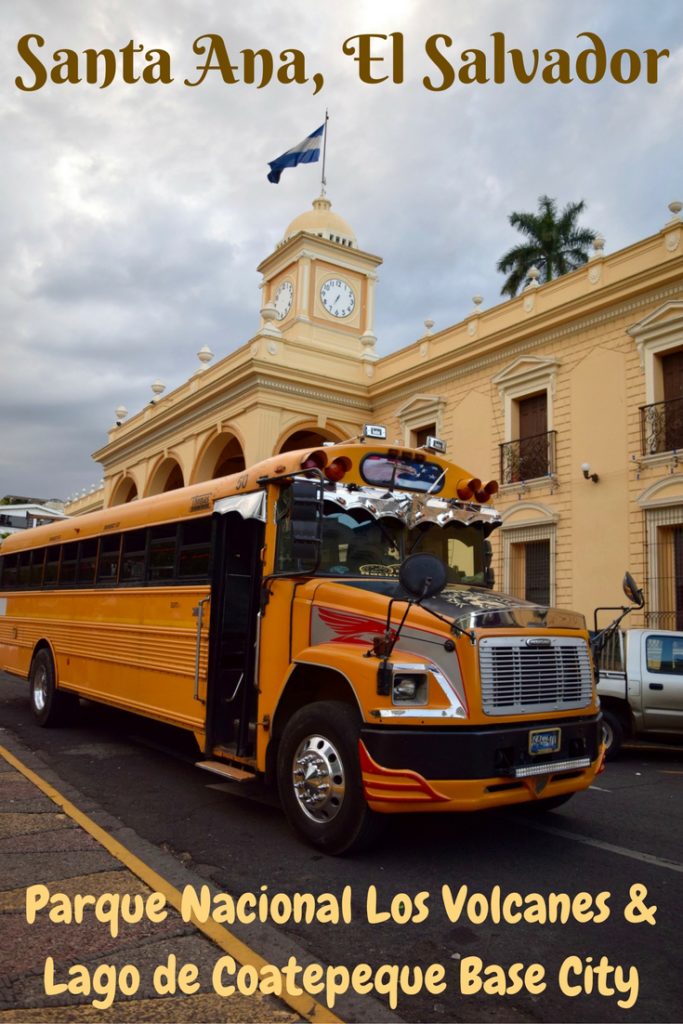 ***The Final Word – Santa Ana is best used as a base for visiting Parque Nacional Los Volcanes and Lago de Coatepeque, but Parque Libertad is worth a quick look when you return one day.***
What makes you stay in a base city rather than near the attraction itself?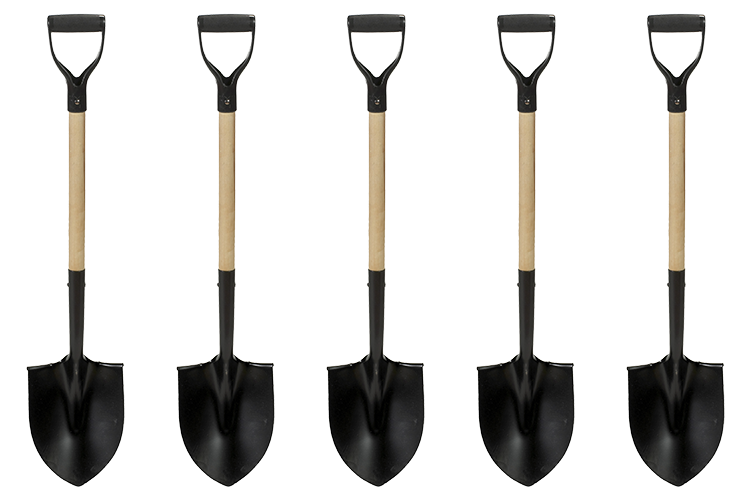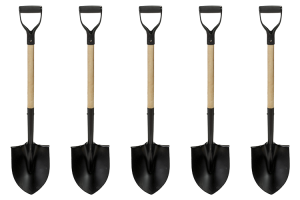 Super easy DIY travel around city centres
Visited in October 2016