Hotel Perkin Lenca hosts rooms & cabins around beautiful gardens, high on a hilltop with stunning views – find out why you should make it your #1 eco mountain retreat in El Salvador!

Hotel Perkin Lenca was entirely built from oak & pine by Robert Brennerman, an former American aid worker who now also runs a local educational charity.
It's located 1km south from the town of Perquin & it was one of our favourite places to stay while traveling in El Salvador for 1 month.
Hotel Perkin Lenca is a beautiful property, let us show you around!
Rooms, Cabins & Bungalows at Hotel Perkin Lenca
Guests at Hotel Perkin Lenca can choose to stay in rooms, cabins or bungalows.
We here at DIY Travel HQ stayed in the former, which was located high on the property, set in a motel-like row of rooms.
There's a shared, wide patio with tables, chairs & hammocks to enjoy the fresh mountain air.
Our room consisted of a double bed & single bed.
The décor was simple, with wooden furnishings, red walls and cream & white linen.
There's also a ceiling fan, telephone, table lamp & large cabinet.
Behind a set of swinging, saloon doors is the bathroom!
It's spacious & spotlessly clean, with plenty of room to place your toiletries, towels & clothes.
Water is solar-powered so it's best to shower during daylight for warm water.
You can also choose to stay in one of the wooden, log cabins or bungalows scattered throughout the grounds.
They're widely spaced apart, surrounded by gorgeous trees & plants, so you can enjoy utmost privacy.
The cabins contain at least 2 beds & a closet, with a separate sitting room with tables & chairs.
The bungalows feature two bedrooms, two bathrooms & a sitting room.
The private porch is perfect to sit & relax, relish the serenity & mountain views.
Restaurant at Hotel Perkin Lenca
Hotel Perkin Lenca also hosts a wonderful restaurant, La Cocina de Ma' Anita.
It's in a huge wooden barn, which will probably be the first thing you notice on arrival. It will also likely be your first stop too, as reception is located inside.
The restaurant features high ceilings with wooden beams & large windows that let in plenty of natural sunlight.
It feels like a Swiss lodge.
All the chairs are handcrafted with the name of the hotel, complemented by the warm earthy tones of the of the red walls & decorations.
The kitchen staff prepare delicious meals in the open kitchen, overlooking the restaurant.
The full menu includes Western & local breakfast, lunch & dinner options.
The price of most main dishes ranges from $5.00 – $8.00.
The house specialty is a huge shared plate of 4 meats, accompanied with a combination of chips, rice, salad, bread, tortillas & drinks for $34.00 – we didn't try it but it looked delicious!
There are also lighter meals available, along with snacks, sandwiches, desserts, soft drinks & alcohol.
Be sure to try their coffee – it's 100% organic & hand roasted in the traditional way over coals.
The restaurant also makes all their own sauces, jams, jellies & desserts from scratch, without additives or preservatives.
These are displayed in the restaurant & you may purchase them to take home or on the road with you.
While the restaurant is spacious & lovely, you can also enjoy your dining outside on the balcony.
Here in the fresh mountain air, amongst trees & flowers, the wrought iron table settings are beautiful and the views are even better.
Eco-Friendly Hotel Perkin Lenca
In their own words, Hotel Perkin Lenca is a "Mountain hotel with an ecological consciousness".
It follows eco-friendly practices such as using solar panels & photovoltaic cells for hot water & electricity.
Daily housekeeping will change towels so do let them know if you would prefer not to, to minimize your environmental impact.
There are no tv's in the rooms or restaurant – here, you don't need it.
Simply be in nature, stroll around the gardens, relax in hammocks or read books.
However wifi is available throughout the property for those who need to stay connected.
Other Features at Hotel Perkin Lenca
Wifi – available throughout the property including the restaurant & porches. The best connection is around the hammocks on the path heading to the block of rooms at the top
Laundry – washing & drying services available
Tours – tours to El Mozote with ex-guerilla guides can easily be arranged
Filtered water – water bottles are complimentary in the rooms & cabins. There was also a large water bottle for refills in the porch of our block of rooms
Customer service – the staff are well-trained, professional & friendly. From reception to the kitchen & cleaning staff, we received excellent service with a smile with every person & situation we encountered
Things to See & Do in Perquin
Perquin was the former headquarters for the FMLN guerilla group during El Salvador's civil war.
There are numerous sites & attractions in Perquin & El Mozote that commemorate this chapter of history:
Museo de la Revolucion Salvadorena
El Campamento Guerillero Simulado
El Mozote Monument
In El Mozote you can also see a bomb crater, mass graves, the hole that Rufina Amaya (the sole survivor of the massacre) hid in for 5 days & secret cave hideouts used by the guerillas.
Perquin is also developing as an eco-tourism base for the region, with opportunities for great hiking, river swimming, bird watching, cycling & coffee farm tours.
Know Before You Go
Address: Km. 205 1/2 Carretera a Perquín Perquín, Morazán, El Salvador
Price: Double room & cabin from $50.00, Double bungalow from $80.00
Contact Information:
Did you enjoy reading Hotel Perkin Lenca, Eco Mountain Retreat in Perquin?
Pin it and help others find it too!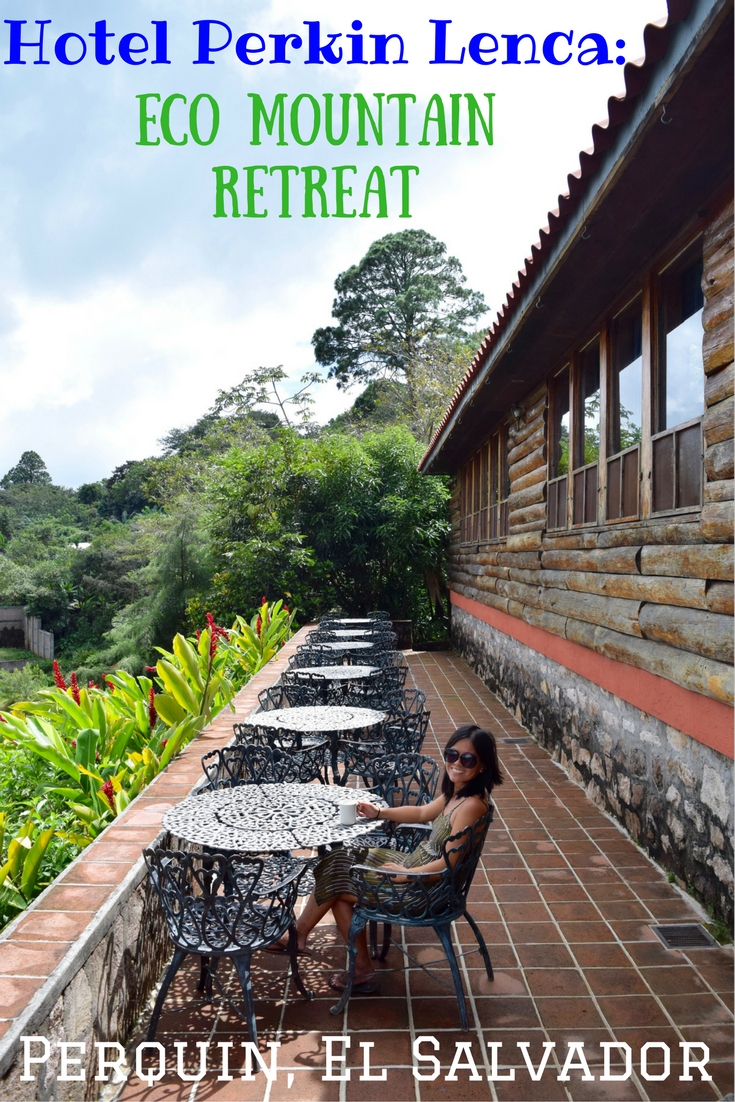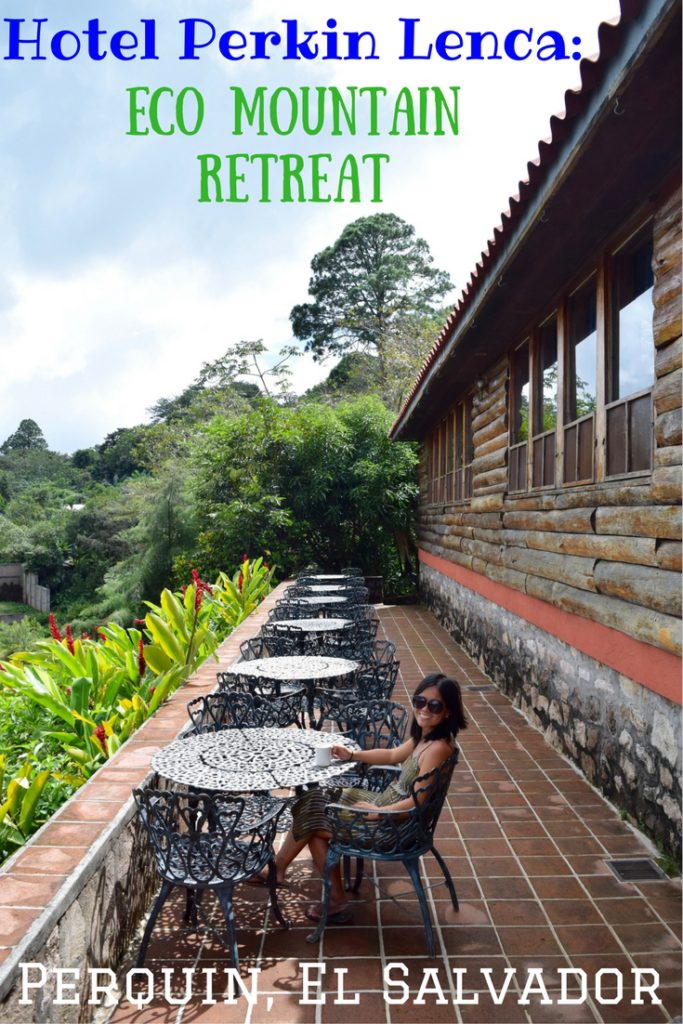 *** The Final Word – Experience a rustic mountain getaway at Hotel Perkin Lenca ***
Have you ever stayed in an eco-friendly hotel?
[put_wpgm id=190]
* Thank you to Hotel Perkin Lenca for hosting us. No compensation was received for this review however our stayed was offered on a complimentary basis. As always, all opinions are our own.
Visited in November 2016