Visit Smokey Bear Historical Park in New Mexico to see the final resting place of the original Smokey Bear, and learn what you can do to prevent forest fires!
Smokey Bear History
Although Smokey existed since 1944 as part of the Cooperative Forest Fire Prevention program's media presence, Smokey Bear became a living symbol in 1950.
It was during the 17,000 acre forest fire in the Capitan Mountains that a badly burned black bear cub was found and named Smokey Bear. He was discovered by a fire crew from Texas, and then cared for by New Mexico Game Warden Ray Bell.
Smokey Bear was later sent to live in the Washington D.C. National Zoo, where he stayed until his natural death at the age of 26.
Smokey Bear Historical Park
Smokey Bear returned home to Capitan, New Mexico after his death.
The Smokey Bear Historical Park opened in 1979 in his memory and to help educate the youth.
It is now possible to visit his final resting place.
Hours of Operation and Entrance Fees
Smokey Bear Historical Park is open daily from 9 am until 4:30 pm with the exception of Thanksgiving, Christmas, and New Year's Day.
Entrance fees are $2 per adult and $1 for kids between the ages of 7-12.
Smokey Bear Historical Park Visitor Center
Inside the visitor center guests can learn about wildfires, wildfire prevention, and forest health.
Controlled burns are not only healthy for forests, but help to reduce tinder that allow out-of-control wildfires from spreading and impacting so many people.
You can watch a short film on how fires affect us today.
Smokey Bear Park
Outside, in Smokey Bear park, guests may visit Smokey Bear's final resting place.
A plaque commemorates his achievements as a living symbol in the prevention of wildfires.
R
estaurants in Ruidoso, NM
With several restaurant and accommodation options, Ruidoso is the best base town for visiting Smokey Bear. 
Tina's Café – This is your go-to-place for breakfast and lunch, and is a shame it is only open from 7 am to 3 pm. Our top picks are the Migas for breakfast, and Stuffed Puff Pastry for lunch.
Jorge's Café – For dinner we tried Jorge's Café, and enjoyed the inexpensive combination platters. This allowed us to sample several of the items at once, which left us satisfied and full at the end of the meal.
Hotels in Ruidoso, NM
For a small town, there are a lot of hotels and Airbnb listings in Ruidoso, NM that line the main roads. We chose to stay at Travelodge, which included a complimentary breakfast.
Regardless where you choose to stay, rooms start as low as $35 and you can upgrade to better options for not much more. The market is very competitive. Check out what is on offer.
Plan Your New Mexico Road Trip
In order to get around New Mexico, you need to have a car. 
We were surprised to find that Sheena was able to rent a car much cheaper as an Australian than I was as an American. If you're an international visitor, keep that in mind during your online research. You could save big $$$… 
There are plenty of excellent outdoor and cultural attractions in New Mexico – pick up a guidebook and start planning! You can pick and choose, make a weekend out of it, or spend 9 days like we did taking in all the best that New Mexico has to offer.
After stopping at Smokey Bear, we visited:
The day before we visited:
Dog Canyon Trail in Oliver Lee Memorial State Park

White Sands National Monument…
Things to do in White Sands National Monument
From sledding to hiking there are many things to do in White Sands National Monument. Find out everything you need to know about visiting one of the most unique places in New Mexico
Read more
Although the U.S. is a relatively safe country for travel, medical costs are high so if you're an international visitor we recommend purchasing travel insurance before any trip. We've been using World Nomads through 80+ countries over the past 12 years and have been really happy with their coverage and services.
For more details check out our Word Nomads review here.
Know Before You Go
Hours: 9 am to 4:30 pm
Entrance fees: $2 per adult and $1 per child between the ages of 7-12
Duration: 1 hour
Hotel: Travelodge (starting at $35)
Nearest large City: Alamogordo is 77 miles or 90 mins by car; Roswell is 70 miles or 75 minutes by car
Website: Smokey Bear Historical Park
Phone Number: (575) 354-2748
Did you enjoy reading about visiting Smokey Bear?
Pin it & help others find it too!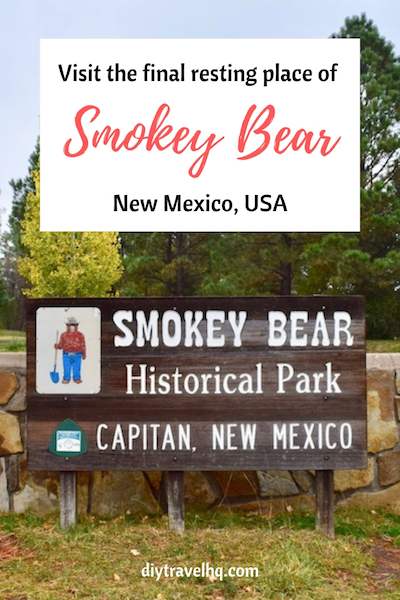 Disclaimer: This post contains affiliate links, which means that we make a small commission if you click on a link and purchase something that we've recommended, at no extra cost to you.
Visited in October 2018