Is El Morro National Monument worth the 2 hour drive from Albuquerque? Absolutely! Find out how to hike & camp there for free on a New Mexico road trip. 
Sheena and I actually made the 7 hour epic drive from Carlsbad Caverns National Park to the El Morro National Monument Campground in one night to allow us to see all the top attractions in New Mexico in 9 days.
As always, we used a Lonely Planet guide book to help us plan our trip. 
El Morro History
Visiting El Morro, well before it became a national monument and a national park, was a frequent occurrence by travelers. People came from far and wide to the reliable watering hole tucked at an inside corner of the sandstone bluff.
It was due to all these travelers, most notably the Spaniards, that there are so many "Paso por aqui" (I pass through here) inscriptions carved on the rock faces. Mixed in are English engravings and pre-historical petroglyphs. Let's take a look at the hiking you can do at El Morro.
El Morro National Monument Trails
There are only two trails at El Morro. These are the Inscription Trail and the Headland Trail. Luckily, they can be combined into a nice loop (provided the Fall 2018 trail construction is finished).
Inscription Trail
The paved Inscription Trail is just ½ mile long, and takes no more than an hour if you are in a rush. The main attractions are the pool, and inscriptions described above.
There aren't many signs, so don't forget to grab the trail guide at the Visitor Center. This gives you a brief description to the plaques placed along the Inscription and Headland Trails.
Headland Trail
Provided you have at least 2 hours to spend at El Morro, tacking on the Headland Trail to the Inscription Trail is a good decision. Not only do you get great views over the surrounding landscape, but you can see the Puebloan ruin, Atsinna.
Atsinna was occupied during the 13th and 14th centuries, of which a portion has been excavated for viewing as you follow the path that winds between the buildings. The location was very strategic from a defensive position, but also due to the pool located at the base.
Along the Headland Trail you will climb 250 feet in elevation and cover 2 miles. Once you get to the top, the Headland Trail snakes around the sandstone bluff with notched stairs and a worn path until you make your way back down to the Visitor Center.
El Morro National Monument Camping
El Morro has 9 camp sites that are on a first come first served distribution system. Amenities include water during warmer months, bathrooms, gravel pad for tents, picnic bench, ground grill, and can accommodate up to 27' long RVs. These services are free, making it one of the top campgrounds in New Mexico.
If you're not a camper there are several properties listed on Airbnb that are within the vicinity of the park entrance.
When to Visit El Morro National Monument
The best time to visit is during the summer due to warmer and longer days. We visited in mid-October for the Albuequerque Balloon Festival and found it just as enjoyable.
The elevation is over 7,000 feet so plan on warm camping gear, especially in the off-season. We don't recommend visiting from December to mid-May when snow will close the Headland Trail and maybe the Inscription Trail.
Nearby Attractions
The nearest attraction if you want to spend a weekend camping at El Morro is El Malpais National Monument. Here you can explore another sandstone bluff, but the main attraction is the volcanic remnants.
You can see lava fields above ground, or explore lava tubes beneath the surface with the proper equipment. Other attractions include watching bats fly out of a cave at night, hiking El Calderon Cinder Cone, and going inside a private year-round ice cave ($12).
We experienced a lot of these environments in Mexico and Central America so decided not to visit ourselves. Instead, we chose to travel north to explore Chaco Culture National Historic Park and the Bisti Wilderness Area (aka Bisti Badlands).
Join us on our tour of northwestern New Mexico by clicking the links above. Please keep in mind that El Morro trails do not open until 9 am so you have to move fast to see one or both attractions in the same day. We were only able to go back in time at Chaco Culture National Historic Park.
New Mexico Car Rental
In order to get around New Mexico, you need to have a car. If you flew into Albuquerque like us, then your cheapest option is Budget Car Rental. One of the key benefits was that they were one of the few companies open until 1 am, which worked with our late flight from New York City.
We were surprised to find that Sheena was able to rent a car much cheaper as an Australian than I was as an American. If you're an international visitor, keep that in mind during your online research. You could save big $$$…
Travel Insurance
Although the US is a relatively safe country to travel in, medical costs are high so we always recommend purchasing travel insurance before any trip. We've been using World Nomads in our travels through 80+ countries over the past 12 years. It's the best-value provider we've found in terms of price and coverage and we haven't had any issues when we've had to make (fortunately) minor claims.
For more details check out our World Nomads review here.
Get a quote for travel insurance now
Know Before you Go
Hours: Memorial Day thru Labor Day – 9 am to 6 pm; Remainder of Year – 9 am to 5 pm; Trails close 1 hour earlier
Fees: Free!
Duration: 1-3 hours hiking
Camping: 9 camp sites on a first come first served basis for free
Nearest Large City: Albuquerque at 2 hours by car
Website: National Park Service
Phone Number: (505) 783-4226 ext. 801
Did you enjoy reading our post on visiting El Morro, New Mexico?
Pin and help others find it too!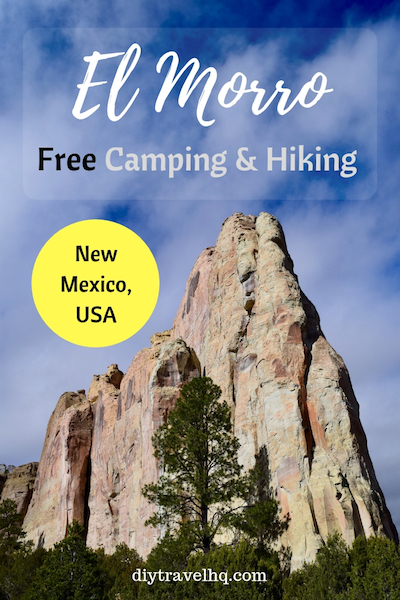 Disclaimer: This post contains affiliate links which means that we receive a small commission if you click on a link & purchase something that we've recommended, at no extra cost to you.
Visited in October 2018