Not sure what to do in paradise? Our guide has the best things to do in Gili Air, Lombok and info on boats, food and much more. Dive in and start planning your trip!
Planning a trip to the Gili Islands? There's Gili T and Gili Meno but we think Gili Air is the pick of the bunch.
There are plenty of fun and interesting activities on Gili Air along with fantastic restaurants, cafes and beach bars. The slower pace is perfect for relaxation while curious travelers can explore the island and meet the locals.
Find more inspiration in one of the Indonesia guide books below!
The top 10 things to do in Gili Air are: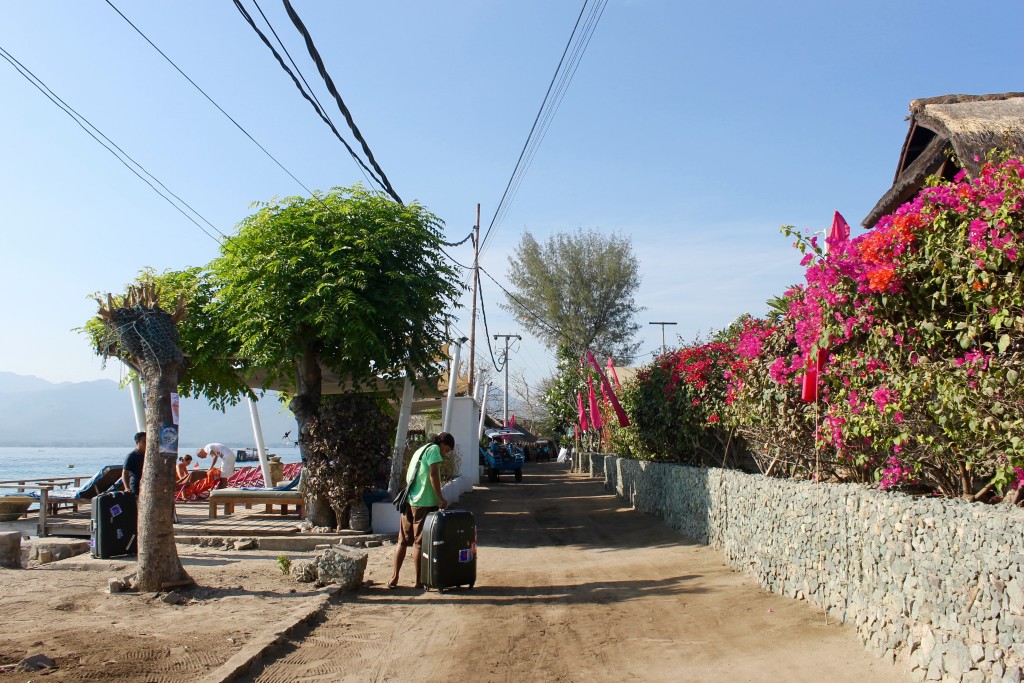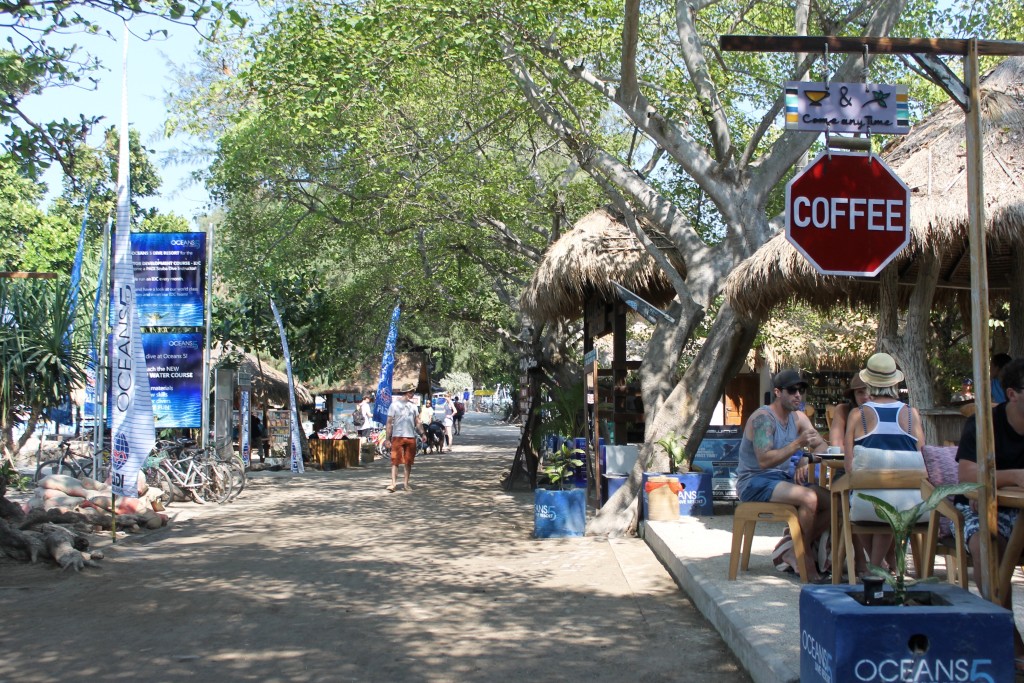 Things to Do on Gili Air
1. Dive on Gili Air
Wondering what to do on Gili Air? Well the calm waters, wide range of dive shops, and relatively easy access from Bali makes it a popular place to dive or to take a course. It's also on our list of the best places to visit in Indonesia.
The current is very gentle, the water temperature is warm year-round and the visibility can be up to 30+ meters. The conditions are perfect for beginners but there are Gila Air diving sites to suit all levels. They are:
Gili Air Wall
Blue Plains
Hans Reef
Batfish Point
Nudibranch Heaven
Soraya
The best time to dive on Gili Air, Lombok is between May to September. Try to avoid the rainy season in December and January when heavy rainfall greatly reduces visibility.
Some of the marine life you can expect to see include turtles, clown fish, frog fish, seahorses, ribbon eels and black spotted morays. Due to damage from warm currents and cyclones, coral is average for open water divers but it starts getting better at 18+ meters.
Read more in our Diving section below…
Also whether you're a diver or not, we recommend purchasing travel insurance to before any trip to Indonesia. We've been using World Nomads through 80+ countries over the past 12 years and have been really happy with their coverage and services.
For more details check out our World Nomads review here.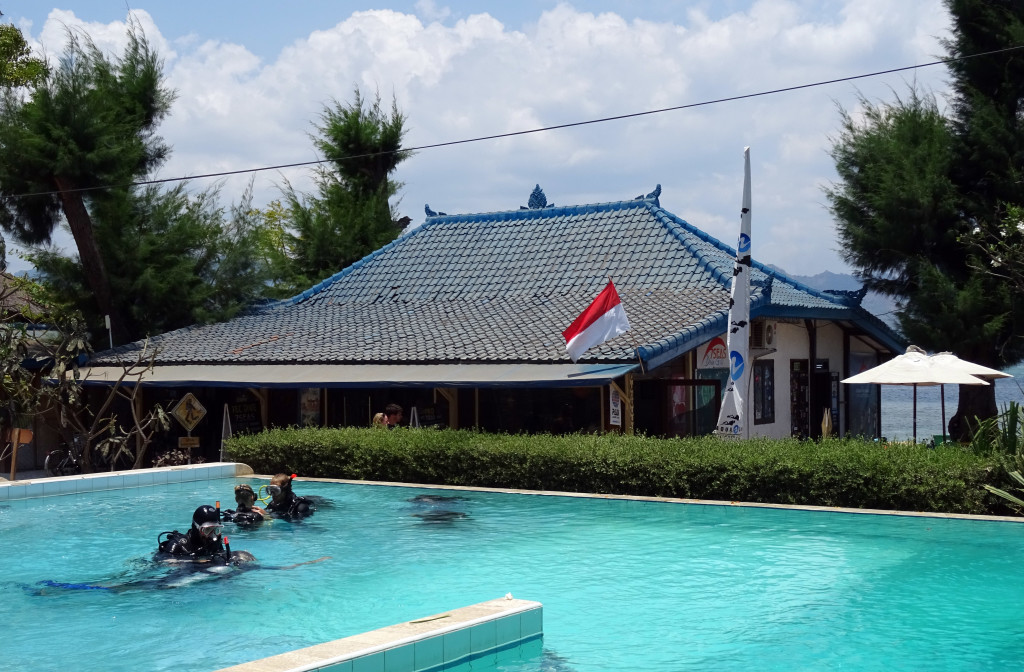 2. Swim at Gili Air Beaches
For non-divers other activities include walk-in snorkeling, sunbathing, strolling around the island, and eating and drinking in the many cafes and restaurants along the main street.
Many of these activities revolve around Chill Out Bar. The best beach on Gili Air can be found in front. Snorkelling is popular here too
The sandy, gently graded shoreline is a great place to play in the shallows or launch into snorkeling without fear of stepping on coral. You can spot several clusters of coral, tropical fish, and mantis shrimp make an occasional appearance.
At high tide you can also swim at the beaches on the other side of the island to the west. This is a very popular spot for watching the sunset and there are many bars along the beach.
Despite the amazing turquoise waters, we were surprised and disappointed to find a lack of nice beaches on Gili Air island. The snorkelling and diving is great but if f you want to go swimming and relax by the water, we recommend checking-in to a nice hotel with a pool.
Or you could also check head over to Nusa Lembongan…
Things to do in Nusa Lembongan
Nusa Lembongan, Bali is the perfect getaway with something for everyone – find out the details on the best value diving, accommodation, ferry options & what to do on one of Indonesia's best islands
Read more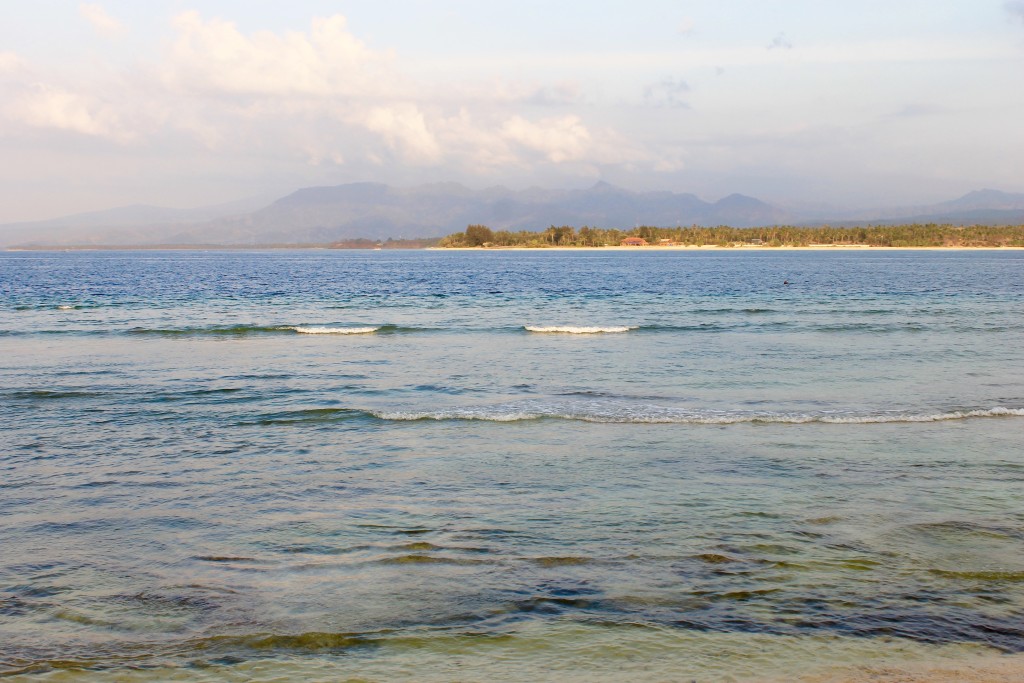 3. Snorkel at Turtle Heaven
One of the best things to do in Gili Air, Indonesia is taking a snorkeling trip around the 3 islands.
There are kiosks right when you dock to the island, and you can book a trip right then and there. These tours can take you out to see all 3 Gili Islands, the underwater statues, a small shipwreck, and turtles the size of dinner tables.
You'll take a small boat out with the tour guides, and they will provide all your snorkel gear. Depending on how many are in your group, you may be able to ask the captain to go to the places you would prefer. There are some famous underwater statues that have couples standing in a circle that are a fun stop to see.
The best stop is probably Turtle Heaven, where you can see and swim with dozens of turtles. They're usually pretty calm, and will swim alongside you as well. Great for that picture perfect opportunities! You'll also see plenty of tropical fish and maybe some rays as well.
By Sara, Our Kind of Crazy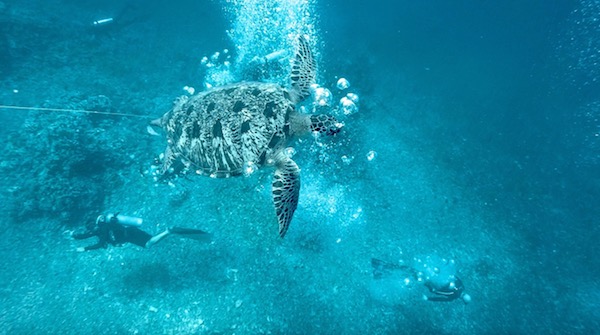 4. Explore Island Life
Gili Air is only 3km long and 2km wide. A stroll around the entire island only takes about two hours on foot. It gets pretty hot so it's best to go exploring first thing in the morning.
You can rent a bicycle for around 30-50,000 IDR / $2.15-$3.55. Request a bike with oversized tires that can tackle the deep sands on the western side of Gili Air. If you're venturing out that way, you may end up having to walk alongside your bike anyway.
On your tour of the island you'll come across several strips of restaurants and accommodation parallel to the sea, sand bars at low tide in the north, cute horse drawn carts with car tires, and an odd field with grazing livestock.
Go inland for an insight on how the locals live. Gili Air is a Muslim island so out of respect, dress appropriately and cover up whenever you're outside of the touristy beach areas.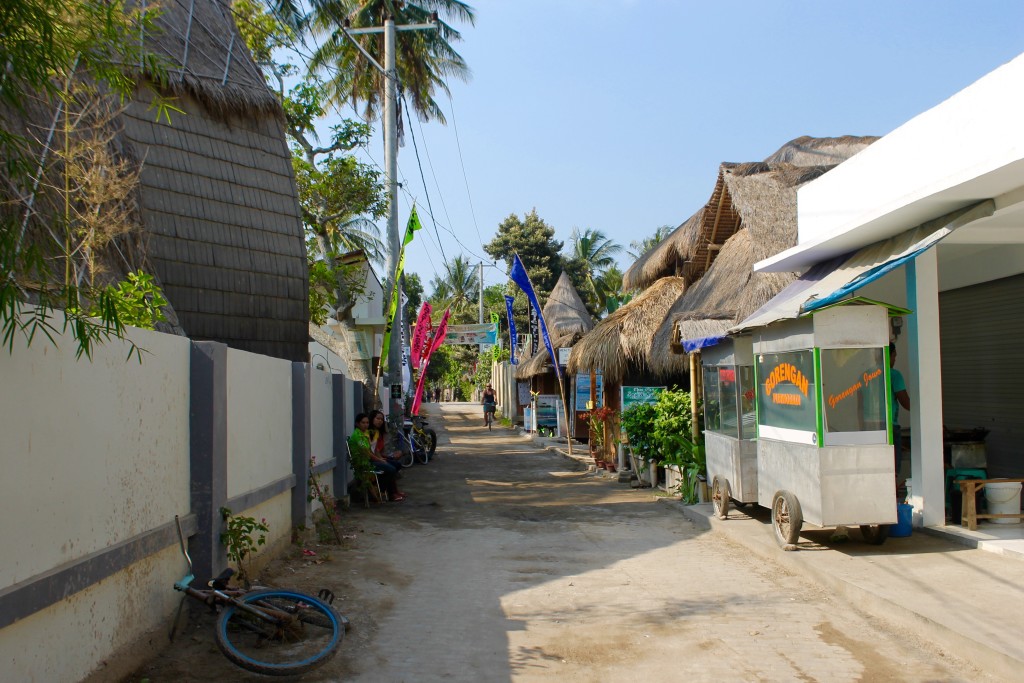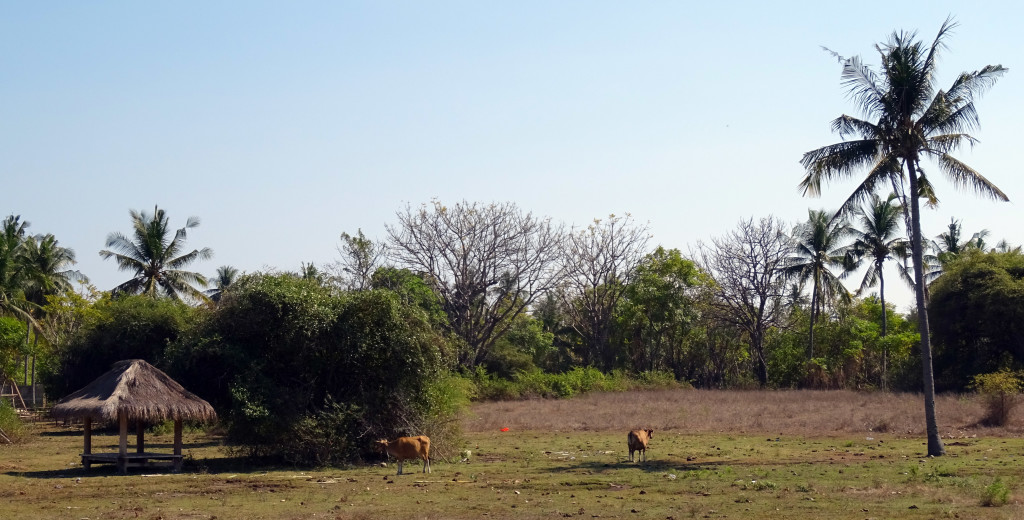 5. Find the Gili Air Swing
If you didn't take a photo of a swing in the sea, did you even go to the Gili islands?
The trend started on Gili T but you can also find swings and hammocks on Gili Air. They're on the beaches in front of:
Gili Lumbung Bungalows
Pelangi Cottages & Restaurant
PinkCoco
Star Bar & Bungalows
Lucky's Bar
The swings and hammocks have been put up by the businesses but anyone is free to use them. Sometimes you might have to wait your turn but the lines are never as long as on Gili T to take a photo.
The best time to swing away is during sunset – post a photo and see those Instagram likes roll in…
6. Watch a Gili Air Sunset
Another great spot to watch the sunset on Gili Air is from the beaches on the western side. The sun goes down every day at around 6pm.
You can have a drink at one of the beach bars. Sit under cover or make yourself comfortable on a bean bag, with your feet in the sand. Quench your thirst with a cold Bintang or a fresh coconut as you wait for the sky to put on its show.
There are around 10 bars within a 200m stretch. They include:
Mowies Bar
Lucky's Bar
Salabose
Gili Smile Bar
Gili Lumbung
Ellake Tappang Bar
Zipp Sunset
Backpackers should compare prices and Happy Hours. All the bars play music and sometimes they'll be live bands or musicians.
If you want to get away from it all, find your own patch of sand away from the crowds and noise. The further north you go, the quieter and less crowded it will be.
Get your cameras ready as the sky turns red, orange, pink and everything in between. It's one of the most striking sunsets you'll see anywhere in the world.
Against this backdrop, tourists on horseback ride along the beach and kids play in the tide pools. On a clear evening, you'll even see Bali & Mount Agung in the distance. Every sunset is different on Gili Air so try to catch as many as you can.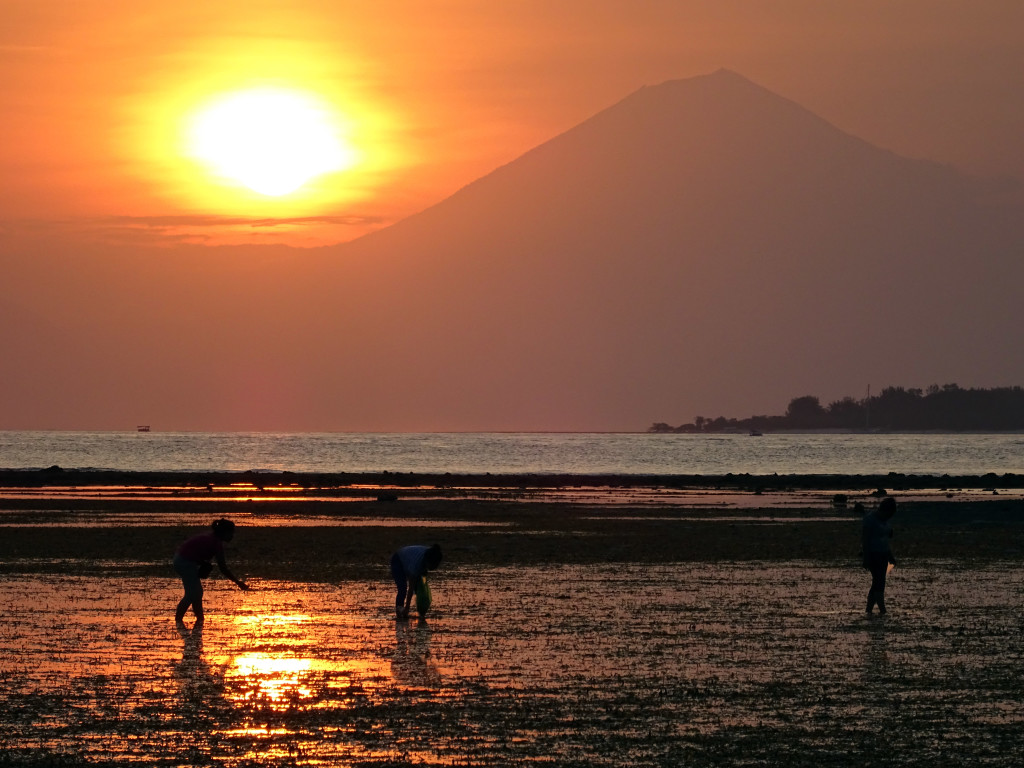 7. Try Stand Up Paddle Boarding (SUP)
The sunsets on the Gili Air are spectacular, and an amazing way to experience them is from a new perspective – on a stand up paddle board! This is a really fun thing to try on the islands and may prove to be one of the most memorable moments of your trip.
Sunset tours are offered daily on Gili Air. Even if you've never tried it before, the guides go through training and safety briefings before entering the water. Although some core strength and good balance is helpful, the sport can be picked up fairly quickly. If you lose your balance and fall in the water, not to worry – the waters are warm and calm, and getting back on the board isn't too tough.
The tour lasts about 90 minutes, and as you paddle around the island with the group, you can often come across sea turtles and tropical fish. Once sunset is approaching, you stop paddling and rest to take in the serenity and peace of the moment, and watch the sun slowly slip down to the horizon, before paddling back to shore.
Don't forget your GoPro and be prepared for an incredible sunset! Or, if you're a morning person, sunrise paddle boarding tours are also offered. To help plan your trip, here are a few more things to know before heading to Gili Air.
By Katie Dundas, The Accidental Australian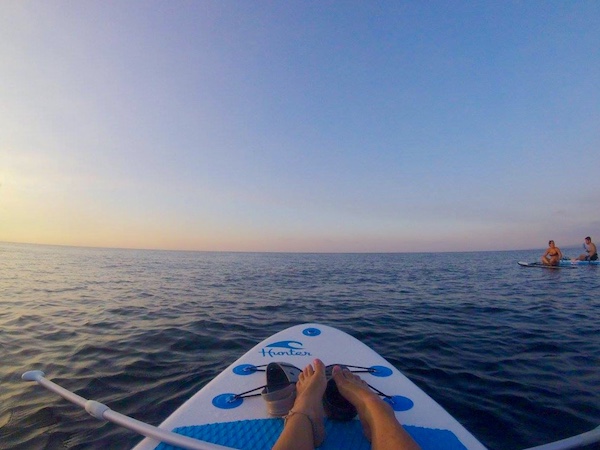 8. Take Part in a Beach Clean Up
After China, the second-largest contributor to marine plastic pollution in the world in Indonesia. You can do your bit to help the environment by taking part in a beach clean up on Gili Air.
Organised by the Gili Shark Conservation, Beach Clean Ups take place every Friday at 5pm at Oceans5 Dive Resort. There's no need to sign up, simply show up and you'll be provided with bags and gloves.
Everyone in the group will head down to the beach in front of the resort and clear it of trash. This usually takes around 30-45 minutes. After you're done, head back to Oceans5 and enjoy a a free small Bintang for your efforts.
With a mix of old and new faces, the Beach Clean Up is a fun way to give back to the environment, meet new people and get involved with the local community on Gili Air.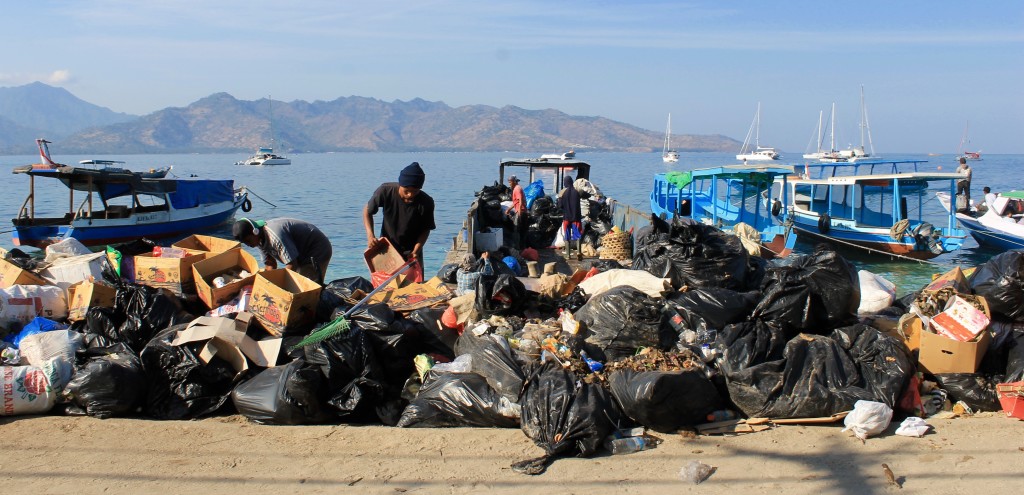 9. Learn How to Cook
Learn, laugh and eat as you cook a multi-course Indonesian meal with Gili Cooking Class. They're the 1st Indonesian cooking school in the Gili Islands, with all sessions conducted in English by professional local chefs.
There are 3 courses to choose from, with classes everyday at 11:30am, 4pm and 8pm. Prices start from 290,000 IDR / $20.65.
In the Intro Course you'll make fried tempeh, mie goreng ayam (fried noodles with chicken), peanut sauce and kelopon, a famous Indonesian dessert. The best part is you get to eat it all!
A cooking class is one of the top activities you can do in Bali with kids. And if you're in a group or have a large appetite, there are 4 or 6 course menus too.
10. Go Island-Hopping
Gili Air is the kind of place where you can do as much or as little as you like. Staying longer will give you more opportunities to really get know not just Gili Air, but its neighbors as well.
You probably know now that Gili Air is the more laid-back island. Gili Trawangan, or Gili T for short, is the party island while Gili Meno (aka the one in the middle) is certainly the most rural one. All of them have their own charm and offer great scuba diving and snorkeling.
From Gili Air, you can travel between Gili T and Gili Meno. Here are some of the things to do in Gili Trawangan to get you started. The island hopping boat schedule is:
Morning Schedule: Gili Air 8:30am – Gili Meno 8:45am – Gili T 9:00am then departs Gili T 9:30am – Gili Meno 9:45am – Gili Air 10am
Afternoon Schedule: Gili Air 3pm – Gili Meno 3:15pm – Gili T 3:30pm then departs Gili T 4pm – Gili Meno 4:15pm – Gili Air 4:30pm
Tickets cost 40 000 IDR / $2.85.
Check these times while planning your trip and again when you get there.
Other options to travel between the islands include tours, fast boat services and taking the public boat to/from Bangsal. Either way, boat services are limited and unreliable so we definitely wouldn't recommend trying to visit both island in 1 day.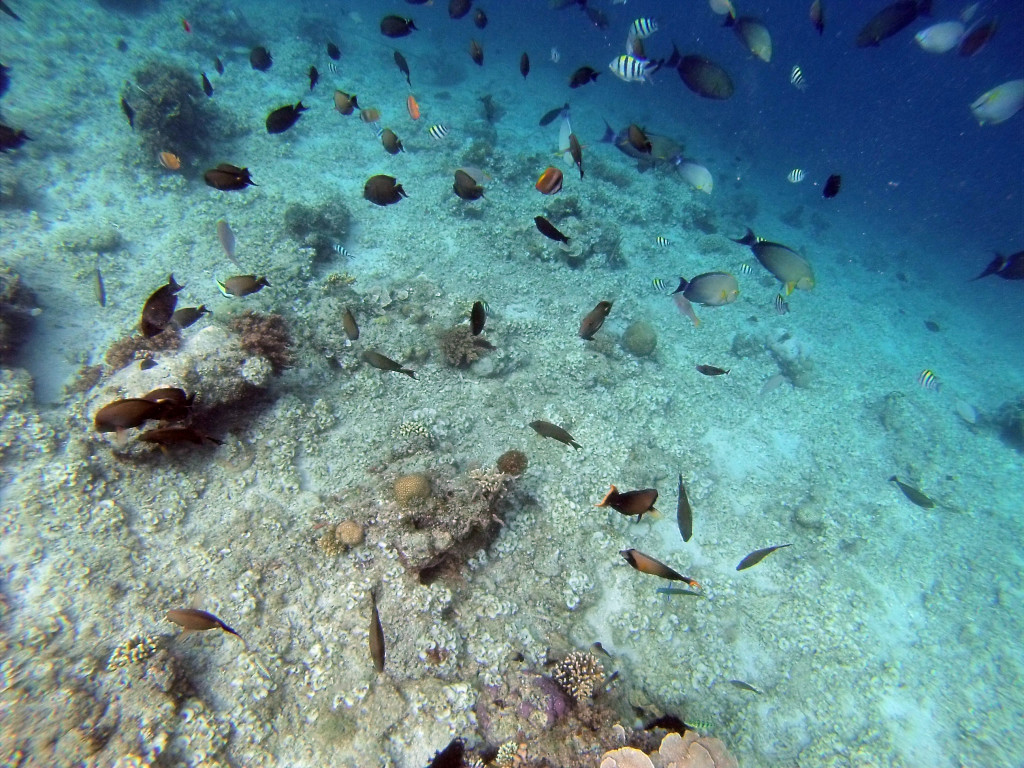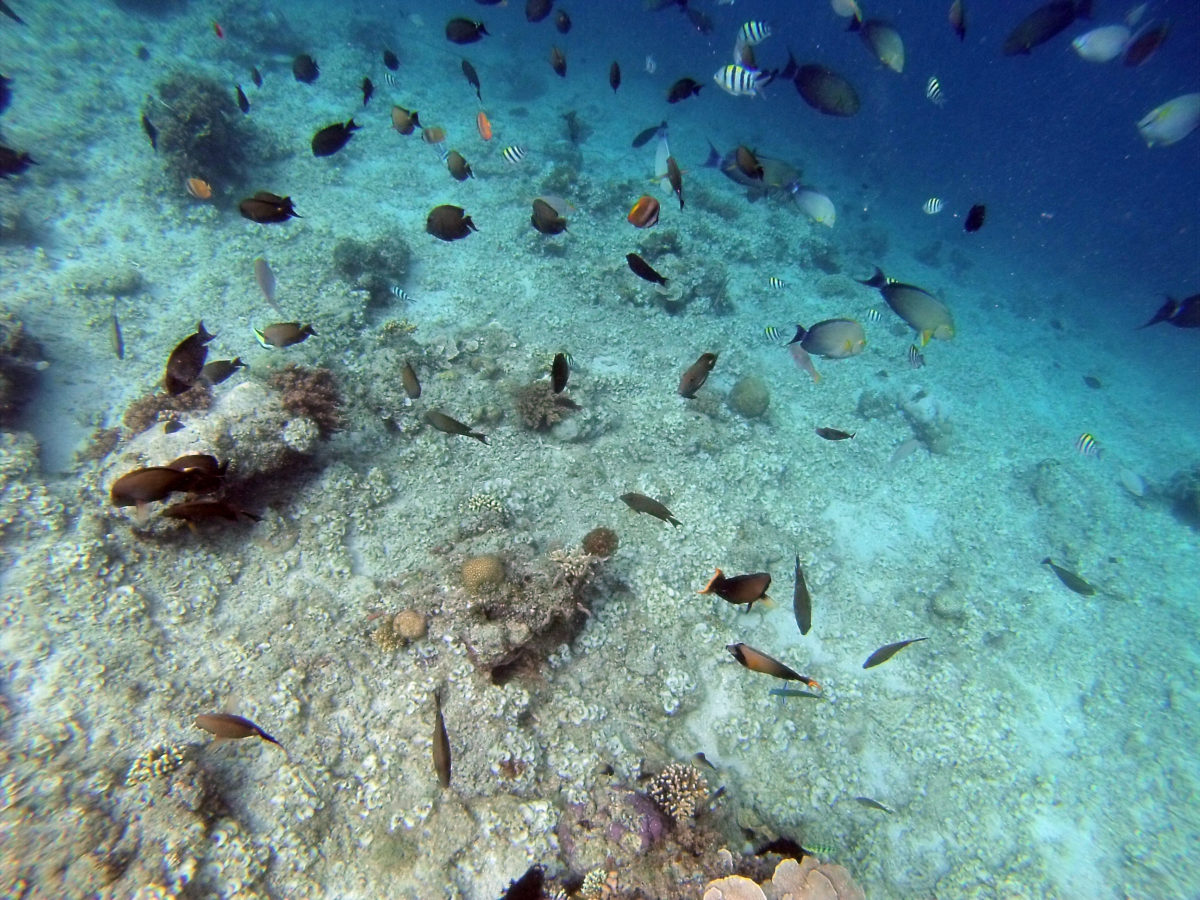 What are the Gili Islands?
Now that you know what to do on Gili Air, let's take a deeper look at the Gili Islands in general.
The Gili's are a collection of 3 vehicle-free satellite islands, just off shore from Lombok:
Gili Trawangan – the largest and farthest from the mainland is the party island
Gili Meno – sandwiched in the middle and is the smallest and calmest island
Gili Air – closest to Lombok is and the "porridge is just right" island
Gili Air is the only island with natural springs, so unlike Gili T or Gili Meno, locals are a bit part of the island's fabric.
That being said, hotels and restaurants close to the water may still have salty water so remember to check this with your accommodation.
As you may have guessed we're a bit biased towards Gili Air… the combination of locals, a more intimate atmosphere (while maintaining amenities), and cheaper prices makes Gili Air a winner among the three islands!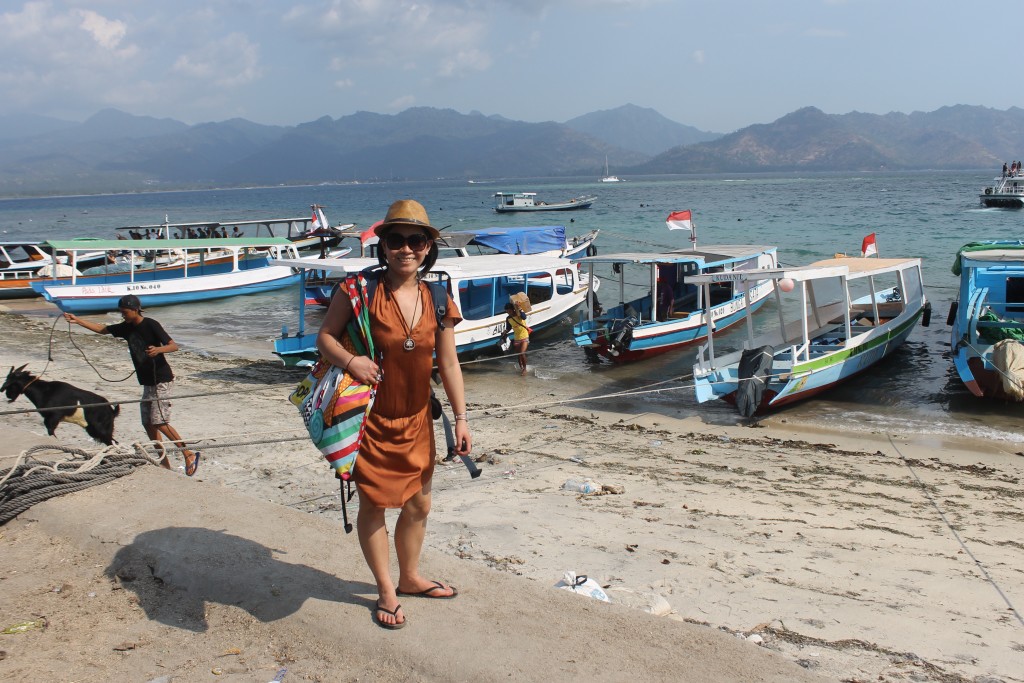 Diving on Gili Air
Learning to Dive
One of my goals in Indonesia was to learn how to dive. After a lot of research I decided to take my 3 day Open Water course on Gili Air. It was cheaper than on Gili T and there were still around 8 dive shops to choose from.
A price agreement on Gili Air means that the minimum price for a PADI or SSI Open Water diving course is 4,900,000 IDR / $349.00.
You'll find cheaper places to dive in:
The dive shops are pretty much the same but some of their attitudes can be a bit blasé. Try to meet your instructor before signing on so you can see if you'd work well together.
Read our next post to find out more about learning to dive on Gili Air…
Open Water Course Review on Gili Air
We've compared all 8 PADI & SSI dive centres on Gili Air, Indonesia – find out why we chose to do our Open Water course with 7SEAS Dive Gili
Read more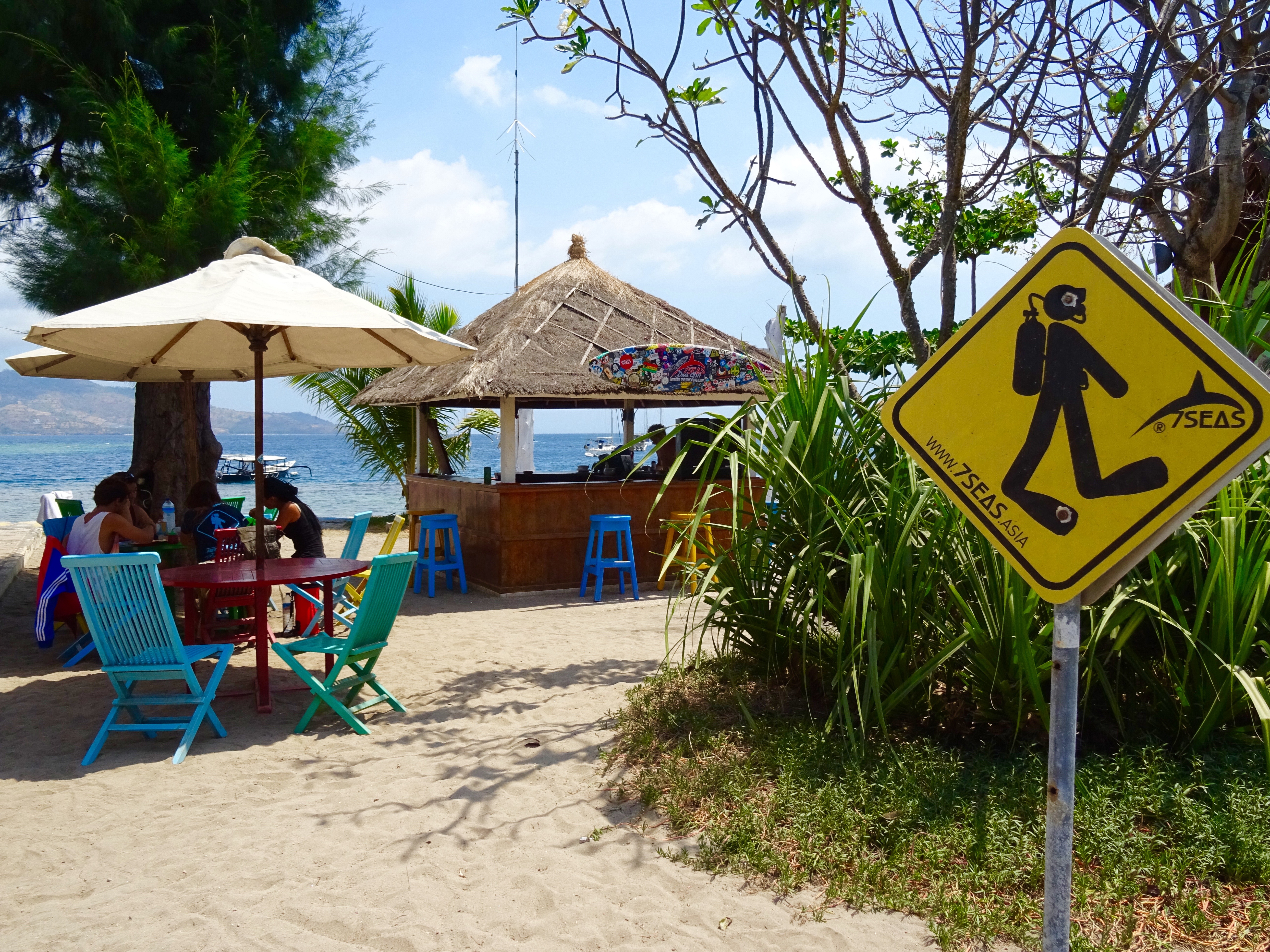 Turtle Heaven
The Gili Islands are located between Lombok and Bali and offer some of the most beautiful diving spots in Southeast Asia. Probably the most beautiful of these places for diving is the Turtle Heaven, which is also called Turtle Bommie. It's located near Gili Air but even if you're staying on one of the other Gili's, you can find diving schools that offer trips to this unique place.
As you can guess from the name, you'll find many turtles at Turtle Heaven. The green sea turtle is actually native to this spot. As these unique marine creatures are used to scuba divers, they are hardly impressed by humans and go about their usual activities. So you can swim with these laid back animals, or watch them eat or sleep in their natural habitat.
Dive trips usually take place in small groups or with dive pairs, so that the animals won't be disturbed by many people. In addition, this amazing diving spot can be visited by divers of all levels as the turtles aren't living too far below the sea surface. The only thing to keep in mind during the dive is that the peaceful animals should not be touched under any circumstances, so they continue to be so relaxed around divers.
By Vicki, Vicki Viaja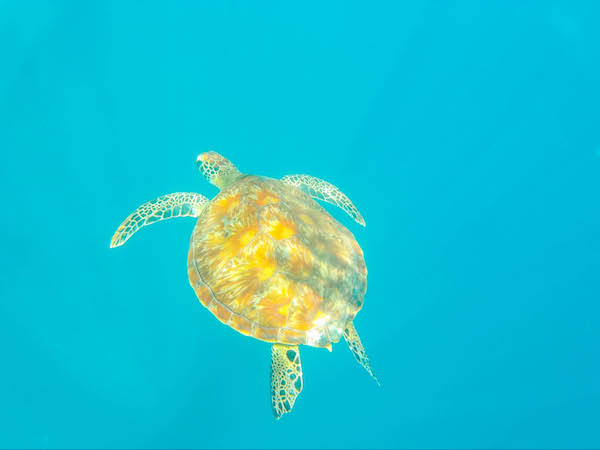 Budget Gili Air Accommodation
There's a wide range of accommodation options on Gili Air, from dive resorts down to family-run bungalows.
Despite a backpacker scene years ago, many places have upgraded to air conditioning and the prices have gone up up accordingly.
* Tip: For those staying several days, it is a savvy idea to purchase your own large water container even if you don't drink it all. Cheaper places tend to have bore water, which contains heavy minerals. This means you cannot rinse waterproof camera cases, or lather well. Signs of bore water include metal faucets that appear rusted with white warts, one of several signs of decay you may come across on the island.
Budget (fan) bungalows tend to average 200,000 IDR / $14.25 with some offering multiple night discounts.
Back in September 2015 we stayed at Alka Cottages for 180,000 IDR/ $12.80 a night. It was a simple fan room but we had our own thatched bungalow. We found it while we were walking around searching for accommodation – we would've founded better deals if we'd booked online.
Alka Cottage was a few strips back from the main strip. It doesn't look like it's around anymore but we've included the info and photos to give you an idea of what to expect: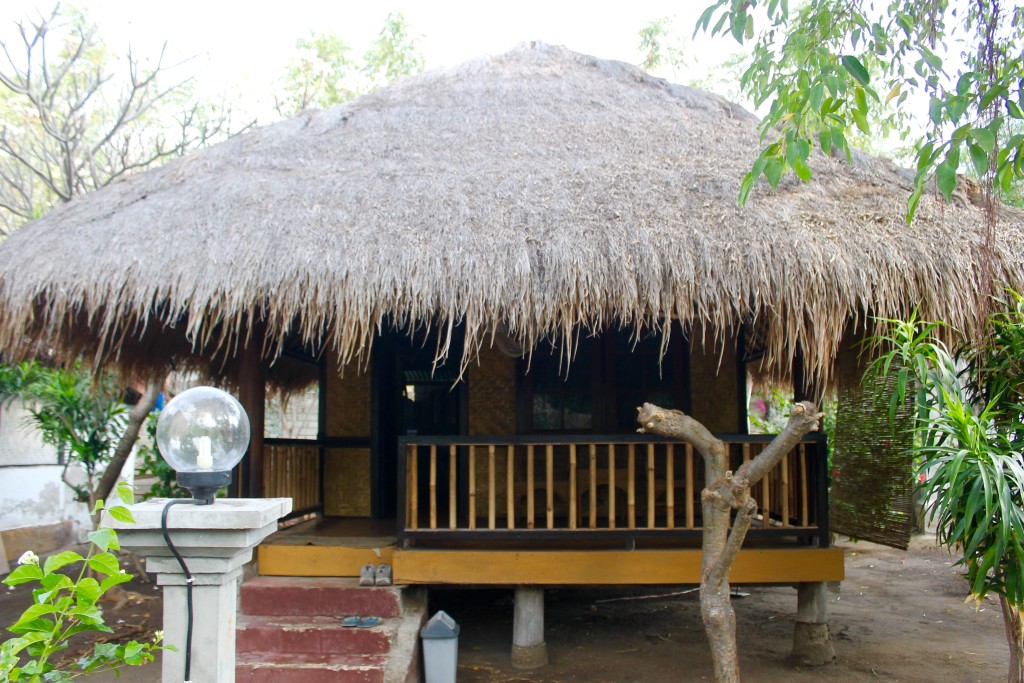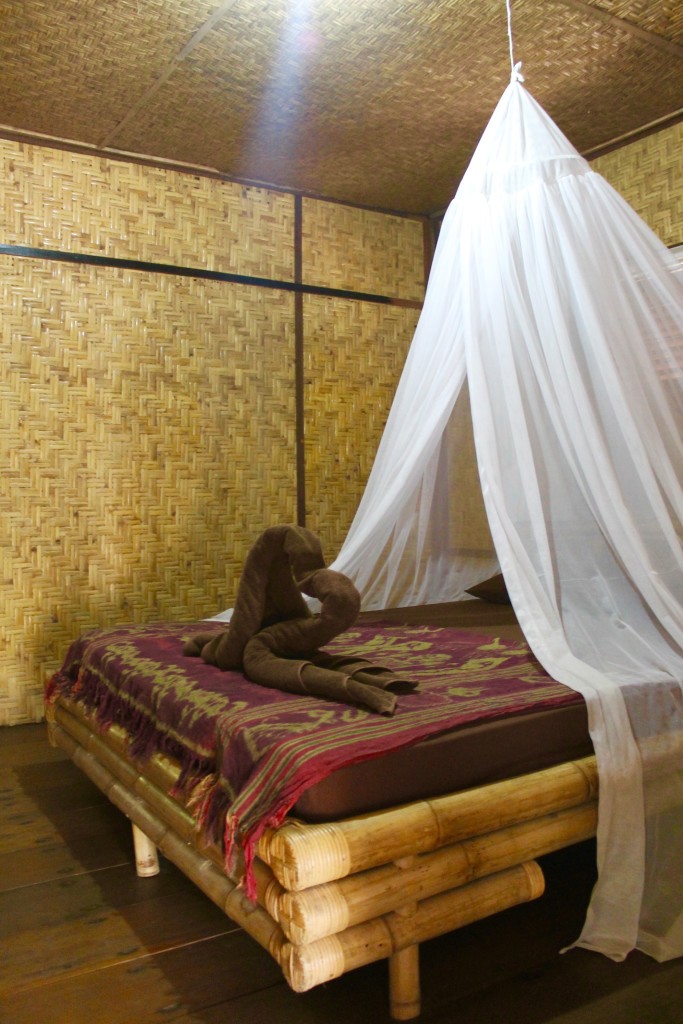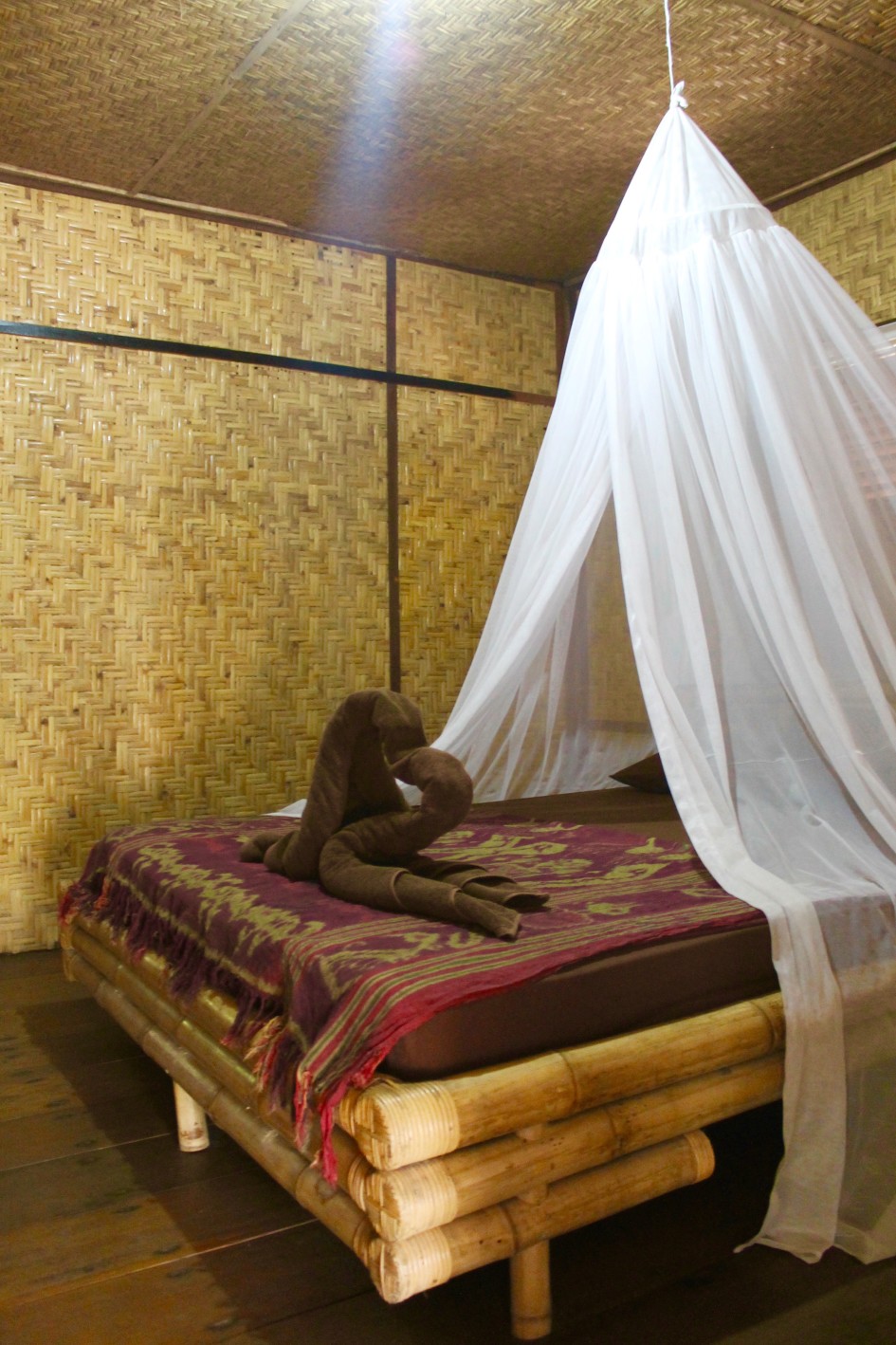 Budget: You can get private rooms for 2 people with ensuite bathrooms for as low as $8, including breakfast. Check out Mangga Homestay & Waroeng Ibu Atun & Bungalow. You'll be able to find many great deals under $20.
Mid-range: Captain Coconut Hostel is a beautifully designed 5 Star Hostel. It comes with a swimming pool, a tasty in-house restaurant, and even huts for the private rooms. The dorms are in the open-space area in the upper floor with a view to the pool. Dorms are $12 and private rooms start from $50.
It's recommended by Matt from Hostel Geeks.
Luxury: You can live it up in luxury accommodation on Gili Air from $50 & up. This can get you a resort with a pool, rooms with air-conditioning and even your own balcony. If you really want to splurge there are hotels for over $300.
Check accommodation prices on Gili Air
Food & Drink
Along with the dive shops and accommodation, most of the restaurants are located in a short strip on the southeast coast . This makes comparison shopping convenient, and allows the opportunity to hop from place to place.
Keep in mind that you are on island time so even the simplest order can take more than 30 minutes to receive, even if you are the only customers.
Warung: As locals live on the island, there are several great warungs on Gili Air. Firda Warung is the best of the bunch, located just off the main street. It's a family-run eatery (and homestay) and the staff are always friendly and smiling. The peanut sauce in the gado gado is crazy good and the spring rolls are delicious.
Cafe: Detox from all that fried food you've probably been eating with a healthy and nourishing meal at Pachamama Cafe. Vegans and vegetarians will feel at home here with many non-meat options. Think hummus, falafel, açai bowls, rice paper rolls and kombucha… The decor and setting is absolutely gorgeous and the plates are beautifully presented too. Get off the main street and find Pachamama Cafe on the north-east side of the island.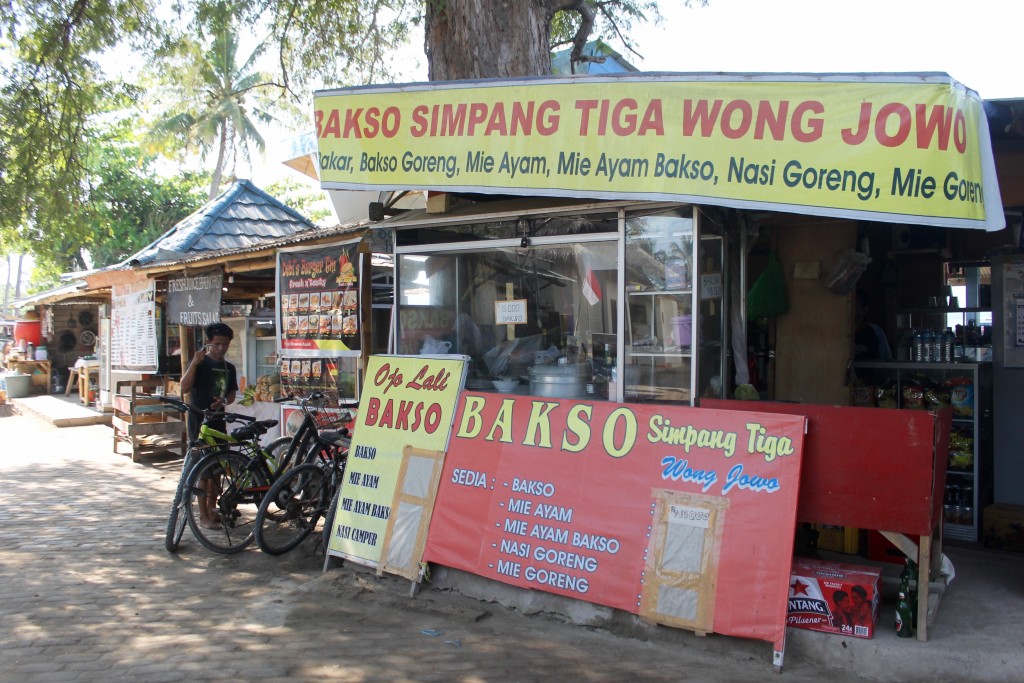 Beachfront: The best value on the island goes to Chill Out Bar for their 200 gram fish bbq with two sides at 60,000 IDR / $4.25. Their specialty is grilled seafood steaks and skewers but they also have a huge menu with curries, pizza, pasta, sandwiches, burgers, Chinese and Indonesian food.
You can sit on tables right on the beach with your toes in the sand. Budget seafront dining doesn't get any better than that! There's also seating on a raised platform facing the sea or in the restaurant proper.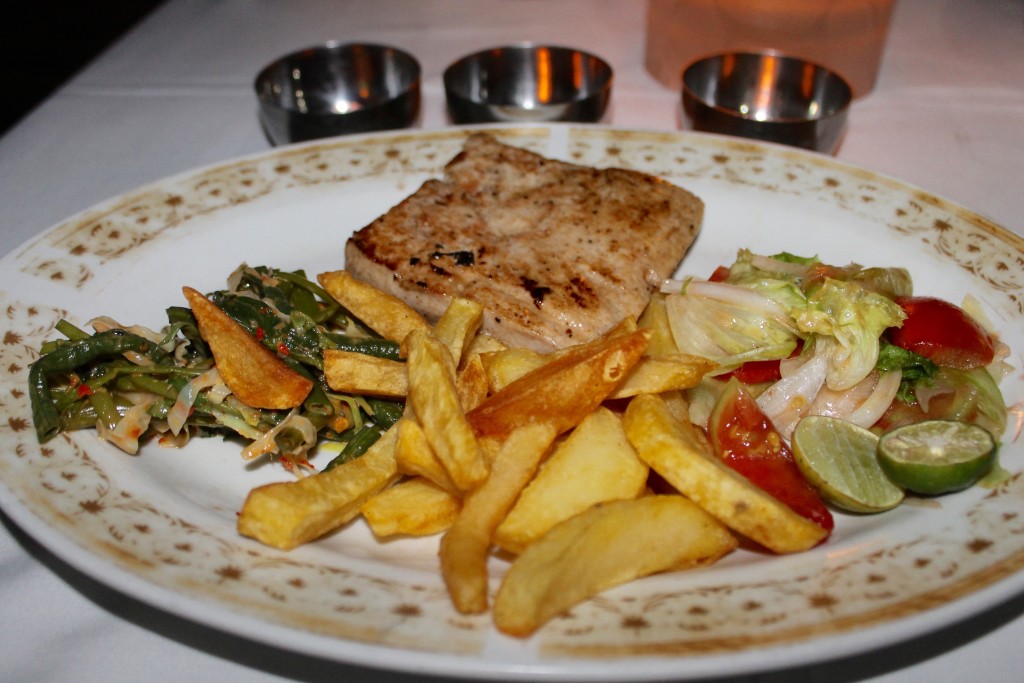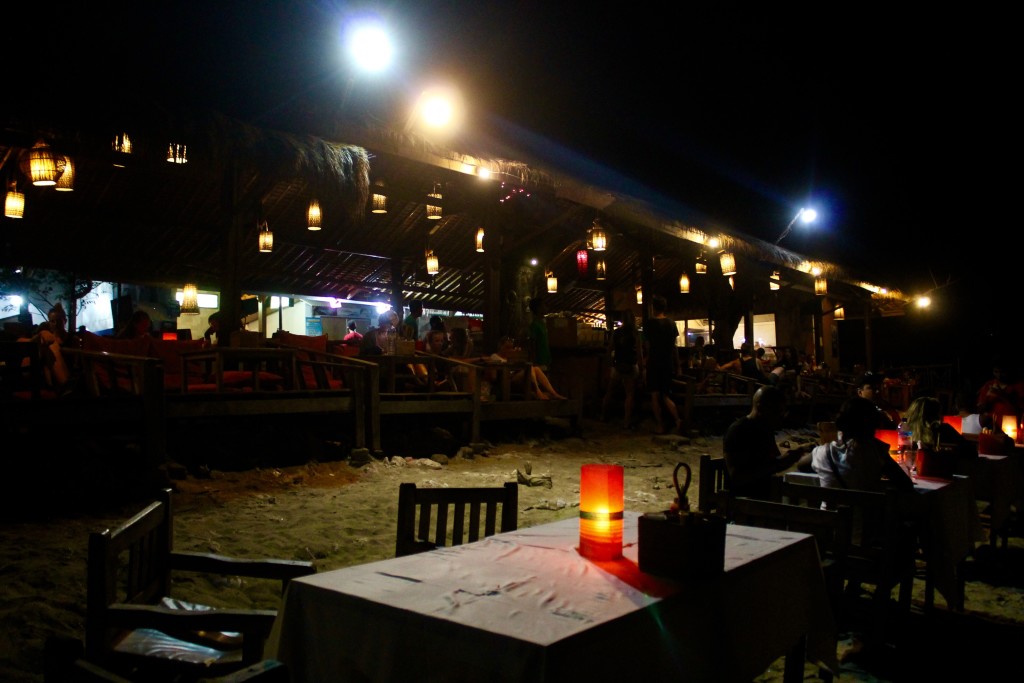 Getting To & From the Gili Islands
Fast Boat
Most visitors to the Gili Islands will be arriving from Bali.
You can get from Bali to the Gili Islands by fast boats from numerous locations such as:
Sanur – 650,000 IDR / $46.30
Nusa Lembongan – 600,000 IDR / $42.75
Padang Bai – 650,000 IDR / $46.30
Amed – 550,000 IDR / $39.20
You can purchase fast boat tickets here.
Public Boat
Bali to Bangsal Harbor Lombok
Public boats to the Gili Islands depart from Bangsal Harbor in Lombok.
This means that if you're in Bali you'll first need to make your way across to Lombok – it's a long journey with multiple connections so think twice if you really want to do this. We would recommend it only for backpackers traveling on a shoestring and looking to save money.
To travel from Bali to Lombok first you need too take the public ferry from Padang Bai. It leaves every hour and the journey takes 4-5 hours. It costs approximately 44,000 IDR / $3.15.
From the port you'll need to take a bemo (15,000 IDR / $1.10) or taxi to Mataram.
From the Mataram bus station take another bus to Pemenang. Tickets costs 25,000 IDR / $1.80. It is then a short 1 km walk to Bangsal Harbor, or you can jump on a horse cart for no more than 10,000 IDR / $0.70.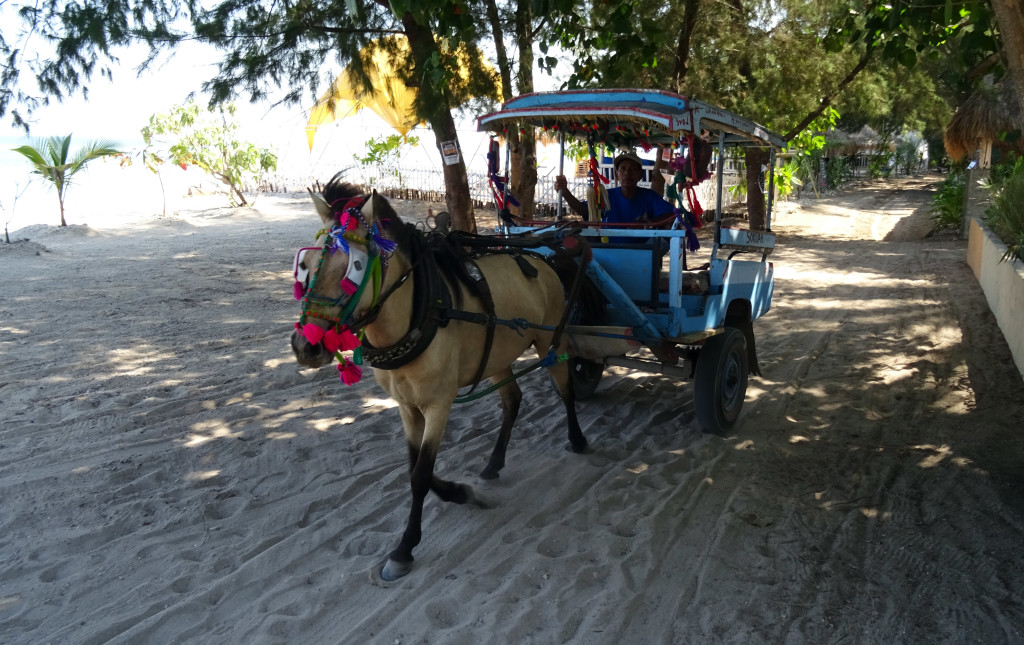 Bangsal Harbor, Lombok to Gili Islands
Boats from Lombok to the Gili Islands depart from Bangsal Harbor.
As you walk in to the ferry terminal, tickets to Gili Trawangan can be purchased in the building to the left and Gili Air tickets (19,500 IDR / $1.40) are bought from a stand to the far right.
The most important thing is to arrive as early as possible as the boats require 30 passengers to depart and your odds get slimmer by the hour.
These transportation prices are accurate as of September 2015 – they should only have increased by a small amount, if any.
For more information, check out our next post…
How to Get from Bali to the Gili Islands
Find out all the options on how to get from Bali to Gili Islands, including the prices & times of fast boats & slow boats from Sanur to Gili Air
Read more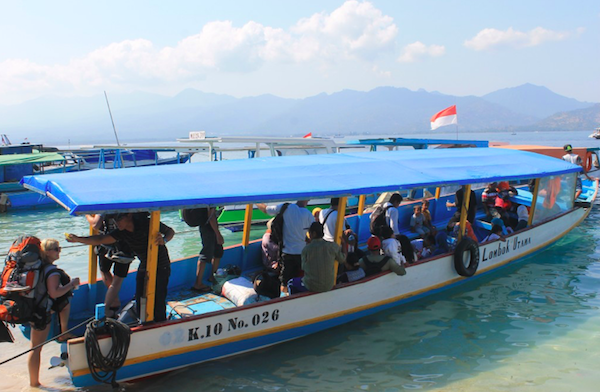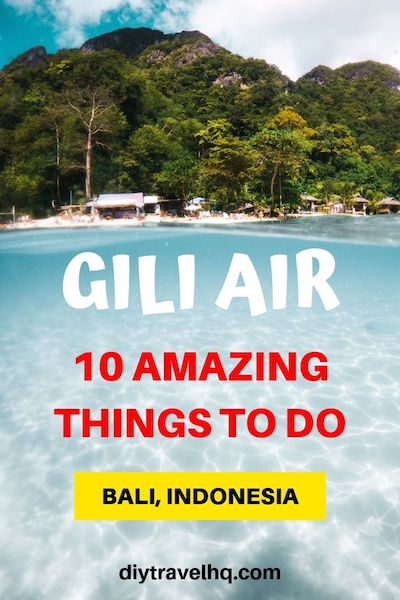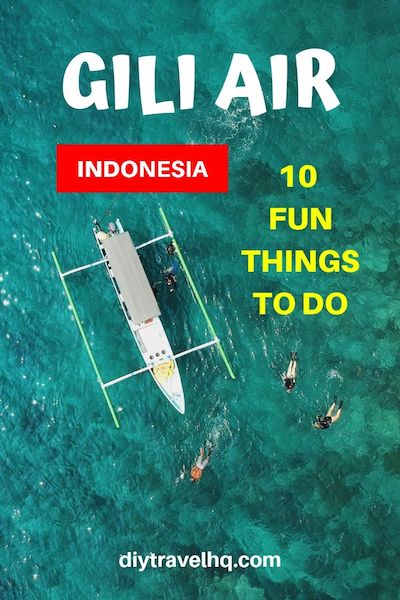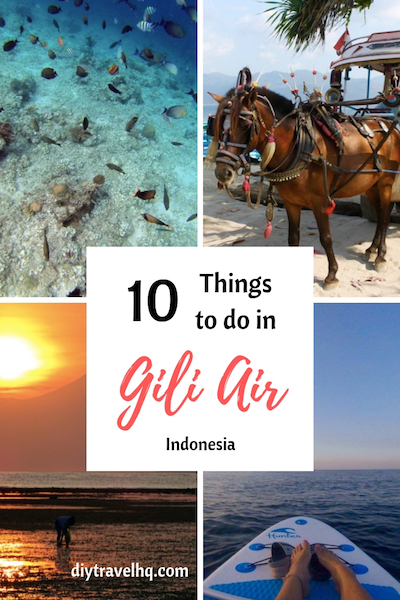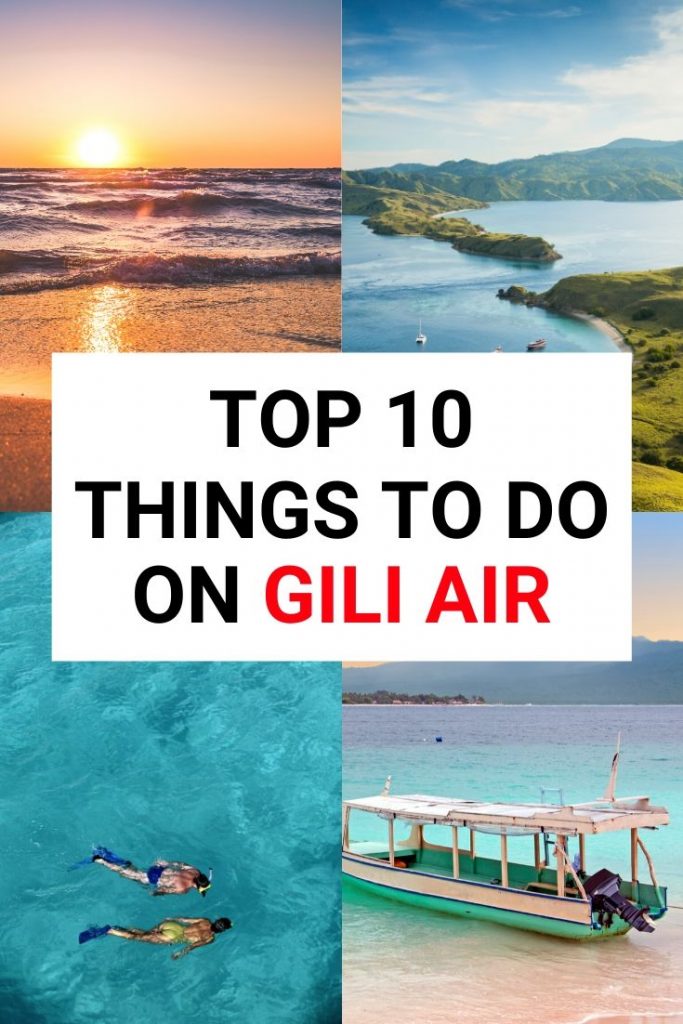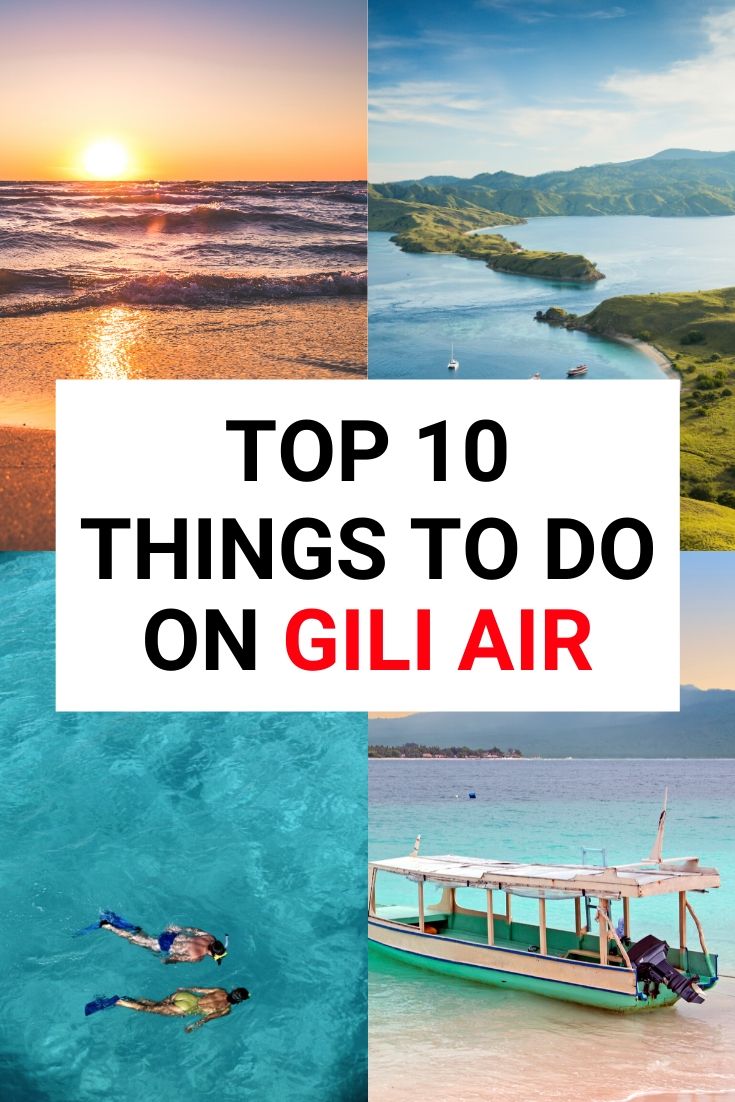 *** The Final Word: Gili Air is a fantastic place to relax and unwind on a budget ***
Which Gili Island did you choose to visit & why?
Disclaimer: This post contains affiliate links which means that we receive a small commission if you click on a link & purchase something that we've recommended, at no extra cost to you.
Visited in September 2015
Updated in August 2019