Sirenas Diving has a winning combination on land & in the water. You can either visit Playas del Coco in Costa Rica yourself, or get a taste of what to expect by reading our post. What are you waiting for?
About Sirenas Diving & Bobbie Jo
Bobbie Jo is a longtime resident of Playas del Coco & Sirenas Diving is her second dive operation in Costa Rica.
The first company grew to be too big & instead of relishing her success she decided it was time to downsize.
The shift in focus was to leave a lot of the paperwork behind & start diving again.
That was the inspiration for creating Sirenas Diving & to us here at DIY Travel HQ it seems to be working so far!
Dive groups tend to be small & personal with 4-6 divers per dive master, typically Bobbie Jo.
A second assistant will tail larger groups or during poor conditions.
Everyone is extremely friendly & professional from Bobbie Jo to her dedicated boat crew.
Sirenas Diving Location
Sirenas Diving is located in Playas del Coco, one of the premier diving destinations in Costa Rica.
It is unlike any other company we have dived with before – they have fully embraced the digital revolution & no longer have a physical dive shop.
All inquiries are handled via email or by phone with a lot of repeat snowbird customers.
After arranging a dive trip using the methods above, first time divers will meet Bobbie Jo on the Playas del Coco promenade in front of the police stand.
Repeat customers typically wait 100 meters down the beach on the right where the water taxi departs.
Sirenas Diving Gear Rental
Sirenas Diving charges $25 for a complete set of diving equipment for the day.
If you are like us, you are used to trying things on in a dive shop before heading out to sea.
For Sirenas Diving, all the equipment sizes are arranged ahead of time.
Bobbie Jo takes your wet suit, BCD, & fin sizes if you know them, & can also match the correct gear for you based on height & weight information.
Sorry ladies, but you might have to divulge that secret along with your birth date for certification validation. 🙂
Playas del Coco Dive Locations & Pricing
There are three main dive locations around Playas del Coco.
The easiest to reach with conditions suitable for all divers are the local dives.
These can be reached within 15-30 minutes by boat & are a great way to begin to experience the waters near Playas del Coco.
A full day of diving here is required before being able to venture to Catalina Island or the Bat Islands.
Catalina Island takes 30-60 minutes to reach & is for experienced divers.
The big draw are manta rays.
The Bat Islands are located 60-90 minutes in the other direction & are also for experienced divers only. Their main draw are bull sharks.
Sirenas Diving charges the following for each location:
Local Dives: $100 for 2 Tanks
Catalina Island: $135 for 2 Tanks (minimum 4 people)
Bat Islands: $185 for 2 Tanks (minimum 4 people)
Playas del Coco Dive Sites Conditions & Expectations
For both Sheena & I, our experience for diving has been limited to Southeast Asia & the Caribbean where a large portion of the focus is on coral.
Playas del Coco has virtually no coral, but you will not be disappointed.
There are a wide assortment of underwater creatures to keep you distracted & having no coral allows you to focus on the marine life swimming around you.
A lot of the larger fish, rays, sharks, & whales frequent the waters off Playas del Coco to take advantage of the abundant plankton.
The plankton also creates huge visibility swings each day. You never know what to expect until you jump into the water.
The temperature ranges anywhere from 65 to 85 degrees Fahrenheit.
Sirenas Diving Format
Every day under the water may not be typical, but Sirenas Diving has a winning formula on land & in the boat.
After meeting Bobbie Jo & our fellow divers on the beach we soon hopped in our water taxi that would shuttle us to Sirenas Diving's boat.
All the dive gear was preloaded onto Mireina Grace, which made boarding & disembarking the water taxi simple.
Once on the dive boat we enjoyed the ride out to our first dive site, Virador The Playas del Coco bay is filled with several large rock islands that make the boat excursion memorable.
One of the more interesting formations was Monkey Head Island, which resembles the head of King Kong.
Along the way, we enjoyed dark chocolate that apparently helps with decompression
. Even if it doesn't work we are never ones to turn down chocolate as evident by our Chocolate Workshop in Granada. Sirenas Diving also provides cold drinking water on board.
After each dive the richest butter cookies & sweetest pineapple slices are passed around to regain some of the calories burned underwater.
All the gear is assembled by the staff so you only need to manage putting on the wet suit(s) & fins before being fitted with the BCD & tank.
The water was unseasonably cold during our dives at 65 degrees Fahrenheit so Sirenas Diving provided us with two 3 mm wet suits to stay warm.
After suiting up & doing an equipment check we back-rolled into the water before grouping up & descending.
Traditionally, Sirenas Diving stays at sea during the surface interval.
However, two clients with their own equipment ran into a problem that needed to be fixed before the 2nd dive.
Their dive computer was supplying the same air level to both of their dive watches so someone did not know how much air they had remaining.
During the surface interval we went back to the beach to pick-up two traditional gauges to replace the electronic sensors.
This may be the future of diving, but we prefer the tried-&-true gauges for the time being.
After finishing the 2nd dive we handed all our gear back to the boat crew of Sirenas Diving & enjoyed another round of snacks.
A short ride later & we were back on firm ground following the water taxi shuttle.
Virador Dive Site
Our first dive site in Playas del Coco was called Virador.
It is a rock pinnacle that slopes out underwater as you make a loop around it. It really felt like we were in an aquarium with so many schools of fish swimming by.
There are also several difference species of rays & puffer fish that hang out there as well.
This is a great site if you want to experience a lot of action.
Los Meros Dive Site
Our second dive site was Los Meros & also absolutely amazing with many smaller critters being found.
Bobbie Jo helped us spot a lobster, harlequin shrimp, octopus, star fish, vibrant sea urchin besides a ton of black ones, flounder, eels, sea snake, & stargazer.
Our picture didn't turn out well, but you really need to Google stargazer to see how strange of a fish they are.
The dive itself starts out in a shallow area before crossing a sandy patch to a small boat sunk to create an artificial reef.
It was originally sunk in shallow water, but the currents have pushed it into a deeper section of the bay.
Know Before You Go
Sirenas Diving Location: Playas del Coco, Costa Rica
Prices: $100 for 2 local dives, $135 for 2 Catarina Island dives, $185 for 2 Bat Islands dives, $25 for equipment
Contact Information:
Did you enjoy reading Sirenas Diving in Playas del Coco?
Pin it and help others find it too!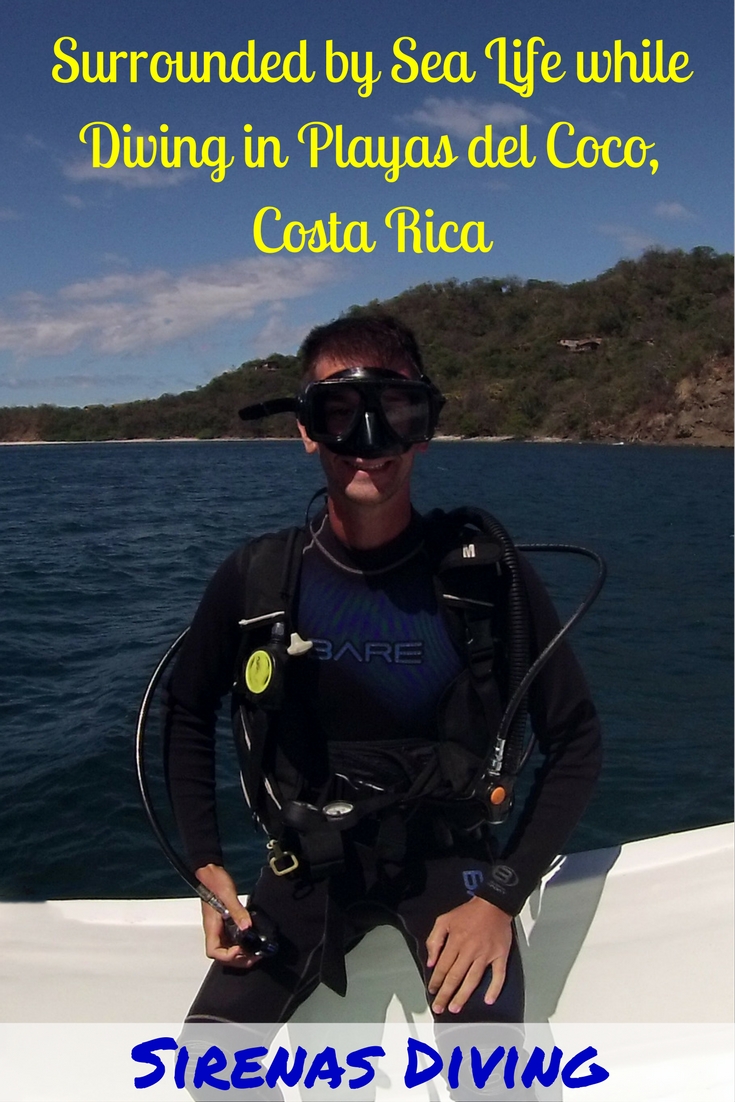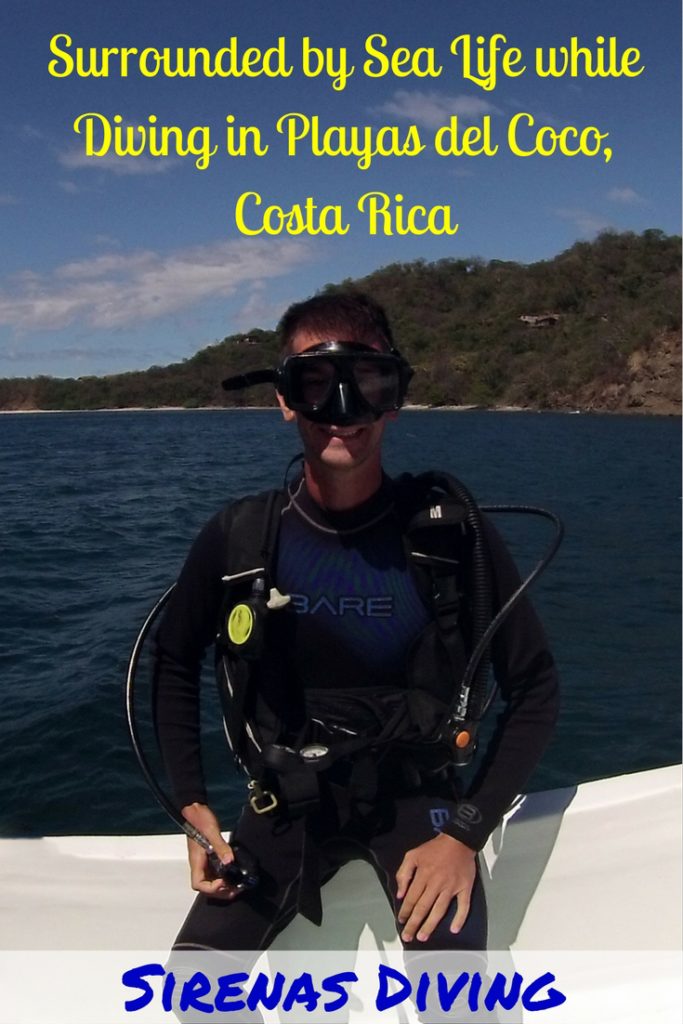 ***The Final Word – Playas del Coco is a great place to catch a wide range of sea life due to a plethora of plankton & Sirenas Diving really goes out of their way to make sure you have an enjoyable experience!***
What's the strangest fish you have seen while diving/snorkeling, or what do you want to see most?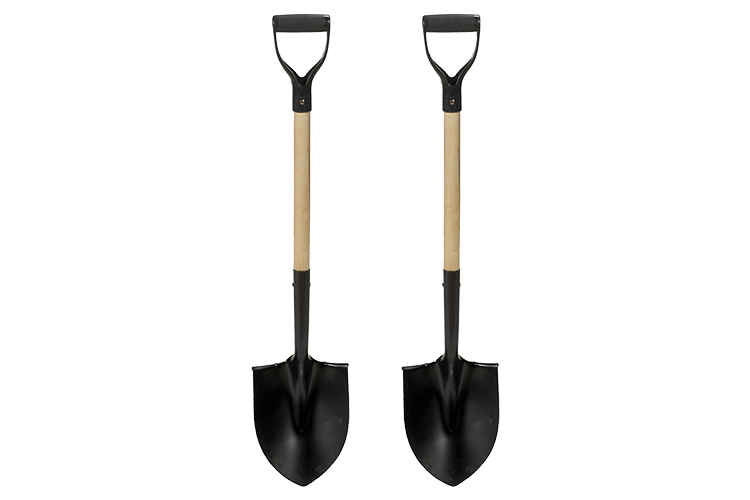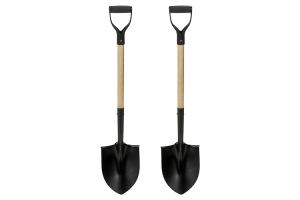 Not recommended DIY travel; take a tour instead
* We enjoyed complimentary dives with Sirenas Diving – thank you to Bobbie Jo for hosting us. We only recommend great value diving & activities that we would choose to do regardless! As always, all opinions are our own.
Visited in January 2017