Zip through the treetops & swing like Tarzan on the slopes of Arenal Volcano with Ecoglide Arenal Park! With the longest & tallest cables in La Fortuna, Costa Rica, find out why it's the most fun you can have in mid-air!
Ecoglide Arenal Park Canopy Tours
Ecoglide Arenal Park are the best in the business, and their canopy tours are great value for money:
Canopy: $50.00
Canopy & Tarzan Swing: $75.00
Night canopy, bird watching, walking & hiking tours are also available.
All tours include local transfers, English & Spanish guides & a celebratory drink at the end of the line!
It was one of our highlights of Costa Rica!
* Don't forget to purchase travel insurance before any trip to Costa Rica. We've been using World Nomads for over 10 years – it's the best-value provider we've found & we've also never had any issues on the few occasions we've had to make a claim.
You can take along your own phone or camera on the Canopy Tour, like we did here at DIY Travel HQ.
However Ecoglide Arenal Park also offers the services of a professional photographer who can capture every moment of your adventure.
Photos (including videos) start at $25.00 for 2 people, plus $5 for every extra person in your group.
Ecoglide Arenal Park Cable School
Once you arrive at Ecoglide Arenal Park, your guides will help you with your equipment.
Step into your belts & cables, put on your glove & cable hand grip, strap on your helmet and you're all set to go!
The first stop is Cable School! A guide will show you exactly how to zip line.
If you're a shorty like me, you need to do a small jump to lock into the cable before every line. Your dominant hand (wearing the cable grip) lightly holds on to the cable behind you & your other hand holds on to the rope in front of you.
Pull down on the cable with your dominant hand if you want to stop or slow down. Then just sit back, put your knees up & away you go!
Be sure to watch the guide on the platform ahead of you for any special directions.
Ecoglide Canopy Tour Truck Ride
The Canopy Tour starts with a ride on the back of a large, open-air safari truck.
It takes you high up into the forest on the slopes of Arenal Volcano, the most active volcano in Costa Rica up till 2010.
Just sit back & enjoy the spectacular views!
Ecoglide Arenal Park Canopy Course
The Canopy Tour at Ecoglide Arenal Park features 13 cables & 15 platforms – it's divided into 3 sections including an optional Tarzan Swing, which we'd definitely recommend.
It's a great course, because it starts off with shorter zip lines, which gradually become longer & longer – the first cable is 25m & the 13th is 430m long! All this happens around 25m high above the ground, it really is an exhilarating experience!
We've taken canopy tours in Mexico & Thailand before but those were years ago. Zip lining on the first few lines was a little scary but once we got the hang of it, we were able to relax & take in the gorgeous mountain scenery.
It's one of the closest experiences you'll get to flying & the feeling is unbelievable 🙂
Ecoglide Arenal Park Tarzan Swing
If you're taking the Canopy Tour at Ecoglide Arenal Park, jump to it & go for the Tarzan Swing too! The Tarzan Swing is a free jump from a 38m high platform, on a long pendulum-like swing – yikes!
But don't worry, the guides will double & triple hook you onto the rope – all you have to do is make the final leap… that's the hardest part & I was pretty scared. I think the guide may have given me a little helping hand 🙂
The first couple of swings were terrifying but then the pace slows down – I kinda wanted to do it again!
This is your chance to check-off a top bucket list adventure, so grab it with both hands & swing to it! Don't forget to let your best Tarzan call ring through the forest! 🙂
Check out our Youtube video of my Tarzan Swing!
Safety at Ecoglide Arenal Park
Whether you're a newbie or a pro at zip lining, it's only natural to feel a bit nervous, especially at the start.
But safety is the #1 priority at Ecoglide Arenal Park. The zip lines are made of double cables & double pulleys along the entire course and there are emergency brakes on each platform.
There's no pressure or rush to complete each cable but there's nothing to fear. You're securely attached to the cables at all times & the guides are fantastic, there to help you each step of the way.
We felt completely confident in their hands & trusting them with our lives – and look, we survived to tell the tale here at DIY Travel HQ! So what are you waiting for… start planning your Costa Rica adventures now!
In a Nutshell
Address: Route 142, La Fortuna de San Carlos, Arenal Volcano National Park, Costa Rica
Price: Canopy Tour $50.00, Canopy Tour & Tarzan Swing $75.00
Contact:
Did you enjoy reading Ecoglide Arenal Park: Canopy Tour in La Fortuna? 
Pin it and help others find it too!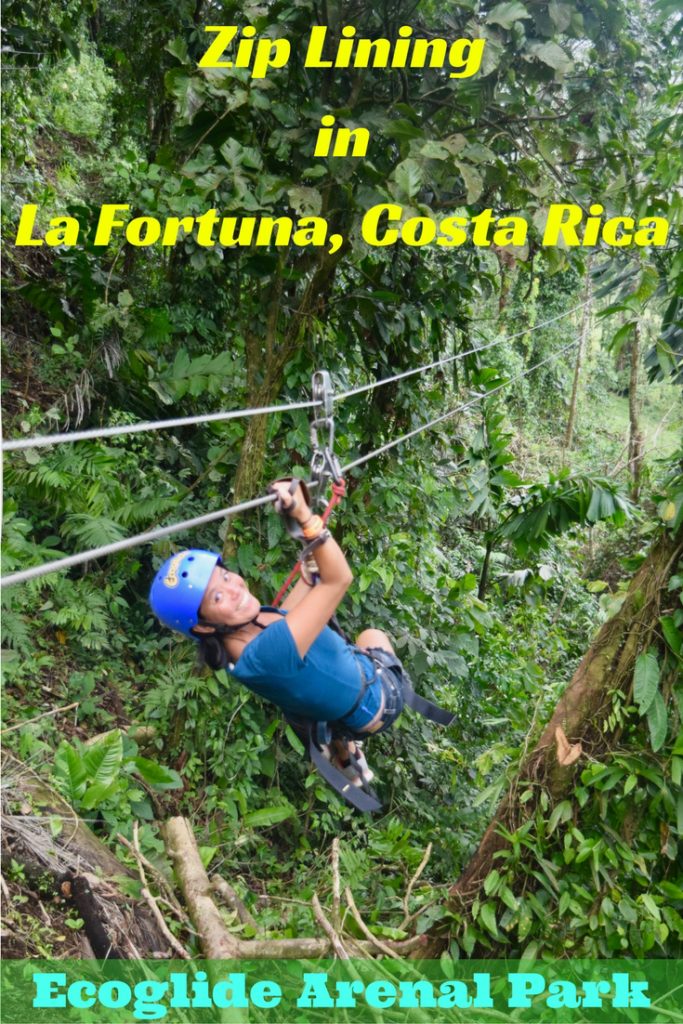 [put_wpgm id=212]
*** The Final Word: The Canopy Tour & Tarzan Swing at Ecoglide Arenal Park is a fun for all ages! ***  
Have you tried zip lining in Costa Rica or anywhere else in the world?
* We received a complimentary Canopy Tour & Tarzan Swing, thank you to Ecoglide Arenal Park for hosting us. We only recommend fun, value for money activities & experiences that we believe our readers would enjoy. As always, all opinions are our own.
Visited in January 2017