EcoTermales are a great way to relax after an adventure packed day in La Fortuna. Find out how to soak up all the magic at one of the best hot springs in Costa Rica!

Volcano Arenal
If it wasn't for Volcano Arenal, La Fortuna would still be just another sleepy town in Costa Rica.
Instead, the Arenal region has transformed into an adult playground with adventure activities galore & hot springs to indulge in.
There are many things to do in La Fortuna including EcoTermales, the only natural hot springs located on their slice of heaven in the primary rain forest.
Here at DIY Travel HQ it was one of our favourite places to visit in Costa Rica.
* Don't forget to purchase travel insurance before any trip to Costa Rica. We've been using World Nomads for over 10 years. It's the best-value provider we've found but there are other important things to consider. Check out our post and find out which of our claims were successful or denied.
Location & Hours
The resort style EcoTermales natural hot springs are located 3.5 km west of Parque de La Fortuna, & are best reached by private transportation or a shuttle.
EcoTermales offers both day (10 am – 5 pm) & night (5 pm -10 pm) time slots to enjoy the elegant natural hot springs.
There is a maximum capacity to ensure the enjoyment of all guests so reserve in advance to guarantee admission ($37).
EcoTermales is more popular at night time when the temperature begins to drop, but it is also worthwhile to visit during the day for a more intimate experience if time permits.
You can take advantage of the different temperature pools & on-site bars & restaurants during either session.
It's one of the top Costa Rica hot springs, we wish we could visit any time, day or night!
We recommend Lonely Planet's Costa Rica Travel Guide
to help you plan your trip.
Natural Pools
There are 5 hot spring fed pools designated by temperature at EcoTermales with one fresh water waterfall pool to cool off in.
EcoTermales does an excellent job blending the natural environment with landscaped pools, paths, and facilities.
Each pool has unique qualities that allows guests to find their perfect temperature (99-106 degrees Fahrenheit) & atmosphere.
Let's take a look at your options & discover some of the built-in secret spots at one of the top La Fortuna hot springs.
The lower tier is knee deep & has a gravel bottom for a more natural feel.
This pool is perfect for sitting & chatting with friends & family.
You can cool off anytime by either relaxing under the cold water fountain or hopping in the 'island' pool.
There is also a deck with sun chairs overlooking this section of EcoTermales.
The mid-level pools are the most popular as they are the closest to the bar & consist of 5 unique pools by configuration with sun chairs lining the perimeter.
The two pools directly beneath the bar, & separated by a colorful plant, are deep enough to stand with a stone bottom & moderate temperature.
Tucked behind these pools is the picturesque fresh water waterfall that is great at getting your body temperature back to normal.
EcoTermales has got to be one of the most picturesque Costa Rica hot springs!
Located at the far side of the mid-level pools is an extension of the two main pools as the temperature is consistent in all three.
The added bonus here are lounge chairs located in the water.
There is even a couples set with drink table in the middle & shade from the rain forest above. Look no further for things to do in La Fortuna!
The last pool on this level is tucked away in the corner & the hottest hot spring pool at EcoTermales (106 degrees Fahrenheit).
It has a gravel base & is also the deepest with no seating to prevent overstaying & overheating your body.
There are a series of small waterfalls on the upper tier pools that can't be missed & the most intimate atmosphere.
Tucked behind a bridge creating privacy is a bench for sitting in this pool at the higher end of the temperature range.
The next level up is slightly hotter & deeper with a waterfall at the rear.
Let the gushing hot water massage your upper body as it falls down on you. Venture behind the cascade to find a secret spot!
Linking the two pools are two tiered cascades that are our favorite spots at EcoTermales.
Forming the base of each level respectively are a set of two & four seats that allow you to be partially emerged as the water runs over your body.
Bars & Restaurants
EcoTermales has two bars & two restaurants on-site in La Fortuna.
You can take advantage of their package deal of admission with either lunch or dinner ($57) that includes an upscale local meal with dessert, or order food a la carte.
Bars are located by the pools & at the gazebo overlooking a serene pond stocked with fish.
Beers start at $4 with delicious, fresh cocktails going for $6-9.
Just remember to hydrate properly as hot temperatures & alcohol can be draining on your body.
Simply have the staff scan your bracelet's bar code to put items on your tab, & pay upon leaving.
Facilities
Bathrooms are located near the restaurants & by the bar at the pools.
The largest set are by the entrance where there are showers to rinse before & after visiting the pools.
Use of a towel & lockers are included & can be obtained at the adjacent kiosk.
The key is attached to an elastic bracelet for safe keeping.
All trails through the rain forest are lined with path lighting at night time.
There are also umbrellas scattered around EcoTermales as you transition from location to location.
Don't let the possibility of rain deter your visit as the hot water will negate the cooling showers & they typically don't last long.
Know Before You Go
EcoTermales Location: 3.5 km west of Parque de La Fortuna, Costa Rica
Prices: Hot Spring Entrance Fee – $37 & $20 more for additional lunch or dinner
Contact Information:
Did you enjoy reading Visit EcoTermales Hot Springs in La Fortuna, Costa Rica?
Pin it and help others find it too!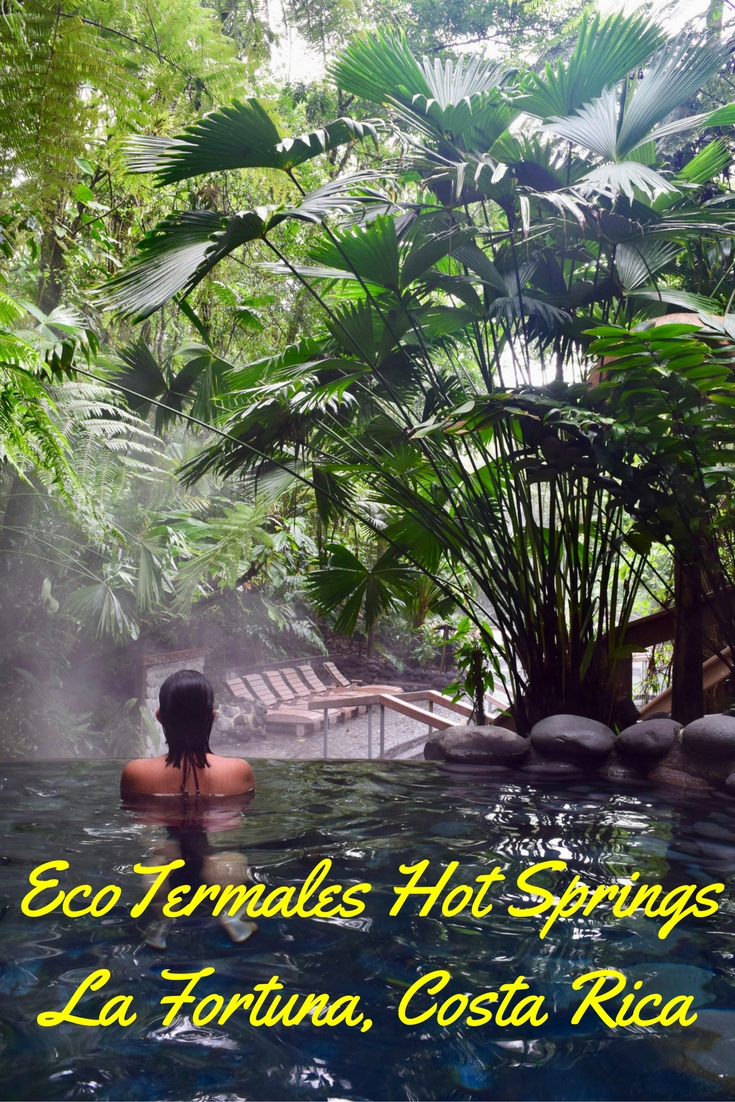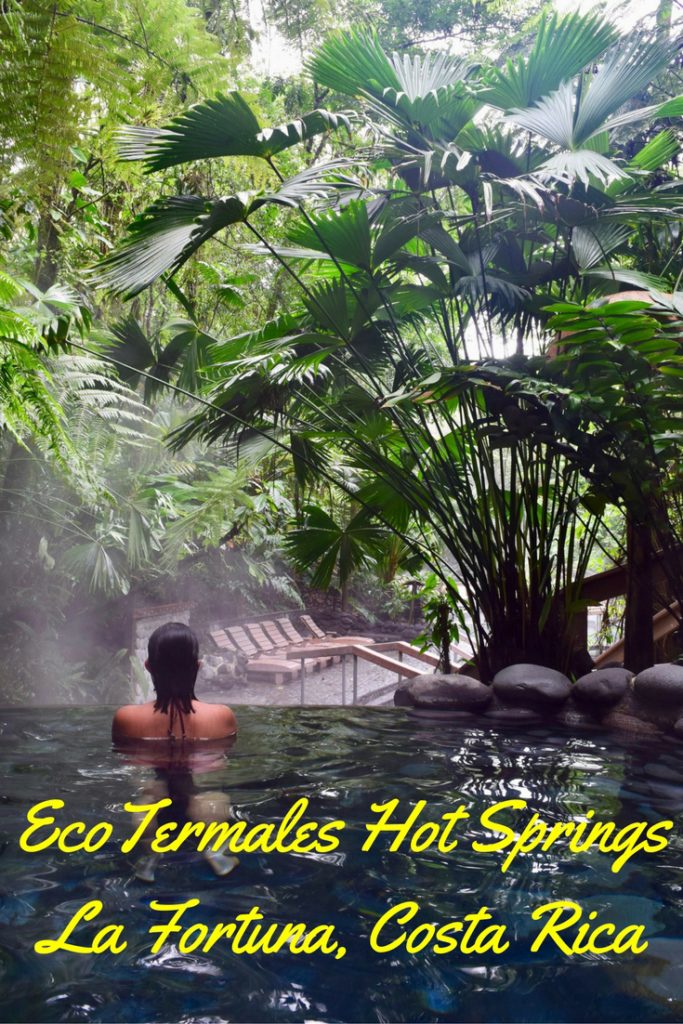 ***The Final Word – EcoTermales hot springs are a great way to relax & enjoy rejuvenating qualities in a natural setting.***
What was your favorite hot spring in Costa Rica?
[put_wpgm id=213]
Disclaimer: We received complimentary admission to EcoTermales; thank you for hosting us. We only recommend fun, value for money activities & experiences that we believe our readers would enjoy. As always, all opinions are our own.
This post contains affiliate links which means that we receive a small commission if you click on a link & purchase something that we've recommended – at no extra cost to you. This helps us to keep our site running so we can continue to provide free content. Thank you for your support!
Visited in January 2017