Hotel Las Colinas boasts an unbeatable view of Arenal Volcano from it's rooftop terrace & the best hotel breakfast in town – find out about the history & eco-friendly renovations behind this long-running traveller's favourite in La Fortuna, Costa Rica!
Hotel Las Colinas History
Hotel Las Colinas has been managed by the Lopez Fernandez family for the past 27 years & they have experienced it all in that time!
Their story begins even further back, from 1968 when a strong eruption from Arenal Volcano caused Mr Lopez' father to flee from La Fortuna. The Lopez family returned to their hometown in 1985, only to face another disaster when their family business burnt down in a serious fire.
In typical Costa Rican spirit, the Lopez family didn't give up.
Instead, they opened another general store before deciding to build a hotel. In 1988, there were only 3 hotels in La Fortuna but Senor Lopez could see the potential in the town & decided that his hotel would be not 1 storey, not 2 storeys but 3 storeys tall.
Hotel Las Colinas became a big success, as travellers from all over the world came to witness the frequent eruptions of Arenal Volcano (dormant since 2010).
Senor Lopez passed away in 2016, when the family decided it was time to start another chapter. At this time, Hotel Las Colinas underwent a complete renovation as an eco-friendly, sustainable hotel.
Today, Senor Lopez's wife Dona Flor manages the hotel with her daughter Ivette. Her sons Jocsan & Jicson are also involved, as the family & hotel continue to grow together.
Let us here at DIY Travel HQ show you around!
Hotel Las Colinas Location
Hotel Las Colinas is located in the heart of La Fortuna, just half a block from the central park. Restaurants, shops & banks are all within walking distance.
It's a fantastic base for excursions to the hot springs & eco-adventures around La Fortuna, one of the most popular places to visit in Costa Rica.
Hotel Las Colinas is well-known to all the tour operators in town, so you can be guaranteed an easy pick-up.
Hotel Las Colinas Rooms
Hotel Las Colinas offers 3 types of rooms: Standard, Honeymoon Suite & Junior Suite.
We stayed in a Standard Room & found it most spacious & comfortable.
The bed was very restful with 4 pillows and side tables & lamps. And we loved the striking cubist painting! There was also air-conditioning, flat-sreen cable TV, wifi, a desk & chair and hanging space for clothes.
Our room opened out to a private balcony, with table & chairs – another bonus of an excellent, value-for-money hotel!
The modern bathroom was stocked with plenty of towels, soap & shampoo. But the best thing was the very hot water with excellent water pressure – something that we don't take for granted in Central America. Even more impressive is that the water is powered via solar energy & we were never without hot water, even after back-to-back showers.
If you're feeling indulgent, why not treat yourself to the Junior Suite with armchairs, a mini bar, wine glasses, bathrobes & a balcony with a gorgeous view of Arenal Volcano.
For the romantics, let the candles & private jacuzzi set the mood with a luxurious stay in the Junior Honeymoon Suite.
Hotel Las Colinas Terrace Garden
The second storey of Hotel Las Colinas features a large terrace garden facing the imposing Arenal Volcano!
It's a spacious & leafy area with pot plants & several different places to relax in:
Curl up on the couch
Kick back on the reclining sun lounges
Gather around the open outdoor seating in front of the volcano
Have a drink or prop up a chair around the bar
The terrace garden is definitely the perfect spot for a drink – from coffee to smoothies to cocktails, wine & beer, there's something for all tastes, including regular drink specials.
There's also a book exchange here & a corkboard with information on things to do in La Fortuna.
Hotel Las Colinas Breakfast
A fantastic breakfast in the hotel restaurant is included in all room stays at Hotel Las Colinas.
On the first morning, we chose from a full menu of Nicaraguan & Western options such as gallo pinto & homemade corn tortillas and pancakes & scrambled eggs.
Drink options include coffee, tea, hot chocolate & juice. We also got a plate of mixed fruit & there's a buffet where you can help yourself to different kinds of breads/toast & spreads.
On the other mornings, there were large tour groups staying so the hot breakfast choices were more limited, but all the drinks, bread & fruit options were still offered.
You will definitely start your day with a full stomach at Hotel Las Colinas!
Hotel Las Colinas Tour Desk & Spa
There are many activities to do in La Fortuna, the adventure capital of Costa Rica.
We recommend the following:
Hotel Las Colinas also offers in-house spa services including massages, facials & beauty treatments at reasonable prices.
The tour desk at reception can make all tour & spa bookings for you.
Hotel Las Colinas Sustainability
Hotel Las Colinas is a 100% sustainable hotel, certified 5 stars by the Costa Rican tourism board.
They're a carbon neutral hotel & participate in environmental action plans such as the Rain Forest Alliance & Blue Flag Program.
We love staying at eco-friendly hotels & supporting businesses that make environment a priority.
Know Before You Go
Address: Calle 468, entre Avenida 325 y Ruta 142
Prices: Standard rooms from $78.00 (see website for current promotions)
Contact:
Phone:           2479-9305
Email:            

[email protected]

Website:       Hotel Las Colinas
*** The Final Word: Hotel Las Colinas is easily the best-value accommodation in La Fortuna! ***
Do you love hotel breakfasts as much as we do?!
Did you enjoy reading Hotel Las Colinas: Family Run in La Fortuna Since 1990?
Pin it and help others find it too!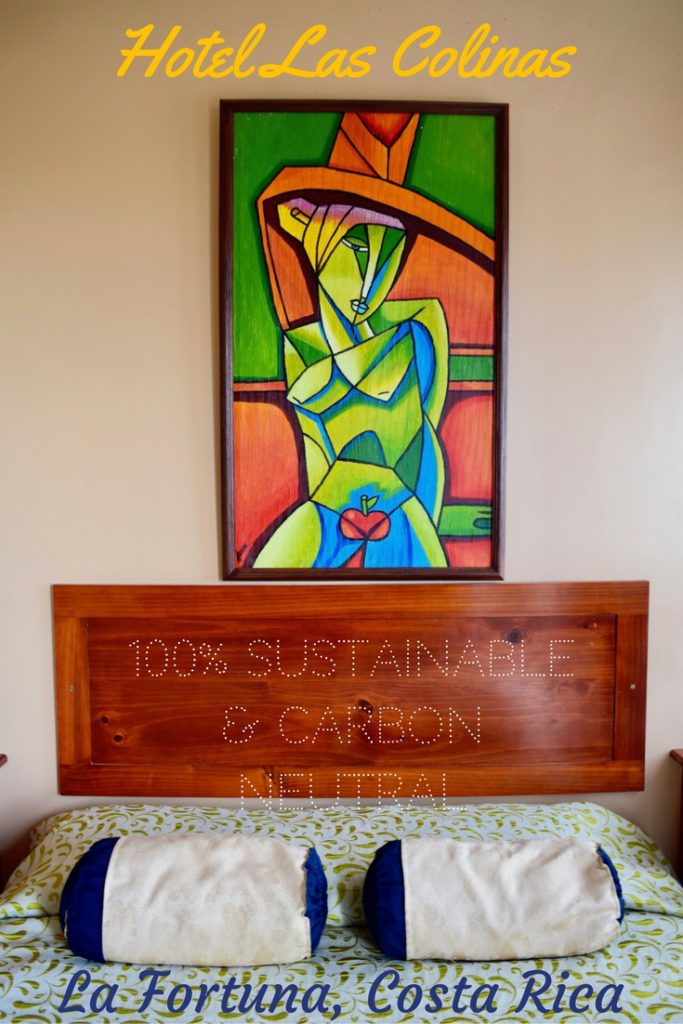 [put_wpgm id=214]
* We enjoyed a complimentary stay at Hotel Las Colinas – thank you to Ivette for hosting us. We only recommend great value accommodation that we would choose to stay at regardless! As always, all opinions are our own.
Visited in January 2017