Kiban's Surf Hostel is the new kid on the block but it's already one of the most popular places to stay in Playa Samara, Costa Rica – find out what makes it's a top choice for surfer's & non-surfer's alike!
Kiban's Surf Hostel is run by young Kiban himself, a local born & bred in Playa Samara. He comes from a family who have been hosting travellers for years at their various properties in town, so it's no surprise that Kiban is also a natural host.
Kiban is easygoing & personal, yet professional & helpful too. He knows the area as only a local can, so don't be shy to hit him up for recommendations of cafés, bars & restaurants.
Fun & friendly, stylish & sociable… let us here at DIY Travel HQ show you around the one & only surf hostel in Playa Samara!
What's a Surf Hostel?
Believe it or not, Kiban's Surf Hostel is the 1st in Playa Samara. It's dedicated to providing surfers of all levels with advice & information on surfing in the area. Day trips can be arranged as well as surf & body board rentals.
If you're a newbie to the surf scene or have never tried it before, you've also come to the right place. There's bound to be surfers around to chat too & Kiban himself can give you plenty of pointers.
Surfing lessons are available for $50.00 for 1 person or $40.00 each for 2 or more people.
However, surfing hostels are not just for surfers & Kiban's Surf Hostel is no exception. It's more about the relaxed atmosphere & carefree attitude so if you're looking for something laidback & friendly, check out Kiban's Surf Hostel – everyone is welcome!
Kiban's Surf Hostel Location
Kiban's Surf Hostel is located on the Main Street, in the heart of Samara – it's tucked away in a small shopping complex behind the popular Bar Arriba.
Upon checking-in, guests receive a wristband which entitles them to a 10% discount off all food & C$1000 / $2.00 beers at Arriba. You also receive a 10% off at the pizza restaurant, fast food joint, gym, clothing store & gift shop in the same complex.
Playa Samara is a tiny town, so there are many other restaurant, bars & shopping are all within walking distance, with many choices to suit all tastes.
But best of all, Kiban's Surf Hostel is just 100m away from the beach – there's no better spot to stay in Playa Samara, one of the most popular places to visit in Costa Rica!
Kiban's Surf Hostel Dorms
Kiban's Surf Hostel hosts 3 dorm rooms (6 beds each) & 1 private room, which all used to be vacation apartments. So each room is quite large & even comes with a sink, counter space & shelving.
In the dorms, the white bunk beds are brand new. There are single & double bunk beds, so friends or couples travelling together can share a bed & save money.
Single bunks are $20.00 for 1 person & double bunk beds are $30.00 for 2 people.
Each room has a large ensuite bathroom with a hot water electric shower.
All the linen is also clean & new, with sheets in red & blue mixed with pillowcases in yellow & green. It makes it such a fun place to stay!
Walls were painted yellow & red, with colourful patterned curtains. The rooms also have ceiling & floor fans, a large mirror & lockers – bring your own lock.
Air-conditioning is on from 9:00pm to 10:00am so you'll stay cool & sleep well at night 🙂
Kiban's Surf Hostel Kitchen
Kiban's Surf Hostel has a large open kitchen, with everything you need to cook. As it's a new hostel, all of the pots & pans, crockery & cutlery are also new which makes staying in & cooking a pleasure!
There's also a microwave, fridge, gas stove tops & recycling bins.
A shared dining area makes it easy to strike up a conversation with fellow travellers & maybe even share a meal – there's a Pali supermarket just around the corner.
Other Features of Kiban's Surf Hostel
Common area with sofas & chairs
High-speed wifi
TV
Bicycle hire
Event board for activities in the hostel & around Playa Samara
In a Nutshell
Address: Samara main street, 150m south from the bus stop
Prices: Single bunk $20.00, Double bunk $30.00, Private room $50.00
Contact (manager Kiban):
Did you enjoy reading Kiban's Surf Hostel: Hang 10 in Playa Samara?
Pin it and help others find it too!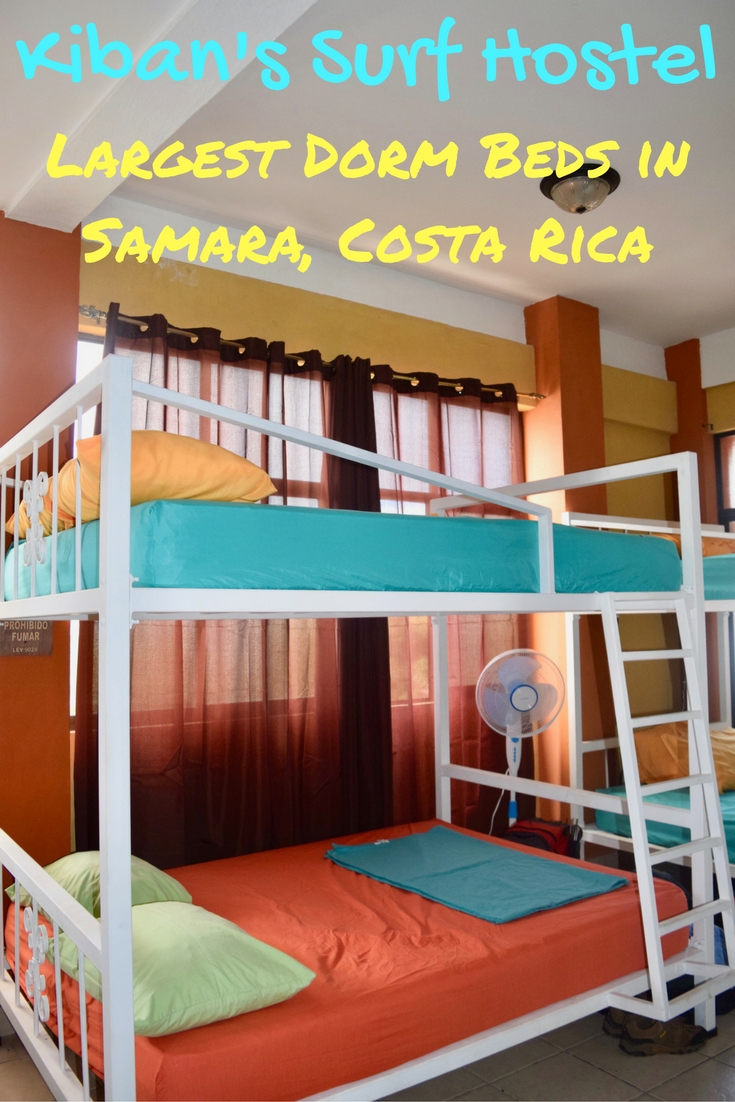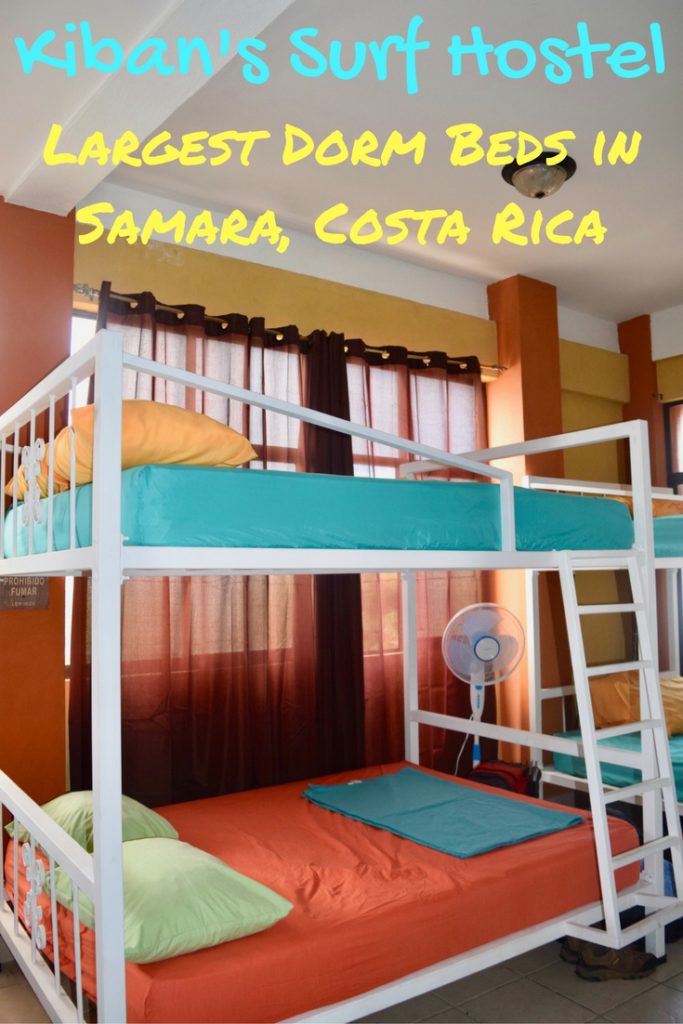 [put_wpgm id=210]
*** The Final Word: Chill out in style & make new friends at Kiban's Surf Hostel in Playa Samara! ***
Do you surf? Have you ever stayed in a surf hostel?
* We enjoyed a complimentary stay at Kiban's Surf Hostel – thank you to Kiban for hosting us. We only recommend great value accommodation that we would choose to stay at regardless! As always, all opinions are our own.
Visited in January 2017