Dos Tiburones is not just a dive shop, it's a way of life! With a cafe, bar & walk-in snorkeling right from the dock, find out why it has something to offer every diver, snorkeler & traveller to Big Corn Island, Nicaragua!
Manager Tonya runs a tight ship over at Dos Tiburones Dive Shop – she has a fantastic crew in & out of the water, who quickly make us here at DIY Travel HQ feel like part of the family.
Dos Tiburones is the newest dive centre on Big Corn Island (established in 2014) so all their equipment is top quality & well-maintained.
Their dive boat is made of custom-fitted fibreglass.
Dos Tiburones are affiliated with both PADI & SSI, as well as being the only SSI-accredited dive centre in Nicaragua.
They are located on the north shore of Big Corn Island, in the neighbourhood of Sally Peachy.
It's a long but scenic coastal walk from the ferry pier, though you can take a taxi to anywhere on the island for C$20.
Either way, find out why a visit to Dos Tiburones Dive Shop is definitely worth the trip on one of the most beautiful destinations in Nicaragua!
Dive Trips Available with Dos Tiburones Dive Shop
Dos Tiburones offers dive trips to all the sites around Big Corn Island, many of which are just a short distance away from the dive shop.
Diving on Big Corn Island involves an entire reef system with ship wrecks & rich sea life in turquoise Caribbean seas. The water is around 27 degrees year-round, with consistently good visibility.
The #1 diving destination is Blowing Rock, a giant formation of volcanic rock & coral. It's located 12kms from Big Corn so the conditions are optimal for marine life. Nurse sharks, spotted reef sharks, southern sting rays & eagle rays are commonly spotted, along with barracuda, turtles, eels, lobsters & crabs.
We dived at Long Reef, which is a shallow drift dive, perfect for beginners. The highlight was a friendly nurse shark along with some gregorian fans & soft coral. Sean was a great dive master – the ocean had a bit of swell so he made it easier for us by hugging the inside of the reef rather than swimming on the top.
Dos Tiburones also offers night dives, which includes the use of dive lights & tank markers.
If you're short on time, the Little Corn Day Trip is a great option. It includes 2 dives in the morning, before disembarking on Little Corn, where you have to rest of the day to explore the island. It's a very small place & an afternoon is enough to give you a good taste of what the island has to offer, before retuning back to Big Corn at around 4:00pm.
Diving with Dos Tiburones Dive Shop
Diving trips with Dos Tiburones head out everyday at 8:00am & 10:00am in the morning and 1:00pm & 3:00pm in the afternoon, giving you the opportunity to dive 4 times a day.
Most dive sites are situated close-by, so service intervals are usually spent back at the dive shop – this is convenient as you can test the waters with a 1 tank dive & go from there.
Some of the sites are dependent on weather conditions, especially Blowing Rock. But if you have specific sites in mind, let the staff at Dos Tiburones Dive Shop know & they'll do their best to get you there.
The dive masters & instructors are all PADI and/or SSI certified. We dived with Sean who was professional, patient & an excellent photographer! He took photos for us with his GoPro, which was an unexpected surprise – after our dive, we left our email address with him & within a few days, we received a link with all the photos to download!
Café & Bar at Dos Tiburones Dive Shop
Dos Tiburones Dive Shop also hosts a café & bar, with a book exchange & regular Open Mic nights. Here's a sample of their menu, many dishes of which are vegetarian or vegan:
Breakfast:
Banana Nutella Crepes: C$220 / $7.50
Coconut French Toast: C$220 / $7.50
Homemade Donuts: C$245 / $8.30
Lunch:
Plantain Tacos: C$220 / $7.50
Veggie Burger: C$250 / $8.50
Fish Fritters: C$325 / $11.00
And if you're a coffee lover, you're in for a treat – Dos Tiburones is also the only place on Big Corn Island with a state of the art expresso machine! Enjoy a french press, cappuccino, café latte or any other concoction that takes your fancy!
The bar serves cocktails & beer, including "Cerveza Erdmann's", Nicaragua's first German craft beer! Smoothies, snacks & cakes are also available.
You can choose to sit inside, on the patio overlooking the ocean or on wooden tables & chairs on the grassy area on the beachfront.
Dos Tiburones is a fantastic place to hang out, for divers & non-divers alike!
Tours & Rentals at Dos Tiburones Dive Shop
Dos Tiburones can offer something for everyone visiting Big Corn Island, even if you're not a diver.
Boat snorkeling trips are available, where you visit 2-3 different sites around the island – ask about the Spanish Galleon shipwreck… You can even take a paddleboard out with you!
There's also great snorkeling right in front of their dive shop – a snorkel mask & fins can be rented for $10.00 a day.
If you prefer to stick to land, Dos Tiburones can arrange many other rentals & activities:
Horseback riding on the beach
Guided historical tours of Big Corn Island
Charter fishing trips
Private boat to Little Corn Island
Trips to the Pearl Cays
Motorcycle rentals
Golf cart rentals
How to Get to Big Corn Island
The easy way to get to Big Corn Island is to fly from Managua.
The hard way is to take the bus from Managua to El Rama, then a panga boat to Bluefields & finally a ferry to Big Corn Island.
Note that the ferry from Bluefields to Big Corn Island only runs once a week – it departs Bluefields on Wednesday morning at 9:00am & takes 6-7 hours.
The return ferry from Big Corn Island to Bluefields also runs once a week – it departs Big Corn on Thursday morning at 9:00am.
Ferries/pangas between Big Corn & Little Corn islands run twice a day (once in the morning & once in the afternoon), weather permitting.
More information on schedules & times will be coming soon.
In a Nutshell
Address: Sally Peachy, Big Corn Island, Nicaragua
Prices: Single dives $35.00, 4 dive package $120.00
Contact (manager Tonya):
Phone:         +011 (505) 2575 5167 or +011 (505) 8546 0526
Email:           [email protected]
Website:      Dos Tiburones Dive Shop
Did you enjoy reading Big Corn Island Diving with Dos Tiburones Dive Shop?
Pin it and help others find it too!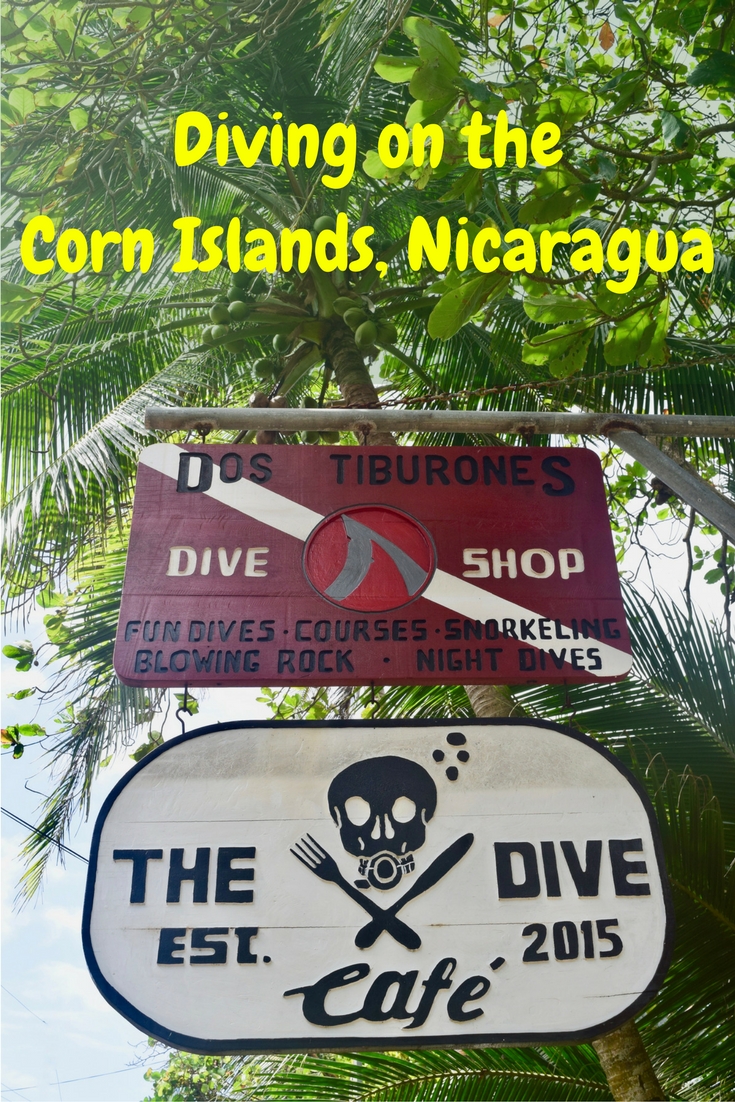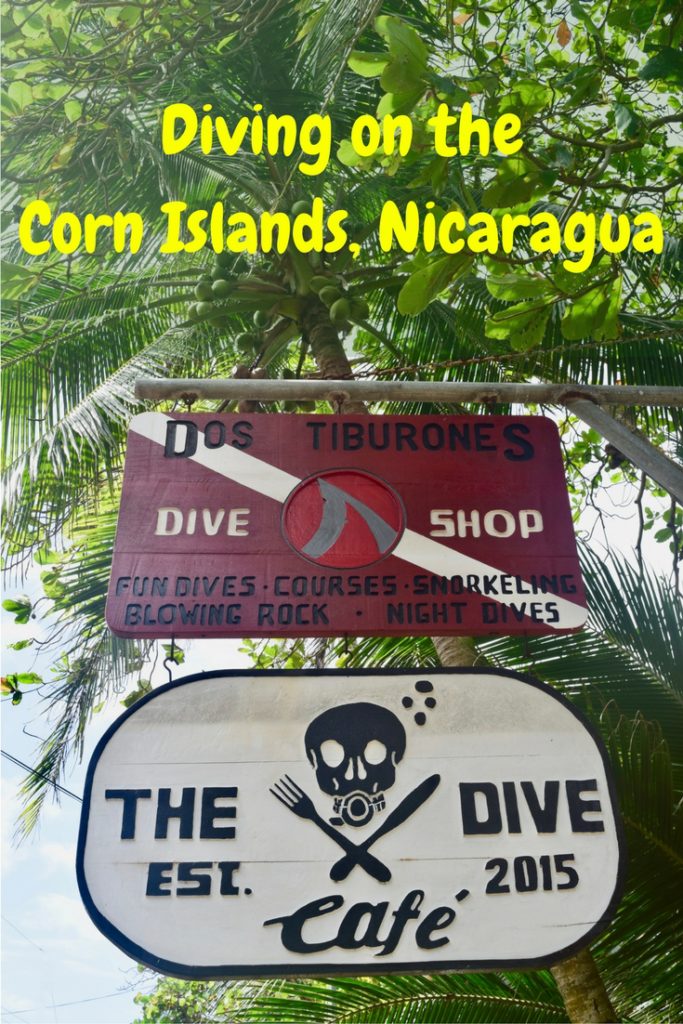 [put_wpgm id=209]
*** The Final Word: Check out Dos Tiburones Dive Shop for professional, friendly & hassle-free diving at great prices on Big Corn Island! *** 
Do you dive? What do you look for in a dive centre?
* We enjoyed complimentary dives at Dos Tiburones Dive Shop – thank you to Tonya for hosting us. We only recommend great value diving & activities that we would choose to do regardless! As always, all opinions are our own.
Visited in December 2016