Hotel Morgan is a great base to explore Big Corn Island in Nicaragua. Experience the Corn Islands' best beach, walk-in snorkeling, & turquoise Caribbean water at your doorstep. Find out everything inside!
Hotel Morgan Location
Hotel Morgan is located on remote Big Corn Island, but is within easy striking distance with a flight from Managua.
As foreigners like us here at DIY Travel HQ quickly spread the word about the Corn Islands, more flights have been added making it even more convenient for your next visit.
It is possible to walk around the entire Big Corn Island in 3 hours, but most of the attractions are located on the north end where Hotel Morgan is located.
From the comfort of a hammock you can feel the cooling breeze & watch the gentle waves lap against the shore.
Hotel Morgan Rooms
Hotel Morgan has three room options that cater to different budgets & group sizes.
All come equipped with a TV that has a wider range of English channels than the rest of Nicaragua.
With the exception of the two budget rooms, all other rooms come with air conditioning & a private bath.
The cabins are by far the largest & most spacious.
Try to get a second level if possible for ocean views. You also have your own stocked fridge for convenience, but other rooms can just head to the restaurant/bar.
The other rooms are located behind the restaurant in a separate building.
There are two rooms that share a bathroom, and a few more with private bathrooms.
These are great for travelers on a budget, or if you are staying just one night before catching a connecting flight or ferry to the mainland.
We recommend the cabins if you have more time to spend & enjoy Big Corn.
There are different room configurations, but the prices are as follows based on double occupancy:
Room with Shared Bathroom: $15
Room with Private Bathroom & AC: $25
Cabin with Private Bathroom, AC, & Stocked Fridge: $40
Additional Guests per Room: $5 each
Hotel Morgan Bathrooms
The bathrooms at Hotel Morgan had everything you would expect, but rarely find all together in Central America.
All the fixtures worked without tampering, there was a place to hang a towel & clothes, & the shower water pressure was strong & didn't shoot in multiple directions.
These are things that you take for granted back home, but are a rarity while traveling long term.
It is Important to note that the water on Big Corn Island is naturally fresh, or very close to it.
The water during the rainy season creates swamps on the island, & filters it before entering an aquifer beneath Big Corn.
This is also another rarity if you have been to several remote islands around the world before.
Hotel Morgan Common Areas & Amenities
Hotel Morgan, despite being located across the road from the beach, somehow manages to grow nice grass on their property.
This was a pleasant change compared to New Jersey beach towns that just have rocks for yards.
The grass makes walking to the hammock in the center of Hotel Morgan very enjoyable, where you can catch up on some reading or with friends online using the free Wi-Fi.
If you are staying in the rooms behind the restaurant, then there is a porch with seating to enjoy as well.
For those that want to soak up the sun, there is a great patch of grass right on the ocean in front of Hotel Morgan that you can spread a towel out & prove that you were on holidays by returning with a tan.
Two beaches line both sides of the small headland that are best at low tide, but great for swimming at any time.
The beautiful turquoise water is typically calm & shallow with a sandy bottom making it perfect for families.
Hotel Morgan Restaurant
You don't have to go far for great eating when you have Bar & Restaurante Morgan on-site.
Most dishes range between C$220-300 ($8-10), with fresh seafood being the best value. We really enjoyed the wonderful butter & garlic lobster for C$285 ($9.50).
We were especially surprised to find out the owner, Kerry Morgan, was the chef & cooks most lunch & dinner dishes.
Everything that we saw coming out of the kitchen looked delicious & had large portions.
You could also enjoy the local Nicaraguan beer Tona for C$30 ($1), which is the cheapest we saw on the Corn Islands.
If you need a pick-me-up, the tasty coffee is C$15 ($0.50).
Hotel Morgan Security
Big Corn isn't known for being dangerous, but Hotel Morgan does a good job keeping opportunists away with a gated property that is locked at night with an on-site security guard.
Big Corn Island Attractions
Diving Blowing Rock & other sites with Dos Tiburones Dive Shop
Walk-in Snorkeling around Dos Tiburones with resident Rays & other aquatic life
Watching the flights take-off/land right above your head
Enjoying southern Big Corn Island long & gentle beaches
Know Before You Go
Location: Big Corn Island north end
Prices: $15-40 for double occupancy, $5 per additional guest
Amenities: Wi-Fi, on-site restaurant & bar
Contact Information:
Did you enjoy reading Hotel Morgan: Big Corn Island Getaway?
Pin it and help others find it too!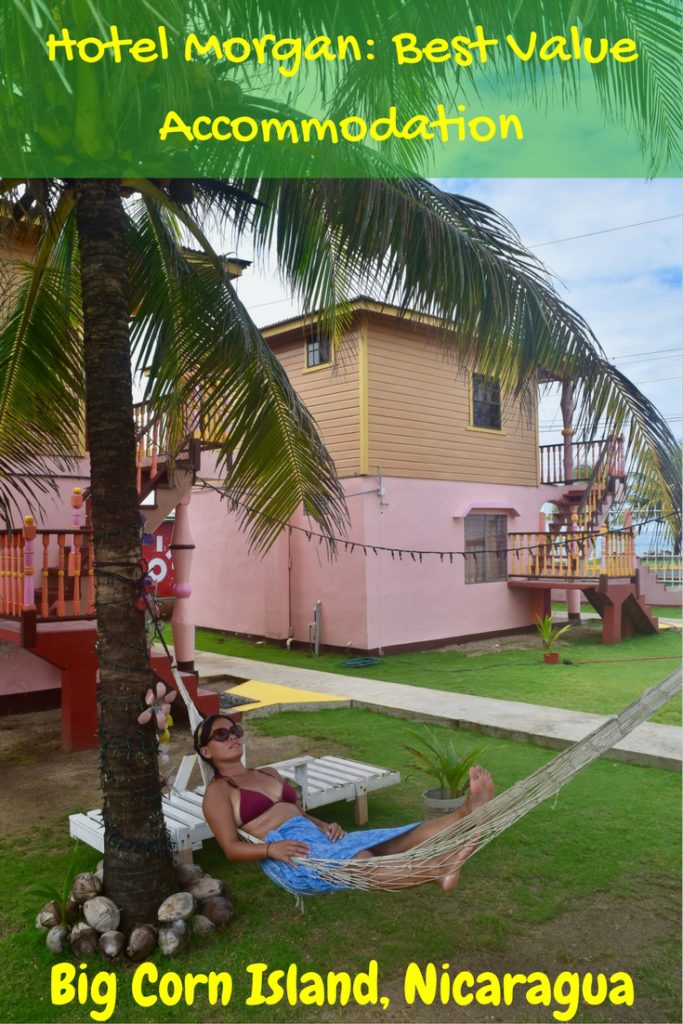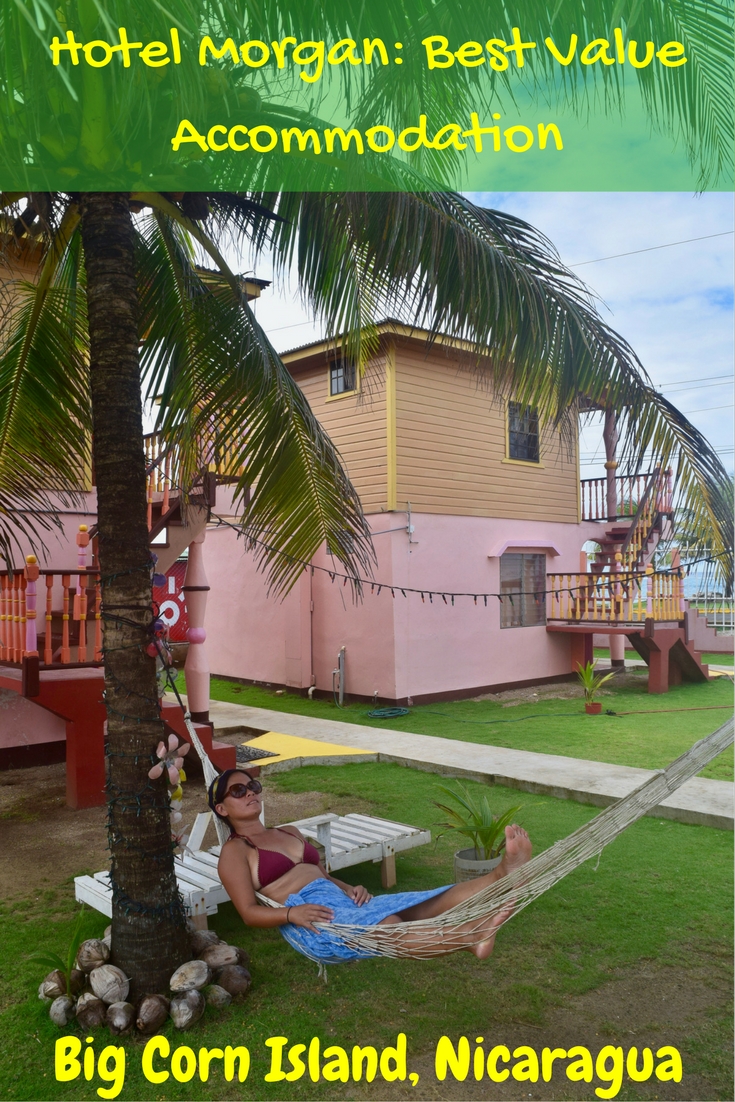 ***The Final Word – Instead of staying in the cramped village of Big Corn, hop in a taxi C$20/person & stay at Hotel Morgan for a better experience.***
How much time do you have planned for Big Corn & Little Corn Islands?
[put_wpgm id=208]
* We enjoyed a complimentary stay at Hotel Morgan; thank you to Kerry for hosting us!
Visited in January 2017