Get away from the action on Little Corn Island & experience the remote island life you came for – find out why the red cabins at Carlito's Place are the pick of the bunch!

Carlito's Story
Let us here at DIY Travel HQ introduce you to the man behind Carlito's Place.
Carlito's Place belongs to one Carl "Carlito" Archibold, born & bred on Little Corn Island. He made a living from lobster fishing on the island in the 1970's, at a time when there was no electricity in the small community of 250 or so islanders.
Carlito went on to work as a captain of a fishing boat based at various US ports for over 20 years, before deciding to return home to Little Corn Island. He bought a small hotel business on the undeveloped east side of the island & hasn't looked back since.
Carlito is constantly renovating & working on improving his little patch of paradise. You're bound to see him around the property, fixing this or that – be sure to have a chat, Carlito is a true gentleman & always has time for his guests.
Carlito's Place Location
Little Corn Island is one of the most popular places to visit in Nicaragua.
Carlito's Place is one of the few accommodation choices on Little Corn Island that's situated right on the beach. It's also the leafiest of the lot, as Carlito has tried to keep as many of the trees as possible – the extra shade & greenery really makes a difference. The grounds are also kept clean & tidy.
Carlito's Place is located on the east side of the island, which catches a cool welcome breeze, as the days are warm & sunny year-round.
It's the spot for peace & tranquility. Swaying palm trees & white sand beaches are literally on your doorstep, while warm turquoise waters & excellent snorkeling beckon you further.
It's the perfect setting for your very own Robinson Crusoe adventure, with restaurants & bars just around the corner!
From Carlito's Place, there are a couple of comedors/local restaurants just a 10 minute walk away, while the main village (lined with food & drink options) is only 20 minutes away.
Carlito's Place Cabins
Carlito's Place hosts around 14 beach cabins with private & shared bathrooms. There are also 2 larger cabins with kitchenettes & 1 or 2 bedrooms.
Our cabin featured a double bed & a single bed. Big, wooden windows let in plenty of natural sunlight & cool breezes.
The private bathroom was separated from the room by a curtain. There's a flush toilet but being out on a tiny island, saving water is encouraged.
Each cabin comes with a deck with a hammock & chairs. The hammock will become your close friend, it's so relaxing – beware… once you lay down, getting up is pretty tough!
We loved our little red beach cabin at Carlito's Place – it was simple & clean, all you need for a rustic island getaway.
Carlito's Place Restaurant
Carlito's Place features a large restaurant, serving a local Nicaraguan breakfast of Gallo Pinto (rice & beans), eggs, tortillas, cheese & coffee. It's served daily & at $3.00, it's the cheapest breakfast we came across on Little Corn Island.
Drinks are also available throughout the day & night, including beer, rum & soft drinks.There's also a billiards table, TV & book exchange in the restaurant's social area.
Out on the beach, you'll find some palapas – traditional open-sided huts with thatched roofs. It's a great place to relax with drinks & watch the waves roll in.
Things to Know About Staying at Carlito's Place
Carlito's Place is also known as Hospedaje Sunrise Paradise
Meet & greet at the ferry dock – a staff member will be waiting for you when you arrive, with your name on a whiteboard – they will walk with you to Carlito's Place!
Power is available from 1:00pm to 6:00am everyday
Locally owned, family business
Spanish, English & Creole spoken
Safe, family-friendly environment
Plane reservations can be made
* Top Tip: Save money by booking a cabin 1 or 2 rows back from the water or a cabin with shared bathrooms – either way, you'll still be on the beach!
The Karma Shack
Carlito's Place is super-convenient if you're interested in practicing yoga or meditation or indulging in a massage during your time on Little Corn Island.
At the back of Carlito's Place, you'll find a cute, blue wooden cabin surrounded by trees – that's The Karma Shack. It's run by a Dutch woman named Leo who has been living on Little Corn Island since 2005.
At the Karma Shack, yoga classes run from Monday-Saturday at 7:30am, for 90 minutes.
The price is $8.00 – bring your own water bottle for a free water refill. Private classes are also available. Meditation & massage sessions are by appointment.
Things to do on Little Corn Island
Dive, Snorkel & Fish
Horse-riding on the beach
Climb the old Lighthouse for the best views of the island
Swim & sunbathe at North Beach & Pelican Beach
Taste Rondon, a Caribbean coconut seafood stew
How to Get to Little Corn Island
The easiest way to get to Little Corn Island is to fly from Managua to Big Corn Island & take a ferry to Little Corn from there.
The hard way is to take the bus from Managua to El Rama, then a panga boat to Bluefields, a ferry to Big Corn Island & finally another ferry/panga to Little Corn Island.
Note that the ferry from Bluefields to Big Corn Island only runs once a week – it departs Bluefields on Wednesday morning at 9:00am & takes 6-7 hours.
The return ferry from Big Corn Island to Bluefields also runs once a week – it departs Big Corn on Thursday morning at 9:00am.
Ferries/pangas between Big Corn & Little Corn islands run twice a day (once in the morning & once in the afternoon) weather permitting.
More information on schedules & times will be coming soon.
In a Nutshell
Prices: Seasonal, double cabins from $40.00 (high season) – contact Carlito for current prices
Contact (Carlito Archibold):
Did you enjoy reading Carlito's Place: Beachfront Cabins on Little Corn Island?
Pin it and help others find it too!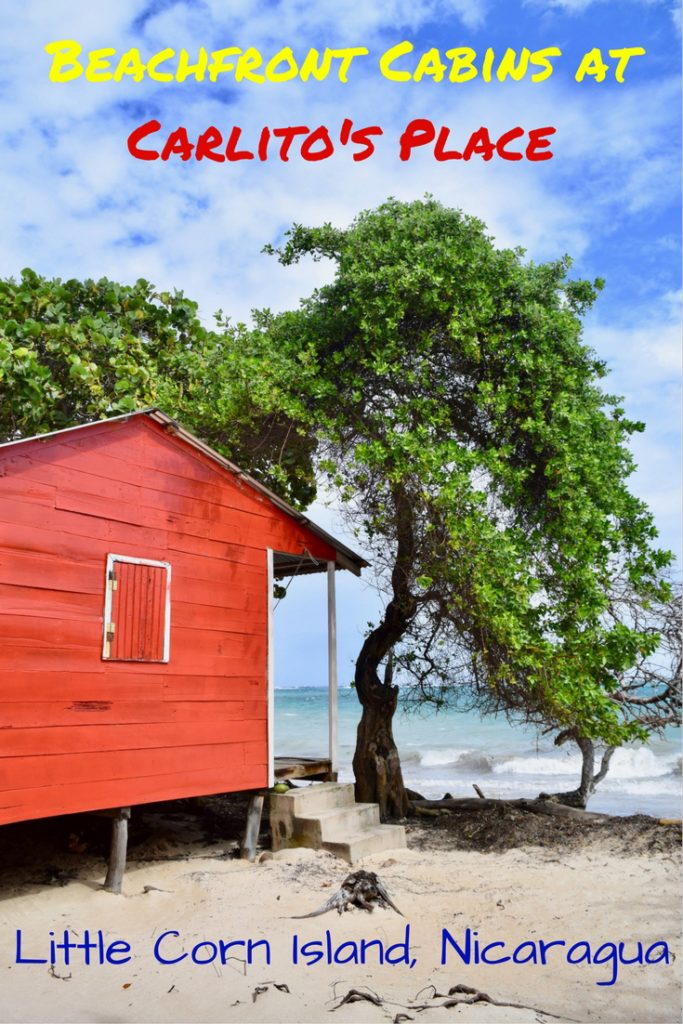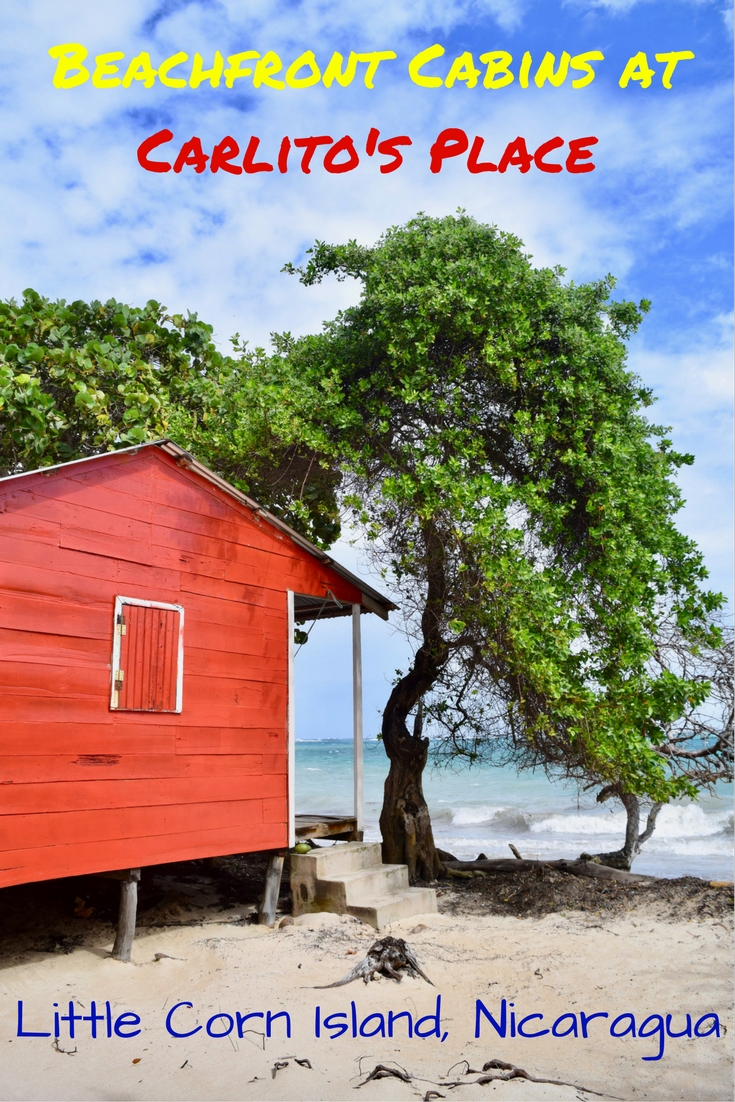 *** The Final Word: The rustic beachfront cabins at Carlito's Place are the best-value accommodation on Little Corn Island! ***
What's your favourite beach or island in the world?
* We enjoyed a complimentary stay at Carlito's Place – thank you to Carlito for hosting us. We only recommend great value accommodation that we would choose to stay at regardless! As always, all opinions are our own.
Visited in December 2016