Hospedaje Central is more than just a place to sleep, it's a way of life! With a relaxed vibe, colourful dorms, a fantastic restaurant & cheap beers, find out why it's the long-running backpacker's favourite on Isla de Ometepe!
Hospedaje Central Location
Hospedaje Central is situated in the town of Moyogalpa, the largest on the island of Ometepe.
With a decent selection of restaurants, accommodation, shops & tour agencies, it's the most convenient place to base yourself on an island visit.
Ometepe is also one of the most popular destinations in Nicaragua.
Hospedaje Central is just a short, 5 minute walk from the ferry dock – and one block from the PALI supermarket, perfect for DIY Travel!
Hospedaje Central Dorms & Rooms
Rooms at Hospedaje Central are simple, colourful & clean. Most rooms have recently received a paint job – ours featured a lovely palm tree feature wall.
Our room was quite spacious, with 2 double beds as well as 2 desks & chairs.
The bathroom was also clean, with excellent water pressure for the shower.
There are 2 dorm rooms available, with shared bathrooms: mixed & girls only. Lockers are provided, bring your own lock.
Hospedaje Central provides great value for money & it's very budget-friendly.
They aim to accommodate all travellers, with hammocks & camping space offered for those on a shoestring budget
Hospedaje Central Restaurant, "El Indio Viejo"
Hospedaje Central is also home to one of Ometepe's most popular restaurants, "El Indio Viejo".
Like the rest of the hostel, it's a riot of colour & happiness that can't help but bring a smile to your face!
From the brightly painted tables & chairs to the whimsical artwork & murals, it feels like an adult's playground – especially with a bar that serves beer for less than $1!
The food delivers too – the menu offers a variety of Nicaraguan & International food such as gallo pinto, sandwiches, spaghetti & tacos.
We recommend the Whole Fish with tomato sauce, salad & tarjedas (deep-fried plantain slices) – it was great value at C$155.00 / $6.00.
Other alcoholic & non-alcoholic drinks are also available, including fresh & delicious smoothies.
Some of the produce is organic, including fruits & vegetables, sourced directly from the hostel owner's farm on the island.
And there's always upbeat or relaxing music playing, keeping with the sunny & relaxed island vibes!
Hospedaje Central Common Areas
Apart from the "El Indio Viejo" restaurant, there are a few other spaces around Hospedaje Central that are perfect for chilling out.
The restaurant seating extends to the backyard, if you prefer al fresco dining.
Hostel guests are welcome to use the tables & chairs around the courtyard, without having to purchase anything from the restaurant.
There's also a sofa & coffee table.
At the back of the hostel, there's a large palapa, which is a traditional open-sided hut with a thatched roof. Here there are plenty of hammocks and more tables & chairs.
Other Features at Hospedaje Central
Wifi – a strong connection in the rooms & throughout the hostel
Friendly staff – there's always someone around to ask for help or advice
Resident cats & deer in the back property!
Piano – tinkle the ivories on the antique piano in the restaurant
Shop – you can buy snacks & basic supplies at the restaurant too
Hospedaje Central Tours & Rentals
Hospedaje Central can arrange tours & locals guides to Volcan Conception & Volcan Maderas. They are one of the original hostel-operators on Ometepe, so their services are trusted, reliable & at fair prices.
You can also rent motorcycles, scooters & bicycles – it's the best way to explore Ometepe, as the public buses are slow & don't cover the whole island.
Motorcycle & scooter rental is $20.00 for the whole day.
Volunteering at Hospedaje Central
Hospedaje Central is run by its owner Oosaagi, who is passionate about making the hostel & life on Isla de Ometepe more sustainable.
Oosaagi already has his own farm, where some of the produce from the restaurant is sourced. He's looking at growing a vegetable garden at the back of the hostel & teaching the staff how to bake bread, to make the restaurant more organic.
Oosaagi is always open to receiving volunteers to assist with his farm, hostel or other projects he may have in the works. At Hospedaje Central, you can help with cooking, housekeeping, maintenance, gardening or painting – while exploring Isla de Ometepe & experiencing Nicaraguan living!
Things to See & Do on Isla de Ometepe
Volcan Conception – hike to Nicaragua's 2nd highest volcano (1610m)
Volcan Maderas – hike through cloudforest & spot wildlife on the smaller of Ometepe's twin volcanoes (1394)
Playa Santa Domingo – the best beach on the island
Punta Jesus Maria – a narrow sandbar in the lake, the best spot for sunset
Petroglyphs – mysterious ancient rock carvings
San Ramon waterfall – hike to animpressive 35m high cascade
Ojo de Agua – swim at a naturally fed pool
How to Get to & from Isla de Ometepe
Ferries to Isla de Ometepe depart approximately every hour from San Jorge, 4km from Rivas.
They arrive in Moyogalpa, from where you can catch a taxi to other destinations on the island.
Ferries depart from Moyogalpa to San Jorge approximately every 1-2 hours.
In a Nutshell
Address: Hospedaje Central, Moyogalpa, Isla Ometepe, Nicaragua
Prices: Private rooms $16.00 – $19.00, Dorms $5.50, Hammocks & Camping $3.50
Contact Information:
Did you enjoy reading Hospedaje Central: Backpacker's Favourite on Ometepe?
Pin it and help others find it too!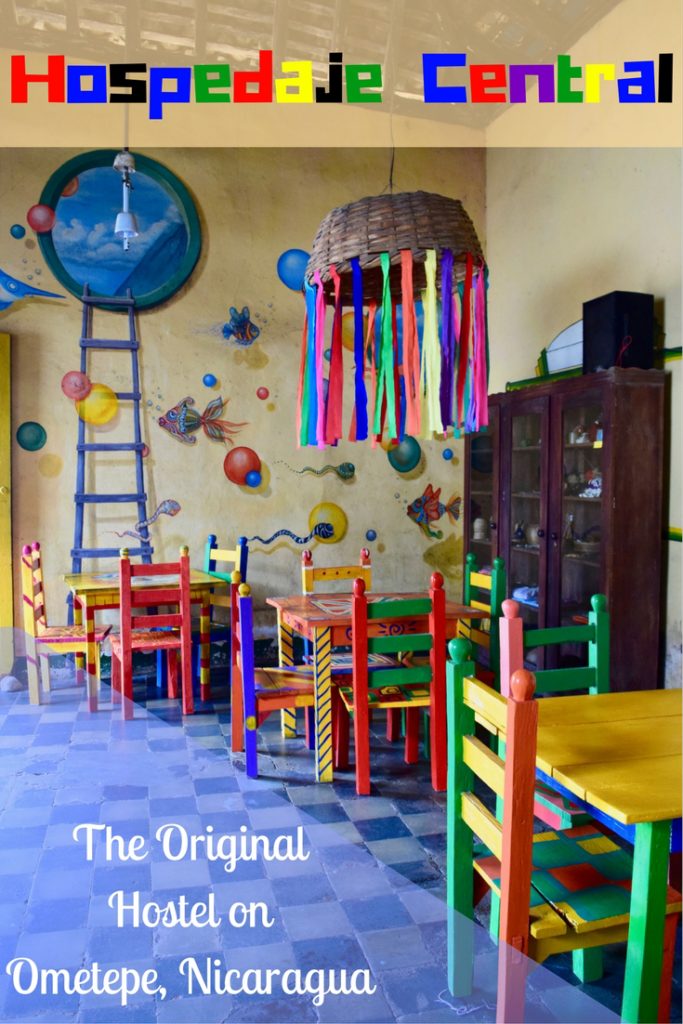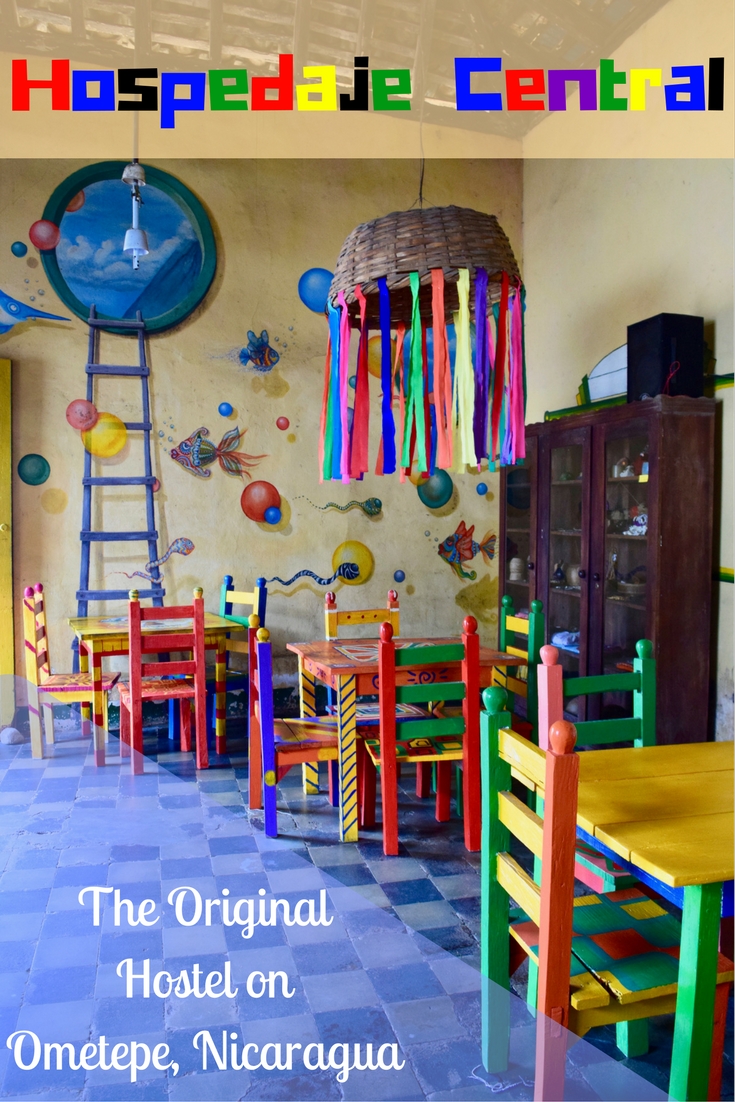 [put_wpgm id=206]
*** The Final Word – If you're looking for a laidback, backpacker's hangout, Hospedaje Central is the #1 pick in Isla de Ometepe! ***
What features do you look for in a hostel?
* We enjoyed a complimentary stay at Hospedaje Central, thank you to Oosaagi for hosting us. We only recommend great value accommodation that we would choose to stay at regardless! As always, all opinions are our own.
Visited in December 2016