Casa Ariki is a great place to call home when in San Juan del Sur. It feels like your own beach house only a few blocks from the ocean. Find out what is on offer inside & around.
Casa Ariki Location
Casa Ariki is located in San Juan del Sur, one of the most popular places to visit in Nicaragua.
The beach house is located three blocks from the ocean & right next to Parque Central.
For us here at DIY Travel HQ this was the perfect base from which to explore as transportation is also just a few blocks away on the same road.
Bars are located one block away, which allows you easy access but a quiet night when you are ready to relax & sleep.
The cheapest lunch special is also a couple houses down, which has a set meal for 50 Cordoba!
Casa Ariki Meaning
Ariki is a Polynesian term that designates a tribal leader.
An Ariki house is where regional tribal leaders congregate to discuss important matters.
Perhaps your next stay will entail getting the leaders of your family together for some much needed rest & relaxation!
Casa Ariki Rooms
One of the reasons families & large groups choose to patron Casa Ariki is the range of room configurations.
All five rooms come with air conditioning, fan, & cable TV. Shared bathrooms cost $40 & only $5 more gets you a private bathroom.
There is an additional charge of $10/person after double occupancy. Here are the different room configurations that you can choose from:
One Queen Bed & Two Bunk beds with Private Bathroom
One King Bed with Shared Bathroom
One Queen Bed & One Single Bed with Shared Bathroom
One Queen Bed & One Bunk bed with Shared Bathroom
One Queen Bed with Private Bathroom
The shared bathroom is clean & located on the 2nd level near the corresponding rooms.
There are tiles from the floor all the way to the ceiling with a hand towel & floor mat to keep things tidy.
Casa Ariki Common Areas
What's a beach house without spacious common areas?
They include a kitchen, dining room, living room, & 2nd story balcony at Casa Ariki.
Kitchen
Casa Ariki has a great kitchen if you don't want to eat out every meal, or just use the fridge for drinks.
You can stock up on items at Pali (1 km just outside town), or at some of the local tiendas for more convenience.
There is everything you need in the kitchen for cooking at Casa Ariki, including free drinking water & coffee. It really is like having your own beach house!
Dining Room
Whether you are traveling in a large group, or by yourself, there is ample space to sit at the traditional dining room table.
Make yourself comfortable & enjoy your coffee that comes from the owner's small farm in Jinotega, & is available for purchase at $10/lb if you fancy the flavor.
During our stay, we also saw one Nicaraguan family enjoying a feast that they cooked up.
Living Room
Another great place to unwind and sip on a coffee or read a book are the seats located in the living room.
Their arrangement is conducive to sparking conversation with friends, family, or other guests.
There is also a book exchange underneath the stairs in case you finish your book while on the beach.
Balcony
At night time, there is no better place than the 2nd story balcony to enjoy a gentle breeze, sip on a glass of wine, & gaze at the stars.
You can also see if anything is going on at Parque Central before visiting.
What to See & Do in San Juan del Sur
San Juan del Sur is the best & most popular beach destination in Nicaragua within easy striking distance from Granada.
The area is known for surfing, which can be found on nearby beaches.
What we loved as non-surfers was the calm water at both Playa San Juan del Sur & El Coco.
In both cases, the beach gradient was very gradual & the waves gently lapped on the shoreline.
All the beaches are best visited at low tide when they rapidly grow in width, but there are still patches of fine sand at all times.
Another attractive component to the beaches are the cliffs that tend to line both sides.
It is possible to walk up to the Christ of the Mercy statue from town within ½-1 hour depending on your pace, which affords great views of the bay.
Alternatively, you can arrange a tour.
Admission is $2, but there is also the old lookout just below for free with similar views.
In a Nutshell
Location: 2.5 blocks south of the Municipal Market in San Juan del Sur, Nicaragua
Prices: Shared Bathroom – $40, Private Bathroom – $45, $10 per person after double occupancy
Amenities: Free Wi-Fi, air conditioning, TV, drinking water, coffee, & book exchange
Contact Information:
Did you enjoy reading Casa Ariki: San Juan del Sur Beach House?
Pin it and help others find it too!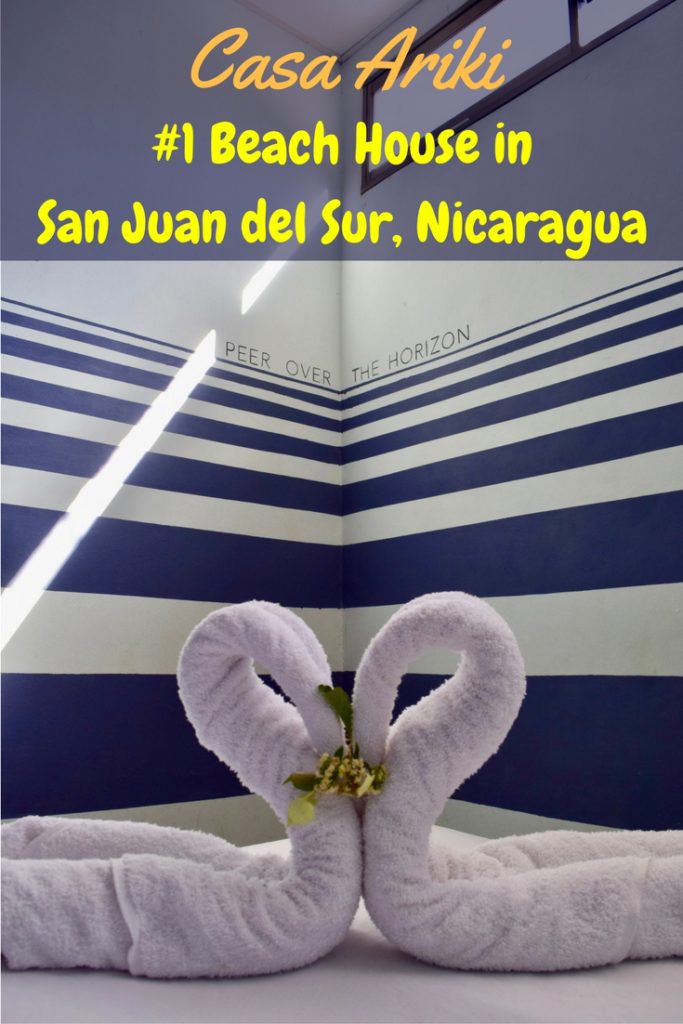 ***The Final Word – Casa Ariki has a great atmosphere that differentiates it from competitors in San Juan del Sur.***
What experiences have you had at beach houses before?
* Thank you to Sarah & Casa Ariki for hosting us!
Visited in December 2016