Granada is one of the oldest cities in the America's & Hotel La Pergola is the perfect base for exploring this historic destination – with a swimming pool & breakfast included, find out why it's the best-value accommodation in town.
Granada was founded in 1524 by Francisco Hernandez de Cordoba & named after the Spanish city of the same name – in turn, the currency of Nicaragua (cordobas) is named after the conquistador.
With its rich colonial heritage, Granada is one of the most popular places to visit in Nicaragua.
There are many fine hotels in the city but we found the best value in comfort & price at Hotel La Pergola.
Hotel La Pergola is a historic 19th century house – it's been restored with such modern facilities as a swimming pool & solar panels, while still preserving its garden courtyard & other colonial features.
It also has a fantastic location in the heart of Granada, just 3 blocks from Parque Central & 1 block from the many restaurants on Calle La Calzada.
Let us here at DIY Travel HQ show you more!
Rooms at Hotel La Pergola
There are 26 rooms available at Hotel La Pergola, from double to group rooms to suites & apartments.
Our room was very comfortable & spacious, with both an air-conditioner & a ceiling fan. There was also a mounted LED TV with cable channels and a desk & chair. We really liked the small niche in the corner to store our bags & hang clothes, which kept the room neat & tidy.
The queen size bed had a semi-orthopedic mattress which explains why we slept in every morning! The room was attended to each day by the daily housekeeping.
The en-suite bathroom was roomy & kept spotlessly clean.
The shower is solar powered so if you want hot water, it's best to use it during the day. There's a back-up gas generator in place, so you can still get warm to lukewarm water at night.
We would recommend choosing an upstairs room, for the wrap-around terrace balcony overlooking the garden courtyard & pool.
Breakfast at Hotel La Pergola
Breakfast is included in the room rate at Hotel La Pergola & every morning there are different local & Western options to choose from.
Our favourite was Huevos Rancheros, a typical Nicaraguan breakfast with fried eggs in a tomato salsa, refried beans, fried plantains & fruit. The pancakes were also delicious!
Other options included:
Omelette
Nicaraguan breakfast with rice & beans
Granola, fruit & yoghurt
Coffee, tea or fresh fruit juice is also included.
There are more breakfast choices available, at an additional cost.
The poolside café also offers snacks & refreshments throughout the day, including beers & alcoholic drinks.
There's no on-site restaurant but if you like Italian food, "Pizzeria Don Luca" is nearby & you will receive a discount there as a guest of Hotel La Pergola.
Common Areas at Hotel La Pergola
Swimming Pool – It's hot year-round in Granada, so it's nice to come back for a refreshing dip after a day out. The L-shaped pool is a good size, with a small closed-off section for kids.
Terrace – Enjoy the sunshine or cool night breezes under the covered terrace patio. There's a large picnic table to relax around & enjoy some drinks & snacks. There's also a 3rd level lookout point with views of the Granada Cathedral & Mombacho Volcano.
Garden Courtyard – Relax with a book or good conversation on the wooden rocking chairs around the leafy garden courtyard.
Other Features of Hotel La Pergola
Wifi – strong connection throughout the hotel
24 hour security
Free local gym membership
Parking available
Eco-friendly practices & policies
Events & meeting room
Things to See & Do in Granada
Parque Central & Catedral de Granada – heart of downtown Granada
Convento y Museo San Francisco – oldest church in Central America
Iglesia de La Merced – historic church
Mi Museo – private collection of ceramics
Fortaleza La Polvora – 18th century Spanish fort
Granada Cementario – home to 6 former Nicaraguan presidents
Day Trips from Granada
Granada is also a convenient base to explore the surrounding attractions:
Las Isletas – take a boat tour around the 365 mini-islands
Volcan Mombacho – hike up an active volcano
Laguna de Apoyo – swim & kayak in a crater lake
Pueblos Blancos – visit Caterina village & mirador
Volcan Masaya – look into a crater of bubbling lava
Masaya – visit Mercado Artesania & Museo del Folklore
Hotel La Pergola Wrap-Up
Granada is the perfect place to treat yourself to a stay in a historic colonial property & you can do that at Hotel La Pergola without breaking the bank!
In fact, for a piece of 19th century history with modern comforts like a swimming pool & breakfast included, Hotel La Pergola offers excellent value for money.
We're also big fans because we like supporting eco-friendly initiatives – Hotel La Pergola was the 1st hotel in Granada to offer solar hot water & air-conditioning with energy saving Inverter technology. That's a big tick in our books!
The staff here are courteous & helpful, yet respectful of your privacy at all times. Hotel La Pergola felt like a home away from home & it was a wonderful place to come back to after a long day's sightseeing in Granada 🙂
In a Nutshell
Address: Calle El Caimito, de la Alcadia Municipal, 3 cuadras al lago, Granada
Prices: Double room $52.00 (high season – see website for specials)
Contact:
Did you enjoy reading Hotel La Pergola: Colonial Charm in Granada? 
Pin it and help others find it too!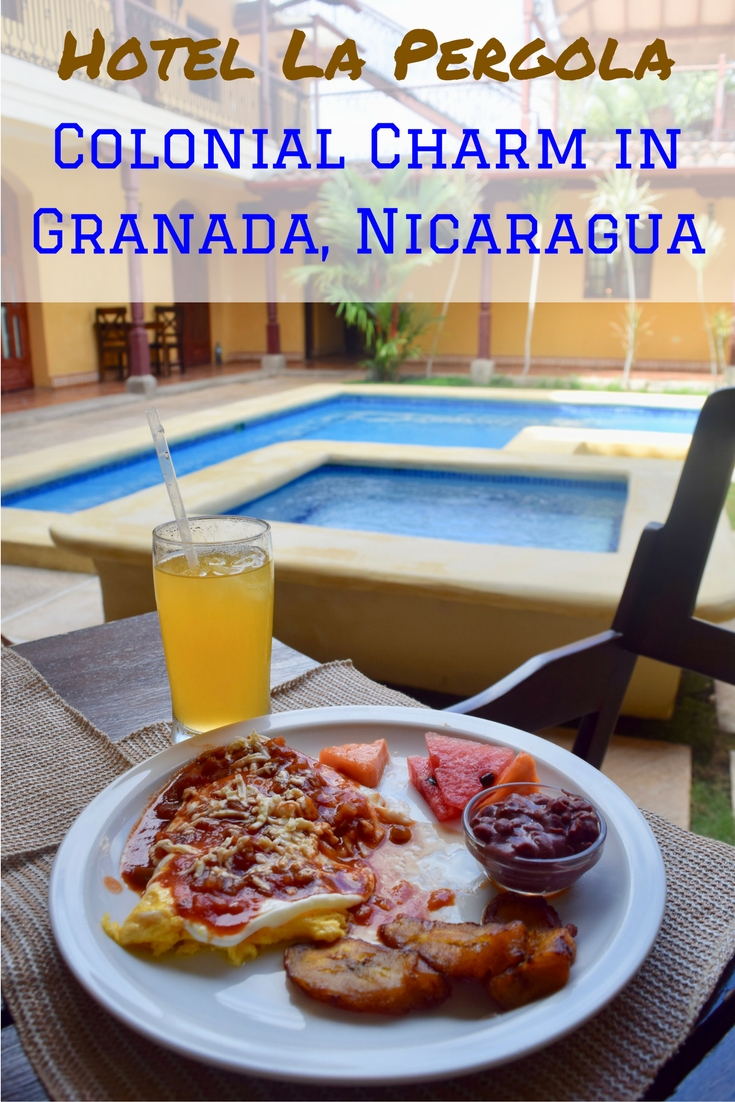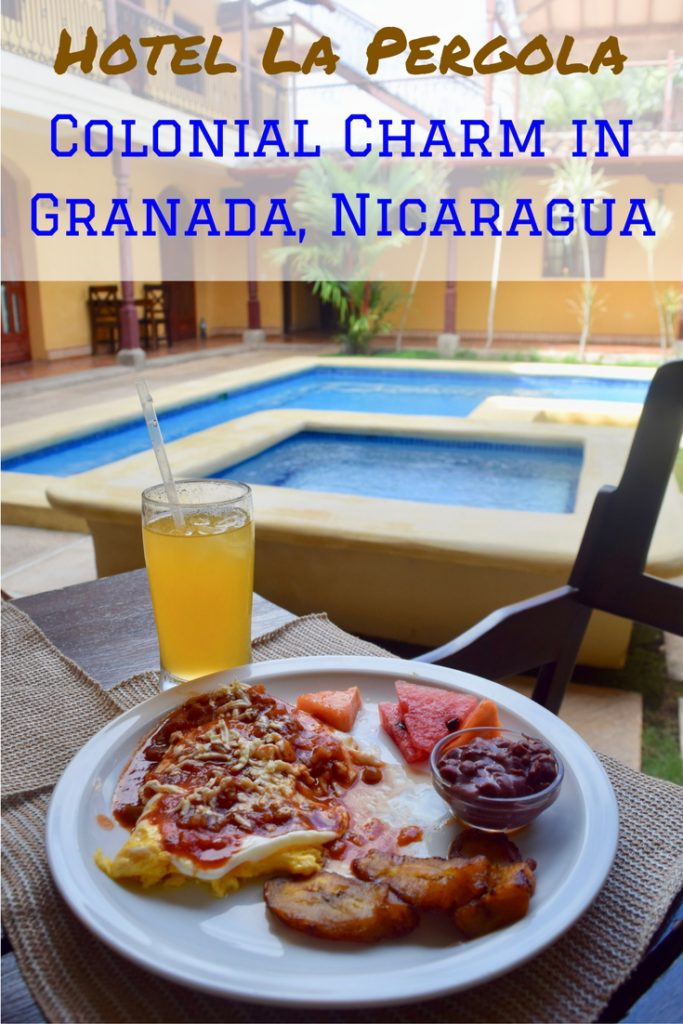 [put_wpgm id=204]
*** The Final Word: With all the modern comforts in a historic property, Hotel La Pergola is the best-value accommodation in Granada ***
What's your favourite colonial city in the world?
Visited in December 2016
* We enjoyed a complimentary stay, thank you to Hotel La Pergola for hosting us – as always all opinions remain our own