Puye Cliff Dwellings or Bandelier National Monument – which one should you visit or are both worth going to? We compare convenience and value to help you decide.
Puye Cliff Dwellings vs Bandelier National Monument Comparison
If you have both unlimited time and money, the obvious answer is to visit both New Mexico cliff dwellings. For most of us, this option doesn't exist as you either have time or money. That means you have to make a choice between Puye Cliff Dwellings or Bandelier National Monument.
The following criteria will be used by us to compare both sets of pueblo ruins.
#1. Cost
Bandelier National Monument
Puye does not allow guests to visit the cliff dwellings independently. Instead, everyone is required to join a tour. Visitors may pay $20 for either the Puye Cliff Dwellings Tour or Mesa Top Tour, or combine them for $35 on the Adventure Tour.
Bandelier has a very easy price structure for visitors. The national monument charges $25 per non-commercial vehicle containing up to 15 people, or free if anyone has an America the Beautiful National Park annual pass. Single guests may pay $15 instead.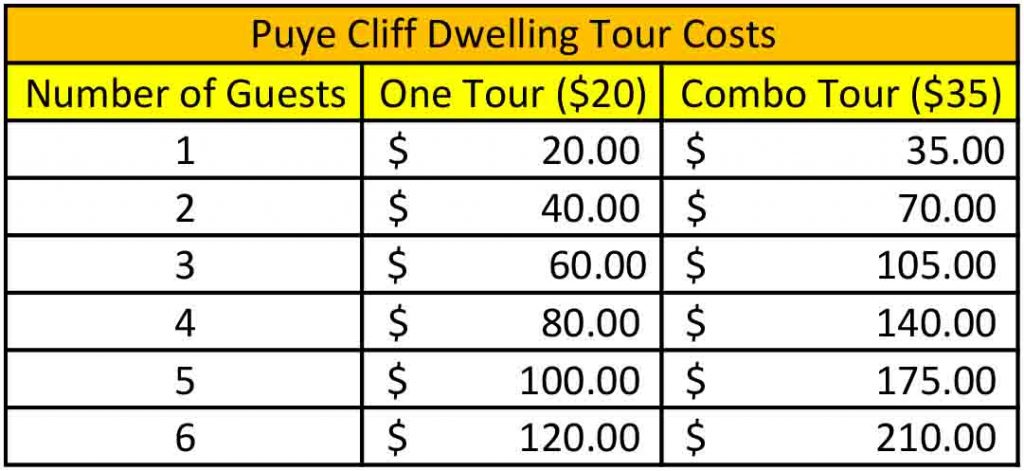 Winner: Bandelier National Monument
Bandelier National Monument is the clear winner when it comes to costs as they are $5 cheaper than Puye Cliff Dwellings' cheapest tour, and the savings grow significantly with each additional person. Using my brother and his family of six, he would be saving at least $177 even after factoring in the $2 savings per child under 14 years old.
#2. Convenience
Puye Cliff Dwellings

Bandelier National Monument
It takes roughly 40 minutes (29.1 miles) to reach Puye Cliff Dwellings from Santa Fe, with no other attractions nearby. Tours last one hour and start on the hour from 9 am – 2 pm from October to March, and from 9 am – 4 pm from April to September.
Bandelier National Monument takes 1 hour (44.1 miles) to reach from Sante Fe. Nearby attractions include White Rock Overlook, Los Alamos and the Bradbury Science Museum, and Tsankawi that is a remote part of Bandelier National Monument. The visitor center is open from 9 am – 5 pm, but all the trails are open dawn to dusk.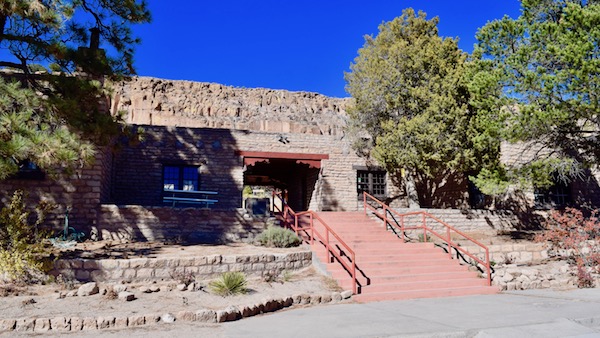 Winner: Bandelier National Monument
Although Puye Cliff Dwellings is faster to get to despite being farther north, that is the only advantage it has for convenience. Bandelier National Monument is the better destination due to having longer operating hours, freedom to explore at your own pace, and having other sights nearby.
#3. Tours
Bandelier National Monument
Puye Cliff Dwellings offers two main tours that can be combined for a discount. The Cliffside Tour shows and teaches participants about the architecture and how the volcanic cavate dwellings were utilized. The Mesa Top Tour showcases the remains of a 140 room residence and kiva.
Bandelier National Monument offers two tours regularly as well. From June through September, you can join a Main Loop Tour where the ranger will share wisdom about nature, culture, and history. The National Park Service also offers a Backcountry Get Outdoors Hike where they take you past your comfort zone.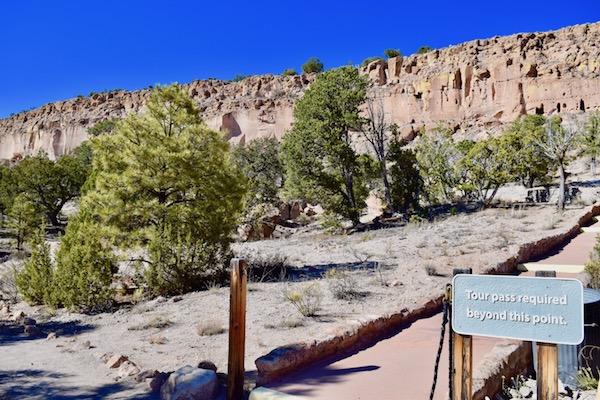 Winner: Puye Cliff Dwellings
Tours are where Puye Cliff Dwellings shines. They offer two interesting tours that have regular start times so you can plan your visit. The main differentiator is that Puye Cliff Dwelling's guides are direct descendants of the inhabitants, and trained to offer a similar experience to all guests.
Bandelier National Monument park rangers have more latitude to explain aspects they are more familiar with so each tour will be different. If you plan on taking a Bandelier National Monument tour call the visitor center at 505-672-3861 x 517 for the guided tour times.
#4. Museums
Puye Harvey House Exhibit Hall
The Harvey House features cultural displays on artifacts discovered during an excavation in 1907. The supporting text help explain their purpose and significance. The museum is free to visit even if you do not book a tour.
The Bandelier Visitor Center focuses on 13 Pueblos, and shares information about their way of life during their settlement phase. There is also a short film that reinforces these concepts and introduces you to the Bandelier ruins found on the Main Loop Trail. The museum is included with park admission.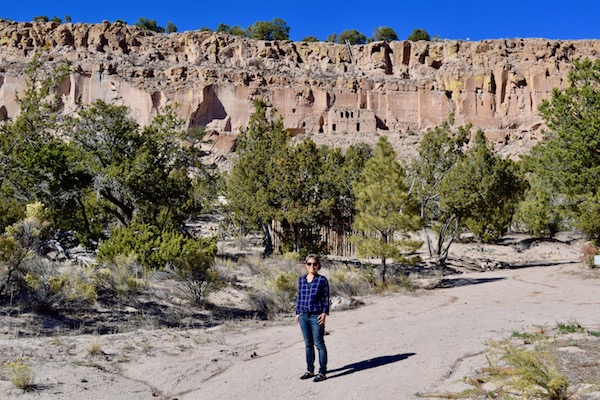 Winner: Bandelier National Monument
Both New Mexico cliff dwellings differ in their approach to educating visitors about the Pueblo culture. Puye Cliff Dwellings digs into history through artifacts, while Bandelier National Monument tells the stories of Puebloans and society. This is subjective, but Bandelier wins from a more holistic exhibit including a short movie.
#5. Value
Bandelier National Monument
At roughly $20 per hour, a visit to Puye Cliff Dwellings is not great value. Previous guests have provided good reviews, but it is on the expensive side per person considering the limited activities.
Bandelier National Monument offers incredible value considering up to 15 people in a vehicle can enter for $25 total. There are also a lot of bonus activities to take advantage of besides the Main Loop Trail and visitor center. These include the interesting Tsankawi mesa top, multiple trails to hike, and several guided hikes that will easily fill a day or more.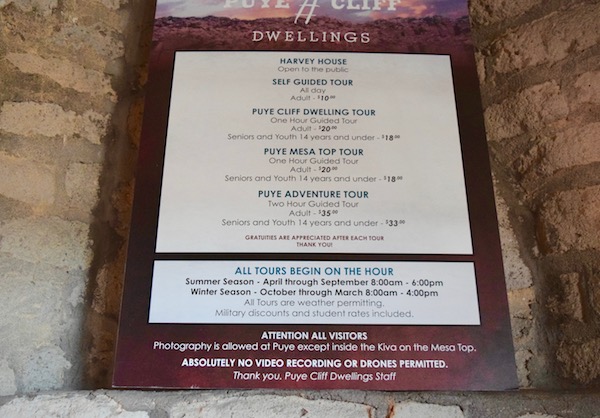 Winner: Bandelier National Monument
Bandelier National Monument is the clear winner if you are only visiting one cliff dwelling site, but we did visit Puye Cliff Dwellings as well. Since we didn't think Puye Cliffs were good value, we went through their free museum, and saw the cliff dwellings for free from the parking lot.
The cliff dwellings at Bandelier National Monument are tucked deep inside the park behind the visitor center. However, at Puye the entire cliff faces you so you can get a good picture of what you would see on a tour. You can decide what you want to do at that point.
Santa Fe & Espanola Hotels
Santa Fe is the hub for exploring this region of New Mexico. Besides all the museums and shops downtown, there are excellent restaurants whether you stayed in the city or went on a Santa Fe day trip. Accommodation prices start at $50, and are very competitive considering Santa Fe's popularity.
Alternatively, you can stay in Espanola if your main focus are the day trips since you will be closer to them. Prices are marginally cheaper. We chose to stay at Rodeway Inn at Espanola since we got a special multi-night rate.
Check hotel prices now
Restaurants Near Puye Cliff Dwellings
Depending on your itinerary, here are the best restaurants you will find around Puye Cliff Dwellings.
White Rock – Pigs and Figs is a great place to stop for lunch. They serve tasty salads, soups, quiches, sandwiches, and wraps.
Los Alamos – If you happen to be in Los Alamos for lunch, try Blue Window Bistro. The Duck BLT or Roasted Lamb Sandwich will hit the spot if you are looking for premium sandwiches.
Espanola – If you are craving Mexican food, try either Tortas Rainbow or El Parasol. Both have great tacos, but watch out for the hot chili at El Parasol.
Travel Insurance
Although the U.S. is a relatively safe country for travel, medical costs are high so if you're an international visitor we recommend purchasing travel insurance before any trip. We've been using World Nomads through 80+ countries over the past 12 years and have been really happy with their coverage and services.
For more details check out our Word Nomads review here.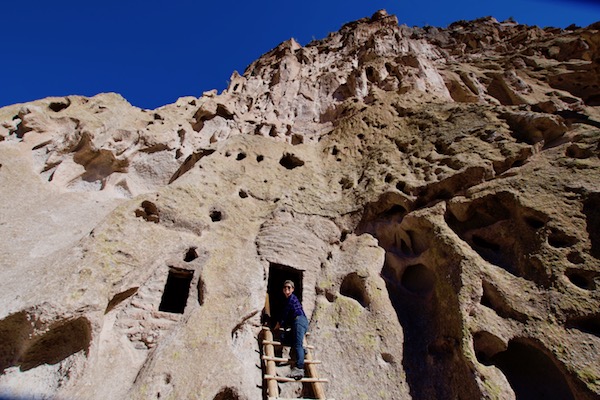 Plan Your New Mexico Road Trip
There are plenty of excellent outdoor and cultural attractions in New Mexico – pick up a guide book and start planning! You can pick and choose, make a weekend out of it, or spend 9 days like we did taking in all the best that New Mexico has to offer.
We also visited the following places the same day as Puye Cliff Dwellings:
Bandelier National Monument including Tsankawi
Bradbury Science Museum in Los Alamos
White Rock Overlook
Find more inspiration in one of the New Mexico guide books below!
We strongly suggest buying the America the Beautiful National Park annual pass for $80. It not only covers admission to per vehicle attractions, but up to 4 people at per person sites. The investment can easily pay for itself with just a couple National Park visits. Other notable cultural sites in New Mexico that are worth visiting are listed below.
New Mexico Car Rental
In order to get around New Mexico, you need to have a car. If you flew into Albuquerque like us, then your cheapest option is Budget Car Rental. One of the key benefits was that they were one of the few companies open until 1 am, which worked with our late flight from New York City.
We were surprised to find that Sheena was able to rent a car much cheaper as an Australian than I was as an American. If you're an international visitor, keep that in mind during your online research. You could save big $$$…
Know Before You Go
Hours: Puye Cliff Dwellings – 8 am to 4 pm from October to March, 8 am to 6 pm from April to September; Bandelier – Trails are open dawn to dusk, 9 am – 5 pm for the visitor center
Fees: Puye Cliff Dwellings – $20 to $35 per person; Bandelier – $25 per vehicle
Duration: Puye – 1-3 hours; Bandelier – 3 hours or more
Nearest Large City: Santa Fe at 40-60 minutes by car
Hotel: Rodeway Inn at Espanola ($46); Motel 6 Santa Fe Central ($50)
Nearby Attractions: White Rock Overlook, Tsankawi, Bradbury Science Center, El Santuario De Chimayo
Phone Number: Puye – (505) 917-6650; Bandelier – (505) 672-3861 x 517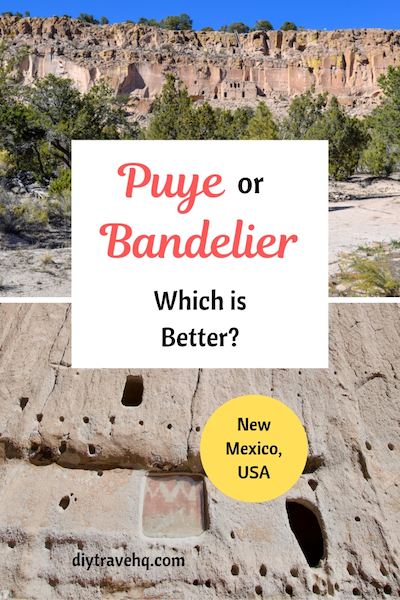 Disclaimer: This post contains affiliate links which means that we receive a small commission if you click on a link and purchase something that we've recommended, at no extra cost to you.

Visited in October 2019
Updated August 2019