Are you wondering what to do in Albuquerque? Look no further as we have the top 25 fun things to do in Albuquerque, New Mexico including our hot air balloon ride during the Fiesta!
When we were planning our New Mexico road trip, it was difficult to narrow down what to do in Albuquerque. We knew our main reason for visiting was the Albuquerque International Balloon Fiesta, and then created our list of fun things to do in Albuquerque around those activities.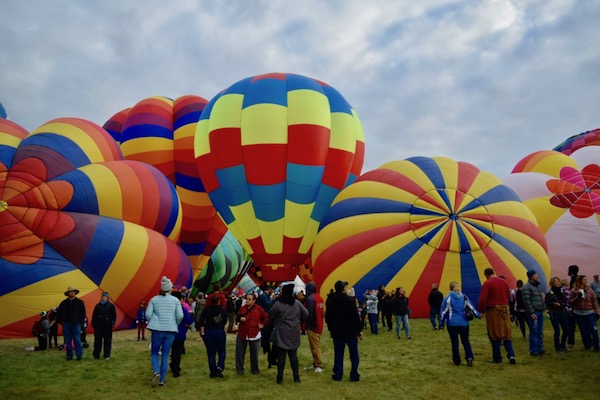 New Mexico CulturePass
If you are planning on visiting several museums in Albuquerque, Santa Fe, or while traveling around New Mexico, then see if the $30 CulturePass is of value to you.
Each state museum is $12 so you just have to visit three museums to start saving. There are 15 attractions covered under the CulturePass.
Things to do in Albuquerque
In order to help you plan your visit, we've broken down the things to do in Albuquerque to the Old Town, downtown, and surrounding area that is better accessed with a car.
We found that in order to get around New Mexico, you need to have a car. While we were comparison shopping car rentals, we were surprised to find that Sheena was able to rent a car much cheaper as an Australian than I was as an American.
If you're an international visitor, keep that in mind during your online research. But without further ado let's get into our list of the best attractions in Albuquerque…
Albuquerque Old Town and Around
#1 Albuquerque Old Town Plaza
During Spanish colonization, they used to require a plaza at the center of town with a church on one side. Albuquerque Old Town followed these guidelines perfectly.
Centered on Albuquerque Old Town Plaza is San Felipe de Neri Church, restaurants, and galleries. Relatively recent additions include the Rattlesnake Museum, Albuquerque Museum, New Mexico Museum of Natural History and Science, and Explora Science Center and Children's Museum of Albuquerque nearby.
It is nice to walk around and grab a bite to eat, and explore the Old Town Albuquerque charm compared to the modern downtown. You can pay for parking in the lots, or head just outside the district for free parking.
Entrance Fee: Free
Duration: 1-2 Hours
Hours of Operation: Dawn to 10 pm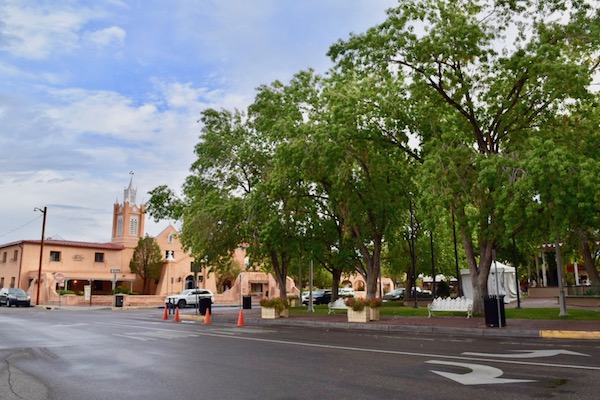 #2 San Felipe de Neri Church
Located on the north side of Albuquerque Old Town Plaza is historic San Felipe de Neri Church. This adobe church was built in 1793 replacing the collapsed original from 1706.
Besides taking a quick tour inside, the grounds are also nice for selfies. Our favorite place was the Virgin Mary carved into a tree at the southeast corner of the property.
Entrance Fee: Free
Duration: 15 Minutes
Hours of Operation: 9 am – 4:30 pm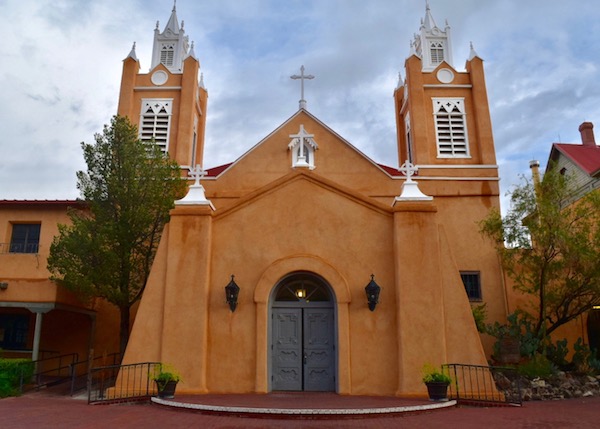 #3 Explora Science Center and Children's Museum of Albuquerque
Make this #1 for fun things to do in Albuquerque with kids. Both they and you will enjoy the hands-on activities at Explora Science Center and Children's Museum of Albuquerque.
All the exhibits are creative and show how the fundamentals of science work. This includes gravity, properties of water, principles of air movement, flow of electricity, effects of light, and so much more.
Three of the best exhibits are literally riding a bicycle on a tightrope, creating a bubble around you, and flying a model airplane in a wind tunnel. Once a month they also have a no kids night if you can't be bothered with little ones.
Entrance Fee: $10
Duration: 2 Hours
Hours of Operation: 10 am – 6 pm Monday to Saturday, 12 pm – 6 pm Sunday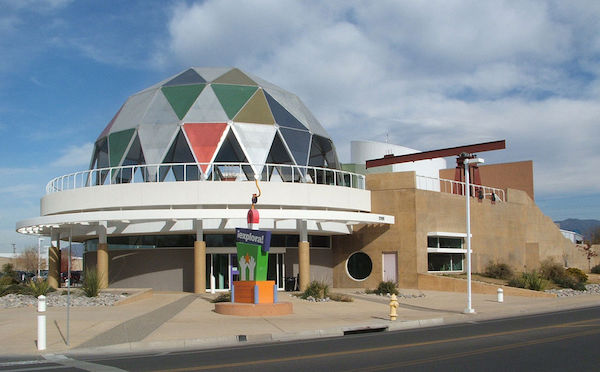 #4 Albuquerque Museum
We timed our visit to Albuquerque Museum with the free admission Sunday morning. This is an easy add-on to any Albuquerque Old Town visit.
Inside we found a great collection of jewelry on display, fantastic paintings, and an interesting exhibit on Asians in New Mexico. Even before we entered, the garden full of sculptures was impressive.
Entrance Fee: $6; Free Sunday 9 am – 1 pm, 9 am – 5 pm First Wednesday of the Month, 5 pm – 8:30 pm Third Thursday of the Month
Duration: 1 Hour
Hours of Operation: 9 am – 5 pm Tuesday to Sunday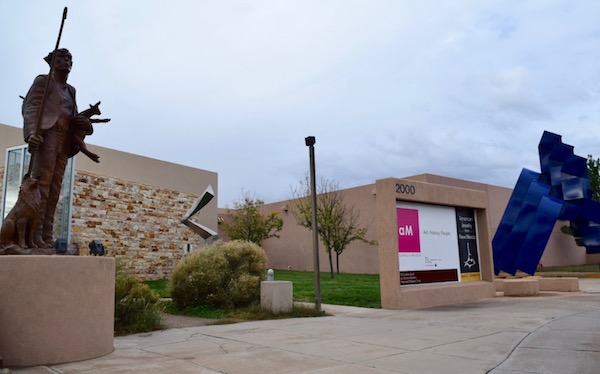 #5 New Mexico Museum of Natural History and Science
The New Mexico Museum of Natural History and Science is within walking distance of Albuquerque Old Town. Although we chose not to visit, this might make your list of things to do in Albuquerque for adults and kids.
Inside you can find permanent exhibits on how life started, the night sky, and kids' favorite – dinosaurs! Temporary exhibits have included topics such as Da Vinci, the brain, and space.
Entrance Fee: $8, New Mexican residents receive free admission the first Sunday of each month.
Duration: 1-2 Hours
Hours of Operation: 9 am – 5 pm; 5:30 pm – 9 pm First Friday of the Month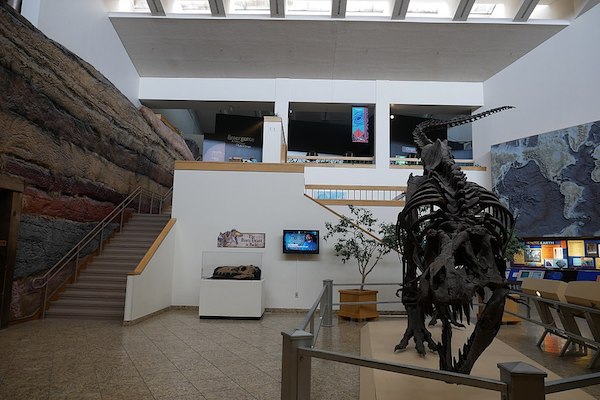 #6 Rattlesnake Museum
If you fancy snakes, then check out the Rattlesnake Museum which features the world's largest collection of living rattlesnake species along with some lizards and turtles present too.
The museum is conveniently located in Old Town Albuquerque, and adds something unique to your visit. Snake memorabilia are mixed in with reptiles and species highlights for a well-rounded experience.
Entrance Fee: $6
Duration: 30-60 Minutes
Hours of Operation: Sept – May: Monday – Friday 11:30 am – 5:30 pm, Saturday 10 am – 6 pm, Sunday 1 pm – 5 pm; June – August: Monday – Saturday 10 am – 6 pm, Sunday 1 pm – 5 pm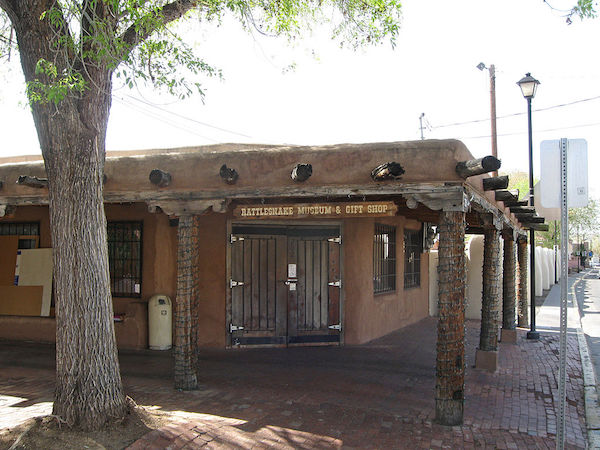 Downtown Albuquerque
#7 Nob Hill and Old Route 66
Nob Hill is a trendy neighborhood next to the University of New Mexico. The main reason to visit is shopping at the many eclectic stores, but you can also find galleries, restaurants, and bars.
During the day you can look at the murals, and the neon lights turn on at night for a visit back to the old days of Route 66. You can also visit the Spaceship House while in this part of downtown Albuquerque.
Entrance Fee: Free
Duration: 1 Hour
Hours of Operation: 24 Hours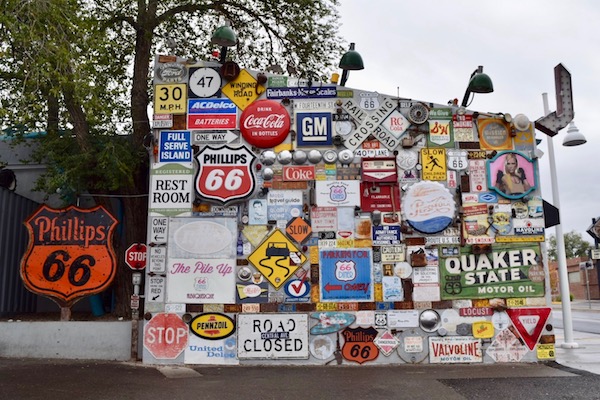 #8 66 Diner
In order to gain the full Route 66 nostalgia, head to 66 Diner on Central Avenue. They have a collection of Instagram worthy signs in their parking lot along with memorabilia inside. This is a quick, but fun stop.
Entrance Fee: Free
Duration: 15 Minutes
Hours of Operation: Dawn to Dusk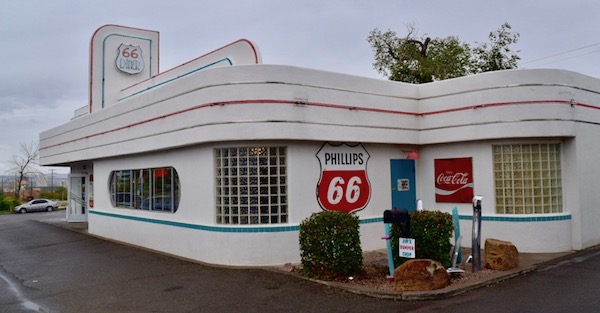 #9 Albuquerque Murals
Downtown Albuquerque murals are on display for all to see. Artists have taken the blank building walls and turned them into creative canvases. This isn't a must see in Albuquerque, but it is a nice bonus if walking around downtown.
Entrance Fee: Free
Duration: 1 Hour
Hours of Operation: Dawn to Dusk
#10 Spaceship House
Tucked a few streets back from Central Ave in Nob Hill is the Spaceship House. Believe it or not, it is someone's actual home so you will have to admire the architecture from outside. This is worth a quick stop if nearby.
Entrance Fee: Free
Duration: 15 Minutes
Hours of Operation: Dawn to Dusk
#11 University of New Mexico and Maxwell Museum of Anthropology
If you have extra time in downtown Albuquerque, try walking around the beautiful University of New Mexico campus that is next to Nob Hill. You can enjoy the architecture, Duck Pond, or venture inside Maxwell Museum of Anthropology.
The anthropology museum has permanent exhibits on the evolution of humans and people of the Southwest. If you have visited Chaco Canyon, you can see some of the excavated pottery from that Pueblo. There are also rotating special exhibits as well.
Entrance Fee: Free
Duration: 30 Minutes
Hours of Operation: 10 am – 4 pm Tuesday to Saturday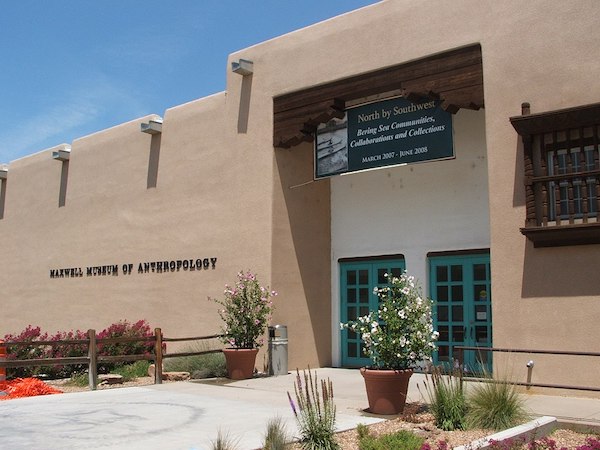 #12 Albuquerque Biological Park
The Albuquerque Biological Park is actually comprised of three attractions that the entire family will enjoy. You can visit the zoo by itself, or add on the aquarium and botanic gardens for a fun filled day. The 1 ½ mile Rio Line train links the parks and is included with the combo ticket.
If you are visiting from a large city in the US, then these aren't necessary to put on your list of Albuquerque attractions. Focus on the attractions that you can't see back home.
ABQ BioPark Zoo
The Albuquerque Zoo has all your usual fan favorites including big cats, primates, elephants, hippos, rhinos, giraffes, polar bears, and more. You can enjoy strolling around the zoo for a couple of hours learning about all the different animals.
ABQ BioPark Botanic Garden
The Albuquerque Botanical Gardens are nice to walk around, but best during the warmer months when flowers are in bloom. The green houses are great year round.
The highlights include the Japanese Garden, Rose Garden, and Butterfly Pavilion. One of the surprises was the Bugarium that featured tarantulas, leaf-cutter ants, and many more insects in their natural environments.
ABQ BioPark Aquarium
The Albuquerque Aquarium is very small, but does offer some excitement. There is the fan favorite tunnel with marine life all around you, shark and ray tanks, and touch pools although most sea life are out of range. The new showstopper are the cute and playful otters.
Entrance Fee: $22 Combo; $14.50 for the Zoo, or Aquarium and Botanic Garden
Duration: 3-4 Hours
Hours of Operation: 9 am – 5 pm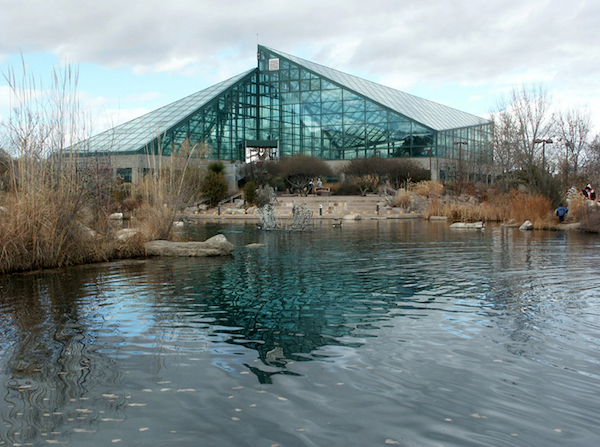 #13 Isotopes Baseball
The Albuquerque Isotopes are the Colorado Rockies AAA farm team so you can either catch up-and-coming stars, or those making their way back to the majors. Considering tickets for good seats start at $12, it is an easy add to your list of Albuquerque attractions.
Entrance Fee: $12 and up
Duration: 3 Hours
Hours of Operation: Varies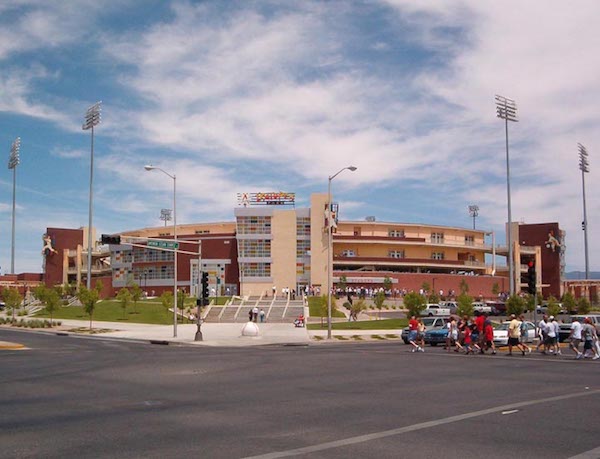 Near Albuquerque
#14 Albuquerque International Balloon Fiesta 2019
Try to time your trip to Albuquerque, New Mexico to coincide with the Albuquerque International Balloon Fiesta held each October.
This was the inspiration for our 9 day New Mexico road trip, and #1 from our things to do in ABQ. We even got to join the mass ascension for an Albuquerque hot air balloon ride.
Weather permitting, the mass ascension takes place each morning during the 9 day festival with the first weekend and following Saturday having the most activities. Here is the typical schedule for these days.
6 am – Dawn Patrol
6:30 am – Morning Glow
7 am – Mass Ascension
8 am until 12 pm – Chainsaw Carving
1 pm until 5 pm – Chainsaw Carving
6 pm – Balloon Glow
8 pm – AfterGlow Fireworks
Try to hit both the morning and evening sessions. It is impressive to see all the hot air balloons take off during the mass ascension. Likewise, the balloon glow is a lot more impressive in the evening when balloons are all blown up and remain tethered to the ground. The fireworks were an added bonus and included some cool tricks that we haven't seen before.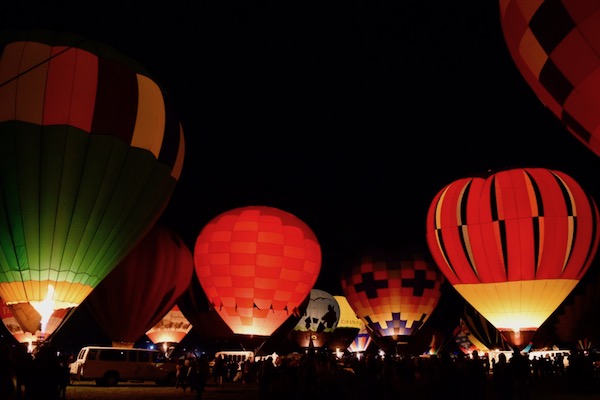 Try to visit earlier during the Albuquerque balloon festival since we wouldn't have seen the balloons fly if we didn't go there first thing after our flight arrived midnight on Saturday. Sunday was too windy and hot air balloons were grounded.
Are you wondering when is the balloon festival in Albuquerque, New Mexico in 2019? This year the Albuquerque International Balloon Fiesta 2019 takes place from 10/5/19 until 10/13/19. For a different perspective, find out what it is like to ride a hot air balloon during mass ascension in the famous Albuquerque Box.
Entrance Fee: $10 per General Admission Session
Duration: 4 Hours
Hours of Operation: 6 am – 8 am Daily, 6 pm – 9 pm Select Days; October 5th to 13th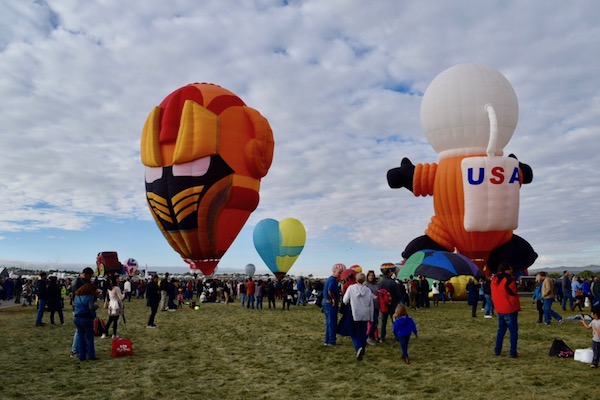 #15 Anderson-Abruzzo International Balloon Museum
There is no reason not to visit the Balloon Museum, especially with free admission each Sunday. Whether or not you are visiting during the Albuquerque Balloon Fiesta, this museum is an excellent way to gain background knowledge about hot air ballooning that has raised Albuquerque to new heights.
The museum's permanent exhibit takes you through the evolution of ballooning including the origins, military applications, and ultimately to recreational use and long distance flights. The Hall of Fame section honors the individuals that made significant contributions to ballooning.
To keep kids interested, break up the exhibits with Balloon School. Here you can see the different components that make up a hot air balloon, learn how the gondola is weaved, and see specific knots that help tie it altogether. Once you feel comfortable, try your hand at the flight simulator to see if you can land on the designated target.
Another key exhibit covers weather balloons and how man has continued to better understand and predict weather to improve our lives. This also applies to the conditions that make the Albuquerque Box, which allows the balloon festival to take place on such a grand scale. The only remaining question is whether the Roswell UFOs really were weather balloons?
Entrance Fee: $6; Free Sundays 9 am – 1 pm & First Friday of the Month (Except October)
Duration: 1-2 Hours
Hours of Operation: 9 am – 5 pm Tuesday through Sunday

#16 Cibola National Forest
Cibola National Forest has four sections in three states, but for our purposes we are only covering Sandia Mountain. Here you will find Sandia Peak Tramway that will whisk you up to Sandia Crest, or you could do it the hard way by hiking La Luz Trail instead.
We actually took the third option and drove to Sandia Crest to save time and money. In typical DIY Travel HQ fashion, we chose to park ¼ mile on the shoulder to avoid paying the $3 parking fee. The views were wonderful from the top and free!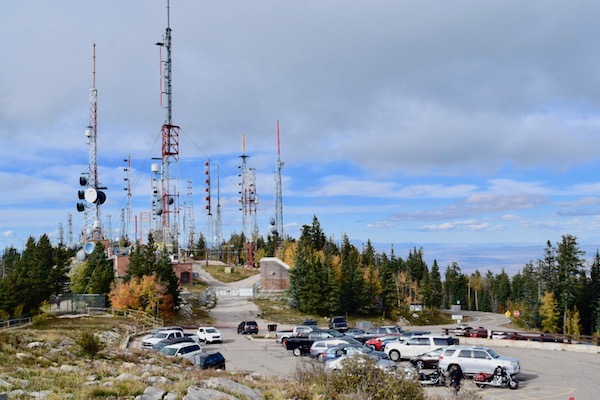 La Luz Trail
We wish we had more time to have been able to hike La Luz Trail. It gains roughly 3,500' over 8 miles with some rocky switchbacks. For your hard work, you are rewarded with stunning views of Albuquerque while the ecosystem changes from dessert to alpine. Consider taking the Sandia Peak Tramway one way if you don't want to hike La Luz Trail a second time.
Sandia Peak Tramway
The 2.7 mile Sandia Peak Tramway is the longest in the world, and offers exceptional views of Albuquerque. Each way takes 15 minutes and is standing room only.
Our original plan before speeding up our New Mexico road trip was to hike La Luz Trail to the top, enjoy sunset, and then ride the Sandia Peak Tramway down. Arriving just before sunset by foot or tram is still the best idea so you can see Albuquerque during the day, transition, and night.
Entrance Fee: Sandia Crest Parking – $3; Sandia Peak Tramway – $15 One Way, $25 Round-Trip
Duration: La Luz Trail – 4 Hours One Way; Sandia Peak Tramway – 1-2 Hours Each Way Depending on Queue
Hours of Operation: Daily 9 am – 9 pm 5/24/19 – 9/2/19 and 10/4 – 10/13; Daily 9 am – 8 pm from 9/319 – 5/23/20 except 5 pm – 8 pm Tuesdays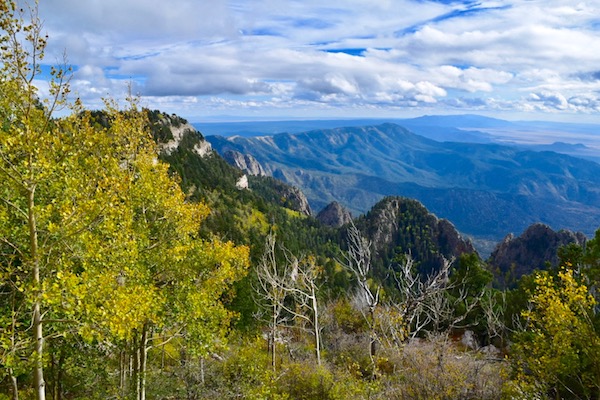 #17 National Museum of Nuclear Science and History
Compared to Los Alamos that focuses solely on the Manhattan Project, the National Museum of Nuclear Science and History does a good job covering all aspects of nuclear energy.
You can still find a large portion dedicated to the Manhattan Project, but they also cover uranium mining, nuclear weapons, disasters, and supplying power today. A bonus is the assortment of vehicles outside capable of delivering a nuclear bomb.
Entrance Fee: $12
Duration: 1-2 Hours
Hours of Operation: 9 am – 5 pm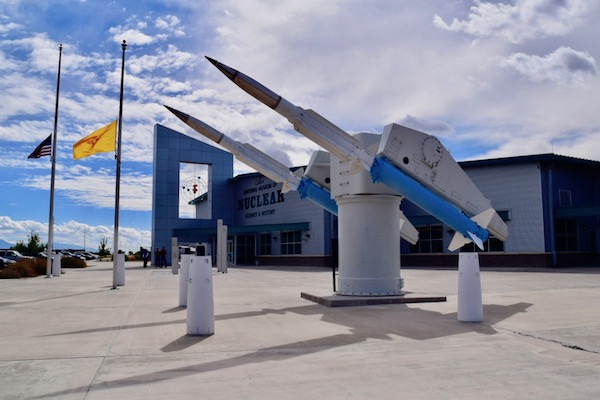 #18 Petroglyph National Monument
There are four sections to Petroglyph National Monument. These include Boca Negra Canyon, Rinconada Canyon, Piedras Marcadas Canyon, and Volcano Park.
Boca Negra Canyon
The most developed and popular site is Boca Negra Canyon due to the concentration of petroglyphs. You can see over 100 in an hour! Although you won't find any shade on the trails, there are shaded picnic pavilions along the way to the mesa top.
We enjoyed hunting for the petroglyphs, but didn't find them too impressive. With limited time, we preferred La Cieneguilla Petroglyph Site in Santa Fe even though that is a more challenging scramble up rocks.
Although the National Park Service does not charge an entrance fee, the city of Albuquerque does require a nominal fee for parking. We chose to bypass this by parking on one of the side streets in a housing development ¼ mile away.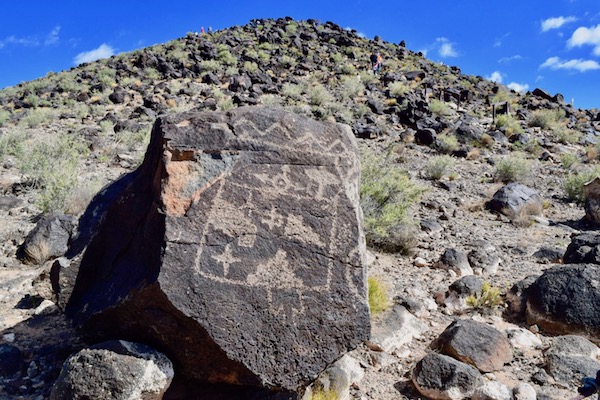 Rinconada Canyon and Piedras Marcadas Canyon
Rinconada Canyon has 200-300 petroglyphs on a 2 ¼ mile long trail that averages two hours. Meanwhile, Piedras Marcadas Canyon has a total of 300-500 petroglyphs on a 1 ½ mile trail taking 90 minutes. Neither have a developed trail system, and only Rinconada Canyon has a vault toilet.
Volcano Park
Volcano Park does not have any petroglyphs, but it does allow you the chance to walk around several small volcanic cinder cones. There isn't any shade or even vegetation so be sure to bring water to keep hydrated. Besides being on a volcano in New Mexico, the other highlight is the view of Albuquerque.
Entrance Fee: Parking – $2 per Vehicle on Weekends, and $1 on Weekdays
Duration: 1-2 Hours
Hours of Operation: 8:30 am – 4:30 pm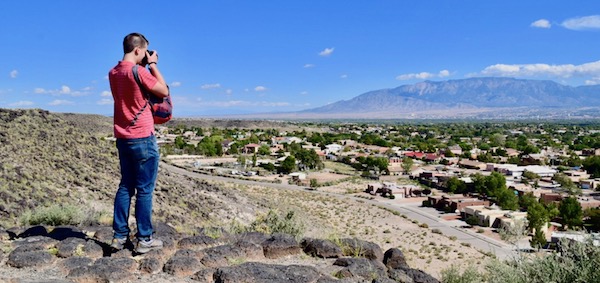 #19 Unser Racing Museum
The Unser Racing Museum is a hidden gem. We were a little skeptical before our visit since we are not huge race fans, but the family museum was wonderfully put together.
Inside the two building museum, they make an effort to create interesting displays that appeal to a large audience. You not only learn about the rich Unser racing history, but also the evolution of internal combustion engines and race car technology today.
One of the exhibits showcases all the trophies the Unser family has earned across multiple racing classes. The most impressive is having three different Unsers win the Indianapolis 500 with the most famous being Al Unser Sr.
The more casual fan will enjoy all the race cars on display, and the Indy race car simulator. There is also a chance to meet Al Unser Sr. at different times of the year.
Entrance Fee: $10
Duration: 1-2 Hours
Hours of Operation: 10 am – 4 pm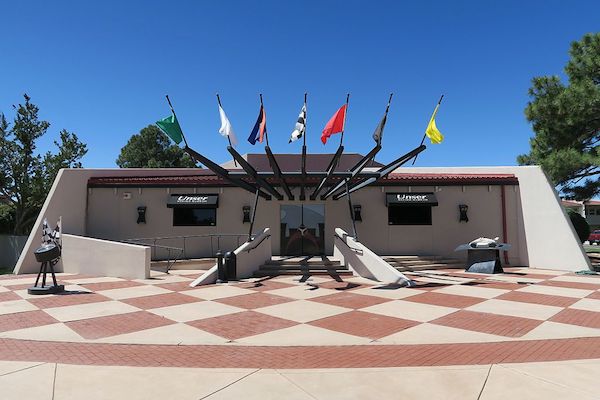 #20 Indian Pueblo Cultural Center
The Indian Pueblo Cultural Center is a collective between 19 Pueblos in New Mexico. Together, they have created a permanent exhibit showcasing their history, culture, and art. Expect to see pottery, weaving, baskets, jewelry, and paintings on display. Temporary exhibits tend to focus on artwork.
Each weekend museum visitors will also be able to witness a traditional dance from one of the 19 Pueblos. These take place at noon from November to March, or 11 am and 2 pm from April to October. The experience and quality differs with each Pueblo.
Entrance Fee: $8.40
Duration: 1-2 Hours
Hours of Operation: 9 am – 5 pm; Cultural Dance – 12 pm November to March, 11 am and 2 pm April to October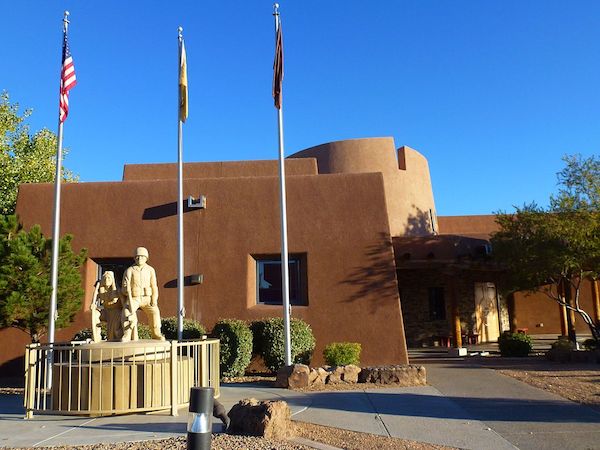 #21 New Mexico Steam Locomotive and Railroad Historical Society
Although the restoration of a steam locomotive by the New Mexico Steam Locomotive and Railroad Historical Society isn't technically a museum, it doesn't mean you won't learn a lot during your visit.
There is a team of dedicated volunteers performing the train restoration that are happy to give tours two days a week, and ask for a donation in return. You are given a hard hat upon arrival for a hands-on introduction.
The tour will answer all your questions about the steam locomotive's history, what has occurred during the 19 year restoration process, and so much more. Any train buff will fall in love with the 1944 Santa Fe Steam Locomotive.
Entrance Fee: Free
Duration: 1 Hour
Hours of Operation: 9 am – 2 pm Wednesday and Saturday
#22 Rio Grande Nature Center State Park
You would be surprised by the variety of wildlife you can find at Rio Grande Nature Center State Park. Birders will find many species nestled in the riverside trails with probably the best chances to see a roadrunner in New Mexico. There are also regular sightings of turtles and occasional glimpses of porcupines and beavers.
Entrance Fee: $3 per Vehicle
Duration: 1-2 Hours
Hours of Operation: Trails – 8 am – 5 pm; Visitor Center – 10 am – 5 pm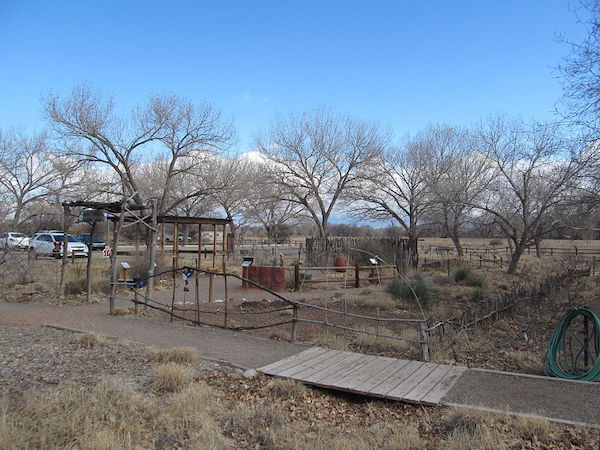 #23 Elena Gallegos Park
While La Luz Trail gets all the hype, Elena Gallegos Park is where Albuquerque locals come for a wide range of hikes and to picnic. The most popular trail is the Pino Trail, but you can also try the longer Domingo Baca Trail to discover the remains from a downed 1950's flight.
Entrance Fee: $2 per Vehicle on Weekends, and $1 on Weekdays
Duration: 2-6 Hours
Hours of Operation: 7 am – 7 pm November to March; 7 am – 9 pm April to October
#24 Casa Rondena Winery
If you haven't been to a vineyard before, you can visit Casa Rondena Winery. Tastings are $10 and include a handful of wines. These include their Viognier, Serenade, Animante, and Cabernet Franc. They seemed weak to our tastes, but go in with an open mind and enjoy the experience.
Entrance Fee: $10 Tasting
Duration: 1 Hour
Hours of Operation: 12 pm – 7 pm
#25 National Hispanic Cultural Center
There are a mixture of exhibits and events that take place at National Hispanic Cultural Center. The art gallery focuses on Hispanic contemporary art, but the real reason to visit is for the activities. You can join a dance class, watch a movie, take in a concert, or watch an opera. Check their website to see what is on offer.
Entrance Fee: $6; Event Prices Vary
Duration: 1 Hour
Hours of Operation: 10 am – 5 pm Tuesday to Sunday

Albuquerque Restaurants
There is a wide variety of cuisine at Albuquerque restaurants. Enjoy the variety here if you are on a longer New Mexico road trip since the options will quickly become more limited outside of Albuquerque and Santa Fe. Here are our top picks.
Diner 66
If you are already stopping to take a picture with the street signs outside 66 Diner, why not enjoy the décor inside too. They serve traditional diner food with a specialty of burgers and shakes. You can also find some New Mexican variations.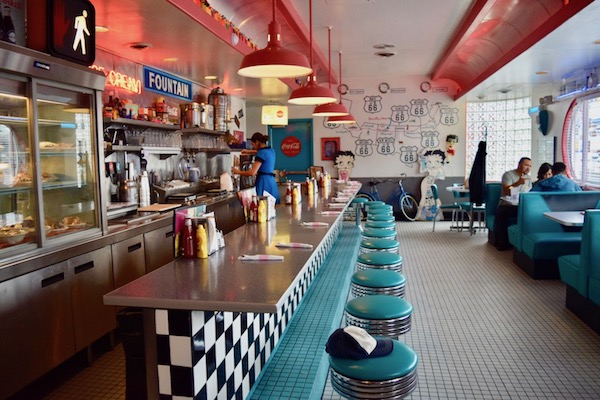 Asian Pear
Asian Pear has the normal selection of Korean food. This includes soups, salads, rolls, and bowls. They may sound basic on the menu, but the flavor can't be described with words. Get ready for some spice!
Cocina Azul
If you can't decide on what to eat in Albuquerque, then go with the classic Mexican/New Mexican cuisine. One of the most consistent is Cocina Azul if you like a lot of chili sauce with your dish.
Albuquerque Hotels
Rooms in Albuquerque hotels are very competitively priced, and start at $35. If you are timing your visit with the Albuquerque International Balloon Fiesta, book far in advance. Places get fully booked and prices rise.
We tried to book too late and had to go with an Airbnb. Oddly enough our host tried to cancel on us since he forgot to raise his rates for the balloon festival, but Airbnb settled the matter so we could keep our original booking. Click here for $40 off your first Airbnb booking.
Check hotel prices in Albuquerque
Albuquerque Hot Air Balloon Ride
We flew into Albuquerque on the closing weekend of the ABQ Balloon Fiesta and arrived at midnight early Saturday morning. After renting our car at the airport, we headed to Wal-Mart to sleep for a few hours.
The Albuquerque hot air balloon festival's gates open well before dawn, but we are glad we got there early. It not only limited the traffic, got us a better parking spot, but also a ride on Ham-Let the flying pig hot air balloon thanks to our media pass.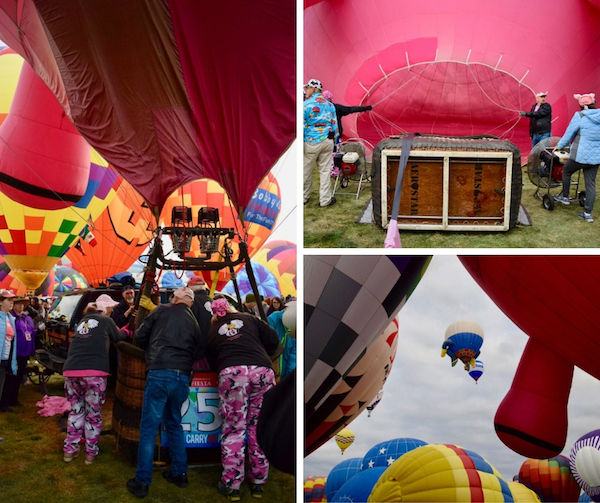 We rushed over to meet Ham-Let's pilot and crew while they tethered the balloon to the basket. Within minutes they were already beginning to force air into the balloon. Compared to traditionally shaped hot air balloons, the crew had to be careful while inflating Ham-Let due to the appendages that could be a hazard with so many bystanders getting ready to witness the mass ascension.
With a few final bursts of hot air from a propane heater the balloon began to raise over the basket, and it was time to hop in for our Albuquerque hot air balloon ride. During our safety briefing, besides making sure not to fall out, our other key role was to keep an eye out for rogue hot air balloons that might be penetrating our air space without being visible.
I'll be honest, Ham-Let's hot air balloon basket was better suited for shorter passengers. The side wall sloped down in the middle and left my hip and center of balance uncomfortably high. Thankfully there are bars above to hold on to.
As we began to accelerate up, my field of vision naturally switched from observing where we departed to the breathtaking scenery all around and countless hot air balloons that also filled the sky. Many hot air balloons over Albuquerque were merely billboards for brands, but special shapes have been increasing year after year. Some of the more original designs besides Ham-Let were an odd looking Van Gogh, giant Wellington boot, Humpty Dumpty, and Darth Vader.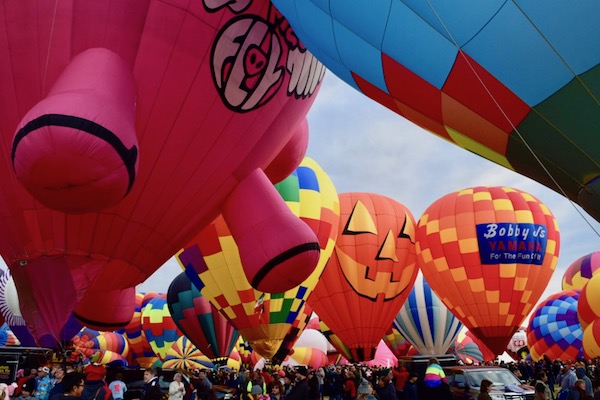 A tradition for any Albuquerque balloon ride is the splash and dash in the Rio Grande, which tends to come in the middle of your flight. This is also the most hectic time since you have hundreds of hot air balloons vying for space to touch down on the Rio Grande and then quickly rise up again. You have to be on your toes for balloons both below and above you.
We made our splash and dash perfectly with the bottom of the basket and our feet getting a bit wet before ascending again. Locals all know of this tradition with families gathered around the riversides, and kayakers patrolling the river in anticipation. It is a great experience for everyone!
I continued to watch other balloons make their splash and dash runs while admiring the Rio Grande and Sandia Mountains as we continued to drift north. Not too long after we had to be on the lookout for a landing location.
For some reason I always pictured hot air balloons to be steerable by pulling cords similar to parachutes, but that obviously isn't the case. Instead, you have to steer by riding different air currents that control the speed and direction. Having other hot air balloons in front of you at varying elevations help determine where you need to be to reach a certain destination.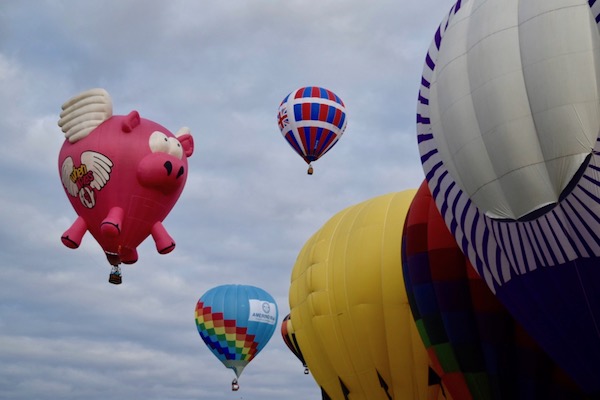 We decided to land in a small paddock and came very close to colliding with a small square fence on the right side of the yard, but our touch-down was a soft landing. Ham-Let was shuffled over to the center of the yard while we waited for the chasing crew to find our final location.
Once they arrived, they knew the drill and got to work preparing the ground tarp to then lay Ham-Let down safely on the prickly field. Once most of the air was out it was time to fold it up and compress it even further. Only those wearing gloves could assist in this portion since our natural oils could damage the balloon material.
The whole group had to participate for the next phase though. Everyone took turns throwing the now snake shaped balloon over their shoulder and carrying it to the bag where it would remain curled up until the next flight. With a final lift, Ham-Let the flying pig was tucked away into the back of a trailer.
By the time we got back to the Albuquerque International Balloon Fiesta, all the planned activities were over and everyone had left the morning session. Only when pigs fly would I have expected to join the Albuquerque balloon festival's mass ascension. Thank you very much to the very welcoming Ham-Let hot air balloon team for letting me join you on a once in a lifetime experience.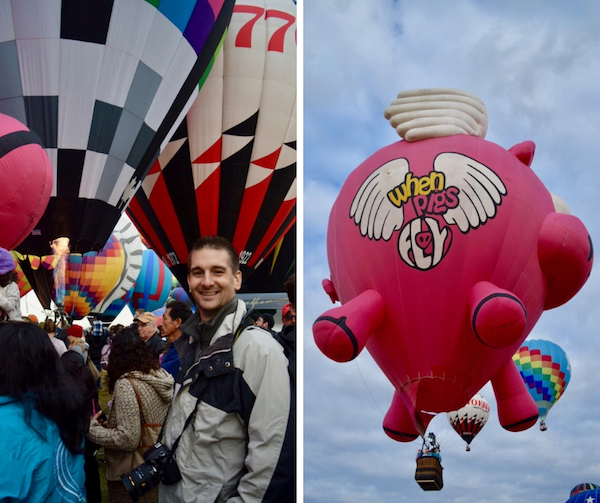 Travel Insurance in the U.S.
Although the U.S. is a relatively safe country for travel, medical costs are high so if you're an international visitor we recommend purchasing travel insurance before any trip. We've been using World Nomads through 80+ countries over the past 12 years and have been really happy with their coverage and services.
For more details check out our Word Nomads review here.
Planning a New Mexico Road Trip
There are plenty of excellent outdoor and cultural attractions in New Mexico – pick up a guide book and start planning! You can pick and choose destinations, explore a region for a weekend, or spend 9 days like we did taking in all the best that New Mexico has to offer. Here are some options for your next destination.
Find more inspiration in one of the New Mexico guide books below!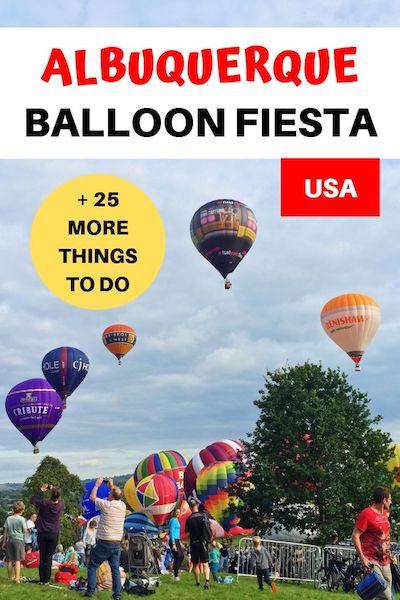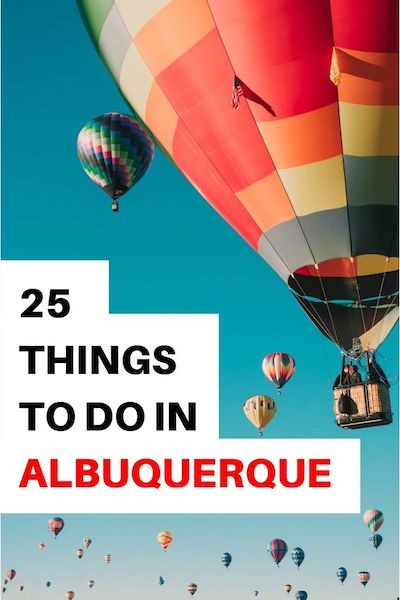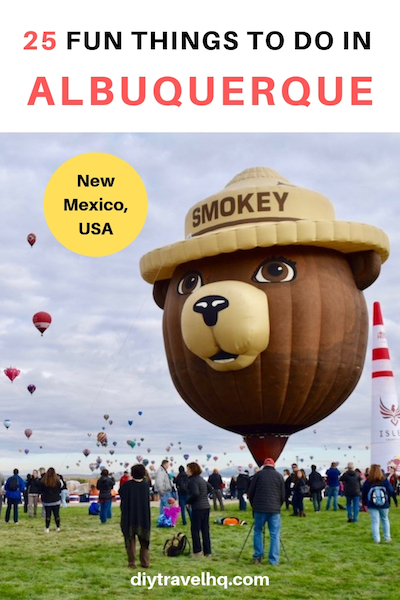 Disclaimer: This post contains affiliate links which means that we receive a small commission if you click on a link and purchase something that we've recommended, at no extra cost to you.

Visited in October 2018
Updated August 2019