Oslo attractions are not as expensive as you think: find out the top free and unique things to do plus travel tips on how to save money at the major sights.
Oslo is mighty expensive but not when it comes to sightseeing – in fact many of the best things to do in Oslo are free or very affordable. We've also included some helpful travel tips for Oslo from our own experiences and that of some of our travel blogging buddies. Check out Lonely Planet for more travel inspiration and keep reading…
Is Oslo Safe?
As of mid 2019 the US Government is issuing a Level 1 travel advisory for Norway. Travellers are advised to exercise normal precautions. You can check the current US travel advisory here and of course, you should consult your own government advice as well.
Violent crime is rare in Norway. The most likely forms of crime are theft and petty crime in Oslo especially at the Central train station. Tourists are often targeted so always be aware of pickpockets. We recommend wearing a money belt with RFID blocking and traveling with an anti-theft daypack. But if you simply use common sense & precaution you'll be ahead of the game.
Although Norway is a very safe country for travel, we recommend purchasing travel insurance before any trip. We've been using World Nomads through 80+ countries over the past 12 years and have been really happy with their coverage and services.
Top Oslo Attractions
#1. Oslo Opera House
The Oslo Opera House is one of the best places to visit in Oslo and it's become one of our favourite buildings in the world. This white & glass masterpiece has long, sharp angles that reflect its urban surroundings. You can literally climb on the slopes of the building, walking carefully on the "white carpet" leading up to the roof.
Here, there are stunning views across Oslo. There's a surprise with every step, from every angle – you won't want to forget your camera. Be sure to check out the inside of the Opera House too – it's just as striking. The main hall is in the shape of a horseshoe, dominated by a Wave Wall of golden oak curves.
The Oslo Opera House was designed by a local architecture firm. It opened in 2008, at a cost of around €500 million. While it's currently surrounded by construction, you can still imagine it as a floating glacier on the water. When the promenade development has finished, it's going to look spectacular and we'll defintiely be returning to Oslo to see it.
You can visit for free, take a guided tour or attend a performance, which is apparently very affordable. There are introductory talks before every performance too.
Oslo Opera House Entrance Fee: Free
Opening Hours: 10:00 am to 6:00 pm
Guided Tours: Monday – Friday & Sunday at 1:00 pm, Saturday at 12:00 noon
Guided Tour Prices: Adults NOK 120 / $13.65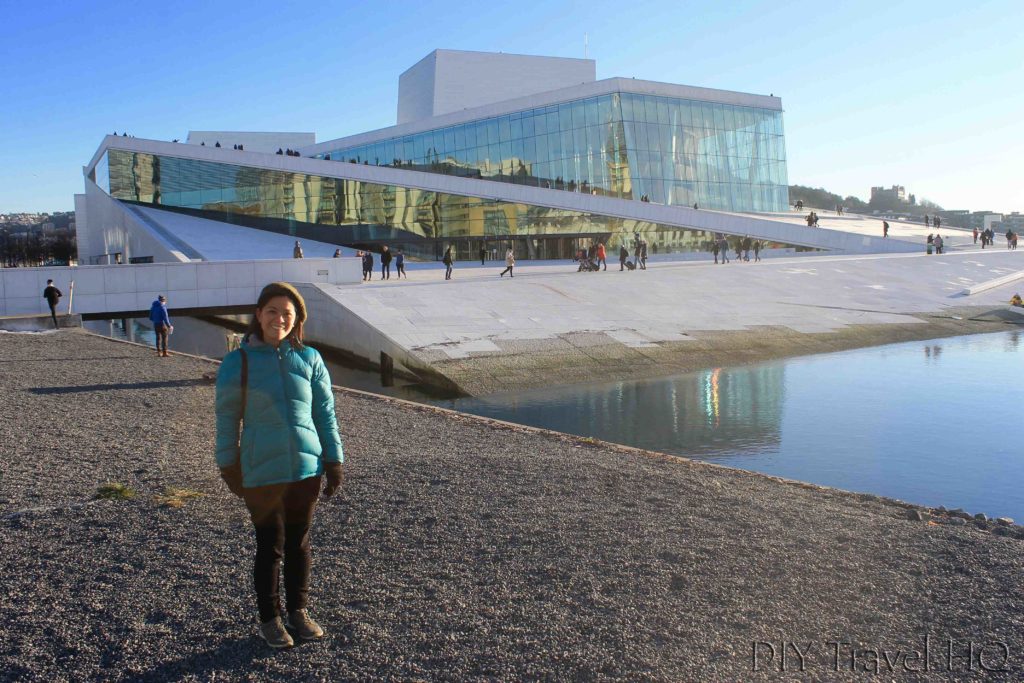 #2. National Gallery (Nasjonal Museet)
Updated May 2019 – The National Gallery is currently closed. It will be moving to the new National Museum in 2020.
If you want to see "The Scream", forget about the Munch Museum & head to the National Gallery instead, where you'll also find many of his other well-known paintings. It's included in the Visit Oslo pass along with many other museums & tourist attractions.
The National Gallery holds a large collection of Norwegian art as well as important works from the European masters such as Picasso, Monet, Renoir & Cezanne. Take some time out in the sketching room & see how your artistic skills match up with others in of the best museums in Oslo.
* Budget Tip: Free admission on Thursdays
National Gallery Entrance Fee: Adults NOK 100 / $11.40
Opening Hours: Various, approximately 10:00 am to 6:00 pm every day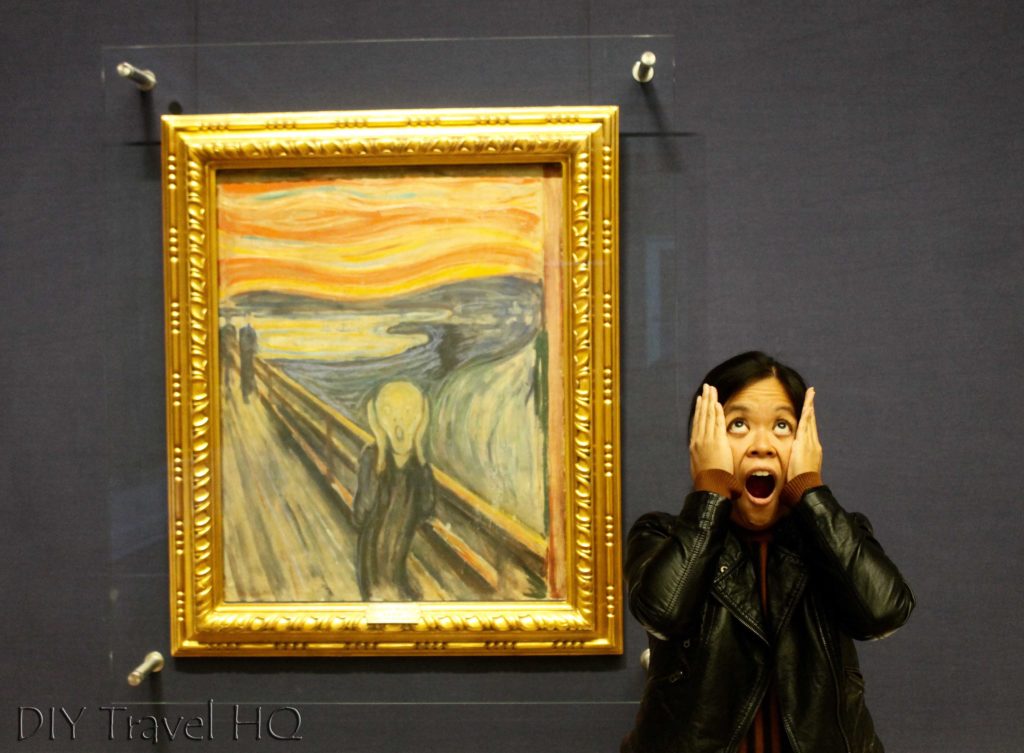 #3. Nobel Peace Centre
Not sure what to do in Oslo? Learn about the prestigious prize at the Nobel Peace Center. The museum's permanent collection presents the story & work of Alfred Nobel & Nobel laureates, while changing exhibitions highlight current affairs relating to war, peace & conflict resolution.
The Nobel Peace Prize Center is not your ordinary, stuff museum – it makes great use multimedia & interactive technology so it's one of the best things to do in Oslo, Norway.
A highlight is the Nobel Field, where information about every Peace Prize laureate is displayed on individual digital screens, in a room of 1000 fiber-optic lights. That's 126 screens, one for each of the 103 individual & 23 organizational recipients of the Peace Prize.
For a thoroughly Norwegian experience, combine a visit to the Nobel Peace Center with nearby City Hall, where the Peace Prize is presented every year on December the 10th
Nobel Peace Prize Center Entrance Fee: Adults NOK 120 / $13.65, students NOK 80 /$9.10
Opening Hours: 10:00 am to 6:00 pm every day, closed on Mondays in the winter season
Guided Tours: Free, seasonal – Daily at 2:00 pm & 3:00 pm between May 18 & August 31, Saturday & Sunday at 2:00 pm in the winter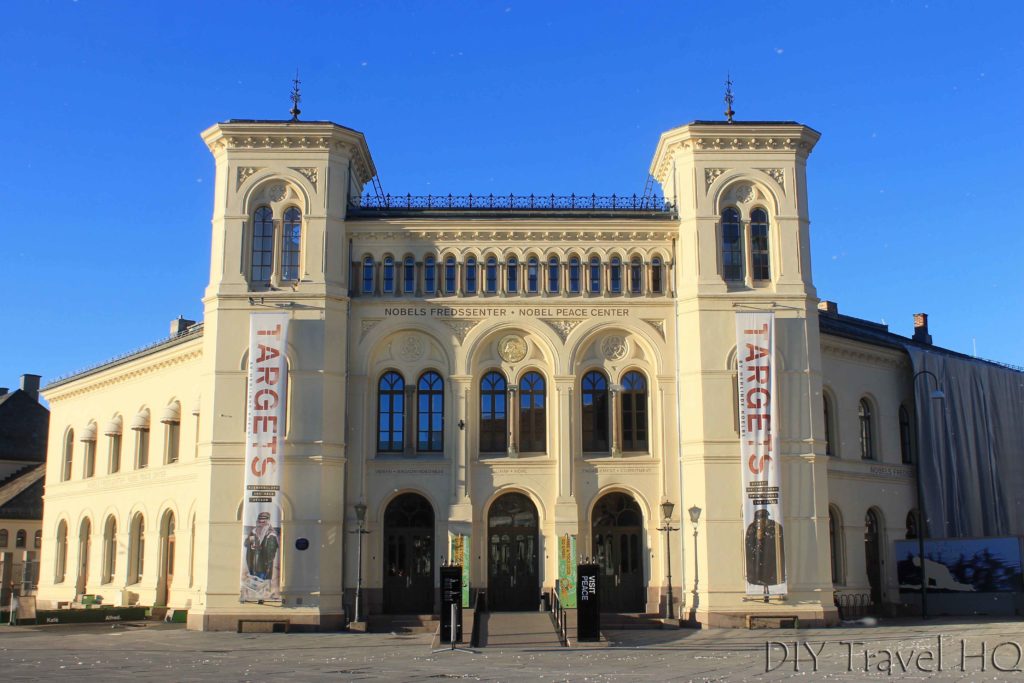 #4. City Hall (Radhuset)
Don't be fooled by the ugly 1950's brickwork of City Hall – the inside of the building is magnificent & free! This is where the Nobel Peace Prize is presented every year on December the 10th & it's definitely worthy of the occasion.
Marble covers the floors, stairway & balustrade. Huge murals depicting real & mythical scenes line the walls from floor to ceiling. The opulence continues upstairs in the palatial rooms – with antique furniture, portrait paintings & chandeliers, this City Hall feels more like a palace.
It's hard to believe that this is the home of the Oslo city council & real administrative work. The bell tower outside rings a tune of 100 bells every hour.
City Hall Entrance Fee: Free
Opening Hours: 9:00 am to 4:00 pm, Monday to Friday
Free Public Tours: June, July & August at 10:00 am, 12:00 noon & 2:00 pm. Bookings not required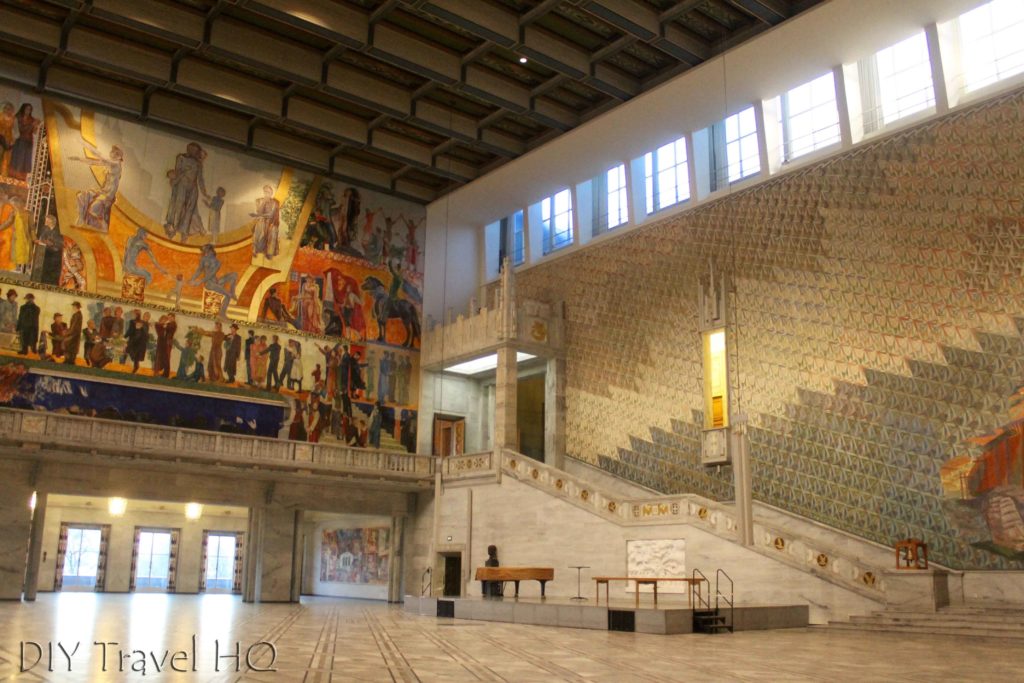 #5. Vigeland Sculpture Park
A visit to the Vigeland Sculpture Park is not just another day at the park – prepare to be amused, surprised & even shocked by what you find. It's definitely one of the best free things to do in Oslo.
The Vigeland Sculpture Park features over 200 sculptures by the Norwegian artist Gustav Vigeland. It's the largest sculpture park in the world, devoted to a single artist.
The works are in bronze, granite & wrought iron, all exploring the naked, human form. There are figures in all different states of expression, from the simplicity of the everyday (holding hands, walking) to the complexity of emotions & relationships (sexual desire).
Start at the imposing Main Gate, mounted with lanterns. Walk across the 100m long Bridge, lined with sculptures of men, women & children, some alone, some together. Work your way towards The Fountain, surrounded by groups of sculpted bronze trees hiding children & skeletons within them. The sculpted panels around the fountain depict the life cycle of man.
Take the steps up to The Monolith. The central pillar is 14m high, carved from a single piece of granite. Dozens of human figures, men & women, young & old, lie on top of each other, intertwined. There is a further 36 blocks of figures surrounding the column on a circular platform. Many of these are confronting in their sexuality & violence, while others express tenderness & sorrow– it all depends on your perspective & interpretation.
Finally, the last piece is the Wheel of Life, a wreath of human figures in a circle, symbolizing again the jounney of life. The Vigeland Sculpture Park is set within the grounds of Frogner Park. There's also a small museum on the grounds if you want to learn more about the artist & his works.
Vigeland Sculpture Park Entrance Fee: Free
Opening Hours: 24/7
Museum: Seasonal, closed Mondays. Adults 60 NOK ($7.00), students 30 NOK ($3.50)
How to Get There: Bus 20 or tram 12 to the Vigeland Park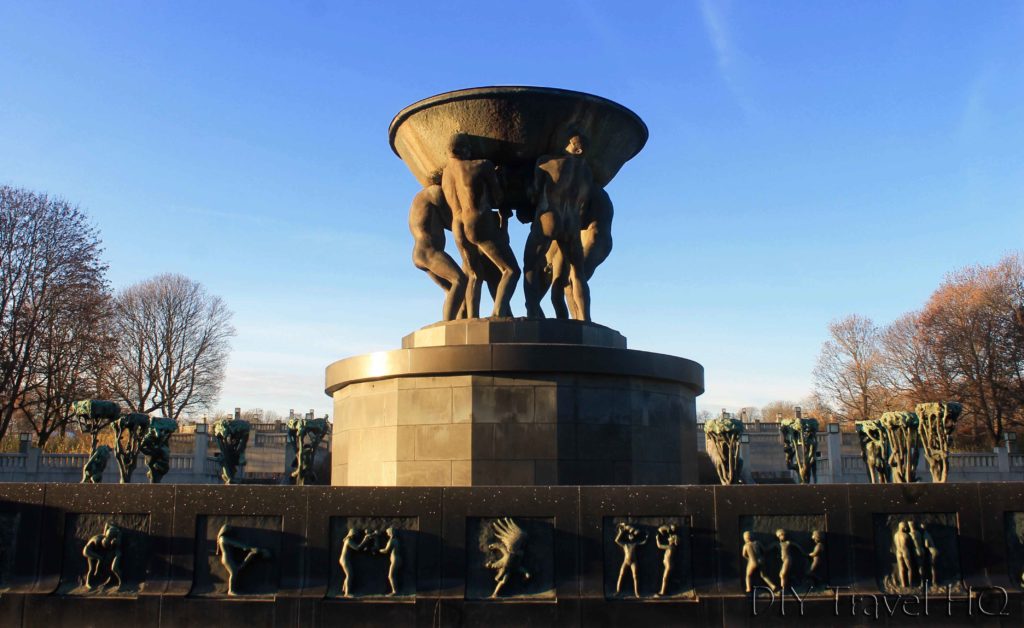 #6. Holmenkollen
Head out to the Holmenkollen National Ski Arena – it's one of the top Oslo day trips and you can get here by metro. This was the site of the 1952 Winter Olympics but the entire complex has since been completely rebuilt.
Holmenkollen is made up of 3 attractions:
Ski Museum – Founded in 1923, this is the oldest ski museum in the world. It covers over 4000 years of ski history, from prehistoric times to the present day.
Jump Tower – Take the lift to the observation deck on the top of the jump for excellent views of Greater Oslo & the ski jump arena.
Ski Stimulator – Hit these very slopes at Holmenkollen on the virtual ski stimulator, alongside the best skiers in the world!
The ski museum is quite interesting, even for novices like ourselves. There are many diverse exhibits from polar exploration to snowboarding & the interest of the royal family.
The panorama from the top of the jump tower is very nice, offering a glimpse of the countryside around Oslo. Just be sure to rug up in a down jacket as it can be pretty chilly outside. We thought it'd be one of the most fun things to do in Oslo but we weren't very impressed with the ski stimulator & would recommend giving that a miss.
Holmenkollen Entrance Fee: Adults NOK 140 / $15.95, students NOK 120 $13.65
Ski Stimulator: NOK 95 / $10.80
Opening Hours: Seasonal, 10:00 am to 6:00 pm every day between October to April
How to Get There: Metro 1 towards Frognerseteren, stop at Holmenkollen & walk 10 minutes from the station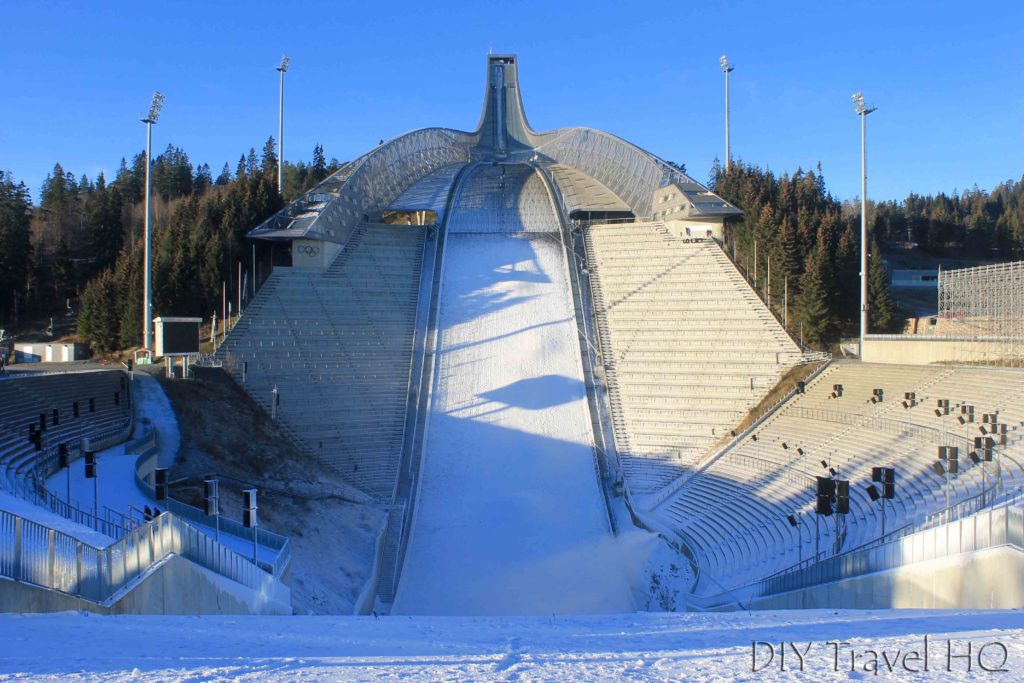 #7. Royal Palace (Kongehuset)
Still wondering what to do in Oslo? Well you can visit the Royal Palace, the official residence of the Norwegian monarch, His Majesty King Harald V and Her Majesty Queen Sonja. It was built in the 19th century, in a neo-classical style, surrounded by gardens, ponds & statues.
Changing of the guards takes places every day at 1.30 pm. Guided tours of the Royal Palace are offered every day in the summer.
Royal Palace Entrance Fee: Free (grounds only)
Guided Tours: Everyday in the summer at 12:00 noon, 2:00 pm, 2.20 pm and 4:00 pm
Guided Tour Prices: Adults NOK 140 / $15.95, students NOK 110 $12.50, book online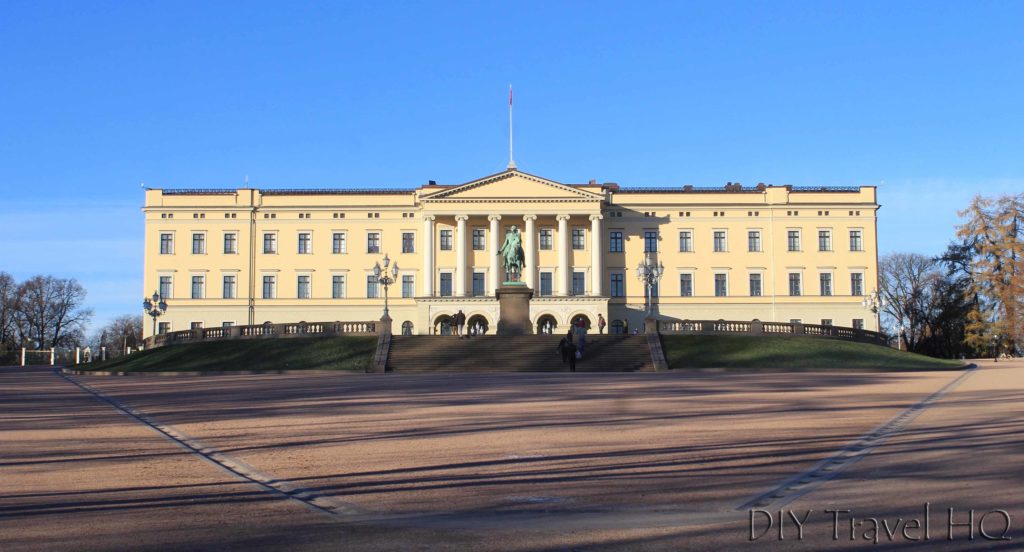 #8. Stortinget (Parliament)
The Parliament building of Norway is called Stortinget & has been the seat of the National Assembly since 1866. It can only be visited on a free guided tour.
Guided tours:
Summer: weekdays at 10:00 am & 11:30 am
Spring & autumn: Saturdays at 10:00 am & 11:30 am
Guided tour prices: Free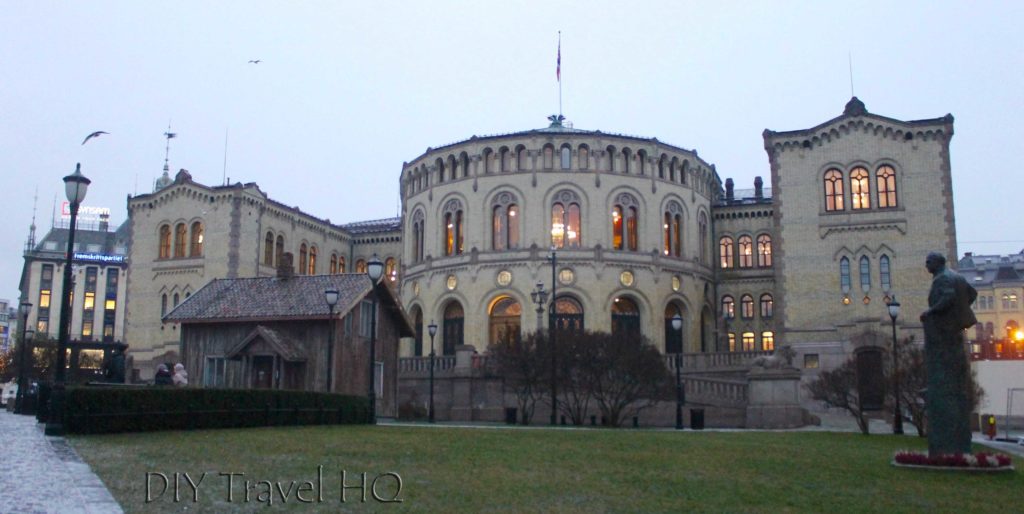 #9. National Theatre
Built in 1899, the neoclassical architecture of the National Theatre is very elegant. You can attend a performance or book a guided tour but there's just as much to admire from the outside such as statues, gardens and a lovely fountain. Enjoy the people watching as you stroll along the Palace Park to Karl Johans Gate.
National Theatre: Free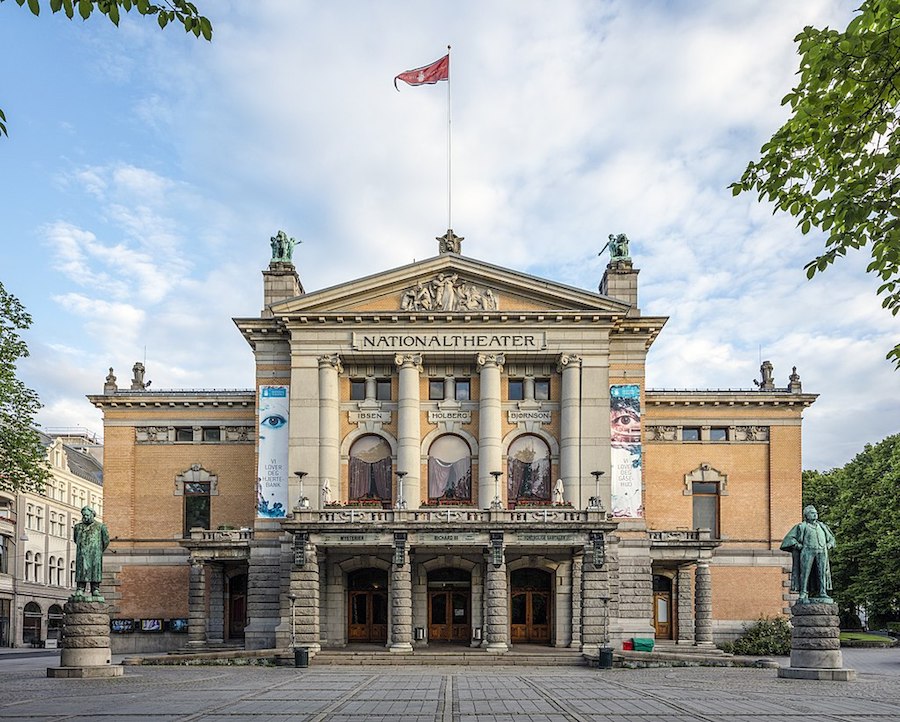 #10. Fram Museum
Discover the story of Norwegian's polar exploration at the Fram Museum. It's named after the world famous wooden polar ship, the Fram. Between 1893 and 1912, it's said to have sailed farther north and farther south than any other wooden ship in history. Visitors at the museum can climb aboard the Fram and look around the cabins, lounges, cargo hold and engine room.
There are also historical exhibitions on its most famous voyages and that of other ships and airplanes. Nautical buffs can buy a combined ticket to the nearby The Norwegian Maritime Museum and The Kon-Tiki Museum.
Fram Museum Entrance Fee: NOK 120 / $13.65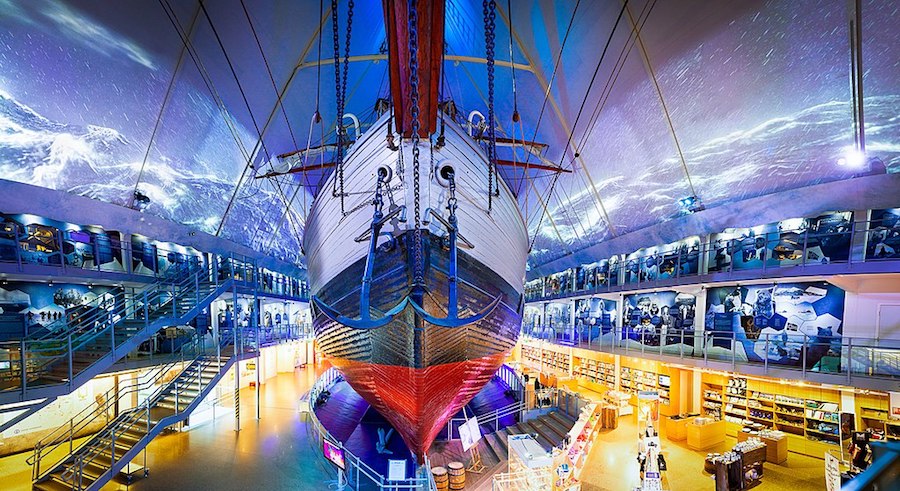 #11. Munch Museum
Edvard Munch is probably the most recognizable Norwegian Expressionist artist in the world and his work "The Scream" is on the most iconic images of world art.
In fact, the painting has four versions, created in paint and pastels. Only one painted version is exhibited at the National Gallery and the other one was sold at a private auction in 2012. The Munch Museum has two (one painted and one pastel) versions showcased, making it one of the must-see places to visit in Oslo.
The museum opened to the public in 1963 to commemorate Munch's 100th birthday. It holds a collection consists of over half of the artist's entire production of artworks, sculptures, and articles. The museum also hosts temporary themed exhibitions that have a focus on Munch and other fellow artists.
The Munch museum is not big but you can linger longer at the outdoor café under the sun and on the lawn on a sunny day. In September 2015, the city council finally revived the project of moving the museum to a new site at the city's waterfront. The new museum is expected to be completed and open to the public by 2020. For those who are planning a trip to Oslo, stay-tuned!
By Kenny of Knycx Journeying
Munch Museum Entrance Fee: NOK 120 / $13.65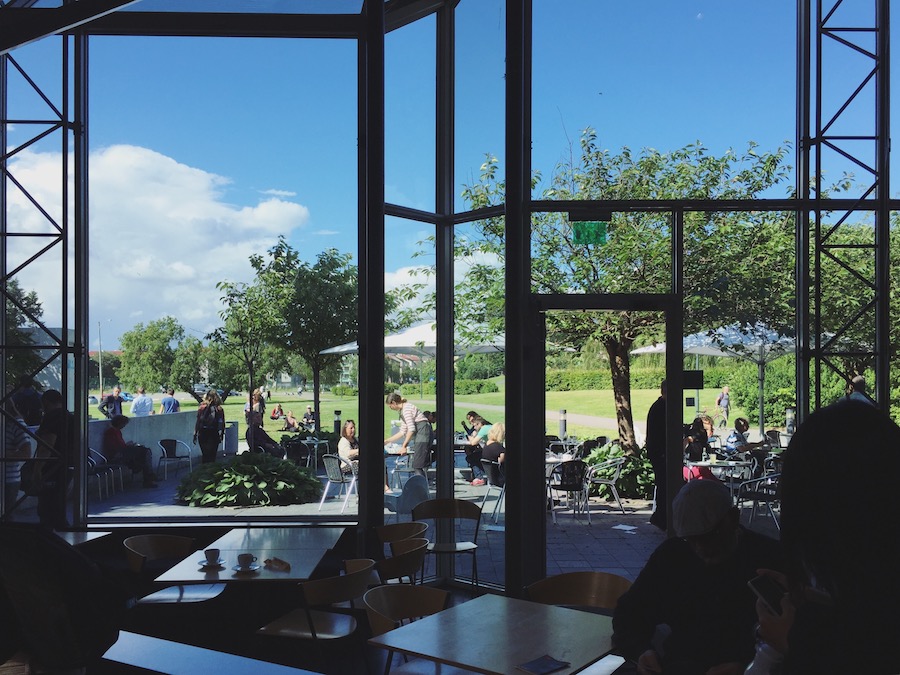 #12. Viking Ship Museum
The magnificent vikings are associated with Scandinavia, and Norwegian culture in particular. While there are a few other museums in the region that display viking ships, the Viking Ship Museum in Oslo is arguably the best one.
The museum's structure was built to house two remarkably well-preserved funerary viking ships that were discovered in early 1900s. These ships date back to the 800's. When a prominent figure died, the vikings would build an entire ship to bury the bodies along with their worldly possessions. You can learn about viking culture, their lives, beliefs, and customs by seeing all of the artifacts recovered from the burial ships.
The Viking Ship Museum is located in the Bydgoy Peninsula, which can be either reached by a ferry or bus from Oslo City Center. If you have time, consider spending the whole day here in the Peninsula and to combine your visit to several others nearby museum, including the amazing Norwegian Museum of Cultural History!
To save money, consider getting the Oslo Pass. It covers your transportation and gives you free admission to several prominent Oslo tourist attractions and activities, including these two museums.
By Halef of The Round The World Guys
Viking Ship Museum Entrance Fee: NOK 100 / $11.40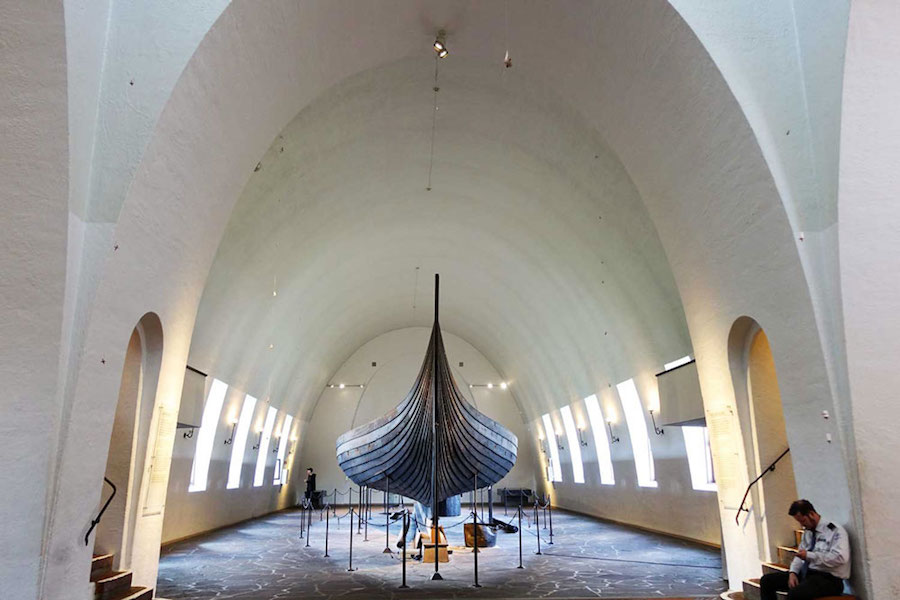 #13. Astrup Fearnley Museum of Modern Art
The art inside the Astrup Fearnley Museum of Modern Art is first-rate but the entrance fee is a little steep. If you have NOK 130 to spare, this private collection of contemporary art is worth checking out. Some of its most iconic works are the $5 million gilt porcelain Michael Jackson with Bubbles by Jeff Koons and the cows in formaldehyde tanks by Damien Hirst.
Art lovers on a budget can simply admire the architecture and wander around the many outdoor sculptures around the building. There's a beach beside it too which is also free.
Astrup Fearnley Museum of Modern Art Entrance Fee: NOK 130 / $14.80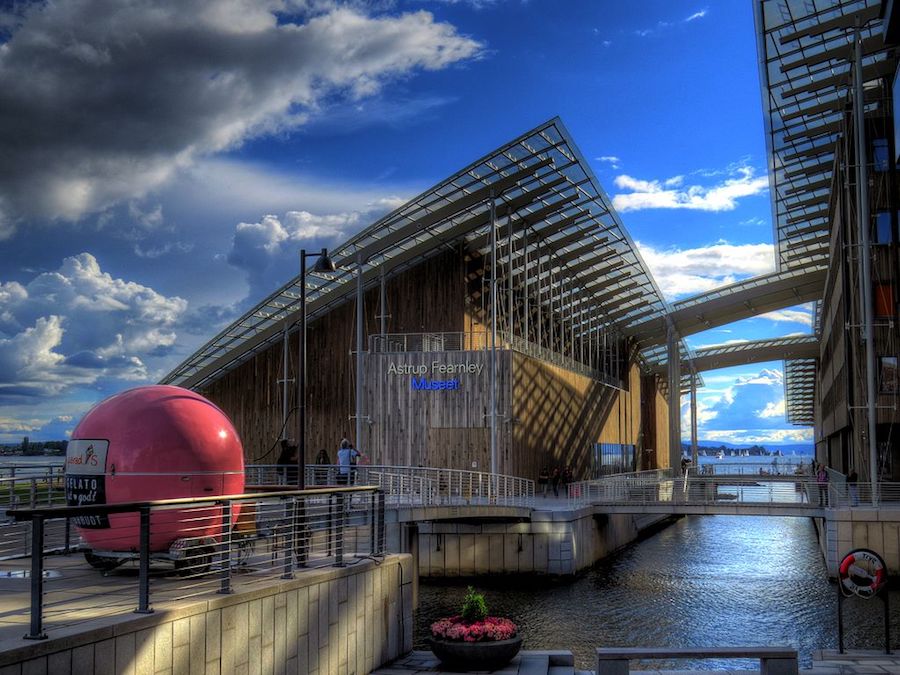 #14. Mathallen Food Hall
Not sure what to see in Oslo? Get off the beaten track and head up to the revitalising former-industrial neighbourhood of Vulkan. There are lots of cool places to eat and drink including the fantastic Mathallen food hall.
Here you'll find the very best of Norwegian and international food with over 30 specialty shops, cafés and eateries. The products are all high-quality with steep prices to match. Even if you don't eat anything it's worth checking out the vibrant atmosphere at the hub of foodie culture in Oslo.
Mathallen Food Hall: Free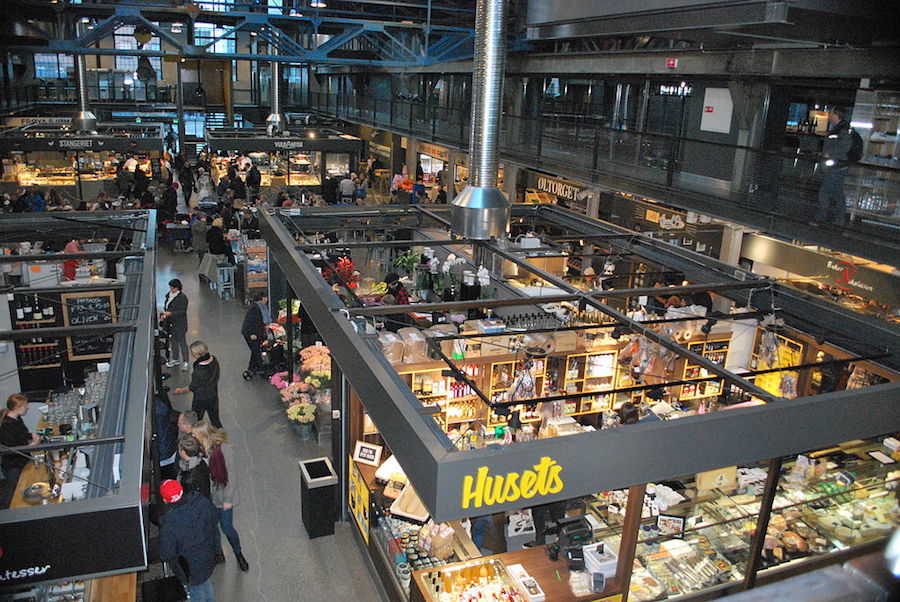 #15. Ekeberg Park
To locals, Ekebergparken combines art and landscape with beautiful views of Oslo's fjord. To the world, that view marks one of the most famous backgrounds in art: the swirls in Munch's The Scream. It was in these woods, on this path, that the artist saw the sky turn blood red across the city. There's even an artist's frame there to encourage you to have a good scream yourself, with the fjord in the background.
Beyond "The Scream", free guided tours of James Turrell's light installation Skyspace/Ganzfeld take place each Sunday and on any day of the week, it's a pleasure to stroll around between the sculptures.
Entrance is free and the park is always open. It lives on the east side of Oslo, reachable by taking the 19 Liabru tram to the park. Alternatives include the 34 Ekeberg Hageby or 74 Mortensrud bus to Ekeberg or walking. But be warned, it is steep and sometimes slippery.
By Abi of Inside the Travel Lab
Ekeberg Park Entrance Fee: Free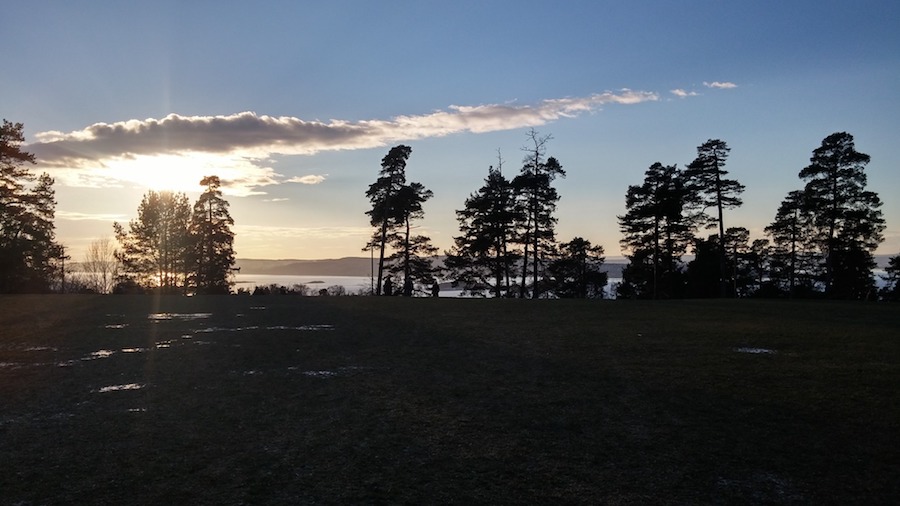 #16. Norwegian Museum of Cultural History
The Norwegian Museum of Cultural History is one of the best things to do in Oslo, particularly on a day when the weather is nice and if you are visiting Oslo with kids. The large, outdoor, open-air museum walks you through life in Norway from the early days of its settlement to modern times.
There are roughly 160 historic buildings in the open-air museum, many of which you can go inside and tour. You can not only learn about the differences throughout the centuries, but you also get to see how rural Norwegians lived compared to those in cities like Oslo.
One of the main draws at the museum is a beautiful Norwegian stave church from around the year 1200. The Norwegian Museum of Cultural History is in walking distance to other popular attractions in Oslo, including the Viking Museum and Fram Museum.
By Melissa of Parenthood and Passports
Norwegian Museum of Cultural History Entrance Fee: NOK 160 / $18.20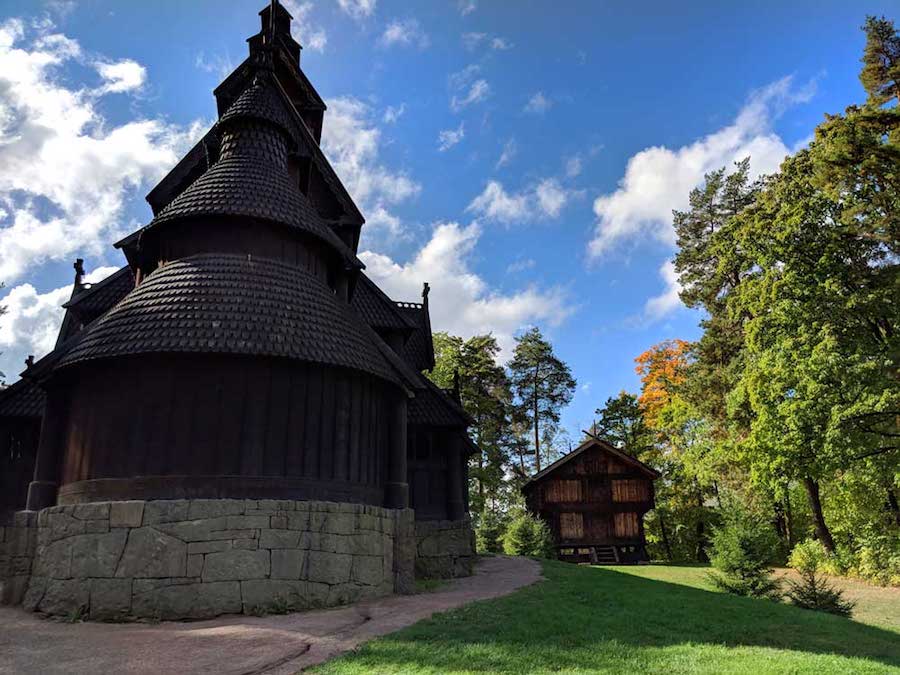 #17. Grass Roots Square
Check out an art installation that started from the grass roots up – literally. It's one of the most unique things to do in Oslo. From a distance what looks like grass growing in a concrete square is actually an army of 50000 mini-bronze figures. Bend down and take a closer look at the individual statues, independent yet united. Admire them up-close and contemplate its meaning.
Grass Roots Square: Free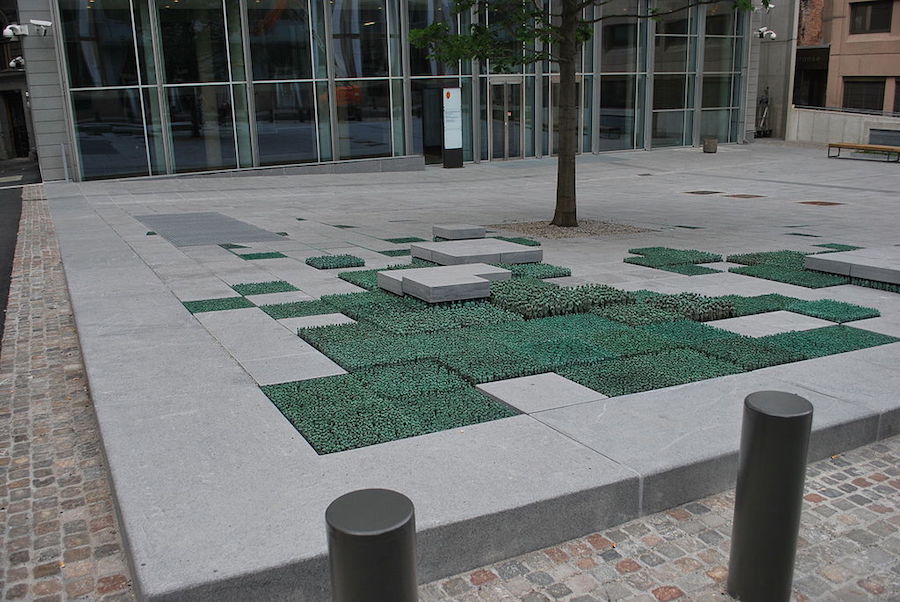 #18. Bygdøy Royal Estate
Wander the scenic grounds of the King and Queen's summer residence and visit the state-owned organic farm at Bygdøy Royal Estate. It's open to the public on Saturdays between March to October where visitors can learn about the farm operations and meet its resident cows and sheep.
Little ones can ride ponies and adults can purchase organic milk and meat. The Bygdøy Royal Estate is definitely one of the top things to do in Oslo with kids.
Bygdøy Royal Estate Entrance Fee: Free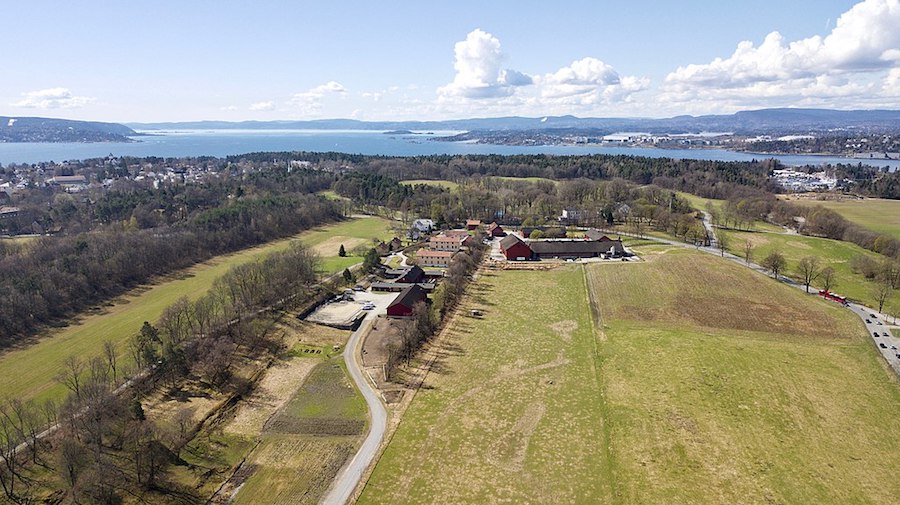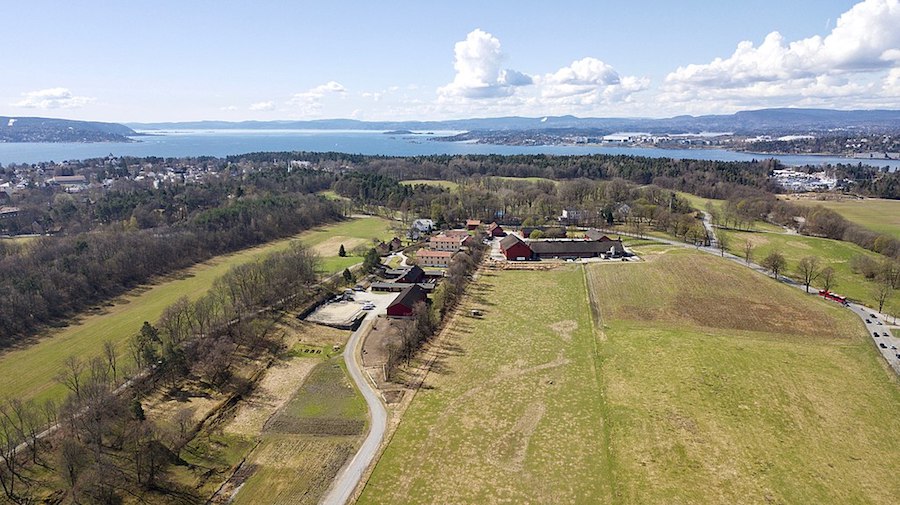 #19. Cemetery of Our Saviour
After seeing The Scream at the National Gallery you may want to pay your respects at Munch's grave at the Cemetery of Our Saviour. It was created in 1808 as a result of the great famine and cholera epidemic of the Napoleonic Wars. Closed for new graves since 1952 the cemetery is the final resting place of many famous Norwegians.
Cemetery of Our Saviour Entrance Fee: Free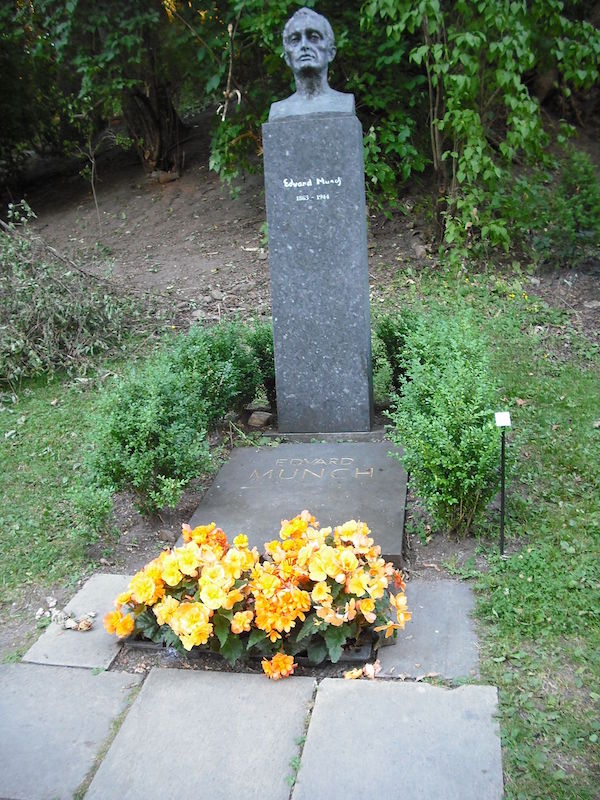 #20. Sørengas Badstue
Drop in to the 2 hidden floating saunas at the back of the Opera House at Sorengas Badstue. Take it all off and step inside one of the 2 wood-fired saunas built with driftwood by a couple of local aficionados. Steam up as you sit on towels on benches while the sauna master keeps the heat going. It's bound to be of the most unique experiences you'll have in Oslo.
Sorengas Badstue Drop-in Prices: NOK 100-150 / $11.40-$17.05
#21. Ingens Gate
While you're hanging out in the bars and cafes of the artsy Grünerløkka neighbourhood, check out the awesome street art on Ingens Gate. All the lower walls are covered in colourful designs and characters.
There are more murals on the old industrial buildings along Brenneriveien street and the surrounding area. On Sunday afternoons an arts market takes over, spilling onto the footbridge over the Akerselva river.
Ingens Gate Entrance Fee: Free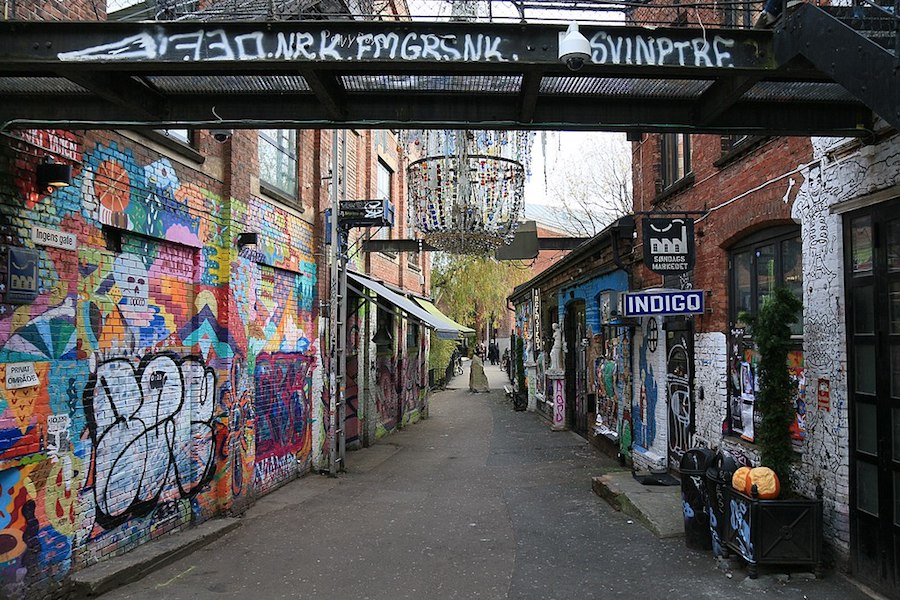 #22. 22 July Centre
Learn more about the 2011 terrorist attacks in Oslo and Utøya at the 22 July Centre. A car bomb exploded in the government quarter before the attacker boarded a ferry to Utøya island and opened fire on a summer camp. 77 people were killed.
You'll come away with a deeper understanding of not only this tragedy, but of Norwegian society as a whole, along with an appreciation for the fragility of life.
22 July Centre Entrance Fee: Free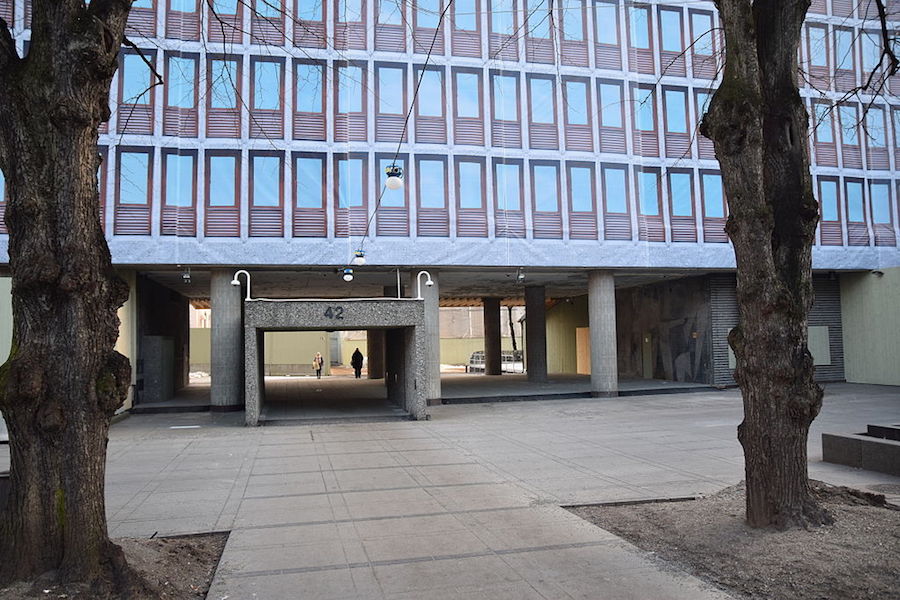 #23. Neseblod Records
Metal heads from all over Europe make the pilgrimage to Neseblod Records, a music store and shrine to Norwegian black metal. It stands on the same ground as the legendary Helvete from the 90's, the world's 1st black metal record store.
Fans of the genre can browse through the vinyl, cassette tapes and CDs before going down to the Black Metal Museum in the basement, never to be seen again for hours or possibly ever. Check it out and see if the dark side wins you over.
Neseblod Records: Free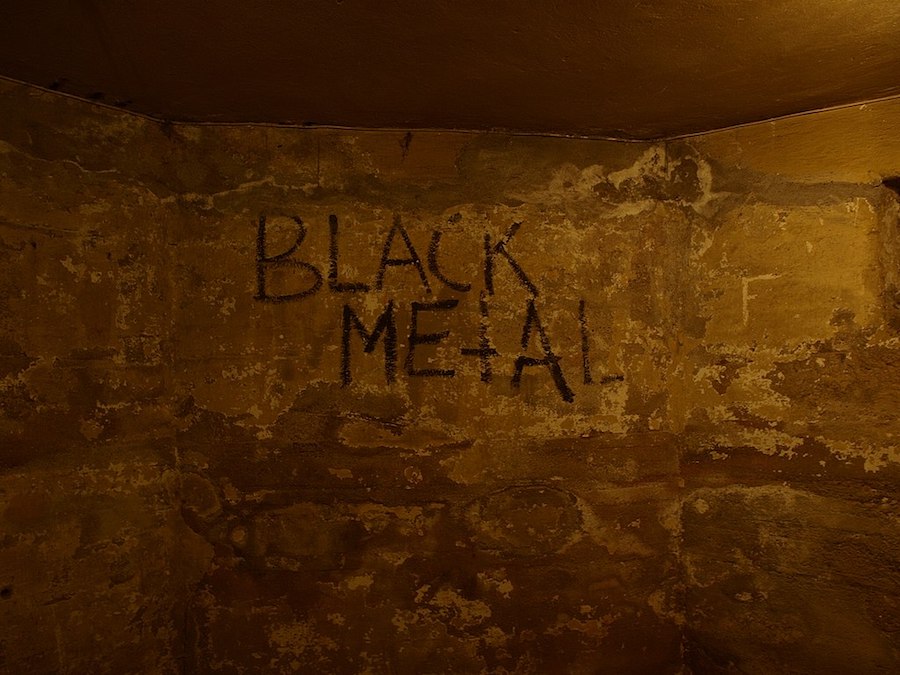 #24. Old Aker Church
Admire Oslo's oldest building and its only surviving church from the Middle Ages at Old Aker Church. It's quite simple from the outside but visit on the Thursday evenings from 4-6pm and you can go inside. The stone architecture is beautiful.
It's still worth visiting even if the church isn't open especially if you like to get off the beaten path. On the uphill walk you'll pass quaint wooden houses and the views from the top are fantastic. The church cemetery is also very peaceful.
Old Aker Church Entrance Fee: Free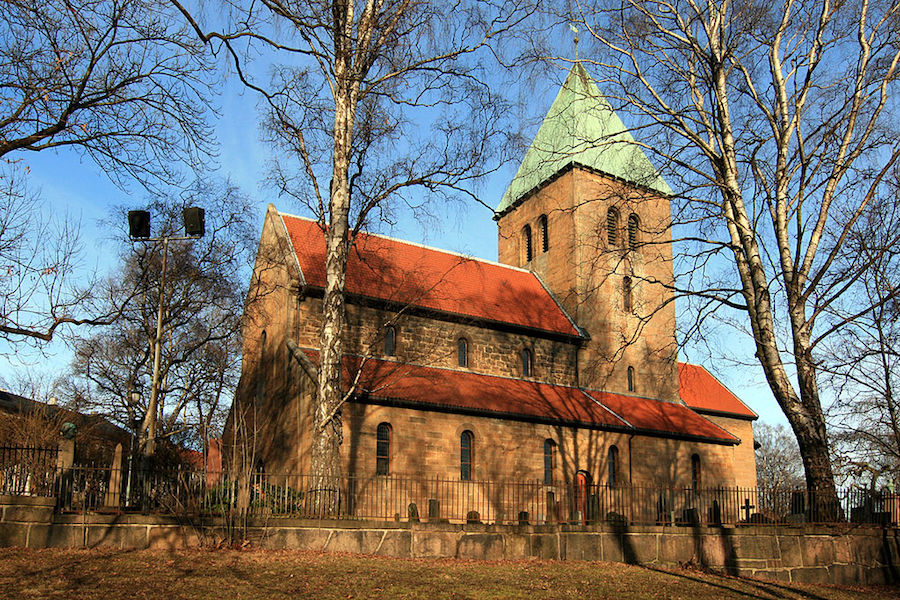 #25. Sørenga Sjøbad
Jump off a floating jetty into a natural fjord pool at Sorenga Sjobad in one of Oslo's newest neighbourhoods. Kids can swim and play on the sandy beach and in the summer the grass and docks are packed with locals. It's free and open year-round for those who want to experience a polar dip.
Sorenga Sjobad: Free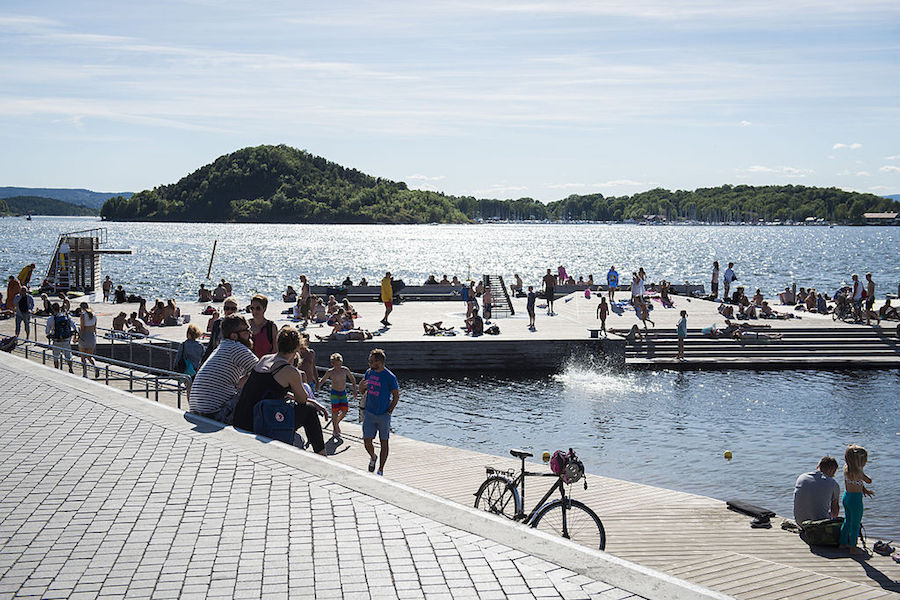 #26. Skur 13
Skateboard in a world-class park at Skur 13, which was built for the X Games in skateboarding snowboarding and free-skiing in 2016. There are sections to suit all levels and you can borrow skateboards, scooters, inline skates and helmets for free. It's worth a visit too for non-skaters for the awesome large-scale murals on the harbour.
* Budget Tip: Free on weekdays 2-6pm and all day/night Wednesdays
Skur 13 Entrance Fee: NOK 50 / $5.70
#27. Christiania Torv
Take a selfie with the massive hand sculpture fountain at Christiania Torv a historic square in Oslo's old town. It marks the spot where the then-Danish ruler King Christian IV ordered a new city to be built after one too many devastating fires. You'll also find some of Oslo's oldest buildings around the square.
Christiania Torv: Free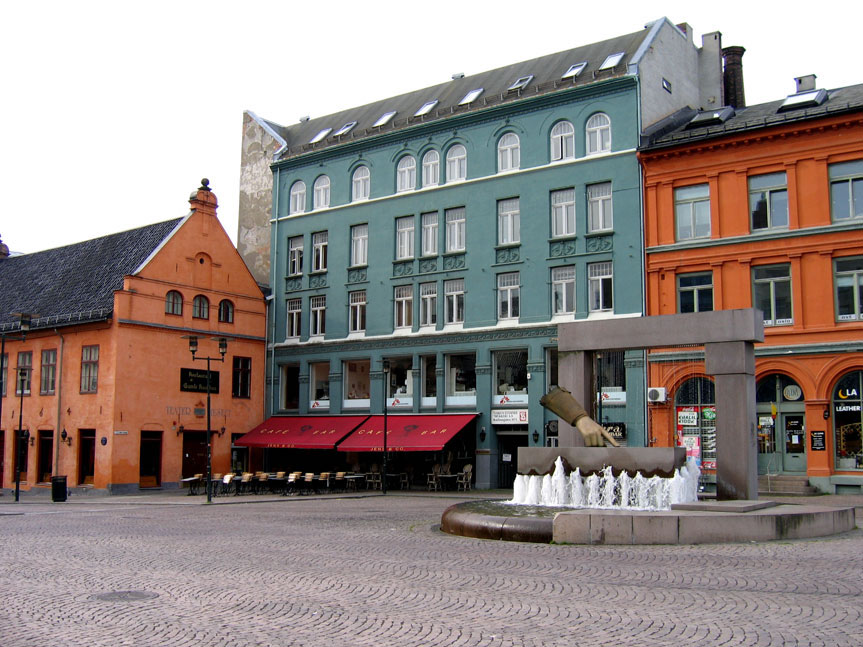 #28. Kampen Barnebondegård
Kids and animals roam free at the volunteer-run Kampen Barnebondegård, which literally translates to Children's Organic Animal Farm. Kids can learn about running a farm and pet lots of different animals such as ponies and goats. The farm has limited hours but it's free to visit and accessible by metro.
Kampen Barnebondegård Entrance Fee: Free
#29. Huk Beach
Let it all hang out or keep your modesty on at Huk Beach, which is divided into 2 sections. Both nudists and those who prefer to keep their clothes on will be made to feel comfortable at this laidback beach. Walk in the other direction for 10 minutes and you'll reach Paradisbukta beach. It's usually less crowded and more picturesque but there are no nudist sections here.
Both beaches are less than 10km from the city center and easy to get to by public transport. From Jernbanetorget take bus 30 towards Bygdoy and get off at the last stop.
Huk Beach: Free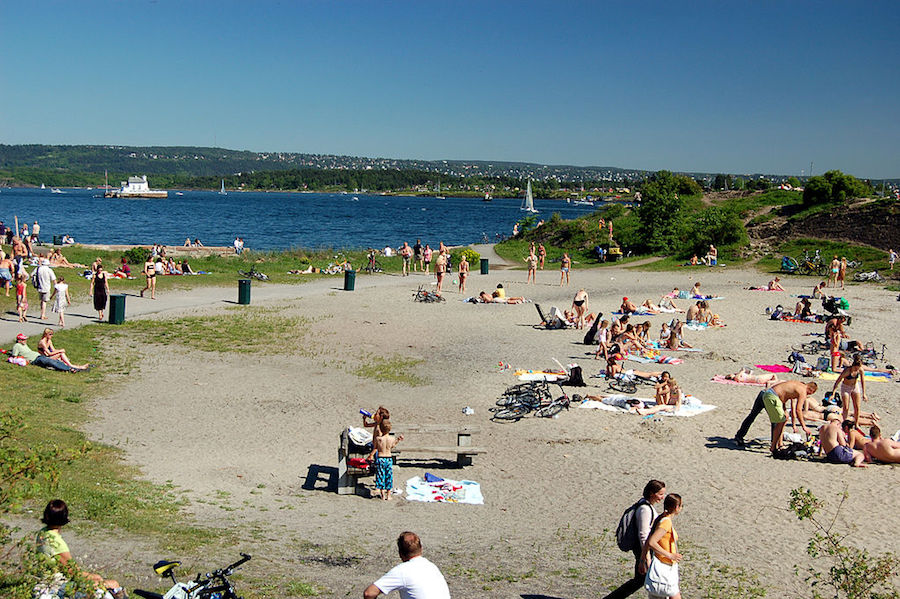 #30. Oscarsborg Fortress
Drive or take bus 500 to the town of Drobak from where you can catch a quick 10 minute ferry to Oscarsborg Fortress. Wander the castle grounds and learn about its military history. Then explore the rest of the island where you can also hike and swim.
Oscarsborg Fortress Entrance Fee: NOK 105 / $11.95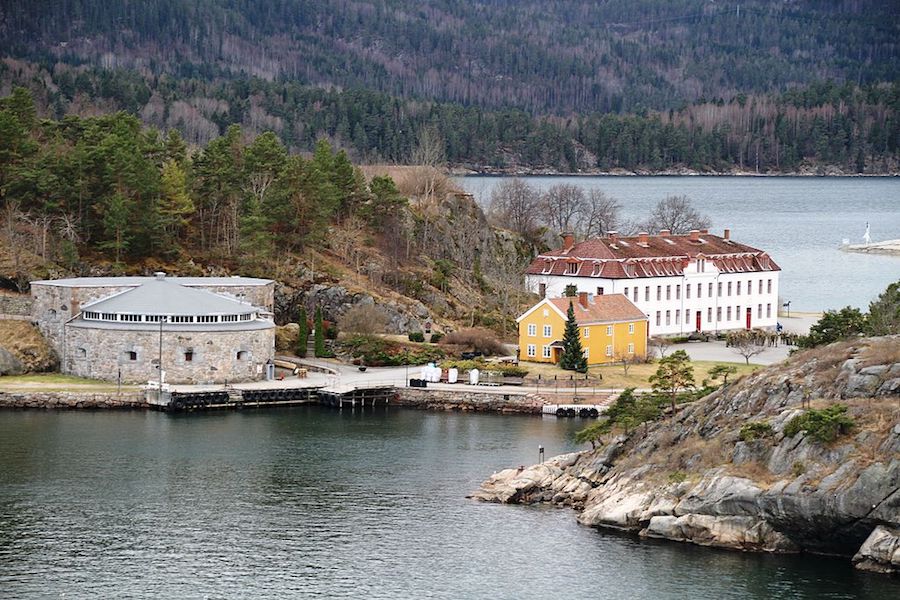 Oslo Accommodation
There are around 5 hostels in Oslo. Dorm prices range from NOK 215 at Anker Apartment to NOK 395 at Saga Poshtel Oslo Central. The most popular and most central hostel is Anker Hostel.
Airbnb is extremely popular in Oslo. The average nightly price for 2 people is NOK 1300. Click here for $40 off your 1st booking.
You can find good value budget and mid-range hotels if you're traveling in a pair.
Check hostel prices in Oslo
Where to Next?
From Oslo, the train ride to Bergen is regarded as one of the most scenic in Europe. You can see everything in one day in Bergen though we would recommend 2-3 days to enjoy this beautiful & peaceful city.
Oslo is one of our favourite places in Europe – if you're interested visiting other cities in the region, check out this guide to the top things to do in Europe by travel bloggers!
In Norway we also visited Tromso which you can read about in our next post…
Top 10 Things to do in Tromso
View the Northern Lights by night & explore museums & churches by day – find out the top 10 free & affordable things to do in Tromso
Read more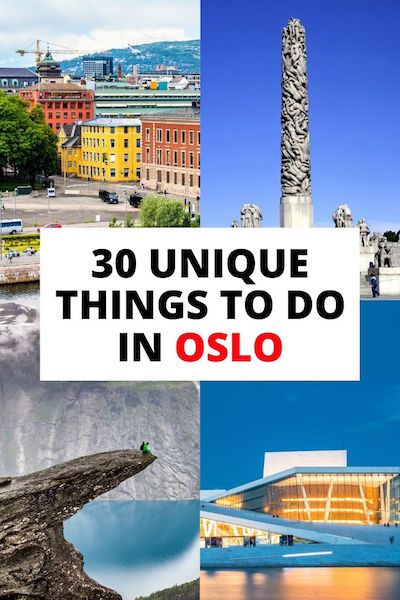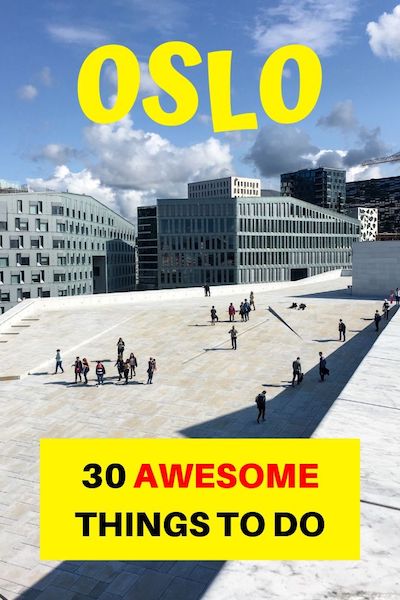 *** The Final Word – Sightseeing in Oslo doesn't have to cost a fortune! ***
What was your favourite attraction in Oslo?
Disclaimer: This post contains affiliate links which means that we receive a small commission if you click on a link & purchase something that we've recommended, at no extra cost to you.
Visited in November 2016
Updated in May 2019