There are lots of things to do on a backpacking Dublin itinerary but few offer good value for money. Find out which ones are worth it along with which attractions are free!
#1. Trinity College, Book of Kels
Here at DIY Travel HQ the 1st places I visited in Dublin was Trinity College & it was a fast introduction to the huge number of tourists in the city!
I accidentally cut in the line for the Book of Kells exhibition – no-one called me out so I just stayed! I was only in the queue for about 15 minutes but it was easily 40 minutes long – book online to save time.
* Don't forget to purchase travel insurance before any trip to Ireland. We've been using World Nomads for over 10 years. It's the best-value provider we've found but there are other important things to consider. Check out our post and find out which of our claims were successful or denied.
The Book of Kells is an illuminated Gospel manuscript written in Latin. It dates back to 800AD & is regarded as one of the treasures of Medieval Europe.
The exhibition was a little lackluster but keep moving along & you'll reach the Long Room… this magnificent ancient library is 65m long & filled with 200,000 of the world's oldest books.
Unfortunately you won't have it to yourself… as one of the top things to do in Dublin, there were so many tourists here on their own Dublin Itinerary! Do check out Lonely Planet
for more backpacking Dublin inspiration.
Have a chat with one of the attendants, they're a wealth of information. Did you know that the books are arranged by size from smallest at the top to largest at the bottom? The letters are part of the cataloguing system too.
Book of Kells exhibition / Long Room Entrance Fee: €13.00
Dublin on a Budget Top Tip: Tickets online are available for €10.00 at off-peak times
#2. Guinness Storehouse
If you didn't visit the Guinness Storehouse did you really visit Dublin?
For better or worse, the Guinness Storehouse is the most popular tourist attraction in Ireland…
2 Week Ireland Itinerary
With so many places to visit it can be hard to decide where to go in Ireland – follow our 2 Week Ireland Itinerary & you'll discover the top 10 destinations
Read more
It's 7 floors of the Guinness legacy from the brewing process to its world-famous advertising.
The tasting experience is fun, with different stations emitting the smells of the brew. It also includes a short lesson on how to properly drink a Guinness, going right through the froth!
I also enjoyed learning how to pull a pint at the Guinness Academy. You can the take the drink with you all the way up to the Gravity Bar on the 7th floor. There are 360 degree views of Dublin but I didn't find that too impressive as it's such a flat city.
Overall I felt that the Guinness Storehouse was more style over substance but you may not be able to leave Dublin without a need to experience it for yourself.
Guinness Storehouse Entrance Fee: €20.00. Buy tickets here
Dublin on a Budget Top Tip: Tickets online are available for €14.00 at off-peak times
#3. Jameson Distillery
The Jameson Distillery plays 2nd fiddle to the Guinness Storehouse but it offers a totally different experience, the Bow Street Experience.
Rather than floors of exhibitions, a guide takes you on a 40 minute, interactive journey of the Jameson story.
It ends in a whiskey tasting session where you get to compare Jameson to Scottish (Johnny Walker) & American (Jack Daniels) whiskeys.
At this point I was wondering what I was doing here as I don't even like whiskey! But if it's one of the best most popular activities, I have to see it for myself.
After the tastings, I realized that I at least much preferred Jameson over the others.
At the end of the tour, you can redeem your free drink at JJ's Bar – that's worth a mention in our guide to Dublin on a budget! Fortunately they offered Jameson with Ginger Ale, which was much better than on the rocks.
Jameson Distillery Bow Street Experience: €20.00. Buy tickets here
#4. Dublin Castle
Dublin Castle is one of the few decent value Dublin attractions for backpackers.
The Guided Tour is worth the extra €3.00 as it includes a guide, the Viking Excavation and the Chapel Royal.
The self-guided tour only gives you access to the State Apartments.
Dublin Castle is a popular place to visit & tours can sell-out. Book online to secure a time slot and don't forget your camera
.
Dublin Castle Guided Tour: €10.00
#5. St Patrick's Cathedral
With a 43m tall spire, St Patrick's Cathedral is the tallest & largest church in Ireland.
Admission costs €6.50 but you can attend a service & see the church that way for free – there's at least 1 service a day.
The staff & priests do not like you taking photos though, even after the service. Trust me, I was told off! And if you attend a service, be prepared to stay the whole time or face their wrath.
I thought the architecture was more impressive than Christ Church Cathedral.
There's a big park outside St Patrick's that is a lovely place to relax & people watch in Dublin, for locals & tourists alike.
St Patrick's Cathedral Entrance Fee: €6.50
Dublin on a Budget Top Tip: Attend a service for free or enjoy the park outside
#6. Christ Church Cathedral
It's really unusual for a city to have 2 major cathedrals but that's how it is in Dublin – both make our Dublin itinerary.
Christ Church Cathedral is slightly older than St Patrick's, founded in 1030.
You can attend a service for free but you may want to visit at another time & pay the entrance fee to be able to go down to the medieval crypt where a mummified cat & rat is on display!
Christ Church Cathedral Entrance Fee: €6.50
Dublin on a Budget Top Tip: Attend a service for free
#7. Kilmainham Gaol Museum
Kilmainham Gaol Museum is a former prison on the outskirts of Dublin – it's 3.5km from the city centre so you can still walk there or take a bus.
Their tours are very popular so it's recommended to book online.
Many Irish revolutionaries were imprisoned & executed here by the British, including leaders of the 1916 Easter Rising.
Guided tours allow visitors to see the changes at Kilmainham Gaol over the years, from the original narrow & dark cells of the 18th century to the open sunlit Victorian-style wing.
Kilmainham Gaol Entrance Fee: €9.00
#8. Temple Bar
The Temple Bar isn't just a bar, it's a way of life – and the name of the drinking quarter of Dublin.
It's very touristy but the live music & Guinness are always flowing. Good craic!
Dublin on a Budget Top Tip: Strolling around Temple Bar is free & fun, day or night!
#9. Oscar Wilde House 
& Statue
The Oscar Wilde House was the former childhood home of Ireland's most famous playwright from 1855-1878.
It's located at 1 Merrion Square, Dublin.
It's now owned by the American College Dublin & not open to visitors.
But across the road inside Merrion Square is a colourful statue of Oscar Wilde on a rock, wearing his trademark smoking jacket.
#10. Chester Beatty Library
Lonely Planet rates the Chester Beatty Library as one of the best in Europe but that's definitely an over-rated call.
I wouldn't even say it's the best museum in Dublin but on the plus side for those doing Dublin on a budget, admission is free.
It's located close to Dublin Castle so you could pop in for a quick visit if you have time.
The collection features works primarily from Asia, the Middle East, North Africa & Europe.
Chester Beatty Library Entrance Fee: Free
#11. National Gallery
The National Gallery of Ireland has a fine collection of Irish & European art.
It's located close to Trinity College & the Oscar Wilde House.
Admission is free so you've got nothing to lose if you're backpacking Dublin.
National Gallery Entrance Fee: Free
#12. Irish Museum of Modern Art
The Irish Museum of Modern Art holds the leading collection of modern & contemporary art in the country.
It can be combined with a visit to Kilmainham Gaol but don't go on a Monday like I did – it was closed.
Irish Museum of Modern Art Entrance Fee: Free
#13. Molly Malone Statue
"Molly Malone" is a popular song which has become the unofficial anthem of Dublin.
It' s also known as "Cockles & Mussels" and "In Dublin's Fair City".
Likewise, the Molly Malone statue in Grafton Street is also known as "Tart with a Cart," "Dolly with a Trolley," "The Trollop with the Scallop" & "The Flirt in the Skirt."
Gotta love the Irish!
Did you enjoy reading our list of Things to do in Dublin?!
Pin it and help others find it too!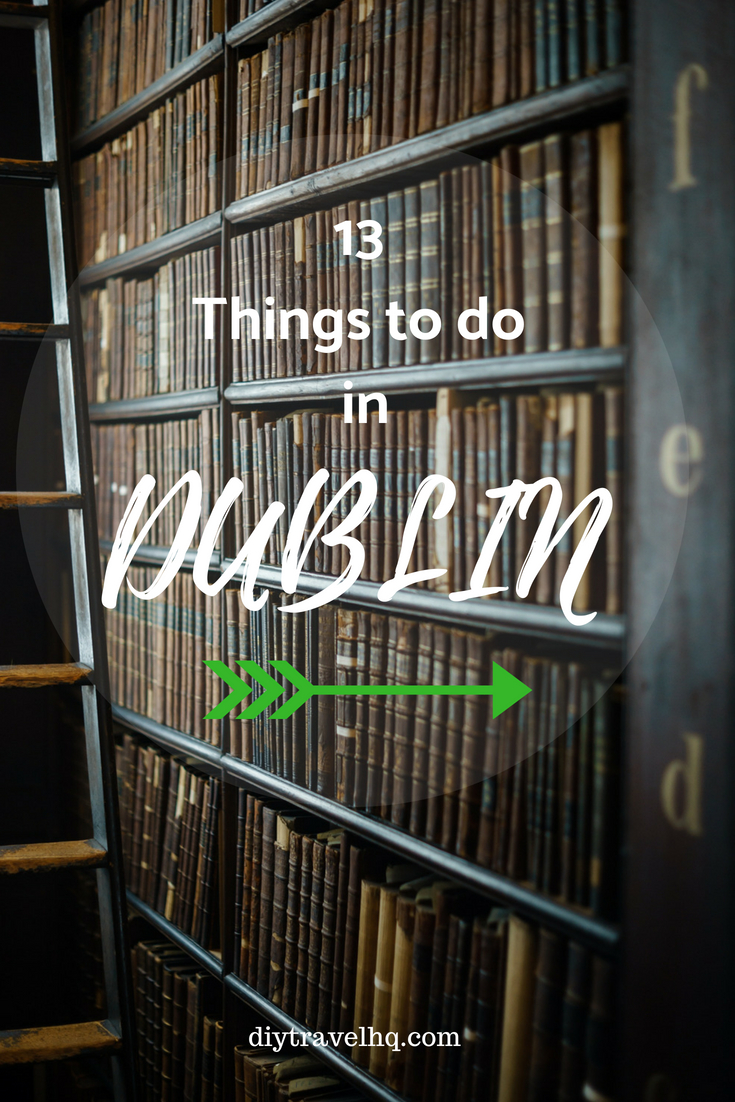 *** The Final Word: Dublin is a great destination but the top attractions are not great value. Take advantage of concession & online discounts if you can and do Dublin on a budget. *** 
What were some of your favourite Dublin sights & activities? 
Disclaimer: This post contains affiliate links which means that we receive a small commission if you click on a link & purchase something that we've recommended – at no extra cost to you. This helps us to keep our site running so we can continue to provide free content. Thank you for your support!
Visited in June 2017