Cruise the mini-archipelago of Las Isletas with La Bella del Mar – the only boat tour in Granada that lets you swim & slide… for $10.00, find out why it's easily the best day out in Nicaragua!
La Bella del Mar Boat Tour
La Bella del Mar offers the best value boat trip from Granada. It's just $10.00, including return transport to/from the pier, 2-3 hours on the water & a free Nicaraguan cocktail at the end of the tour – how can you beat that for an organised tour?!
Cruising Las Islestas is just one of many reasons to visit Granada, one of the top destinations in Nicaragua.
The La Bella del Mar boat tour is run my Marty McNally, a native of Toronto, Canada who has been living in Nicaragua for the past 5 years. Marty built the boat himself – as well as the impressive red transportation truck we travelled in to the marina!
La Bella del Mar offers sightseeing cruises of Las Isletas between Thursday & Sunday. Tours depart at 11:00am from O'Shea's Irish Pub & Restaurant, 1 block east of Parque Central in Granada.
Passengers are in for a treat with the truck – it's such a fun, windowless way to travel! It's not a long ride but along the way, you'll pass the scenic lakeshore, lined with restaurants & bars.
Then, before you realize it, you'll be jumping off the truck & hopping on board the La Bella del Mar boat…
Onboard La Bella del Mar
La Bella del Mar means The Beauty of the Sea & it really is a lovely boat – a spacious two-story pontoon, decked out in wooden furnishing & beams.
There's plenty of space, we had about 25 people in our group but it could easily hold 50 more, with enough tables & chairs for everyone.
Food & drinks are available at the bar, at very reasonable prices:
Hot dog:                      C$50.00 / $1.70
Hamburger:                C$70.00 / $2.40
Nachos:                       C$100.00 / $3.40
Chicken Sandwich:    C$120.00 / $4.10
Fish Ceviche:              C$120.00 / $4.10
Whole Fish:                 C$250.00 / $8.50
Drinks include water, fresh juices, soft drinks, beer, rum & wine – prices from C$25.00 / $0.85 to C$90.00 / $3.00.
Marty is a fantastic host. He made time to speak with each group, making sure everyone was having a good time & attended to with food & drinks.
Speaking of which, the local Nicaraguan crew also does a great job. From the captain to the cook, there are plenty of people around to make sure that everything runs smoothly.
This is a tight ship 🙂
In terms of guests, we had a diverse group onboard with locals & travellers from Australia, USA, Sweden & Nicaragua. It was great moving around the boat getting to know everyone a little bit.
Music onboard keeps the good times rolling.
For the most part though, we simply enjoyed relaxing & taking in the views. Between sightseeing & blogging at DIY Travel HQ, we've always got something on the go, so we relished the opportunity to sit back & put our feet up… check out the views!
Las Isletas Archipelago
La Bella del Mar takes you around the scattered little islands of Lago de Nicaragua.
There are said to be 365 islets & it's believe that they were formed thousands of years ago, after an eruption from nearby Volcan Mombacho blew most of its cone into the lake!
You'll see the volcano on the boat tour so it's definitely an interesting theory…
Most of the islets on the lake are tiny & covered with vegetation but some have been developed as homes & restaurants. One of the larger islands even holds a historic Spanish fortress & the largest one, Isla Zapatera (52 sq km), has its own extinct volcano.
Keep an eye out for wildlife – we saw howler monkeys, spider monkeys, cormorants & egrets.
Apparently ospreys, kingfishers, caimans & capuchin monkeys are also commonly spotted.
Swimming & Water Sliding on La Bella del Mar!
The boat ride on La Bella del Mar was very calm – the highlight of the trip was when we gently sailed into Laguna la Calera, a small lagoon at the foot of Volcan Mombacho.
Here, the anchor was dropped & we got the chance to jump – or slide – into the water!
This is what sets La Bella del Mar apart from the rest of the boat tours in Granada – not only can you go swimming but you can make the biggest entrance into the water!
How many boats have you ever seen with a waterslide?! So if you step on La Bella del Mar, you just have to step up to the challenge! It's fast & furious & you'll definitely make a splash!
Don't worry if you're the best swimmer, everyone is required to wear a life jacket in the water.
Normally it's quite warm from the spring waters running off Mombacho volcano but when we visited, there had been a lot of rain recently. It wasn't warm but not too cold either.
La Bella del Mar Wrap-Up
We spent about 45 minutes at the lagoon, having it to ourselves the whole time. Then we continued our loop of the islands, making it back to the pier by around 2:00pm.
We took the red truck back to the very beginning in Granada, where one last surprise was waiting for us – a free drink at O'Shea's Irish Bar & Restaurant!
Not just any drink but a Macua, Nicaragua's national drink. It's a cocktail made with white rum, guava juice & lemon.
We can see why it was a winner, it's sweet, refreshing & delicious – the perfect way to cap off a fantastic day cruising Las Isletas with La Bella del Mar!
La Bella del Mar Information
Boat Tour Price: $10.00
Where to Buy Tickets: O'Shea's Irish Pub, El Camello restaurant or on the boat
Departures: 11:00am Thursday to Sunday at O'Shea's Irish Pub & Restaurant
Contact (Marty McNally):
Did you enjoy reading Cruise Las Isletas with La Bella del Mar Boat Tours?
Pin it and help others find it too!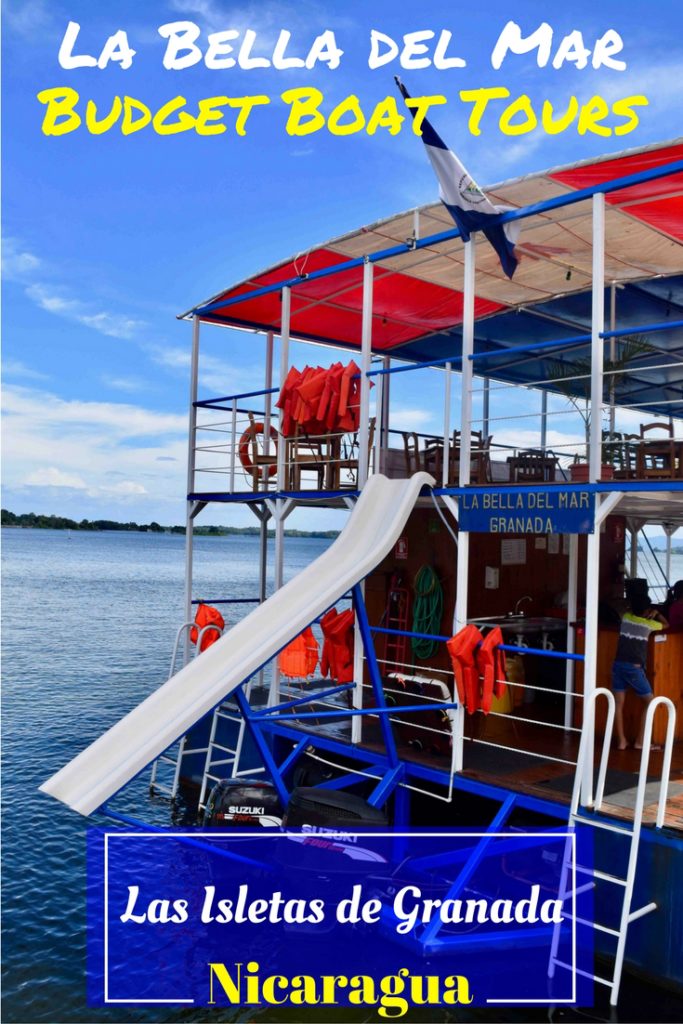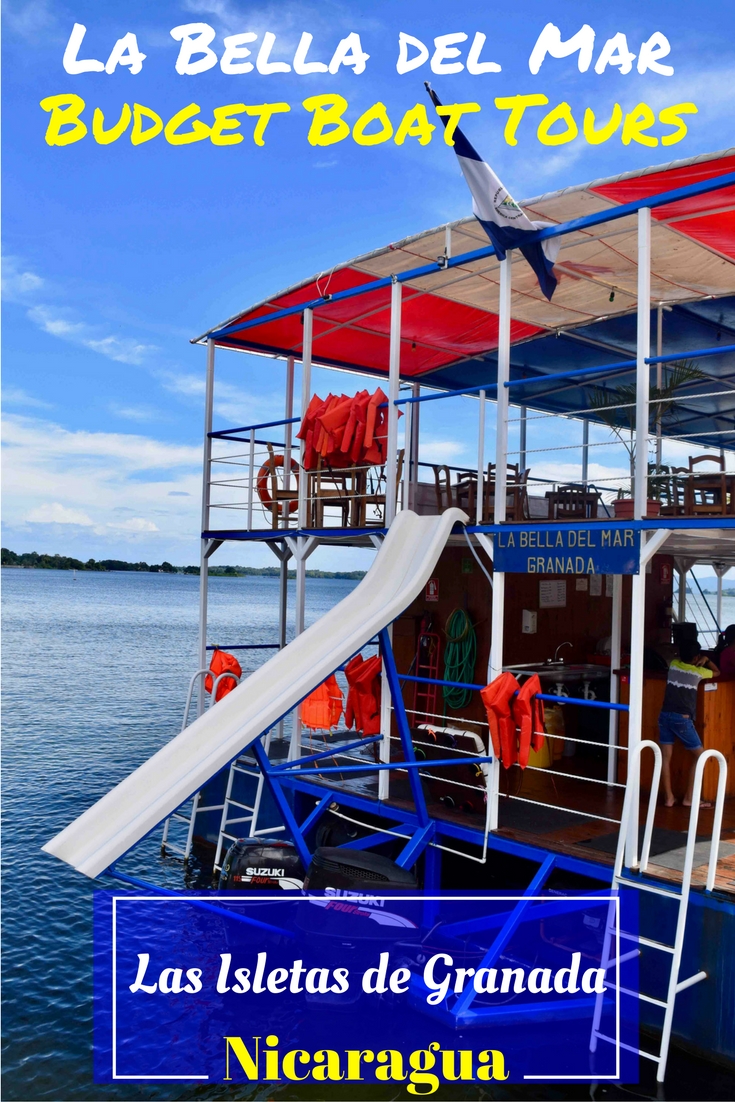 *** The Final Word: The $10.00 Las Isletas Granada cruise with La Bella del Mar is the best-value deal in Nicaragua! *** 
What's been your most memorable boating experience?
[put_wpgm id=200]
* Thank you to Marty for hosting us, we received a complimentary tour onboard La Bella del Mar – as always, all opinions are our own
Visited in December 2016