Casa 37 Hostal is a breath of fresh air for travellers to Managua, Nicaragua – with a peaceful atmosphere, stylish design & all the creature comforts of home, find out why many travellers end up staying longer than planned!
Location of Casa 37 Hostal
Casa 37 Hostal is situated in downtown Managua. The neighbourhood felt safe & upmarket, we walked to the city in the day & to the supermarket at night without any issues.
Restaurants, cafes & bars are also within walking distance, including the popular Metrocentro mall with many outlets, a cinema & large international food court in air-conditioned bliss.
If you're coming from the South (Granada, Masaya, Rivas), you'll arrive at La UCA terminal, which is just 2km from Casa 37 Hostal – it's fine to walk if it's during the day but take a taxi at night.
There are no street names in Managua & as Casa 37 Hostal just opened (November 2016), not all taxi drivers will be familiar with it.
Be sure to give them a point of reference, or follow the directions from the website, and you shouldn't have any problems.
Click here for our post on the Top 12 Places to Visit in Nicaragua.
Dorms & Rooms at Casa 37 Hostal
Casa 37 Hostal is a spacious, extended family home that has been renovated as a hostel.
There are 4 different types of dorms & rooms available:
Mixed dorm
Female dorm
Private double room
Private triple room
We here at DIY Travel HQ stayed in the mixed dorm, which was a huge room with just 4 beds: 2 bunks + 2 single beds. The mattresses are new & firm, the pillows are new & soft 🙂
This is a photo of the female dorm, at the back of Casa 37 (we repacked our bags & made our dorm too messy for photos!)
There were fans & lockers provided, as well as a built-in wardrobe with plenty of space if you feel like really making yourself at home!
The mixed dorm has it's own bathroom, with an electric hot water shower – a luxury for hostels in Nicaragua. It's fantastic & even almost too hot at times!
Like the dorm room, the bathroom is also very spacious & clean. There are new wooden cabinets & the sink area has plenty of space for everyone, so there's no need to pack away your toiletries after every use.
Kitchen & Free Breakfast at Casa 37 Hostal
One of the best features of Casa 37 Hostal is the large family kitchen.
There's an oven & microwave as well as all different sizes & types of pots, pans & cooking utensils you could ever need! There's also ample counter space to prepare & eat meals.
On the hostel circuit, it's pretty rare to find a clean & well-stocked kitchen (including spices!) so we made the most of our good fortune at Casa 37 Hostal.
We cooked dinner every night – home cooking is always a pleasure, especially with a few beers 🙂
A free continental breakfast is offered every morning. Help yourself to coffee or tea and toast with butter, jam & peanut butter.
We enjoyed having breakfast outside, over looking the pool.
It was a great way to start each day, especially followed by a morning dip!
Swimming Pool at Casa 37 Hostal
That's right, there's a swimming pool at Casa 37 Hostal! It wasn't featured on the website so that was an awesome surprise for us.
The paved pool area is very clean & green, surrounded by trees & pot plants. Managua gets pretty hot so you'll probably be spending a fair bit of time in the water.
And what traveller doesn't love a swimming pool?!
There's also a covered patio with a picnic tables, benches & a barbecue. It's a great social area to chat with other guests, enjoy a few drinks, play board games or relax with a book.
There's another small room at the back of the house with a comfy sofa & cushions.
Here you can put your electronics away & indulge in some good old-fashioned books & board games.
Common Areas at Casa 37 Hostal
Apart from the common room that opens on to the pool & garden, at Casa 37 Hostal you can also relax in the living room with Netflix! It's just another traveller-treat, not just because the titles are all in English!
Spanish-speakers or learners can tune in to Spanish cable & there's also a DVD player with a good collection of English & Spanish discs.
You can also relax in the front room at reception, with some excellent coffee table books on Nicaragua.
There are plans to turn this space into an exhibition space for emerging local artists in the near future.
Things to See & Do in Managua
Loma de Tiscapa – don't miss the views from this historic site with the silhouetted statue of Sandino, former Casa Presidencial & exhibitions in former prison tunnels
Plaza de la Revolucion – check out the Palacio National, Cathedral Vieja & revolutionary memorial in the heart of the old centre
Malecon – experience the modern side of Managua at the rejuvenated & pleasant waterfront
Palacio Nacional de La Cultura – view Nicaraguan handicrafts at the museum & art gallery
Teatro Nacional Ruben Dario – take in a performance or tour of Managua's main cultural venue
Museo Huellas de Acahualinca – step back in time alongside preserved 6,000 year old human & animal footprints
Cathedral Nueva – pay your respects at one of the most unusual churches you'll ever see
Casa 37 Hostal Wrap-Up
With a swimming pool, Netflix & free breakfast, Casa 37 Hostal may have some awesome features but what sets it apart from the crowd is its personal attention.
Every guest is valued – the owner Tom takes the time to get to know each person & their travels. He speaks fluent English & genuinely wants to make your stay as comfortable as possible.
Casa 37 Hostal only opened in November 2016 but it's already won over many travellers with its big heart – you can see their 5-star Tripadvisor ratings here.
It's not a party hostel where you're just another name on a tour or tab on the bar. Casa 37 Hostal is a place to relax & take some time out for yourself or have great conversation with like-minded, laidback travellers.
So if you want to experience the best of Nicaraguan hospitality, check-in to Casa 37 where Mi Casa es Su Casa, My House is Your House.
In a Nutshell
Address: Colonial Los Robles, 7ma Etapa #37, Managua
Price: Dorms $12.00-13.00, private double room $30.00
Contact Information:
Did you enjoy reading Casa 37 Hostal: Home on the Road in Managua?
Pin it and help others find it too!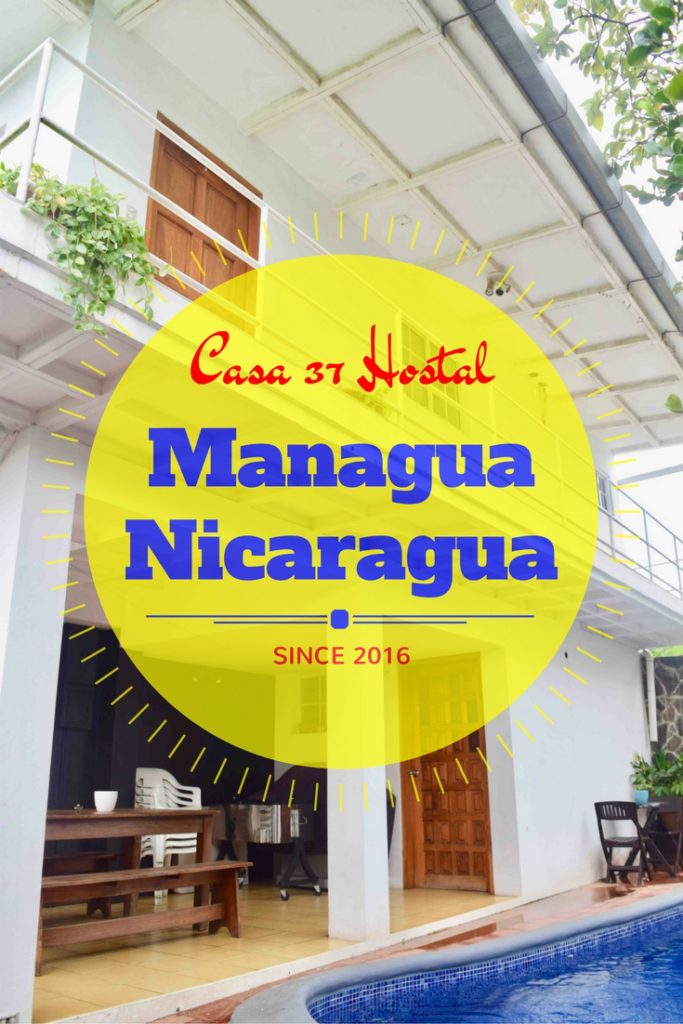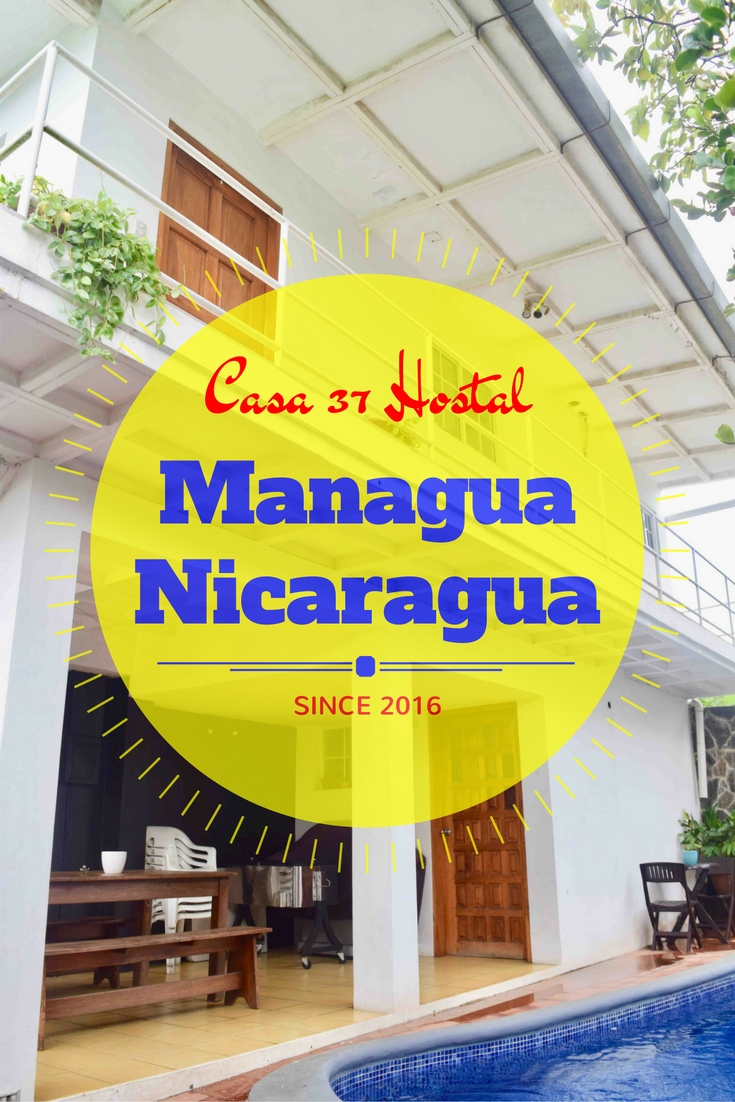 *** The Final Word – Make Casa 37 Hostal your home away from home in Managua! ***
Do you like to book accommodation in advance or as you travel?
[put_wpgm id=199]
* We received a complimentary stay at Casa 37 – thank you to Tom for hosting us. As always, all opinions are our own.
Visited in December 2016