Iguana Azul knows the backpacker market well, and does a good job making them feel at home. Find out why this hostel is the best in Copan Ruinas.
Iguana Azul Welcoming and Check-in
Even from the start, we here at DIY Travel HQ felt very welcome at Iguana Azul.
One of the staff members showed us to our room, and gave us a tour of the hostel.
Only after we had no more questions did she take care of the paperwork.
She really wanted to make sure our stay in Copan Ruinas was pleasant, and everything else came later.
Copan is one of the most popular places to visit in the country. Check out our 1 month Honduras itinerary here.
Iguana Azul Private Rooms – $16-18/room
There are 4 private rooms at Iguana Azul, and all are similar in décor.
The only differences might be size and window locations.
Each window has a screen and bars so you can still feel secure leaving them open while away all day.
Alternatively, close them before going to bed for warmth, and to be able to sleep in.
Copan Ruinas gets surprisingly chilly at night.
The rooms themselves are clean and functional.
Each one has a comfortable bed with crisp sheets, nightstand with reading lamp, desk, wastebasket, and open closet.
Displayed on the shelving are your cheat sheets to Copan Ruinas composed by Iguana Azul, and their menu for Casa de Café B&B.
It also included hanging space, towels, and spare blankets.
Overall, the room felt very warm among the wooden furniture, tiled floor, and brightly colored walls.
Iguana Azul Dorms – $8/person
The 2 dorm rooms filled with 3 bunk beds carried on the same décor theme.
Instead of a desk and shelving, there was a storage locker to keep valuables.
We always find those essential when mixing a lot of unfamiliar people in a contained space.
Each bed has tightly tucked sheets, and a personal blanket and towel at the foot of the bed.
Iguana Azul Bathrooms
Regardless if you stay in the private rooms or dorms, you all share the common bathrooms.
They are conveniently split between toilets and showers, with 3 of each.
These too are clean and functional.
Both have ventilation above the door to let the rooms breathe.
The showers are one of the highlights at Iguana Azul.
Unlike many other places we have stayed in Central America, the owners put thought into designing the showers.
There is not only a hook to hang clothes and a towel, but also two shelves to put toiletries.
Too many times we have had to improvise when taking a shower.
The highlight was also having real hot water.
This isn't an electric heater that dribbles lukewarm water, but 24/7 hot water controlled by two taps. Perfecto!
The toilet compartments are stocked with up to 5 rolls of toilet paper, and the bins are emptied periodically each day.
Across from the toilets and showers are three sinks with bars of soap and mirrors.
Iguana Azul Common Areas
Iguana Azul has two common areas.
The main lobby has a couch and a pair of seats to relax on, while you surf the extremely fast Wi-Fi or do research into further travels.
Located next to the dorms is a book exchange, fridge, and as much free water as you can drink…literally.
If you finish one 5 gallon container, there are two more sitting on the floor waiting to go.
Lining the walls is a plethora of information.
There are advertisements for hostels and tours throughout Central America.
Perhaps more important are the list of free and cheap things to do in and around Copan Ruinas.
The other common area is the garden outside complete with table and chairs underneath a shade umbrella.
This is a nice spot to relax after a long day exploring Copan ruins or other surrounding attractions.
Iguana Azul Security
As noted above, Iguana Azul is well protected from the outside.
There is also a guard all night to let you in to the hostel.
During the day, you can ring the bell or just stop by Casa de Café B&B next door to have someone let you in.
Casa de Café B&B
The ensuite version of Iguana Azul is Casa de Café B&B, which also has nice grounds complete with gardens and a beach-style massage room with flowing curtains.
They also serve an amazing western breakfast for L150 if you want something different than local cuisine.
Virtually everything is homemade and includes the following:
Toast with strawberry and pineapple jam and/or butter
Fruit salad with yogurt
Unlimited coffee with warm milk
Juice
Iguana Azul Location
Iguana Azul is located in Copan Ruinas, famous for their archaeological site Copan.
The names are confusing since they seem switched, but you get the hang of it quickly.
The actual location of Iguana Azul is 4 blocks southwest of Parque Central, and a maximum 5 minute walk to anywhere in town.
Know Before You Go
Address: Calle Rosalila in Copan Ruinas, Honduras
Prices: Dorms are $8, Private Rooms with Shared Bath are $16-18
Contact Information:
Did you enjoy reading Iguana Azul: Best Hostel in Copan Ruinas?
Pin it and help others find it too!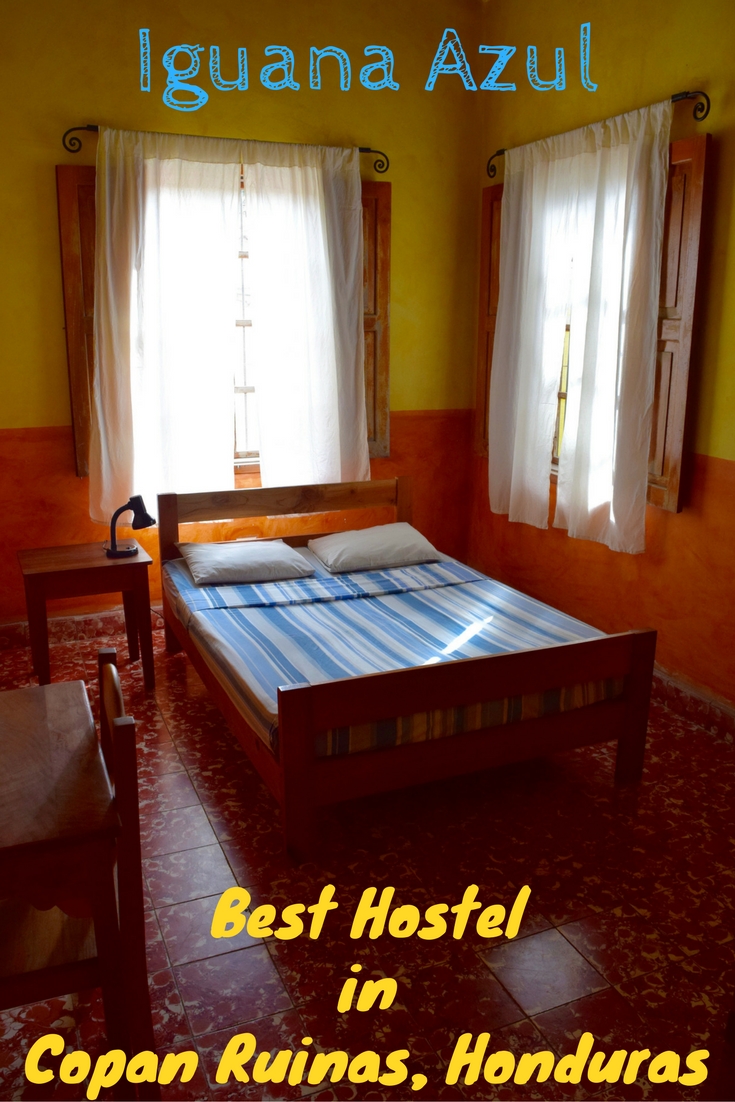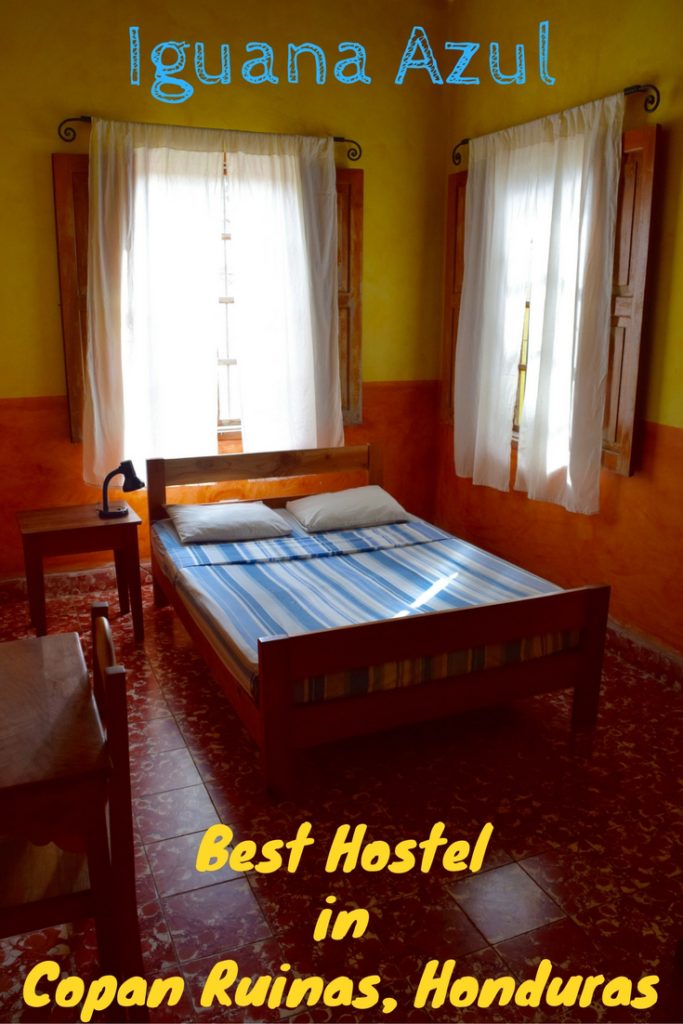 ***The Final Word – Look no further than Iguana Azul if you want a clean, well-run, and helpful hostel in Copan Ruinas.***
What do you think is the correct guest to bathroom ratio in a hostel?
* Thank you to Iguana Azul for hosting us. No compensation was received for this review, however our stay was offered on a complimentary basis. As always, all opinions are our own.
Visited in November 2016