Casa de la Abuela is a popular hotel, café & gift shop in the heart of Suchitoto, El Salvador – find out how this historic mansion has been converted into one of the city's most loved places.
Location, location, location…. Casa de la Abuela holds the best spot in town, right next to Iglesia San Lucia.
Look out for the bright yellow building to the right of the church, you can't miss it!
Casa de la Abuela was one of our favourite places to stay in our 1 month trip in El Salvador.
This historic mansion has been in the owner Jose's family for 100 years, hence the name Casa de la Abuela, which means Grandmother's House in English.
It used to be the family home but then stood largely abandoned for many decades, including during the Civil War.
Over the past 10-15 years, the property has been completely restored & renovated, with care & love.
It first started as a gift shop in 2008, then an adjoining café opened several years later. 2 hotel rooms were added last year, with more in the works.
Let us here at DIY Travel HQ show you around!
Hotel Room at Casa de la Abuela
On arrival at Casa de la Abuela, we were warmly welcomed by the owner Jose.
He showed us around the property & introduced us to the young, friendly staff.
Celia showed us to our room & before we even entered, it was love at first sight… see the feature image!
Inside, the room was equally impressive & very spacious.
There was a huge king bed, with a blue-painted wooden headboard & side table.
In one corner, there was a new LED television & in another, a beautiful dresser with drawers & a mirror.
On top of the dresser, there was a Black & Decker coffee maker, with a packet of house-roasted Arabica coffee.
We really appreciated these personal touches to the room.
Along with the coffee, we were also provided with both face & body towels, etched with the Casa de la Abuela insignia.
There were even Snickers chocolates left on the bed for us!
At the moment, Casa de la Abuela offers just 2 guest rooms, with a shared bathroom (which was clean & functional).
More rooms & private bathrooms are currently in the works, which will surely be designed in an equally unique & sophisticated style .
Coffee Shop at Casa de la Abuela
The café at Casa de la Abuela is a wonderful place to have a drink or enjoy a meal.
Certified baristas served the best coffee in Suchitoto, using 100% SHG Arabica beans, grown under shade & harvested from the best coffee growing regions in El Salvador.
We recommend trying their Drip Coffee, but French Press, Espresso & Cappuccino are also offered, amongst many other styles.
There's also a full beverage menu to choose from, with alcoholic & non-alcoholic drinks.
Casa de la Abuela also serves an wide selection of light meals such as sandwiches, salads & pastas.
The food is well-prepared with excellent presentation & service.
The café is well-staffed with young, attentive workers, who never fail to have a smile on their face & bring one to yours.
Enjoy eating or drinking in the café inside or in one of the outdoor areas.
Alfresco seating is offered on the cobbled-stone streets under sun umbrellas, or you can relax in the garden courtyard.
Gift Shop at Casa de la Abuela
Before it became a café & petit hotel, Casa de la Abuela was a gift shop.
It opened in 2008, as a project of Sustainable Tourism, to provide a commercial outlet to local craftsman & artists.
Today, the gift shop remains a special part of Casa de la Abuela.
From textiles from San Sebastian to ceramics from Guatajiaguara, it is stocked only with the highest quality artisan handicrafts from all across El Salvador.
Pick up a souvenir to take home with you or simply browse around, there's sure to be plenty of interesting & colourful designs to catch your eye!
Common Areas at Casa de la Abuela
As a guest of the hotel, you can enjoy 4 different spaces at Casa de la Abuela.
There are chairs, sofas & lounges to read & relax in, and casual dining tables to enjoy a snack or work on your laptop.
The décor throughout these spaces are absolutely charming & intriguing.
We loved the paintings & old newspaper clippings in wooden frames, flower & plant arrangements, clay pottery pieces and restored furnishings.
These 4 common areas each have a character & style of their own, but they all surround a beautiful garden courtyard.
This is such a fantastic place to catch some sunlight, with a view of Iglesia Santa Lucia in the sky.
From the warm & cozy atmosphere to the antique trinkets & decorations, staying at Casa de la Abuela really does make you feel like you're at your grandmother's home, in the best way possible! 🙂
Other Features of Casa de la Abuela
Wifi – strong & fast internet connection
Pupusa making workshop – learn to make El Salvador's national dish! (extra charge)
Tours & guides – tours around Suchitoto & El Salvador can be easily arranged with certified, bilingual guides
Transfers – transfers from Suchitoto to San Salvador, Airport & Copan Ruins (Honduras) are offered
Things to See & Do in Suchitoto
Suchitoto is the cultural capital of El Salvador – plan your visit over a weekend & you'll be likely to experience some kind of food or arts festival.
On the weekend we visited, there was a beauty pageant, film festival & municipal fair with amusement rides, games & outdoor nightclub!
Here are some of the main attractions in & around Suchitoto:
Iglesia Santa Lucia – neoclassical-style church built in 1857
Museo de Alejandro Cotto – colonial home of the famous Salvodorean writer & film-maker
Arte en Anil – take an indigo workshop & make your own hand-dyed pieces
Lago de Suchitlan – cruise on a boat ride & view the diverse birdlife around the lake
Cascada Los Tercios Salto – hexagonal stone waterfall
El Cubo – waterfall with twin pools for swimming
Know Before You Go
Address: 1a Av. Norte y 2a Calle Oriente Barrio El Centro, Suchitoto, El Salvador
Price: King room from $50.00
Contact:
Did you enjoy reading Casa de la Abuela: Hotel, Cafe & Gift Shop in Suchitoto?
Pin it and help others find it too!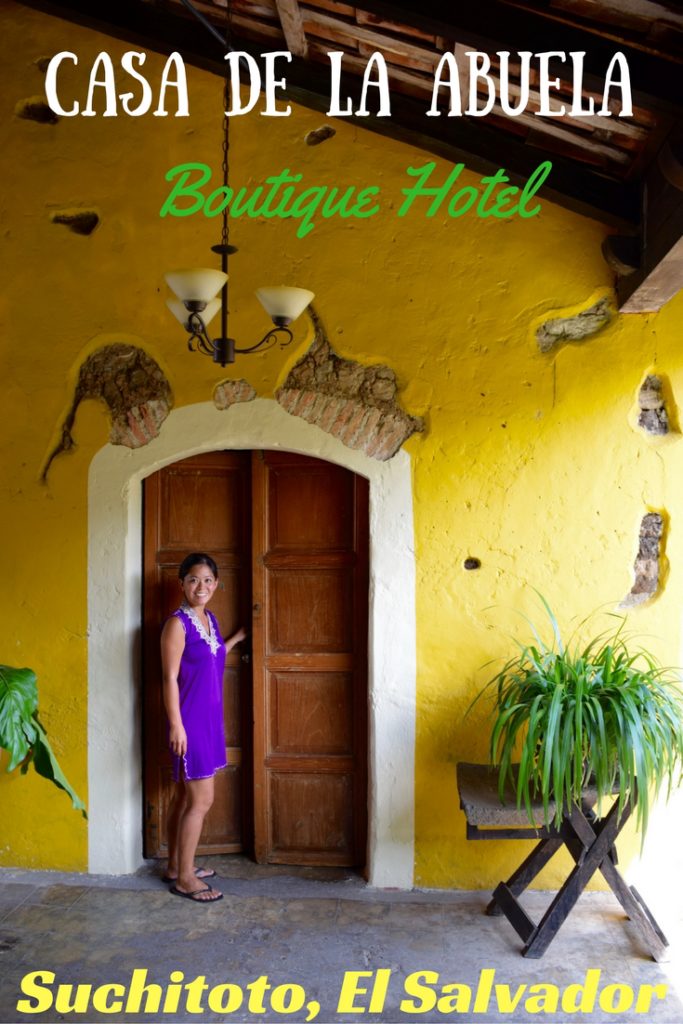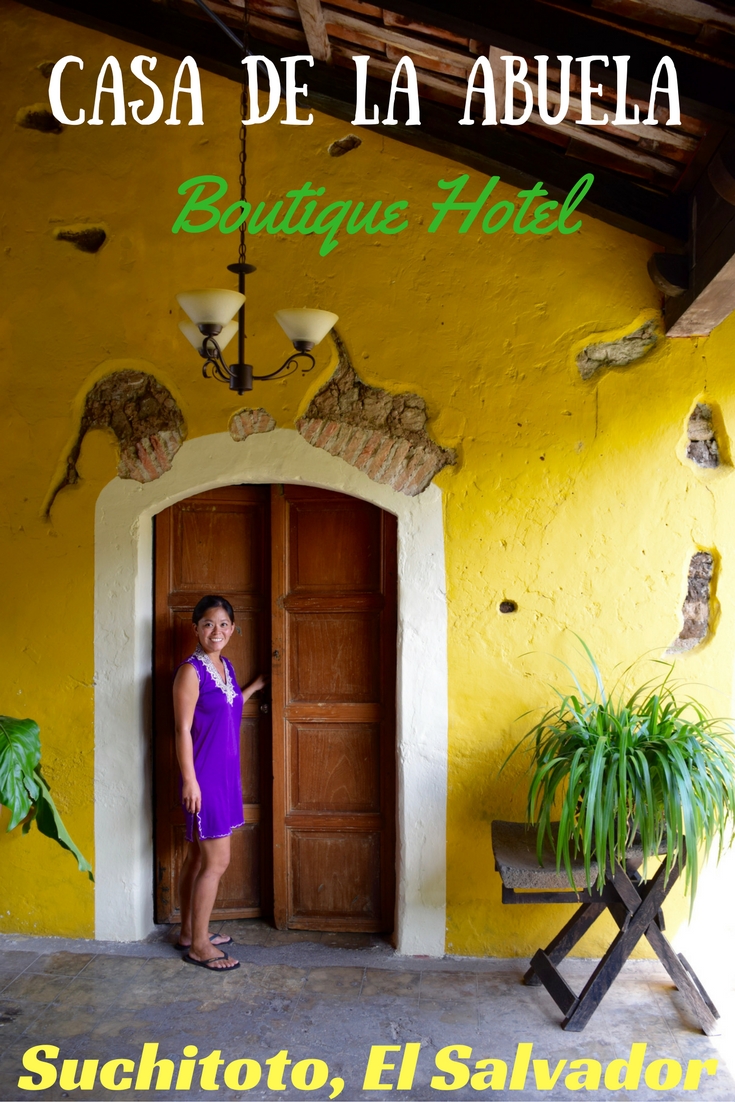 *** The Final Word – From the customer service to the décor, you'll feel the love, care & attention to detail everywhere at Casa de la Abuela, a home away from home in Suchitoto *** 
Is it important for you to have a cafe or restaurant in a hotel? Do you usually eat & drink there? 
[put_wpgm id=192]
* Thank you to Casa e la Abuela for hosting us. No compensation was received for this review but our stay was offered on a complimentary basis. As always, all opinions remain our own.
Visited in November 2016