These petrified waterfalls are a unique natural phenomenon formed by natural springs – take a close look and find out how to get to Hierve el Agua from Oaxaca City without a tour.
How to Get to Hierve El Agua
Getting to Hierve el Agua is relatively easy, but time consuming.
Time needed: 2 hours.
How to get to Hierve el Agua from Oaxaca
Take a public bus from Oaxaca City to Mitla

Catch the bus (18 pesos / $0.90, 1 hour) from the Oaxaca 2nd class bus terminal or along Boulevard Jose Vasconcelos (Highway 190) .

Transfer to a camioneta in Mitla (40 pesos / $2.00) to Hierve el Agua

Camionetas depart from across the Mitla bus station, and require 7-8 passengers.
Read on for the longer explanation of how to get to Hierve el Agua…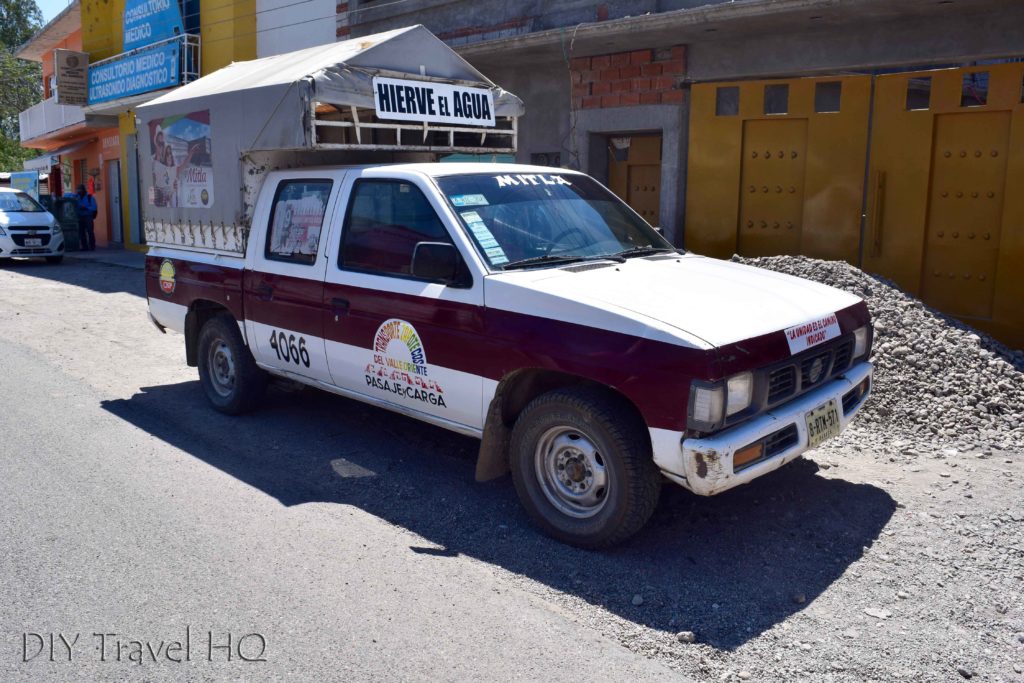 #1. Oaxaca to Mitla
Mitla is best reached via a bus (18 pesos / $0.90, 1 hour) from the Oaxaca 2nd-class bus terminal or along Boulevard Jose Vasconcelos (Highway 190).
It is possible and preferable to combine Hierve el Agua with the Mitla Ruins and the world's largest tree at El Tule since they are all located east of Oaxaca City.
Tour option:
Visit Mitla Ruins
Find out why the intricate mosaic stone patterns make the Mitla ruins one of the best day trips from Oaxaca City...
Read more
#2. Mitla to Hierve el Agua
Camionetas from Mitla (40 pesos / $2.00, 1 hour) can be caught opposite the bus station, but require 7-8 passengers to depart.
When travelling by local transport in Mexico remember to keep your cash, credit cards & other valuables in a secure money belt at all times.
The Camioneta Ride to Hierve el Agua
However, the ride is amazing once you depart.
The lucky may be able to sit in the extended cab, but for the best views hop in the back.
It does get a bit bumpy so hold on!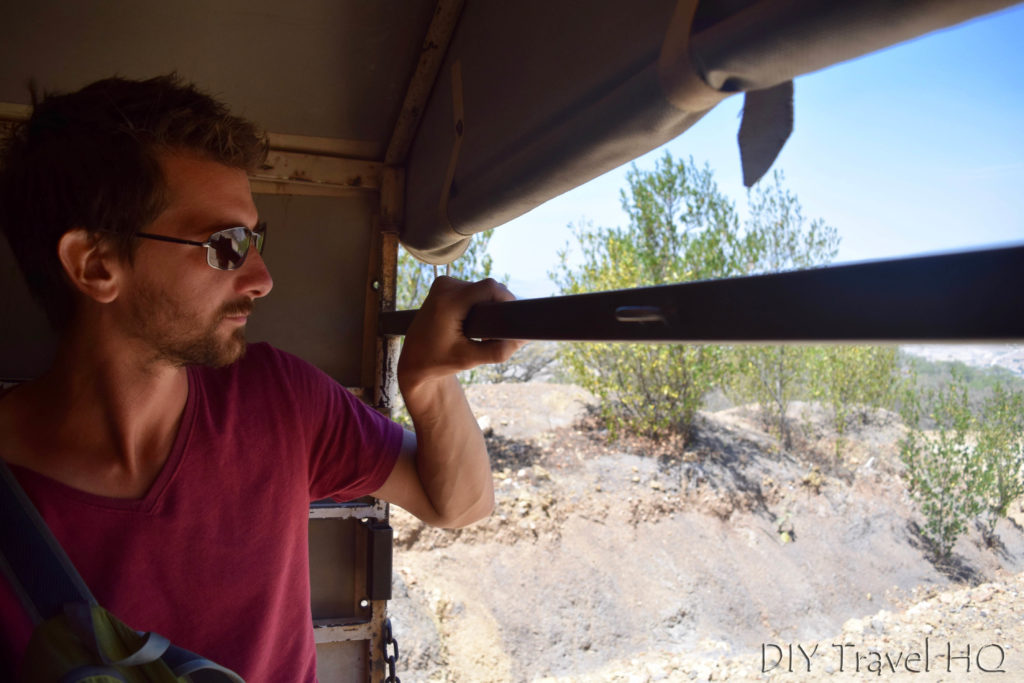 The pick-up truck takes you through a small village, past cows being herded, and along desolate stretches.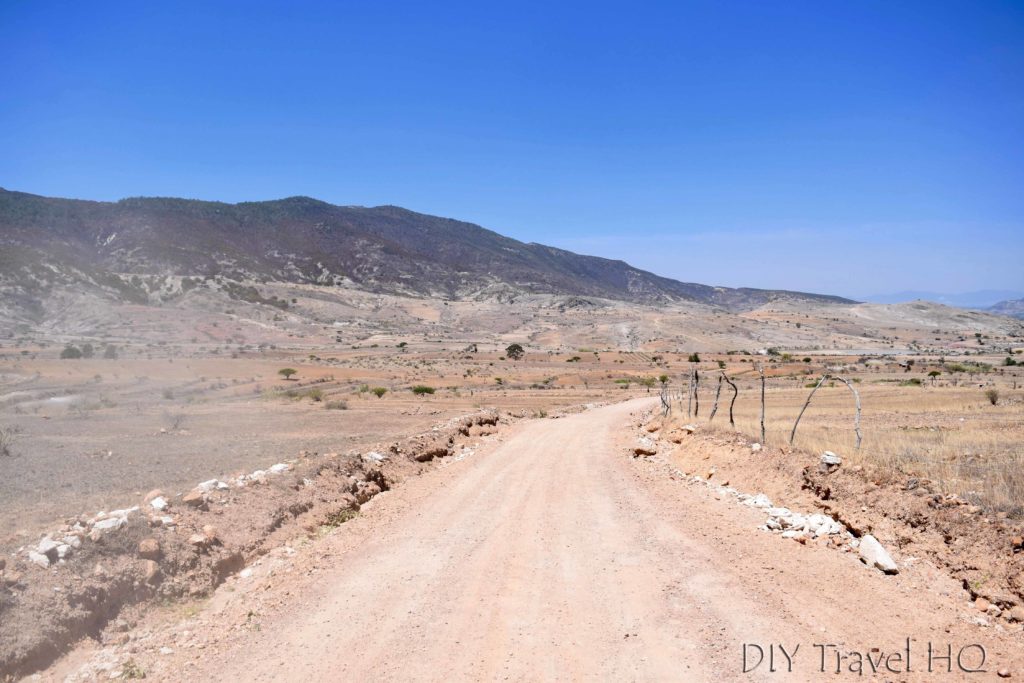 All this occurs before even starting the climb up the mountain!
Along the way you realize how taxing the road is on poorly maintained trucks.
This truck was broken down, but disappeared before we returned.
* Don't forget to purchase travel insurance before any trip to Mexico. We've been using World Nomads for over 10 years – it's the best-value provider we've found but there are important things to consider.
Check out our post & find out which of our claims were successful or denied.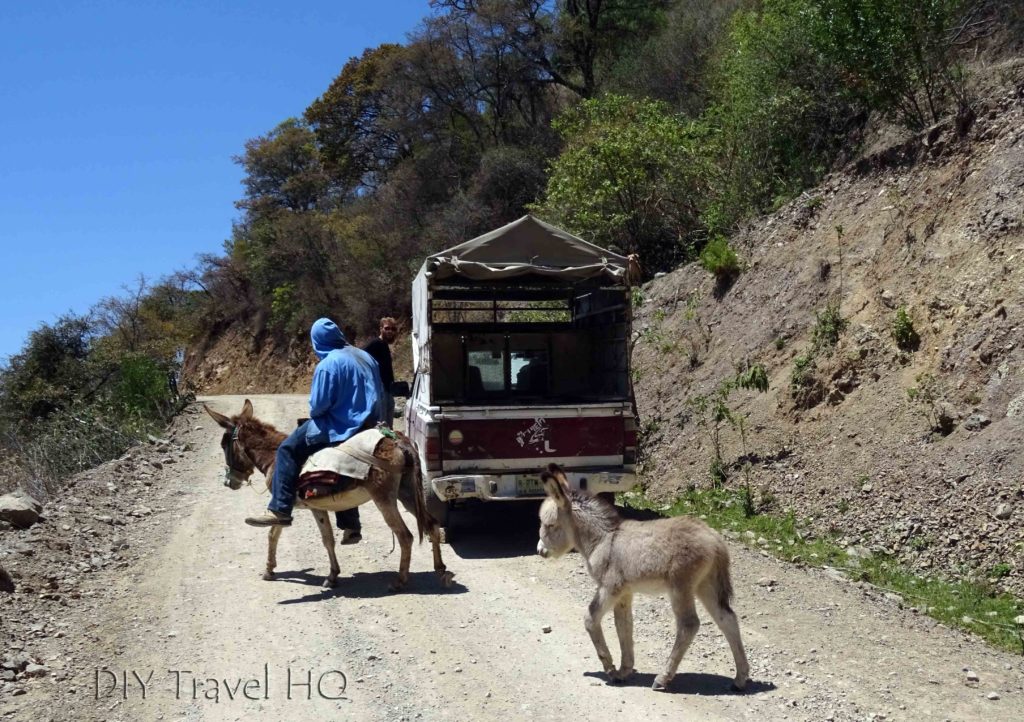 The views of the valley are marvelous as you ascend the mountain before going over the saddle.
These photos were taken with our Nikon D3300 DSLR.
From there it is all downhill until you reach your ultimate destination – and that's exactly how you get to Hierve el Agua from Oaxaca City!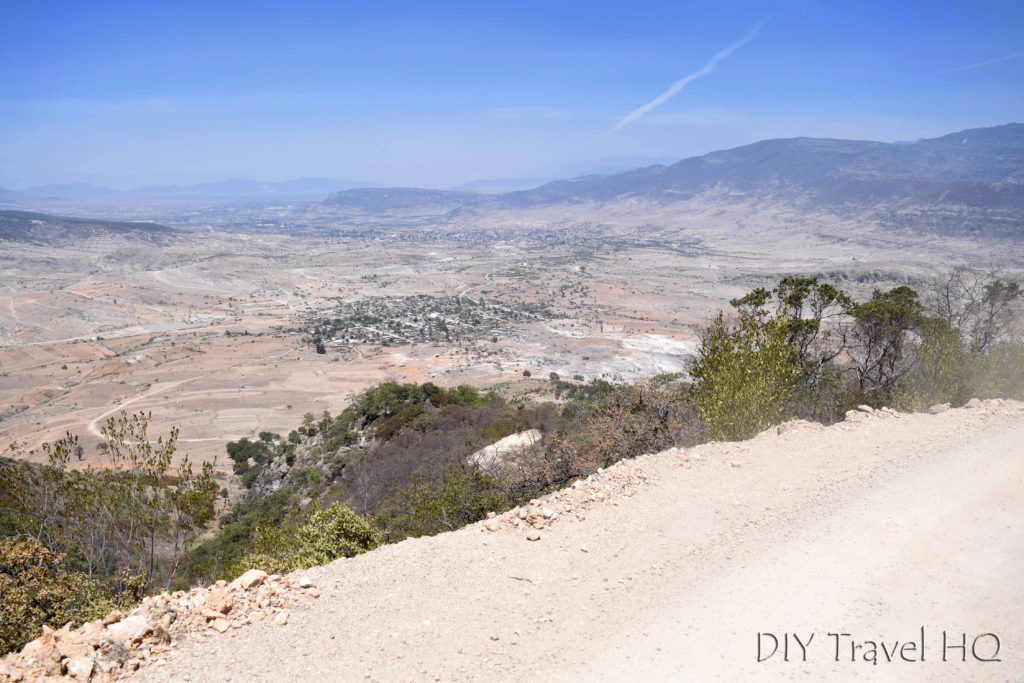 What to See at Hierve el Agua
Now that we've covered how to get to Hierve el Agua, let's take a look at the petrified waterfalls theselves.
Hierve el Agua is a series of bubbling mineral springs.
Through the years, they have deposited minerals along the cliff edge that now resemble cascading waterfalls.

Several pools were constructed at the top to 'enhance' the experience.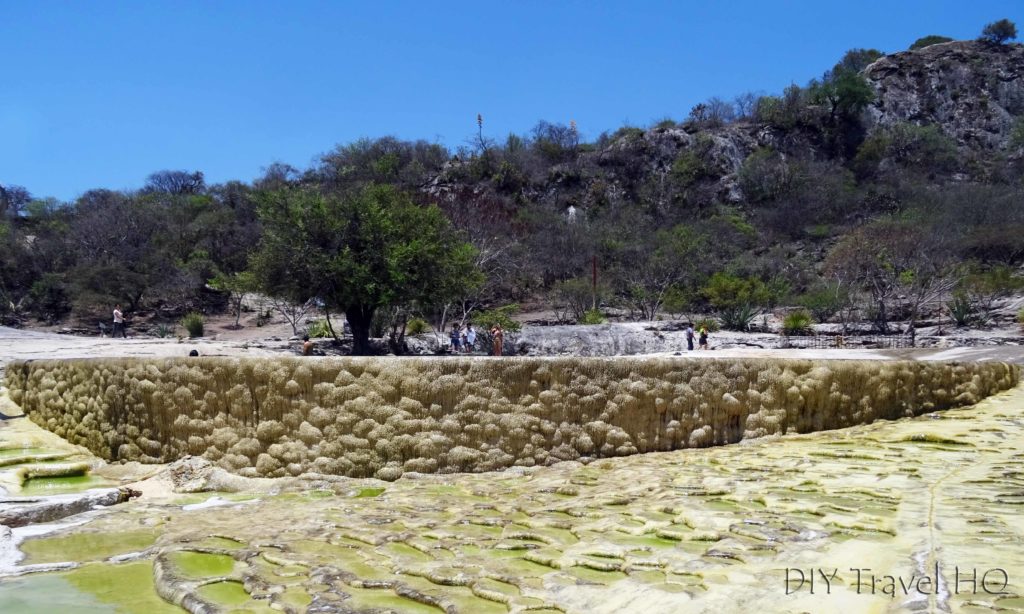 There are two main cascades at Hierve el Agua.
Although the cascade with the pools is larger, the more appealing mineral-laden precipice is 100 meters away.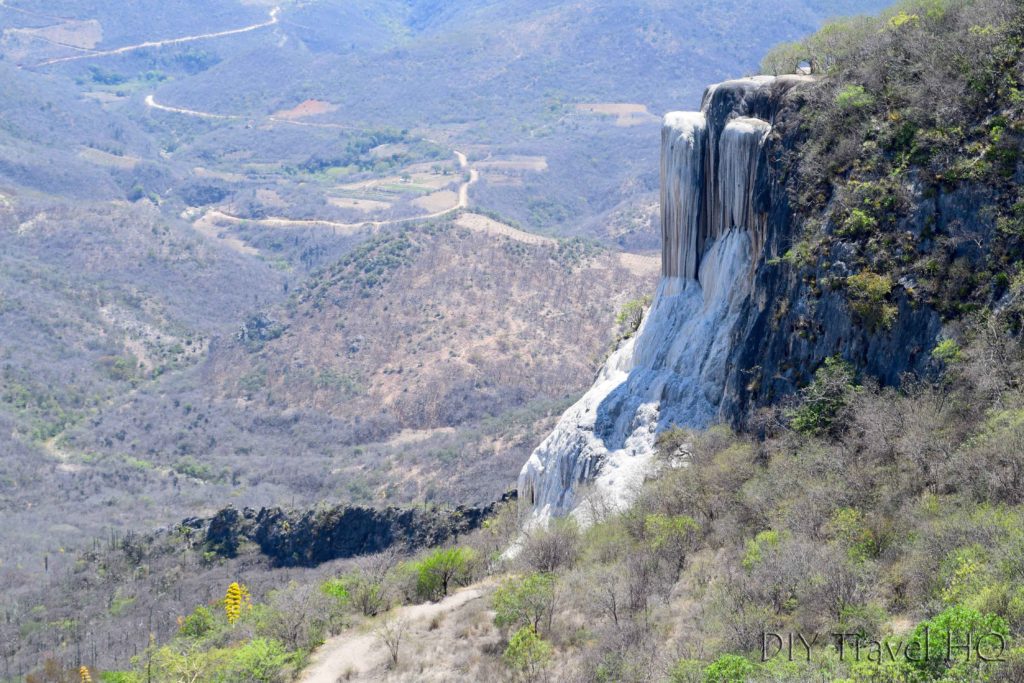 It is best viewed from the bottom of the pools, but can also be hiked to in 10 minutes.
Simply follow the path behind the main pool on the left. Disregard the signs that state you need a guide to hike there.
Turn left along a ridge when you reach a T-intersection at the top. Follow the trail until you reach yellow caution tape.
This is your signal to head down a side path to the top of the petrified waterfall.
As you can see, it can be very hot & dry at Hierve el Agua so be sure to apply adequate sunscreen and keep hydrated with a LifeStraw Water Filter Bottle.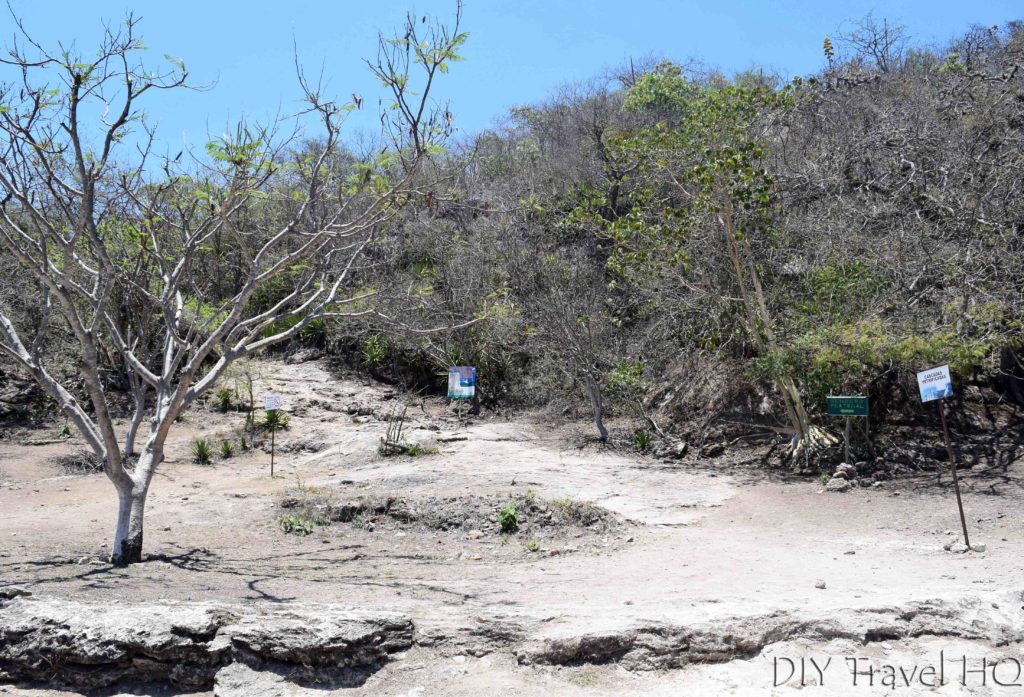 Along the way, you will see several plants with engravings.
I suppose if you don't have a bridge to place locks and thick trees are scarce, then you need to showcase your love somewhere.
Instead of disappearing when healed, the carvings actually leave scars.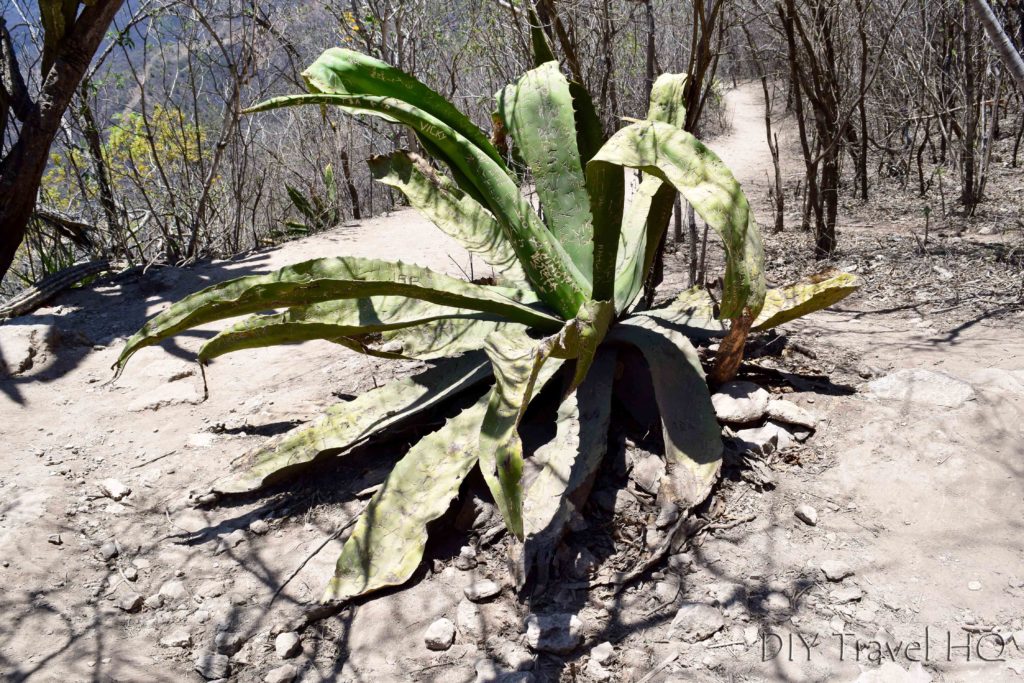 From the far petrified waterfall, you can look back to the main cascade or descend to the bottom of the cliffs to see both 'frozen' cascades at the same time.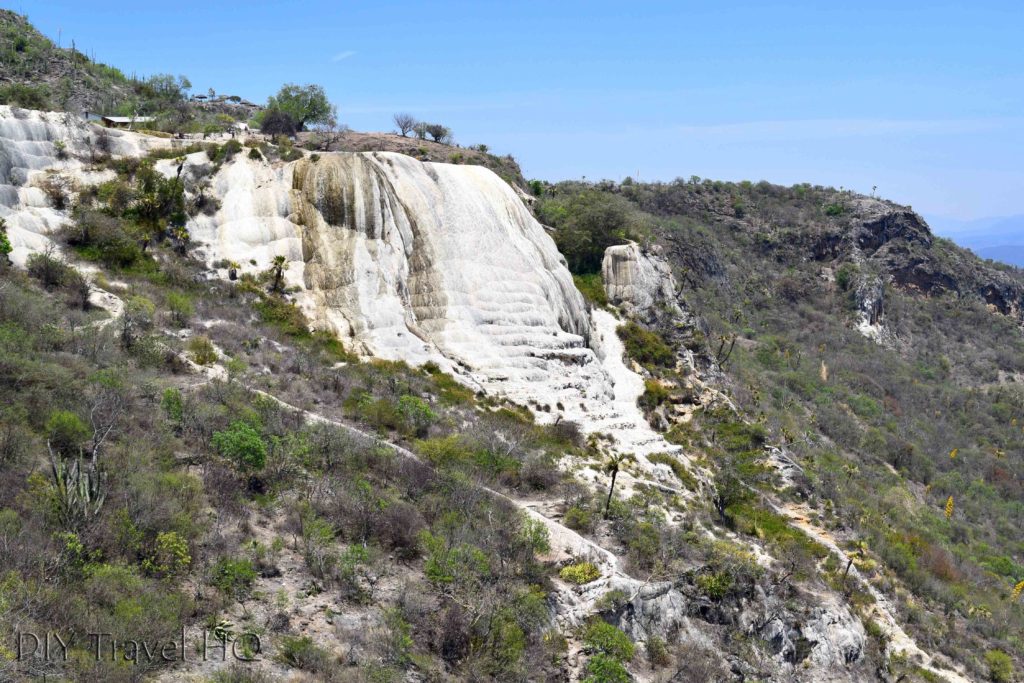 Knocking on Hierve el Agua resounds with an echo as the minerals are loosely concentrated.
With many tiers to the cascade, it is possible to safely sit on the edge as you stare across the valley and contemplate life.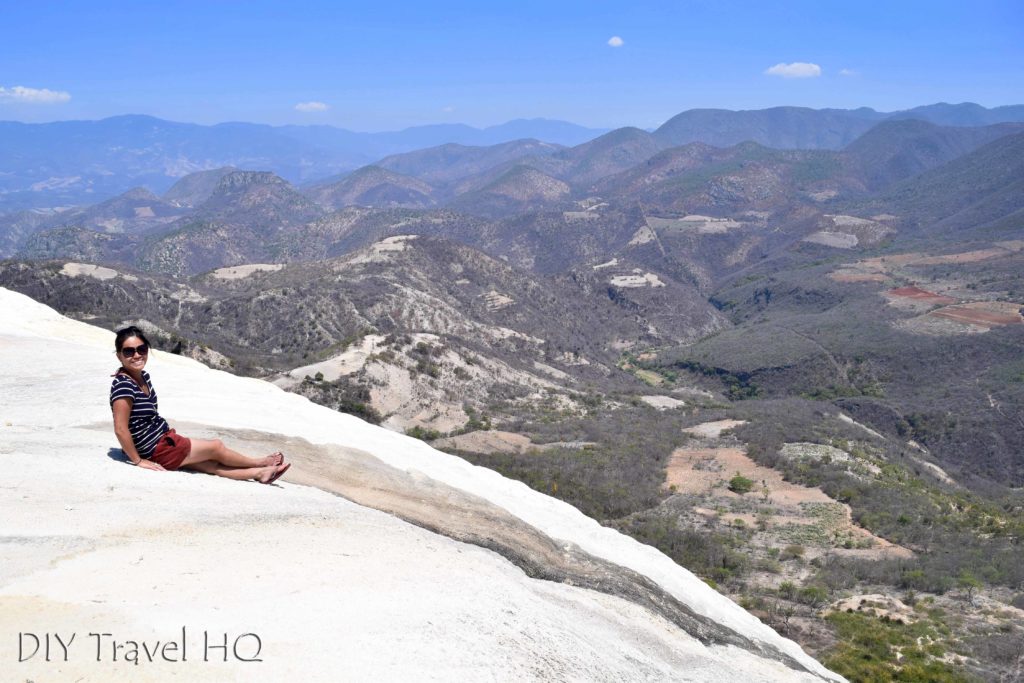 However, one false step and you could become food for the resident vultures.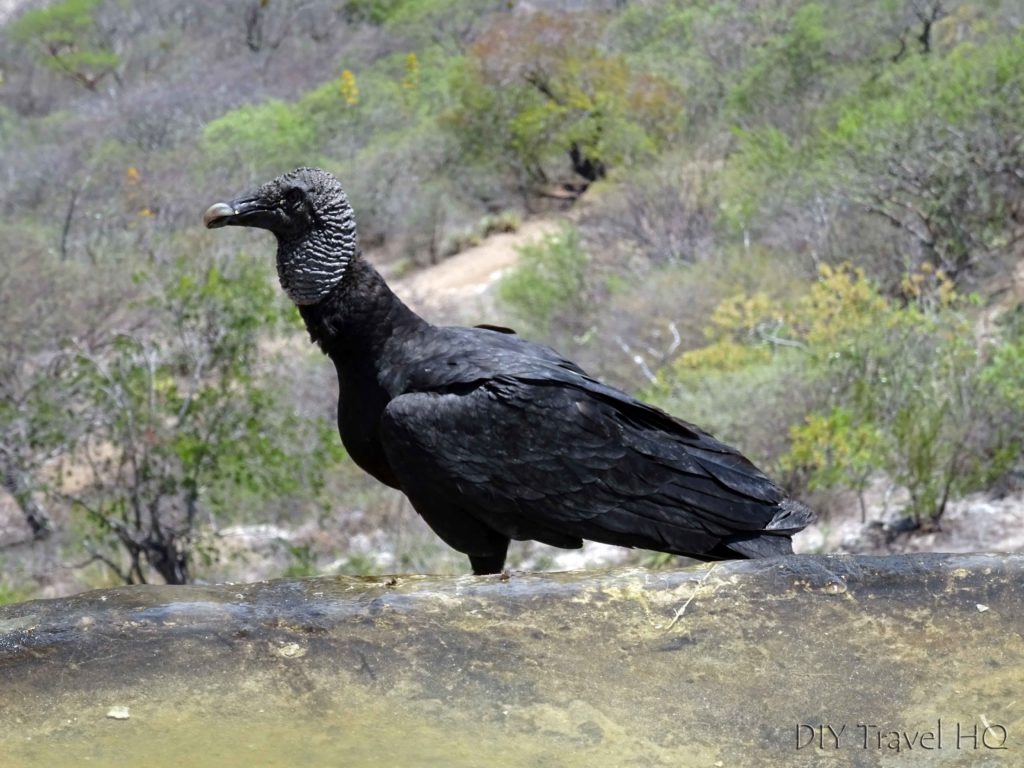 After you have finished hiking, head to the changing rooms (free) or bathroom (3 pesos / $0.17) to get ready for a dip.
Taking a dip in Hierve el Agua confirms the water is not boiling, but rather refreshingly chilly.
The maximum depth is 2 meters, and mossy at the bottom.
Take advantage of the large infinity pool that overlooks the surrounding mountains.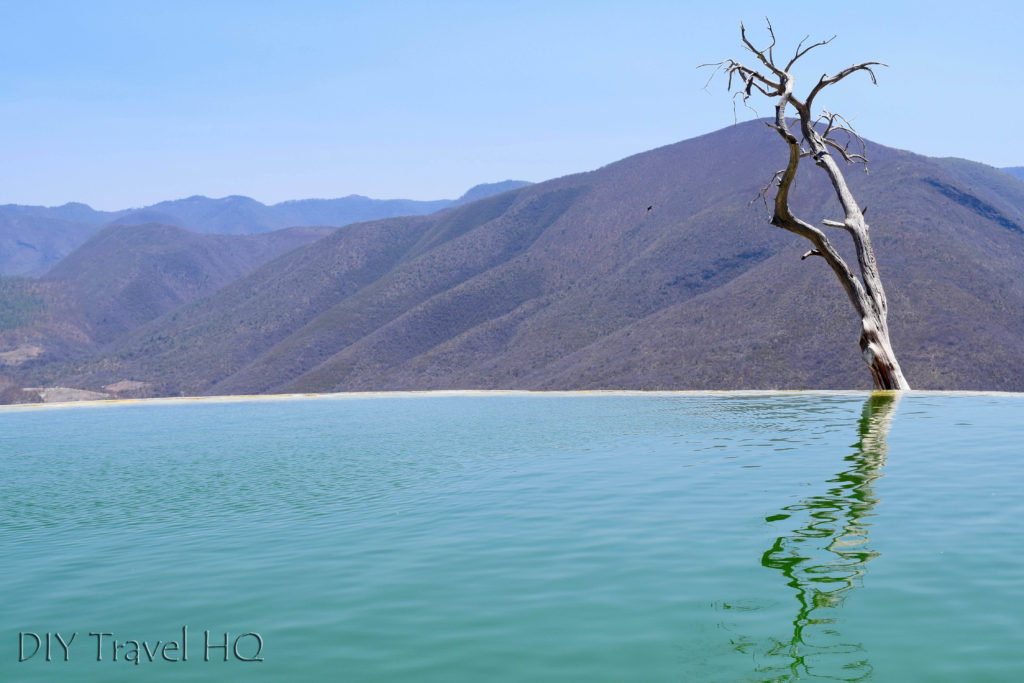 There is also a smaller pool on the edge of the cliff that is shallower, and less frequented.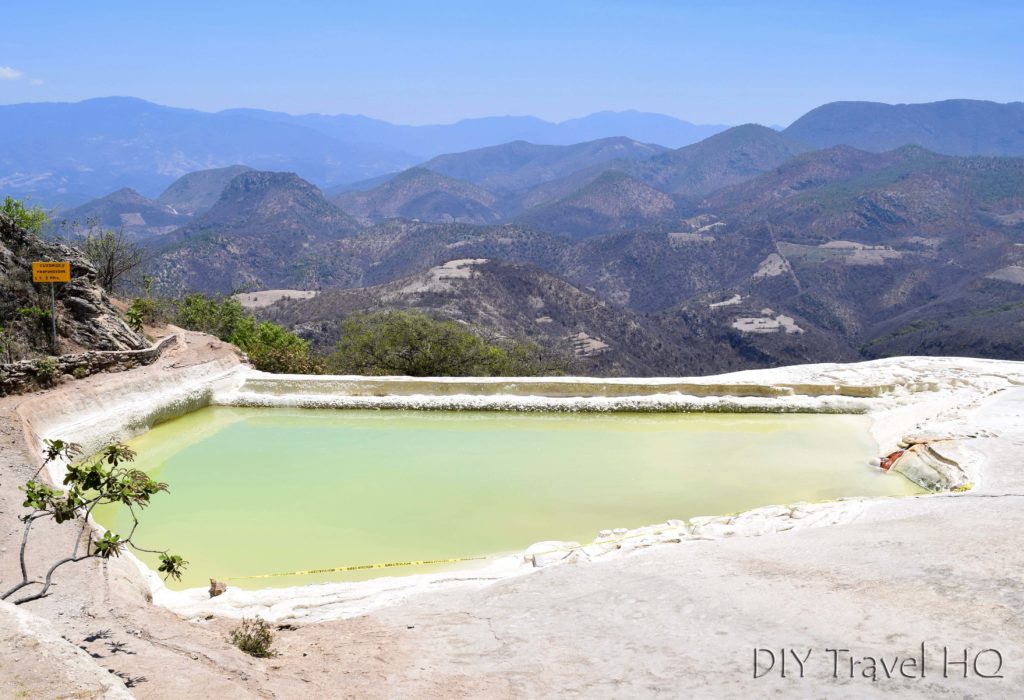 The spring that feeds the pool is surrounded by a fence, and you can see the water bubbling up before being naturally channeled down.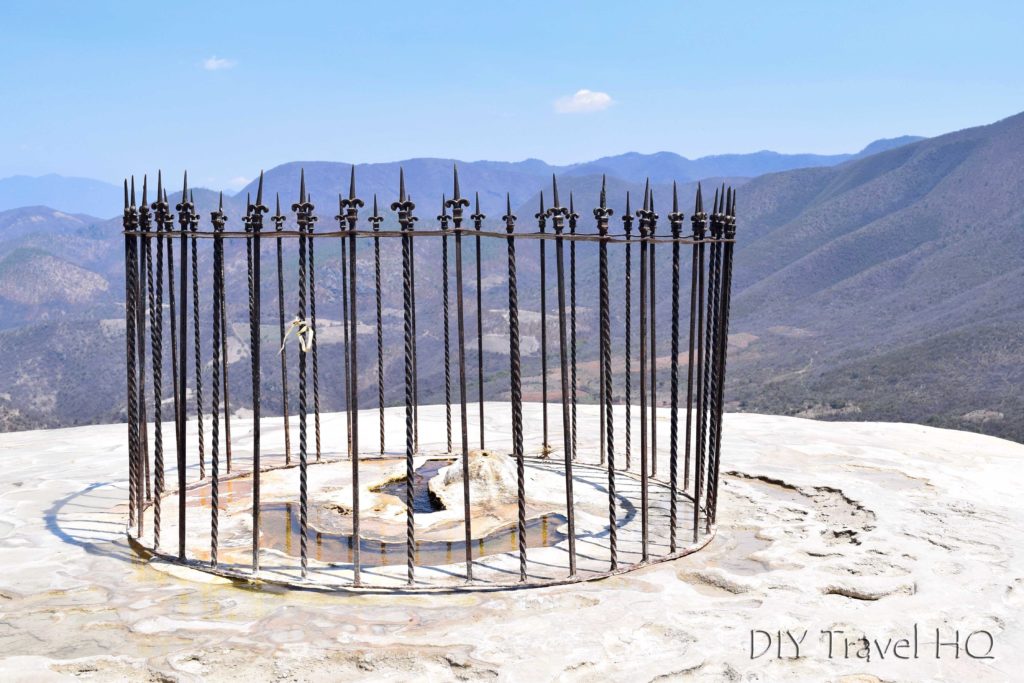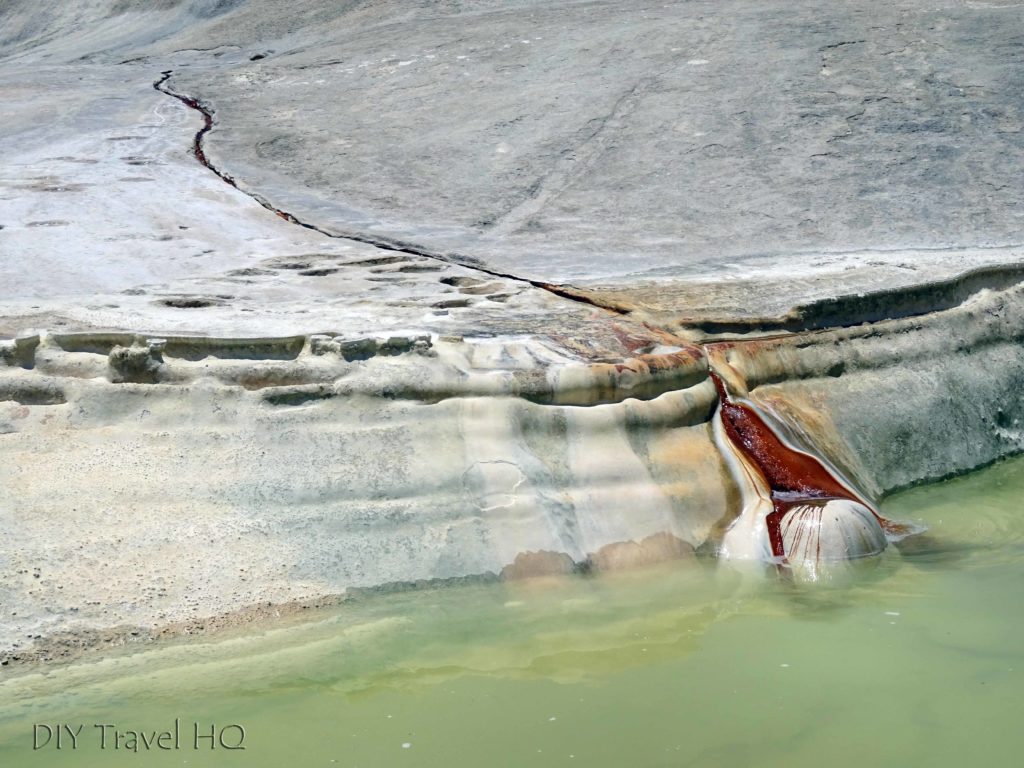 Having springs at 3,000 meters above sea level is rather impressive when you think about it.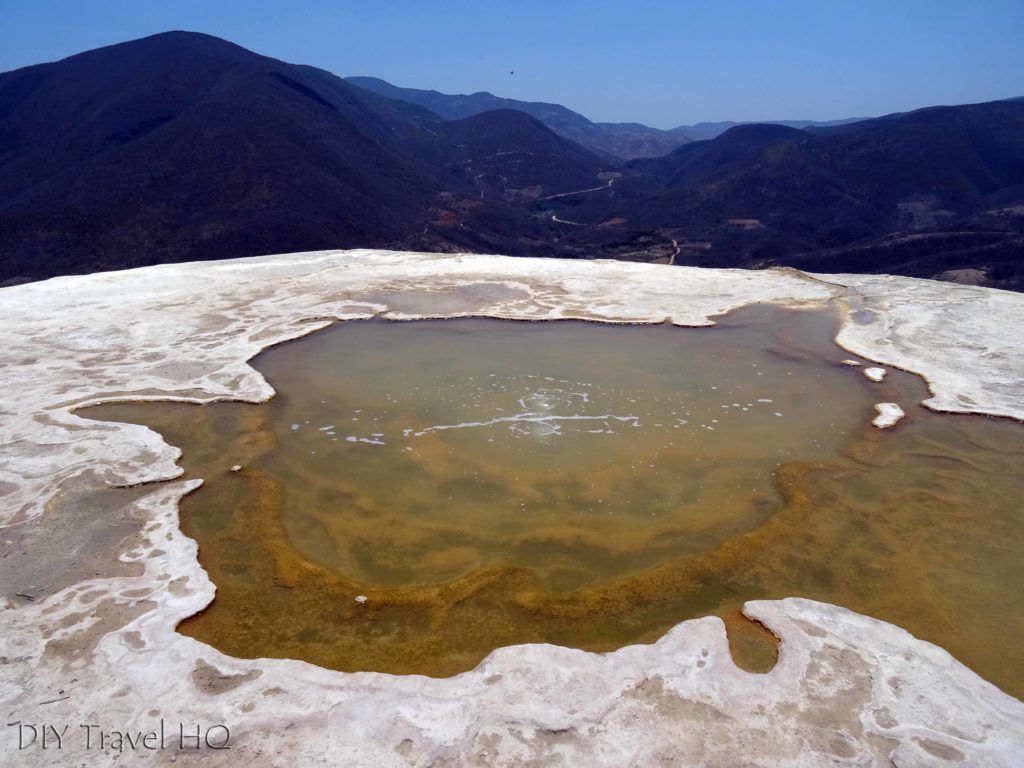 Food and Drink
Food and drinks can be purchased around the parking lot.
There are several stalls to choose from, but don't expect drastic price differences between them.
Keep an eye out for Pina Loco, a fruity drink served in a pineapple.
Oaxaca City
Almost all trips to Hierve el Agua start and finish at Oaxaca City – where you should try to spend a few days, soaking up the vibrant colonial atmosphere and mix of native Mixtex and Zapotec cultures.
Some of the best attractions in Oaxaca City are:
Museo de las Culturas de Oaxaca
Zocalo & Alameda
Basilica de la Soledad
Oaxaca City is also an excellent base for day trips, near and far.
As already mentioned, we recommend visiting Hierve el Agua, Mitla and Arbol de Tule in 1 day.
Monte Alban is another must-see attraction that is nearby and easy to get to. Don't miss out on visiting this incredible archaeological site, one of Mesoamerica's largest megacities.
Things to do in Oaxaca City
From museums to markets, find out the main attractions in Oaxaca City...
Read more
Know Before You Go
Hierve el Agua Entrance Fee: 25 pesos / $1.25
* Some travelers have reported also being charged a 10 peso 'road access' fee (but we weren't stopped for this)
How to get there:
Bus from Oaxaca City to Mitla (18 pesos / $0.90)
Camioneta from Mitla to Hieve el Ague (40 pesos / $2.00)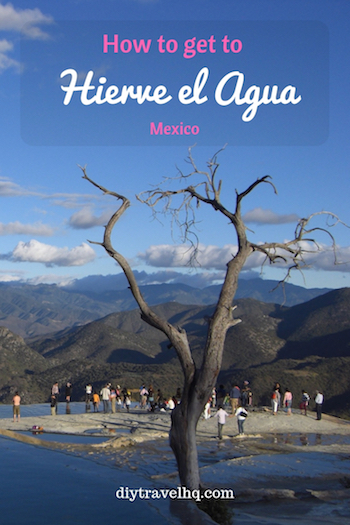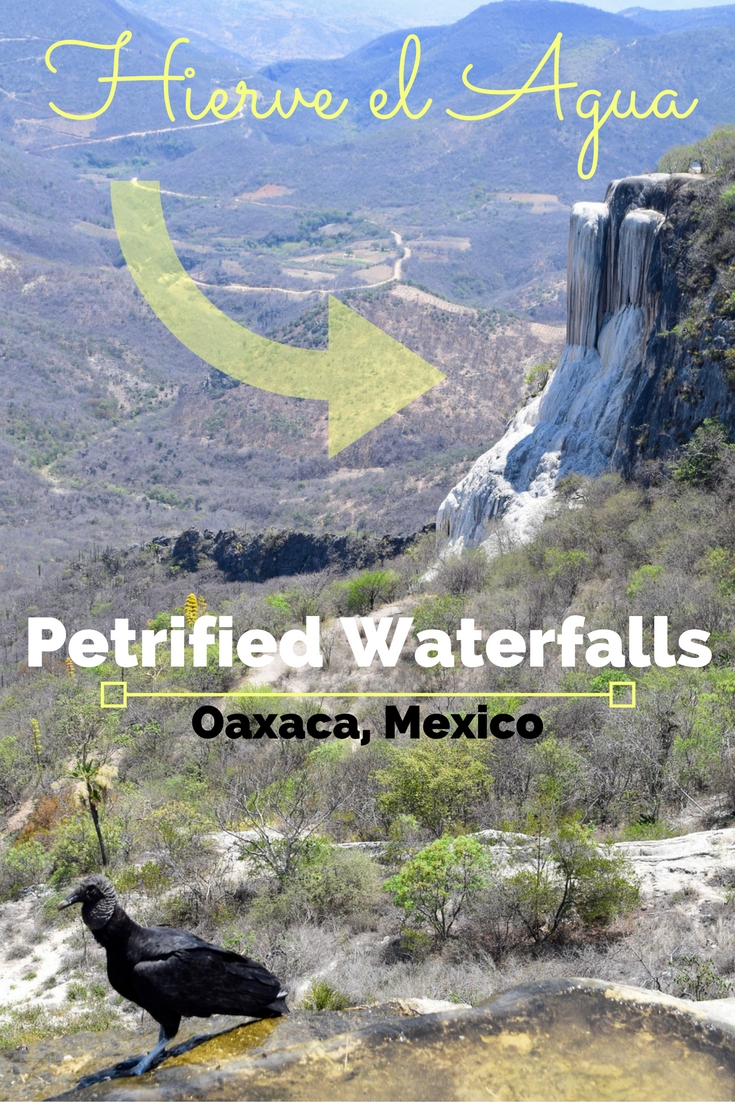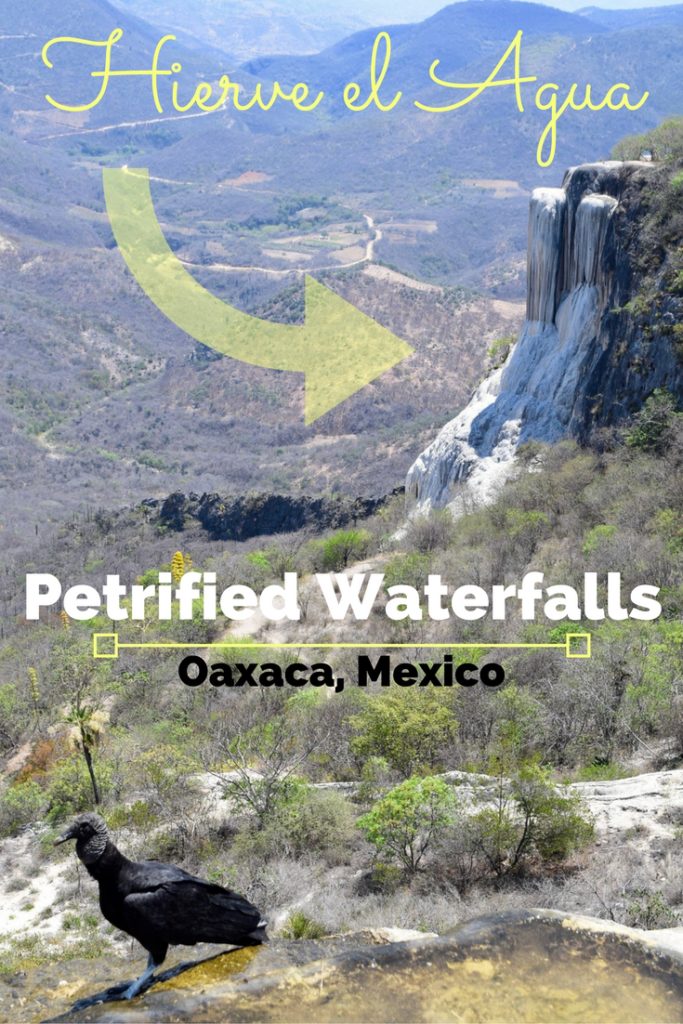 *** The Final Word – Once you know how to get to Hierve el Agua from Oaxaca City, Hierve de Agua is unique in terms of nature and worth visiting. Make time and enjoy the journey! ***
How do you think Hierve el Agua compares to Pamukkale in Turkey?
Disclaimer: This post contains affiliate links, which means that we receive a small commission if you click on a link & purchase something that we have recommended – at no extra cost to you
Visited in April 2016