It may be the smallest country in Central America but it sure has the biggest heart – from volcanoes to villages & beaches to mountains, find out the top things to do in El Salvador!
The 35 best things to do in El Salvador are:
We spent 1 month in El Salvador, covering the country from North, South, East & West. While there aren't any outstanding sights, there are still loads of fantastic El Salvador tourist attractions worth visiting.
El Salvador, we miss your great food & pupusas but not the slowest chicken buses in the world! If you're planning a trip to Central America, don't hesitate to make tracks through this wonderful country 🙂
Most of all we loved the friendly, honest people – we kept waiting to be ripped off but never were once, not that we knew of anyway… this is a big deal!
* Don't forget to purchase travel insurance before any trip to El Salvador. We've been using World Nomads for over 10 years – it's the best-value provider we've found but there are important things to consider.
For more details check out our World Nomads review.
Best Things to do in El Salvador
#1. Guatemala Border Crossing
Don't worry, El Salvador is awesome – we don't think that the 1st thing you should do is flee to Guatemala! Rather if you're in Guatemala, you shouldn't hesitate to cross the border to El Salvador.
We did exactly that through the Valle Nuevo and Las Chinamas border crossing. You can take a chicken bus from Guatemala City to Valle Nuevo for around Q30 / $3.90. The ride will take at least 3 hours but it will drop you off right at the border.
Both Guatemala and El Salvador are covered under the CA-4 visa, together with Honduras and Nicaragua. The Central America-4 visa is valid for 90 days – you can easily extend the CA-4 visa in Guatemala if needed.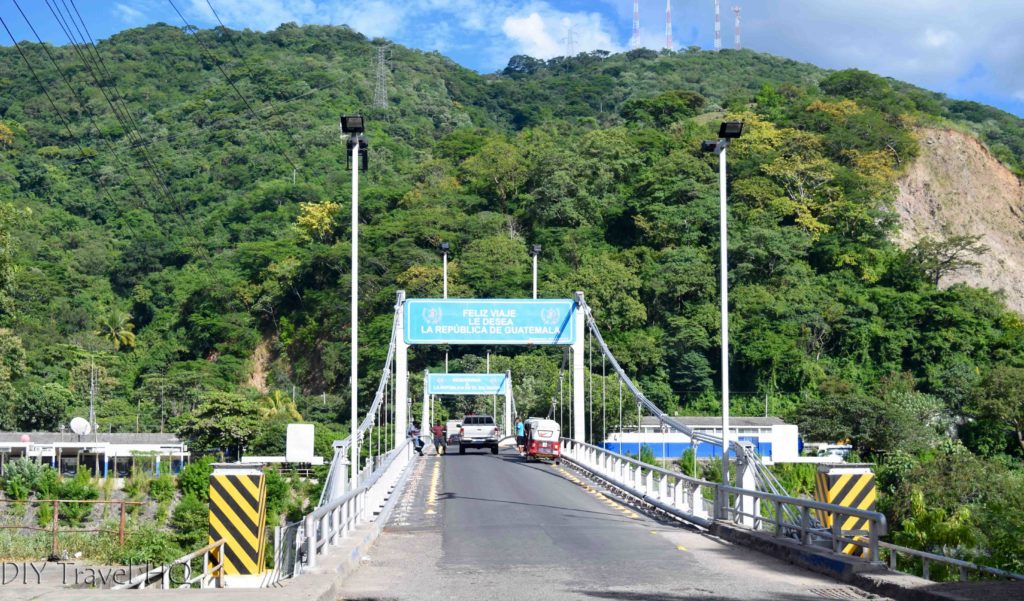 #2. Ahuachapan
If you're crossing the border from Guatemala, stop for a day at Ahuachapan – its safe & clean streets are a pleasant introduction to El Salvador.
Parque Concordia is the centre of town and a great spot for people watching. While you're there, have a look inside Inglesia Parroquia de Nuestra Senora de la Asuncion.
In Ahuachapan we stayed at Casa de Mamapan.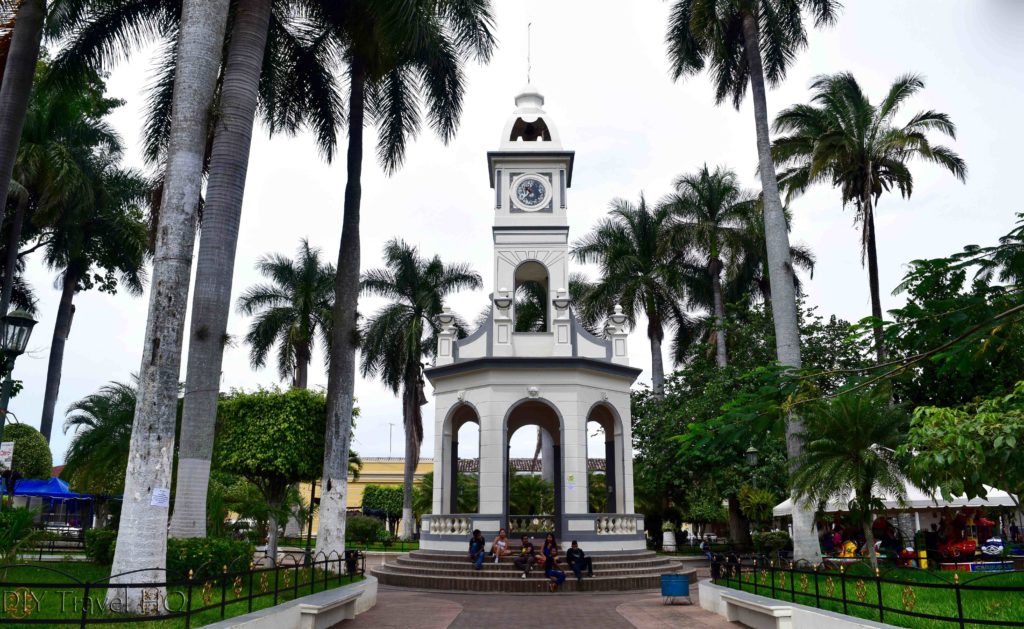 #3. Los Ausoles Geysers
Be sure to visit the geothermal geysers at Los Ausoles, one of the top things to do in Ahuachapan. It's 5 km from town and accessible by public transport. Just take bus #809 ($0.25) from Parque General Francisco Menendez and ask to be let off at Los Ausoles.
Los Ausoles features a group of hot springs which produce bubbling steam and mud pools. Despite the boiling heat underground, it's a very cool spot!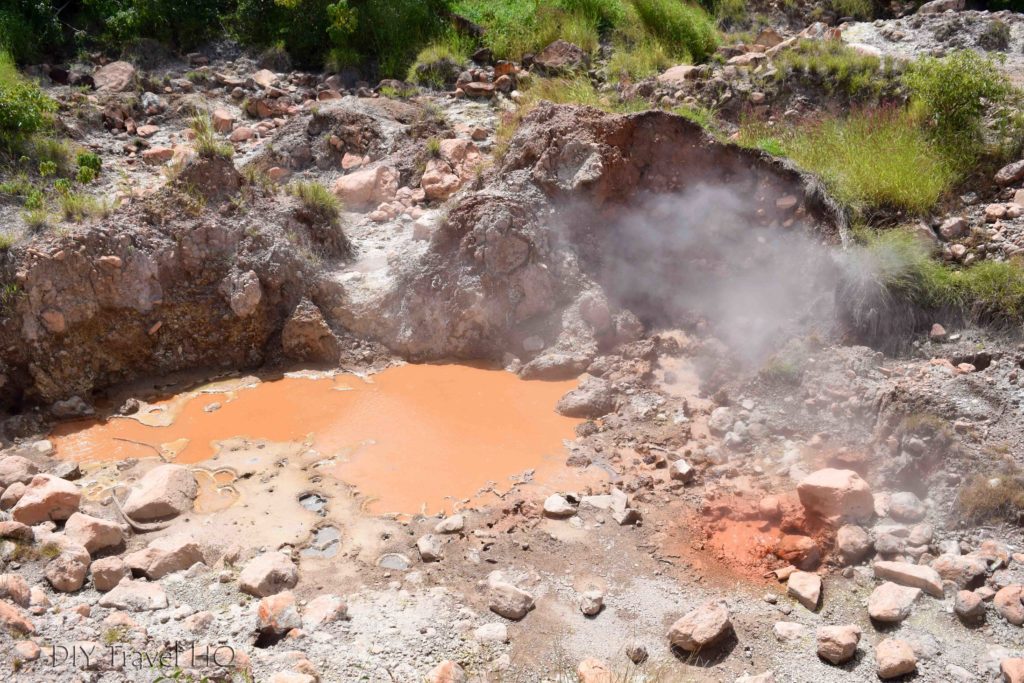 #4. Ruta de la Flores
Spend the weekend exploring the villages along the Ruta de las Flores, one of the top places to visit in El Salvador.
It's named after the colorful flowers on the side of the road, that come into season between October and February.
This Flower Route passes through several charming villages. Attractions include the crater lakes around Apaneca, the indigenous culture and handicrafts at Nahuizalco and the coffee in Salcoatitan.
These villages are sleepy during the week but come to life on the weekend. The Ruta de las Flores is a popular weekend trip for city folks in San Salvador and Santa Ana with plenty of food and craft markets to enjoy.
Tour option: Flower Route Tour from San Salvador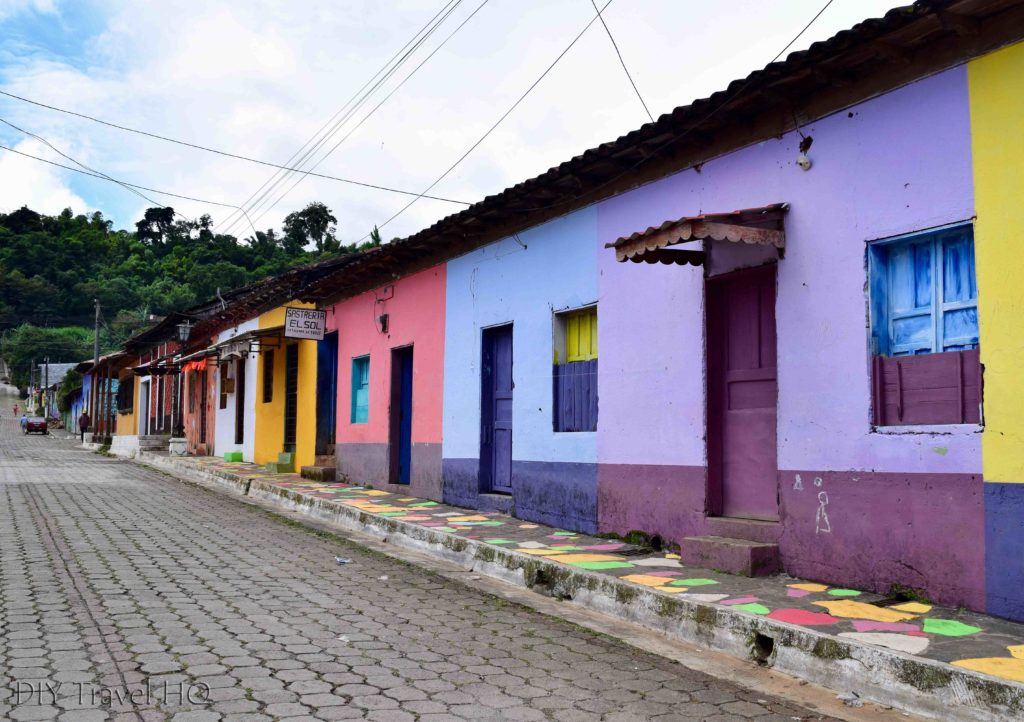 #5. Nahuizalco
Nahuizalco is the first and most traditional village on the Ruta de las Flores. Known for its strong indigenous customs, Nahuizalco is home to the best wicker and tule handicrafts in El Salvador.
Browse around the shops and check out the lovely murals covering many of the walls. Visit the colonial church and people watch around the beautiful, leafy centre square. You'll see people in traditional outfits, including women in colorful huipil skirts.
Be sure to stick around for the famous Nahuizalco night market where the streets are lit only by candle. Try the best of local food including rabbit, snake and iguana if you're feeling adventurous!
#6. Ataco
Base yourself in Ataco, the most picturesque village on the Ruta de las Flores. It's an old colonial town with cobblestone streets and pastel-coloured buildings. What's more, you'll find many large vibrant murals – perfect for your Instagram feed.
There are numerous things to do in Ataco but another highlight is the view from the top of Mirador de la Cruz. On weekends there's also a small food fair in Parque Central where you can mingle with locals.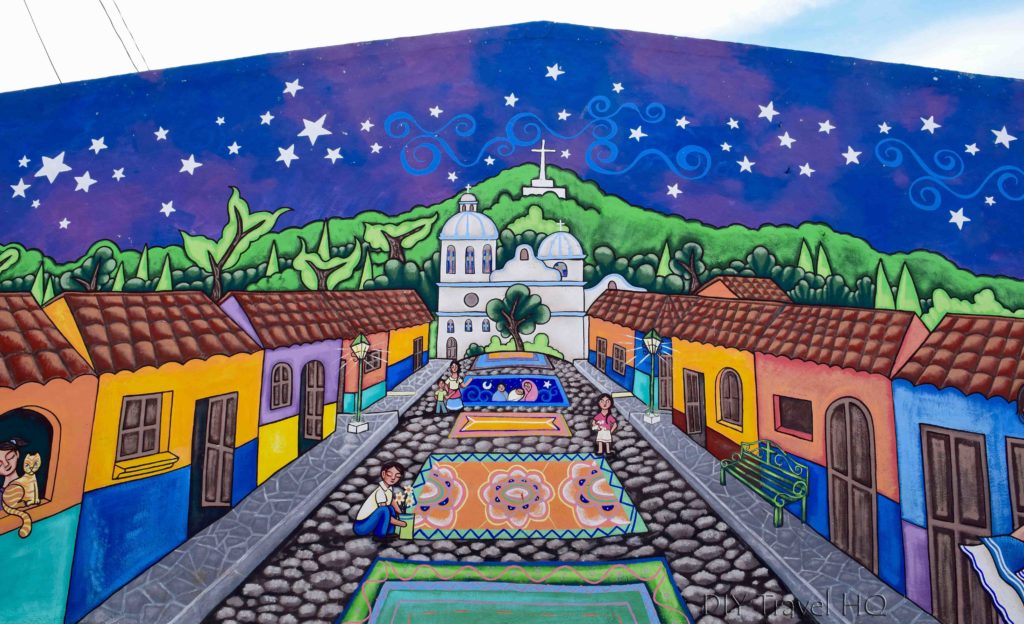 #7. Juayua Food Festival
Continue along the Ruta de las Flores to Juayua & indulge in its famous weekend food festival. Here you'll find some of the best food in the region including iguana, snake, frog and guinea pig dishes. Don't worry there's also plenty of traditional plates too such as grilled beef and paella.
Things to do in Juayua
Juayua is the most popular village on El Salvador's Ruta de las Flores with the swimming hole at Los Chorros de Calera & the weekly Juayua Food Festival – find out what's on the menu!
Read more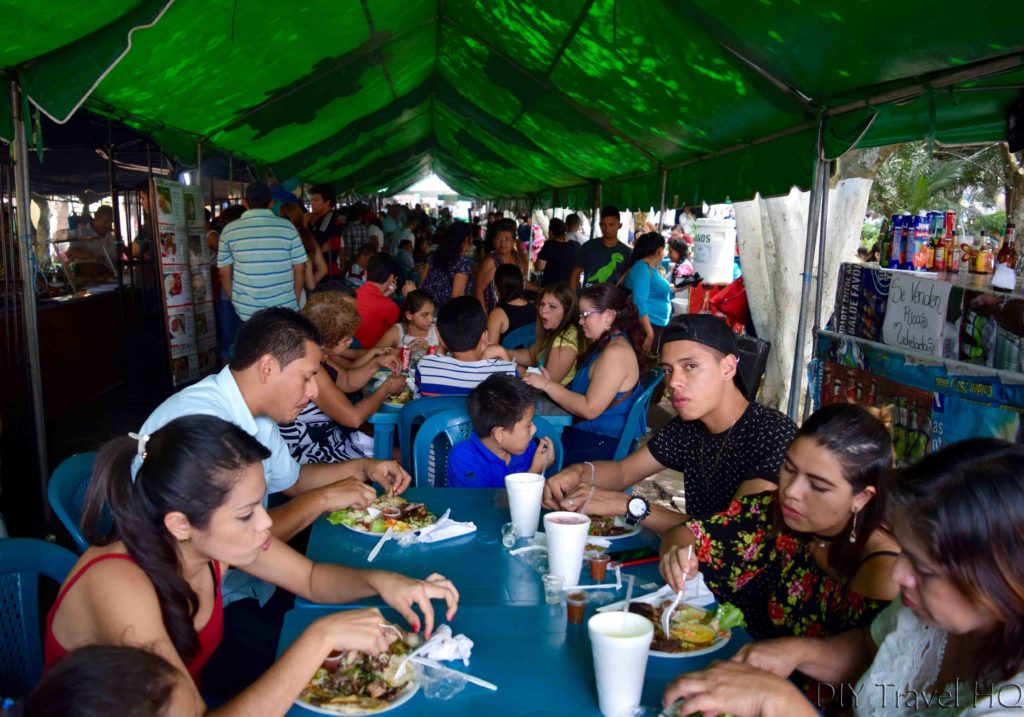 #8. Los Chorros de la Calera
After lunch at the Juayua Food Festival, head out to the waterfall and natural swimming pools at Los Chorros de la Calera. It's 2.5 km from Juayua on a remote road so consider arranging a free police escort if you want to walk or take a tuk-tuk.
It's very popular with covered-up locals so you may want to cover up with a t-shirt and shorts over your swimmers. Join in the fun and stay cool under a lovely little waterfall!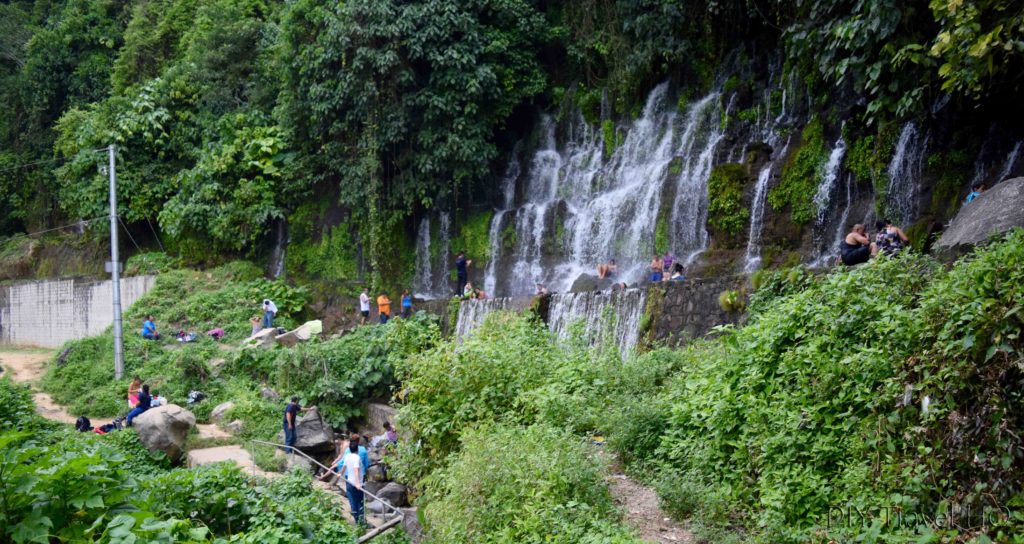 #9. Barra de Santiago
El Salvador tourism is off the beaten track so you're sure to have wide sandy beaches to yourself at Barra de Santiago.
It's not the easiest place to get to and there aren't many places to stay and eat but this small fishing village offers an insight into local life.
But the main reason to visit is for the opportunity to visit a turtle hatchery & help to release sea turtles into the ocean…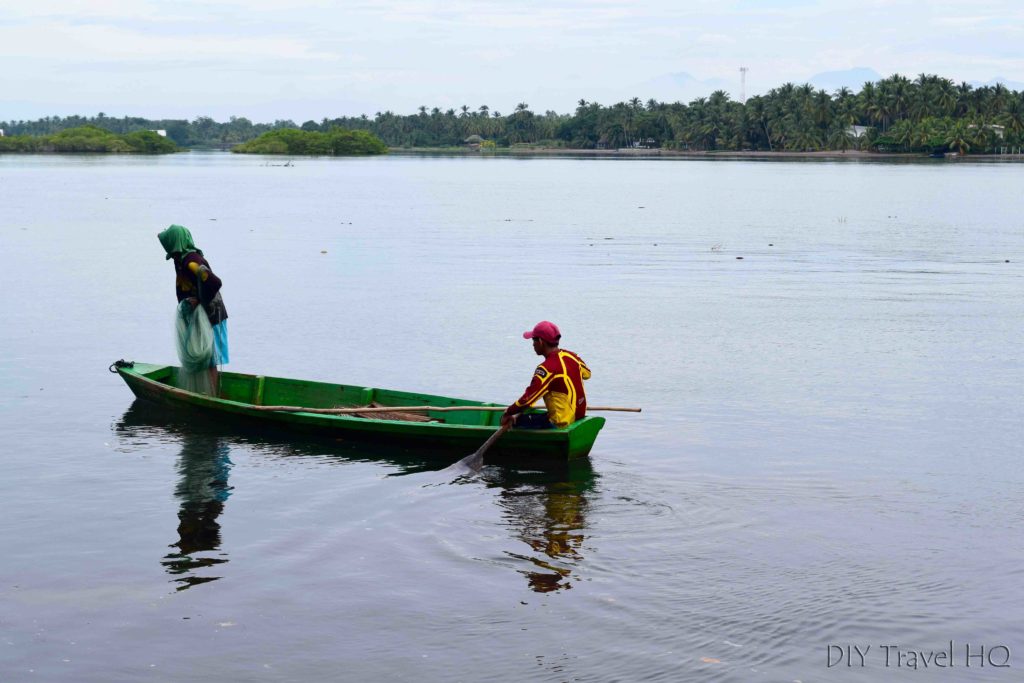 #10. Release Sea Turtles
Every evening between August to November giant see turtles come to shore at Barra de Santiago to lay their eggs. How many can they lay? Around 110 per nest!
In the morning volunteers collect as many eggs as they can find on the beach and rebury them in the hatchery to give them a better chance of survival.
After 45 days the baby sea turtles are then dug out from the sand and released into the sea. Visitor to the turtle hatchery can assist with this and it's a beautiful experience.
Pick up a copy of Rough Guides to help you plan your visit or check out our next post…
Visit Barra de Santiago
Releasing sea turtles is a top bucket list item in Central America – you can do it at Barra de Santiago, El Salvador but find out why you might want to wait for a better experience…
Read more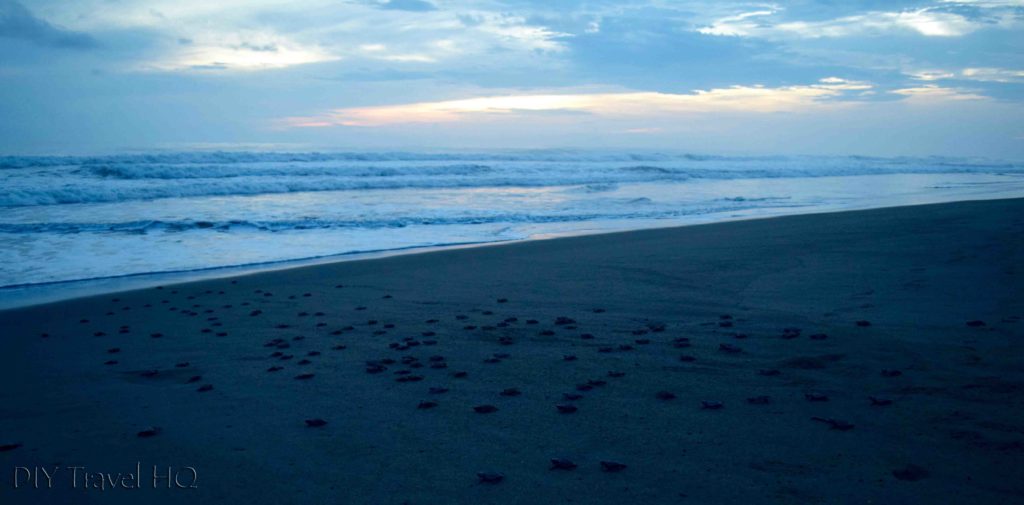 #11. Parque Nacional El Imposible
Do the impossible & camp at Parque Nacional El Imposible!
We had our own tent similar to this 2 person tent so we enjoyed a couple of nights of free accommodation here in the largest park in El Salvador.
The main access points are from Tacuba and El Refugio. Sign in with park rangers at the visitor centre and check out the displays on local wildlife and land features of El Imposible in the Mixtepe museum.
There are several hiking trails within the park, that take you pass viewpoints waterfalls, gorges, swimming holes & Maya rock carvings. It was one of our favourite things to do in El Salvador. If you're lucky, you'll spot some wildlife too.
Hiking in Parque Nacional El Imposible is a popular activity for locals, especially on weekends, so come during the week to best experience the park's remote atmosphere.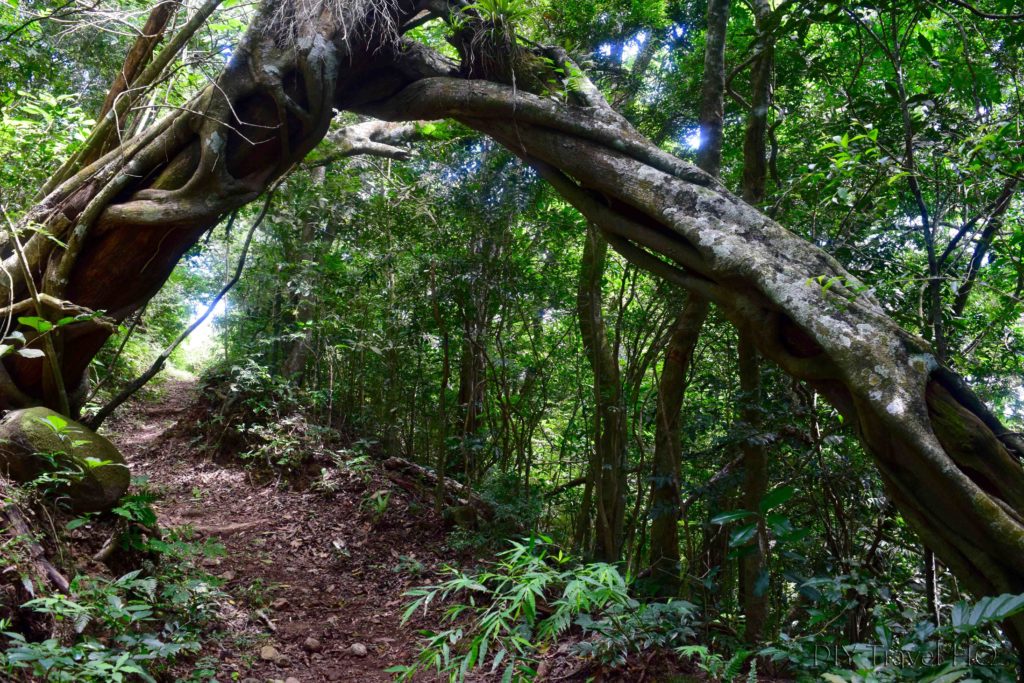 #12. Santa Ana
Still wondering what to do in El Salvador? Well Santa Ana is the 2nd largest city in El Salvador, but it feels more like a large town.
The main attractions surround the central plaza at Parque Libertad, so it won't take long to visit. These include the buildings of Catedral de Santa Ana, Teatro de Santa Ana and City Hall.
But the main reason to visit Santa Ana is for the views and hiking in Parque Nacional Los Volcanes…
Things to do in Santa Ana
Parque Nacional Los Volcanes is best visited as a day trip – find out all about the 3 volcanoes along with where to stay, eat, & how to get around in Santa Ana, El Salvador
Read more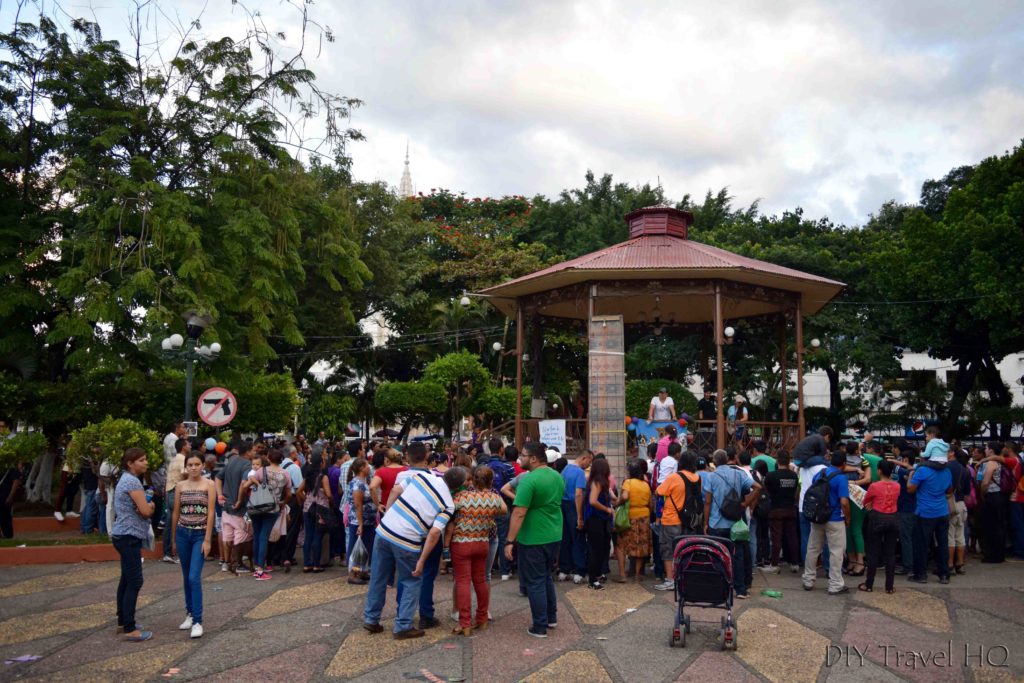 #13. Parque Nacional Los Volcanes
Don't miss out on a day trip from Santa Ana to Parque Nacional Los Volcanes. Here you'll find fantastic views of 3 stunning volcanoes:
Volcan Santa Ana
Volcan Izalco
Cerro Verde
You can join hikes accompanied by tourist police or simply take in the views from several miradors (viewpoints). From these spots you'll be abe to see Lago de Coatepeque too.
Note that Parque Nacional Los Volcanes is also known as Cerro Verde National Park.
Tour option: Cerro Verde National Park from San Salvador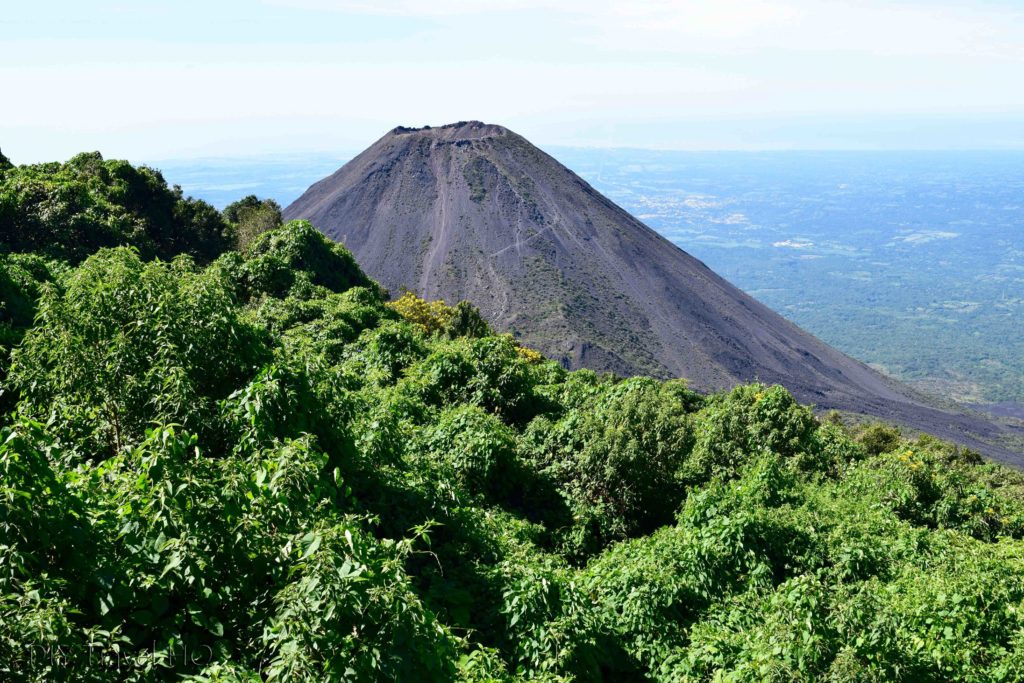 #14. Lago de Coatepeque
If you enjoyed the views of Lago de Coatepeque from Parque Nacional Los Volcanes, you may want to get a closer look.
Don't bother going down to the shore for a stroll though, as you won't be able to see much around the gates of the private mansions surrounding the lake. Many of El Salvador's rich and famous have homes here.
Instead you should have a meal with a view at one of the lakeside restaurants. You'll be treated to a stunning panorama, especially at sunset when the sun goes down behind the crater walls.
If you're after more action you can also swim in the water or take a boat trip around the lake. Jet skis, kayaks and SUP rentals are also available on the shore.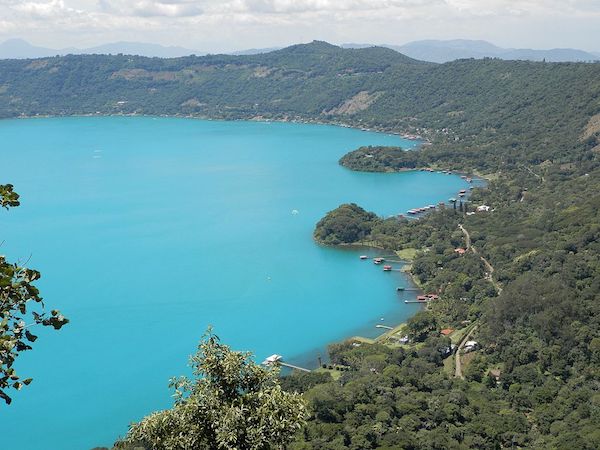 #15. San Salvador
From the hustle of downtown San Salvador to the mega-malls in the surrounding neighbourhoods, see the contrast between the rich & the poor in El Salvador's capital city.
San Salvador has a reputation as of the most dangerous cities in Central America so be conscious of your surroundings and belongings at all times. Always be aware of pickpockets. We recommend wearing a money belt with RFID blocking & traveling with an anti-theft daypack.
That being said we didn't have any issues while we were in the city and we were pleasantly surprised by the wide boulevards and leafy streets.
Tour options: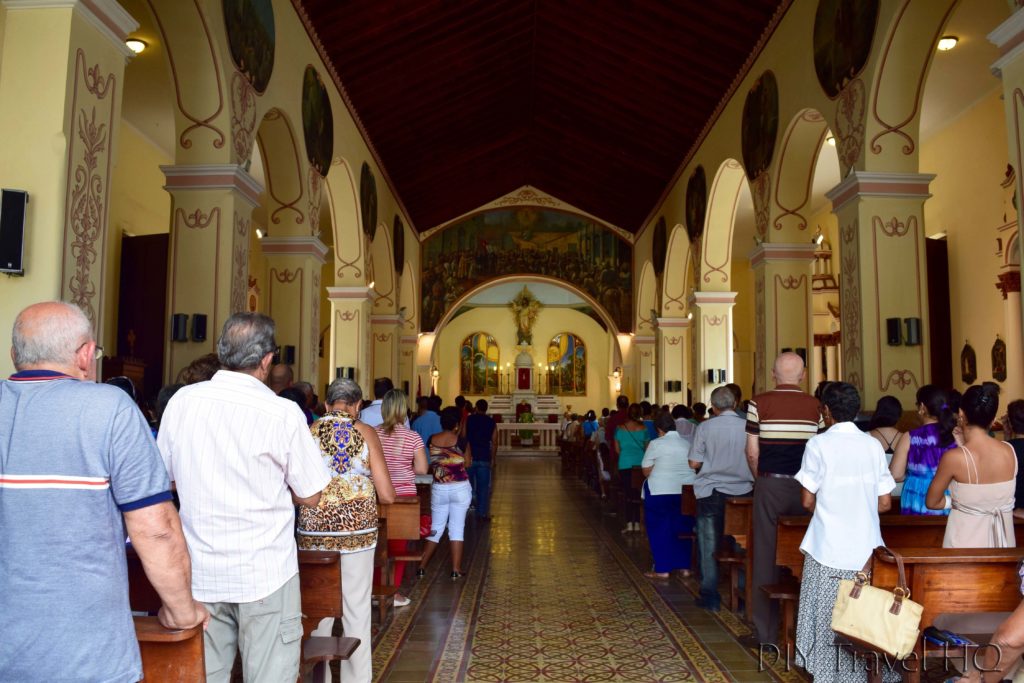 #16. Iglesia El Rosario
San Salvador is worth visiting for the magnificent Iglesia El Rosario alone. It's one of the top tourist attractions in El Salvador. This technicolor spectacular will be like no other church you've ever seen before.
It looks like a drab concrete building on the outside but step inside and your jaw will drop to the floor. The arched roof is made up of a rainbow of stained glass windows bouncing light and darkened room. Seeing is believing!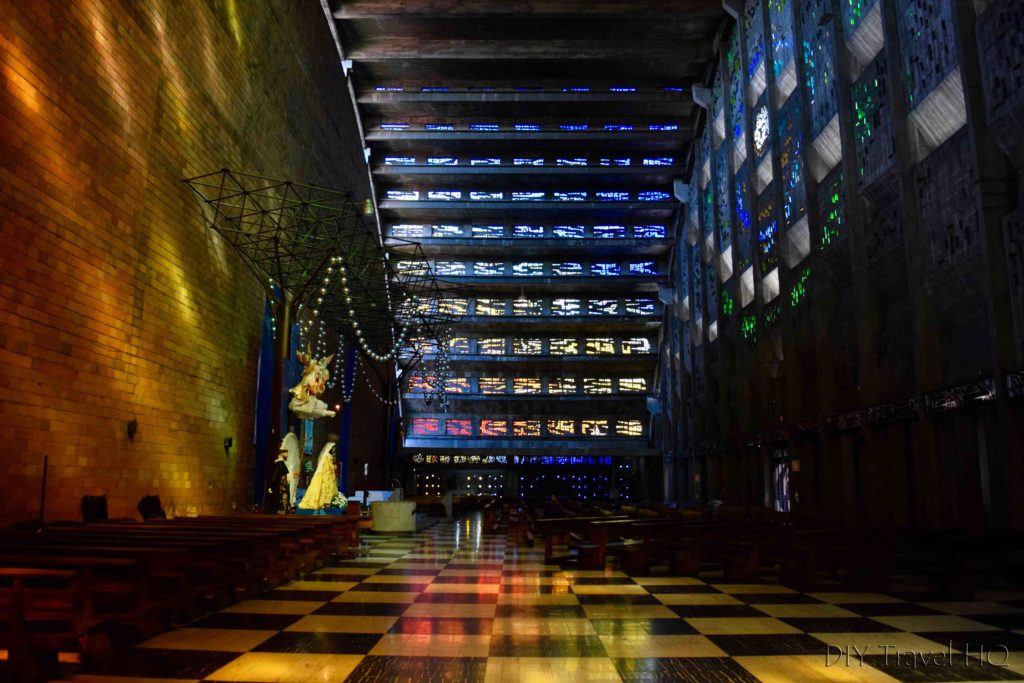 #17. El Boqueron
At just 25 kms from San Salvador, El Boqueron is the most accessible volcano in the country. It's the best option for some crater action if you don't have time to make it to Santa Ana.
Follow the easy hiking trail up the crater rim. You'll see panoramic views of San Salvador on one side and be able to look into a smaller cone within the crater on the other. This 'volcancito' was formed by El Boqueron's last eruption in 1917.
There are several other trails with the park and you can even hike down into the crater itself.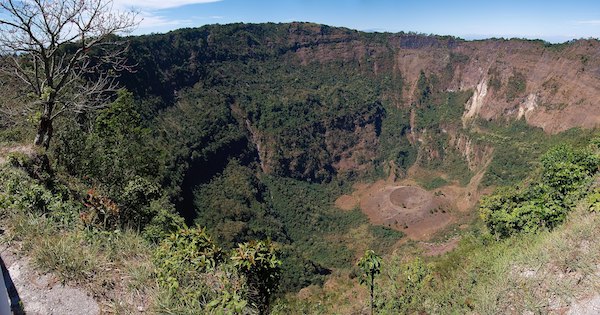 #18. Joya de Ceren
Make a day trip from San Salvador to the UNESCO World Heritage listed Joya de Ceren ruins. It's a well-preserved archeaological site that's often regarded as the 'Pompeii of the Americas.'
Joya de Ceren laid buried under volcanic ash from an eruption in 595 AD until its discovery in 1976. The ruins offer an insight into the life of an ancient Maya farming society, which you can read about on the English display signs throughout the site.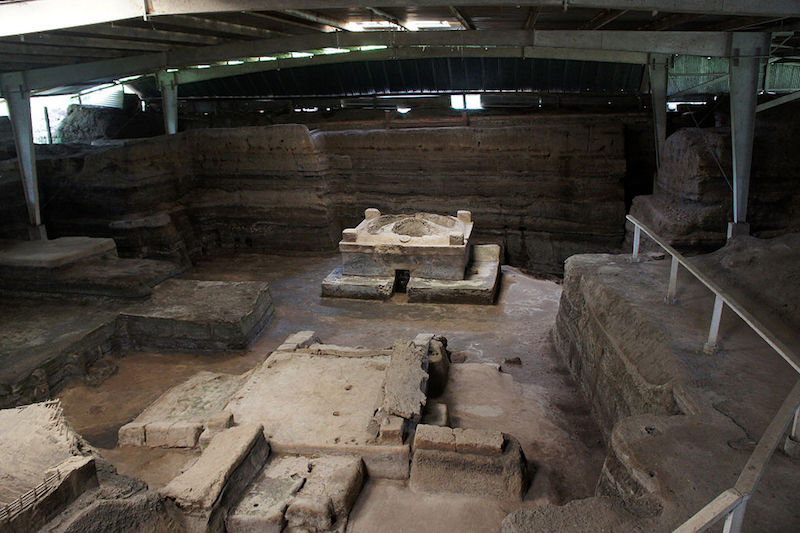 #19. San Andres
Archaeological buffs can combine a trip to Joya de Ceren with the San Andres ruins, just 5 kms down the road.
This important Mayan site dates back to 900 BC and had strong ties to the civilisations at Copan (Honduras) and Teotihuacan (Mexico).
San Andres was discovered in the 1940's and the excavation work is ongoing. It's not as developed as Joya de Ceren but the grass-covered ruins of the Acropolis are certainly impressive. You can also wonder around the nearby pyramids.
Enter through the small museum for some background history and a look at some of the artifacts unearthed at the site.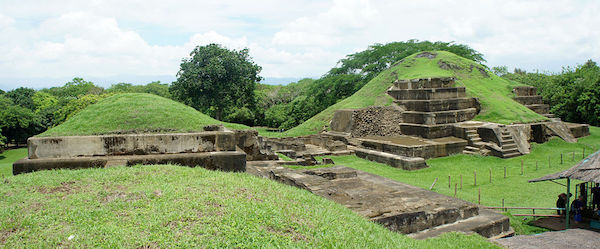 #20. Santa Tecla
Escape the hustle & bustle of San Salvador to the nearby urban city of Santa Tecla. It's just 15 kms from the capital and was in fact founded as the 'New San Salvador' after an earthquake in 1854.
During the day you can check out the wonderful neoclassical architecture such as the Municipal Palace and the Santa Tecla Museum (MUTE). The El Carmen Cathedral is also worth a look.
If you only have limited time, simply come for the weekend night market along Paseo El Carmen. Wander the pedestrian-only strip and be entertained by local artists and streets performers. The many restaurants, bars and clubs all create a fun and lively scene filled with locals.
#21. Puerto del Diablo
Hike up to Puerto del Diablo for the most breathtaking views of the mountains, ocean and countryside around San Salvador. It's an imposing rock formation with a gap in the middle between 2 boulders – and you can zip line from one end to the other for around $3!
It's a beautiful, peaceful and fun site now but there's a dark history behind the Devil's Door. During the Civil War many acts of torture were committed here.
Puerta del Diablo is a poignant place to remember the past and look forward to the future.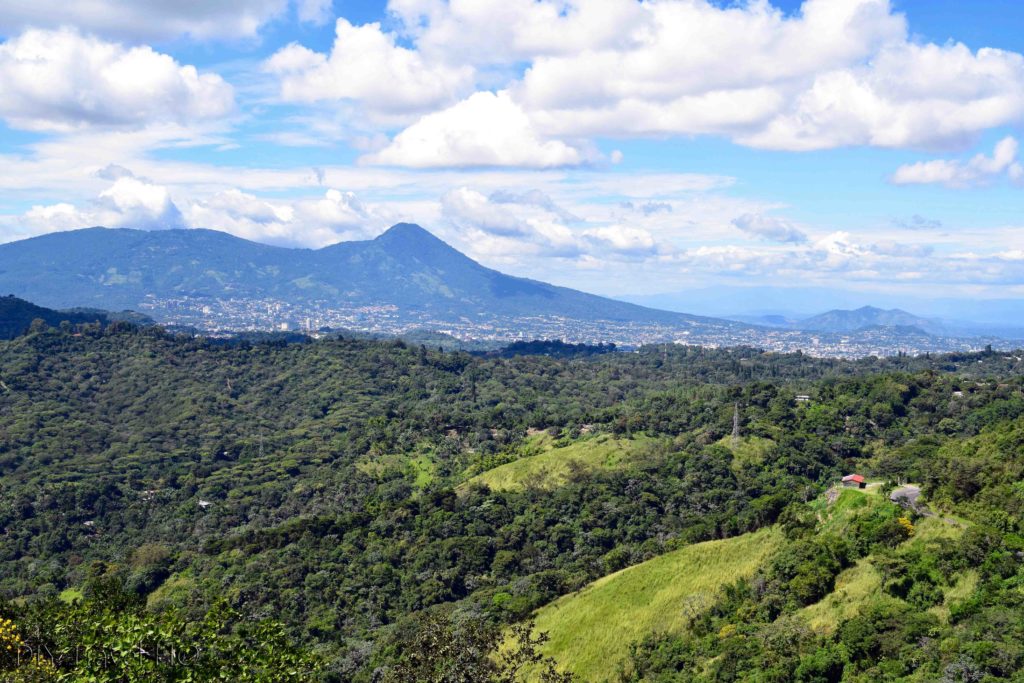 #22. El Sunzal
Hit the coast & find some of the top surfing spots in the world at El Sunzal – it's one of the best beaches in El Salvador on the Pacific coast.
Word has it that there are world-class waves every day at El Sunzal, with cutback shoulders & fun walls. Apparently the swells can be downright epic.
Shallow scuba-diving & snorkeling may be possible too so you may want to pack your own snorkel set.
And unlike much of the Pacific coast, El Sunzal beach is not covered with rocks and pebbles so you can actually lie on the black sand. Imagine that!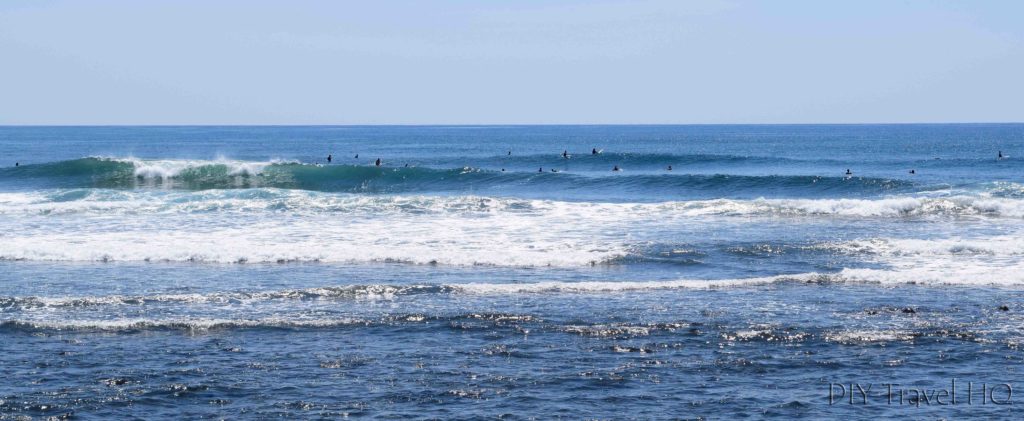 #23. El Tunco
El Sunzal is a tiny, quiet village but the lively party town of El Tunco is just a short walk away.
Here you'll find many tourist-friendly cafes, bars & restaurants, and on weekends you'll be sharing the nightlife with backpackers and the city folks from San Salvador.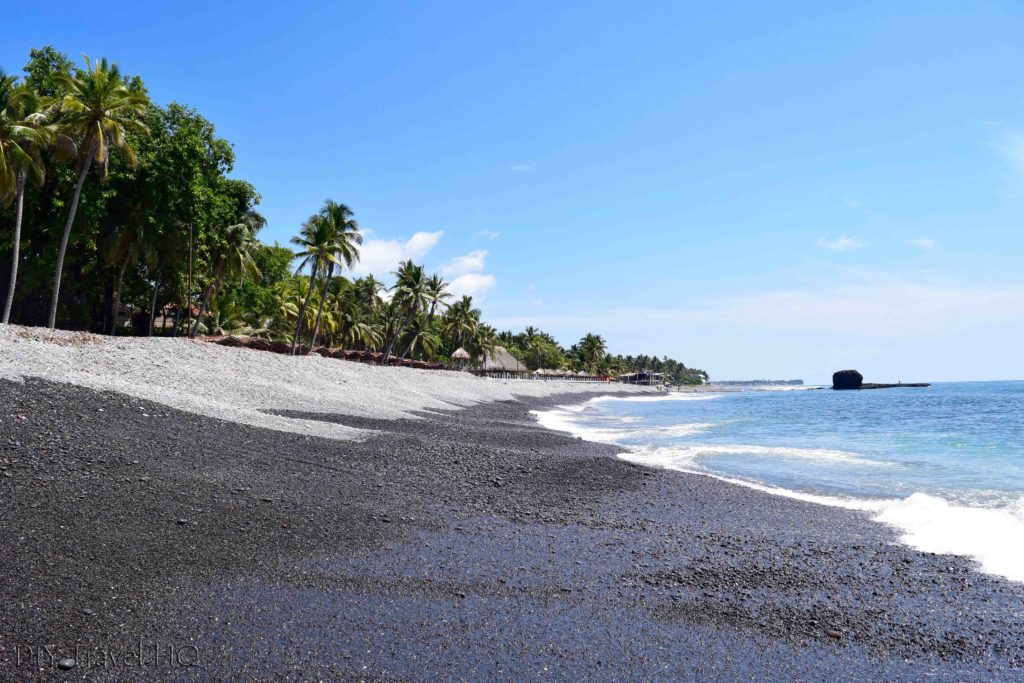 #24. La Libertad
The fish market at the port town of La Libertad is also nearby along the coast. The freshest seafood is for sale and you can pick up a bite or dine in one of the seaside restaurant.
Like San Salvador, La Libertad may have a shady reputation but the atmosphere is energetic and the malecon is a lovely place for a stroll with views.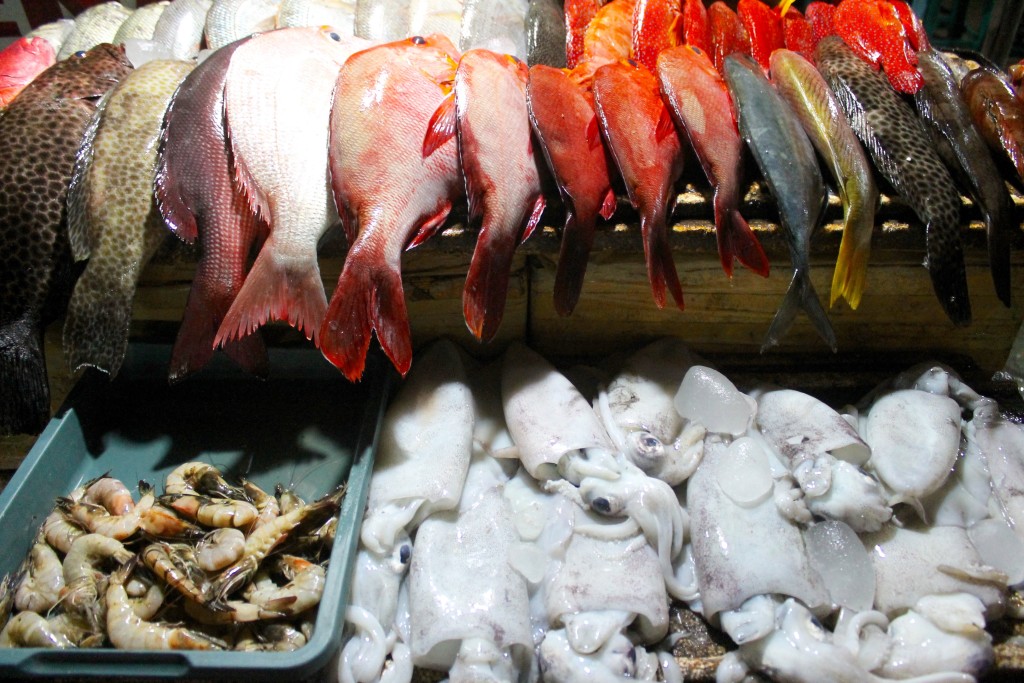 #25. El Zonte
El Zonte is another awesome surfing option along the Pacific Coast. Come here if you want a quieter alternative to El Tunco and El Sunzal.
The Point and Olas Permanentes are where you'll find the best waves to ride.
Otherwise simply relax on the beach exploring the natural pools and caves. Watch fishermen out at sea and if you're lucky, you may even spot breaching whales.
#26. Alegria
Visit the mountain town of Alegria & check out the crater lake, La Laguna de Alegria.
It lies on the floor of the dormant Volcan Tecapa and produces sulphuric volcanic clay, which is said to have medicinal benefits. Try it for yourself and smother it all over your body, it's fun! After all, there's water right there in the lake to rinse yourself off with!
Legend has it that a mermaid lives at the bottom of the lake, waiting to drown handsome men. Ladies keep your fellas close, you've been warned…
Laguna de Alegria is outside the town centre, where there is little else to do. Alegria used to be an important coffee growing centre but its cooler climate is now more suited to flower production. That makes sense as Alegria is the kind of place to stop & smell the roses, if only there were some around…
Due to a lack of bus connections, you'll need to spend the night in Algeria if you want to list the lake. It's probably not worth the stop if you only have limited time in El Salvador especially as there's also a lack of budget accommodation in town.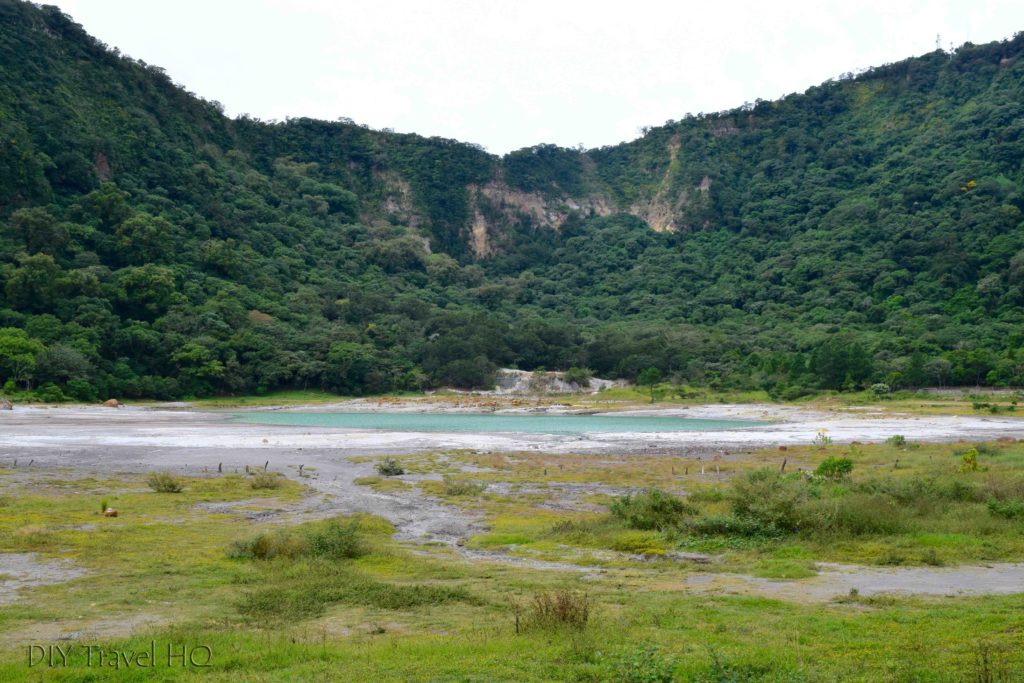 #27. Perquin
Get to the heart of the Civil War in Perquin, the former headquarters of the FMLN rebel fighters who fought against the military-led government in the conflict.
Visit the Museo de la Revolucion to learn the full story behind the 12 years of war – through a collection of documents, images, objects and testimonies. You can visit at your own pace or take a guided tour by ex-soldiers.
There's also a reconstructed guerilla camp where you can walk across rope bridges to underground tunnels. It gives a vivid glimpse into the life of a guerilla fighter.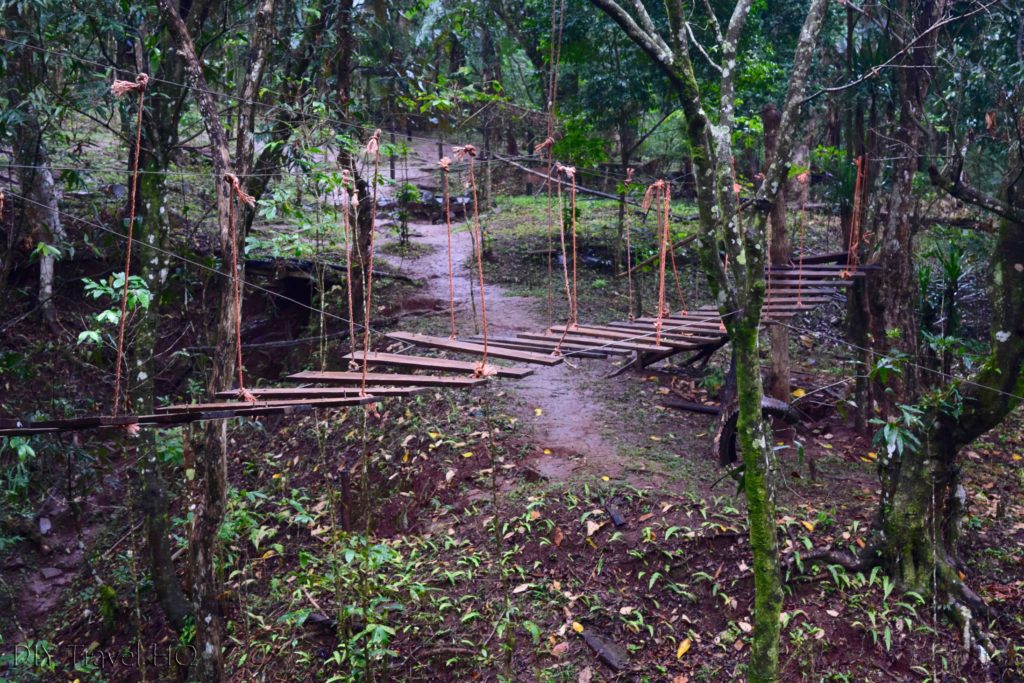 #28. El Mozote
While in Perquin, you should also pay your respects at the El Mozote memorial.
The FMLN had camps and training centres here, which the government sought to eliminate. On December 11, 1981 they killed over 800 civilians in the village – men, women and children. The whole population was executed, bar a few lucky people who managed to hide or escape.
The Salvadoran government formally apologised for the El Mozote massacre in December 2011.
The El Mozote memorial is a sobering but important place to visit in Perquin, to affirm that its people will not be forgotten and that such a massacre should never happen again.
In Perquin we stayed at Hotel Perquin Lenca.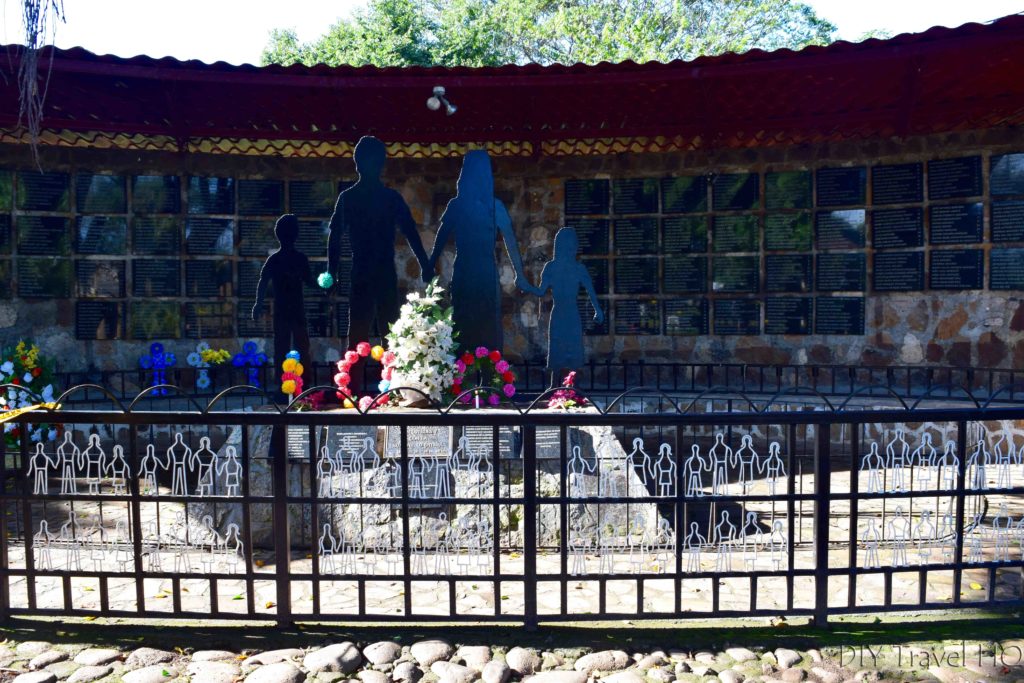 #29. El Cuco
Head out to the wild east coast for a slice of paradise at El Cuco. Not many travelers or locals make it this far out so you're likely to have its vast beaches to yourself.
Nearby Las Flores is one of the best surf beaches in El Salvador with waves to suit beginners and the pros.
Located right on the shoreline, La Tortuga Verde is the place to stay for the backpacker crowd. There's no kitchen though and few other food choices in El Tunco so eating at its pricey restaurants for every meal can quickly add up.
#30. Suchitoto
Wander the cobblestone streets of Suchitoto, the cultural capital of El Salvador. Visit on the weekend when there's sure to be a food or arts festival in town. It's not surprising that Suchitoto is a popular getaway destination for locals.
The main plaza in town is dominated by the stunning Iglesia Santa Lucia. To its right is Casa de la Abluela, a charming hotel, cafe and gift shop which we really enjoyed staying at.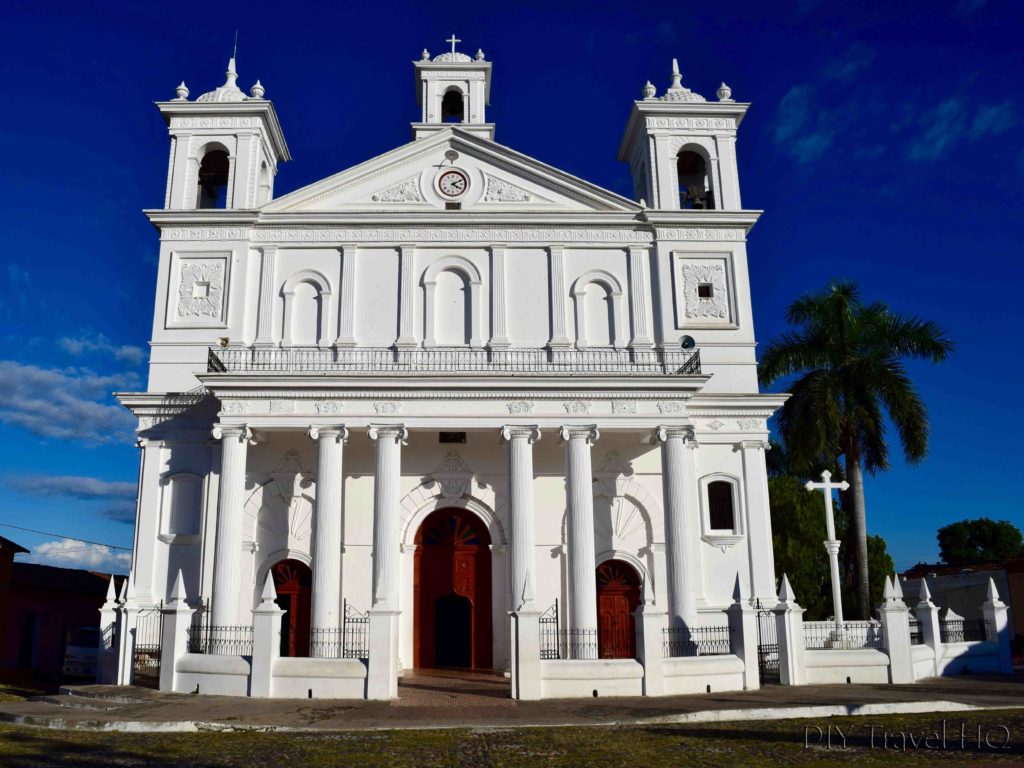 #31. Arte Anil Gallery
Indigo production was once a main industry in Suchitoto and traditional methods are still practiced.
Arte Anil Gallery offers beautiful indigo items for sale and also workshops where you can you learn more about indigo production and dye your own clothes.
#32. Lago Suchitlán
A short walk from the center of Suchitoto leads to Lago Suchitlán, a large man-made lake that's home to many species of birds and fish.
We didn't think much of it but you can go on a boat ride around the lake. There are also restaurants, shops and hotels along the waterfront.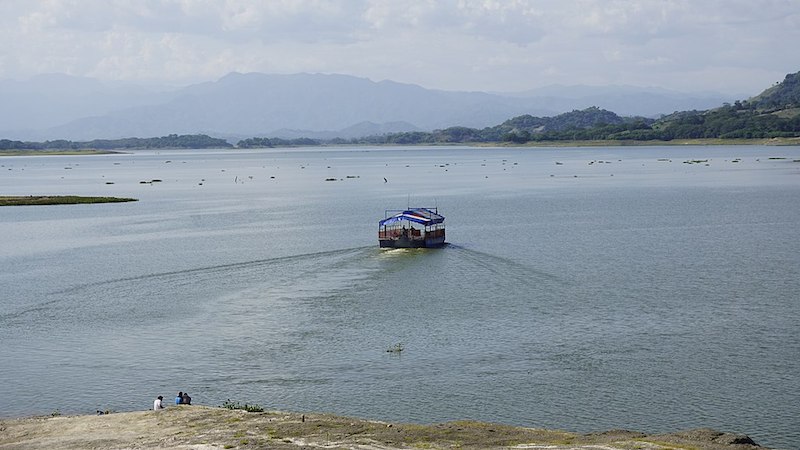 #33. Los Tercios Waterfall
The highlight of Suchitoto is further out of the city at the Los Tercios waterfall. It's about a 2 km hike and police escorts are available. The climb down to the lower falls is a bit tricky so watch your step and wear good shoes.
Los Tercios is made out of hexagonal-shaped rock, stacked together in vertical columns. The unique rock formations were created by ancient lava from volcanic eruption. They're similar to those at the Giant's Causeway in Ireland.
Water gushes down the rocks between May and December but Los Tercios is worth visiting year round.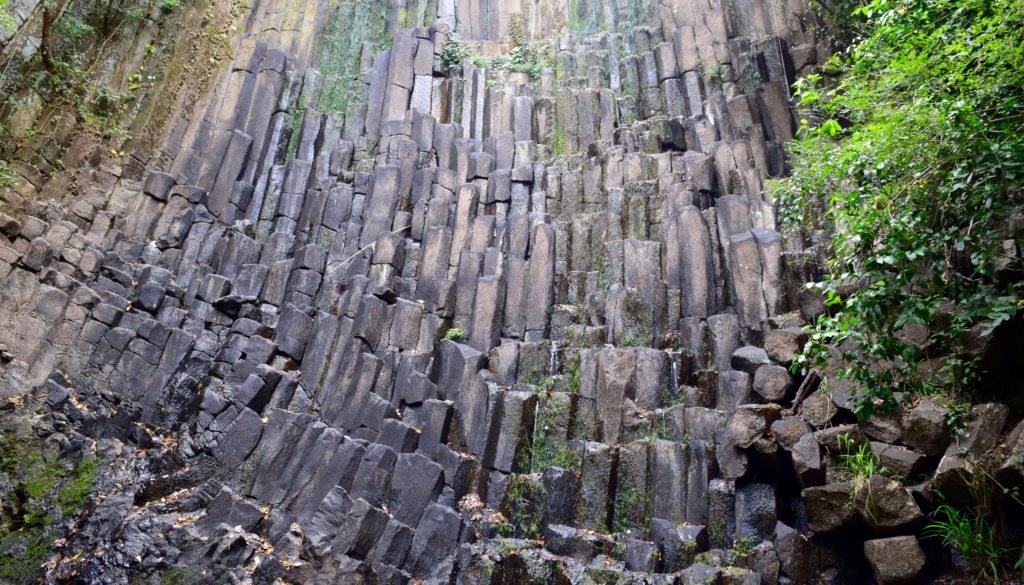 #34. La Palma
Street art fans will love the frontier town of La Palma, 8 km from the northern border with Honduras.
From buildings to street signs, the town is covered in murals painted in the distinctly Salvadoran, Naïve style, featuring colourful, primitive images of local life. The movement was created by La Palma resident Fernando Llort. This is the destination for art in El Salvador.
La Palma is a popular destination for locals or those across the border so there are many stores selling handicrafts in the naive style.
Historically it played a significant role in the Civil War including as the place where former president José Napoleón Duarte met with guerilla leaders in 1984, in the first attempt to end the civil war. It would prove to be unsuccessful with the war lasting for another 8 years.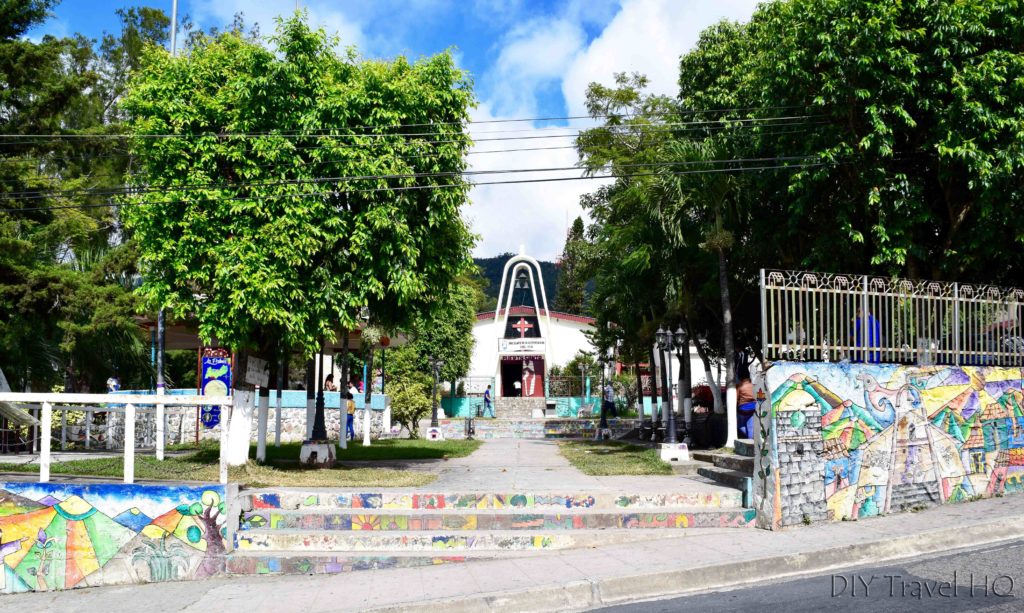 #35. Pile-up on Pupusas
Last but definitely not least, eat all the pupusas – it's one of the great joys of traveling and backpacking El Salvador! You can get them for as little as 25 cents each.
Besides you wouldn't be able to avoid them if you tried, locals eat pupusas for breakfast lunch and dinner. If you can't beat them join them 🙂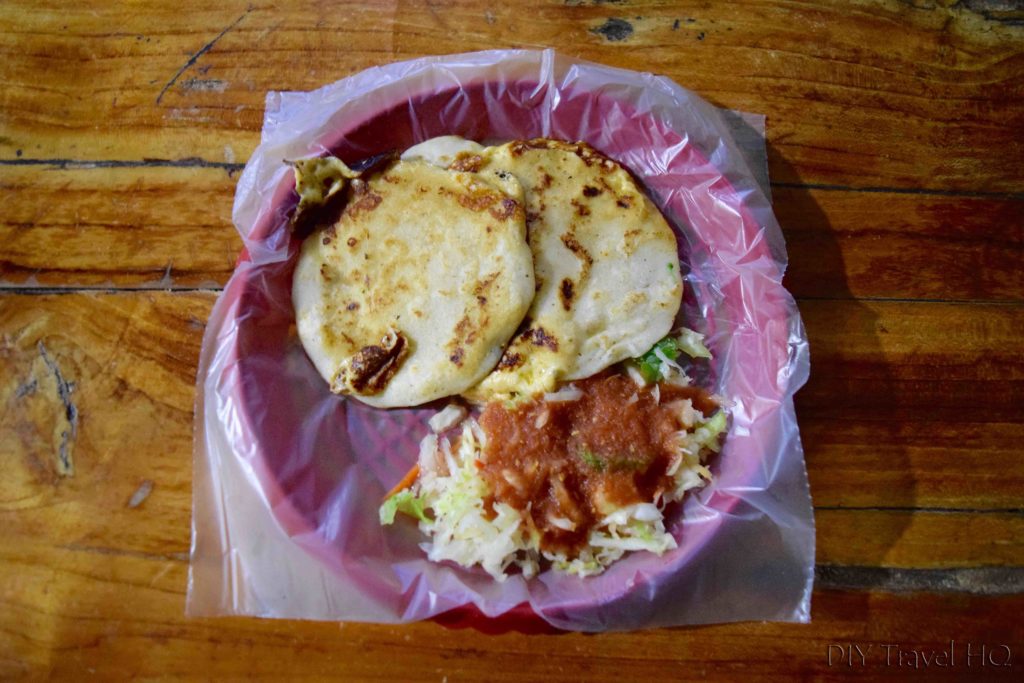 The Final Word
We travelled around El Salvador at a leisurely pace by local transport, which was extremely slow – this same itinerary could be covered in a week with your own wheels! Highly recommended!
We arranged our accommodation as we traveled but if you prefer to book in advance check out Hostelworld or try staying with locals through Couchsurfing.
If you're planning to visit El Salvador within a shorter timeframe, leave us a comment & we would be happy to offer more information!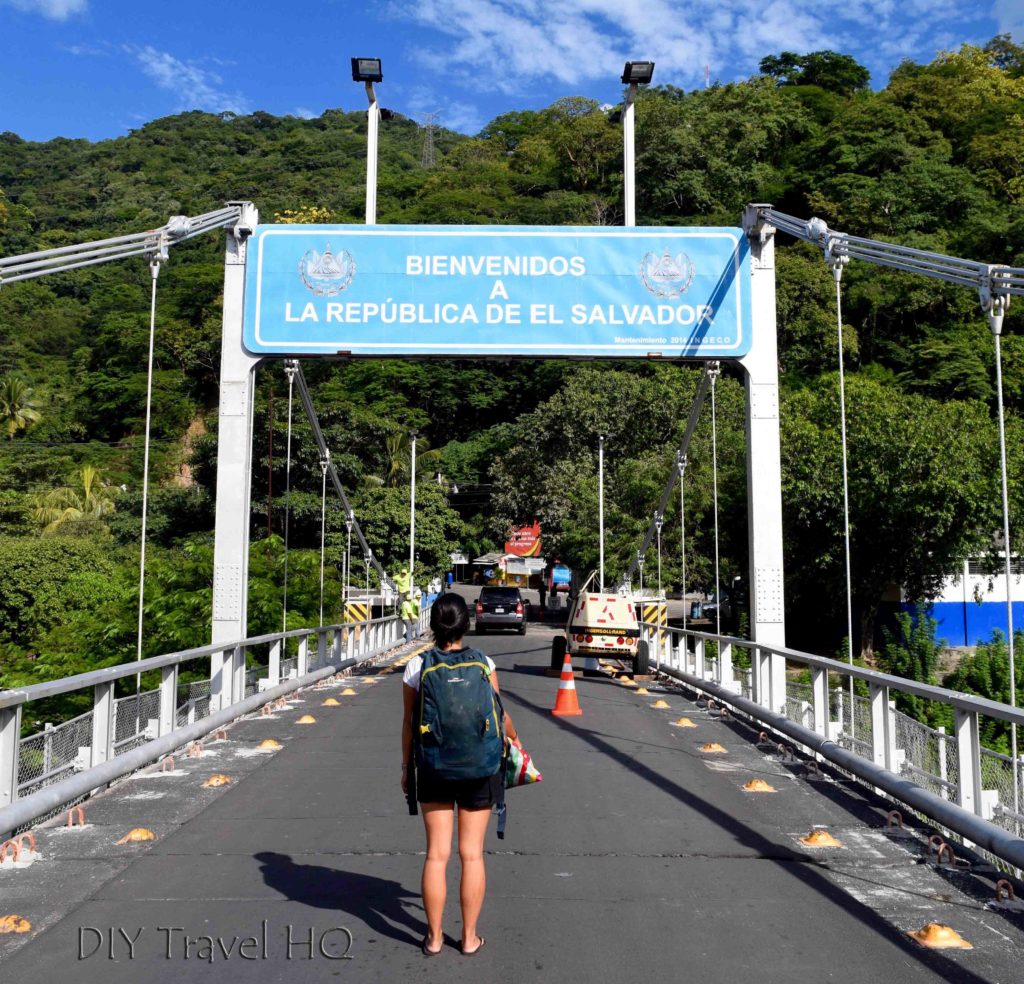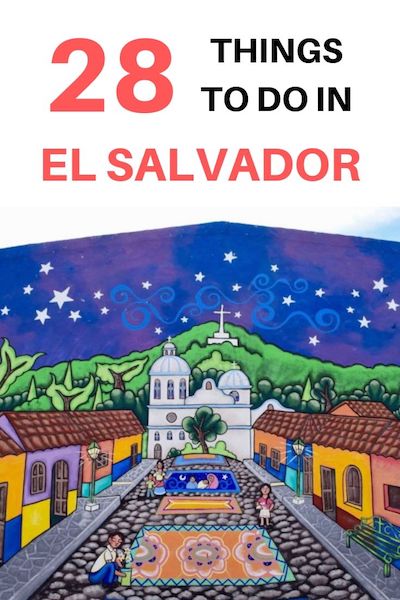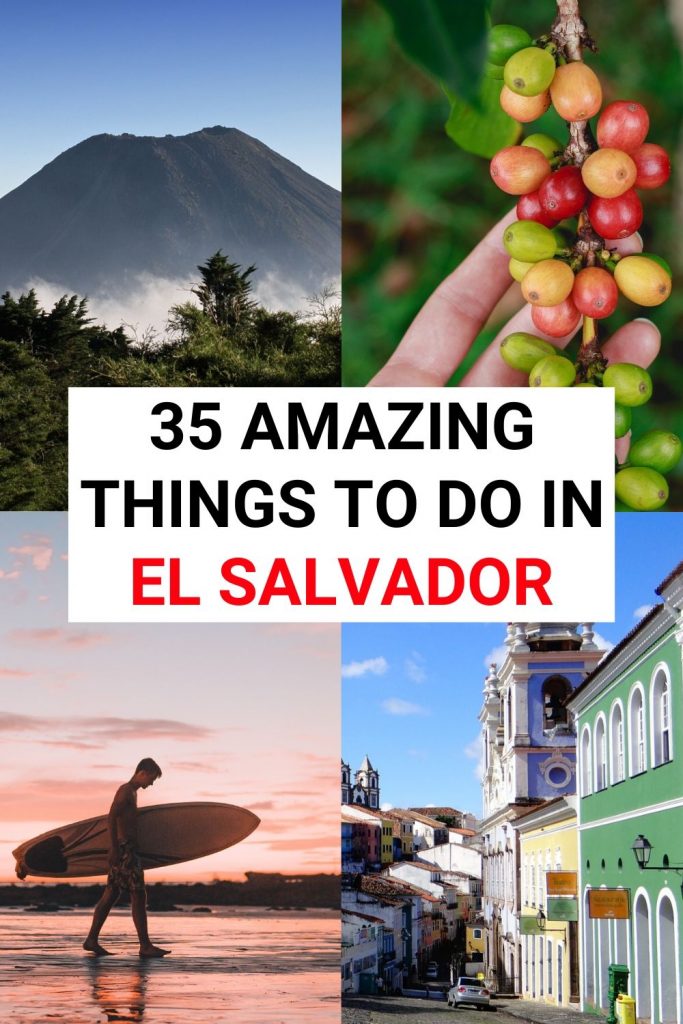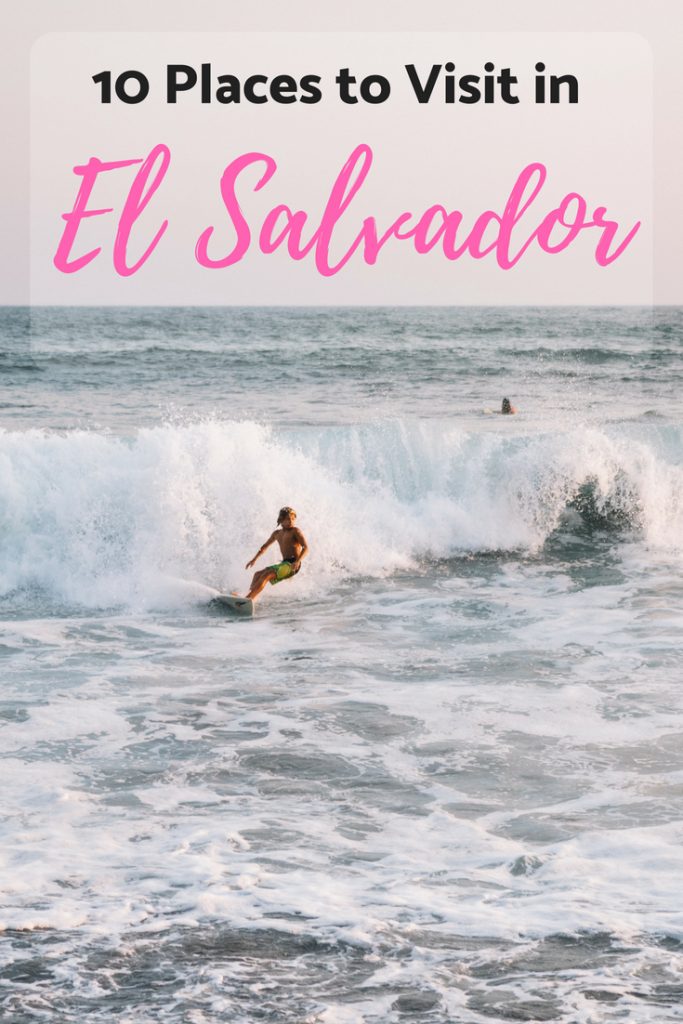 *** The Final Word – El Salvador is a tiny country with lots of little sights & plenty of heart, don't skip it if you're travelling in Central America ***
What did you know about El Salvador before reading this post?
Disclaimer: This post contains affiliate links, which means that we receive a small commission if you click on a link & purchase something that we have recommended, at no extra cost to you.
Visited in October 2016
Updated in January 2020