Hotel Rantapuisto offers luxurious rooms, buffet breakfasts, fine dining, saunas & more… right on the shores of the Baltic Sea. Find out why it's the perfect choice for a tranquil getaway, just 15km from the centre of Helsinki, Finland.
History of Hotel Rantapuisto
Hotel Rantapuisto was built in 1963 as a training centre for Suomen Yhdyspankki, the 1st commercial bank in Finland.
It's a large complex, with an auditorium, ball game halls & conference wings. Glass-covered corridors connect the different sections, bringing the light & nature outside, indoors.
Today, Hotel Rantapuisto is largely a conference hotel, welcoming all guests travelling for business or pleasure.
Location
Hotel Rantapuisto is located on the shores of the Baltic Sea, 15km from Helsinki city centre & easily accessible by car or public transport.
It is surrounded by nature, with a beach & walking trails at your doorstep. In the summer, kayak rentals are available as well as sailing & fishing charters.
At all times of the years, Hotel Rantapuisto is a tranquil retreat from the stresses of everyday life. And at the end of my 1.5 year around the world travels, that was exactly what I was looking for.
Lobby Lounge
When you check-in to Hotel Rantapuisto, you don't close the door on the natural world outside – instead, it simply follows you inside.
With the use of different glass & wood materials, the hotel takes full advantage of its scenic setting. It is built on a grassy slope on the seashore, with panoramic views of the woods & the sea.
Much of the original 1960's architectural features have been retained & modernized with contemporary furniture, artwork & lighting.
The lobby bar & lounge is a wonderful showcase of this style. Leather & wood feature in the chairs, lounges, tables & bookcases, enhancing the retro look of the wooden ceiling & panelling. After all, classic Finnish design is timeless.
The lobby lounge area is not only stylish but it's also a very functional space, for work or relaxation.
You can order drinks including wine & coffee, as well as a selection of sweet & savoury snacks.
The unique architecture at Hotel Rantapuisto connects the surrounding natural environment with an interior design that works together in perfect harmony.
Superior King Room
I stayed in a Superior King Room at Hotel Rantapuisto & it was simply wonderful.
What struck me first was the amazing panoramic view of the woods & sea through the huge wall-length windows. I was in awe of the frozen Finnish seascape during my whole stay, especially during sunset.
And the king-sized bed was very luxurious!
It had 6 pillows of different sizes, as well as high quality bedding and a side table & lamp on both sides.
With fluffy robes & slippers provided, there was little reason to leave the bed!
Opposite the bed was a wall-mounted flat-screen TV, with cable channels in English & Finnish. There was also a large lounge chair & coffee table in the corner.
The room also featured a long desk & chair, with a telephone & minibar. Coffee & tea was provided, together with a kettle & glasses.
There was plenty of closet shelving & storage in the hallway…. which led into the very spacious bathroom!
The design was contemporary & spotlessly clean, with under-floor & towel rack heating.
The toilet, enclosed shower & sink lined the edges, with a lot of dressing space in the rest of the bathroom. A hairdryer, toiletries & multiple towels were provided – I couldn't have asked for anything more!
Restaurant
A dining experience at Hotel Rantapuisto is impeccable from start to finish. From the lobby, a candle-lit aisle leads to a beautiful restaurant with a view.
Floor to ceiling windows overlook the woods & ocean, still frozen in the early spring.
But the ambience in the room is warm & cozy, with the glow of flames from the large, curved brick fireplace in the centre. It's the spark for a promising night ahead, indeed. Guests can relax or have a drink before the meal, by the fire.
And looking up, the ceiling is finished with a quirky, abstract wooden design. Without even tasting a single dish, the restaurant is already a winner on style alone.
Yet you can't have style without substance, especially when you're hungry!
The a la carte menu at the Hotel Rantapuisto restaurant offers International & Finnish cuisine, with produce sourced locally from small farms & herbs from its own garden.
The wine list was very good, with selections of sparkling, white, red & dessert wine. I started with a Pinor Noir from Chile, which was fragrant with hints of dark cherries & spices.
It was a lovely complement to the selection of complimentary breads: house bread with wheat & barley, pumpkin seeds & 2 types of rye. This was accompanied with salt & butter, in a lovely rustic presentation.
For the appetizer, I chose the Slightly salted Whitefish with Cauliflower, Brioche & Fennel.
The plate had a generous portion of fish, which was fresh & chilled. The cauliflower puree was light & fluffy, and the garnishes provided extra texture to the dish. I really enjoyed it.
There were 6 choices of mains, which all sounded very tasty: fish, lamb, duck, burger, steak & vegetarian risotto.
I went with the waitress's recommendation of Braised Entrecote of Lambkin with a Ragout of Root Vegetables & Potato Puree – it didn't disappoint.
The lamb was very tender, falling off the knife as I cut it – again it was a very generous portion.
The meat sat on a wispy mash of potatoes, topped with a mix of roasted potatoes, carrot, squash & onion cubes. It was sprinkled with crispy potato & beetroot chips.
The black sauce was a demi-glace red wine vinaigrette, boiled for many hours. It was strong & salty, but not overpowering.
I was very full but there's always room for dessert!
I ordered the Dark Chocolate Cake with Raspberry Sorbet & the presentation was beautiful, especially the chocolate-dipped rose petals. And it tasted even better than it looked – the perfect end to a very satisfying dining experience.
Having a top quality restaurant at a hotel makes life easy and the wonderful food & ambiance here at Hotel Rantapuisto was the cherry on top!
* Hotel Rantapuisto offers a seasonal menu throughout the year as well as a Sunday Brunch.
Buffet Breakfast
A plentiful buffet breakfast is offered in the mornings from 7:00-10:00am & included in the room rate.
As a guest in a superior room, a window table was reserved for me every morning, which was a gesture I really appreciated.
The breakfast buffet selection included:
Bread, croissant
Muesli, cereal, porridge
Natural yoghurt, berries, dried fruit, nuts, seeds
Eggs, sausages, bacon
Pancakes, fruits
Smoked salmon, herring
Ham, turkey, salad, cheese
Coffee, tea, juice.
There's certainly plenty of choice, with vegetarians, lactose & gluton free guests well-catered for.
When you're on holiday, there's no better way to start each morning!
Sauna
The sauna is an important part of Finnish culture, a place to relax alone or with family & friends.
Hotel Rantapuisto offers 2 difference sauna experiences: one by the seaside & one indoors:
The seaside sauna is an outdoor hot tub right on the beach, with a nearby fireplace. After warming up, the Finnish Tradition calls for a dip in the icy sea… refreshing to say the least, especially when it's still snowing! I didn't get the chance to try either but it sounds like an amazing experience!
I did however try out the indoor sauna, which was complimentary for guests of Superior Rooms. It features a modern kiuas, a special type of stove that is heated by hot stones.
The Finnish like to sauna nude, with separate sessions for men & women. At Hotel Rantapuisto, the sauna area also includes showers, a dressing room & a private relaxation room with sofa chairs.
Saunas allow you to indulge in a bit of culture & relaxation, that's also beneficial for your health & wellbeing – it was one of my favourite aspects of staying at Hotel Rantapuisto!
Other Features
High-speed WiFi connection
Business center
Art exhibitions
Childrens playroom
Escape room
How to Get to/from Hotel Rantapuisto
Hotel Rantapuisto is easily reached by car or public transport.
It is connected to Helsinki centre by the Rastila metro station. From the hotel, it's a 20 minute walk or you catch buses #560 or #816.
Know Before You Go
Address: Furuborginkatu 3, 00980 Helsinki
Prices: Superior King Room from €125.00, Standard Twin Room from €105.00
Contact Information:
Read Hotel Rantapuisto's Tripadvisor reviews here
Did you enjoy reading Hotel Rantapuisto: Helsinki's Ultimate Seaside Retreat?!
Pin it and help others find it too!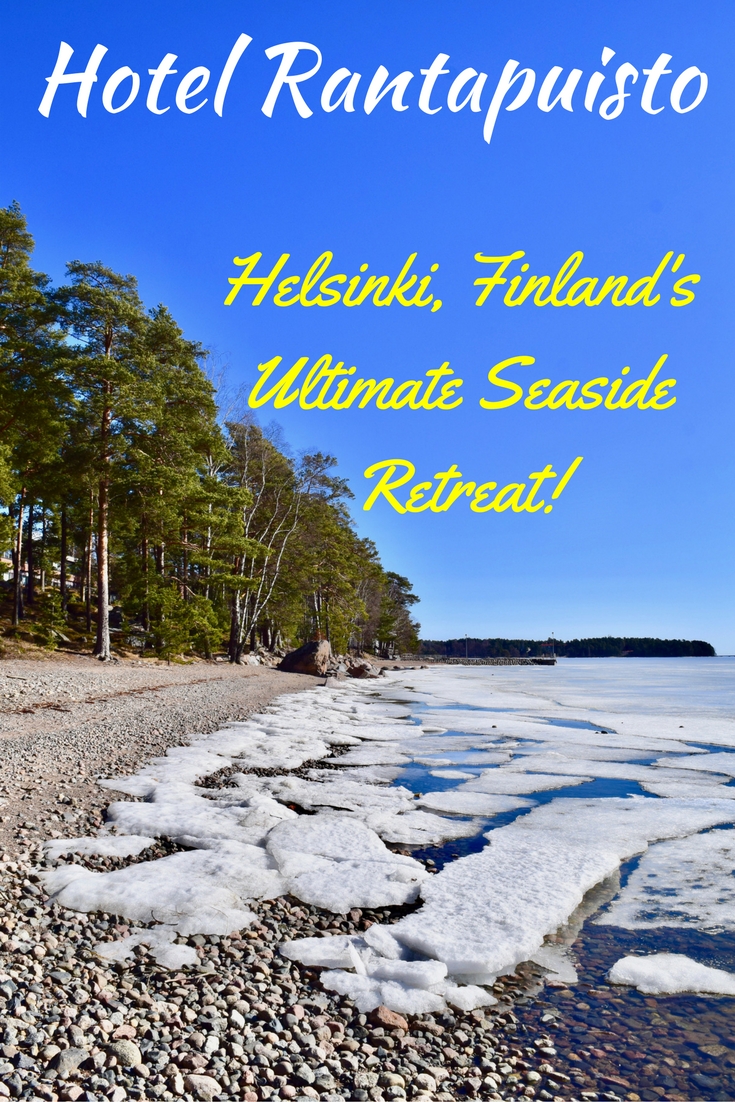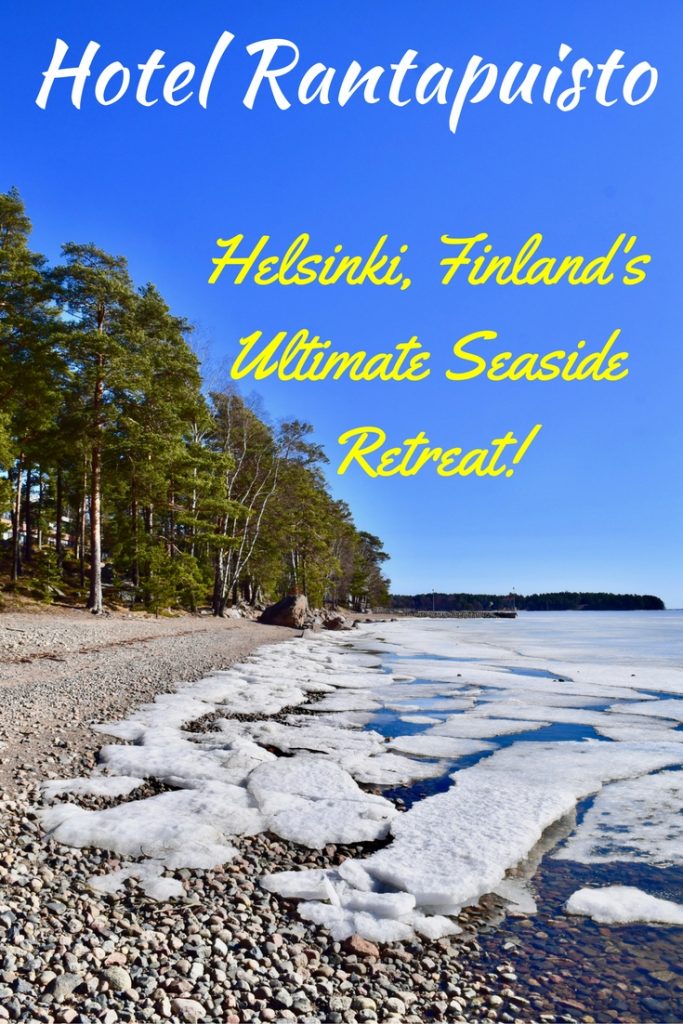 *** The Final Word: Spoil yourself & enjoy nature in comfort & style at Hotel Rantapuisto ***
When was the last time you took a relaxing getaway?
* I was a guest at Hotel Rantapuisto for the purposes of this review. Creating partnerships is one of the ways we make this blog sustainable; we only recommend fantastic value accommodation we believe our readers would enjoy. As always, all opinions & photos are our own.
Visited in March 2017