Guesthouse Stranda Helsinki offers travelers all the comforts of home, by the seashore – find out why it's both a convenient base for visiting Finland's capital city as well as a holiday retreat!
Location of Guesthouse Stranda Helsinki
After more than a week in Helsinki, Finland, I was looking for a little R&R away from the city.
Located on the shores of the Baltic Sea, Guesthouse Stranda Helsinki was just what the doctor ordered. It's a very popular getaway spot in the summer though in the early spring, it's quiet & peaceful.
Guesthouse Stranda Helsinki is 9km from Helsinki, in the district of Itäkeskus. Here, you'll find a metro station & the Itis shopping centre, the largest in Scandinavia.
Rooms at Guesthouse Stranda Helsinki
My twin room at Guesthouse Stranda Helsinki was bright & cheerful – just how we like it over here at DIY Travel HQ!
There were 2 single beds on either side of a large window, which let in plenty of natural sunlight.
Each bed came with an extra blanket, body & face towels and slippers. The mattresses were firm, decked out in colourful bedding.
Along one side of the room was a wall-length bookcase, with mainly Finnish & English titles. This made the room feel super-homey, along with the bright green shag carpet rug on the floor.
There was a mounted flat-screen TV on the wall, with cable stations in Finnish & English, along with a couple of framed paintings. The room also came with a closet & chair, along with side tables, a water jug & glasses.
It was fantastic to have so many conveniences in the 1 room!
There are 3 other twin rooms at Guesthouse Stranda Helsinki with the same layout but different décor.
There's also a 2 triple rooms available. One is a large master suite with a queen bed & single bed, and an ensuite bathroom, while the other triple room offers 2 twin beds & a sofa bed. It doesn't come with an ensuite but it is very spacious, with a log cabin feel!
Bathrooms at Guesthouse Stranda Helsinki
Apart from the 1 triple room with its own ensuite, all rooms at Guesthouse Stranda Helsinki share washroom facilities.
There is 1 large bathroom with a separate shower, bathtub, sink, toilet & bidet. Toiletries are provided & a there is also hairdryer for use. It's a very spacious, clean & modern bathroom.
There is another separate toilet with sink available for guests.
The sauna also has its own shower facilities.
Living Rooms at Guesthouse Stranda Helsinki
Feel at home in the large, open living spaces at Guesthouse Stranda Helsinki.
There is a wooden dining table setting for 6 people in one end of the room, while the other side has a large corner lounge suite & coffee table.
A big flat-screen TV is mounted on the opposite wall, with cable stations in Finnish & English (same for the rooms).
The dining & living spaces are cleverly separated by large floor rugs.
Huge windows face the seashore, which in the early spring is partially obstructed by docked boats. It is still a lovely view & allows plenty of natural sunlight into the house.
For more privacy, just draw the soft flower-patterned curtains!
The open living room extends further into another living space, which is partially separated by a brick wall – it can be fully enclosed by a sliding partition.
This cozy room exudes light & warmth, day & night. It's filled with sunlight from the large windows & a log fireplace keeps the winter cold away.
There are also 2 armchairs & the room is decorated with wall artwork & pot plants.
With a dining room & 2 living rooms, there's plenty of space for guests to relax in at Guesthouse Stranda Helsinki.
Kitchen at Guesthouse Stranda Helsinki
The kitchen at Guesthouse Stranda Helsinki is well stocked with everything you need to make delicious home-cooked meals!
There's a microwave, oven & induction burners, along with a toaster, kettle & coffee maker.
You will also find 2 large fridges as well as plenty of new crockery & cutlery.
Best of all, there's no need to do any dishes – just pop them in the dishwasher!
Breakfast is included at Guesthouse Stranda Helsinki, with a variety of cereals, tea & coffee provided.
You can also help yourself to biscuits & other complimentary snacks throughout the day.
Sauna at Guesthouse Stranda Helsinki
When in Finland one must sauna, so I was really happy to find one at Guesthouse Stranda in Helsinki. There's apparently 1 sauna for every household – that's 3 million saunas for 5 million people
Start by having a shower, before sitting in the sauna. It's typically warmed to 80-110 degrees celsius but you can alter the temperature to suit.
The sauna is heated by hot stones on a special kind of "stove" called a kiuas. Throw water on the stones when you want to increase the moisture & heat in the room.
The sauna is an important part of Finnish culture, a place to relax with family & friends. At Guesthouse Stranda Helsinki, you can experience it all in privacy & comfort – just lock the door!
How to Get to/from Guesthouse Stranda Helsinki
Guesthouse Stranda Helsinki is connected to Helsinki via the Itäkeskus metro station. You can walk the 1.8 km distance between the 2 or take bus #98.
Guesthouse Stranda Helsinki is also an excellent choice if you have a car. You may be able to park at the property by arrangement, otherwise there's free public parking nearby.
Know Before You Go
Address: Niittyranta 21, 00930 Helsinki
Prices: Twin room $75.00, Triple room $102.00 (both with shared bathroom)
Contact information:
Phone:          +35845-850-4430
Email:           [email protected]
Website:       Guesthouse Stranda
Did you enjoy reading Guesthouse Stranda Helsinki: Home Away From Home?!
Pin it and help others find it too!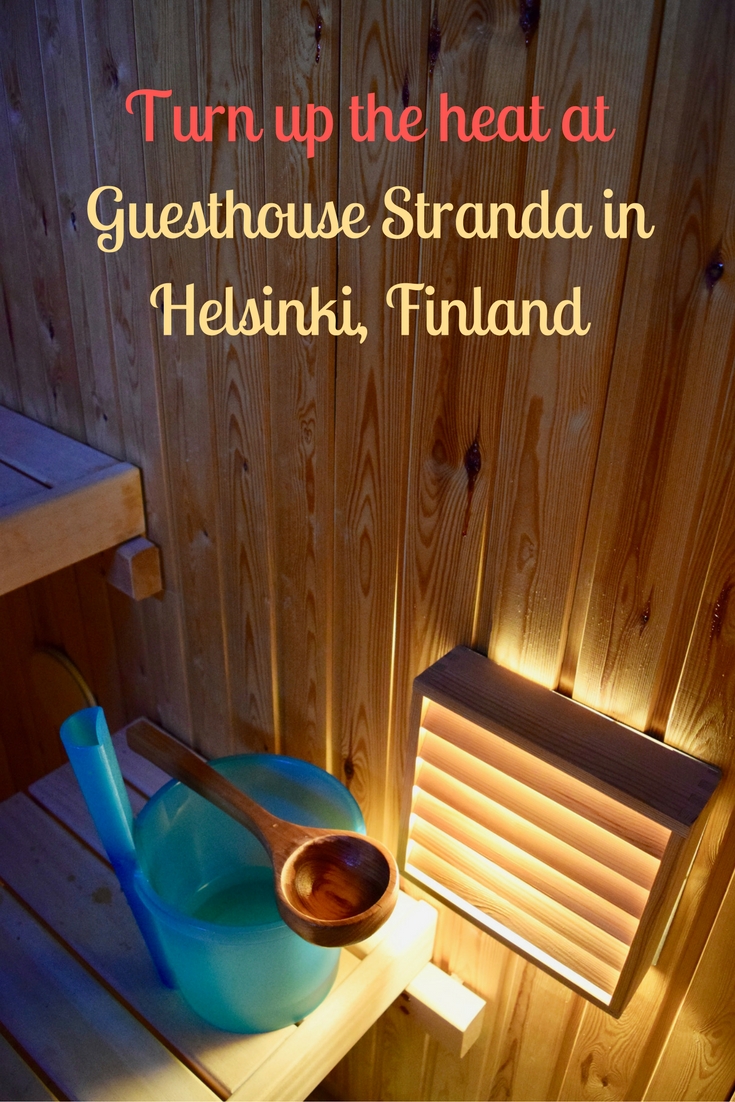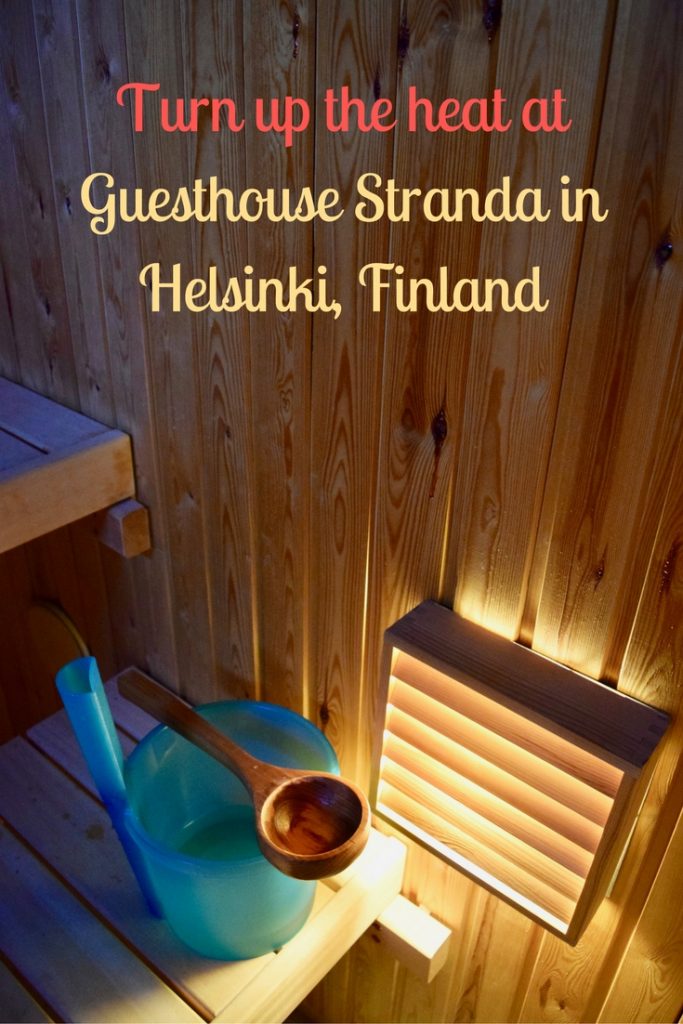 *** The Final Word: Stay in comfort in a homely environment at Guesthouse Stranda Helsinki! ***
What makes you feel at home when you're traveling? Let us know in the comments!
* I was a guest at Guesthouse Stranda Helsinki, thank you to Daria for hosting me. Creating partnerships is one of the ways we make this blog sustainable; we only recommend fantastic value accommodation we believe our readers would enjoy. As always, all opinions & photos are our own
Visited in March 2017